Are you looking for the top no code tools to use on your WordPress website?
If you're eager to enhance your website's functionality and design without complex coding, you're in the right place.
In this article, we'll share our curated list of powerful, no-code tools to help you to make the most of your WordPress site, streamline your workflow, and grow your online business effortlessly.
What Are No Code Tools?
No code tools are software applications or platforms that help people create and design websites, internal tools, mobile apps, and just about any other digital thing, without needing to write traditional computer code.
Instead of complex programming, these tools allow users to set up options in easy-to-use interfaces and use visual building methods. This makes it possible for individuals without coding skills to create automated workflows, web applications, digital designs, and more.
Is WordPress a No Code Platform?
WordPress can be considered both a no-code or low-code platform since it includes no-code development tools like the Gutenberg block editor while also providing a code editor to customize your website.
You can definitely create a self-hosted website on WordPress's open-source software without writing code. But, to create a site that's really tailored to your online business or blog, you'll likely need additional no-code tools and plugins.
Thankfully, there are tons of amazing tools for WordPress that allow you to create just about anything for your website with no code needed.
So, whether you want a no-code automation tool to improve your business processes, a low-code platform to build your eCommerce store, or no-code design tools to create a visually stunning website, you'll find it on our list of the top no-code tools.
Best WordPress No Code Tools
To run a successful website, you need to track what happens on it. For example, where does your traffic come from? How many conversions or purchases are you getting? Which content is driving conversions? What are users clicking on your site?
MonsterInsights provides a no-code solution to answer all these questions and more. It's the best Google Analytics tool for WordPress, letting you connect Google Analytics to your website and set up advanced tracking without editing any code.
The plugin configures all the complicated stuff behind the scenes so your Google Analytics account is set up to track the data you need. Then, it brings all of your most important Google Analytics metrics right to your WordPress dashboard in user-friendly reports.
Here are some of MonsterInsights most popular features:
Social media tracking
Custom dimensions like popular authors, post types, and more.
Advanced forms tracking and integration with all WordPress form builders, including those in page builders like Beaver Builder, Elementor, Divi, and more, without requiring any coding.
Conversion tracking for Google Ads, Microsoft Ads, and Meta Ads.
And lots more!
If you need a beginner-friendly Google Analytics tool for WordPress, MonsterInsights is the answer. Its ease of use combined with powerful functionality sets it apart. So, if you're ready to grow your website with data-driven decisions, check out our tutorial on setting up Google Analytics the easy way.
Get started with MonsterInsights today!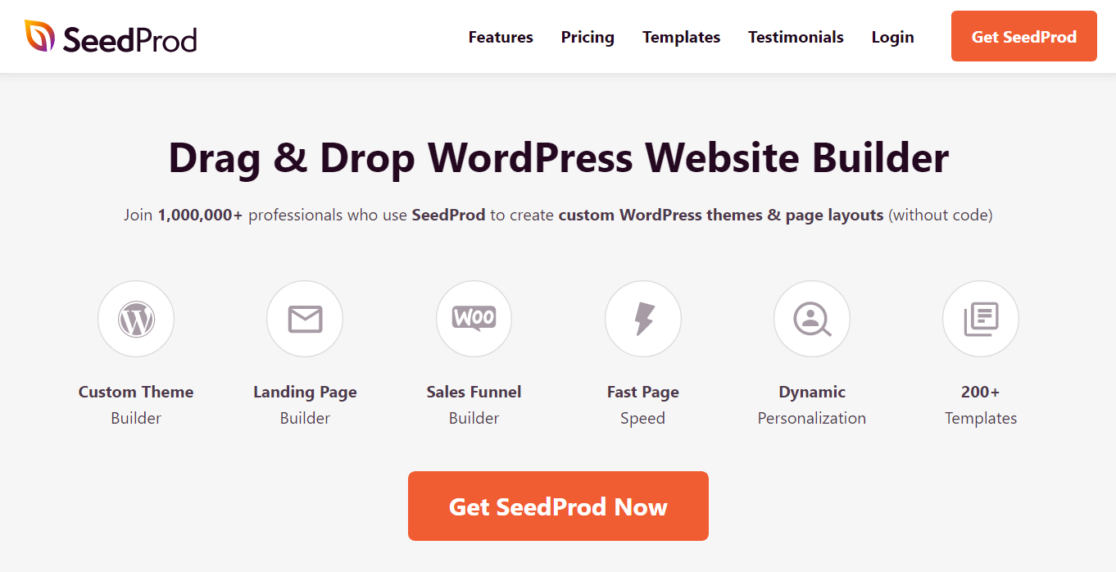 When it comes to designing custom themes and pages in WordPress, without the hassle of coding, SeedProd stands out as the ultimate no-code design tool.
With SeedProd's intuitive drag-and-drop page builder, you can see your changes in real-time and create visually stunning layouts effortlessly.
Plus, the no-code page builder offers customizable coming-soon and maintenance mode pages to ensure a seamless user experience during updates along with tons of other templates for landing pages, 404 error pages, and more.
These are a few of SeedProd's best features:
Drag-and-drop builder with 90+ block elements.
Extensive library of pre-built templates for every type of page.
Seamless integration with other popular plugins and platforms.
Mobile responsive designs.
Areas to easily add your own custom code.
And lots more!
Nowadays, you don't need to know code to create professional-looking websites with advanced front-end design elements. SeedProd empowers anyone to create a beautiful, highly functional WordPress site easily.
Get started with SeedProd today!
It's crucial for every website owner to back up their website, but backing up a site manually is not an easy task for non-programmers. Plus, it's tedious and time-consuming.
That's where Duplicator comes to the rescue and takes the spotlight as the premier, no-code backup and migration tool for WordPress.
With its arsenal of features, Duplicator ensures your valuable content is never compromised. Automatic backup schedules guarantee your site is safeguarded, and secure backup encryption adds an extra layer of protection to your data.
Here are some of Duplicator's popular features:
1-click restore options grant swift recovery with minimal downtime
Filtering options to choose what you want to back-up
Cloud back-up storage
Easy WordPress migration wizard
Quick drag-and-drop or server-to-server imports
With Duplicator, seamlessly migrating across platforms and ensuring your website is always safe is not only achievable – it's remarkably user-friendly.
Get started with Duplicator today!
Running an eCommerce store can seem overwhelming. You might assume you'll need to hire a developer to build your website and write complicated code to accept payments, create shopping carts, and more.
We're here to tell you that you can actually do it yourself, code-free!
Easy Digital Downloads is the top no-code tool for selling digital products online. With an array of essential features, EDD makes it possible to display products, sell content, and create a thriving online business with WordPress.
Check out some of Easy Digital Download's no-code features:
Accept payments through popular gateways like Stripe and Paypal.
Shopping cart features allow users to conveniently add items to their carts, save their carts, and more.
Manage orders and customer accounts easily.
File access control and options for external file storage.
Detailed reporting provides insights into your store's performance. Also seamlessly integrates with Google Analytics and MonsterInsights for easy eCommerce tracking.
Integration with other platforms and tools, such as email marketing providers, affiliate systems, and drag-and-drop page builders like SeedProd.
And lots more!
With Easy Digital Downloads, selling digital products is a breeze, which is why it's one of our favorite no-code eCommerce tools. It's a perfect choice for anyone wanting to easily sell digital products on WordPress.
Get started with Easy Digital Downloads today!
Looking to sell physical products online without writing code? We recommend WooCommerce, the most popular eCommerce plugin for WordPress.
Do you want to improve your website's visibility in search engines, but aren't sure where to start? If so, you need All in One SEO (AIOSEO), the best WordPress SEO plugin that helps you improve your SEO without any coding.
You might be wondering what SEO has to do with code, and the answer is a lot more than you may think. Search engines don't read data like people do, so you need to give them additional information on how to crawl your site, index pages, and understand your content.
Thankfully, AIOSEO takes the hassle out of it. You can add tags, meta descriptions, rich snippet schema, keywords, and more right in the WordPress editor. AIOSEO will provide an on-page SEO analysis and checklist so you can be sure you're hitting all the right things.
But that's not all! AIOSEO provides tons of other no-code features to help your SEO:
AIOSEO simplifies SEO and gives you all the tools to optimize your website to rank in search engines without spending loads of time learning how to manually implement SEO or hiring an SEO expert. It's an absolute must-use tool for any business owner who wants to improve website SEO and rankings.
Get started with AIOSEO today!
WPForms is the best no-code form builder for WordPress. It's the ultimate plugin for easily creating any type of form on your website including order forms, contact forms, registration forms, surveys, and more.
The intuitive drag-and-drop builder allows users to create simple or in-depth forms tailored to visitors' previous responses in only a few minutes. With over 200 pre-built templates, WPForms is the only no-code tool you'll need to add forms to your site.
Check out some of WPForms most popular features:
Guaranteed mobile responsiveness.
Integration with payment gateways like Stripe, Square, and Paypal makes collecting payments on your order or registration forms simple.
Automated notifications for form submissions.
Spam protection.
Embed forms with shortcode, the native Gutenberg block, or a popular page builder like SeedProd, Elementor, or Divi Builder.
Easily back up form entries to Google Sheets. Or, use Zapier to connect WPForms with thousands of web apps and project management platforms like Airtable.
Integration with popular email marketing providers and CRM platforms like Constant Contact, Mailchimp, Hubspot, Salesforce, and more.
Integration with Zapier
WPForms eliminates the complexity of creating forms. You can easily add interactive forms for user feedback, payments, signups, or anything else. Plus, integrate your forms with other no-code platforms and tools for ultimate workflow automation.
Get started with WPForms today!
Looking for a no-code tool to grow your email list and boost conversions? OptinMonster takes the cake with powerful on-site campaigns that are easy to create, highly customizable, and proven to work.
Using the drag-and-drop builder, you can create tons of different campaigns including popups, slide-ins, banners, full-screen welcome mats, gamified spin-to-win wheels, and more.
And, its advanced targeting features allow you to laser-focus your campaigns and maximize conversions by triggering campaigns at the perfect moment, like right before a visitor is going to exit.
Take a look at more of OptinMonster's standout features:
Library of pre-built templates for all different campaigns like newsletter opt-ins, holiday promotions, sale countdowns, and more.
Exit Intent technology and scroll depth triggers to show campaigns at the right time and reduce site abandonment.
MonsterLinks feature lets you turn any image or link on your website into a 2 step opt-in campaign trigger, without needing to add any code.
Visitor targeting by geo-location, new vs. returning, page level, referring site, device type, and more.
A/B testing for your marketing campaigns and actionable insights.
Integration with email marketing and other popular plugins and platforms like Zapier.
Works on any website development platform including WordPress, Shopify (native app available in the app store), Joomla, Webflow, and even HTML sites.
The OptinMonster JavaScript Events API provides the tools you need for further application development.
With OptinMonster, the complex task of lead generation is streamlined, enabling you to build highly functional, visually appealing campaigns for a variety of use cases. Grow your subscriber list, increase conversions, promote sales, and more without any coding expertise.
Get started with OptinMonster today! 
Do you want to integrate social media content on your WordPress site? Adding social media feeds to your website is an awesome way to increase engagement, grow your social following, and build social proof.
However, the manual way is either extremely time-consuming or requires some serious coding experience. Luckily, Smash Balloon solves this problem. It's a bundle of no-code social media tools that let you integrate and automate social feeds on your website.
You can easily set up beautifully designed, custom feeds that are optimized for site speed and SEO. You'll get complete control over what content is embedded and how the layout looks. Plus, it even supports shoppable feeds!
Each plugin has individual pricing, or you can purchase the Smash Balloon bundle that includes:
Smash Balloon is an excellent no-code tool for busy business owners who want to combine social media with WordPress to speed up workflow, build social media presence, increase engagement, and boost SEO with automated dynamic content.
Get started with Smash Balloon today!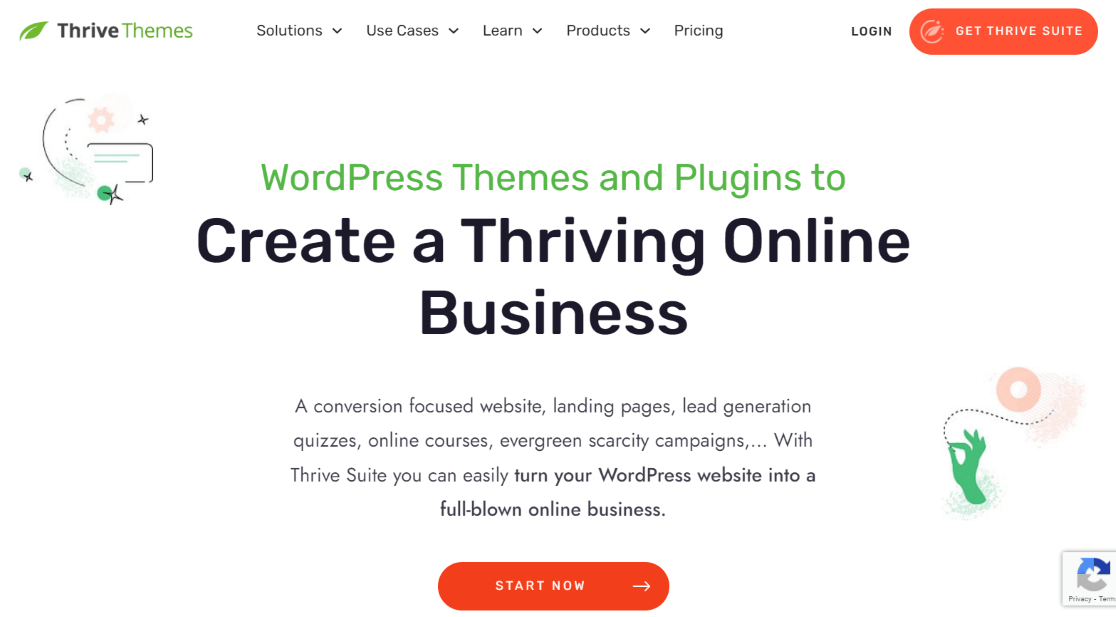 Thrive Suite is a full suite of no-code tools designed to be a one-stop shop for small businesses or startups to easily build and optimize a conversion-focused WordPress website.
With easy-to-navigate user interfaces, no-code design tools, and powerful automation tools, Thrive Suite is a full-service website builder. The suite of tools helps you create a WordPress site from scratch without having to touch a single line of code.
Thrive Suite includes the entire bundle of tools, or the tools can be purchased individually.
Thrive Automator, which also comes in the Thrive Suite bundle, is a completely FREE plugin. It can be used alongside other Thrive products or as a standalone tool. It allows you to connect WordPress to your favorite tools, platforms, and services without having to touch any complicated backend elements.
For example, set up automatic messaging in Slack to notify your team about events that happen on your website, connect your website's chatbot to your email marketing provider, and lots more.
The plugin integrates with tons of web apps and platforms, allowing you to set up triggers and advanced mapping. Then, see all your automations in WordPress.
Plus, it's designed for 3rd party software development. So, whether you're a professional app builder or a citizen developer building apps on a low-code platform like Bubble.io, you can integrate your own software with Thrive Automator.
And, if your work involves custom web app development like building custom solutions for clients, Thrive Automator can save you loads of time by replacing all your different API integrations with one, developer-friendly tool.
We could seriously create our entire no-code tools list just using the Thrive Suite of products. It's an excellent bundle of no-code SaaS tools for anyone looking to build a high-converting WordPress site without the need for technical expertise.
Get started with Thrive Suite today!
More No Code WordPress Tools
Looking for more no-code WordPress solutions? Check out these additional articles.
Well, that's it for this article! We hope you enjoyed learning about the best no-code tools for WordPress!
Not using MonsterInsights yet? What are you waiting for?
Don't forget to follow us on Twitter, Facebook, and Youtube for the best WordPress tutorials and Google Analytics updates.