Are you looking for a search engine ranking checker to see how your keywords and webpages are performing in organic search results? In this article, we'll review the best search engine rank trackers for getting data on your website's search rankings.
If you want more traffic from search engines like Google, you need to track results so you can measure improvements. Using one or more of our recommended ranking checker tools is a good place to start. Most of these tools are easy for anyone to use and understand, so don't be intimidated!
Video Overview
What Do Search Engine Ranking Checker Tools Do?
Search engine rank checker tools show you where your webpages rank in search results for a keyword or key phrase. If you follow best practices for on-page SEO, each of your webpages is optimized for one or more keywords.
Your keywords should match the words that people use to search online. Then, when someone searches for bicycle tyres Milton Keynes they're able to find a nearby shop that can meet their needs.

If you're selling bicycle tyres in Milton Keynes, your website should show up when local shoppers search for bicycle tyres.
If you use one of our rank checking tools, you'll find out whether your site is being displayed to potential customers, and where it stands in the search results. The key to getting more organic website traffic is to improve your search rankings.
What to Look for in a Rank Checker Tool
What should you look for in a ranking checker tool? The first priority is to decide what kind of ranking data and tracking capability you need.
For example, if you want to keep and save historical ranking data to compare your past results with the current status, you'll want a complete SEO solution like Ahrefs or Semrush. However, for many people those platforms come with too much complexity and cost.
Whatever level you're at, here are several things to think about when selecting a tool for search engine ranking checks:
Easy to Use
You want to use rank checking tools that are not too complex or technically challenging. All of our recommended tools can be operated by anyone with a website. If you have the technical skill to run a website, you'll find these search engine rank checkers pretty simple and straightforward. There's no coding or programming needed for any software on our list.
Accurate Source Data
Where do ranking checkers get their information about keyword and webpage rankings? Most of our top rank tracking tools get their data straight from Google and other popular search engines like Bing, Baidu, and Yandex.
Appropriate for Your Needs
If you only have a few pages on your website, and a few keywords to track rankings for, then you may not want to pay for a full-service SEO platform. If you manage a site with 1,000 pages, you'll need more powerful tools to track your rankings and keywords efficiently. Choose tools that fit your business goals and technical needs.
Search engine ranking checker tools aren't all exactly the same, and our selections below each do things a little differently. Check them all out and you're sure to find something that helps you improve your insight into organic search traffic, and get more visits from online searchers.
Our Top Picks for Best Rank Tracking Tools
MonsterInsights, the best Google Analytics plugin for WordPress, is a great search engine ranking checker tool for WordPress site owners.
With MonsterInsights, you can see rankings for your most successful keywords right in WordPress. These are the keywords that drive the most traffic to your website from Google search.
MonsterInsights' Search Console report shows you the top 50 search terms that people used on Google to find and visit your website.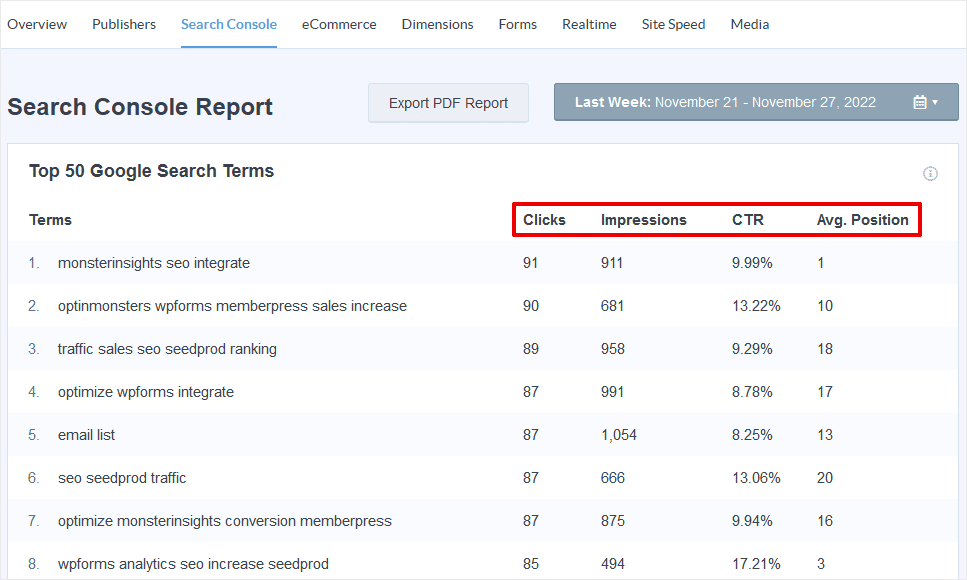 You'll see how many people clicked through from Google search to your site (Clicks), how many times your pages were displayed in search results (Impressions), and what percentage of people who saw your link actually clicked it (CTR, or click-through rate).
In the last column of the report, you'll see the Average Position of your domain for the listed search terms. That tells you where your webpage would rank in a Google search using the term, so an Avg. Position of 1 means you're first in the search results. Awesome!
The MonsterInsights plugin gets this information by connecting directly to Google Search Console. This ensures that you're getting the most updated, reliable data from the search engine with the most traffic in the world.
How to Use MonsterInsights' Search Console Report
How do you use the data from MonsterInsights' Search Console report? First, you can track your average position in the search engine results pages (SERPs) for your most important keywords. This tells you how well your pages are optimized for targeted keywords, and whether your SEO efforts are having a positive effect.
Second, you can compare your click-through rates and discover lower-performing keywords. You may need to work on improving titles and descriptions for your webpages with poor CTR results. Or, maybe your content doesn't match search intent, and you need to revise your focus keywords.
For busy WordPress site owners, we highly recommend MonsterInsights as the best search engine ranking checker tool.
It tracks the keywords that bring in the most traffic, gives you keyword rankings on Google, and shows you whether your titles and descriptions are a good fit for users' search intent. These are extremely important metrics for evaluating and improving organic search traffic.
Get started with MonsterInsights today.
If you simply want to do a quick check to see if your website is ranking for a particular keyword or phrase, the Live Google Rank Checker at Keyword-Tools.org can handle that task.
To use the Live Google Rank Checker, simply input a keyword in the Your keyword field, along with your site's domain. The tool will check with Google and then show you where your site ranks for the selected keywords, and which webpage is ranking on Google search results.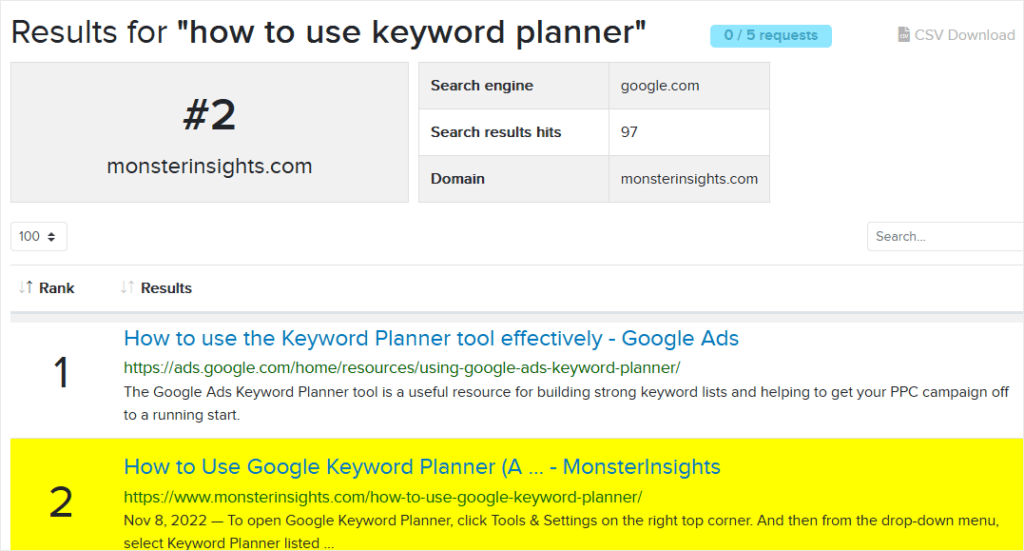 The biggest drawback of Keyword-Tools' Live Rank Checker is the daily limit of 5 free keyword searches.
Yes, you can get the same results by doing your own Google search. But your search results might be personalized, unless you're using a private browser window or have cookie tracking disabled.
Also, the Live Rank Checker will give you much faster results than a regular search if your site isn't on page 1, because you won't have to scroll through multiple pages to find your position.
Get started with Live Google Rank Checker today.
Semrush is a full-service search engine optimization and keyword research platform that does a whole lot more than simply check rankings.
And, while it does have a huge number of different tools and screens, most of them are easy enough to understand. If you do have questions, Semrush provides extensive documentation and prompt customer service to help.
As a premium SEO tool, Semrush offers a bunch of advanced keyword research and tracking features:
Historical position tracking with real-time data for up to 1,000 keywords
Track position in SERPs for keywords, domains, and competitors
Data on keyword search volume, intent, cost, difficulty, and more
Competitor and domain-based keyword research
New keyword ideas based on URLs, keyword gap analysis, or seed phrase

Semrush may be the best option for you if you're managing all aspects of your site's SEO and search engine marketing. It also includes these other on-page and off-page SEO tools:
Backlink analysis and link building campaign manager
Site audit and on-page SEO checker
Content optimization and content marketing analytics
Local SEO and social media optimization
All of Semrush's advanced features come with a price, so it's not designed for casual users. If you require one of the best all-around SEO solutions, with sophisticated rank checking and tracking abilities, you should give Semrush a try.
Get started with Semrush today.
Are you curious about just which keywords are bringing in the most visitors to your site, and where you rank for those keywords? You can get a quick glance at your top traffic-driving keywords, plus a few other interesting stats, in the Free Google Rank Checker from The Hoth.
This tool shows you a keyword list like MonsterInsights, but without the clicks, click-through rate, or number of impressions.
Instead, the Free Rank Checker displays average monthly search volume and one other interesting metric: the percentage of organic traffic received by your site from each keyword.
These numbers give you a quick way to see the search terms for all the organic traffic reaching your site. That data can help to improve your existing content and to plan future content marketing.
Get started with Google Free Rank Checker today.
Ahrefs is an SEO and keyword research platform that rivals Semrush as a top-level collection of tools. It's powerful enough for marketing agencies and larger companies, but still simple enough for non-technical people to use effectively.
To start, Ahrefs dashboard overview report displays a bunch of important keyword information, including the number of organic keywords your site is ranking for and the rank distribution of your top tracked keywords.
Then, you can drill down using the Rank Tracker to show you:
Keyword rankings charted over time, along with volume, traffic, and related URLs
SERP features like image packs, ad positions, featured snippets, and more
When rankings and features change with automated updates
Comparisons of rank, search traffic, and SERP features with up to 10 competitors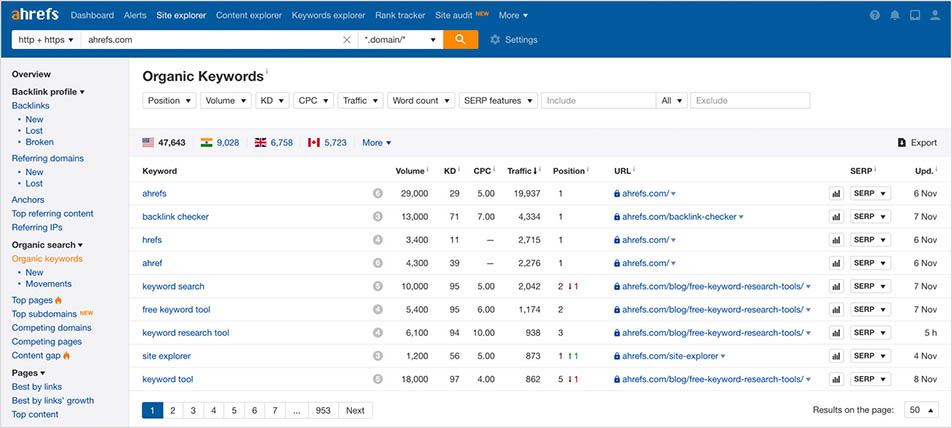 Ahrefs includes a full set of tools for other SEO tasks:
Site Explorer gives you insight on backlinks, broken links, and paid traffic
Keyword Explorer suggests new keywords and projects search and traffic volumes
Site Audit checks your site for over 100 SEO issues and offers actionable steps to improve any errors
Content Explorer analyzes content performance and suggests links and content marketing tactics
Considering all these tools, if you need a full-service SEO solution Ahrefs is a great choice. And, if you're a beginner, Ahrefs has an expansive library of help documents, video courses, and other learning materials to show you how it all works.
Get started with Ahrefs today.
If you want a complete SEO package that includes high-level keyword ranking and tracking tools, at a lower cost, Ranktracker might be the search engine rank tracker for you.
The main downside to Ranktracker's Starter plan is a 100-keyword limit on tracking. But, if you don't need to check rank and research more than 100 keywords, this tool is a great value.
Although Ranktracker doesn't have all the content analysis and competitor research tools offered by Semrush and Ahrefs, it does have excellent options for site and keyword rank checking and tracking:
Rank Tracker monitors rankings by location, language, device and more
Receive email alerts to notify you of critical ranking changes
Check Google listing ranks for maps, shopping previews, and reviews
Advanced SERP position and competitor analysis
Ranktracker presents all this information in attractive, easy-to-read reports that are quick to set up. Just like the more expensive SEO platforms, Ranktracker saves your keywords so you can track ranking history as you work to optimize your site.
We recommend Ranktracker for business owners who need more powerful tools than our free solutions may provide, but who don't need all the features of the premier SEO platforms.
Get started with Ranktracker today.
Serpstat is another advanced set of tools with a premium price. Calling itself an all-in-one SEO platform, Serpstat includes over 50 separate tools. It's suitable for anyone from a solo entrepreneur to a search marketing agency.
In terms of website and keyword rank tracking, Serpstat offers these comprehensive features:
Check local, global, organic, and paid search results for your domain and competitors
Automated rank tracking reports changes daily, weekly, or monthly
SERP and search volume crawling shows you more details on search results
We especially like Serpstat's clean, colorful report screens with ample white space. It's easy to navigate reports and set custom parameters based on your needs.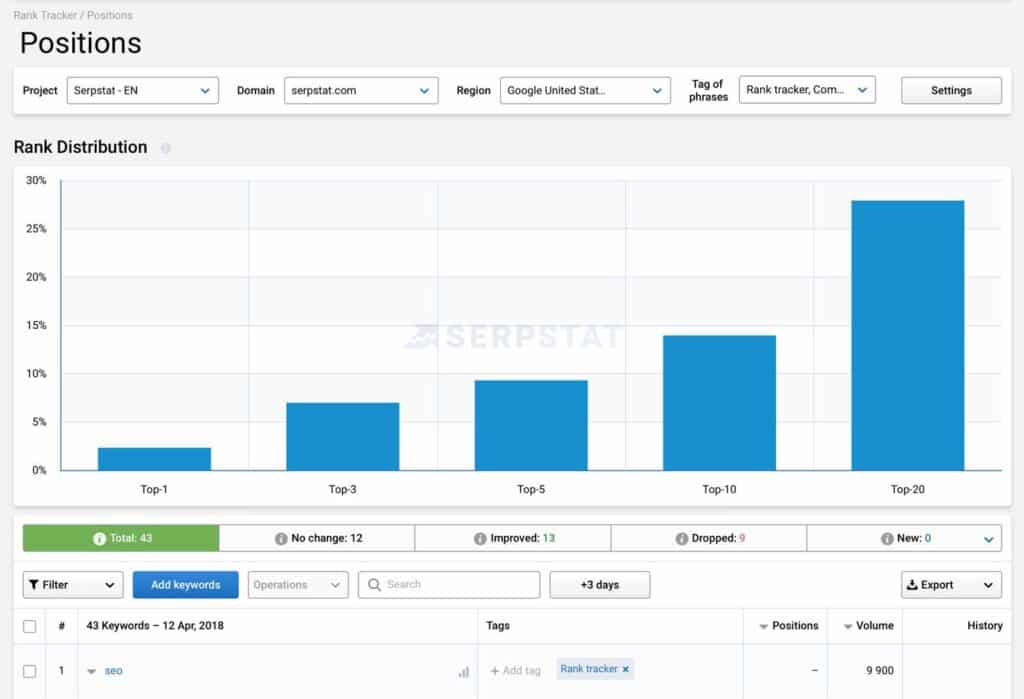 Serpstat is a powerful product with a price that's still lower than market leaders like Semrush. So, it might be a good value for someone looking for a top search ranking tracker on a more economical budget.
Get started with Serpstat today.
Best Search Engine Ranking Tracker Tools: Conclusion
That's all for our roundup of the best search engine ranking checker tools! No matter what your business size or goals, you should be able to find something here to help you measure your site's rankings, and improve your organic search results and traffic.
If you liked this post, you may want to follow up by learning Google Analytics 4 SEO Hacks to Increase Search Traffic.
And don't forget to follow us on Twitter, Facebook and YouTube for more helpful Google Analytics tips.