Looking for a way to see exactly where visitors are clicking on your site? Website heatmap tools can show you just how users are interacting with your website.
When you can see where users are clicking and how far they're scrolling down your page, you can make informed decisions about what changes you might want to try making to increase your user engagement.
For WordPress users, installing a heatmap plugin or tracking code is really fast and easy. Let's take a look at our list.
Top 5 WordPress Heatmap Plugins
There are multiple great WordPress plugins that create website heatmaps. They all have a few different features, so check them out!
Crazy Egg is a popular website heatmap tool that will create both heatmaps and recordings of how visitors used your site.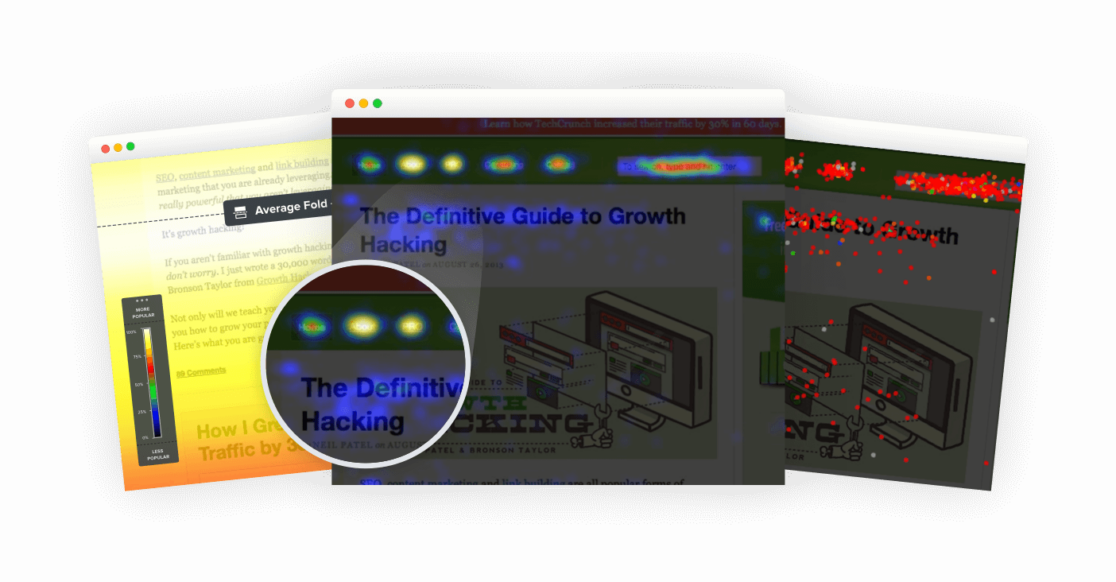 Some of Crazy Egg's features are:
Visual heatmaps
Scrollmaps
Referral traffic reports
Audience demographic reports
A/B tests
Crazy Egg offers a free 30 day trial, then costs $24 per month and up for a plan. Adding the code into your WordPress site is easy. You can download a free plugin from Crazy Egg, or use your favorite code insertion plugin.
MonsterInsights is the best Google Analytics plugin for WordPress. It allows you to easily connect your WordPress site with Google Analytics so you can view all the data that matters most right in your WordPress dashboard.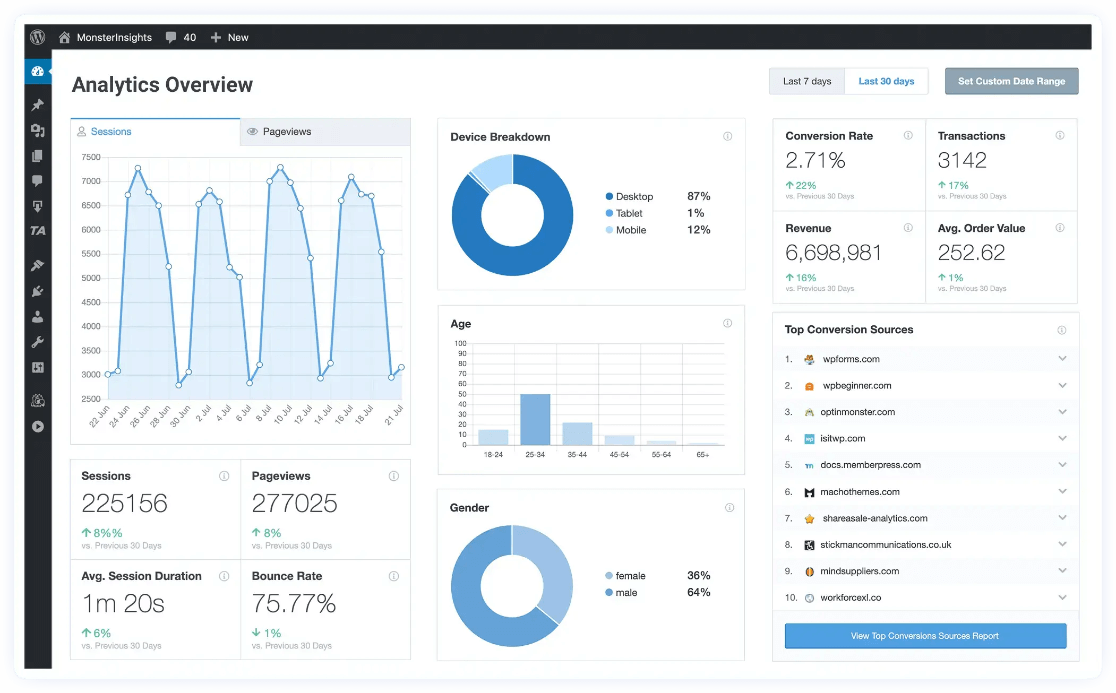 MonsterInsights has a bunch of other features as well that can help you set up and use Google Analytics effectively and easily. One of those features is what's called Enhanced Link Attribution. It sounds complicated, but it's actually a pretty easy way of seeing which links and buttons people are clicking on on your site.
Enhanced link attribution is a Google Analytics feature that differentiates between identical links on the same page, and gives you a visual map of what percentage of clicks were on each element on your page.

So, if you have 2 or more links to the same destination from one page, enhanced link attribution will show you which link is getting the most clicks. At a glance, you can see which buttons on your landing page, which internal links, or which banners in your sidebar are grabbing the most clicks.
For more on what enhanced link attribution is and how to set it up, read The Beginners Guide to Enhanced Link Attribution in Google Analytics.
MonsterInsights also tracks scroll depth right out of the box, no setup required.
Hotjar is a heatmapping tool that will create both heatmaps and recordings of visits. Their heatmap tool will show you were visitors click, move, and scroll.
Beyond heatmaps, Hotjar also includes customer feedback and survey tools, so you can ask visitors for feedback right on your website.
This tool has a limited free version that you can use to try it out, then grab a plan for $39 per month and up.
Hotjar does also have an official WordPress plugin that lets you input your Hotjar ID to complete a simple install.
Lucky Orange is, like MonsterInsights, a larger tool that offers much more than the ability to see where visitors click. This one focuses a bit more on conversion optimization, with realtime analytics, website heatmaps, visitor recordings, chat, polls, and form analytics.
Also, Lucky Orange's dynamic heatmaps allow you to study visual engagement patterns including dynamic elements like popups, dropdowns and forms.
There's a free trial for any of the plans, plus an always free, limited plan. The paid plans cost $10 and up. They also have their own official WordPress plugin.
The last tool on our list is, like MonsterInsights, a WordPress plugin instead of an external tool that happens to work on WordPress. Aurora Heatmap, though, is just focused on heatmaps.
So, Aurora Heatmap is accessed through your WordPress admin. There, you can set up which pages you'd like to track and see your heatmaps.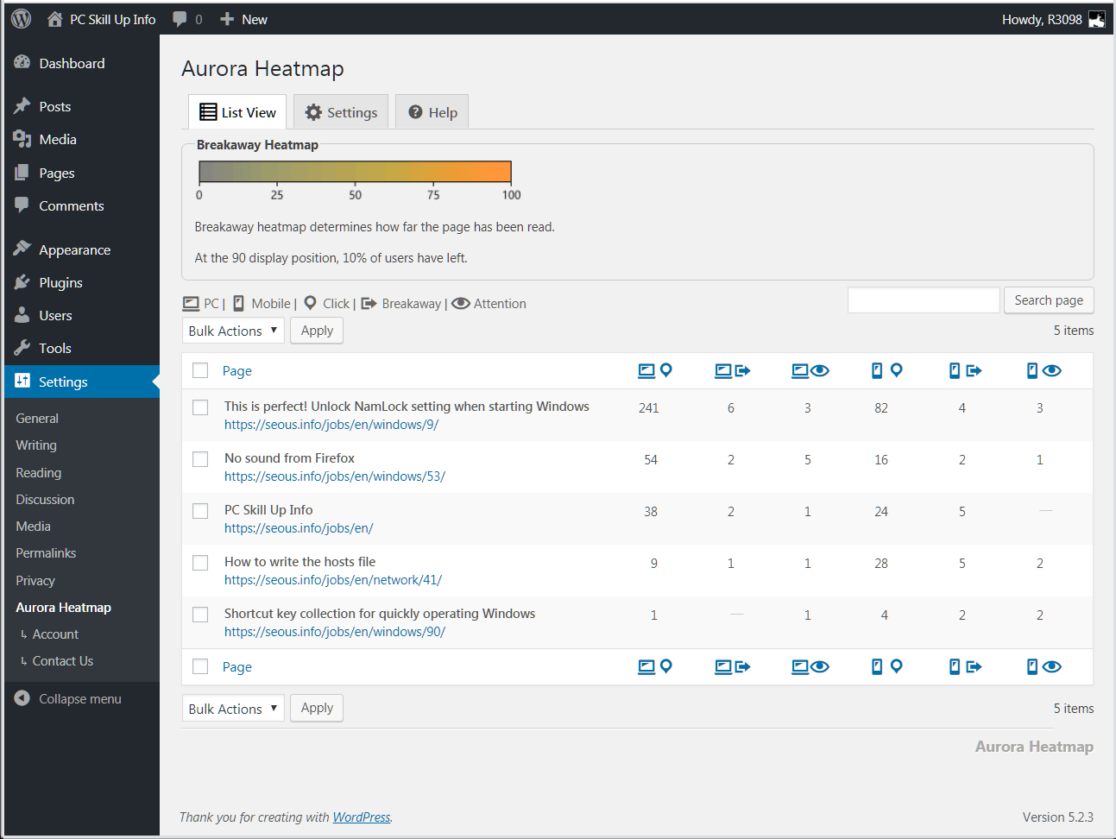 Aurora Heatmaps has a paid version and a free version that you can check out. The free version is available by opening your WordPress dashboard, then navigating to Plugins » Add new, then searching for Aurora Heatmaps.
That's it!
We hope you found the right heatmap tool for your site. If you're looking for more ways to understand your users' engagement, check out Top 5 User Engagement Metrics for Your Website Explained.
And don't forget to follow us on Twitter, Facebook and YouTube for more helpful Google Analytics tips.