Looking for a way to increase engagement or get valuable user feedback on your website? Try out poll plugins for WordPress to make users happier and gain input straight from your website visitors.
Website polls and surveys turn visitors into active participants. That leads to deeper engagement with your site and brand.
In this article, we'll compare a few of the best poll plugins for WordPress sites. They all do similar things, but they operate a little differently. As you'll see, some of these tools are capable of much more than just making polls.
What Does a Poll Plugin for WordPress Do?
A poll plugin lets you create interactive polls and surveys for your website visitors to answer. You can display polls in all sorts of different ways, like embedding poll questions in a web page, creating a pop-up box, or placing your poll into a sidebar.
People like being asked for their opinions and input. They also like to see what other people think. The best polling plugins allow you to display results immediately after users respond, so they can compare their answers to others'.
Several of the plugins on our list are not simply poll building tools. Many of our top picks can be used to create a variety of forms in WordPress. These would be a great choice for people who want to make contact forms or lead capture forms, for example, in addition to polls.
After you read this selection of our best poll plugins for WordPress, you should be able to choose one that best suits your unique needs.
Our Favorite WordPress Poll Plugins
WPForms is the most powerful forms plugin for WordPress. It offers a huge number of custom options for forms of every type imaginable, including web polls. If you need a poll plugin for WordPress, you should definitely look at WPForms.
You can make your polls as simple or complex as you want with WPForms. Most importantly, WPForms poll plugin doesn't require you to know any programming or coding.
The interface is clear and intuitive. All you do is click and drag the fields you want in your poll into a form builder, then change the settings and layout to match your needs. There are four starter templates for polls and surveys, or you can design your own.
WPForms offers many optional fields to customize your polls, aside from the typical dropdown lists, check boxes, and radio buttons:
Net Promoter Score rating
Number sliders
Text boxes
Likert scales
Star ratings
Once you start collecting responses from your polls, you can view the number of poll entries and see the results right in your WordPress dashboard.
You'll need at least the Pro level of WPForms to get the polls and surveys addon. When you get WPForms at this level, it comes with an incredible selection of addons to make tons of different kinds of forms and integrate with many other tools and services.
For example, a Geolocation addon tells you where poll responders are physically located. Integrations with major email providers let you add poll users to your mailing lists automatically. And the Form Pages addon gives you the ability to design high-converting landing pages to display your polls without any other distractions.
For busy people who don't have a lot of time to design their own polls and forms, WPForms Pro also comes with nearly 150 form templates to cover just about any scenario you can imagine.
Considering all of the extra capabilities you get along with the polls addon, we choose WPForms as our number one pick for the best polls plugin for WordPress.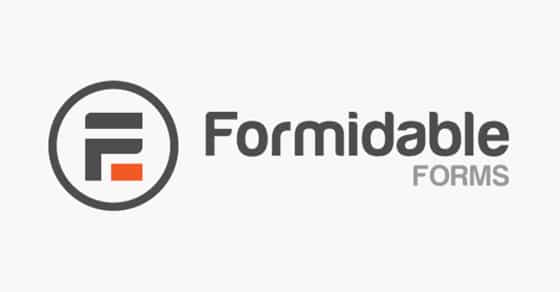 Formidable Forms is one of the most advanced poll plugins for WordPress, with a lot of options for developers who need to create highly customized forms. For those who aren't that experienced, Formidable Forms has a user-friendly drag and drop form builder that's fairly easy for beginners to figure out.
This WordPress forms plugin also has a polls and surveys addon starting at the Business level with many extra features.
Along with Formidable Forms ability to create many other types of forms, the polls plugin addon gives you all this:
Custom polls with no code
Multiple display options for polls and surveys
Reports with detailed data and results
Multi-page polls and smart question branching
Responsive polls for mobile users
Automated end dates and entry limits
Security to prevent multiple submissions
Formidable Forms is a premium plugin with a number of special features just for managing and displaying polls. If you need a full-service form creator that includes a poll plugin for WordPress, this is one you should look at.
Give Formidable Forms a try now!


Poll, Survey & Quiz Maker is a WordPress plugin solely dedicated to adding polls and surveys to your WordPress site. Created by Opinion Stage, this WordPress poll plugin has a unique look and feel compared to most of the other plugins on the list.
One thing that stands out about Poll, Survey & Quiz Maker is the attractive visual designs of its templates. Adding color and images to polls encourages greater interaction and a higher response rate.
Another feature that isn't available with some other poll plugins is Poll, Survey & Quiz Maker's ability to share a link to your poll within social media sites. It also lets more advanced users embed polls in non-WordPress sites by using an iframe or a script.
When adding a poll to a WordPress site, you have the option to add to a page or post, add to a sidebar, add to a pop-up window, or embed using a shortcode.
One thing users may not like about Poll, Survey & Quiz Maker is that you must edit polls outside of the WordPress dashboard, on Opinion Stage's website.
Give Poll, Survey & Quiz Maker a try now!


Crowdsignal Forms is a polls plugin for WordPress that is made by WordPress's parent company, Automattic. With a free version and several paid account levels, Crowdsignal Forms has products to accommodate several different types of user.
Unlike some of the other poll plugins listed here, Crowdsignal Forms is not really a complete tool for form creation. It focuses exclusively on gathering user feedback through polls, surveys, and quizzes.
The Crowdsignal poll plugin for WordPress functions somewhat differently, too. It is designed to be used inside WordPress's block editor, so polls are included as blocks that you can add to any page or post.
The free version allows for unlimited polls and questions, but it includes Crowdsignal branding and has a fairly low limit on how many results you can collect. Premium level accounts start to add some pretty advanced options, along with unlimited response collection.
At the Business level, Crowdsignal is more aimed at developers and those who manage large, complex sites. It has advanced display and export options, along with 24-hour support by email. If you run an enterprise-level website with advanced polling and data collection needs, Crowdsignal Forms might be a solution to look at.
Give Crowdsignal Forms a try now!


WP-Polls is a free polls plugin for WordPress that is extremely simple and fairly easy to use. You can create and manage polls, and poll results, in a basic WordPress dashboard.
WP-Polls doesn't give you a lot of options for displaying polls in WordPress. You can either embed a poll in a post or page, or in a widget on a sidebar or other location. WP-Polls does have the capability for more customization if you know PHP code, but beginners seeking a free poll plugin should also take a look.
WP-Polls' best qualities are its ease of use and value. If you only need to ask a few limited question types and don't need a lot of extras, WP-Polls might be enough for your poll plugin needs.


The YOP Poll plugin for WordPress is an open-source plugin with a free version that allows you to ask a single poll question. This version has a single template, but it does allow you to customize it somewhat extensively. One significant issue for beginners is that the customization menu requires some knowledge of CSS and HTML styles.
The Pro upgrade adds more options, with multiple questions allowed and the following advanced features:
Over 30 different starter templates
Poll responses with images and video
Custom text blocks
Google and Facebook login integration
Fingerprint-secured voting
Countdown timer
YOP doesn't give you the most field choices or fanciest display or layout designs. However, if you only need basic display options, the YOP poll plugin does have some powerful features that other polling plugins don't offer.
BONUS: Try Giveaways + Polls to Build Viral Campaigns
If you're trying to generate a different type of interest or engagement, adding a giveaway or contest to your poll can have a viral effect on your site traffic and subscriber levels.
If that sounds like a fun way to grow interest for your website, take a look at RafflePress, our choice as the best giveaway plugin for WordPress. RafflePress offers two premium addons called Answer a Question and Polls & Surveys that reward participants with contest entries for completing your poll.
RafflePress has social login and sharing options to increase the viral reach of your polls. People love sharing contests and giveaways on social media, even more so when they include interactive features like a poll or survey.
So, if your marketing strategy includes ramping up excitement with a poll giveaway, you should check out RafflePress.
Well, that wraps up our list of the best poll plugins for WordPress. Hopefully you found one that you're excited about trying on your site!
Conclusion: Which WordPress Poll Plugin Is Best?
For users who want more than a basic multiple choice poll form, we recommend WPForms as the most flexible and full-featured poll plugin for WordPress. It's also a great value for those who need multiple types of forms and integrations with other tools.
In terms of first-time users, WPForms is easy to navigate, and it doesn't require any coding to get custom results. The poll and survey templates built into WPForms have all the fields you might need, with many options to modify them.
Power users have the ability to customize polls in WPForms endlessly. Advanced fields, conditional logic, and tons of integrations give your polls many opportunities to increase audience engagement.
If you want the most customization options for your polls, along with a user-friendly interface, WPForms is the best choice. It's also an economical choice if you need to make contact forms or any other form type. This is why we select WPForms as the best poll plugin for WordPress.
If you enjoyed reading this article, you might want to learn about a bunch of other extremely useful WordPress plugins.
Not using MonsterInsights yet? What are you waiting for?
And don't forget to follow us on Twitter, Facebook and YouTube for more helpful reviews, tutorials, and Google Analytics tips.