Do you want to know how many times people added an item to their shopping cart on your website? You can track add to cart events in Google Analytics!
However, setting up Google Analytics add to cart events isn't completely straightforward. You may have to edit code and learn Analytics in detail to successfully set up tracking.
Thankfully, there's an easier way!
In this article, we'll show you how to track add to cart events with Google Analytics on your WordPress website. Let's get started.
Why Should You Track Add to Cart Events?
Add to cart is an important metric to track in your online store. It shows how many times the add to cart button is clicked, and how many products get added to carts.
Measuring add to cart is critical for measuring conversions on a website. It helps you to see how potential customers are interacting with your eCommerce store.
For instance, you can find out when people add products to their carts but don't complete checkout. If the rate is too high, you should take steps to reduce cart abandonment.
Or, you can see how many times people visit product pages but don't add an item to their carts. This tells you how well your product pages are converting viewers into purchasers.
If you can improve that conversion rate by making a better product page, you make more revenue!
So, how do you set up add to cart tracking? Keep reading and we'll find out.
How to Set Up Google Analytics Add to Cart Events
There are a number of ways you can track add to cart events in Google Analytics. But the easiest way is through MonsterInsights.
It's the best Google Analytics plugin for WordPress, and you can set up eCommerce tracking in just a few clicks.
The best part of using this method is that it automatically sets up add to cart events tracking in Google Analytics. No additional configuration or editing code required.
Let's get started!
Step 1: Install MonsterInsights and Add Google Analytics
The first step you'll need to take is to install and activate the MonsterInsights plugin on your website. Make sure you're using the MonsterInsights Pro license to use its eCommerce tracking features and other advanced tracking options.
Once the plugin is ready to use, you'll have to add Google Analytics to your WordPress site. Using the MonsterInsights setup wizard, it's very easy to add Analytics.
You won't have to touch a single line of code and the plugin will connect Google Analytics for you.
For a full tutorial on setting up MonsterInsights and connecting to Google Analytics, check out How to Add Google Analytics to WordPress the Right Way.
Step 2: Install eCommerce Addon
In the next step, we'll install the MonsterInsights eCommerce addon. It automatically detects your eCommerce store and starts tracking its performance in Google Analytics.
To install the addon, log in to WordPress and go to Insights » Addons, and then to the eCommerce tile. Now click Install and the addon will activate in just a few minutes. You'll see the status change from Inactive to Active.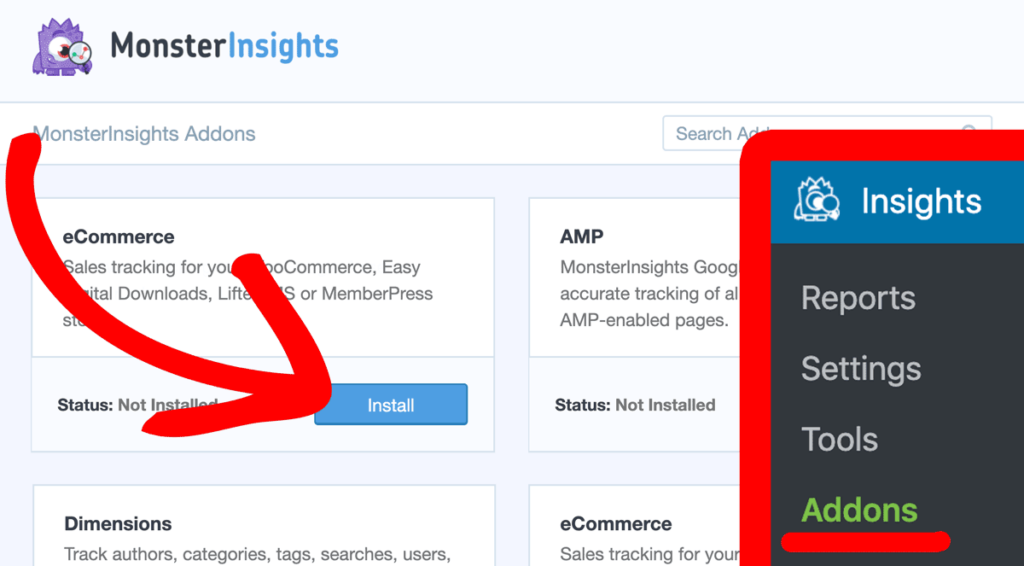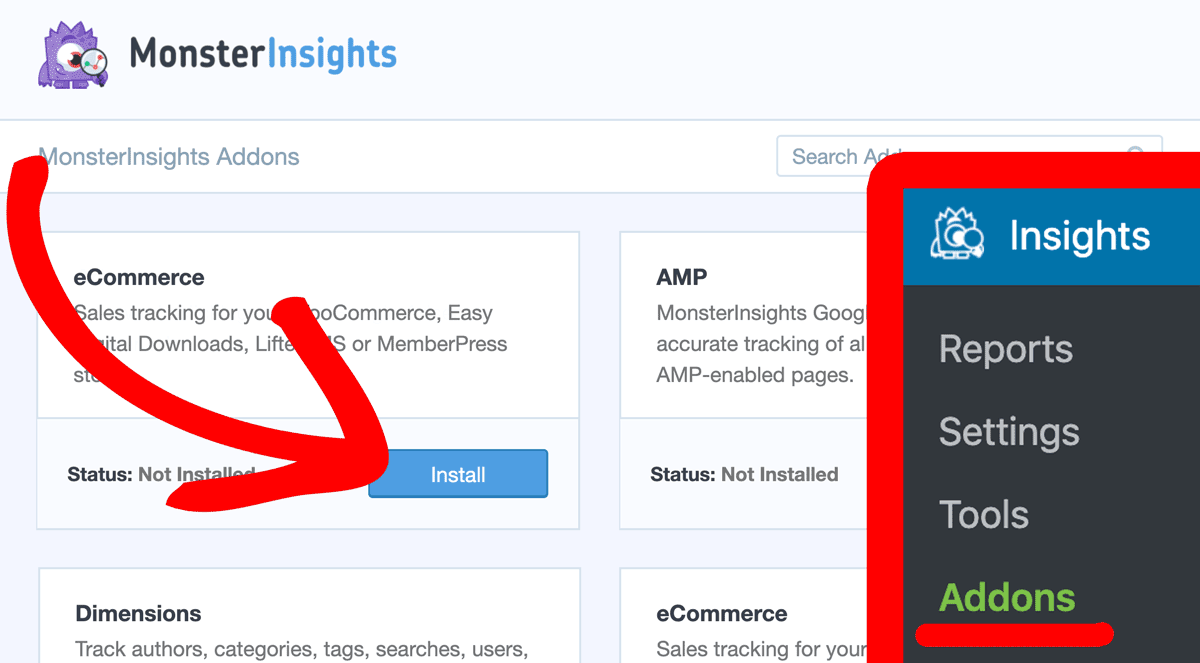 That's it! You've successfully set up eCommerce tracking in WordPress. Now, are you ready to view add to cart events?
Step3: View Add to Cart Events in WordPress
One of the benefits of using MonsterInsights is that you can view Google Analytics reports inside your WordPress dashboard.
This way, you don't have to navigate through the complex web of Google Analytics reports finding the data you need to make decisions.
To view Add to Cart, go to Insights » Reports » eCommerce.

Here you can see how your online store is performing. Find out the conversion rate, number of transactions, revenue, and average order value for whatever time period you choose.
Plus, you get to see your top-selling products, their order quantity, percentage of sales, and total revenue. The report shows which products are getting the most sales.
MonsterInsights also reports top conversion sources, so you know where your customers are coming from and which sites bring the best traffic.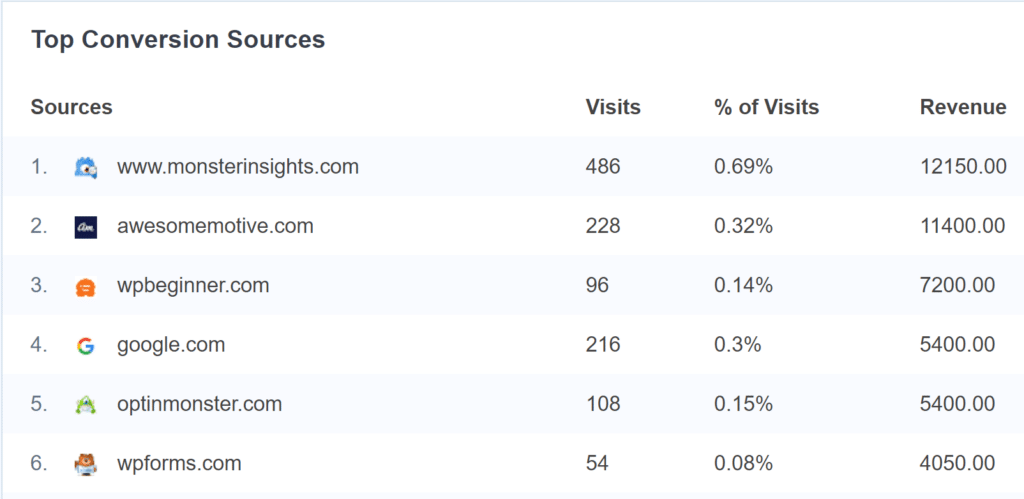 And if you scroll down, you can see the Total Add to Carts report. This is where you can see the number of products people added to their carts.
Next to this, there's another report for Total Removed from Cart, which shows the number of products people removed from their cart.

As you can see, MonsterInsights also gives you a percentage of abandoned checkouts, one of the stats you should pay attention to when optimizing your eCommerce site.
There you go, that's all there is to set up and view your add to cart events using Google Analytics and MonsterInsights.
How to View Add to Cart Events in Google Analytics
As we mentioned, the add to cart metric is required to figure out other valuable eCommerce stats like cart abandonment and product page conversion rates.
When you connect Google Analytics to your WordPress site with MonsterInsights, you'll be able to see advanced reports that show how well your sales funnels are working. Find out how many people are leaving items in their carts, and how many site visitors convert into sales.
Let's take a look at how you might create a custom report using the add to cart event to see how your sales funnel is working.
First, log in to Google Analytics 4 and select the Explore tab from the left sidebar to open the Explorations screen. Now, click the + sign to start creating your custom report.

In the Explorations screen, type in a name for your custom exploration. Let's call ours "Simple Sales Funnel."
We'll go ahead and select Funnel exploration from the Technique list, and we'll call this report Shopping Funnel.

Now, type in a name for your first step. We'll call the first step of our funnel exploration "Add item to cart."

Click on Add new condition and choose Events » add_to_cart. This is going to show you the number of website visitors that added an item to their online shopping cart.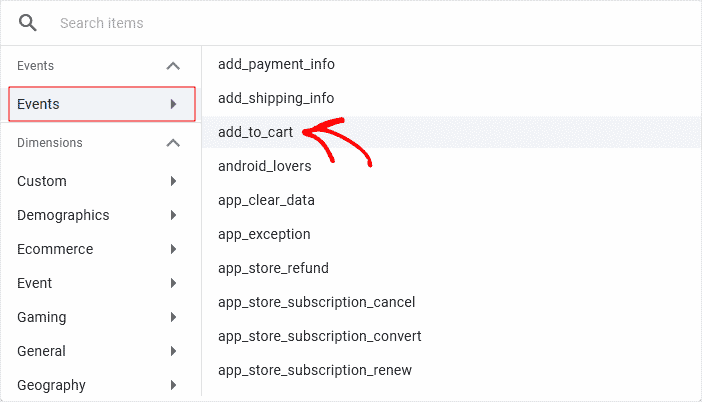 Add Steps to Track Add to Carts
We need to add more steps to our funnel exploration at this point. Your checkout process might be a little different if it's custom, but most will follow these same steps. Let's add two more steps to our example.
All you need to do is repeat the process above for as many steps as you'd like to track. Buyers abandon carts at different stages of the checkout, so each step will give you a little more detailed information.
To add a step, click the Add step button below the Step 1 box.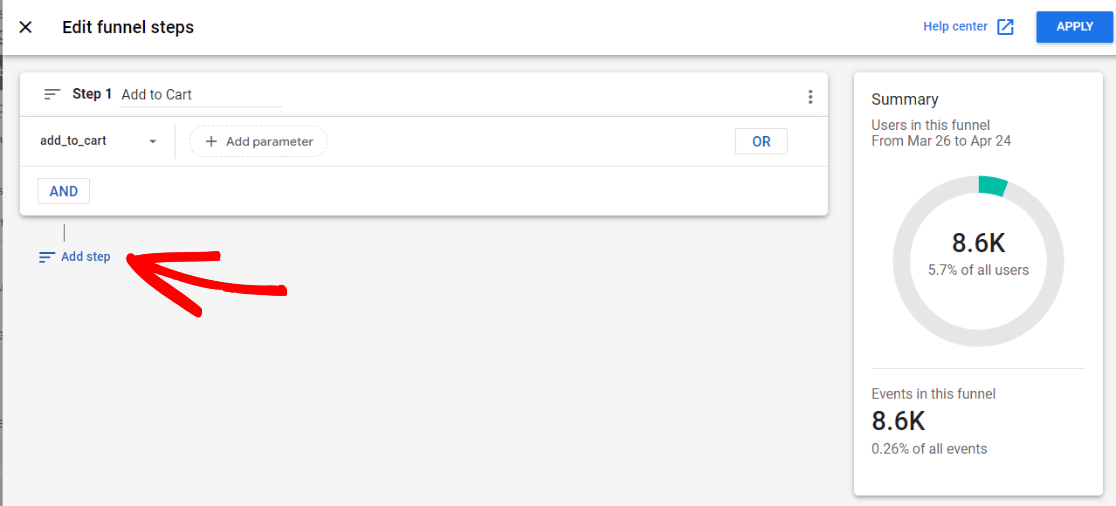 Now, we'll name our steps and select the matching events like we did above.
In this case, we want to find out how many people added items to the cart, how many of those moved on to begin checkout, and finally how many actually completed a purchase.
So, we named the second step "Begin Checkout" and chose the event begin_checkout, and we named the third step "Purchase" and chose the event purchase: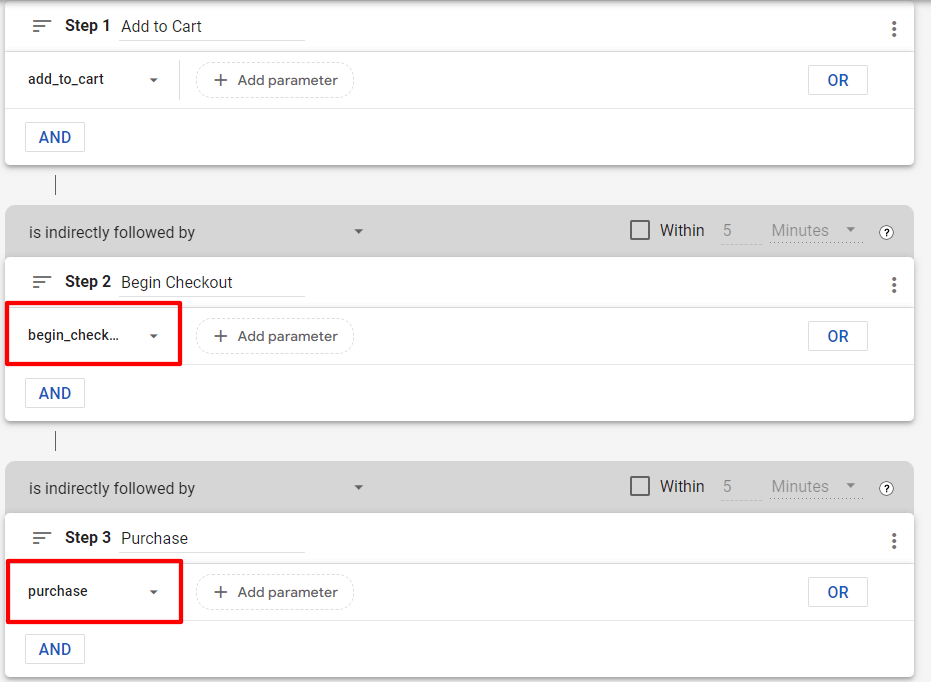 We're done with our funnel, so click the Apply button to see your add to cart data.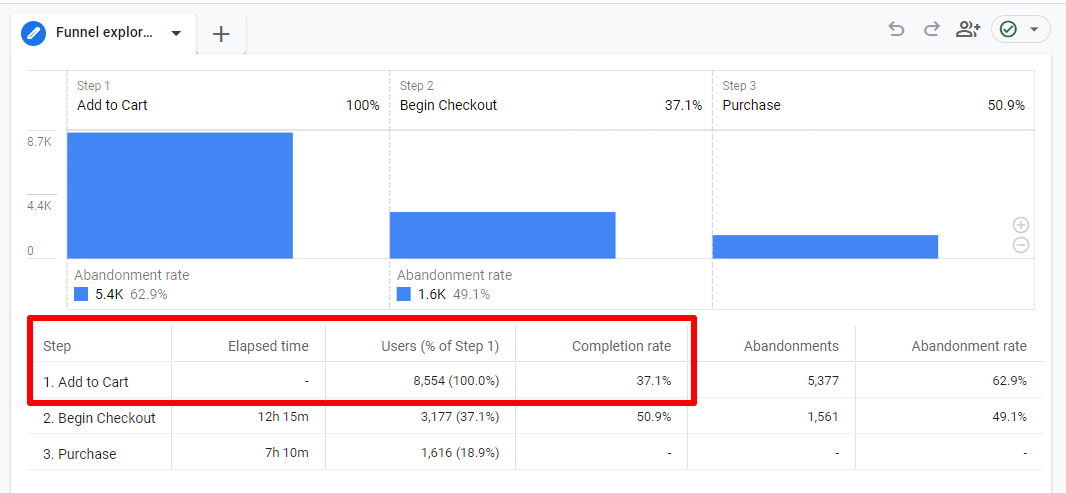 How to Use Add to Cart Event Tracking Data
What does the funnel exploration table show? It shows each of your funnel steps and the percentage of visitors who completed that step. And it shows how many abandoned the process at each step, and didn't move on to the next step.
In our example, 62.9% of the users who added an item to their cart continued on to begin checkout. If this was your eCommerce website, you might decide you need to optimize product pages to convince more visitors to click the Buy button.
Or, maybe you need to target a different audience with your marketing campaigns, or change your product offerings. The more data you have, the better you can make these kind of decisions.
That wraps up our tutorial on how to track add to cart events with Google Analytics!
If you liked this article, you may also want to go through our post on how to set up WooCommerce conversion tracking.
Not using MonsterInsights yet? What are you waiting for?
And remember to follow us on Twitter, Facebook and YouTube for more helpful reviews, tutorials, and Google Analytics tips.