Do you want to give a personalized experience to your customers and respond to their queries instantly?
With live chat website plugins, you can resolve customers' problems right away. Just guide them in the correct direction, like finding a product, and see your conversions grow.
In this article, we'll look at the best live chat website plugin for WordPress, so you can select the right software for your business.
Quick Overview of Best Live Chat Software
We've compiled a list of best live chat website plugins. So, you skip ahead to any software you're interested in reading about:
What Are the Benefits of Using Live Chat Website Plugin?
Live chat software offers more than just giving a personal touch to your website. They open the door for actionable insights, develop trust with buyers, increase customer satisfaction, and provide instant solutions. Let's break down each of these benefits:
Collect Actionable User Data:
Using the data collected through live chat support, you can learn about users' behavior, pages they visit, and get to know about their pain points. You can set up Google Analytics to show this data and tailor your products and services that best meet the visitor's needs.
Reduce Shopping Cart Abandonment: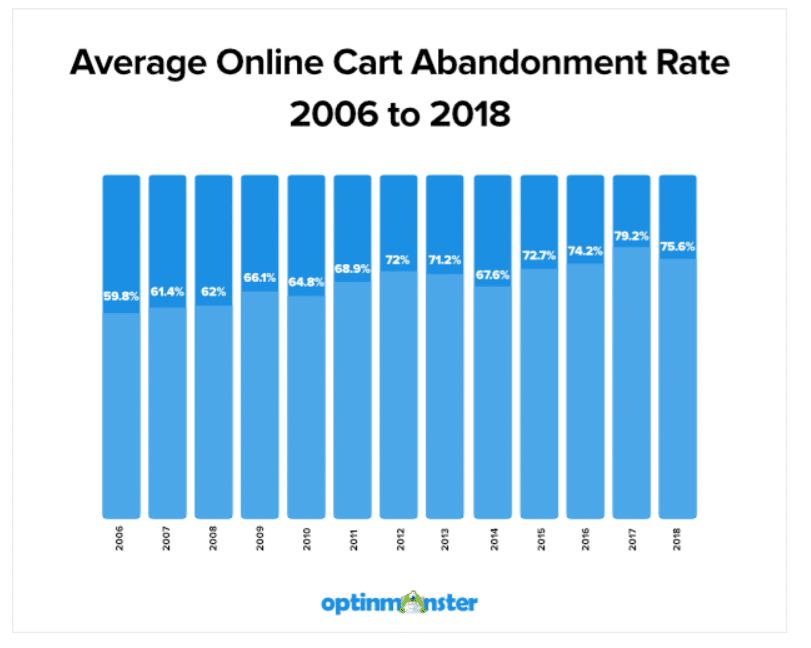 Almost 76 percent of users around the world abandoned their online shopping carts in 2018. But what if you could control your website visitors' journey? Through live chat, you guide them every step of the way and reduce abandoned carts.
Deliver Instant Customer Support:
There is no doubt that live chat is the king in terms of speed and delivers astonishing performance, far better than emails, phone calls, social media, or any other channel of customer support.
Select The Right Live Chat Software to Build Trust:
However, selecting the right live chat website plugin is important, or you'll risk the chance of poor customer service.
That's why we have put together a list of best live chat software that is affordable, easy to use, work with WordPress, and are loaded with exciting features.
Let's start!
LiveChat is the leading live chat website plugin in the industry, and it's our number 1 pick. There are different ways you can customize LiveChat as per your needs.
It offers various themes for chat windows, which you can change to align with your website. You can add your company logo, change the chat window message, add social media buttons, and create custom live chat agent profiles.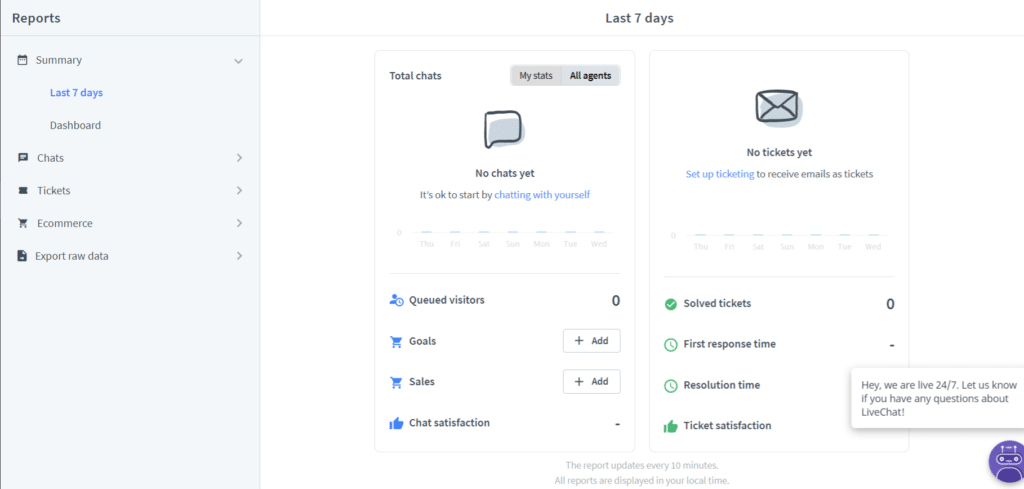 Its interface is clean and allows you or your agent to interact with customers from any device, be it tablets, laptops, and mobile. LiveChat's flexibility goes a step further, as you can integrate over 130 tools like Facebook, Dropbox, Shopify, and WordPress.
LiveChat is excellent for generating leads and using its wide range of reports, you can easily highlight customer pain points and areas for improvement. You can also measure the chat duration, queued customers, and response times of your agents.
Some of the key features that make LiveChat standout from the rest are:
It's quick
Super easy to set up on WordPress
Offers intense customization
Clean interface
Is available at inexpensive pricing plans
Pricing: LiveChat starts at $16 per month per seat billed annually with the Starter package. They go up to $50 per month per seat billed annually with the Business Plan. You get a 14-day free trial with any plan that you select.
Sendinblue is an all-in-one marketing platform and offers a chat box that lets you connect with your customers in real-time. It's the second-best live chat software on our list and provides attractive features for new and experienced businesses.
The setup process is quick and easy. Once you have set up the chat box under your account, install the WordPress plugin and add the live chat feature to your website.
The user interface of Sendinblue is simple, clean, and highly user-friendly. It's designed to cater to all ages, and you can start using the software and talk to your customers in no time.
What makes Sendinblue so powerful is its complete marketing toolkit. The live chat software comes with:
Email marketing integration
SMS marketing feature
Segmentation of users data
Facebook ad retargeting
Landing pages
A complete CRM
Marketing automation.
Pricing: Sendinblue offers different pricing plans, but you will need the Premium package for the live chat website plugin. The Premium package will cost you $66 per month.
Olark is a live chat website plugin that helps businesses of all sizes deliver exceptional customer service. It beautifully designed, easy to use, affordable, and comes with 2 weeks free trial.
The live chat software helps you generate leads and convert them into paying customers with simple integration with popular platforms like Salesforce, Slack, Mailchimp, and more.
You can configure Olark on WordPress using its plugin. Install the plugin, enable Olark, and refresh your website to start chatting with your customers.
It also offers access to transcript archives where you can find the chat history of all your customers. Your sales team can use the data from the transcripts to find actionable insights.
Another feature of Olark that we admired while reviewing the plugin was its reporting capabilities:
Reports refresh in real-time
Check the customer satisfaction level
Measure chat volume
Monitor live chat agents activities
Pricing: Olark offers three pricing plans. The monthly costs $17 per agent per month, the yearly plan costs $15 per agent per month, and the 2-year plan costs $12 per agent per month.
Freshchat is one of the best chat plugin for WordPress created by Freshworks. You can use AI-powered bots or support agents to interact with your customers.
The standout feature of Freshchat is its UI (user interface). It's designed to be minimalistic and doesn't have a steep learning curve for new users.
Freshchat also offers integration with other marketing platforms like Zendesk, Slack, and Freshworks products. This way, you can engage with visitors before they leave your website, abandon a shopping cart, and convert them into leads.
Other attractive features that set Freshchat apart from the rest include:
In-app messages
User segmentation based on location and behavior
Multi-channel messaging
CoBrowsing (remotely accessing customers screen to resolve their problems)
Pricing: Freshchat offers various pricing plans, including a free plan that lets 10 team members use the service at once. Its paid plans start from $15 per team member per month billed annually and go up to $79 per team member per month billed annually.
Pure Chat is the best free live chat website plugin currently in the industry. Packed with features, it offers options to capture leads, schedule appointments, and collect payments.
The setup process for Pure Chat is straightforward and offers a detailed knowledge base consisting of tutorials for different platforms. For instance, on WordPress, you can add Pure Chat in a matter of minutes using its free plugin.
In terms of design, the live chat box of Pure Chat is gorgeous, and so is the dashboard. You can control and report different metrics to see how your customer service is performing and take corrective measures in real-time.
But if you want more reporting options and additional features, then you might want to consider its Pro package because you get:
SMS notifications
Realtime analytics
Visitor tracking
Remove Pure Chat branding from chat box
Export reports and contacts in a CSV file
Pricing: Pure Chat paid plans start from $39 per month and can be used by 4 agents. The Pro package costs $79 per month, and 10 agents can use the plan. Both the paid plans come with a 30-day money-back guarantee.
Chaport is another popular free live chat plugin for websites. It offers features that can compete with any other premium live chat service in the market. Chaport can help you grow your subscribers by capturing emails and boost conversions.
Under the free plan, up to 5 agents can connect and talk to visitors. You also get unlimited chat history, basic reports about served and missed chats, decent customization options, and mobile app.
However, if you want more options to customize the chat box and get detailed reporting along with Google Analytics reports, then we would suggest upgrading to the Pro plan.
The Pro plan offers advanced features like:
Typing insights (read customers message before they are sent)
Integrations with different platforms
Saved replies
File sharing option
Group chats
Advance widget customization
Pricing: The Pro plan will cost you $9.80 per operator per month and comes with a 14-day free trial.
SnapEngage is a prominent live chat software and will help you skyrocket your conversions with advanced features and addons.
While reviewing the live chat service, we found Omnichannel feature as its extraordinary capability, which combines multiple channels with its live chat.
But what makes it the best chat plugin for WordPress is that it lets you integrate Twitter, Facebook, Zalo, WeChat, and other social platforms and directs the visitor's conversation to your agents. Similarly, with SMS-to -Chat, customers can talk to support agents through text messages.
SnapEngage provides a clear picture of your customer support with:
Real-time activity monitoring
Team reports
Logs of chats
Google Analytics integration
Pricing: There are three pricing plans starting from $16 per month billed annually, with a minimum of 3 users and goes up to $40 per month with a minimum of 5 users. Each plan comes with a 7-day free trial.
Zendesk offers a wide range of customer service and engagement products. With their live chat website plugin, you can provide solutions to visitors in real-time. Formerly known as Zopim, Zendesk recently acquired the live chat software and rebranded it as Zendesk Chat.
If you happen to use other Zendesk services, then Zendesk Chat easily integrates with them. You can also add the live chat box to different third-party CMS like WordPress and Shopify.
It offers other amazing features like:
AI-powered chatbots
Pre-chat contact forms,
Chat ratings
Track chat volume
Evaluate the agent's performance
Monitor visitors experience in real-time
Pricing: Zendesk Chat offers a free plan which is for 1 concurrent chat and has 30-day chat history. Its paid plans start from $14 per agent per month with limited features and go up to $59 per agent per month bill annually.
Intercom is another leading live chat software for WordPress. It's more than just a live chat website plugin, as it offers other tools through which you can boost user engagement, capture leads, and improve your site's conversions.
Using Intercom, you can add chatbots to your site, automate workflows through its marketing automation tool, and use user-engagement software to retain your visitors.
Here are some interesting features of Intercom:
Add live chat to your website
Robust reporting
Automate messages for emails, chat, and push notifications
Customize chat workflows
Integrate with Stripe, HubSpot, Shopify, WordPress, and more
Set up account-based marketing campaigns
Pricing: Intercom prices start from $87 per month with its Essential plan and you get a free trial as well. You can also use other paid addons like Custom Bots and Answer Bots.
Our Recommendation: What is the Best Live Chat Software?
After reviewing different live chat software, we recommend LiveChat as the best live chat website plugin. It offers amazing features, quick performance, and great value for money.
If you are a new business owner and are looking for a complete marketing toolkit that includes a live chat feature, then we recommend Sendinblue. You can integrate live chat with SMS marketing, Facebook ads, marketing automation, and much more.
We hope our article helped you select the best live chat website plugin. You may also want to look at our list of best WordPress plugins and tools for marketers to boost your website's growth and our list of the best VoIP services for businesses.
If you liked our article, then don't forget to follow us on Facebook and Twitter for more useful tips about Google Analytics.