Ever wonder how many people click on the outbound links on your WordPress site and go to another website? If you're linking other websites in your content, then you must be sending traffic their way.
As a marketer, it's important to track these links because they can help you identify new ideas for growing your traffic. Not only that, but you can find opportunities to form partnerships and boost your revenue.
In this article, we'll show you how to set up outbound link tracking WordPress with Google Analytics. Let's begin…
What are Outbound Links?
Outbound links, also known as external links, are the link on your site that leads your visitors to another website.
Now, it's easy to get confused between inbound and outbound links. That's because an external link on your site is an inbound link (or a backlink) for someone else.
To help you further understand the difference, consider this example. In one of our posts, we've linked WPForms. This is an outbound link on our website because if you click it, you'll land on the WPForms website.
At the same time, the link is an inbound link for WPForms, since someone else linked their domain on another site.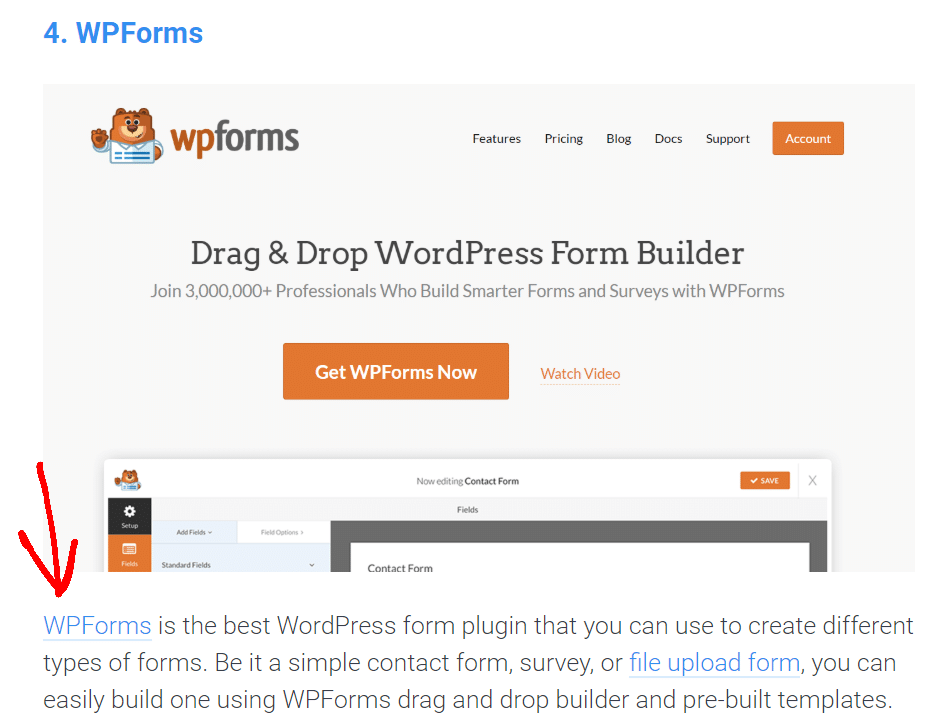 Now, you might be wondering, why is it important for you to track external links on your WordPress websites? Let's find out…
Why Should You Track Outbound Links in WordPress?
There are many benefits of tracking outbound links, as they can reveal useful insights for your business:
Understand User Behavior – For starters, you get to know how people behave on your website, which links they click and exit your site.
Find New Content Ideas – By tracking external links, you can identify content people are looking for outside your website, so you can create a better version on your site.
Form New Partnerships – If you're sending a lot of traffic to another website, you can reach out to them and form a partnership, like starting affiliate marketing, collaborating on a content piece, or getting a backlink.
Promote the Right Product – Outbound link tracking can also help you discover which products your visitors like the most, so you can promote those products more on your website.
So, are you ready to learn how to set up outbound link tracking in WordPress using Google Analytics?
Video Tutorial
Check out our video tutorial on setting up outbound link tracking in Google Analytics or go through our written guide.
How to Track Outbound Links Using Google Analytics
Google Analytics is a powerful tool for tracking your site's performance and finding out how your visitors use your website.
That said, Google Analytics default tracking code doesn't track your outbound links. You'll either have to edit code or set up custom events to track external links on your site.
Now, unless you're an Analytics expert or a developer, it's not possible for everyone. So, is there an easier way?
Using MonsterInsights, you can automatically track your outbound links in WordPress. MonsterInsights is the best Google Analytics WordPress plugin.
You can set up Google Analytics in WordPress using the plugin without any coding. Besides that, it helps you set up advanced tracking like creating events, tracking eCommerce transactions, affiliate links, file downloads, and more, which isn't possible in analytics by default.
To track outbound links, the first step is to download and install the MonsterInsights plugin. Next, make sure to connect your WordPress website with Google Analytics.
Once that's done, MonsterInsights will automatically start to track all your outbound links by setting up events. No additional steps required!
And the best part, you can view reports of which links your visitors click to leave your site inside your WordPress dashboard.
To view your outbound links report, go to Insights » Reports » Publishers. Do note that you'll need MonsterInsights Plus plan or higher to view the Publishers report.
In the report, you can see your top outbound link and the number of clicks they got.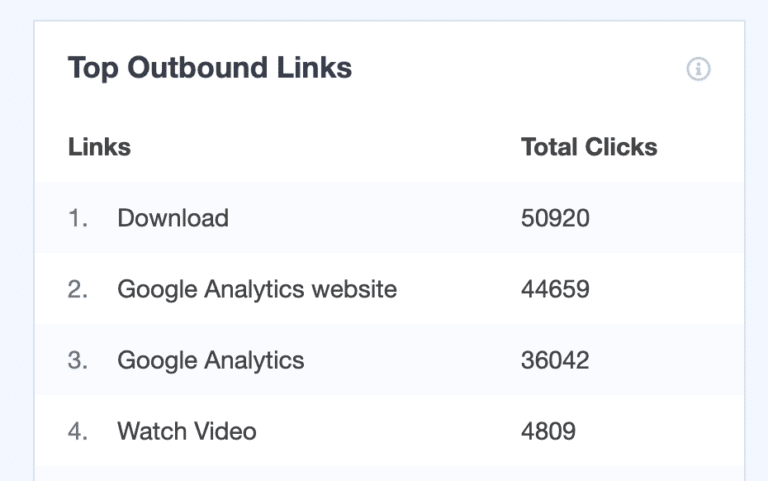 How to View External Links in Google Analytics
Now, do you want to learn more about your external links? If yes, then you can view the report in Google Analytics and get deeper insights.
For instance, you can find the source of your outbound traffic by viewing the report in Analytics. And you can do that by going to your Google Analytics account and navigating to Behavior » Events » Top Events. Next, click on outbound-link.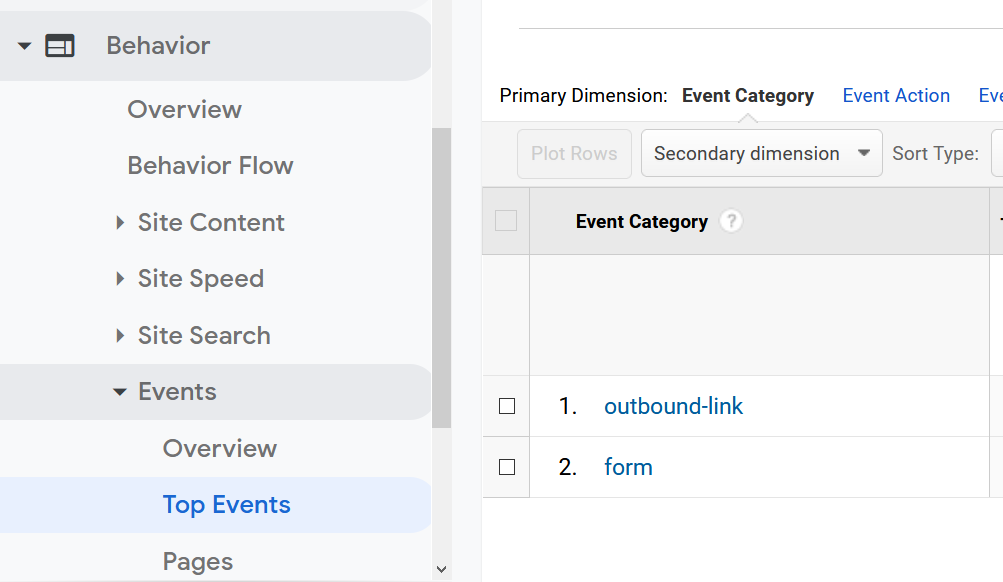 Then click on Secondary dimension and search Source. The option is usually under Acquisition.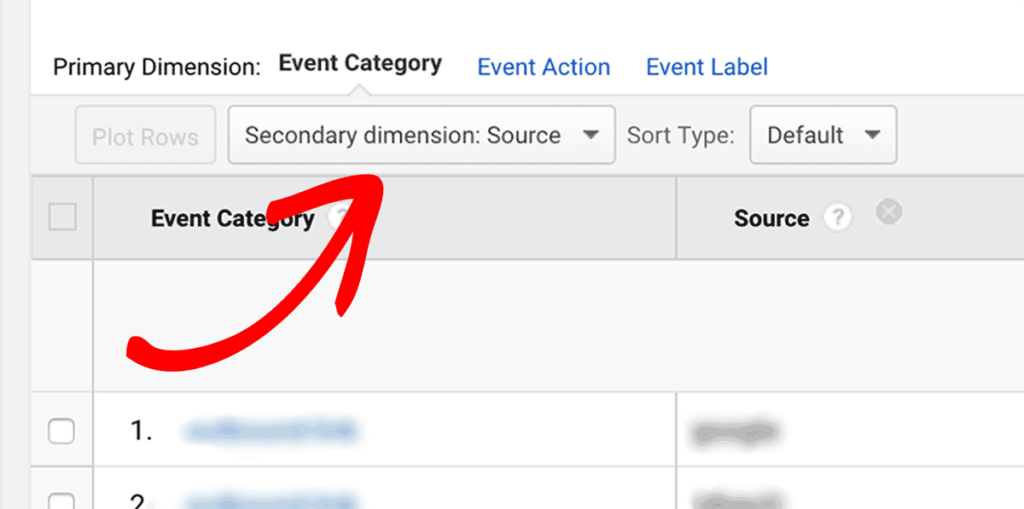 This will show you the source of your outbound links. For instance, you can see that majority of your visitors are coming from different search engines like Google and Bing.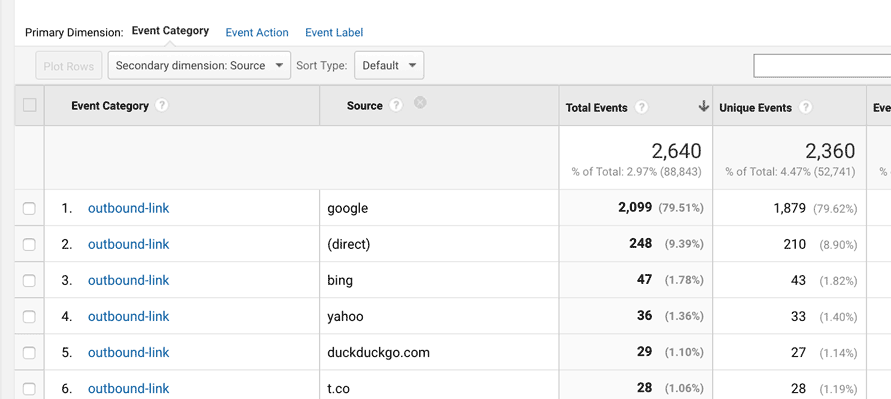 And that's it!
You've made it to the end of our guide. By now, you know why it's important to track external links on your WordPress site. And, how you can do that by using MonsterInsights.
We hope you liked our article on how to set up outbound link tracking in WordPress with Google Analytics. If you found this post to be useful, then do check our guide on MonsterInsights vs Google Analytics – what's the real difference.
Also, don't forget to follow us on Twitter and Facebook for more Google Analytics tutorials.