If you use WooCommerce for online sales, you probably know that 60-80% of shopping carts are abandoned before the buyer completes their purchase. Did you know there are WordPress plugins that help you save a WooCommerce abandoned cart and capture  that lost revenue?
In this post, we're going to highlight several powerful WordPress plugins that help reduce your online shop's cart abandonment rate.
Recapturing the revenue from just one or two sales a week can make a huge difference in your bottom line. And several of our recommended tools are automated once you set them up, so they require little or no maintenance.
Ready to find out how to get more website visitors to follow through on their buying impulses? Let's go!
Video Walkthrough
What Is an Abandoned Cart?
An abandoned cart occurs when an online shopper places an item in their virtual shopping cart, but then leaves the checkout process without paying.
It's not always easy to figure out exactly why online carts are abandoned. Typical reasons for people leaving carts behind include the following:
Not enough product information offered for the buyer to commit
They decided they couldn't afford the product
They want to wait until they have a discount or coupon
Their experience with the checkout process was negative
They had an issue with the payment method or approval
What Do Abandoned Cart Plugins Do?
Abandoned cart plugins improve WooCommerce abandonment rates by addressing the issues we just described in one way or another.
Some plugins allow you to reach out with a popup message on the checkout page. The message on the popup encourages the buyer to continue with their purchase. It could contain a discount on the current product, another offer, or sales copy that responds to common buyer concerns.
Another way that plugins can save abandoned carts is to send an email asking the prospect to return. Once again, the email could contain a simple reminder. Or, it might offer additional incentives like coupons or sale prices.
If your product pages or descriptions are lacking in details, images, and persuasive content like testimonials, that harms buyers' confidence in your store. Plugins that help you create attractive, fully featured product pages with optimized images and descriptions will help you reduce WooCommerce cart abandonment.
And finally, one other way for a plugin to reduce abandonment rate is to improve the visual appeal of your site and checkout pages. For example, you can use a plugin to make checkout pages that match your WordPress theme, instead of using the default WooCommerce checkout page.
Okay, now you know how plugins help you with WooCommerce abandoned carts. Let's get right into our list!
Plugins to Cut WooCommerce Abandoned Cart Rate
MonsterInsights
OptinMonster
SeedProd
AIOSEO
Abandoned Cart Recovery
TrustPulse
You can't know whether you're improving your cart abandonment unless you track cart abandonment. So, the first plugin we recommend for improving abandoned carts in WooCommerce is MonsterInsights.
MonsterInsights is the best WordPress plugin for Google Analytics. It shows all of your vital analytics data directly inside WordPress.
So, you don't have to log in to Google every time you want to see traffic stats. And you don't have to do any coding or complex setup to see all the metrics that matter.
One of the stats you can see with MonsterInsights is your WooCommerce cart abandonment rate. The MonsterInsights plugin has built-in support for WooCommerce and other WordPress eCommerce plugins.

Plus, MonsterInsights' eCommerce report gives you a lot more than WooCommerce abandoned cart rate. You also get critical stats like conversion rate, average order value, and total revenues.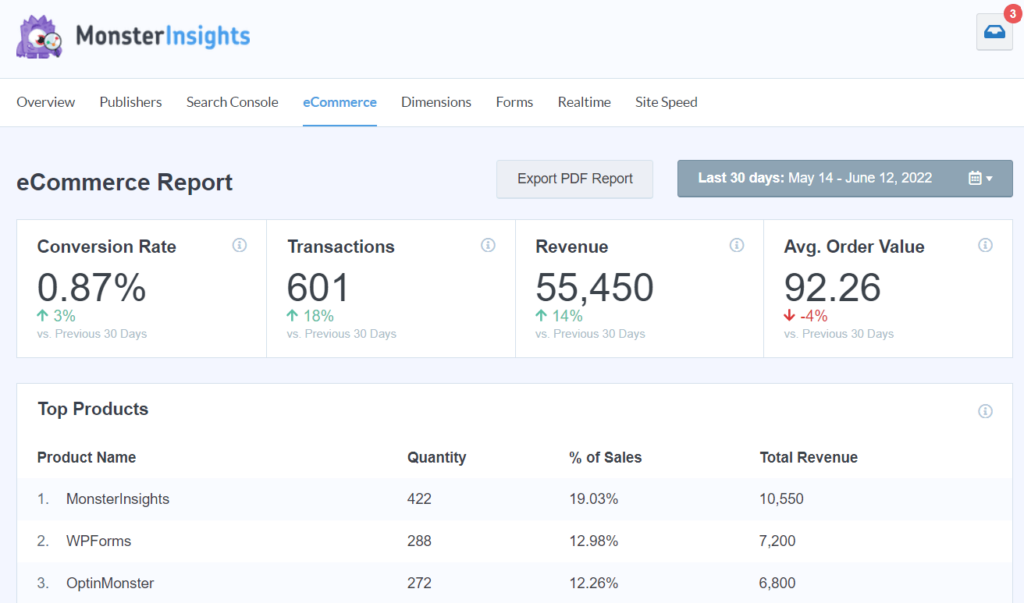 Get started with MonsterInsights now!
Wouldn't it be great if you could reach out and intervene right when one of your potential customers was about to leave your website?
Now there are technology tools that let you do exactly that. Like OptinMonster, the best popup builder on the market.
OptinMonster tracks shoppers' behavior as they add items to their shopping carts and go through checkout. If they start to close their browser, close the tab, or even simply change to a different tab, you can trigger a popup window with an offer they can't pass up.
They've almost committed to a purchase, so now you have an opportunity to close the deal. You could offer a discount on the products they already placed in their cart, or offer to send them a coupon via email.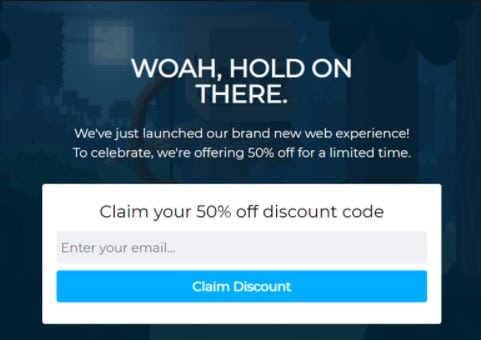 OptinMonster calls this ability to detect cart abandoning behavior Exit-Intent®, and it's one of the features that make this popup builder ideal for rescuing abandoned carts.
Another feature of OptinMonster that cuts down on abandoned carts is a technology called InactivitySensor™. It monitors site visitors and tracks how long since they've been active.
You can set up InactivitySensor™ on a checkout page to trigger a popup message, banner, or other notification when a user seems likely to abandon their cart after a long period of inaction.
All of this explains why OptinMonster is one of the best WooCommerce abandoned cart plugins you can buy if you want to retain more potential customers.
Get started with OptinMonster now!
A poorly designed checkout page is a big red flag for online shoppers. No matter how nice your product images and descriptions are, if your checkout page doesn't match your website style and layout, you're going to lose some buyers.
SeedProd lets you design your own WordPress sites, landing pages, and themes. That means you don't have to use the generic WooCommerce checkout form that looks like this: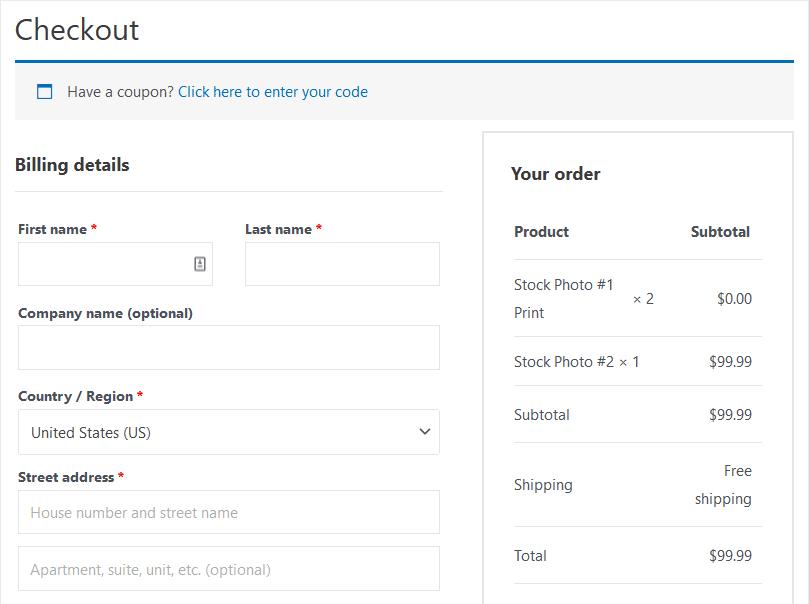 When you build your own checkout page with SeedProd, you can put logos and graphics wherever you want. You'll be able to add FAQ, testimonials, or other social proof to boost your authority and trustworthiness.
SeedProd's drag-and-drop page builder has special blocks designed for WooCommerce shopping cart and checkout pages. It's easy to make pages that look great and give buyers confidence in your company and products.
You can also add more sales copy, guarantees, and anything else you think can help convince shoppers that they should go ahead and buy now.
Make generic checkout pages on your site a thing of the past with SeedProd, and reduce your WooCommerce cart abandonment with a high-converting checkout process.
Get started with SeedProd today!
All in One SEO is the best search engine optimization plugin for WordPress. But, how does SEO relate to shopping cart abandonment?
First, there's evidence that people convert at a higher rate when they arrive from a search engine versus a paid ad. So, getting higher rankings in search may improve your WooCommerce cart abandonment rate, if it leads to more organic search traffic.
Also, product and category pages that are optimized for Google are better at convincing buyers. Wouldn't you rather buy a product that includes a rich, detailed description of features and benefits, with attractive images?
AIOSEO helps you create better optimized product titles, descriptions, and images. It also optimizes category and tag titles and descriptions.
Another way to improve cart abandonment is to display breadcrumbs and make it easier for shoppers to navigate. Many times people want to return to a product or category page for more information. If the right choice isn't easily visible, they may just leave the page.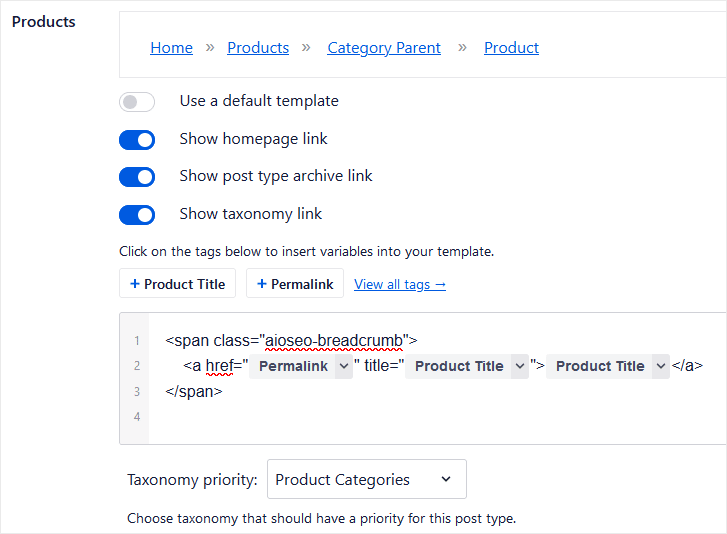 Luckily, AIOSEO allows you to display breadcrumbs, with a products template for eCommerce breadcrumbs that is completely customizable.
Approved by WooCommerce as an official extension of the core product, Abandoned Cart Recovery is a premium plugin from Addify.
This plugin recovers revenue from WooCommerce abandoned carts by sending follow-up emails to the prospective buyers. These emails contain a discount or some other incentive for buyers to return and complete a purchase.
First, Abandoned Cart Recovery monitors WooCommerce abandoned carts and logs them. Then, you decide what to do with abandoned carts depending on your custom rules.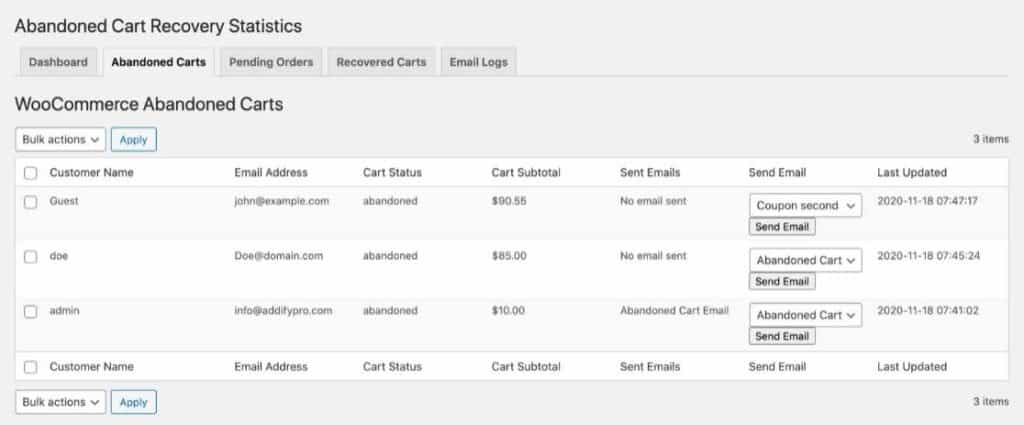 You can automate emails or send manually. You control the scheduling, number, and frequency of follow-up emails. The plugin also lets you exclude products from cart recovery emails and send different emails to different user roles.
Abandoned Cart Recovery can capture email addresses from non logged-in users by asking for contact info in a popup prior to checkout. So, even abandoned guest checkouts can be recovered.
Get started with Abandoned Cart Recovery now!
TrustPulse is a WordPress plugin that automates real-time social proof to boost trust, conversions, and sales.
It displays notification messages on your website that highlight real user activity. TrustPulse shows site visitors proof of other buyers' satisfaction to increase trust in your products and brand.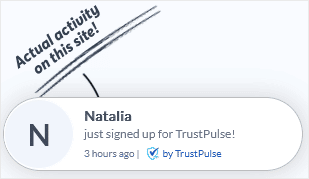 You decide where and when to show TrustPulse's social proof messages. It's been tested and proven to increase conversions up to 15% for sales and signups.
When people see that others are purchasing items on your site, it increases their confidence in completing their purchases. That leads to fewer abandoned carts.
TrustPulse integrates with WooCommerce to show product purchase alerts. That lets shoppers know what products other people are buying and can help increase WooCommerce conversions. TrustPulse can also display a static message with a discount or sale offering.
Get started with TrustPulse today!
That's it for our list of WordPress plugins to help reduce your WooCommerce abandoned cart rate. Try one or all of these plugins to capture more revenue from your eCommerce site.
If you liked this article, you might want to read our guide to WooCommerce conversion tracking.
Not using MonsterInsights yet? What are you waiting for?
Please don't forget to follow us on Twitter, Facebook and YouTube for more helpful reviews, tutorials, and Google Analytics tips.