Want to track your own custom data in Google Analytics 4 (GA4)? With Google Analytics custom dimensions, you can track some "extra" data that doesn't get tracked out of the box.
For example, you could track which of your blog's authors are getting the most views, what content a specific user is browsing, which of your targeted keywords are bringing in the most traffic, and more.
In this article, we'll explain everything you need to know about Google Analytics custom dimensions, and how to use them for your WordPress website.
Table of Contents
Video Walkthrough
What are Google Analytics Custom Dimensions?
Every Google Analytics report contains two types of data: dimensions and metrics.
Dimensions are attributes of your website visitors, like what city they're from, what page they viewed, or what source they came from.
Metrics are measurements, like number of sessions, number of pageviews, or pages per session.
In a Google Analytics report like the one below, dimensions are shown in rows and metrics in the columns.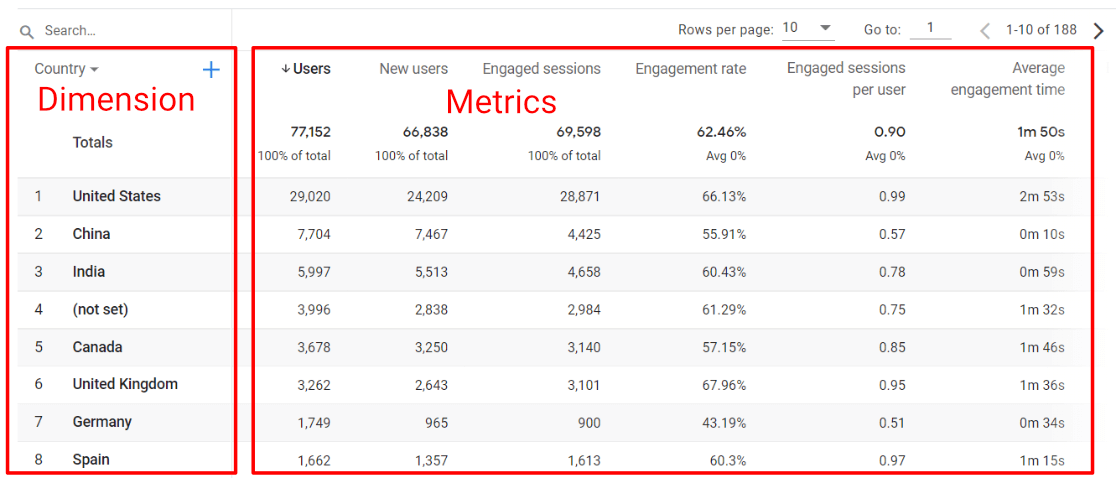 In the screenshot above, Country is the dimension and the data for each country like the number of users, new users, engaged sessions, etc. are the metrics.
Google Analytics tracks certain dimensions and metrics by default. Gender, age, region, session medium, and page title are some of the predefined dimensions. Sessions, engaged users, and conversions are some predefined metrics.
But what if you want to track more dimensions?
That's when the custom dimensions option comes handy.
Custom dimensions are just like default dimensions, except you create them yourself because they don't exist in Google Analytics by default. They're very helpful to collect and analyze data that matters to your website.
The main benefit of setting up custom dimensions is that it allows you to track the performance of extra things that matter to your website, like author, WordPress categories and tags, and more in Google Analytics.
Examples of Custom Dimensions in WordPress
Now, let's take a look at a few possible use cases of custom dimensions on your WordPress website.
1. Logged in Sessions
This is an awesome dimension for gaining deeper insights about how many of your users are logging in. For example, if you're an eCommerce shop owner, you can create reports to see data like top pages or revenue of your logged-in users.

2. User ID
You can get detailed insights about visitor interaction and the preferences of logged in users on a membership site by setting User ID as a custom dimension.
Without User ID, Google assigns an app-instance ID randomly to your visitors. When you set up the custom dimension with MonsterInsights, we'll replace that ID with your users' unique IDs, for even better tracking.
To create a user explorer report in Google Analytics 4, navigate to the Explore tab, then click the arrow over to find User Explorer:

When you click on that report, you'll see your WordPress User IDs under the App-instance ID column instead of Google's random IDs: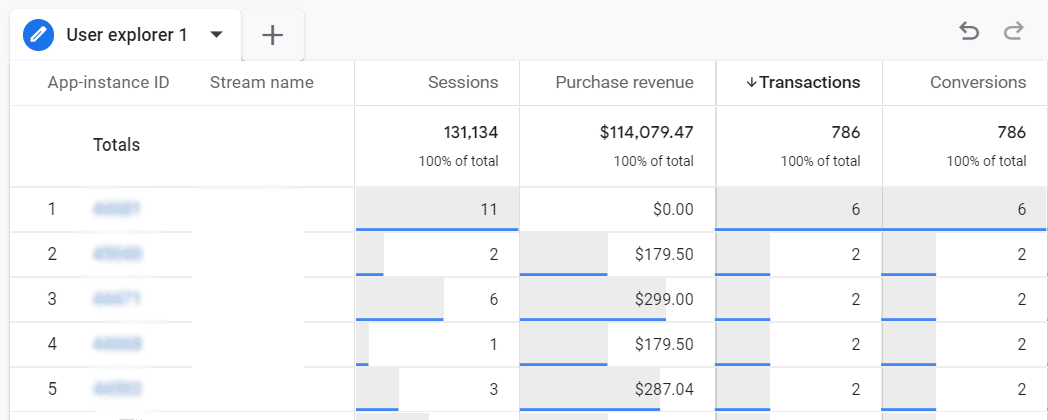 3. Post Type
If you have several custom post types in your WordPress site, you can track the performance of each post type with custom dimensions.
For example, imagine that you run a review site in which you review several categories of products. If you define each product category as a custom post type, you can track how users interact on each category and gather valuable data about it.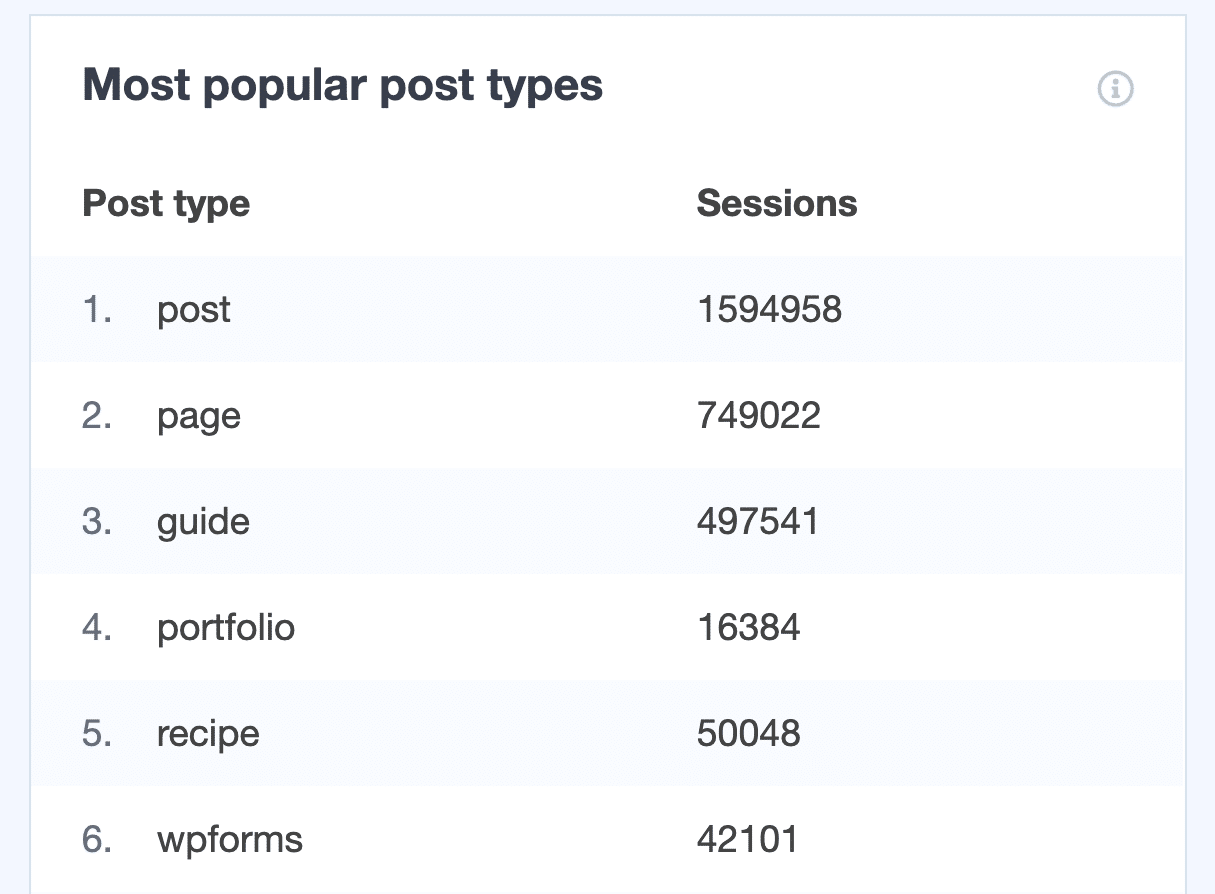 4. Author
If you run a multi-author blog, you can identify what content type works best for each author, or which author seems to resonate the most with visitors. It helps you to curate future blog post ideas for each author and restructure your content marketing strategy.
If you're running a multi-author blog, author tracking gives you valuable insights on the performance of your blog authors.
You can discover:
The most popular author of your blog
How many pageviews each author is getting
Which author's posts keep visitors on your site by analyzing average engagement time
And more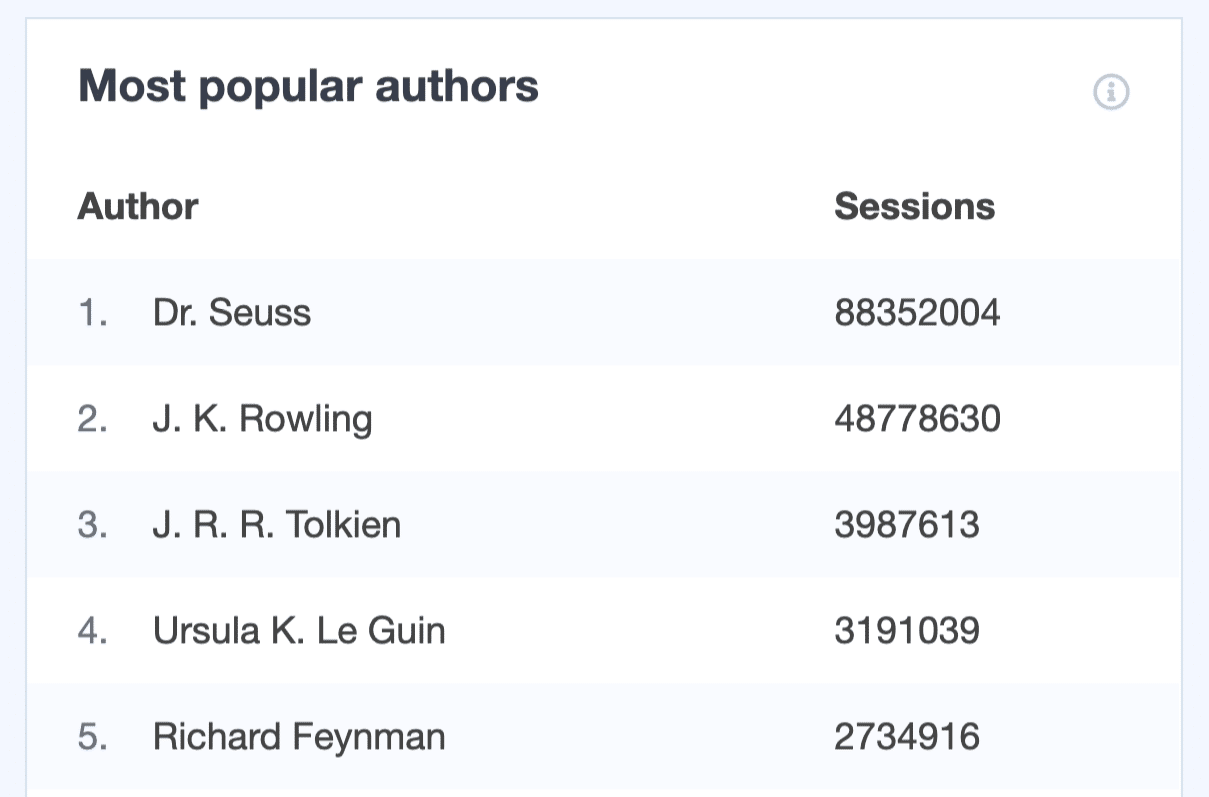 5. Category
Tracking the performance of different categories on your site is another great strategy to identify what type of content or which subject works best. This data can be helpful to save your time and money.
For example, you can stop spending time on a category that your visitors are not interested in, and invest your time and money in the ones that work best.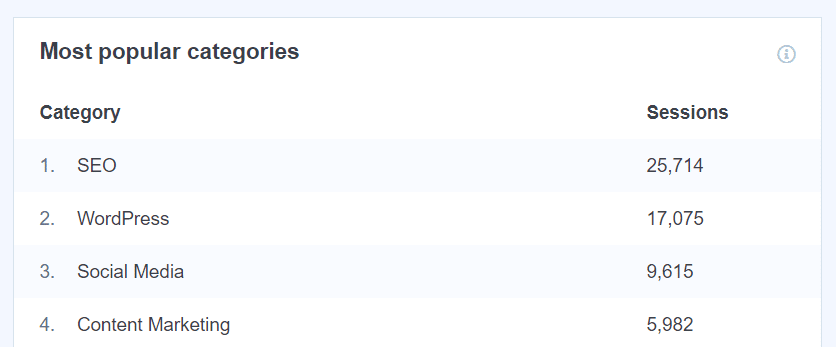 For more on category tracking, read How to Track WordPress Categories in Google Analytics (The Simple Way).
6. Published at
Do you think that publishing posts on a certain day gets them more traction and views? Now, you can easily find out! The Best publication time report will show you which posts are getting the most traffic by date published.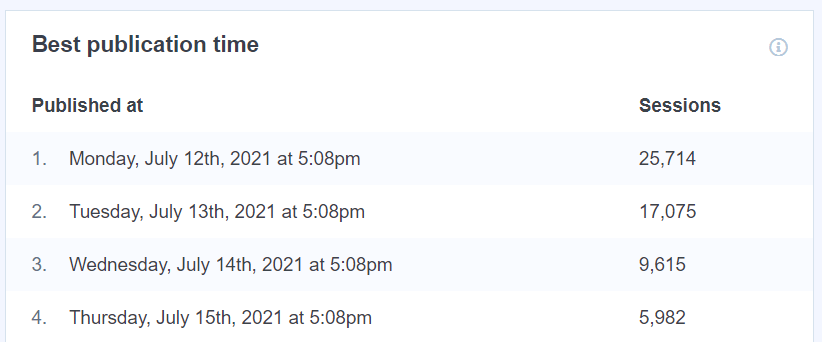 7. Tags
Tags give you even more detailed insights about what works best on your site. Since your tags are probably micro-targeted, you'll see at more of a keyword level which content your audience is viewing the most. It also helps you to come up with future content ideas for your site, based on which tags are the most popular.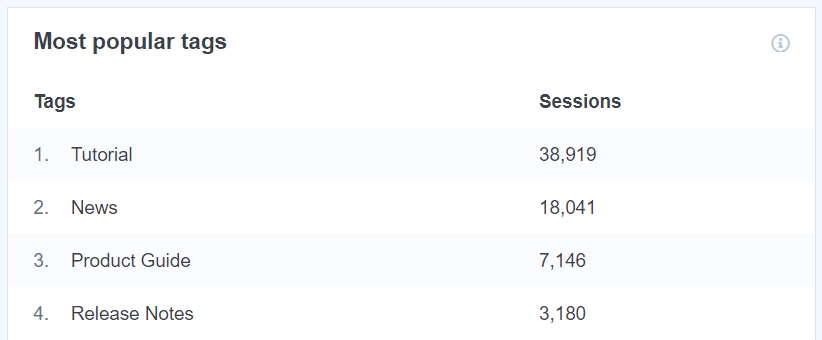 8. TruSEO Score or SEO Score
If you're using the All in One SEO plugin, you can analyze the TruSEO score of your posts and pages in Google Analytics. It helps you to identify if your SEO scores really impact your organic traffic.
You can get a data-driven report based on your SEO scores, which helps you restructure your SEO strategy for improving organic traffic.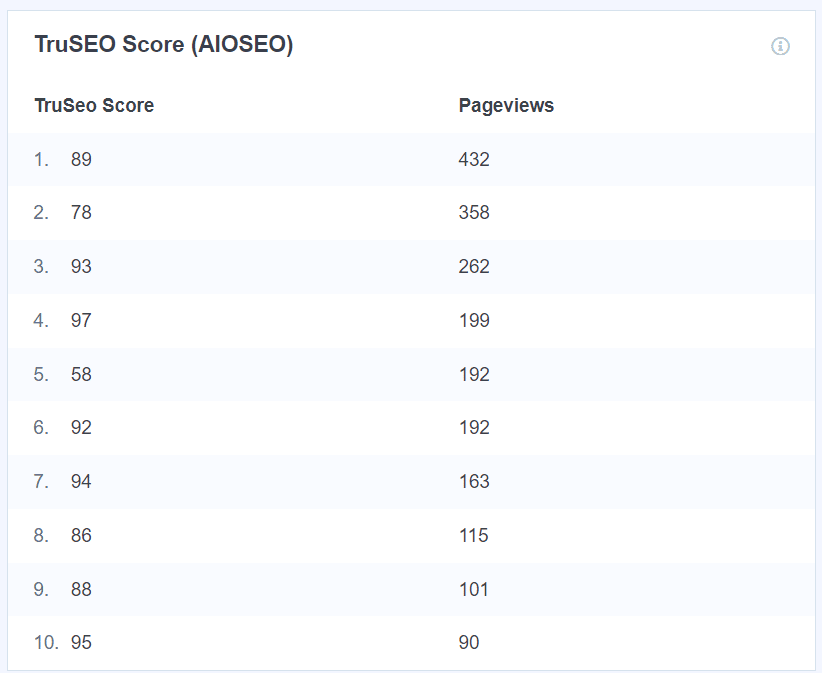 If you use the Yoast SEO plugin, you'll be able to set up a custom dimension for the SEO Score.
9. Focus Keyphrase or Focus Keyword
Focus Keyphrase is another custom dimension you can set for your site. It is also applicable only if you're using the All in One SEO plugin (or Yoast). Setting a Focus Keyphrase for each piece of content on your site helps you optimize it to perform well in search engines.
You can see the most popular All in One Focus Keyphrases that are driving the most organic traffic and get data-driven insights about choosing upcoming content.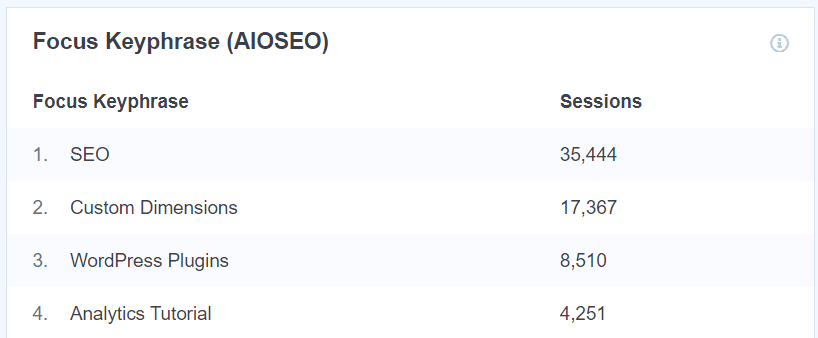 If you use the Yoast SEO plugin, you'll be able to set up a custom dimension for the Focus Keyword.
How to Set Up Custom Dimensions Tracking in WordPress
If you look up how to set up custom dimensions in Google Analytics support, you'll probably see this:
"After you create custom dimensions or metrics in your property, you must also modify your tracking code. This should be completed by a qualified developer."
Yikes!
Want to skip all of that? Yeah, we would too! That's why MonsterInsights users can set up a whole list of custom dimensions with a couple clicks, and zero coding.
MonsterInsights is the best Google Analytics plugin for WordPress because not only does it make custom dimension setup simple, it allows you to easily connect your WordPress site with Google Analytics.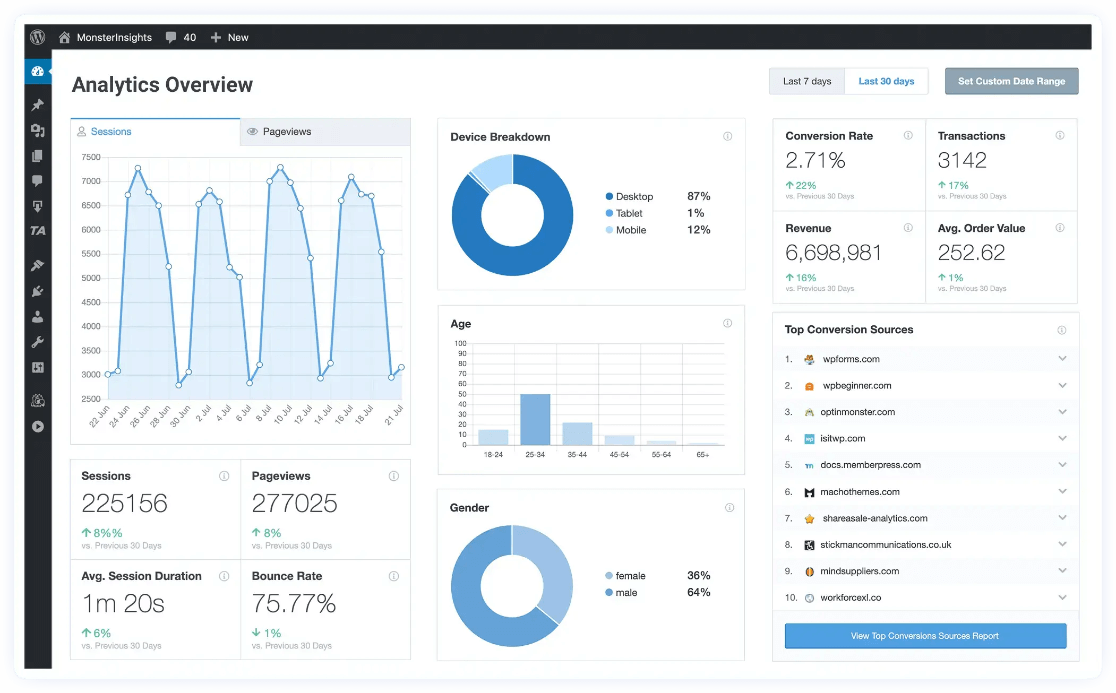 With MonsterInsights installed, many of the important Google Analytics reports you need to grow your business are right inside your WordPress dashboard.
Plus, with the click of a button, you can set up sophisticated tracking features such as event tracking, eCommerce tracking, form tracking, custom dimension tracking, outbound link tracking, and more.
Get Started with MonsterInsights Today!
With MonsterInsights, you can easily set up the following custom dimensions:
Logged in Users
User Id
Post Type
Author
Category
Published at
Tags
TruSEO Score
Focus Keyphrase
Ready to get started tracking these? Let's dive in.
Step 1: Install MonsterInsights and Custom Dimensions
To be able to set up custom dimensions on your site, you'll need the MonsterInsights plugin at the Pro level or above, and the Custom Dimensions addon. Let's go over how to get these set up.
First, you'll need to install MonsterInsights on your site and connect it to Google Analytics.
For the full tutorial on those steps, read How to Add Google Analytics to WordPress (The RIGHT Way).
Next, you'll want to install the Custom Dimensions addon.
To install the addon, visit the Insights » Addons page in your WordPress dashboard. Then, click Install under the MonsterInsights Dimensions addon.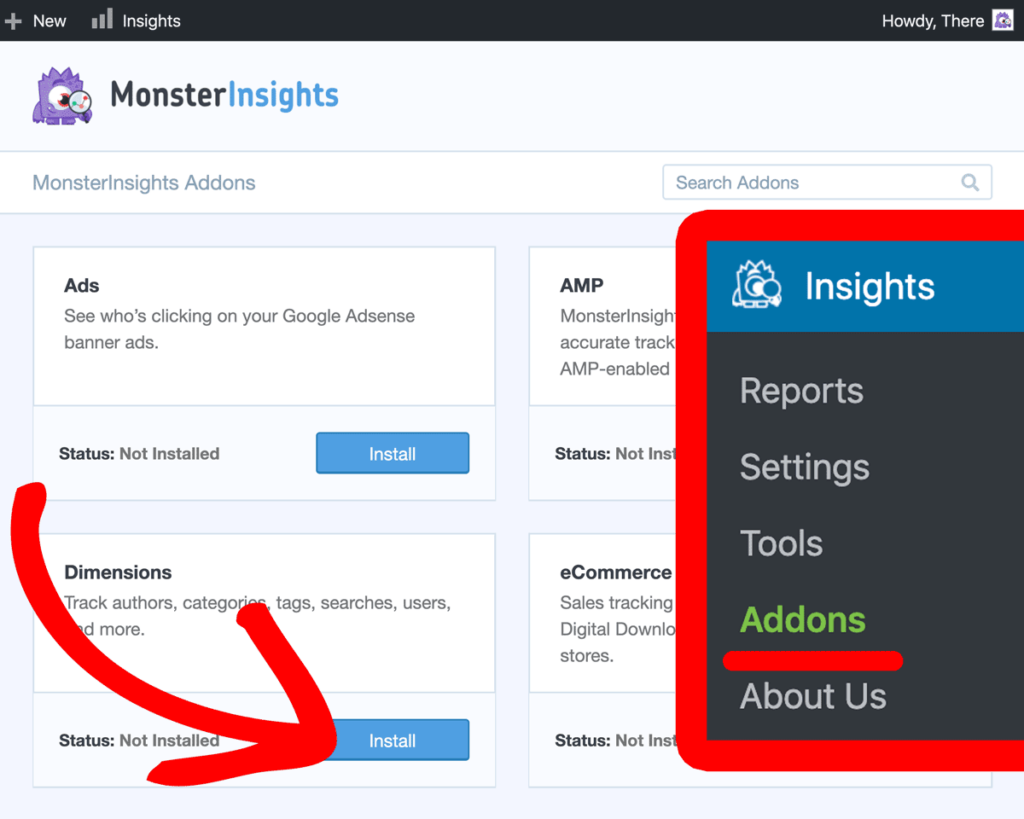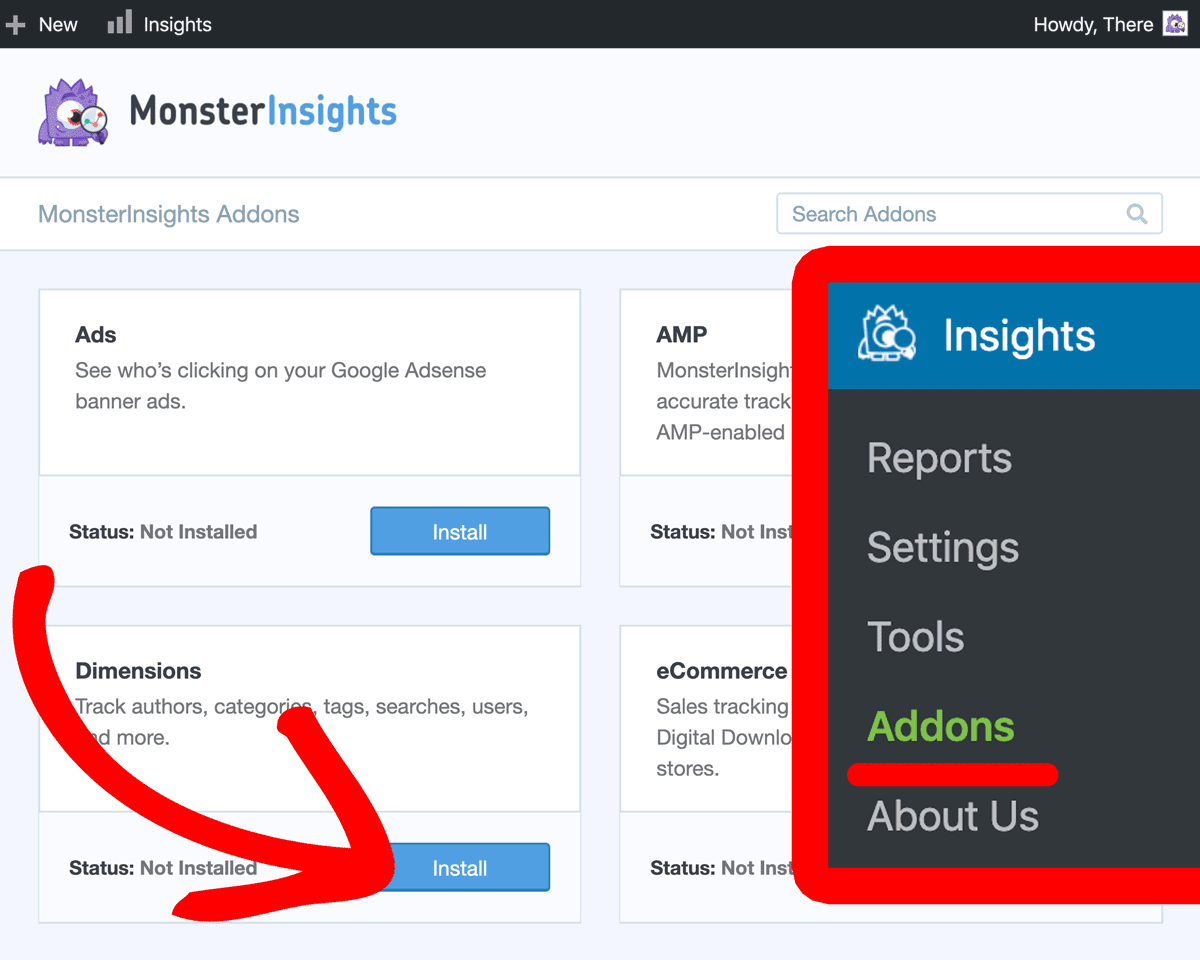 Step 2: Add Custom Dimensions in MonsterInsights
Navigate to Insights » Settings from your dashboard and click on the Conversions tab.

Scroll down to the Custom Dimensions section and click on Add new custom dimension. Choose the dimension(s) you'd like to set up from the dropdown.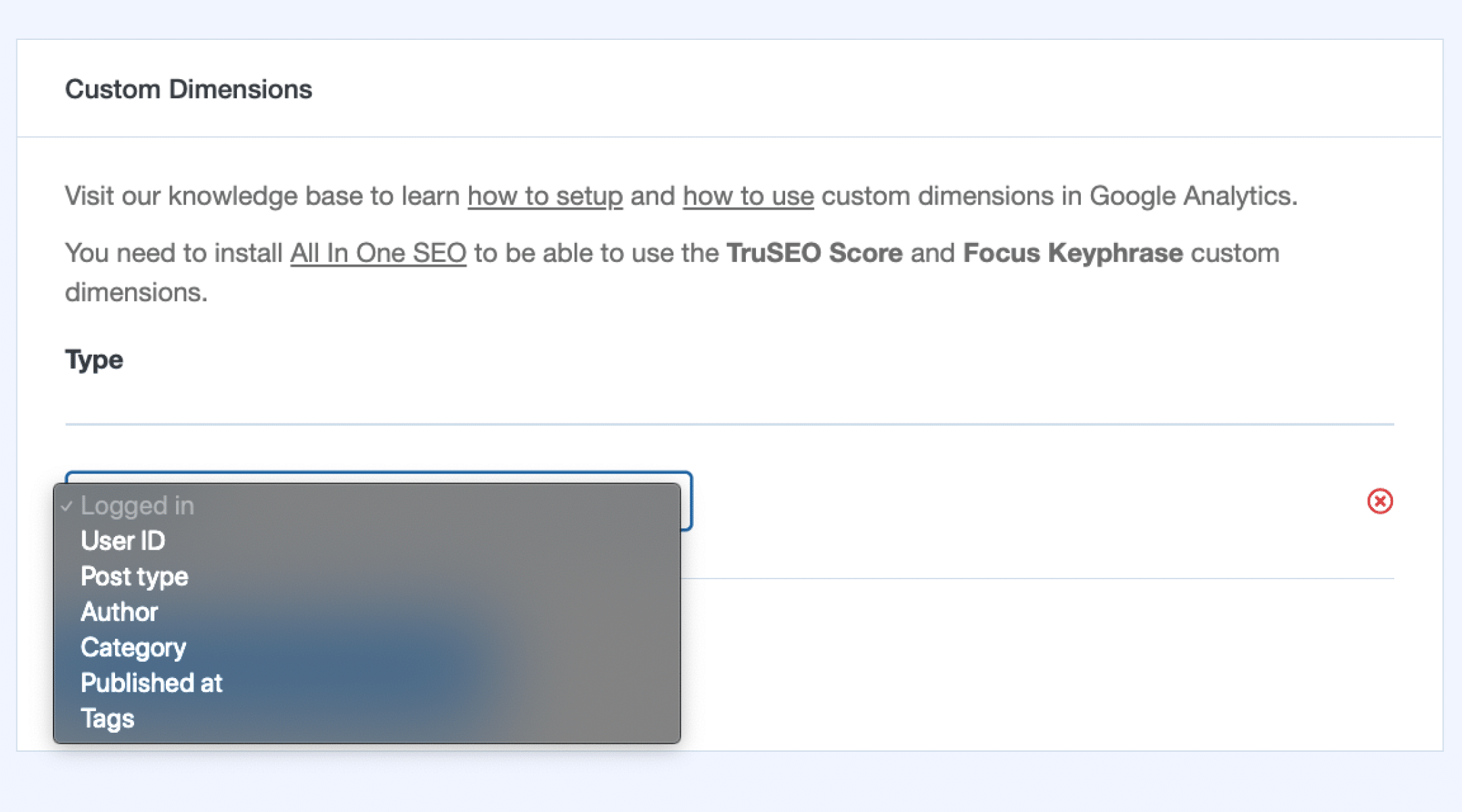 That's it! Your custom dimensions are set up.
How to View Custom Dimensions in WordPress & Analytics
The best way to view the Custom Dimensions report is by using MonsterInsights Dashboard reports. You can view the most comprehensive reports right inside your WordPress dashboard, without having to open your Google Analytics account.
You can view your custom dimensions reports in the MonsterInsights dashboard by going to Insights » Reports » Dimensions.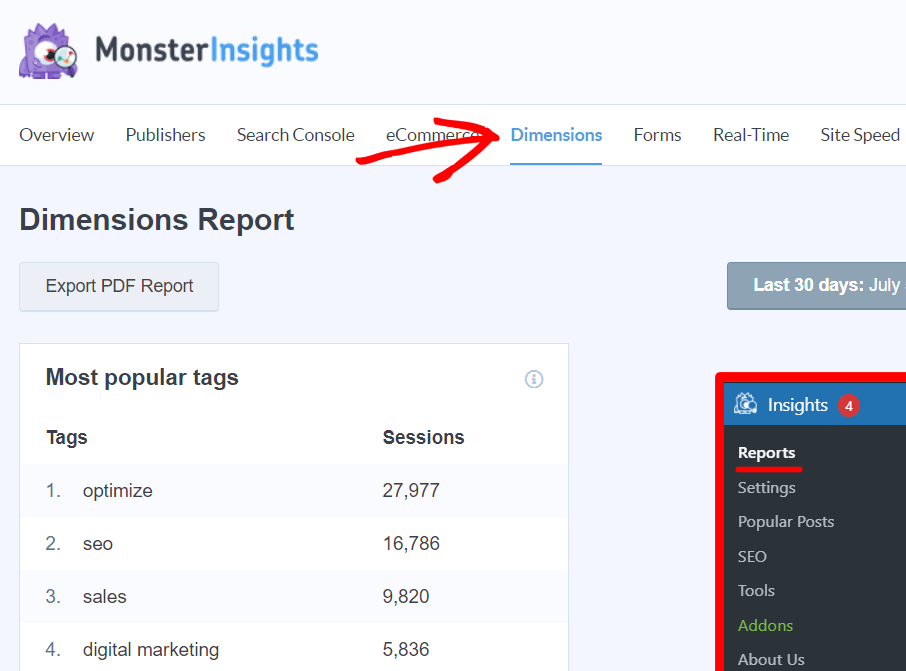 Now you will see your Custom Dimensions reports in simple, beautiful charts. Here's how your Authors report would appear in MonsterInsights dashboard reports: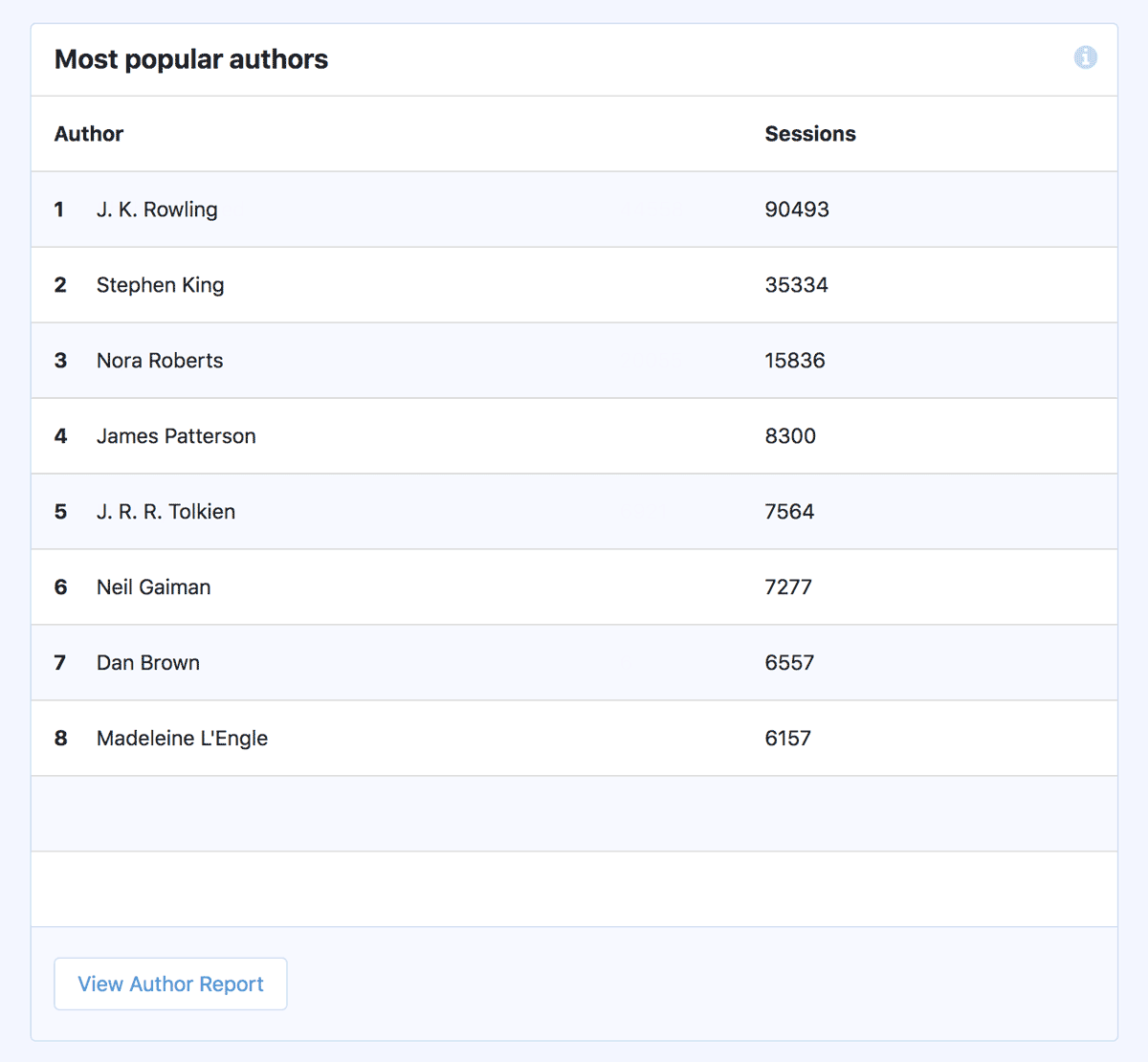 Now, let's take a look at how to find your custom dimension reports in Google Analytics.
To find custom dimensions reports in Google Analytics 4, head to a report that you want to add a dimension to.
For the sake of this example, let's add a custom dimension as a secondary dimension to your Pages and screens report. Navigate to Reports » Engagement » Pages and screens: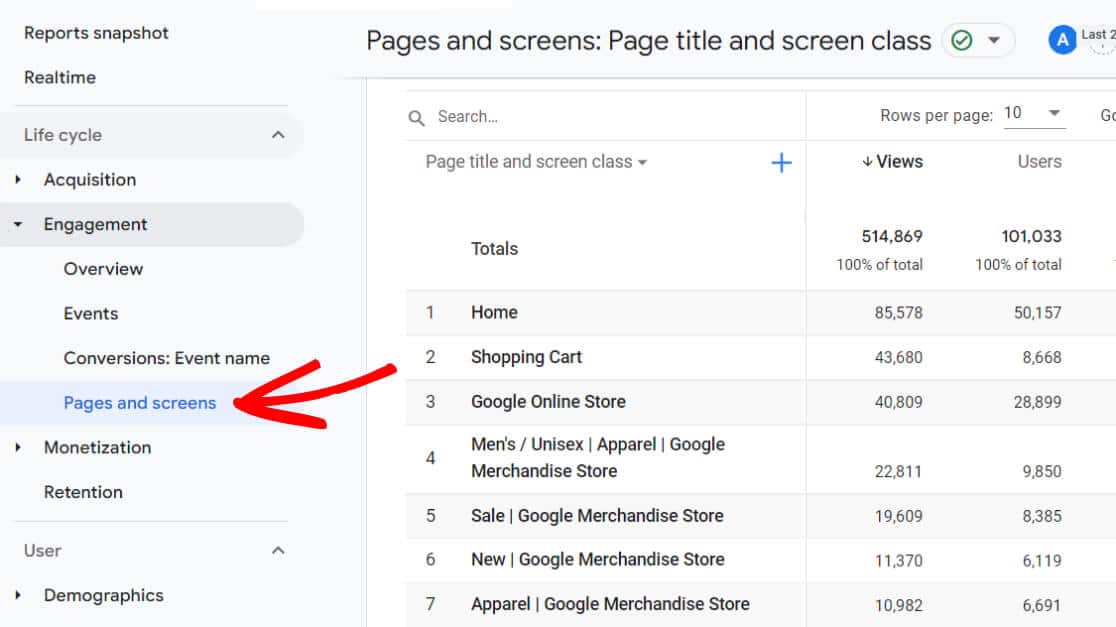 Now, click the blue plus sign next to page title and screen class in the table:
Now, you can choose the dimension you want to add. For Author, click Custom (Event-scoped) » Author: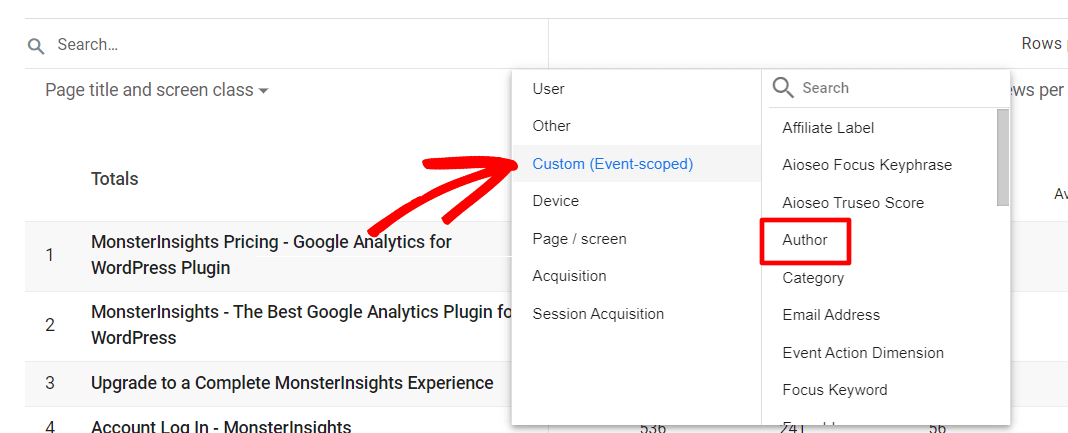 Now, if you have the Author dimension set up, you'll see your page views with the author included:

We hope this guide helped you to gain some insights about creating custom dimensions in Google Analytics. If you liked this tutorial, you might also like How to Track Link Clicks in Google Analytics 4 and WordPress.
Not using MonsterInsights yet? What are you waiting for?
And don't forget to follow us on Twitter, Facebook and YouTube for more helpful Google Analytics tips.