Do you want to add a WordPress countdown timer to your website?
Countdown timers are powerful tools you can use to create urgency and excitement for upcoming events, sales, or registrations. They can also inform visitors about site maintenance or a page coming soon.
Using a WordPress countdown timer plugin to add countdown clocks to your website can captivate your visitors and increase sales easily!
In this post, we'll introduce you to the best WordPress plugins that will add anticipation and urgency to your website. We'll highlight the key features of many WordPress countdown timer plugins to help you make an informed decision.
What Is a WordPress Countdown Plugin?
Before we dive in, let's answer the big questions first.
What Is a WordPress Countdown Timer?
A WordPress countdown timer is simply a clock or timer widget on your site that counts down to a specific date and time. There are two types of countdowns, and they can be displayed through a variety of options on your site, such as a timer widget, a popup, a banner and more.
Static Countdown Timer
The first type of countdown timer is called a static or regular countdown. This timer counts down to a fixed event, like a website launch or a sale ending. It's a universal countdown that's the same for anyone who sees it.
Evergreen Countdown Timer
The second type of countdown is called an evergreen countdown or a dynamic timer. This timer is personalized for each user on your site, and it starts when they arrive. It's typically used for allowing visitors to claim a special offer within a set timeframe.
Why Is a WordPress Countdown Clock Useful?
A countdown timer is extremely effective at increasing engagement and conversions by leveraging excitement, urgency, and the fear of missing out (FOMO). Many marketers use it regularly!
You can use it for a sale countdown, WooCommerce, upcoming events, and tons more! With a plugin that lets you customize and count down to anything, the possibilities are endless. So let's get started and discover the best WordPress countdown timer plugins.
Best Countdown Timer Plugins for WordPress
When it comes to plugins for your WordPress website, the options can be overwhelming, which is why we're here to help! We compared features, pricing, and ease-of-use and rounded up our favorite paid options as well as the best free countdown timer plugins for WordPress:
We think OptinMonster is the best tool for lead generation, but did you know that it's also an amazing tool for creating a WordPress countdown timer?
OptinMonster gives you the ultimate amount of customization options, while remaining really easy to navigate and user-friendly. You can create unlimited timers, static or evergreen, and even display different countdown timers on different pages.
You'll have a lot of options when it comes to where you want to display your countdown, including your header, slide in boxes, sidebar, popups that grab the attention of abandoning customers, and more. You can also add an inline countdown widget anywhere in your content.
And it doesn't stop there, OptinMonster provides a ton of other features, like personalizing the countdown based on the user's location, timezone, where they're visiting from, or the page they're on.
Check out the floating bar with a sale countdown timer that we made in OptinMonster!

Head to our tutorial on how to add a countdown timer in WordPress using OptinMonster to make your own!
OptinMonster is an incredible tool for businesses to create MANY different types of marketing campaigns in WordPress. OptinMonster gives you all the tools to easily engage visitors, generate leads, optimize your email marketing, and increase conversions.
Pricing: To use the countdown timer feature, you'll need the Pro license or higher starting at $29 per month, but you'll also get access to all the other super useful lead generation and marketing tools.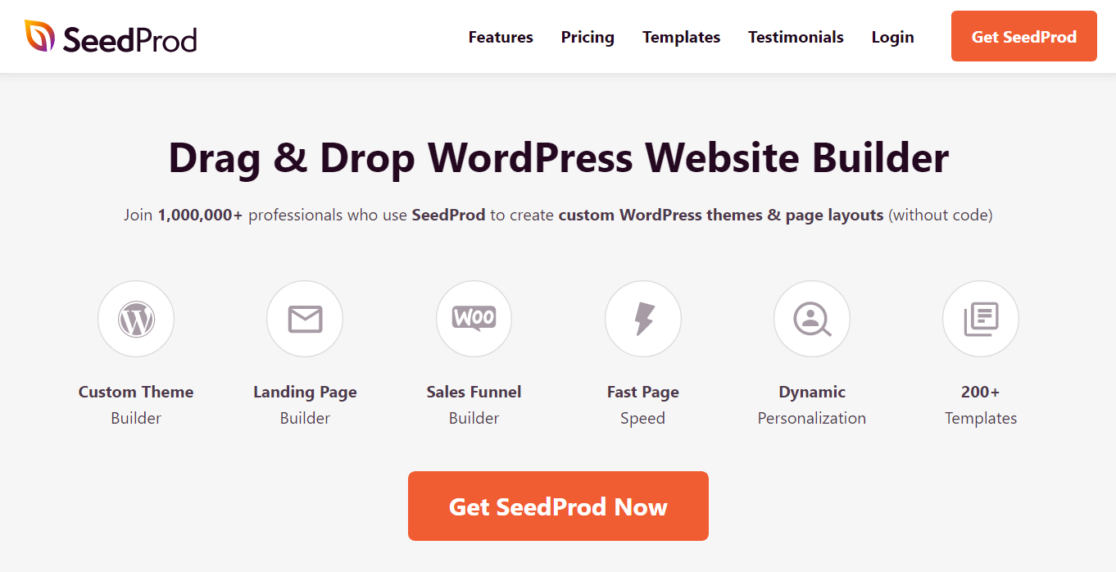 SeedProd is another great tool that's so much more than just a WordPress countdown plugin. It's the best WordPress theme and page builder that's perfect for creating custom landing pages and entire WordPress themes, without any code. In fact, you don't even need to use the Gutenberg block editor!
SeedProd has a huge library of landing page templates and a countdown timer feature, making it insanely easy to add a countdown clock to your website by simply dragging and dropping the countdown block.
With SeedProd, you can make both static and evergreen countdowns using the countdown timer block. Because of the ability to build your page layout and design along with your countdown timer, it's definitely our favorite WordPress countdown plugin for creating a landing page timer.
Check out this landing page with a flash sale counter, created in record time using SeedProd.
Ready to create your own? Head over to how to make a countdown timer landing page for SeedProd's step-by-step instructions.
Creating landing pages, maintenance mode without losing SEO rankings, login pages, contact forms, countdown clocks, and more often means needing A LOT of different plugins. With SeedProd, it's a one-stop shop for page building or theme building, which is why we recommend it to anyone building their website.
Pricing: To access the countdown timer, you'll need SeedProd Pro, which starts at a yearly price of $159.60. Remember, you'll also get all the best page and theme building features included!
Thrive Ultimatum is a powerful tool that helps you capitalize on FOMO. Like our last tools, it lets you make both static or evergreen WordPress countdown timers.
This WordPress countdown plugin was designed to be the ultimate scarcity marketing tool, and that's exactly what it is. With Thrive Ultimatum, you can use a variety of features to increase conversions, including:
Fixed-Date Campaigns
Automatically Recurring Campaigns
Ongoing Evergreen Scarcity Campaigns
Unlimited and Multi-Page Campaigns
Design and Campaign Templates
Fully Customizable Designs and Campaign Triggers
And Much More
Thrive Ultimatum is very user-friendly and 100% mobile-friendly. Take a look at this awesome countdown widget for an event.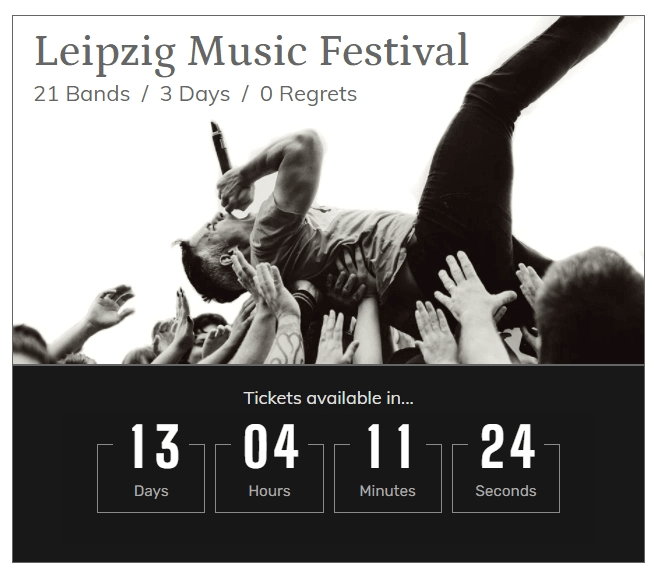 If you're looking for a tool to create a variety of scarcity campaigns easily to increase sales, Thrive Ultimatum will provide a huge amount of functionality.
Pricing: Thrive Ultimatum is available as a $99 yearly subscription on its own, or as part of Thrive Suite, which includes a whole host of integrated plugin addons for building and optimizing your website easily.
Download Thrive Ultimatum now!
myStickymenu is a tool that allows you to create attractive header and menu bars for the top of your website. With myStickymenu, you can easily add a WordPress countdown timer element to your header.
It's especially useful for announcing eCommerce flash sales, but it can be used for plenty of other cases where you want to create a sense of urgency.
myStickymenu provides a lot of options for styling your countdown timer, and it's easy to create big sales countdowns or add a small subtle timer to your header bar. You can also use it to add other features in your header bar, such as displaying a welcome message or showing a coupon code along with a countdown timer in days, hours, or seconds.
If you're looking for a simple way to customize your header bar with a countdown timer plugin, then myStickymenu is a great choice that gets the job done easily.
Pricing: Although there's a Lite version of myStickymenu, you'll need at least the Basic plan to access the WordPress countdown timer, which starts at $39 yearly.
HurryTimer is a free WordPress countdown timer plugin that makes adding a static or evergreen timer widget easy. It's simple to use and allows you to set up timers that run between 2 dates, which is helpful for scheduling it to run during a sale.
Hurry Timer also works with WooCommerce, although it's not needed to use it. You can set up multiple timers to show on the same page and add CTAs to timers.
Hurry Timer has a Pro version, but we found that the Lite version allows access to most of the features. Although Hurry Timer doesn't offer the level of features or integration that many of the other tools do, it's an awesome free WordPress countdown timer that does exactly what it was designed to do.
Pricing: HurryTimer is a free plugin.

Countdown Timer is the WpDevArt countdown tool, and it's another free WordPress countdown timer plugin. It lets you create simple widget timers and choose the location to display them.
You can use custom text in the countdown's time fields and write a custom message to display or action to happen at the expiry of the timer. Like many of the other WordPress countdown plugins, it's easy to publish your countdown timer using a generated shortcode.
Countdown Timer does have a pro version, but the free version is enough to create a basic WordPress countdown timer to display on your site.
Pricing: The free version is typically all you'll need, but there's a Pro version with more features and animation effects.
Unlike most of the other plugins on our list, the Sales Countdown Timer is specifically made for WooCommerce shops and product pages.
This WordPress countdown timer lets you show when a sale is starting, ending, the quantities of items still in stock, or use the WordPress countdown timer shortcode without WooCommerce.
You can add the timer to pretty much any page or post and customize the message that's shown. Use it to count down to a product launch or show limited availability for a new product.
The free countdown timer lets you create static countdowns with shortcodes. If you want to create evergreen countdown timers that integrate with WooCommerce, you'll need the Pro version.
Pricing: Free for basic static countdown timers in WordPress. Pro version starts at $20 for evergreen countdowns and WooCommerce integration.
Get Sales Countdown Timer today! 


Another free WordPress countdown plugin is Countdown Builder. It includes several pre-built countdown timer WordPress styles, such as circle countdowns, flip clock countdowns, and a coming soon page.
It's a simple countdown timer that's easily displayed with the block editor or shortcode. It also has a built-in editor to change the color and other appearance attributes without having to use custom CSS.
That being said, overall, we didn't find it to be the most beginner-friendly WordPress countdown timer, but it's not too bad once you get the hang of it.
Pricing: Countdown Builder is free, but requires an upgrade for addons, like advanced scheduling.
Download Countdown Builder now! 


Last on our list is Countdown Timer Ultimate. Like many other basic plugins on our list, this WordPress countdown plugin is free to use, and it's a solid option for creating a straightforward countdown timer.
You can make as many timers as you want and customize your countdown timer widget, to some degree. It allows you to display your WordPress countdown timer site-wide or specific to certain website visitors.
Pricing: Countdown Timer Ultimate is free.
Get Countdown Timer Ultimate here!
Bonus: Website Builders with Countdown Timers
Some of the best website builders actually have a WordPress countdown timer included in their premium software or subscription services.
If you just need a countdown timer or marketing features for a running website then we definitely recommend a countdown timer plugin from above!
But if you haven't built your site yet or are on the fence about purchasing or upgrading a site builder, we thought it'd be helpful to know which ones include WordPress countdown widgets.
Elementor: The countdown timer for WordPress is included with an Elementor Pro website builder subscription, making it easy to create countdowns for blogs and other events.
SeedProd: As we mentioned before, SeedProd is an excellent theme builder, and SeedProd Pro includes one of our favorite countdown timers. It's a one-stop shop for easy website building!
Divi by Elegant Themes: The Divi countdown timer module is included in Divi Builder as part of an Elegant Themes subscription.
Do You Need a Countdown Timer Plugin for WordPress?
If you have sales, events, or other timely things coming up, and you want to increase your sales, signups, and conversions, we definitely recommend trying a WordPress countdown plugin!
Trying to make a WordPress countdown timer in code, without a plugin, would require all kinds of stuff, like using a jQuery countdown and years of training in web development.
The good news is that it's super easy when you have the best WordPress countdown plugin!
What Is the Best WordPress Countdown Timer?
The best WordPress countdown timer plugin will depend on what features you're looking for. We think OptinMonster is the overall best WordPress countdown timer because of its broad functionality, robust options for customization, and a ton of other marketing and lead generation features.
If a countdown timer on your landing page or built in with your theme is what you're after, SeedProd makes this incredibly easy with its drag and drop feature. You can have a gorgeous page with a countdown timer built in a matter of minutes.
If really specific scarcity and FOMO campaigns are what you need, then Thrive Ultimatum is going to be the best option for you. It's designed specifically for making countdown timers and running urgency campaigns.
If you're just looking for a basic, free countdown timer plugin in WordPress, most of the free options on our list will be perfectly fine to get started with.
We hope this article helped you learn about the best WordPress countdown timer plugins and how to create urgency and increase conversions on your site!
Do you know how to check the number of visitors for your WordPress site? Learn how in our article: How to Set Up WordPress Visitor Tracking – Beginner's Guide
Not using MonsterInsights yet? What are you waiting for?
And don't forget to follow us on Twitter, Facebook and YouTube for more helpful reviews, tutorials, and Google Analytics tips.