Do you take part in the Amazon affiliate program, and you're looking for the best Amazon affiliate WordPress plugin to help you manage your links?
First of all, we're glad you're here, because using a plugin to manage your affiliate links is an awesome idea. Quit losing revenue from out-of-date links, and manage and track all those links the easy way.
In this article, we'll take a look at the best Amazon affiliate WordPress plugins and go over some key features of each one. Looking to start with a free plugin? We've got some of those on our list!
Our Favorite WordPress Amazon Affiliate Plugins
MonsterInsights is the best Google Analytics plugin for WordPress. It allows you to easily connect your WordPress site with Google Analytics so you can view all the data that matters most right in your WordPress dashboard, including affiliate link clicks and outbound link clicks.
With the click of a button, you can set up sophisticated tracking features such as event tracking, eCommerce tracking, form tracking, custom dimension tracking, outbound link tracking, and more.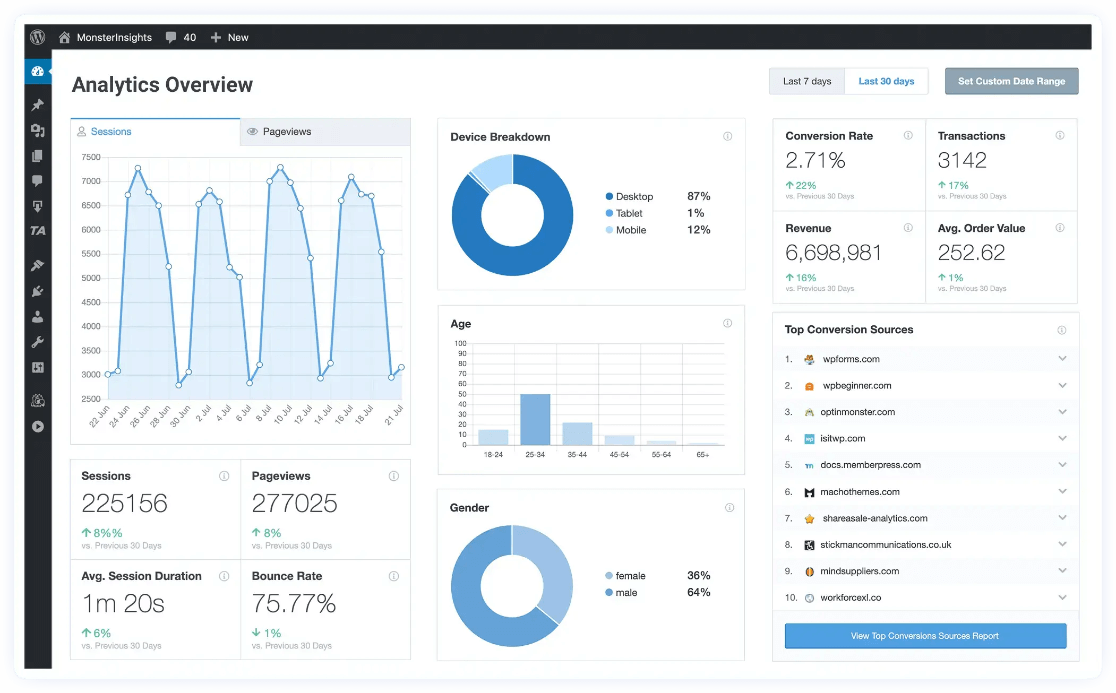 To track your affiliate links, use a plugin like Pretty Links (the next one on our list) to create prettier affiliate links and give them a unifying URL, then tell MonsterInsights which URLs to track as affiliate links. It's pretty simple!
Then, you'll find an affiliate link click report right in your WordPress dashboard: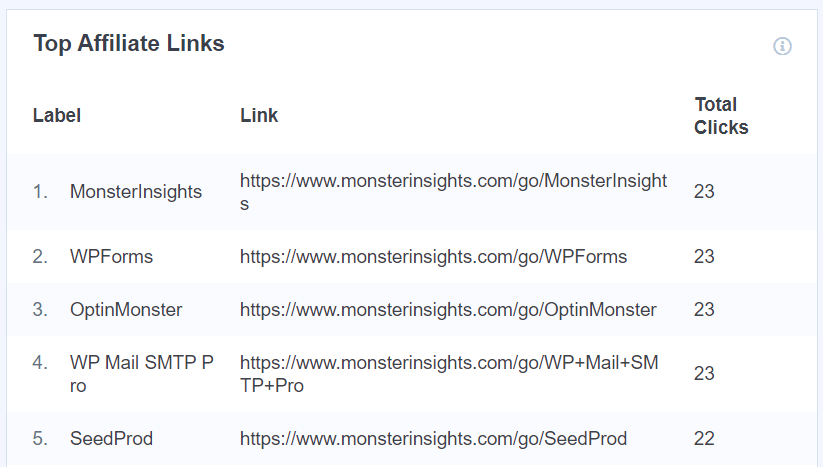 If you do not wish to cloak your Amazon affiliate links to comply with Amazon's policies, you'll still find clicks on your Amazon affiliate links reported in our Outbound clicks report:
Just click the button at the bottom of the report to view more outbound link data in Google Analytics.
What really sets MonsterInsights reporting apart here is we'll add your data to Google Analytics, so you can open it any time to find data like which pages the most affiliate link clicks occurred on, how long your visitors spent on your pages before clicking, and more.
For the full tutorial on affiliate link click tracking with MonsterInsights, check out How to Set Up Affiliate Link Tracking in WordPress.
Affiliate link tracking is available at the Pro level of MonsterInsights and above, starting at $99.50/year.
Get started with MonsterInsights today!
Pretty Links is an affiliate link management plugin for WordPress that helps you shrink, beautify, track, manage and share any URL on or off of your WordPress website. Create links that look how you want using your own domain name!
Important note for Amazon affiliates: Amazon has specific guidelines for link cloaking. You must make sure the user still knows they're clicking an Amazon link. Make sure to read all of your Operating Agreements before cloaking links.
While the free version of Pretty Links will let you create redirected links that are much nicer for sharing, the Pro version is full of more features that you'll want as an Amazon affiliate, such as:
Advanced redirect types
Link categories and tags
Automatic linking
Expiring links
Add affiliate link disclosures
And more!
Get started with Pretty Links today!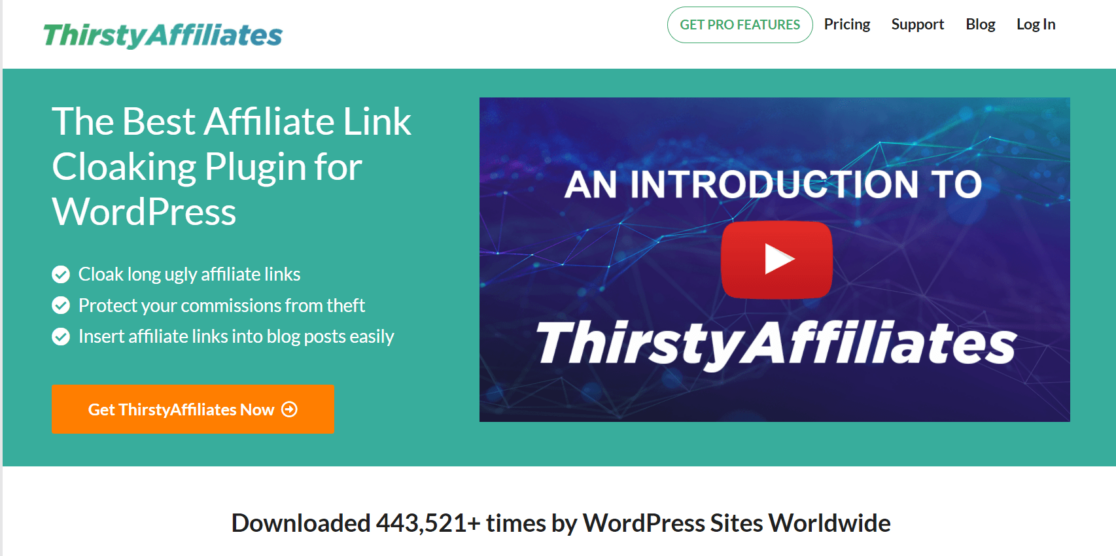 ThirstyAffiliates is another great affiliate plugin for WordPress that gives bloggers the tools they need to monetize their website with affiliate marketing.
Just like Pretty Links, ThirstyAffiliates gives you affiliate linking tools like link cloaking and redirects from your own domain, click stats, a no-follow option, and more. The free version gives you all the basics.
Or, upgrade to ThirstyAffiliates Pro for more features, including Amazon API importing. With this feature, you can search and add links from Amazon's Product Advertising API without leaving your WordPress dashboard.
Get started with ThirstyAffiliates today!
AAWP is an Amazon affiliate plugin that's specifically just for Amazon affiliates. Because of this, it has some really neat Amazon-specific features that other affiliate plugins don't have.
Some key features:
Can be used with any WordPress theme
Product information is updated automatically
Automatically creates affiliate links for you
Geotargeting
Bestseller lists
New release lists
Pretty product boxes
Since AAWP has all of these advanced features, there is no free version. AAWP starts at €49 per year.
Ad Inserter is a free Amazon affiliate plugin for WordPress. While what it does sounds simple, it's really a time saver and revenue increaser.
The Ad Inserter plugin can help you out by inserting Amazon Native Shopping ads automatically onto your site, in exactly the places you want them in to increase clicks.
You can put your native shopping ads anywhere with this plugin – in the header, the footer, every post beneath the content or after a certain paragraph, every page, in the sidebar…really anywhere!
Plus, this plugin is totally free.
Get started with Ad Inserter today!
Auto Amazon Links is another Amazon-specific affiliate plugin. And it's free!
This plugin works to automatically insert links to great products on Amazon from text on your site. Just pick a couple categories of products and let it add those links!
Key features:
Display a specific product wherever you want, too
Geotargeting
Add products in widgets
Create custom buttons
Insert ads in specific posts and pages with a shortcode
Get started with Auto Amazon Links today!
Amazon Link Engine is a great free plugin to use if you have international visitors to your site. If someone from another country clicks on one of your affiliate links, the plugin will send them to the correct product on their regional Amazon.
As soon as the plugin is installed, your Amazon links are instantly localized every time a user loads the page. Even if you add new links to your WordPress site, each will be automatically converted without any additional work from you.
Get started with Amazon Link Engine today!
Easy Affiliate Links is another affiliate link management plugin. With the free version, you can easily add and manage all the affiliate links on your website, both cloaked and non-cloaked links and regular non-cloaked links.
Key features:
Use regular links or affiliate HTML code
Create shortlinks to optionally cloak your affiliate links
Leave specific links uncloaked for Amazon compatibility
Automatic text disclaimer for your affiliate links
Easily access your links in the visual and html editor
Get started with Easy Affiliate Links today!
EasyAzon is another Amazon-specific affiliate plugin for WordPress. Use it to create Amazon affiliate links from within your WordPress post editor.
Key features:
Easily create Image affiliate links
Add product information blocks
Automated affiliate link cloaking
Display product info via a pop up box on mouse hover
Increases the cookie length
Automatic link localization
Get started with EasyAzon today!
SimpleURLs is an affiliate link management plugin that allows you to create, add new, manage, and track outbound links from your affiliate site or online store by using custom post types and 301 redirects. It's made for all affiliate links, including those from Amazon.
Key features:
Add affiliate referral links to Simple URLs while writing blog posts
Group your affiliate product links into hierarchical categories
Keeps its database footprint small to ensure you don't over bloat your database with useless HTML
Smart uncloaking feature for Amazon affiliates
Built-in affiliate link shorter
Customizable link URL prefixes
Full importing and exporting support
Get started with SimpleURLs today!
That's our list! We hope you found the right WordPress plugin to help you manage your Amazon affiliate links (and possibly other affiliate links, too).
For a full tutorial on tracking your affiliate links, read How to Set Up Affiliate Link Tracking in WordPress.
Not using MonsterInsights yet? What are you waiting for?
And don't forget to follow us on Twitter, Facebook and YouTube for more helpful Google Analytics tips.