Are you looking for a Google Analytics WordPress plugin? Want to know how people are finding your site, which blog posts are most popular, or how many of your visitors are using mobile devices?
All of that and more can be easily found using Google Analytics and MonsterInsights.
In this article, we'll show you how to add Google Analytics to your WordPress site using MonsterInsights, the best Google Analytics plugin for WordPress.
Add Google Analytics to WordPress without Coding
Table of Contents
Google Analytics and WordPress: The Basics
Google Analytics can measure many different metrics on a WordPress website. You can turn WordPress into just about any kind of website, and Google Analytics can track it.
The way you use Google Analytics will differ depending on what kind of website you have.
If you have a blog, maybe you're most interested in which posts people are reading, how they found the posts (on social media? via Google search?), and if they're clicking on ads or affiliate links.
If you have a business website, on the other hand, maybe you're most interested in how many people are filling out your forms, how they're finding your website, and which of your services are the most popular.
To add Google Analytics to any website to track your visitors' behavior, you need to install the tracking code. The code should be placed just before the closing </head> tag in your header. For many people, this is not easy to do. Most WordPress website owners aren't developers and don't know how to work with code!
That's where MonsterInsights comes in. Not only does the plugin make adding Google Analytics to WordPress a breeze with zero coding, but it also adds crucial tracking features to help you understand how people are using your website.
MonsterInsights seamlessly integrates with Universal Analytics and Google Analytics 4 (GA4), giving you the ability to use whichever version you have running, or both with our Dual Tracking feature.
Step 1: Sign In to Google
The first thing you'll need to do is log in or sign up for a Google account.
To get started, you'll need to open the Google Analytics website and click the Sign in to Analytics link or Start for free button in the top right corner of the page.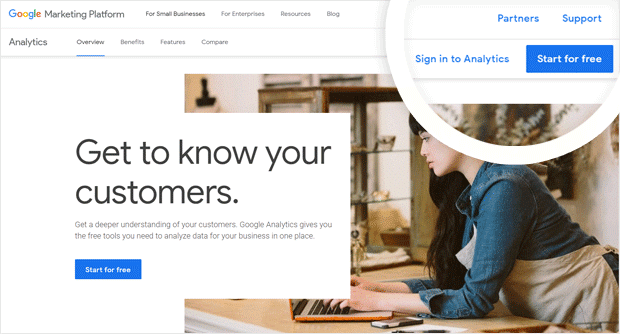 Next, you can log in to your existing Google account if you have one, or click the Create account link to create a new Google account.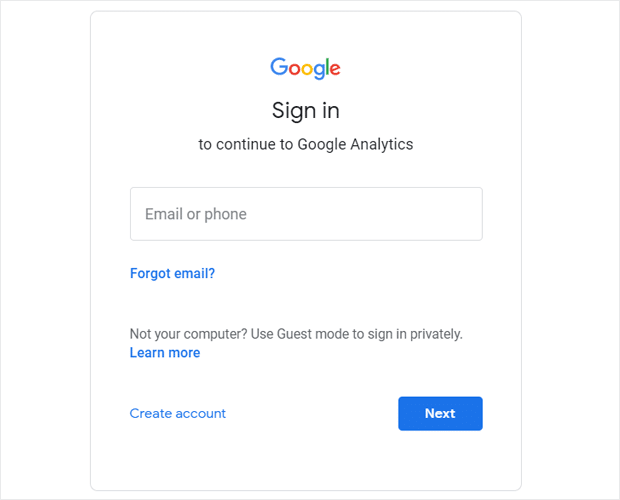 Step 2: Sign Up For Google Analytics
After you've signed in to your Google account, click the Start measuring button on the next screen.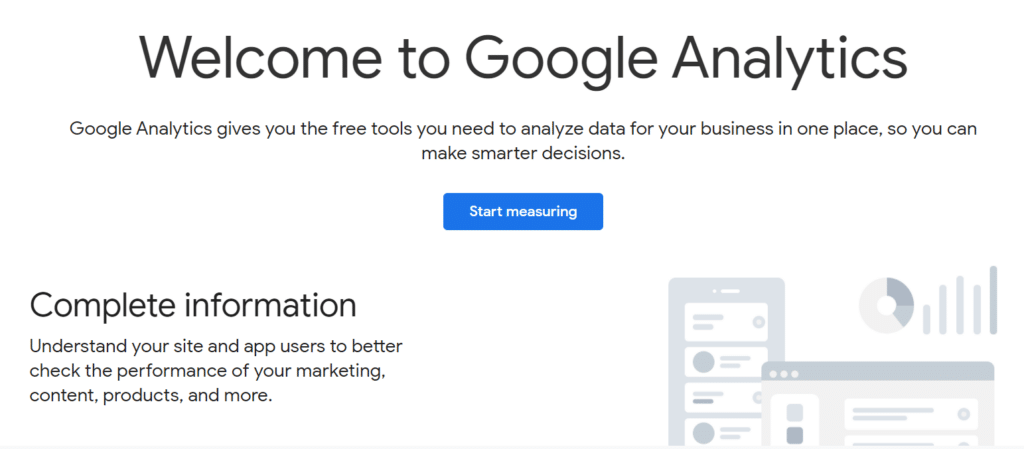 Next, you'll need to enter the Account name for your Google Analytics account. You'll also see different data sharing settings, make sure you check all the boxes and then click Next.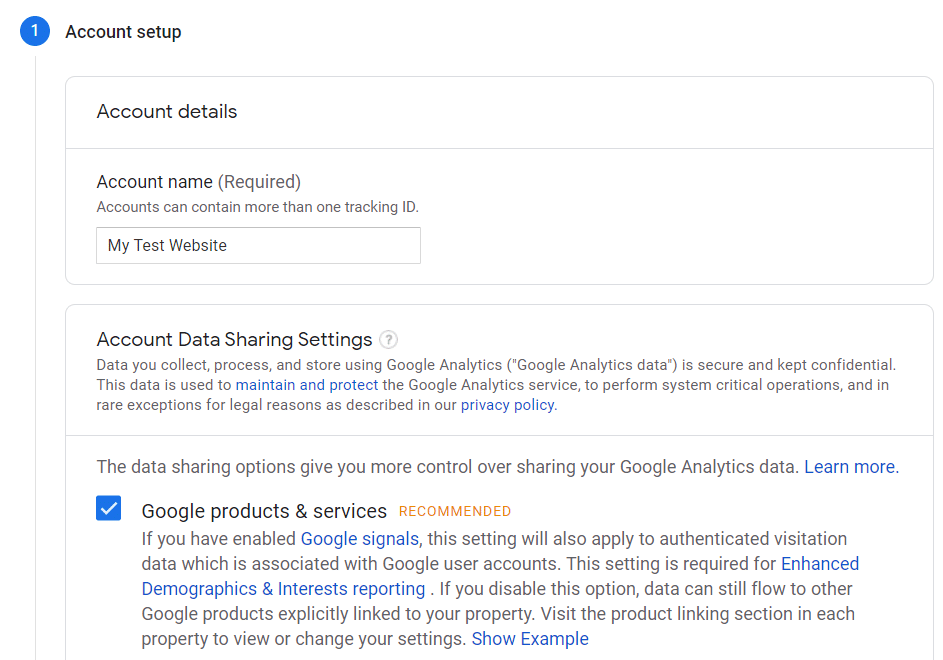 Now, you'll have to enter the property details of your website. Start by entering a name, select a reporting time zone, and currency.
Once you've entered this information, click the Show advanced options.
After that, enable the Create a Universal Analytics property option.

Next, enter the URL of your website and make sure you select the Create a Universal Analytics property only option. This will ensure that you're able to use other tracking platforms and measure your ad performance accurately.
Click Next when you're done.

In the next step, you'll need to enter your business information. For instance, select an industry and size of your business.
Then specify how do you intend to use Google Analytics with your business. You can select multiple options for using Google Analytics, such as measure customer engagement with my site or app, optimize my site or app experience, and so on.
After you're done, click the Create button.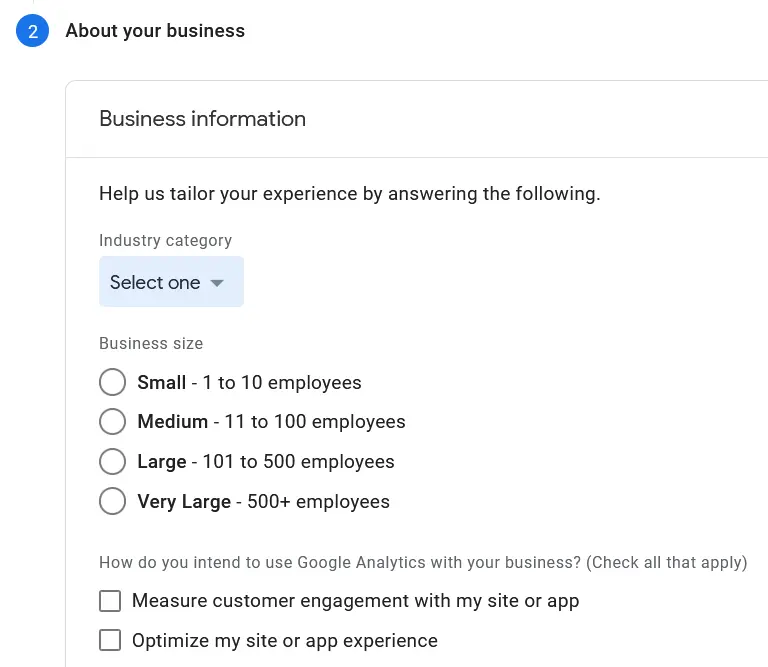 As you click the Create button, a popup window will appear. You'll need to review and accept the Google Analytics Terms of Service and the Data Processing Terms as required by GDPR.
After that, you should also review and accept the Measurement Controller-Controller Data Protection Terms. Check the box stating that you accept this term, and click on the I Accept button at the end.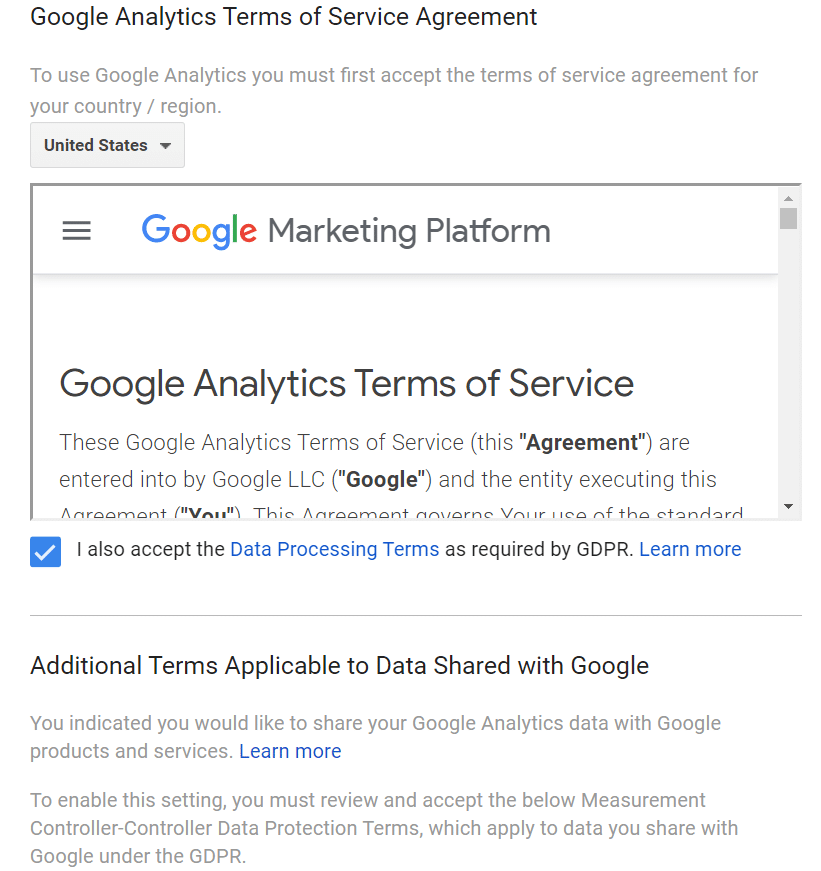 Once you accept the terms, you'll be taken to a screen where you can see the Tracking ID and the tracking code to enter on your WordPress website.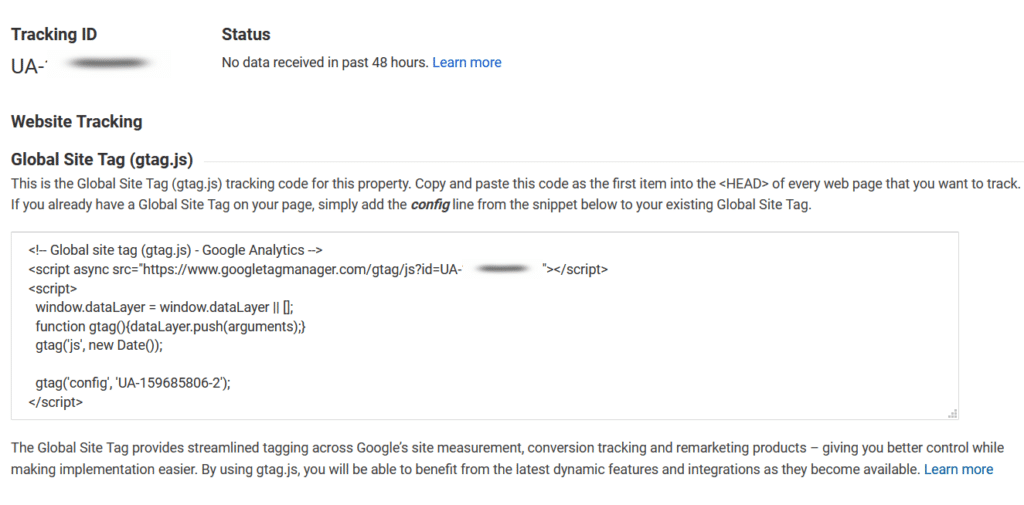 That's it! You're now signed up for Google Analytics. Next, we'll add Google Analytics to WordPress.
Step 3: Set Up MonsterInsights
Normally, you'd have to insert your Google Analytics tracking code into your WordPress website's code.
But with MonsterInsights, you don't need to worry about using any code.
Instead, you can get started by downloading MonsterInsights, as it's the best Google Analytics WordPress plugin. To do that, you'll need to log into your MonsterInsights account and download the plugin zip file.
Once you have the zip file, navigate to the site where you want to install MonsterInsights and go to the WordPress admin dashboard.
Then navigate to Plugins » Add New and click the Upload Plugin button at the top.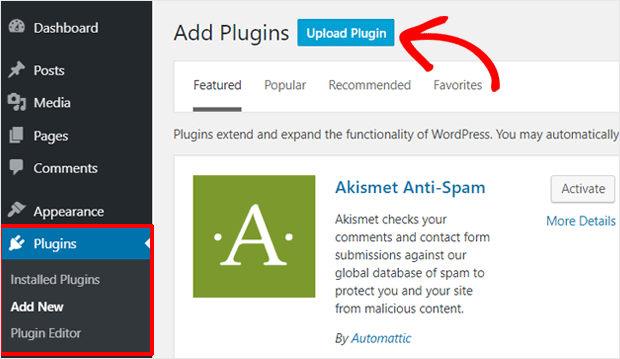 On the next screen, you can click the Choose File button to select the zip file you just downloaded. Then click the Install Now button to upload the file and install the plugin on your site.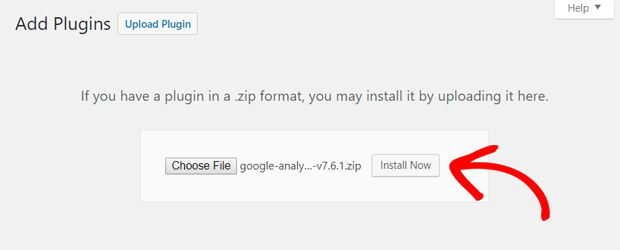 Once the plugin has been uploaded and installed, you can click the Activate Plugin button to activate it on your site.

After the plugin is activated, the plugin setup wizard will open to guide you through the setup process step by step.
At first, you'll see the 'Welcome to MonsterInsights!' message and options to choose the category of your website. There're 3 options: Business website, Publisher (Blog), and eCommerce.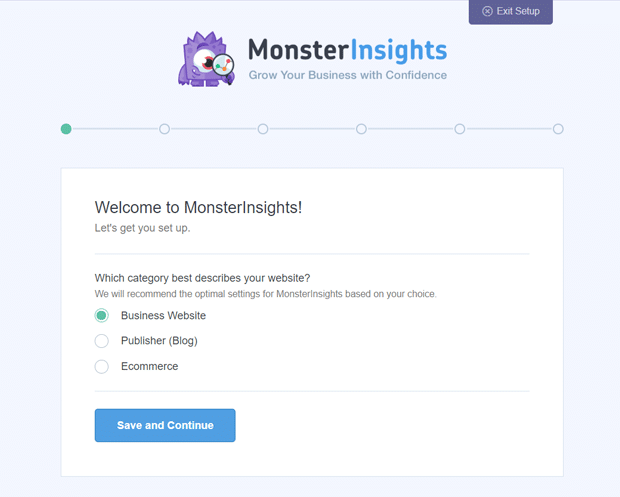 Select a category that best describes your website, and then click 'Save and Continue' button.
If you want to skip the setup wizard, for now, you can click 'Exit Setup' button at the top.
In the next screen, you'll need to connect MonsterInsights plugin to your website by providing your license key.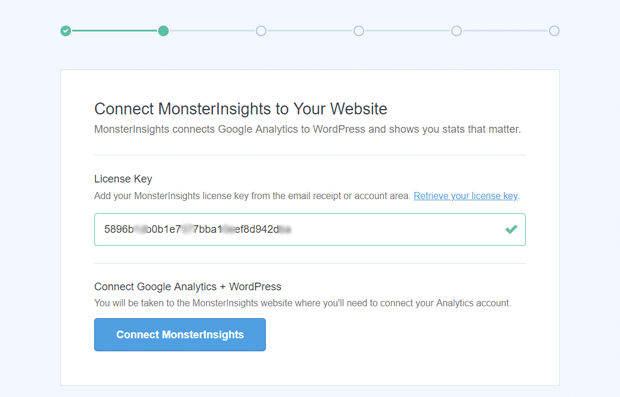 You can find your MonsterInsights license key in your email receipt or account area on the plugin website.
Once you enter your license key, it'll verify your account, and then you can click on the 'Connect MonsterInsights' button.
After that, you'll see an option to connect your Google Analytics with your MonsterInsights account. Select your account to continue authentication.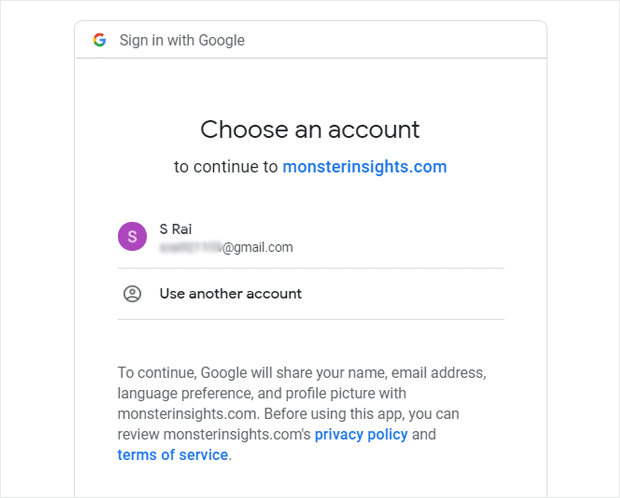 Next, you'll need to allow MonsterInsights the proper permissions.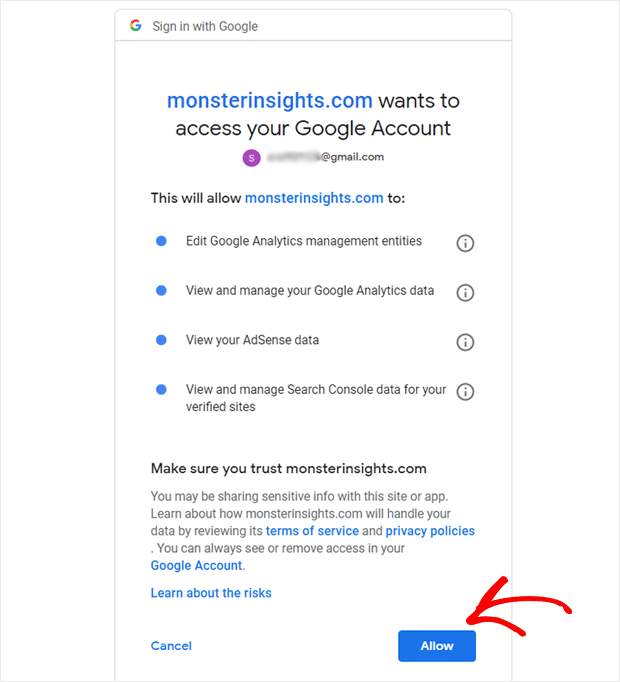 After that, you'll need to pick a profile to complete the connection. If you've multiple websites connected to your Google Analytics account, then you'll need to choose the right website property here.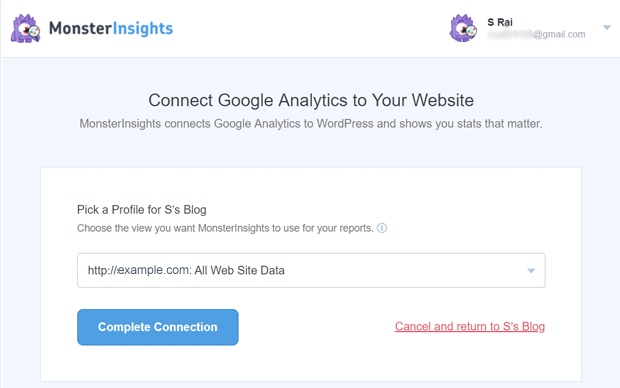 Choose your profile, and then click the 'Complete Connection' button.
After that, it'll finalize the authentication process in a few seconds, and then take you back to your MonsterInsights setup page.
Now you can see recommended settings for the Google Analytics plugin.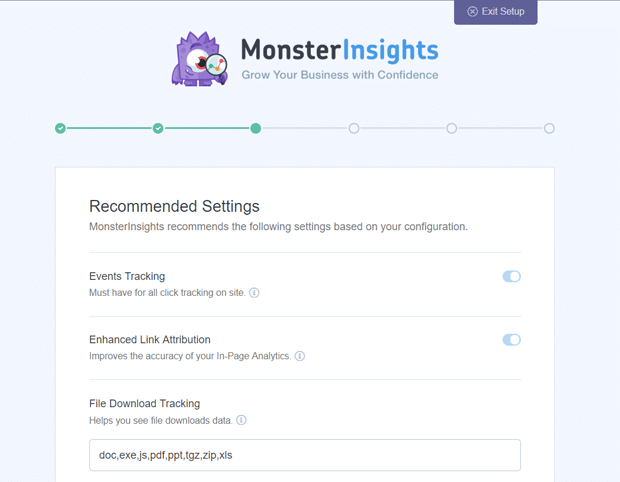 This page includes some of the most important settings as the following:
Events tracking – Enabled by default.
Enhanced Link Attribution – Enabled by default.
File Download Tracking – Most used file types (doc,exe,js,pdf,ppt,tgz,zip,xls) added by default.
As you scroll down, you'll see more settings.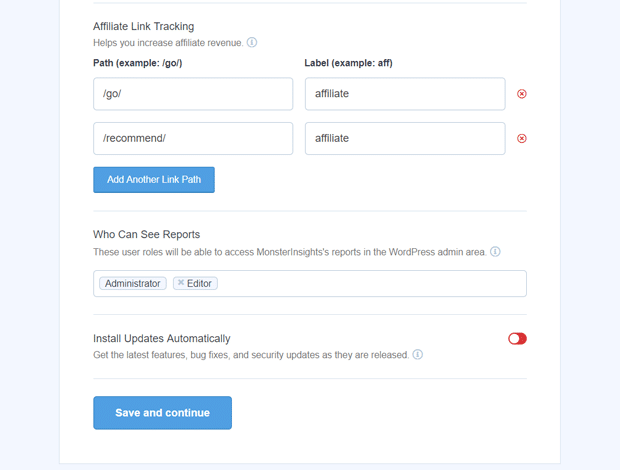 Affiliate Link Tracking – It has 2 affiliate link paths added by default, and lets you add more affiliate link paths.
Access to MonsterInsights's Reports – You can choose who can see the MonsterInsights's reports.
Automatic Plugin Updates – You can enable or disable the option to install updates automatically.
Review and configure these recommended settings, and then click the 'Save and Continue' button at the end.
On the next screen, it'll recommend you to install a couple of addons.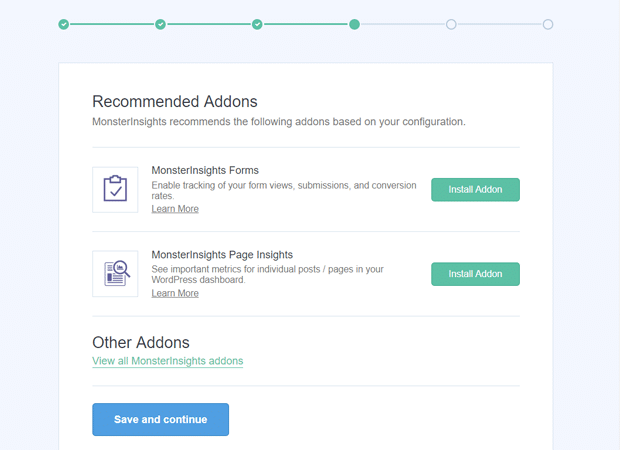 The MonsterInsights Forms addon helps you to track your form views, submissions, and conversions. And, the MonsterInsights Page Insights is great for tracking the metrics for individual posts/pages in your dashboard.
In the next step, you'll see a recommendation for WPForms plugin. It's the most beginner-friendly WordPress form plugin created by the same team behind MonsterInsights.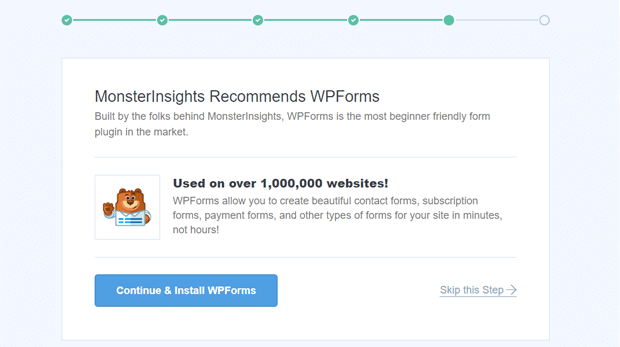 Click on the 'Continue & Install WPForms' button if you want to use WPForms. Otherwise, you can click 'Skip this Step' link.
After that, you'll see a new screen with this message 'Awesome, You're All Set!'. It means the setup process is complete, and you've successfully installed Google Analytics in your WordPress site.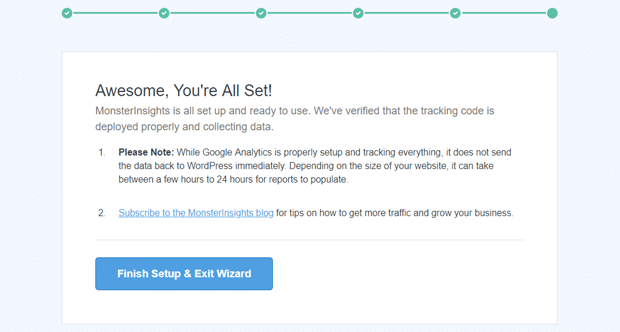 This screen also notifies you about when you can start seeing your website reports. Depending on the size of your website, it can take between a few hours to 24 hours.
Don't forget to click on the 'Finish Setup & Exit Wizard' button.
Now, you'll be able to set up dual tracking if you have both a Universal Analytics property and a GA4 property. Setting up dual tracking will bring in all your historical data from Universal Analytics, while giving you the benefits of Google Analytics 4.
On the main Settings page, scroll down to Google Authentication and find the Dual Tracking Profile box. Here, you can input either your Universal Analytics Tracking ID or your GA4 Measurement ID, whichever one you didn't authenticate with in the setup wizard.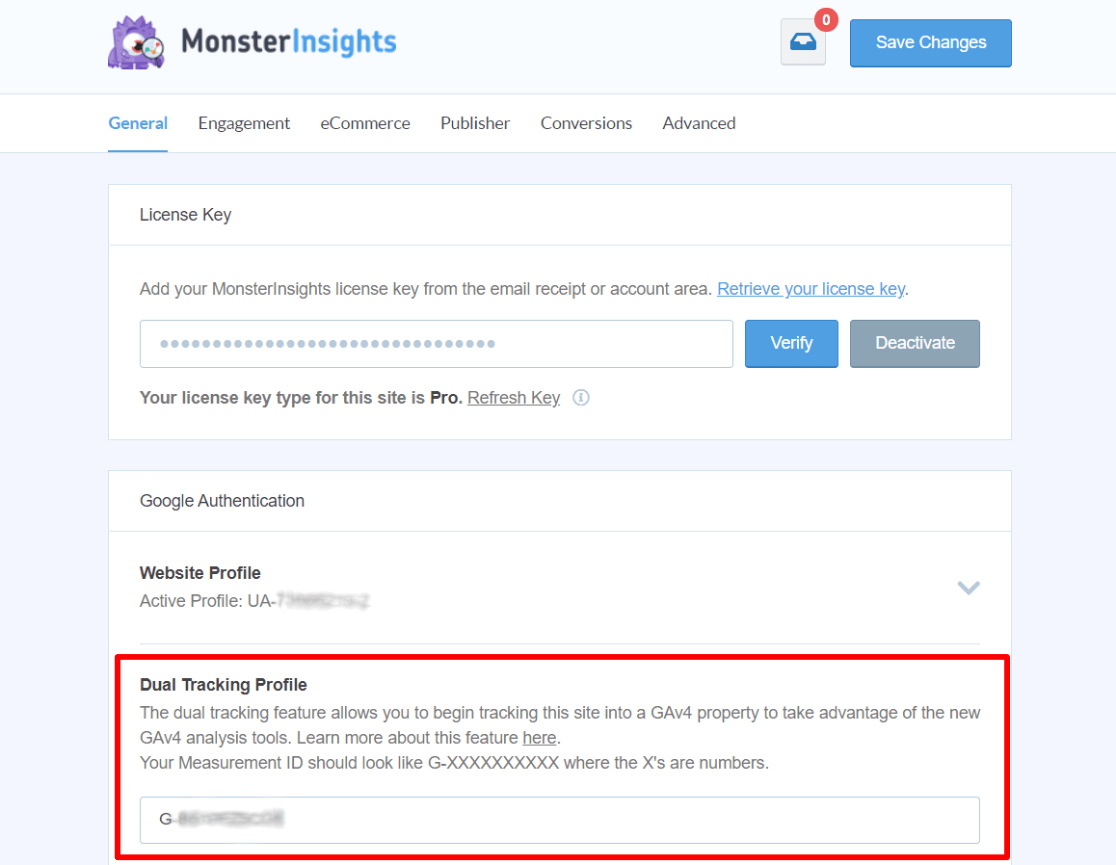 That's it! You've successfully added Google Analytics to WordPress the right way.
View Your Google Analytics Metrics in Your Dashboard
As we mentioned above, it can take a few hours for Google Analytics to start collecting data. Wait for some time, and then you'll be able to view your WordPress website reports right inside your WordPress dashboard.
A quick summary of the website analytics report is available in MonsterInsights' dashboard widget.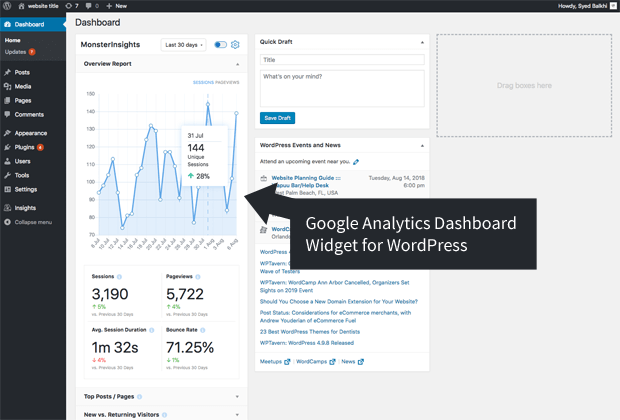 To view the full reports, you'll need to visit Insights » Reports from your dashboard. There, you'll see the overview report first.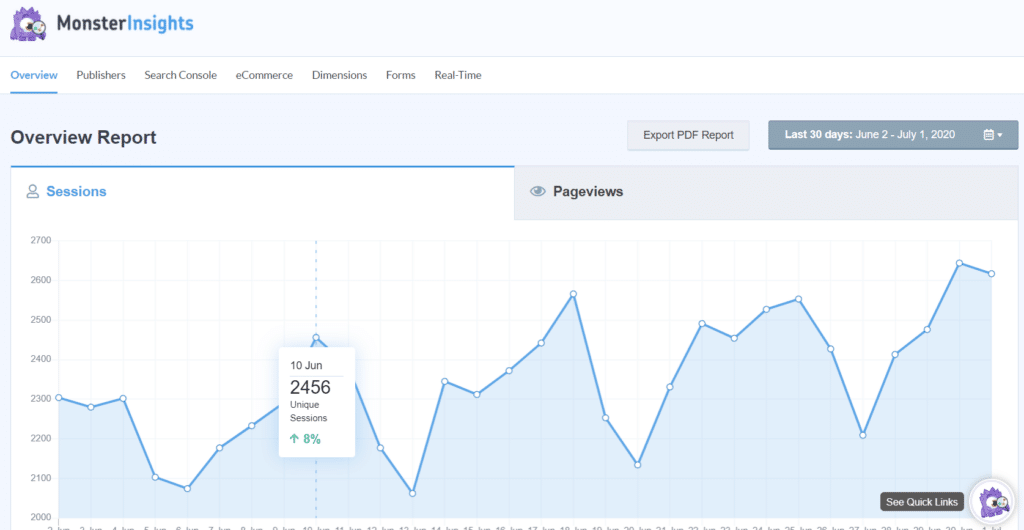 Then, you can view all the other reports by clicking on the tabs/links at the top of the report. Here're just a few types of data you can track using MonsterInsights' plugin:
Top landing pages: Which landing pages are most popular on your site
Link and button click tracking: Which links and buttons are getting the most clicks
Search console report: What keywords people are using to come to your site
Forms tracking: Which forms are getting the most impressions and submissions
Also, you can track advanced metrics like eCommerce transactions and custom dimensions easily with MonsterInsights.
In conclusion, MonsterInsights makes it super easy to add Google Analytics to WordPress, set up advanced tracking, make your site GDPR compliant, and view reports.
Add Google Analytics to WordPress without Coding
We hope this tutorial helped you to set up Google Analytics with MonsterInsights. You may also want to see our guide on is MonsterInsights worth it and how to add a simple contact form to WordPress.
If you liked this article, then please follow us on Twitter, Facebook and YouTube for more free tutorials.