What kinds of things can you measure with Google Analytics, and what can you use that data for?
If you have a website, you've probably heard of Google Analytics. It's a pretty standard tool for website owners to use to see how many people are visiting their website, and what they're doing while they're there.
If you're not yet using Google Analytics or just getting started with installing it on your website, you're probably looking for some basics on what exactly Analytics can track, and what it can tell you about your website and your visitors.
In this article, we'll take a look at the top things (metrics) you can track with Google Analytics. But first, we'll go over a super easy way to get it set up.
Connect Google Analytics and WordPress
If you have a WordPress website, the hands-down easiest way to install and connect Google Analytics is with the MonsterInsights plugin.
MonsterInsights is the best Google Analytics plugin for WordPress. MonsterInsights makes it incredibly easy to connect Google Analytics with your site, plus see  straightforward, uncomplicated reports about your traffic.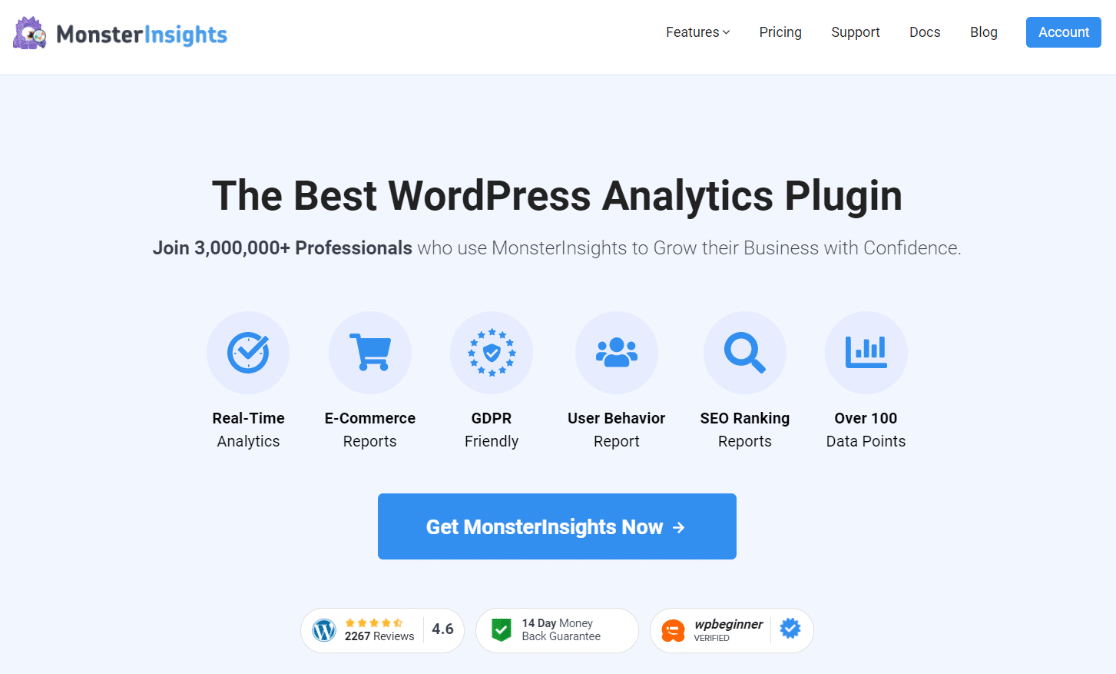 Besides bringing the most important metrics from Google Analytics right into your WordPress dashboard, MonsterInsights makes ecommerce setup, form submission tracking, link click tracking, and more very easy.
To see all the features, visit our Pricing page.
Get Started with MonsterInsights Today!
The Top 11 Metrics Google Analytics Can Measure
Now, let's get into our list of the top metrics Google Analytics can measure. Many of these reports can be found right inside the MonsterInsights dashboard in WordPress, instead of needing to open and navigate Google Analytics.
1. Overall Traffic and Traffic Sources
How many people visited your site in the last week?
How many of those people came to your site by clicking a link on Facebook?
Those are the kinds of questions you can answer with the Google Analytics traffic sources report. Not only will it give you the total traffic to your site, but it'll also break it down by how those people found your site.
To access the traffic sources report, go to Acquisition » All Traffic » Channels: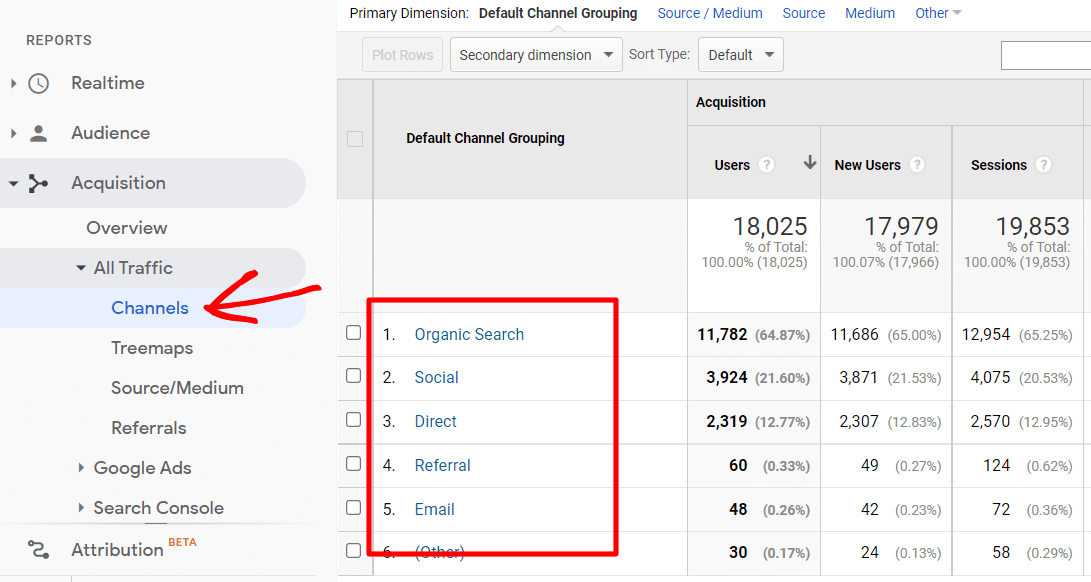 2. Audience Location
Whether you've got international traffic or your visitors are more hyper-local, the Geo report can help you get a good idea of where your website visitors are located. This can help you decide which areas to target with your content or ads.
To access the location report, go to Audience » Geo » Location: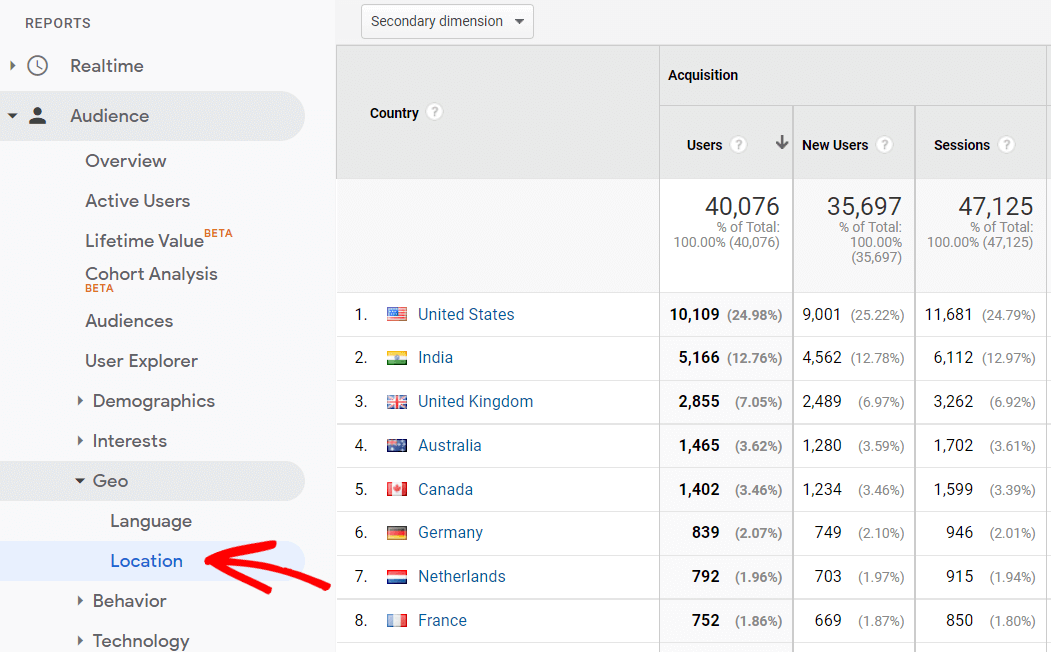 To dive in further, click on a country to see Region (which is state here in the U.S.), then click on a Region to see City results.
3. Landing Pages
Which pages on your site are visitors landing on? Finding out which pages people are entering your site on can help you see a lot of things, such as:
What keyword(s) you must have rankings for
Which links people are clicking on from your social media profiles
Which landing pages lead to the longest website visits
What content resonates the most with your audience
To find the Landing Pages report, go to Behavior » Content » Landing Pages: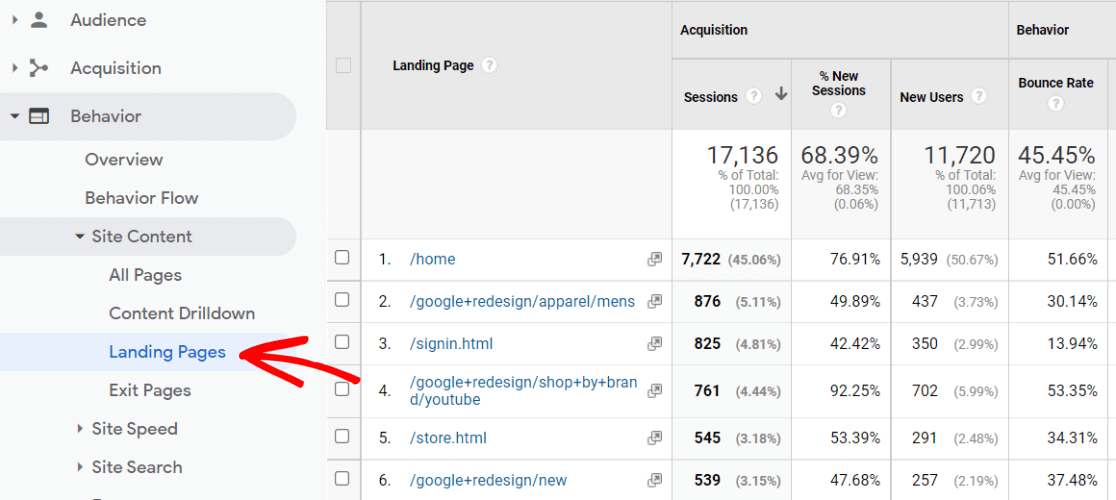 4. Demographics
Google Analytics tells you the gender and age of your visitors, as long as you activate their Demographics and Interests reports. Then, you can use that information to help tailor your message to your audience, or decide who to target with ads on Google or social media.
To find the Demographics report, go to Audience » Demographics » Overview:

5. Social Overview
This report is incredibly helpful if you're doing any posting on social media sites, like Facebook, LinkedIn, Instagram, or Pinterest. See at-a-glance how much traffic you're getting from each network, or click the Shared URL report link to see which links you shared on social media got the most clicks.
To find the Social Overview report, go to Acquisition » Social » Overview:

6. Search Console
When you connect Google Analytics with Search Console, you get a powerful report about your organic traffic that can help you become the savvy marketer you want to be. While all the reports in this section are helpful, the Queries report can really help you zero in your SEO efforts on certain keywords.
For instance, click on "Impressions" at the top of the table to sort it by how often your queries (keywords) are showing your site in search results. See a query that you have a lot of impressions for, but not many clicks? Search that keyword in Google to find out what everyone else is doing that maybe you're missing on your page.
To find the Queries report, go to Acquisition » Search Console » Queries: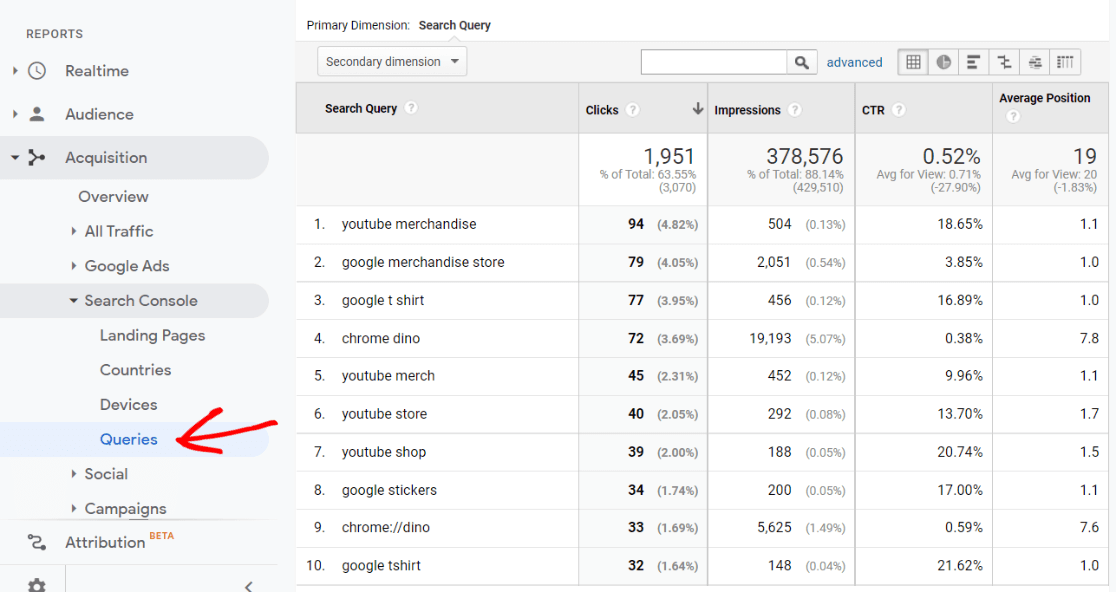 7. Goals
What's the goal, or goals, of your website? Is it to get prospects to contact you? Or for customers to buy a product? Or maybe it's for users to read posts and click ads? Whatever your specific goals are, you can track them in Google Analytics.
Since these are custom bits of information, Google doesn't come loaded with Goals already set up. You have to decide what counts as a goal for your website, then tell Google Analytics to count it as a goal.
This report helps you quickly see how your website is performing overall.
To find the Goals report, go to Conversions » Goals: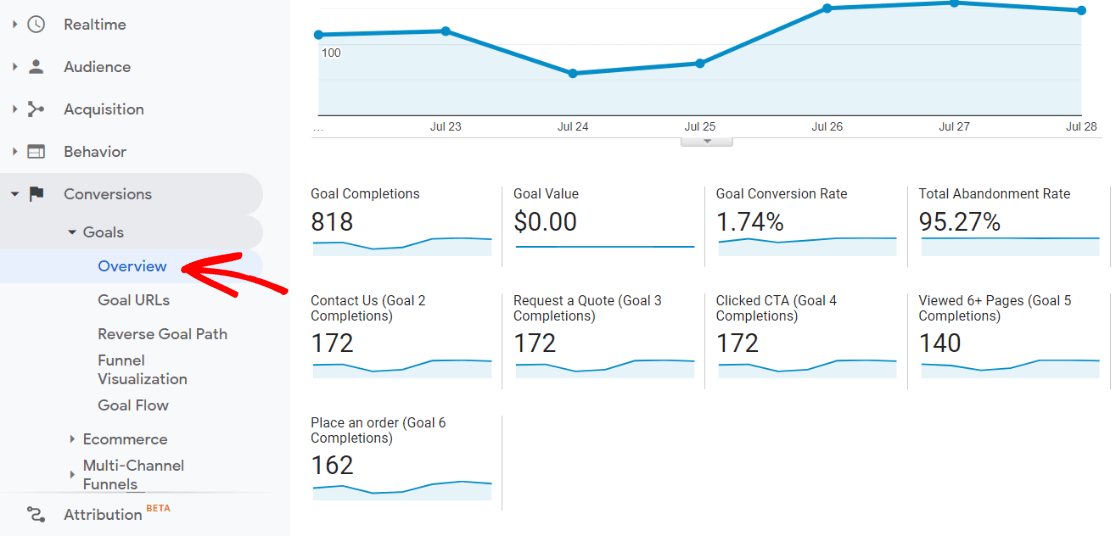 8. New vs. Returning Visitors
This is a simple but important metric that gives you more information about your visitors. Depending on the type of website you run and what your goals are, you can use this report to see if you're attracting the right kind of visitors.
For instance, if you sell products, you probably want a mix of new and returning visitors. If you check this report and see that your visitors are mostly new, that's a big clue that you need to do more to bring previous customers back in for another purchase.
Find this report under Audience » Behavior » New vs Returning: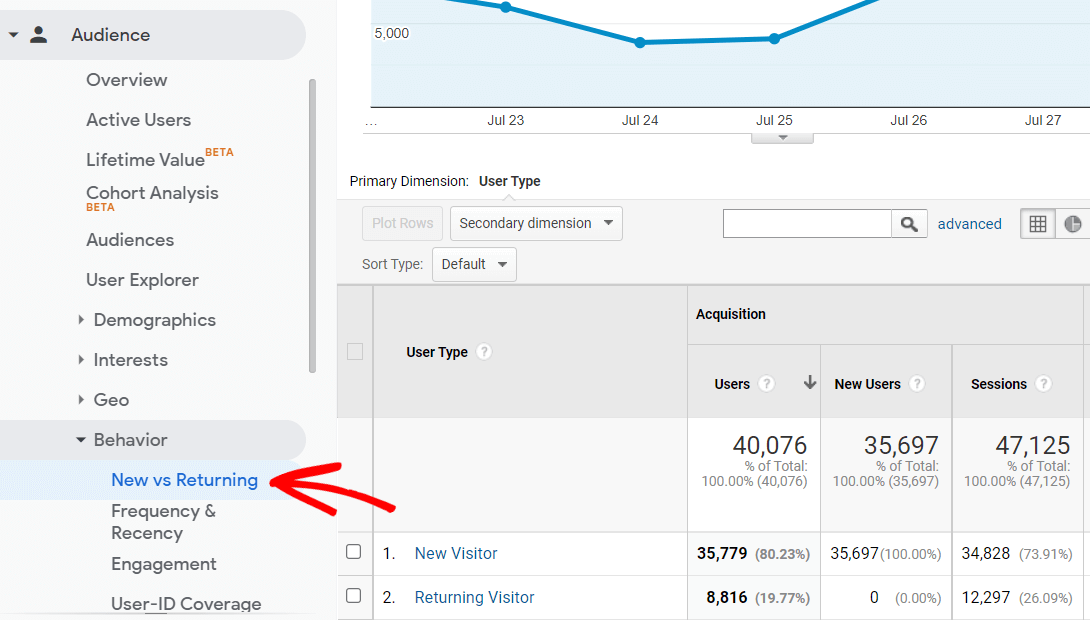 9. Pages Per Session & Average Visit Duration
We're grouping these two metrics together, since you can find them in the same report and they're both about your visitors' engagement with your site.
Pages per session is the average of how many pages your users are looking at during their visit. Average visit duration is how long that visit took on average. Both of these engagement metrics can be used to get a quick look at how engaged users are with your site. Think they should be sticking around longer? It's time to figure out how to get them to click to more pages!
Find these two metrics under Audience » Overview: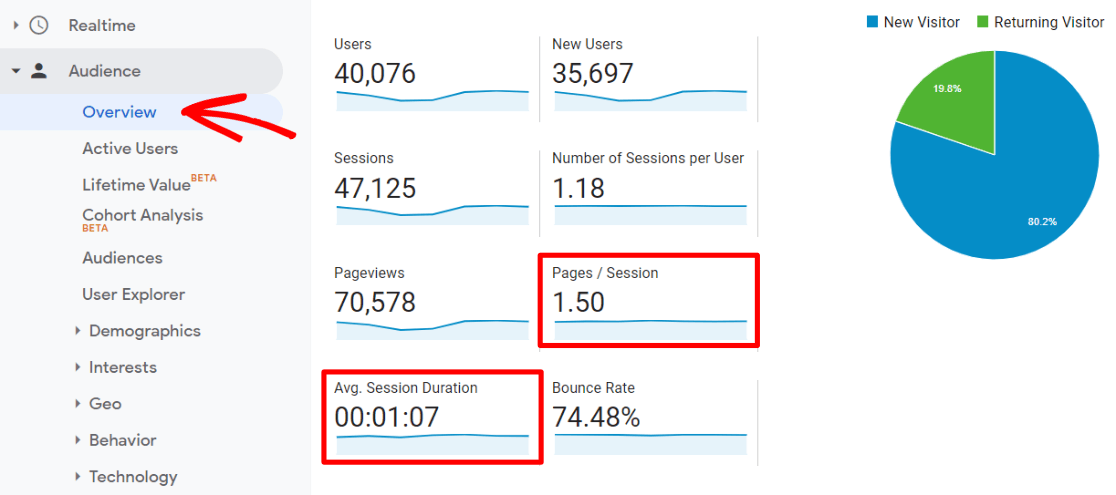 10. All Pages
Similar to the Landing Pages report, this report shows a listing of your pages and how many views they got. However, while Landing Pages shows which pages people landed on when they came to your site, the Pages report shows all pageviews.
So, however a person gets to your site, what are the top pages that person might visit next? What content are visitors finding once they get to your site? Find out in the All Pages report.
Find the All Pages report under Behavior » Content » All Pages: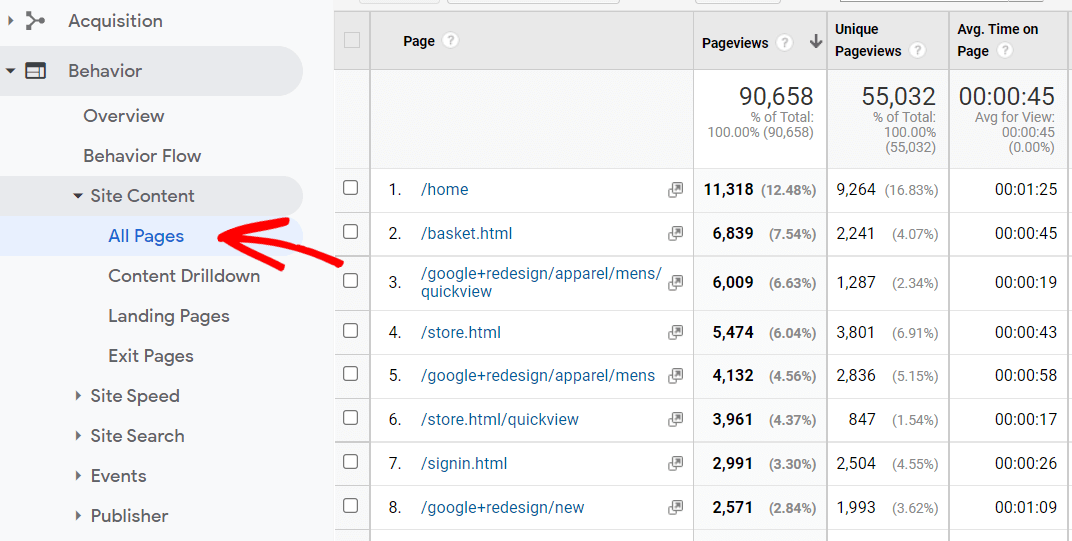 11. Mobile Devices
This report shows you which mobile devices were used to access your site. In a world where so much of all website traffic is via mobile, it's important to make sure your website works and looks great on all devices.
With this report, you can see if there might be a problem with a certain device. Does one device have a much higher bounce rate than the rest, or a very low average time on page? You might need to do some testing on that type of device.
Find this report under Audience » Mobile » Devices: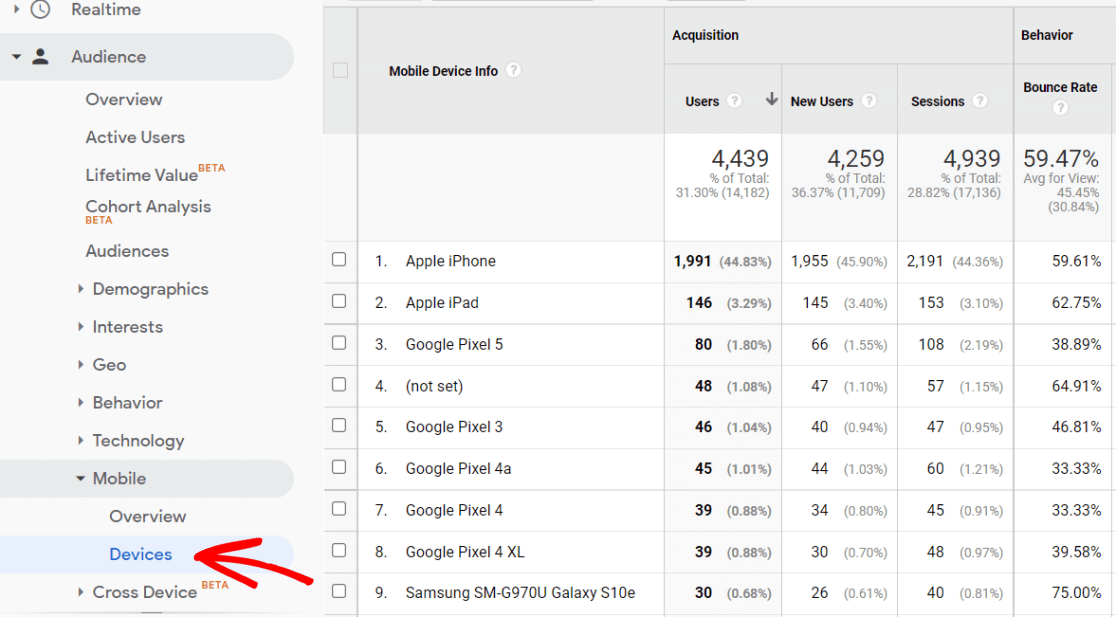 There you have it, 11 metrics you can measure with Google Analytics.
For more on Google Analytics, check out Why Your Business Needs Google Analytics Starting Right Now.
And don't forget to follow us on Twitter, Facebook and YouTube for more helpful Google Analytics tips.