Do you want to add a gallery to your website to display a stunning layout of images or videos? Luckily, it's easy to do with the best gallery plugins for WordPress!
When it comes to websites, images are a must, and WordPress photo gallery plugins offer a simple solution for organizing and presenting your photos, videos, or even audio files in various formats that showcase your content and captivate your audience.
WordPress gallery plugins are one of the best tools for adding that extra touch of flair and variety to your website or blog. However, with so many plugins available, finding one that perfectly combines features, aesthetics, and user experience can be a daunting task.
Fortunately, we've done the hard work for you and compiled a list of the best gallery plugins for WordPress that will make your images and videos shine.
What to Look for in the Best WordPress Gallery Plugin
Before we dive into our list, let's take a look at some key features to keep in mind when choosing the best image gallery plugin for your WordPress site.
Multiple Gallery Formats: Wide range of format options such as tiled, mosaic, masonry, grids, tiles, vertical columns, circles, and more.
Customizable Appearance: Fully customize your gallery and match your brand with easy drag-and-drop builders, pre-made templates for faster creation, eye-catching animation effects, and gallery filters.
Lightbox Viewing: Allows users to view larger versions of your photos within the gallery for a better visual experience.
Social Media Sharing: Easy image sharing through social media platforms and other options like email.
Video and Audio Support: Seamlessly integrates video and audio content in your gallery.
Image Optimization: Tools like automatic compression and lazy loading to improve site speed.
Mobile-Friendly Design: Optimize your gallery for mobile devices, allowing users to easily view your photos on tablets and smartphones.
Linking Options: Provide convenient links to direct users to additional information in your portfolios or blog posts.
User-Friendly Organization: Categorize and organize your images with a digital download management system.
Image Protection: Safeguard against unauthorized use with watermarking and other protection tools.
Integration: Seamless integration for eCommerce, digital downloads, and media management platforms.
The list could go on, but the features you'll want to focus on will depend on the type of gallery you want to create. Ready to compare our top gallery plugins for WordPress?
Best Gallery Plugins for WordPress
Envira Gallery stands out as a highly recommended WordPress plugin for creating impressive galleries with both images and videos. It's a user-friendly gallery builder that offers an easy-to-use interface for setting up an attractive gallery quickly.
With its flexibility and customizable options, Envira Gallery caters to both beginners and advanced users. The drag-and-drop system allows easy image placement and resizing without the need for coding.
Among its features, this gallery plugin also offers mobile-friendly templates, lightboxes, video support, SEO-friendly image deep linking, pagination for large galleries, watermarking and content password protection, social sharing options, and more.
Plus, the WordPress plugin integrates with WooCommerce and you can install the Lightroom addon for automatic syncing with your Adobe Lightroom collections.
Envira Gallery really is the cream of the crop when it comes to the best gallery plugins for WordPress. There are hardly any features it doesn't offer, and it's very user-friendly, letting you create beautiful galleries in no time.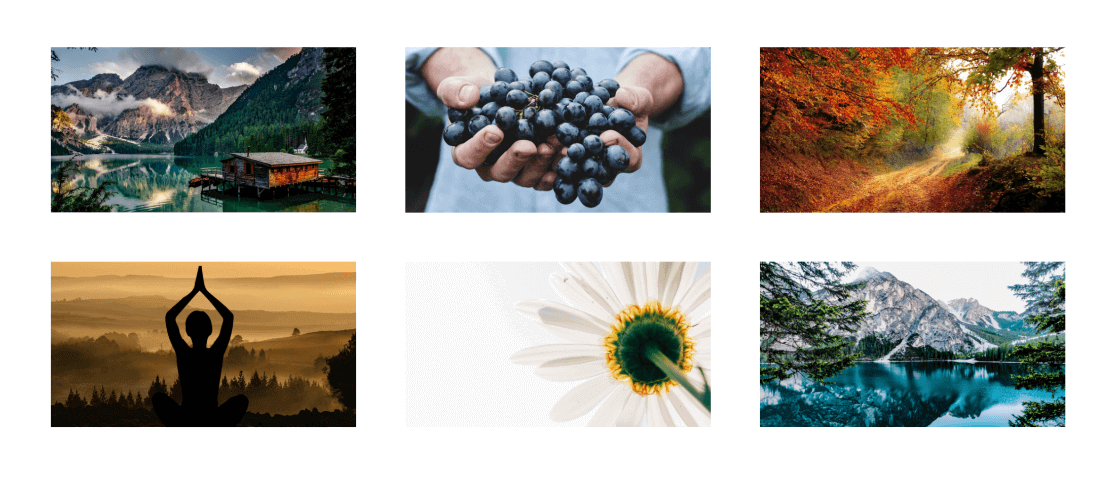 While there is a free version of Envira that covers the basics, a paid plan is needed to access most of the gallery features.
Pricing: Starts at $26 / year (Free version available).
Get started with Envira Gallery today!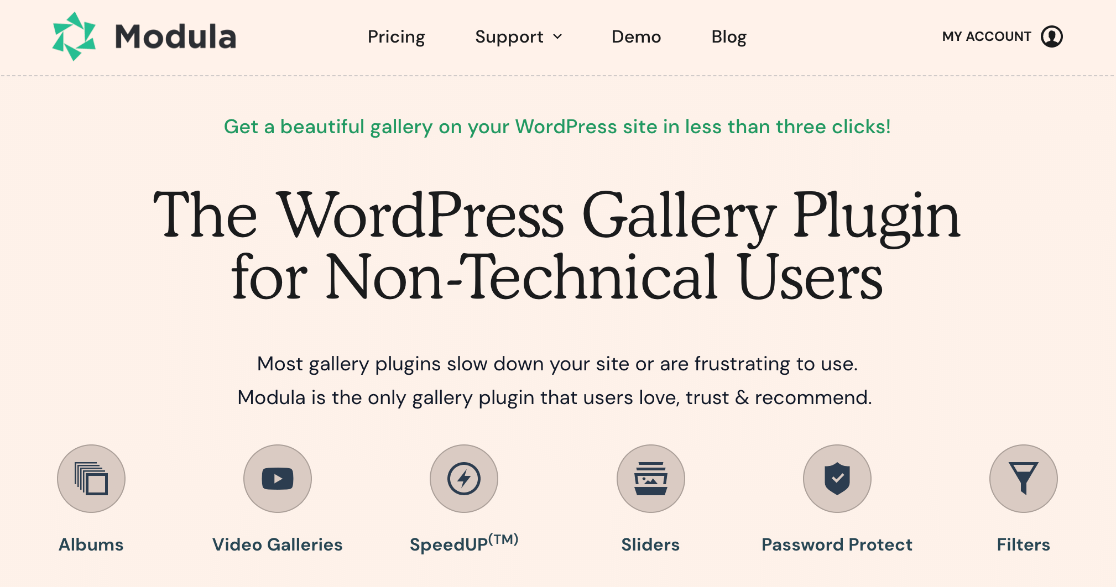 Just like its headline says, Modula Gallery is a user-friendly WordPress image gallery plugin that caters to non-technical users. With Modula's drag-and-drop builder, you can easily size images and format your galleries according to your preferences. Custom CSS styling is also available for more advanced users.
The plugin specializes in responsive grid galleries and provides options for standard grids or customizable grids with a mosaic-like appearance. It's also compatible with popular page builders like Elementor and Beaver Builder.
It offers features like pulling captions from image metadata, social media sharing buttons, image animation effects, hover effects, and customizable thumbnail settings.
Modula's unique selling point lies in its simplicity and ease of use, giving you the ability to create beautiful grid galleries with minimal configuration.
The free version of Modula offers basic gallery creation, customization options, and style settings, but upgrading to a paid plan unlocks additional features such as lightboxes, speed optimization, gallery sorting and filters, slider and slideshow formats, video galleries, and more.
Pricing: Starts at $39 for 1 site (Free version available).
Get started with Modula Gallery today!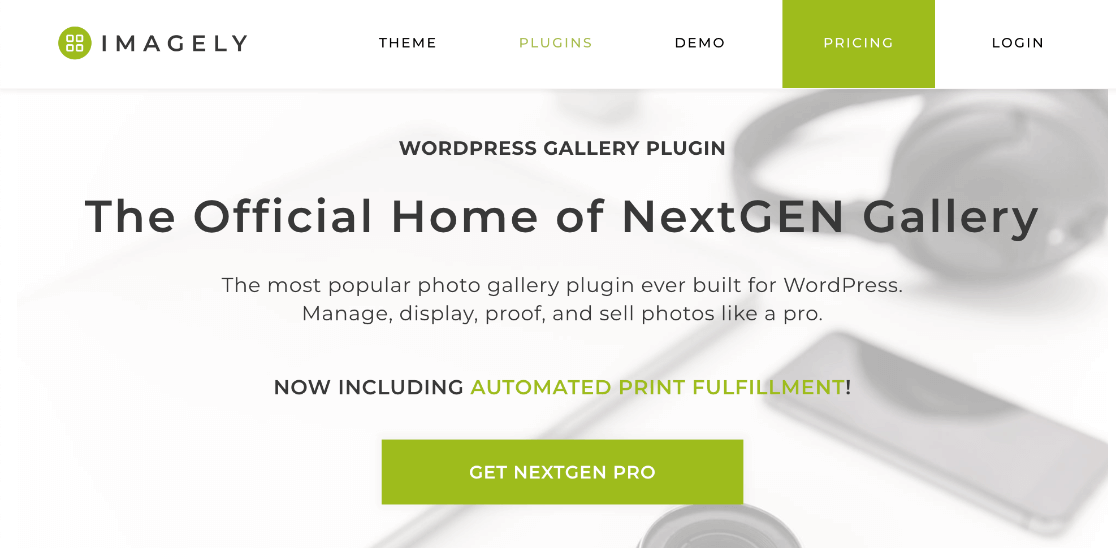 NextGEN Gallery is a popular and feature-rich gallery plugin for WordPress that is highly recommended for photographers, visual artists, and photo bloggers due to its extensive customization options.
Users have full control over details such as animations and image sizes, allowing you to present your photos exactly as desired. It offers a range of gallery options for showcasing photos, including tiles, slideshows, mosaics, and masonry grids.
While the free version provides two gallery styles, the pro plans offer a wider selection of layouts and features like deep linking, eCommerce tools, photo organization with a dedicated media library, watermarks, gallery management, digital downloads, lightboxes, and coupons.
NextGEN Gallery is particularly suited for websites whose focus is showcasing photos. Creative professionals who require proofing and precise control over how their images are displayed and sold to clients will likely get the most benefits out of this gallery plugin.
Pricing: Starts at $49 / year for a subscription plan or $209 for lifetime Pro access (Free version available).
Get started with NextGEN Gallery today!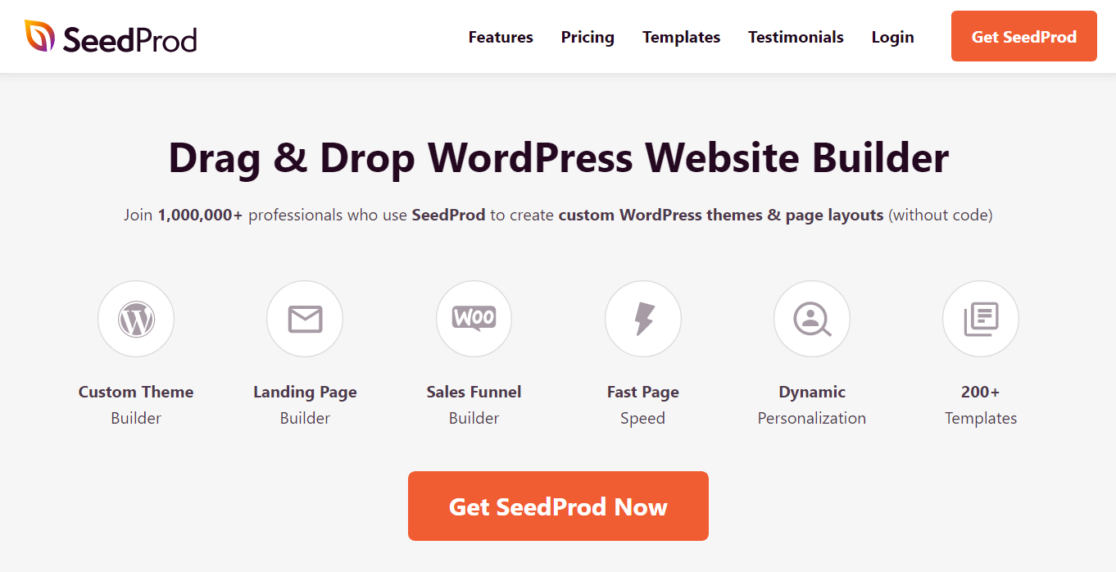 Unlike most of the plugins on our list, SeedProd is not specifically a gallery plugin. Rather, it's the best WordPress page builder plugin that offers advanced features for building dynamic galleries on your site pages.
SeedProd is an exceptional WordPress website builder that offers a beginner-friendly drag-and-drop interface, allowing you to create custom WordPress themes, posts, WooCommerce sites, and landing pages without any coding knowledge.
With a wide selection of templates, you can quickly and effortlessly create flexible layouts for your WordPress site and easily incorporate galleries with SeedProd's gallery blocks. You can even create multiple galleries within a custom grid and use smart filtering to organize photo albums by category or section.
SeedProd is the best gallery plugin for WordPress if you want to create a custom gallery while building your webpage in one simple interface. You can add social sharing buttons, opt-in forms, contact forms, pricing tables, tabbed content, countdown timers, and more with only a few clicks.
Check out this page we made in record time that includes a gallery with filtering categories, overlay text, an email opt-in, social buttons, and a countdown timer.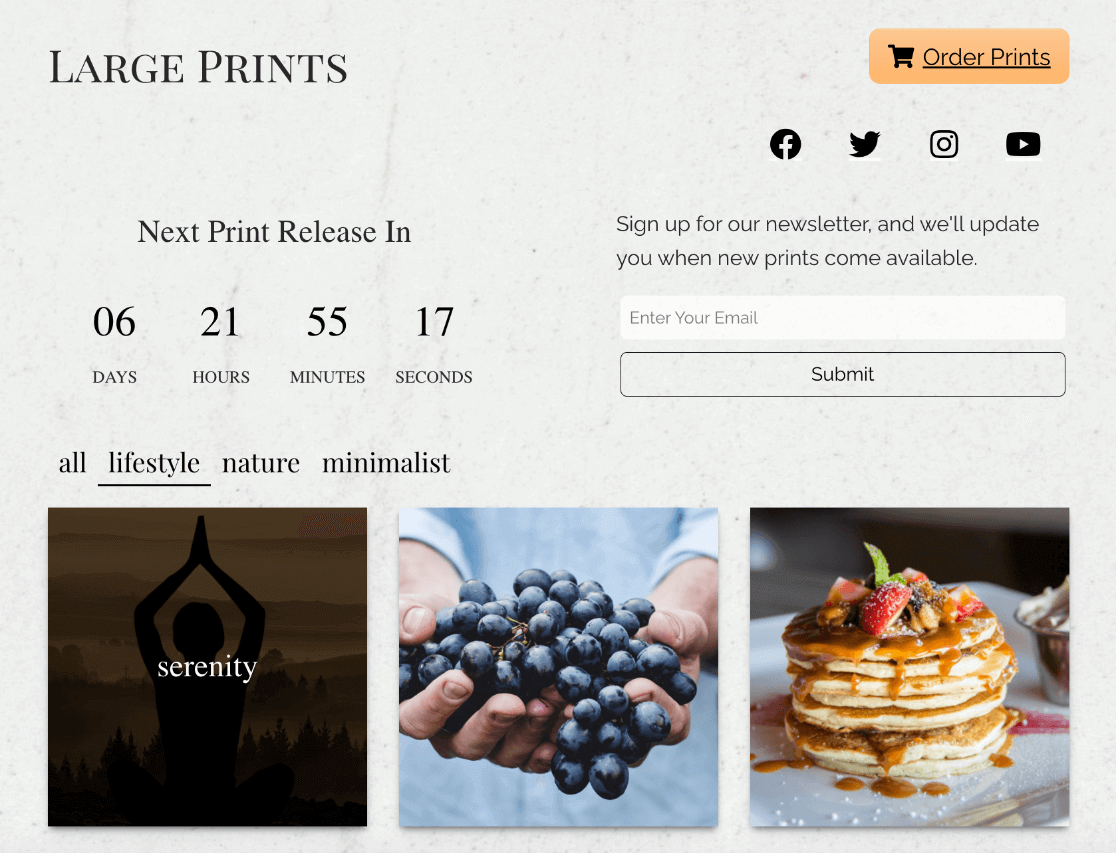 SeedProd makes it easy to create an entire website from scratch and includes features like coming soon and maintenance mode pages, custom 404 pages, WordPress login pages, access controls, custom domains for landing pages, and more.
In addition to having compatibility with many popular WordPress themes and plugins, SeedProd also seamlessly integrates with WooCommerce and multiple email marketing services.
Pricing: Starts at $31.60 / year (Free version available).
Get started with SeedProd today!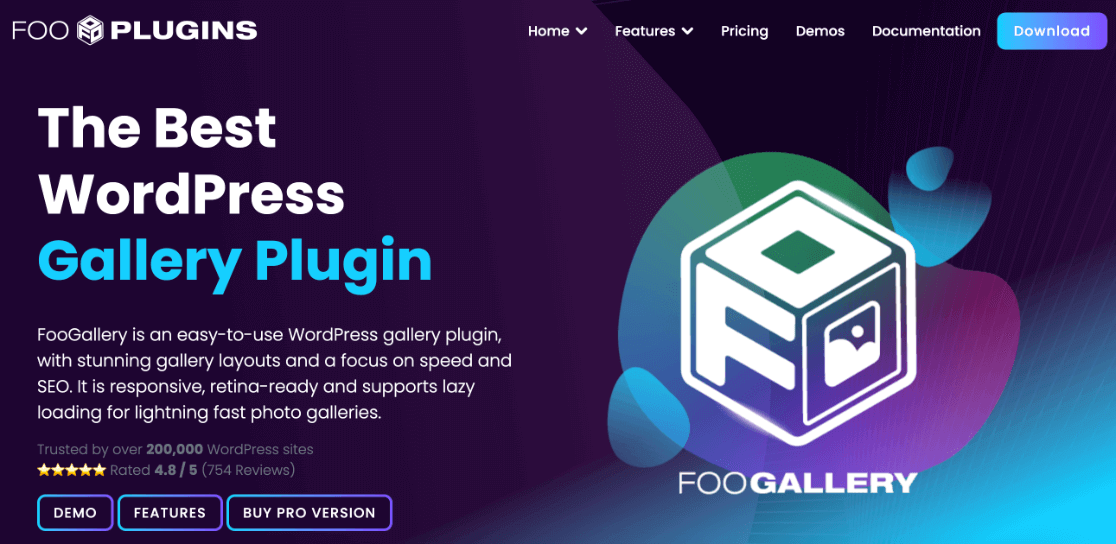 FooGallery is a WordPress gallery plugin with a generous amount of features included in the free version. Like many of the other plugins on our list, FooGallery is beginner-friendly with a drag-and-drop interface, while still offering the option for more advanced customizations.
The free version offers six responsive image gallery templates, including a masonry gallery and thumbnail galleries. You can customize various aspects of the galleries, such as borders, hover effects, and loading icons.
Organizing your galleries into albums is also possible for better management and the plugin offers pagination. You can easily insert your gallery using a Gutenberg block or shortcode, and custom CSS can be applied to further change its appearance.
For additional features, FooGallery offers an upgraded version that includes three more templates, support for video galleries, image filters, gallery filtering, lazy loading, infinite scroll page loading, and additional hover and loading effects.
FooGallery is a user-friendly image display plugin that offers attractive free features for creating a gallery in WordPress with the option to upgrade if you need more advanced features or video support.
Pricing: Starts at $33.99 / year (Free version available).
Get started with FooGallery today!
Photo Gallery by 10Web is another freemium gallery plugin for WordPress plugin that offers both free and paid versions. The free version provides simple grid gallery formats, a file manager, and options for watermarks, thumbnails, social media linking, and limited slideshows and lightboxes.
The plugin's user-friendly interface makes it popular among WordPress users and it's fully mobile-friendly with solid customization options. With the paid versions, users gain access to more galleries and additional premium features such as integration with social media and video support.
Photo Gallery by 10Web is a simple gallery plugin for WordPress that provides easy gallery creation and management without much set-up or the need to pay for a premium plugin.
Pricing: Free (Premium starts at $30 for 1 site).
Get started with Photo Gallery by 10Web today!
Responsive Lightbox & Gallery is a WordPress plugin that offers a range of features for creating captivating galleries. Unlike other plugins, this WordPress gallery plugin allows you to customize your installation based on your specific needs.
The core plugin is free and provides three templates and settings to get you started. If you require additional functionality, you can opt for paid extensions. This lets you only purchase the features you need and keep your site as light as possible.
This image gallery plugin primarily focuses on lightboxes, making it ideal for showcasing photos individually, and it comes with many lightbox options. However, it also supports videos, posts, and WooCommerce integration, and many of its extensions are free.
Overall, this plugin is lightweight, user-friendly, and flexible, making it suitable for beginners and a great free WordPress gallery plugin for lightboxes and users who prefer to customize their installed features.
Pricing: Free (Paid addons start at $19 each).
Elementor is a popular WordPress page builder that comes with multiple gallery widget options. It's not a standalone photo plugin, but it's a great choice for users who already use Elementor or plan to use it to create a new site.
There are a few different options when it comes to photo galleries. The free version of Elementor includes the Basic Gallery Widget, which allows you to create simple galleries that include lightboxes, some customizations, and social sharing.
Elementor Pro however includes the Gallery Widget (Pro), which unlocks full customization options, multiple filterable galleries, dynamic text, image optimization features, overlay, animation, and more.
Elementor's gallery widgets don't support video, but there is a video carousel widget in the pro version, or you can install the video gallery addon. With Elementor's beginner-friendly drag-and-drop interface, it's easy to use the widgets to create a categorized album gallery using pro or a simple image display with the free version.
Pricing: Elementor Pro starts at $59 / year for 1 site (Free version available).
Get started with Elementor today! 
Jetpack, is a popular multi-function WordPress plugin. It offers both free and paid features for site performance, security, and design. One of the free features included in Jetpack is the Tiled Gallery Block, which enhances the default WordPress gallery by providing customizable designs.
Users can choose from square tiles, circular grids, tiled columns, or mosaics, with some basic customization options available. Jetpack is designed for those who prefer a simple image grid and a light codebase.
While the WordPress plugin offers various other add-ons and paid features, all gallery functionality is included in the free package, which makes it a great option for users who already use Jetpack or those who simply want to enhance the WordPress block editor without adding a full gallery plugin.
Pricing: Free.
Get started with Jetpack today!
Image Gallery by Robo provides a free plugin along with a premium version. It delivers great gallery results without the need for extensive adjustments. Similar to other WordPress gallery plugins, this feature speeds up the design process and allows you to preview your gallery before publishing.
The plugin includes a Gutenberg module for instant publishing, which eliminates the need for shortcodes unless you prefer them.
The plugin also supports connections to Vimeo, offering flexibility for content creators. While the free version has a wide range of settings, exploring the premium demos can help identify any additional features that you may need.
Pricing: Free (Premium starts at $30 for 1 site).
Get started with RoboGallery today!
Photo Gallery by Supsystic is a great option for site owners seeking a user-friendly, simple gallery plugin for WordPress. It offers both a free version and a paid option with various display options.
The plugin provides eight customizable gallery layouts, including carousel, post feed, and Polaroid-style presentations. It's mobile-friendly and supports bulk image imports via FTP,  image imports from social networks, and watermarking security.
The premium version unlocks additional features such as video galleries, tags, albums for better organization, and a CDN for faster image delivery.
Pricing: Free (Premium starts at $49 / year).
Get started with Photo Gallery by Supsystic today!
Gmedia Photo Gallery offers a sleek design, powerful customization tools, free or paid versions, and is particularly suitable for developers and agencies working on multiple websites.
This WordPress gallery plugin provides a range of demos with options for travel blogs, sliders, eCommerce products, and more, allowing you to preview the gallery designs before installation.
It's a reliable choice for creating image galleries on any WordPress website. It offers four different blocks for Gutenberg users and supports various image displays such as galleries, albums, categories, and tags.
The pro version of the plugin introduces additional features like video and audio support, image editing within the dashboard, and social/email sharing capabilities.
The media galleries are visually pleasing and highly customizable. While it may not have the simplest backend, the plugin delivers impressive results once published.
Pricing: Free (Premium starts at $29.99 for 1 site, and the price decreases with more sites purchased).
Get started with Gmedia Photo Gallery today! 
Smash Balloon isn't on our traditional list of the best gallery plugins for WordPress, but it deserves a mention since it's the best gallery plugin for social media images and feeds on WordPress.
The plugin connects to your social media accounts and offers a live visual editor where you can create responsive social feed galleries. Smash Balloon is actually a combo of 6 different plugins:
Instagram: Highlight specific content, add shoppable posts, and automatically have your new Instagram images displayed on your site in a beautiful layout.
Facebook: Show Facebook reviews, events, image albums, live videos, and posts on your WordPress site.
YouTube: Add video galleries from your YouTube channel, display favorites, and even live stream to engage visitors.
Twitter: Show multiple Twitter timelines, and display Twitter searches, hashtags, and more.
Reviews Feed Pro: Automatically display your best reviews from platforms like Google, Yelp, and more.
Social Wall: Combines all of your social feeds and reviews into one customizable social wall page on your site that automatically updates.
Pricing: Individual plugins start at $49 / year (Free versions are also available for Instagram, Facebook, Twitter, YouTube, and Reviews). Or you can buy the bundle of all 6 plugins for $299 / year.
Get started with Smash Balloon today!
What Is the Best Gallery Plugin for WordPress?
The best gallery plugin for WordPress depends on what features you're looking for and how you want your image galleries to look. Envira Gallery is an excellent WordPress gallery plugin that comes packed with all the features you need to create stunning photo or video displays.
However, if you're looking for a gallery plugin that does more than lay out your media, we recommend SeedProd. You can easily build entire pages and themes and incorporate multiple filtered galleries into your page design using the simple drag-and-drop builder.
If you need a basic gallery plugin for WordPress and are looking for a free option that still has great features and customization options, FooGallery is a good choice along with most of the other free versions on our list.
No matter which gallery tool you decide to use, you'll want to make sure you track your gallery pages and videos with Google Analytics. That way you can easily see what's working for your site and what could use improvement.
MonsterInsights makes this easy and can set up advanced tracking for you with a couple of clicks, delivering all your important metrics right to your WordPress dashboard.
We hope you found some useful tools in our list of the best gallery plugins for WordPress. Be sure to check out: How To Boost WordPress Video SEO: Expert Tools and Tips
Not using MonsterInsights yet? What are you waiting for?
Don't forget to follow us on Twitter, Facebook, and Youtube for the best WordPress tutorials and Google Analytics updates.