Want to know how to add WordPress internal links to improve your site's SEO?
You've probably heard that internal links from your own content to other pages on your site can improve your on-page SEO. It's true! There are several benefits that can happen from building more internal links and a solid linking structure.
Creating WordPress internal links, though, can be really time consuming. Reading through every page and/or post and adding links could be a huge job!
So, in this post, we'll go over the benefits of adding internal links in WordPress, and then show you a tutorial for the best way to do it to save yourself some time and effort.
WordPress Internal Links Video Walkthrough
What Are Internal Links in WordPress?
Internal links are simply links from within your content to other pages or posts on your own site. A good example of internal links is your navigation. All of those links are internal. External links, on the other hand, link to outside domains. They send users away from your site.
Adding internal links in WordPress is a great SEO best practice and can help you really ramp up your SEO and user experience. Whether you have an eCommerce website, a business site, or a blog, internal links can be very helpful.
Do Internal Links Help SEO?
In short, yes! Internal links can positively impact your site's SEO in multiple ways. They can:
Internal Links Help Index Your Site
When Google and other crawler bots are indexing your site, they're accessing your site's pages via your sitemap and by and following your internal links. So, while having an XML sitemap is an important part of SEO, internal links and can help in the same way by assisting those crawlers in finding all your pages and URLs.
Internal Links Send Link Juice
Have you heard of "link juice?" It's an SEO term for the benefits of linking high-performing content to other pages on your site. The idea is, if you have a page or post that's ranking well in search engines and pulling in some traffic, you can add internal links to that page to extend the ranking/SEO benefits to other pages.
Think of it like spreading your good SEO work around, from one page to the next.
Internal Links Help Visitors Find Related Content
Internal links aren't only great for search engine optimization and bots – they're awesome for humans, too! By linking to related or supporting content within your page or post, you can help your visitors navigate your site and discover more content, products or services that they may not have found otherwise.
For instance, let's say you're loving what you're learning about internal links in WordPress right now in this article, but you're also interested in WordPress on-page SEO. Since we used an internal link there, now you know we have that on-page SEO content for you to check out.
The Best Way to Build WordPress Internal Links
Now that you know what internal links are and why they're important, you'll want to know how to build internal linking in WordPress without spending hours and hours going through your content.
We'll go over two ways to more quickly build internal links. Then, we'll cover a simple solution for tracking whether your SEO efforts are working or not.
To quickly build internal links, try these two methods:
Link Assistant
Related Posts/Top Products
Method 1: AIOSEO Link Assistant: Build Internal Links Quickly
Instead of spending a bunch of time going through your posts, All in One SEO's Link Assistant can not only find where you might want to place internal links, but it can even create them for you with one click.
Cool, right? That's not even all Link Assistant can do! It can also tell you if you have any "orphaned" content – content with no internal links to it. Or, in the Domains Report, you can check which external domains you're linking to from your posts or pages.
To start building WordPress internal links, you'll want to download All in One SEO at the Pro level so you can access Link Assistant and tons of other features and tools to help you do WordPress SEO like an expert.
Once you've got the plugin downloaded and installed, Go to All in One SEO » Link Assistant. Here you'll find an overview of your links: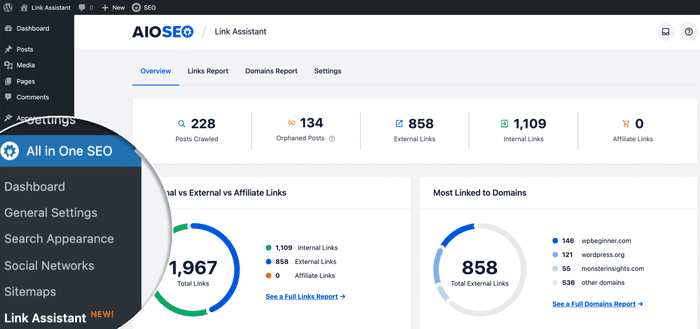 To start building your internal links, head to the Links Report tab, then click on Linking Opportunities.

Now, you can click into a post to view all the suggestions for internal links to add to it. The table shows you the title of the post you might want to link to, the phrase and anchor text where it suggests placing the link, and the Add link button.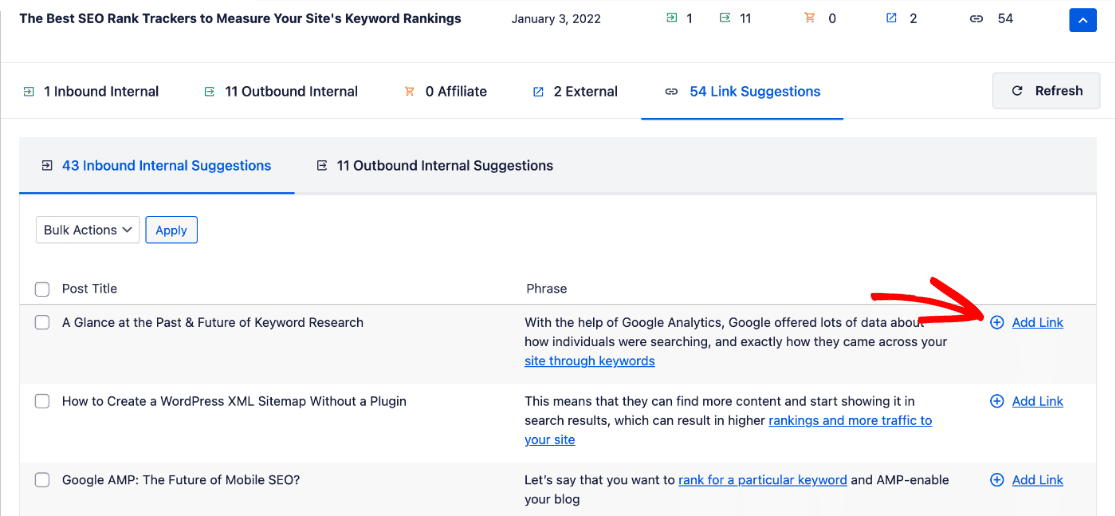 If you like the link suggestion, go ahead and click Add link and it'll be added for you. You don't have to edit any posts! It's all done with a click.
Now you can see how Link Assistant can save you hours of manual link building time!
Bonus: AIOSEO has another amazing tool for external and internal linking in WordPress. Broken Link Checker is an awesome WordPress plugin that helps you keep your linking structure error free.
It will notify you if you have any broken links, and just like Link Assistant, you can easily use inline editing to fix the problems with a couple clicks. So you don't have to go through updating individual pages and posts! Plus, it will keep any broken links from being crawled by search engines, so your internal links' SEO won't suffer.
Download Broken Link Checker now! 
Check out our full review of the All in One SEO WordPress plugin.
Method 2: Add Popular Products or Popular Posts
If you run an eCommerce store, adding popular/featured products is an awesome way to not only show your top products to more shoppers, but also add links to those products on a whole bunch of pages.
Similarly, if you run a blog, adding a popular posts widget helps you get that extra content in front of your visitors' eyeballs and adds internal links to those posts on however many pages your widget appears on.
To add popular products or popular posts to your site, use the MonsterInsights Popular Posts widget.
MonsterInsights is the best Google Analytics plugin for WordPress. It allows you to easily connect your WordPress site with Google Analytics, so you can view all the datathat matters most right in your WordPress dashboard.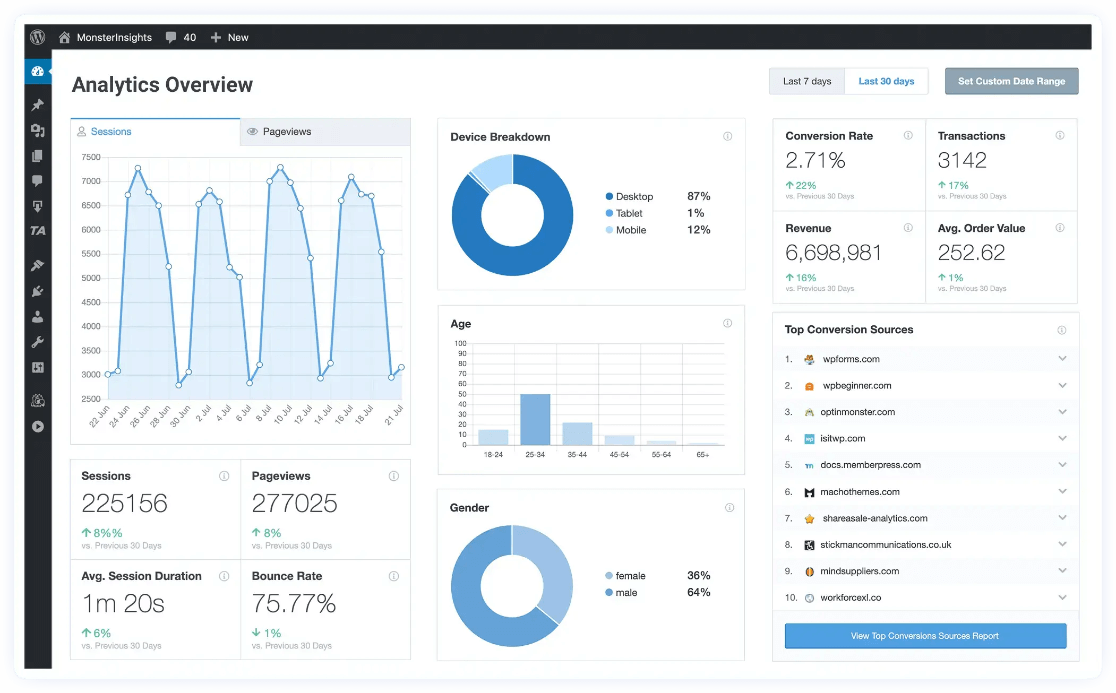 Plus, with the click of a button, you can set up sophisticated tracking features such as event tracking, eCommerce tracking, form tracking, custom dimension tracking, outbound link tracking, and more.
MonsterInsights also comes with a bonus Popular Posts or Popular Products widget!
To set it up, head to the Pricing page and get started with MonsterInsights at the Plus level or above.
To set up MonsterInsights follow our guide on how to add Google Analytics to WordPress.
Then, head to Insights » Popular Posts to get started.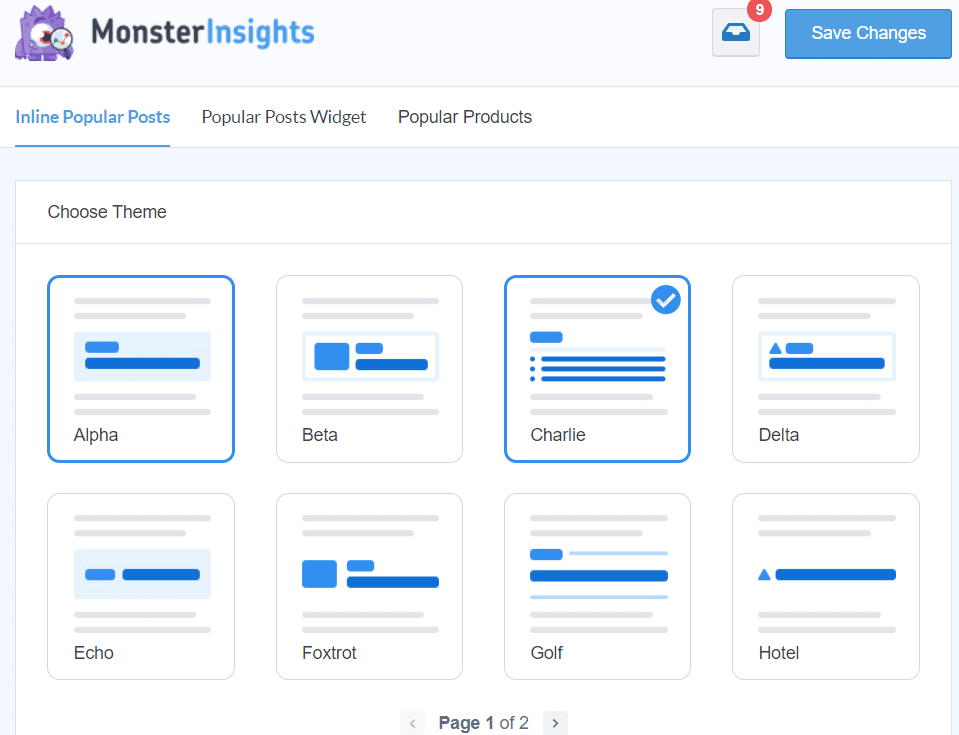 Here, choose your type:
Inline Popular Posts – Automatically display posts within the text of your post or page.
Popular Post Widget – Show up to 10 blog posts anywhere on your site in a widget, like a sidebar, end of an article, or the footer.
Popular Products – Display 10 of your top-selling products on your eCommerce store.
Next, you can select a theme for your popular posts. MonsterInsights provides pre-built themes, so you don't have to worry about the design and style of your popular posts.
The plugin shows a preview of each theme. This way, you can see how a theme looks before selecting one for your website.

For more on all the settings and features of the MonsterInsights Popular Posts widget, check out How to Display Your Most Popular Posts in WordPress (Step-by-Step).
That's it!
We hope you enjoyed learning how to add internal links in WordPress. We think you'd also like to check out How to Add SEO Keywords to WordPress (The Best Way).
Also check out Top WordPress SEO Mistakes to make sure your WordPress website and internal links' SEO isn't suffering from any easily avoidable pitfalls.
Not using MonsterInsights yet? What are you waiting for?
And don't forget to follow us on Twitter, Facebook and YouTube for more helpful Google Analytics tips.