Setting up redirects to fix broken links and webpages is a quick way to boost your domain authority and Google rankings. And, it's especially easy when you use a WordPress redirect plugin to manage your URL redirects.
In this article, we'll review the best WordPress redirect plugins for beginners to experts.
If you thought redirections were too technical or complex, keep reading to find out how useful and user-friendly these plugins are for quickly, simply setting up 301s and other types of redirects.
What Is a Redirect?
A redirect tells web browsers where to find a web page if that page's address, or URL, has changed for any reason. Technically speaking, there are several different ways that redirects work, but all of them redirect browsers from one website address to another.
You might need to use a redirect for any of these reasons:
You want to move existing content to a new domain, for example from mysite.com to mynewsite.com.
You'd like to change the URL, or slug, for a WordPress post or page.
Your URLs are long or complex and you'd like to shorten them for a better user experience.
You own multiple domains and want them to point to the same website.
You're moving content from http://mysite.com to https://mysite.com.
Why Should You Redirect URLs?
You should set up redirects mainly so that people and search engines can find your content where it's supposed to be.
When an online visitor tries to access a webpage with a non-working URL, they'll run into an error telling them that the page isn't available. The most common is called a 404 error.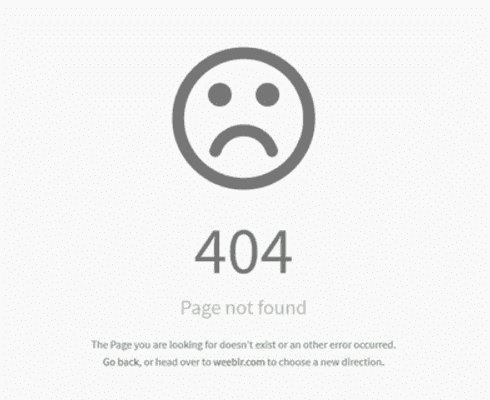 Broken links and 404 errors look bad to search engines and the bots that index your website. When you have URLs indexed that don't point to working webpages, that can affect your site's domain authority and page ranks.
Google doesn't think it's good for users to click on links that lead to error pages, so they may penalize sites with lots of 404s and broken links.
If your webpage is ranking for a certain search term and you'd like to maintain that position, you need to redirect when you change its URL. If you have backlinks that point to outdated URLs, they appear broken to search bots. This does even more damage to your site's reputation with search engines.
Broken links look bad to users, too. If they search and get a 404 error on your website, they may go to another site and never come back.
How to Choose a Redirection Tool for WordPress
When it comes to redirecting your WordPress URLs, you have two basic choices.
First, you could use a redirect management tool built into an SEO plugin. This is probably the best option. If you're running a business website, you should definitely try an SEO plugin and see how easy it is to improve your search rankings in a few simple steps.
The second option is to use a standalone redirect plugin that's dedicated completely to that function. If you have very basic redirection needs or want a free redirect plugin, this might be your best choice.
All right, let's go ahead and jump into our list of the best WordPress redirect plugins!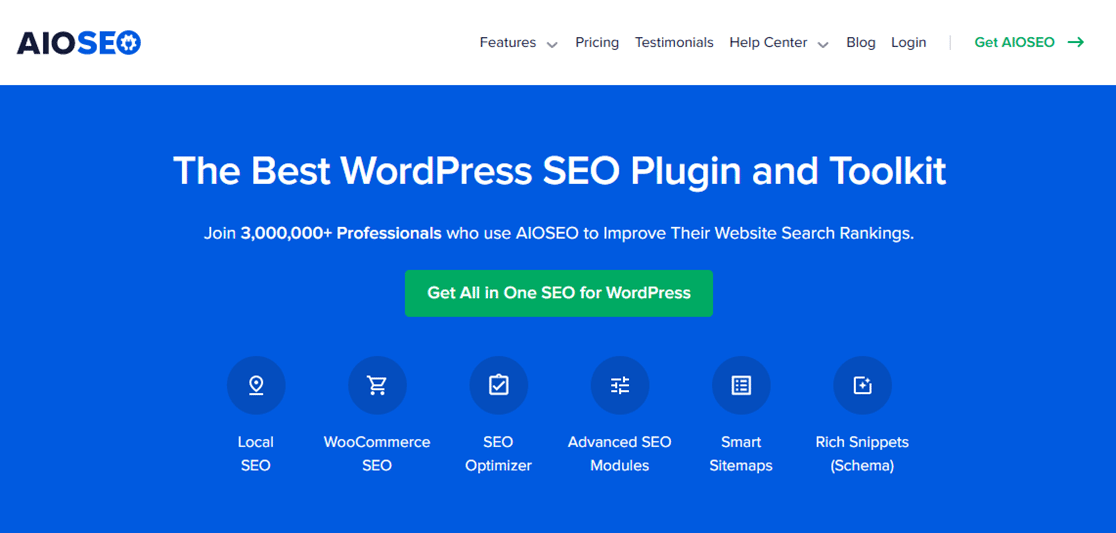 We'll start with All in One SEO (AIOSEO), the best search engine optimization plugin for WordPress sites. With over 3 million users, AIOSEO is both popular and extremely powerful.
AIOSEO checks all the boxes for website optimization:
Unlimited keyword tracking
Advanced SEO for local, eCommerce, and images
On-page SEO analysis and recommendations with TruSEO scoring
Internal link assistant to optimize internal linking structure and suggest new links
Smart schema markup and sitemap generator
Along with these professional SEO abilities, All in One SEO's Pro plan has a robust Redirection Manager tool to take care of all your redirection tasks.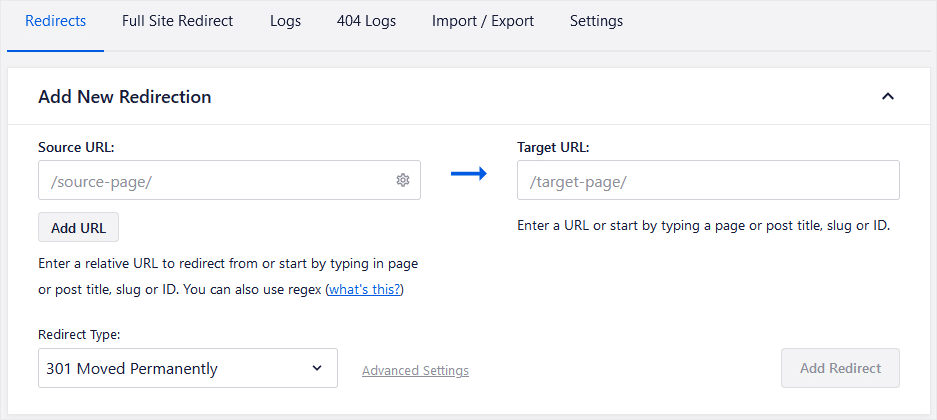 The Redirection Manager offers all of these redirect features and benefits:
Set up to 20 different types of redirect, from 301 to 307 to 503
Automatically redirect users and Google crawlers from 404 pages
Redirect entire sites to a new domain with ease
Track and fix 404 errors in a few clicks
Maintains redirect and 404 logs
Export redirect and log files in multiple formats
Import redirects from other redirect plugins
Supports regex for bulk redirects
Additionally, the AIOSEO plugin developers provide amazing documentation and customer support, and they are constantly updating the plugin with new and improved features.
So, with this full set of redirection tools built into AIOSEO, we consider this the best value for WordPress users. You get a premium SEO plugin, plus a complete redirection solution, at one reasonable price.
Redirection is a free, simple WordPress plugin for managing redirects and tracking 404 errors. It's the most popular free redirect plugin at WordPress.org, with over 2 million installations.
Not only that, the developer of Redirection is employed by Automattic, the company behind WordPress. This means the plugin is regularly updated and tested to work with the latest WordPress core software.
While it doesn't have a lot of extra features found in some other tools, Redirection does what most WordPress users need. It sets up and logs 301 permanent redirects, logs 404 errors, and can even automatically create a redirect when you change a page or post's URL.
Redirection does have some powerful conditional redirect settings. For example, you can auto-redirect 404 page errors to another page of your choosing, like the home page.
301 Redirects is another WordPress plugin dedicated to redirection management. It offers both free and premium versions.
The free 301 Redirects plugin gives you the ability to create 301, 302, and 307 redirects in a simple, user-friendly interface. You also get the ability to import/export redirects in CSV format, along with simple logs and redirect history.
The simplicity of this plugin is a plus, which keeps its footprint small so it doesn't slow down your website.
The Pro version of 301 Redirects adds these extra features:
Wildcard URL matching
URL typo auto-fixes
Complete redirect and 404 logs
A link scanner for proactively checking links
And, perhaps the standout feature of 301 Redirects Pro is the inclusion of a SaaS dashboard. That function lets you monitor and manage redirects for multiple domains and websites.
Yoast SEO is another premium SEO plugin for WordPress with a full suite of search engine optimization tools. Although there is a free version, you'll need Yoast SEO Premium to get the Redirect Manager extension.
Yoast's Redirect Manager is capable of many basic redirection functions, including the following:
Supports most common redirect types, including 301 (permanent), 302 and 307 (temporary)
Auto-suggests redirects for deleted posts and pages
Automatically creates a redirect when you change a page's URL
Full site redirect log and editor
Support for regex, Apache, and NGINX redirect configurations
As you can see, Yoast's redirection tools aren't as comprehensive as some others. And, they don't include a function for finding 404 errors. You'll have to use a different tool for that.
However, if you only need to set up and track basic redirects and want a top SEO plugin, Yoast SEO Premium might suit your needs.
404 to 301 – Redirect, Log and Notify 404 Errors is a tool that mainly focuses on finding 404 errors and setting up redirects to fix them.
This free WordPress redirect plugin detects and logs every 404 error that occurs on your website. It allows you to set up a global redirect, or unique redirects for each 404.
A few other nice features offered by 404 to 301 include:
Automatically redirects broken links to a custom 404 page or any other page
Comprehensive 404 error logs so you can find and fix broken URLs
Email notification alerts for 404s let you fix errors immediately
Finally, 404 to 301 is an open source project from a small developer. While beginners can easily navigate basic 404 logging and redirects, more advanced users can customize this plugin as they wish.
Safe Redirect Manager is one more free, open source redirect plugin that operates a little differently. This plugin was designed to prioritize speed and efficiency, so it doesn't have a lot of fancy features.
However, it does have powerful, enterprise-level redirect capabilities. Safe Redirect Manager stores redirects as custom post types, which makes them easy to manage and export.
This redirect plugin simplifies things with a single screen, where you create and manage redirect rules. It allows you to set up redirects using relative URL paths, regular expression (regex), and wildcards.
Safe Redirect Manager may be more suitable for users with some technical skills. While you can create a simple 301 redirect, that's not really the best use of this tool. It's better for creating automated redirects and bulk redirection projects.
Go get Safe Redirect Manager now!
What's the Best WordPress Redirect Plugin?
Since most WordPress sites need other SEO tools in addition to redirects, we've selected All in One SEO as the top WordPress redirect plugin.
AIOSEO Pro gives you the flexibility and tool set of a dedicated redirect manager, along with the best SEO tools to optimize the rest of your WordPress site.
This all-in-one solution is a better deal for most site owners. And, it's more convenient to manage all of your SEO functions in one place.
Ok, that wraps up our curated list of the best WordPress redirect plugins. You should be able to find something on this list to manage your site redirects, no matter what your situation.
If you liked this post, you might also want to see how to check traffic stats for your WordPress posts and pages after you redirect them.
And don't forget to follow us on Twitter, Facebook and YouTube for more helpful Google Analytics tips.