Do you want to create a place where your website visitors can come together and chat? Using the best WordPress forum plugins, you can build a community right on your own website.
Creating a forum can help you gain more traffic, rankings, backlinks, subscribers, and more, as well as increase your repeat traffic from regular forum users.
Setting up a forum, though, can feel like a daunting task. Forums have quite a few details to set up! So, making sure you're using one of the best WordPress forum plugins is essential.
Video Walkthrough
Features to Look For in WordPress Forum Plugins
If you've never set up a forum before, you're probably wondering what kinds of features you need to be looking out for in a good forum plugin. So, we've put together a list of a few things you should consider when choosing a forum plugin.
Usability – Forums can get complicated with a lot of different features, functions, and and styles. You want a plugin that has a lot of features, but isn't overly complicated to use.
Speed – You're about to add potentially a lot of extra pages and content to your site. Since you don't want a slow website or forum, make sure the plugin you're choosing isn't going to bog down your speed.
Customizations – You probably want your forum to look like it belongs on your site in terms of style, and function the way you want. Make sure you're getting a forum plugin with the options for customization that you're hoping for.
User-friendly – Nobody will want to stick around and use your forum if it's not user friendly! Make sure it works on mobile devices, is easy to sign up for and use, and isn't slow.
Extras – Is there anything specific you want your forum to be able to do? Maybe you want functionality to post polls, send push notifications to users, or upload files or images. Check out what kinds of features you can add to your forum before choosing your plugin.
Our Favorite WordPress Forum Plugins
bbPress is the top WordPress forum plugin. When you look at lists of the top forum plugins for WordPress, this one is at the top of most of them!
What makes bbPress one of the best forum plugins? It was actually developed by the company behind WordPress, Automattic. For that reason, it's a pillar WordPress plugin that's well maintained and features some awesome addon plugins that make it really customizable.
One of the coolest things about bbPress is it works really well with any WordPress theme out there.
bbPress Features:
Lightweight and fast
Super user-friendly
200+ addon plugins to customize your forum
Secure
Open-source, unlimited, and always free
Pricing: bbPress is free.
Get started with bbPress today!
BuddyPress is also by the company behind WordPress, and it's often used along with bbPress to turn your forum into a whole social community. With BuddyPress, you can add expanded profiles with activity streams, groups, private messaging, friendships, and more.
While you can definitely use BuddyPress on its own to create your own social network, it's awesome when paired with a bbPress forum. That's why we're including
BuddyPress features:
Create custom profiles for your forum users
Users can manage their own email notifications, email and password
Allow your users to create micro communities with groups
Let members send private messages to each other
Turn on activity streams for members and groups
Pricing: BuddyPress is free.
Get started with BuddyPress today!
Simple:Press is a premium WordPress forum plugin with a lot of features and a long history of continuous development. It has a ton of features, from user management and security to SEO and a user-friendly front end.
Another cool aspect of Simple:Press is their add-ons. Available with a lot of them in a package or individually, you can really customize your forum to behave just like you want it to.
Simple:Press features:
Optional post moderation
User defined signatures
Fully integrated with WordPress registrations and logins
Powerful user group and permission system
Can create private and/or public forums
Creates pretty/SEO friendly permalinks
Integrates with AIOSEO
Private messaging system
Subscriptions
Pricing: You can choose to start with the free version, then get a premium addon bundle starting at $199. Or, purchase each addon that you need separately.
Get started with Simple:Press today!
ForumWP is another popular WordPress forum plugin with a free version and a Pro version. It's very easy to use and has a great design, as well as some other great features.
The free version includes all the standard features of a forum, including topics, replies, and user profiles, whereas the Pro version adds some cool extras like subscriptions, bookmarks, and likes.
ForumWP features:
Private, public, and hidden forums
Select an icon and color for each forum
Nested replies
User profiles include forum history
Users can subscribe to topics
Bookmarks
Solved module to mark topics as solved
Post moderation
Pricing: ForumWP starts with a basic free version, or is $120 per year for Pro.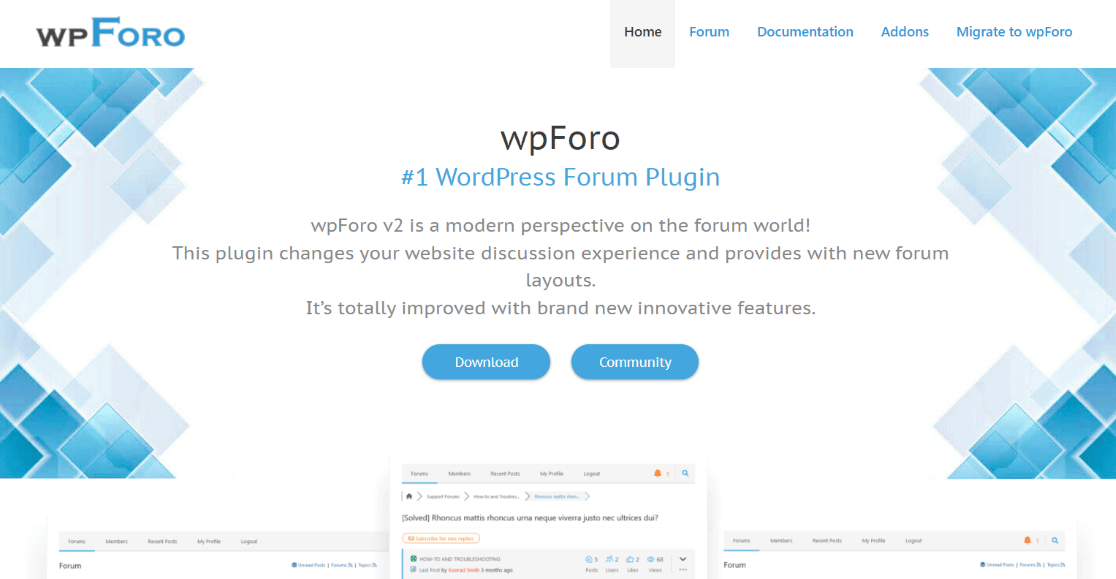 wpForo is a free forum plugin for WordPress with over 20,000 active installations and over 300 5-star reviews. It's the only forum plugin on our list that provides you with options for your forum's layout design, and it combines its forum features with a comprehensive, modern-looking user profile system.
The core version of wpForo is free and has many features, but there are also some paid addons if you're looking to extend its functionality.
wpForo features:
4 different forum layouts to choose from
Integrates with BuddyPress
Includes a built-in cache
Responsive design
Built-in subscription system
Drag-and-drop forum management
Built-in forum Antispam and Akismet integration
Advanced forum user profile system
Forum member ratings and badges
Pricing: wpForo is free, with some available paid addons to extend its features.
Get started with wpForo today!
ForumEngine is not a WordPress plugin. Instead, it's an entire WordPress theme for your forum. So, this forum would work if you're planning to set up a new website. If you already have an established site and you're just looking for a forum plugin, you'll want to choose a different option from our list.
ForumEngine features: 
Many customization options including colors, fonts, and layout style
Front end editor
Mobile optimized
Built for simplicity and improved user interactions
User badges system
Many widgets available to customize your forum sidebar
WPML ready
Pricing: ForumEngine is $49 per year.
Get started with ForumEngine now!
Asgaros Forum is a forum plugin with a more traditional forum design and feel. It's simple yet great for any forum, as it's lightweight and has many features.
Asgaros Forum features:
Profiles and member lists
Notifications and feeds
Polls
Reactions
Uploads
Approval, banning and reporting
Moderators, permissions and user groups
Pricing: Asgaros Forum is free.
Get started with Asgaros Forum now!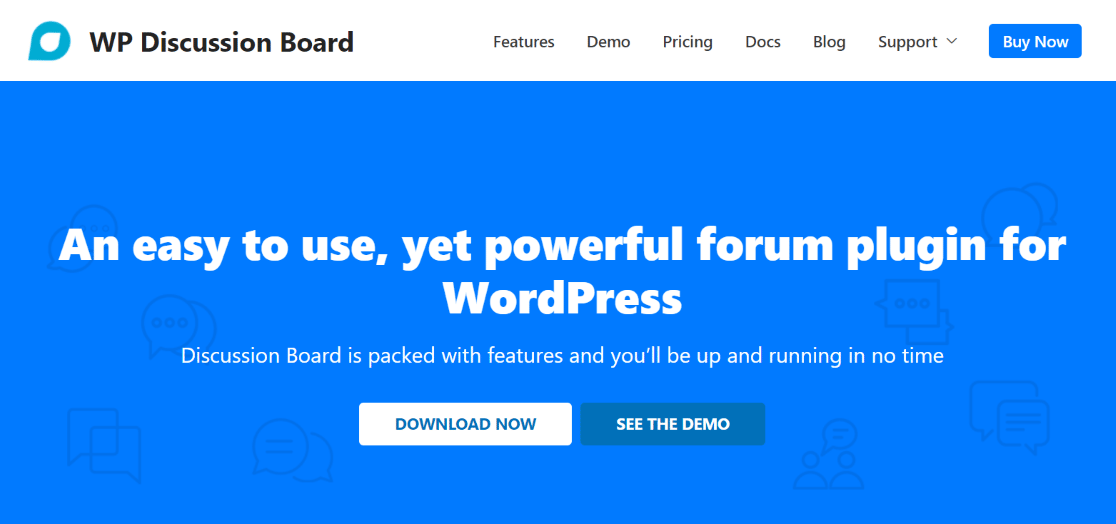 WP Discussion Board is the last (but not least) WordPress forum plugin on our list. It works with any WordPress theme, has three different layouts to choose from, is focused on security, and comes with a free version where you can create one board.
WP Discussion Board features:
Register users as specific user roles
Require activation and admin approval for users
Restrict access and usage by user role
Anti-spam protection
Child boards
Subscribe to board/follow topics
Media uploads
Widgets
Pricing: WP Discussion Board has a free version, or get more features for $49 per year.
Get started with WP Discussion Board now!
That's our list of the best WordPress forum plugins! We hope you found the best one for your unique WordPress site.
Do you have Google Analytics set up properly on your WordPress site? Learn how in our article: How to Add Google Analytics to WordPress the Right Way (2023).
Not using MonsterInsights yet? What are you waiting for?
And don't forget to follow us on Twitter, Facebook and YouTube for more helpful reviews, tutorials, and Google Analytics tips.