Do you want to keep your WordPress website safe from hackers? Then investing in the best WordPress security plugins is a great place to start.
WordPress is among the most targeted content management systems (CMS) in the world because it's the most common. Hackers and other malware infections can destroy your online business by stealing sensitive information and damaging your reputation.
But with a security plugin, you can protect your website from brute force attacks, malware, and hackers. In this article, we'll show you the best WordPress security plugins to block those hackers.
Best WordPress Security Plugins – Our Top Picks
Here's a quick overview of the best plugins you can use to boost your WordPress website's security. You can click the link to skip ahead and read about the plugin you're interested in, or scroll to read about all of them.
Why Use a WordPress Security Plugin?
WordPress sites get hacked because WordPress is the most popular website builder. That's why it's so important to keep your WordPress site secure.
Here are some of the benefits of using a security plugin:
Protect Confidential Data: a security plugin will keep your data and your customers' data safe from hackers
Avoid Losing Access to Your Website: hackers can lock you out from your website, but with the right plugin, you can avoid losing access
Stop Brute Force Attacks: WordPress security plugins prevent brute force attacks (when an attacker uses trial and error method to figure out passwords or decode encrypted data) on your website
Prevent SEO Rankings and Brand Reputation from Damage: Hacking incidents can have a long term impact on your search rankings and brand reputation
As you can see, there are many reasons for using a plugin to secure your website.
With that, are you ready to check out the best WordPress security plugins? Let's dive in.
Sucuri is the best WordPress security plugin to defend your site from all the different security risks. Even we use it for on all our websites to keep them safe and secure.
Sucuri is a cloud-based security platform that protects your site from hackers, malware, brute force attacks, DDoS, and other threats.
What makes Sucuri the best WordPress security plugin is its website application firewall or WAF. It scans and filters out bad traffic even before it reaches your server.
Apart from the firewall, Sucuri offers other powerful security features to protect your website:
Monitors and scans your website for threats
Checks SSL certificates
Scans for SEO spam
Zero-day exploitation protection
Repairs and restores already hacked websites
Offers a content delivery network (CDN) to speed up performance
Provides fast HTTP/2 support
WordPress security hardening options
Conduct security audit
Get started with Sucuri today!
Jetpack is also among the best WordPress security plugins that offer complete solutions to protecting your website, increasing its performance, and managing site activity.
It offers both free and pro versions. In the free version, you get website downtime monitoring and brute force protection. And in terms of site management and performance, you can use its 100+ free WordPress themes, view recent activity, and see stats about traffic and revenue.
But, if you are looking for more security options in addition to the free features, then consider using their premium version, as it offers:
Daily automated website backups
30-day archive
Automated spam filtering
Automatically malware scanning
Fixes security threats automatically
Secure authentication for WordPress accounts
Monitors site activity
Automatically updates plugins
Get started with Jetpack today!
Wordfence is a free WordPress security plugin that offers amazing features and will stop hackers from breaching your website. It also offers a paid version for more security features.
It comes with a complete WordPress firewall, malware signatures, and prevents malicious IP addresses from accessing your website.
Here is a list of features you get from Wordfence Security:
WordPress firewall identifies and blocks malicious traffic
Scans for malware and blocks requests from malicious code or content
Real-time malware signature update
Check your website constantly for threats
Two-factor authentication for login
Easy to use interface
Monitor visits and hack attempts with an analytics dashboard
Get started with Wordfence today!
iThemes Security is a security plugin for WordPress designed to keep hackers out. It also offers a beautiful dashboard in your WordPress backend. Using the dashboard, you can monitor activity and see security logs.
The plugin is also useful against lots of malware and brute force attacks. Here are some exciting features of iThemes Security:
File change detection
404 error detection
Set strong passwords using the plugin
Lockout bad users
Backup database
Get instant email notifications
Get started with iThemes Security today!
All In One WP Security is another popular WordPress security plugin to protect your website against the most dangerous of threats.
Using the plugin, you can audit your website for security breaches, monitor threats, and use its firewall to defend against attacks.
It's one of the best free WordPress security plugins you can get your hands on. Here are some security measures offered by All In One WP Security:
Password strength tool lets you create strong passwords
Stop unauthorized logins
Login Lockdown feature prevents brute force attacks
Add honeypot to WordPress user registration form
Schedule automatic backups
Protect your PHP code
The firewall protects you from malicious attacks
Prevent comment spam
Get started with All In One WP Security today!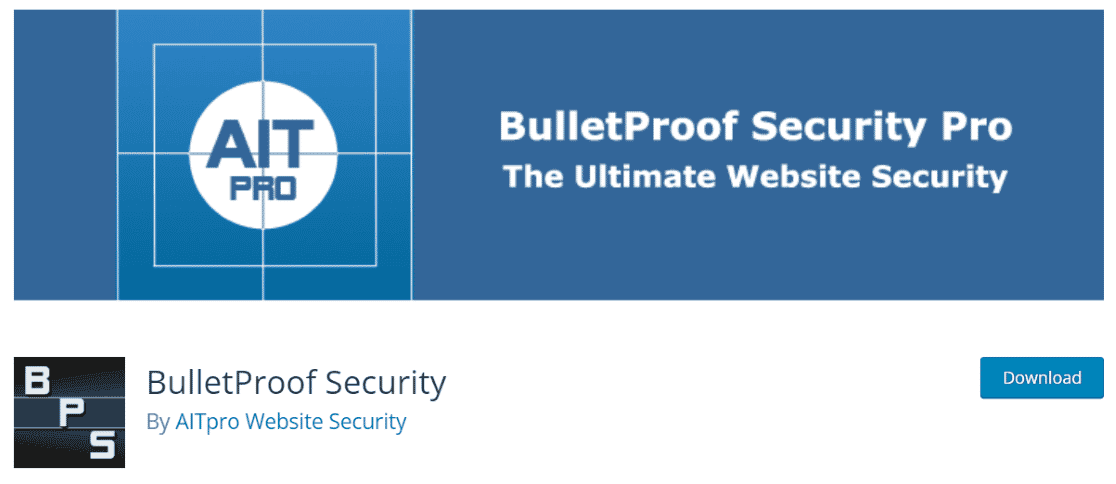 BulletProof Security is another popular plugin that offers features that will help in protecting your WordPress website from hackers. It doesn't offer the most user-friendly interface to work with but makes up for it in terms of features.
Here are some features of BulletProof Security you might want to look at:
Powerful malware scanner
Easy setup process
Monitor logins and security
Real-time file monitoring
Firewall to prevent hacking
Database backup
Anti-spam feature
Security and HTTP error logging
Get started with BulletProof Security today!
Anti-Malware Security and Brute Force Firewall is the next free security plugin we have on our list. It works really well with WordPress websites and offers an easy setup process.
Its main goal is to stop malware from infecting your website. But you can also stop brute force attacks through its firewall. Using the plugin, you can automatically detect and remove website threats using its full website scan.
To make the most of the plugin, here are some of its features:
Comprehensive website scanner
Powerful firewall
Patches your login to prevent DDoS and brute force attack
Automatically updates definitions
Get started with Anti-Malware Security and Brute Force Firewall today!
WPScan is also one of the best WordPress security plugins. It scans your website for vulnerabilities using its own database.
Using WPScan, you don't have to worry about manually scanning your website for threats.
The security plugin identifies and reports the most important weakness that could compromise your website. Besides that, WPScan also scans for debug file logs, weak passwords, backup files, and more.
Here are more features you can get with WPScan:
Automatically scans for WordPress, plugin, and theme vulnerabilities
Updated database of known WordPress threats
Additional security checks
Email notifications
Get started with WPScan today! 
Verdict: Best WordPress Security Plugin for 2023
You've finally made it to the end of our list of best security plugins for WordPress website.
If you are looking for a complete solution that will protect your site from hackers and other threats like malware, DDoS attacks, brute force attacks, and spam, then we recommend Sucuri.
Its firewall is one of the strongest defenses you can put up on your website. And with more exciting features, Sucuri is a powerful tool for monitoring and blocking threats in real-time.
And that's it! We hope you liked our article on the best WordPress security plugin to block hackers. You might also want to check out the most important Google Analytics metrics for any business.
And don't forget to follow us on Twitter, Facebook and YouTube for more reviews, tutorials, and helpful Google Analytics tips.