Do you want to set up GA4 scroll depth tracking to see how far your users are scrolling down your pages? Wondering if the built-in Google Analytics scroll depth tracking is worth it to use?
Tracking user scroll activity helps you understand how well your users are engaged with your content, and lets you optimize your pages for more engagement.
However, scroll depth tracking in Google Analytics can be pretty difficult to set up.
In this article, we'll take a look at how to set up Google Analytics scroll depth tracking, and whether or not the built-in GA4 scroll depth tracking is worth it to use.
What is GA4 Scroll Depth Tracking?
Tracking the scroll depth on your pages is a great way to find out how engaging they are. Is your content holding your users' attentions? Are they leaving before they even get a quarter of the way down your pages?
Because scroll depth can be such a valuable thing to keep track of, Google Analytics added some automatic scroll tracking within the enhanced measurement options in GA4. While this seems like a great idea, this built-in scroll tracking only tracks if your users are scrolling all the way to the very bottom of your pages.
This might be valuable information to have, but you'll probably want a tool that tracks scroll depth a little more precisely.
Thankfully for WordPress users, there's a smart tool to help you not only install Google Analytics on your site, but also set up a bunch of advanced tracking, including scroll depth, in a couple clicks.
Tutorial: How to Set Up GA4 Scroll Depth Tracking
To set up Google Analytics scroll depth tracking on your WordPress website, you'll want to install MonsterInsights.
MonsterInsights is the best Google Analytics plugin for WordPress. It allows you to easily connect your WordPress site with Google Analytics so you can view all the data that matters most right in your WordPress dashboard.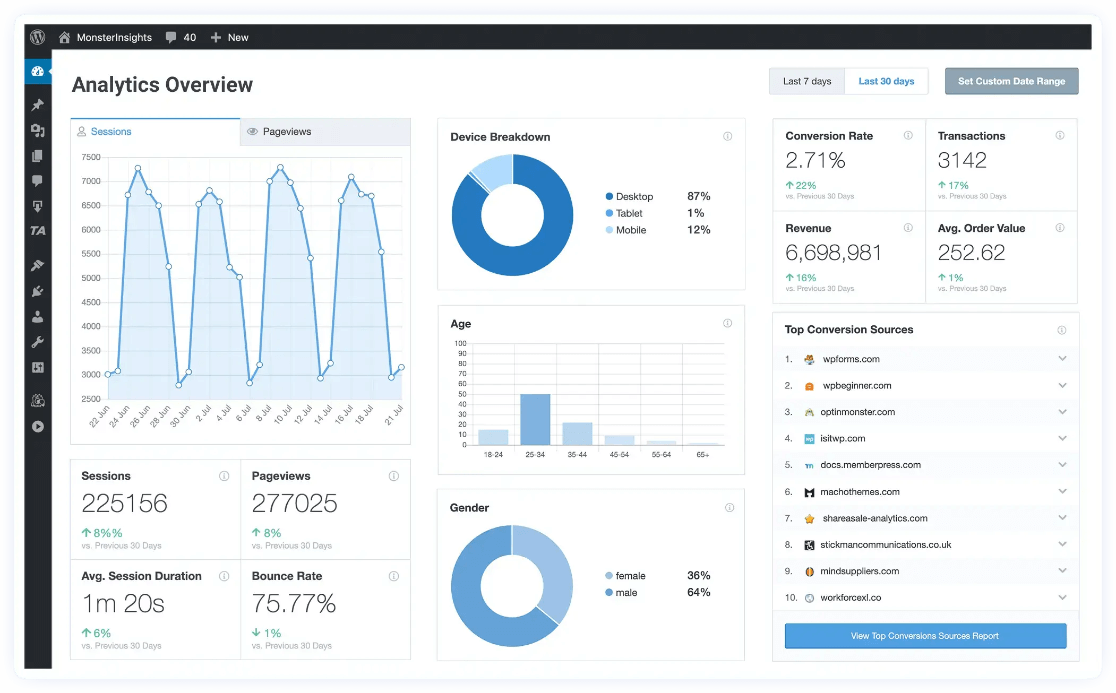 Plus, with the click of a button, you can set up sophisticated tracking features such as event tracking, eCommerce tracking, scroll depth tracking, form tracking, custom dimension tracking, outbound link tracking, and more.
To track scroll depth without MonsterInsights, you'd need to set up a scroll depth trigger in Google Tag Manager. This means that you'll need to install both Google Analytics and Google Tag Manager on your website, and then set up scroll tracking.
However, this process is not simple for beginners. It takes a lot of steps that might be pretty confusing!
But you don't need to worry about those steps if you choose MonsterInsights.
MonsterInsights makes scroll depth tracking in WordPress effortless – no setup or configuration required. If you've installed Google Analytics using MonsterInsights Plus or above, scroll depth tracking will be automatically enabled.
Here's how to set up scroll depth tracking in WordPress and Google Analytics.
Step 1: Install MonsterInsights
The first thing you need to do is to install and activate the MonsterInsights plugin on your website. Make sure to use the MonsterInsights Plus or a higher plan.
Once your license is active, download the plugin zip file from your account page.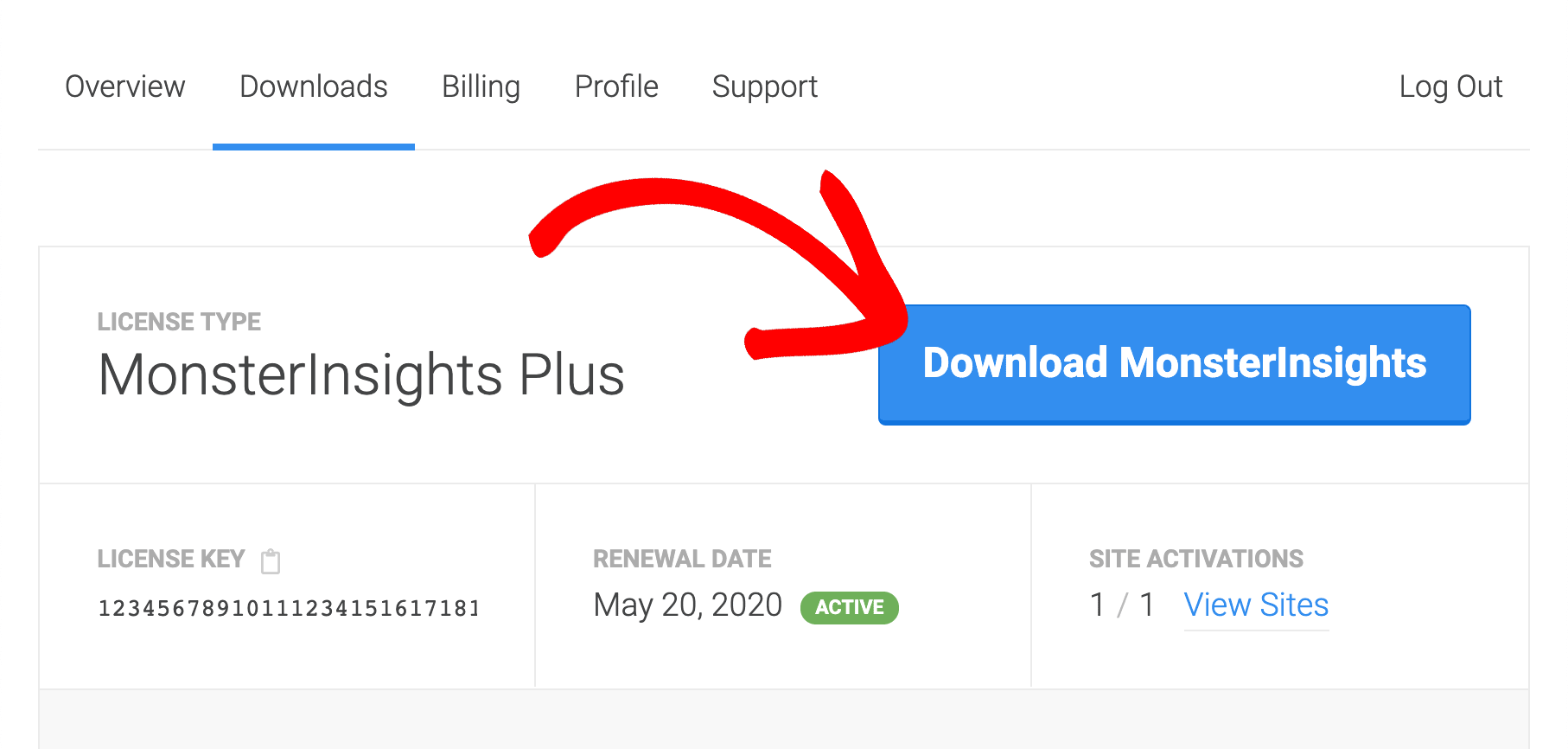 Then, open your WordPress site., navigate to Plugins » Add New and click the Upload Plugin button at the top.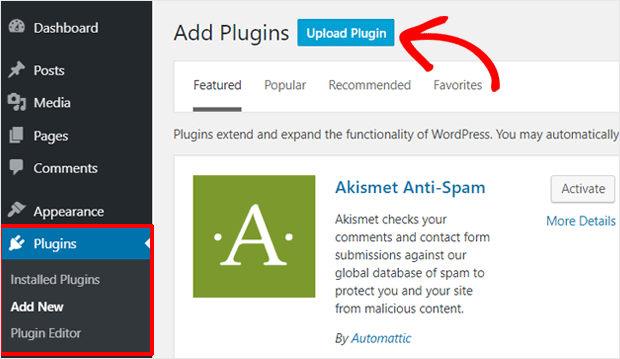 On the next screen, you can click the Choose File button to select the MonsterInsights zip file you downloaded. Then click the Install Now button to upload the file and install the plugin on your site.

Once the plugin has been uploaded and installed, you can click the Activate Plugin button to activate it on your site.

After the plugin is activated, the plugin setup wizard will open to guide you through the setup process step by step.
For a full tutorial on setting up MonsterInsights, see our guide on how to set up Google Analytics in WordPress with MonsterInsights.
Step 2: See Your Average Scroll Depth
Scroll depth tracking is an automatically enabled feature in MonsterInsights, so when you're done installing it and you've given it some time to collect data, you can view your average scroll depth any time you want by navigating to Insights » Reports » Publishers.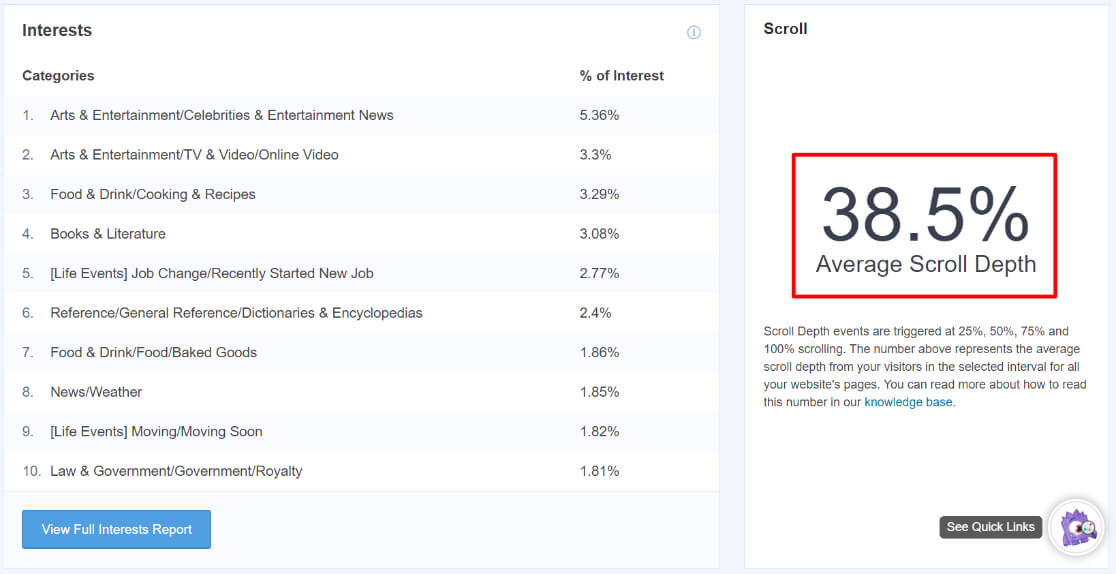 MonsterInsights will trigger events in Google Analytics as your website visitors scroll down the page by 25%, 50%, 75% or 100%, then provide you with an average for all of your pages.
This helps you to understand how your visitors are interacting with your content, and also lets you optimize your pages for more engagement and conversions.
Similarly, scroll tracking data also helps you to decide where to place important call to action buttons, ads, and more.
That's it!
We hope this article helped you to learn how to use scroll depth tracking with Google Analytics easily. You may also want to see our guide on How to Track Link Clicks in Google Analytics 4 and WordPress.
Not using MonsterInsights yet? What are you waiting for?
And don't forget to follow us on Twitter, Facebook and YouTube for more helpful Google Analytics tips and tutorials.