Are you looking for the best WordPress hosting service for your website? Picking the best hosting for WordPress can be intimidating, since there are so many different WordPress hosts to choose from.
We're here to help!
Using one of the best web hosting providers is incredibly important, especially for beginning website builders.
The web hosting you choose will contribute to the overall health and performance of your WordPress site. Your site's response time, security, SEO, bandwidth, and other features and functions rely on the WordPress hosting service you choose.
This article reviews the best WordPress hosting services to help you find the one for your needs. Once you've chosen and set up the perfect WordPress hosting for you, your site will be ready to rock.
How to Choose the Best WordPress Hosting Service
A web hosting service is like your WordPress site's home. It's where your site's content and files are stored.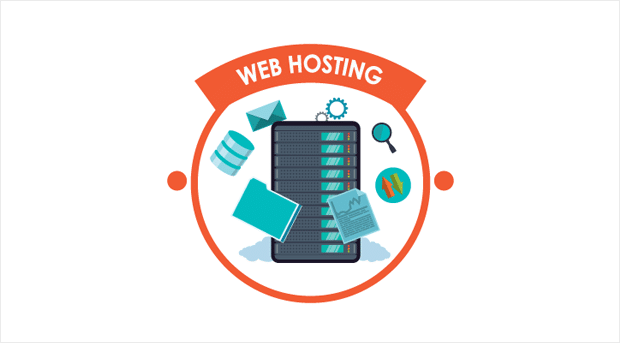 Imagine your perfect apartment. You likely want one with fast access to frequented places like work (speed), consistent power and heat (availability), possible options to add a storage unit or move to a larger unit if needed (scalability) but still within your price range (cost), reasonable entry to your building and unit (ease of use), and maintenance with a great response time (customer support).
Your website's host "home" should offer those same things. They just look a little different.
So, here are the top 5 things to look for when choosing your hosting service.
1. Speed: Load Time and Response Time
Speed is vital to consider while choosing WordPress hosting. It's important for both user experience and SEO.
Any of the best web hosts' loading times shouldn't be more than 300 ms. The longer the server's response time, the more likely users are to bounce.
Loading time is also an essential factor of search engine optimization (SEO), so search engines like Google care about it. When researching a hosting platform, a keyword to look for is "caching," which deals with response time and load time (among other vital functionalities).
We'll give you a look at WordPress hosts with great speeds in our list.
2. Availability and Bandwidth: Good Uptime and Little Downtime
All small businesses need WordPress hosting plans with maximum availability (also called uptime). When your website has a good amount of regular traffic or a sudden spike thanks to some excellent site optimization and marketing, downtime for a single second can lose significant revenue, causing a lot of hassle.
Having unlimited bandwidth (or at least a significant amount) can help. Nearby data centers can also assist with this.
The reputable hosts on our list all have great uptime!
3. Hosting Package Scalability and Cost
Small businesses grow. But, big website hosting services can start off being too expensive for the average startup, and changing web hosts can be a huge hassle. What can you do?
In this case, the best WordPress hosting service for you is one that meets you where you are with a price you can afford but has premium upgrades you can move to later on.
Look at your business plan to ensure the web hosting company's future prices match your anticipated revenue so that when you scale the WordPress website up, you can afford it.
Many cheap WordPress hosting services are available, and some are great.
A few free WordPress hosting options exist, but they tend to be very limited.
However, with others, you get what you pay for. Cheap hosting companies deserve a second look. Be sure to read hosting reviews and rankings. If possible, look for something like a 30-day money-back guarantee so you can test out your hosting service.
4. Ease of Use for Beginners
Whether you're an entry-level website creator or an experienced web developer, building a small business website, blog, or online store can be time-consuming and challenging. The great thing about web hosting options is they offer high ease of use, meaning you can dive in to create a professional website in a short time.
Most of the best WordPress hosting companies offer a user-friendly interface with a 1-click WordPress installation option. They all provide user-friendly options for those who need a hosting service for their WordPress blog or online store.
Many good WordPress hosting companies also offer tutorials to help you.
Remember, ease of use also applies to your site's visitors. Hosting providers should help with site optimization, connect with WordPress plugins and add-ons that enhance the user experience, protect them from malware, and more.
5. Customer Support by WordPress Experts
The best WordPress hosting services have accessible customer support teams who are both website hosting and WordPress experts.
Even the best hosting services and website managers sometimes have challenges, but with great customer support, you can always resolve the issue.
9 Best WordPress Hosting Services
Hundreds of web hosting options are on the market, and digging through them can be a hassle. What small business owner or entrepreneur has time for that? To help you out, we did the work for you and found the best WordPress hosting services available.
WordPress.org recommends Bluehost as one of the best web hosting platforms for their own company. And they're not alone; the popular eCommerce platform, WooCommerce, ranks them highly, too! Therefore, Bluehost is one of today's oldest and most widely used WordPress hosting service providers.
WooCommerce and WordPress.org don't just give their high rankings out willy-nilly. They know this WordPress host is great for both entry-level and expert developers.
Here are a few of Bluehost's features:
A free domain name, free SSL certificate, and free business email accounts
1-click WordPress installation
Unlimited email accounts and storage at higher plans
Enhanced cPanel interface with understandable functionalities
User-friendly scalability functions
Works with Cloudflare free CDN
Unmetered bandwidth at all levels
Constantly ranks #1 in small business web hosting reviews
24/7 help via phone, email, or live chat support from WordPress experts
Bluehost web hosting packages include shared hosting plans, VPS hosting, a dedicated server, and managed WordPress hosting options.
Its hosting services also include specialized WooCommerce hosting for those who want to create an online store with WordPress.
You can get a Bluehost hosting solution starting at only $2.75 per month for MonsterInsights blog readers.
Even after the promotion ends, they are still a reasonably cheap WordPress hosting service. And, you get way more user-friendly functions than what you pay for!
Get started with Bluehost today!
SiteGround is one of the most popular WordPress hosting services in the market. They are best known for providing reliable WordPress hosting with fast response times.
WordPress.org also officially ranks SiteGround as a top hosting company. Here are just a few of the top SiteGround WordPress web hosting features:
Free connection to WooCommerce's eCommerce functionalities
Unlimited email accounts and unmetered data transfer
Connects with excellent WordPress plugins and add-ons like WPForms and AIOSEO
Automatic updates
Proprietary free CDN
Cloud hosting and computing services on the Google Cloud Platform
Daily backups and caching
Free SSL certificate
SiteGround is all about managed WordPress hosting, which takes a lot of the hassle away from you and may be especially attractive to beginners or entry-level site builders.
SiteGround WordPress hosting plans start from $2.99 per month.
Get started with SiteGround today!
Hostinger is another great WordPress hosting service. Their hosting services are fast and reliable, and there's a 30-day money-back guarantee for you to decide if you love it. They have a really easy WordPress setup that you can tackle even if you're a total beginner.
Some of Hostinger's features include:
Free SSL
Free domain at the WordPress Starter level
50 GB+ storage
Free email
Managed WordPress hosting
WordPress staging tool at the Business WordPress level
Full website backups
Hostinger hosting plans start at $1.99 per month.
Get started with Hostinger now!
DreamHost is another WordPress.org-recommended web hosting company. It has a user-friendly control panel for beginners, but experienced WordPress site designers can also benefit from DreamHost.
Here are the other top features of DreamHost WordPress hosting:
A free domain name and a free SSL certificate included
Unlimited bandwidth
WordPress installation and automatic WordPress updates included
SSD storage to decrease load time
Proprietary free CDN
Unlimited email at upgraded levels
100% uptime guarantee with multiple data center locations
Award-winning support team
Shared hosting plans, managed WordPress hosting, and VPS hosting options
With this WordPress hosting company, you can choose between shared hosting plans, managed WordPress hosting, VPS hosting, and dedicated servers.
DreamHost's WordPress hosting plans start as low as $2.59 per month.
Get started with DreamHost today!
HostGator is one of the best WordPress hosting providers for small businesses, startups, and WordPress blogs for revenue because that's what they focus on.
They're so confident in providing excellent customer support that they go beyond the standard 30-day money-back guarantee by offering 45 days.
Here are some of the HostGator WordPress hosting functions:
1-Click WordPress install
Free website builder tools and templates with WordPress themes
Free domain name for the first year
Unlimited email
Tons of eCommerce functions
Free site migration
Cloudflare free CDN
Unlimited bandwidth
Top-notch malware protection
99.9% uptime guarantee
Easy to use control panel (cPanel) to manage your WordPress site
WordPress SEO optimization assisted by $100 in Google Ads credit
WordPress experts give 24/7/365 help via email, phone, and live chat support
HostGator has many web hosting offers, including VPS hosting, dedicated servers, shared hosting plans, cloud hosting, and managed WordPress hosting options.
Very few services can say they offer all these, and that's why HostGator is easily on this list of the best WordPress hosting providers.
HostGator WordPress hosting plans start at $2.78 per month.
Get started with HostGator today!
WP Engine is one of the best managed WordPress hosting services, trusted by many major companies like National Geographic and Yelp. Despite this, beginners shouldn't be intimidated by this user-friendly web host.
It comes with the best-in-class technology and bandwidth, so your WordPress site should have a fast response time, room for growth, and protection against malware and other threats.
WP Engine looks after the overall health and performance of your WordPress site. Its functionalities include:
Works with Google Cloud and Amazon Web Services
Automatic updates for security, daily backups, 1-click restore points
Unlimited email sends for email marketing
Genesis Framework and StudioPress WordPress themes are free
1-click staging tool for testing new WordPress plugins
Customer support team of WordPress experts available all day, every day
Free CDN with 24-hour caches
Hosting package optimization and customization for your needs (at a negotiated cost)
WP Engine focuses on managed WordPress hosting and has many eCommerce web hosting plans.
WP Engine WordPress hosting plans start at $20 per month.
Get started with WP Engine today!
GreenGeeks is the best WordPress web hosting provider if you run an eco-friendly small business or startup. Its web hosting service is as energy-efficient as possible. They return 3x the power they use as renewable energy credits.
This web host offers WordPress-ready hosting at a cost-effective price. Here are the top functionalities of GreenGeeks WordPress hosting:
1-click WordPress install, automatic updates, and daily backups
A free domain name, free SSL certificate, and free CDN with Cloudflare
Uses PHP to work smoothly with WordPress
Advanced security with custom security rules to avoid malware
WordPress experts provide 24/7 phone, ticket, or live chat support
30-day money-back guarantee
Unlimited email accounts
Pricing for GreenGeeks WordPress hosting plans starts at $2.95 per month.
Get started with GreenGeeks today!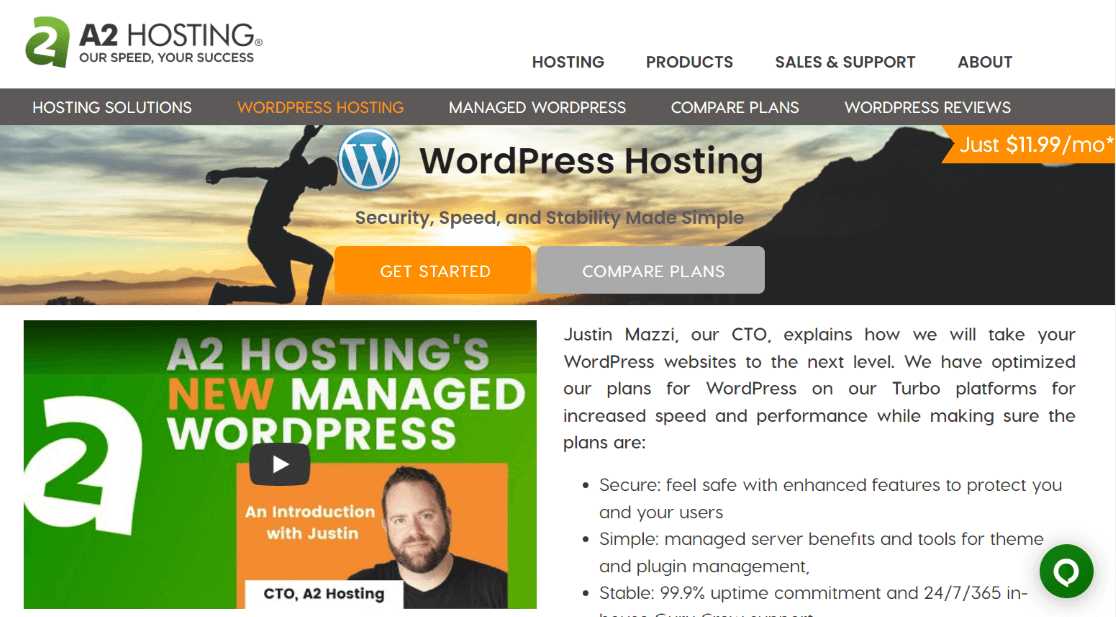 A2 Hosting offers a developer-friendly WordPress web hosting platform with high flexibility and advanced functionalities. With almost no downtime and a cPanel dashboard, your WordPress site should be user-friendly both on the backend and the front end.
Here are the top A2 Hosting functions:
Automatic WordPress setup available
Unlimited SSD storage
Free HackScan Protection to help block hacks and malware
Leader in free CDN web hosting
Free WordPress hosting site migration
Free SSL certificate
Unlimited email addresses
Automatic WordPress backups
24/7 customer support from WordPress experts
Shared hosting plans, managed WordPress hosting, VPS hosting, and managed dedicated hosting offers are all available. Each program has several sub-plans, so you have many hosting options with A2 Hosting. Their WordPress hosting offers start at $11.99 per month.
Get started with A2 Hosting today!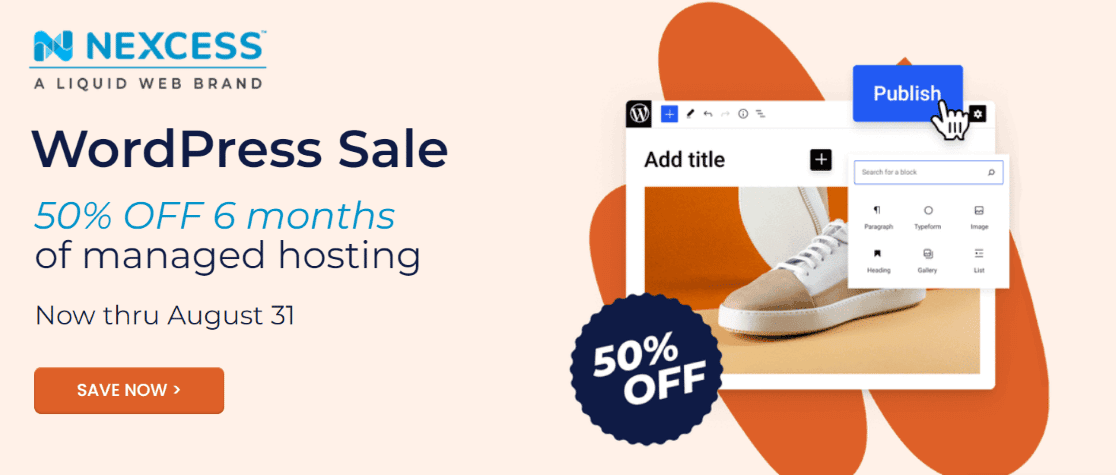 Nexcess is the last WordPress hosting service provider on our list, but they're not the least.
Nexcess is a great value for all the features you get. Setup is super easy, you get a fantastic Gutenberg plugin for free (QubelyPro), and their support is available 24/7.
Some of Nexcess's features include:
Automatic core WordPress updates
Malware monitoring
One-click staging
Developer tools
Automatic plugin updates
Multi-layered caching
Automatic SSL
Instant backups
Nexcess starts at $12.67 per month.
FAQs About Best WordPress Hosting Companies
We've discussed many WordPress hosting companies and why they made our list of the best WordPress hosts. However, you may have a few remaining questions about web hosting providers. Here are the answers to a few FAQs.
1. Which is the best WordPress hosting option?
The best WordPress host is the one that's best for you. All the web hosting options above serve different purposes.
For instance, DreamHost could be the best web host if you need guaranteed uptime.
However, if you need an eCommerce hosting company, Bluehost or HostGator could be the way to go.
If your company is going green, then GreenGeeks is the best WordPress hosting service for you.
However, we wouldn't call these the best WordPress hosts if they couldn't all work for small businesses, startups, WordPress blogs, or any other WordPress website you need.
They all:
Have reasonable amounts of bandwidth
Can connect with valuable plugins and add-ons
Provide excellent customer support
Have effective caching and optimization functionalities
Limit downtime
Perform WordPress updates
Offer managed WordPress hosting
Protect against malware
Are useful for entry-level and advanced WordPress site managers
2. What are the different web hosting types?
The main types of WordPress web hosting are:
Shared Hosting Plans: Host's servers shared between many WordPress websites, using the same resources
Managed WordPress Hosting Plans: The hosting platform runs most aspects of the site, including daily backups, automatic updates, etc.
VPS Hosting Plans: Halfway between dedicated and shared hosting plans, your WordPress site is on a shared server in its own space
Dedicated Server Web Hosting Plans: An entire website hosting server is rented by one WordPress website
Cloud Hosting Plans: The site is hosted on several servers, so downtime is limited
3. Why should I buy a WordPress hosting package?
WordPress.org is free to use, but you should purchase a web hosting company's subscription unless you're a total WordPress expert. Using one of the best WordPress hosting services can make your job faster and easier because so many details are handled for you.
Free WordPress hosting is available, but its functions are typically limited. There are also cheap WordPress options, many of which made this list.
Tips to Make an Awesome WordPress Site
We hope this article helped you choose the best WordPress hosting provider for your website.
If you want to learn more about how to run an excellent small business website, whether that's a WordPress blog or eCommerce store, check out these tutorials and articles:
We also think you should check us out!
MonsterInsights is the best Google Analytics plugin for WordPress. It allows you to easily connect your WordPress site with Google Analytics so you can view all the data that matters most right in your WordPress dashboard.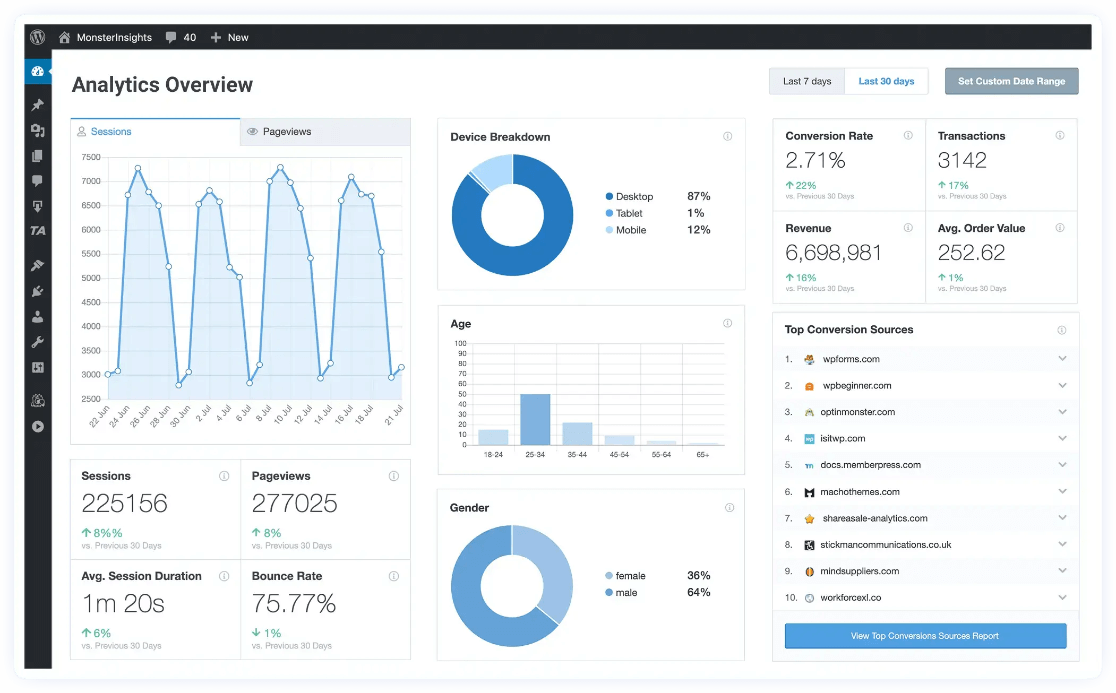 Plus, with the click of a button, you can set up sophisticated tracking features such as event tracking, eCommerce tracking, form tracking, custom dimension tracking, outbound link tracking, and more.
And don't forget to follow MonsterInsights on Twitter, Facebook, and YouTube! We have more user-friendly tutorials, details about running effective WordPress sites, search engine optimization, and more, all from our WordPress experts, on social media.