Do you want to capture your visitor's attention instantly? Through lightbox popups, you can display highly targeted messages at the right time to your users.
The beauty of using a lightbox plugin is that it helps people make decisions by minimizing distractions. But with hundreds of plugins and tools offering different features, which should you choose?
In this article, we'll show you the best WordPress lightbox plugins. You can use any one of them to create attractive popups.
Ready? Let's jump right in….
What is a Lightbox in WordPress?
A lightbox in WordPress is a type of web form or popup that appears on any of your webpages. When it appears on your screen, it blurs or darkens the background.
That way the lightbox popup stands out and removes distractions for users, as they can focus on your message.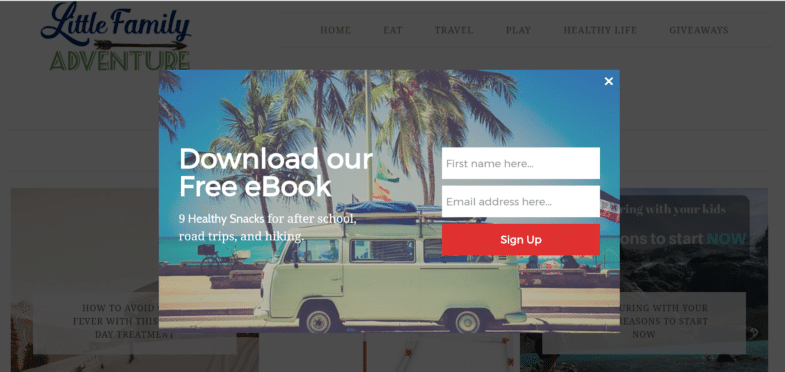 Lightbox popups are highly popular for displaying images, as it gives your portfolio a professional look. Not only that, but it helps to narrow down your visitor's attention.
While it's used for showcasing images, there are many other uses of a lightbox.
For starters, you can create a gallery of your eCommerce products to boost sales. You can also use it to market your ebook, discount offer, or give them a PDF file to download while collecting emails and driving conversions.
With that, let's look at some of the best WordPress lightbox plugins…
OptinMonster is the best WordPress lightbox popup plugin you can use today. Not only that, it's a complete tool for generating leads, growing your email list, and boosting your conversion rate.
Using the OptinMonster lightbox popup feature, you can create stunning lightbox popups for your WordPress site. There are different pre-built themes you can select and then customize to get started.
But what sets OptinMonster apart from other plugins is its smart rules to trigger the lightbox popup. You can display the popup based on user's geolocation, their device usage, or set it to appear on a specific page.
Another cool feature of OptinMonster is that you can display your lightbox at exit-intent. So, if a user is about to exit your website without making a purchase, you can show the popup and perhaps offer a discount. This helps in reducing abandoned carts and increases your sales.
Take the case of Crush Empire, which uses OptinMonster to generate 460 sales in one year and convert 26% of its visitors.
Other key features of OptinMonster include:
Simple drag and drop builder
Mobile friendly popups
Over 26 animations and sound effects for grabbing user attention
Create your own design without coding using Canvas
Multiple trigger options
Beautiful pre-built templates
Integration with popular platforms
Detailed reports and analytics of your campaigns
Pricing: OptinMonster prices start from $9 per month (billed annually) with the basic plan. But if you want more features, then you can go for their Pro plan ($29 per month) or Growth plan ($49 per month).
Simple Lightbox is the next lightbox popup plugin on our list. It's perfect if you're looking for a clean and minimalist design.
With the help of Simple Lightbox, you can create lightbox popups within minutes, customize it according to your requirements, and add it to your WordPress website. You can enable the lightbox feature on different posts, pages, menus, categories, homepage, and more.
Using Simple Lightbox, you can also create slideshows and add transitions, animations, and control the speed of the overlay of the popup.
Some additional features of Simple Lightbox include:
Customizable themes for lightbox
Mobile responsive themes
Automatically activate links
Choose between light and dark designs
Use keyboard navigation
Supports links in widgets and WordPress image attachment
Pricing: Simple Lightbox is a free WordPress lightbox plugin.
Responsive Lightbox & Gallery is a plugin by dFactory. The plugin is highly popular among WordPress gallery and lightbox users, mainly because of its ease of use.
You can use its drag and drop builder to create any type of lightbox popups and it even works the Visual Composer, so you can unlock additional customization features.
It allows you to display your images, videos, and products from your eCommerce store as galleries. And the plugin is made with SEO in mind, as it's lightweight and fast.
While the free version offers a lot, you can upgrade to its premium extensions. These include photo and art bundle, justified gallery, slider gallery, and more.
Here are some important features of Responsive Lightbox & Gallery:
3 gallery templates (slider, grid, and masonry)
8 responsive lightbox scripts
Automatically add a lightbox to WordPress image galleries, links, videos, and more
Multisite support
Trigger the lightbox popup on custom jQuery events
Conditional load scripts and styles
Highly customizable settings for each gallery and lightbox scripts
Pricing: The plugin offers a free version, but if you want to unlock more features, you can select its premium extensions that start from $14 and go up to $49.
Easy FacnyBox is also one of the best WordPress lightbox plugins you can get your hands on. It offers a flexible and aesthetic solution for creating a wide variety of lightbox popups.
One of the best features of the plugin is that it has automatic content recognition. What it means is that it supports videos from popular platforms like YouTube, Vimeo, and Google maps. And it comes with multiple images that you can use to create a lightbox popup.
Easy FancyBox offers more features in its Pro version. Some of these additional features include:
Priority support
Additional styling options like text colors, rounded corners, and more
Automatic trigger options
Show and hide image titles over mouse hover
Compatible with WordPress Galleries
Pricing: The Pro plan of Easy FancyBox starts from $29 and goes up to $119.
WP Featherlight is just like Easy FancyBox plugin that lets you create a simple, minimalist, and responsive lightbox for your WordPress website.
When you install the plugin, it automatically displays all your images and galleries as a simple lightbox popup. It has a simple and clean design that makes it super lightweight and fast to use.
That said, you cannot customize the lightbox popup, as it creates a minimalist popup for you. While this may be a downside, it's excellent for beginners who just want a lightbox popup without additional setup.
Here are some key features of WP Featherlight:
Very easy to use
A lightweight plugin that won't affect your site's loading speed
Automatically adds images and galleries upon installation
One-click disable option
Minimalist and simple lightbox popup design
Pricing: WP Featherlight is a free plugin for adding lightbox popup to your WordPress site.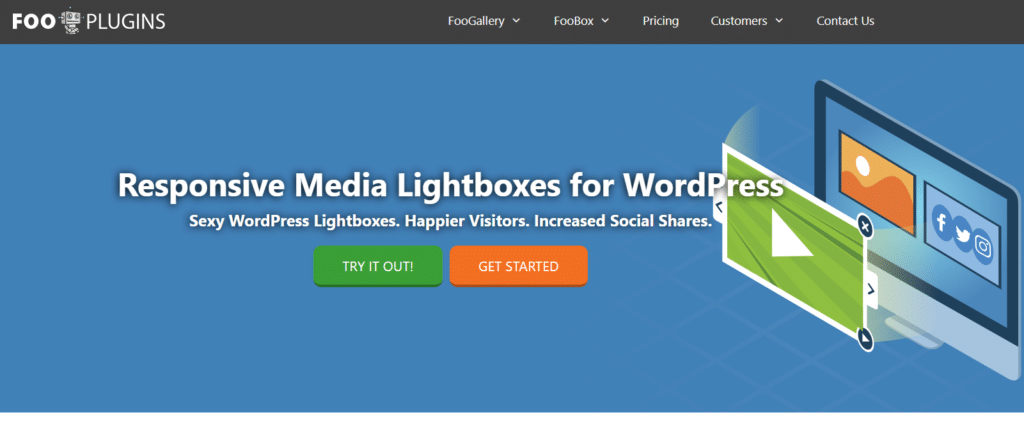 FooBox is a WordPress gallery lightbox plugin for anyone looking for a responsive design. It's the best at making its lightbox responsive to any device, as it rearranges buttons and scales images to fit perfectly on phones, both in portrait and landscape orientations.
Another plus point for using FooBox is that it supports the new WordPress editor, Gutenberg. So, you can use it with your image and gallery blocks. And it automatically picks up image captions that are set in Gutenberg.
Some of its amazing features include:
Responsive design
No additional configuration required
Supports videos, HTML, and iFrame
Choose from 5 color schemes, 11 loader icons, and 12 button icons
Over 85 different customizable settings
Integration with other WordPress plugins like WooCommerce
Pricing: FooBox prices start from $29 and you get a 7-day free trial.
WP Video Ligthbox is a plugin for creating a video lightbox for your website. It embeds videos in your lightbox overlay, allowing you to grab user's attention and create engagement.
You can add videos from different platforms, such as YouTube or Vimeo. And it even offers you the option to add images and iframe to your responsive lightbox in WordPress. Each of the elements of the lightbox is customizable, so you can create stunning popups.
To make full use of WP Video Lightbox, you can check out its other features:
Easily customize your video lightbox
Control the animation speed
Supports different types of media files
Offers autoplay option
Designs are clean and responsive
Deeplinking option available
Pricing: WP Video Lightbox is a free plugin.
Frequently Asked Questions (FAQs) about WordPress Lightbox
Now that you know about the top WordPress lightbox plugins, here are some frequently asked questions about them.
1. How do you use a simple lightbox?
Most of the lightbox plugins in WordPress are very easy to use. Some of them don't even require additional setup. All you have to do is install the plugin and make sure your images are linked to media files, and the plugin will automatically create a lightbox popup.
2. What does a lightbox do?
A lightbox makes your marketing messages stand out in the popup by dimming the background. It helps you grab user attention in an instant.
3. How much is a lightbox?
The WordPress plugin catalog is filled with hundreds of lightbox plugins. Some of them are free, while the premium versions can cost over $49.
Verdict – What's the Best WordPress Lightbox Plugin?
If you're looking for a complete marketing solution that can help you drive conversions and gather leads, then we recommend OptinMonster. It's the best lightbox popup plugin, as it offers loads of features and is easy to use.
But what puts OptinMonster in another class is its trigger options. You can show the lightbox on select pages, people from different locations, or combine different rules to create a customized trigger setting.
And if you're looking for a free solution to create a lightbox gallery, then Simple Lightbox can help you out. It's simple, clean, and offers minimalist lightbox for your website.
That's it!
We hope you like our article on the best WordPress lightbox plugins. Make sure to check out our guide on how to properly set up Google Analytics in WordPress.
Don't forget to sign up for our newsletter and follow us on Twitter and Facebook for more helpful WordPress and Google Analytics tutorials.