Want to add a contact form to your website, but you're not sure which is the best contact form plugin for WordPress?
Choosing the best contact form plugin for your site can be a confusing job, since there's a huge number of them!
In this article, we'll compare the 10 best contact form plugins for WordPress to help you choose the best form builder for your needs.
What Is a WordPress Contact Form?
A contact form on your WordPress site lets visitors get in touch more easily. They don't have to search the website for an email address or other contact info.
You can customize your WordPress contact forms for whatever purpose you need. Many sites have a form for general inquiries and comments. But, you can do all sorts of creative things with contact forms to help your online marketing and improve user experience.
And, the process of building a contact form in WordPress is quite simple, so anyone can do it!
Features of the Best WordPress Contact Form Plugins
Each contact form plugin offers a few different features, but they share many similar functions. With the best form plugins, you'll be able to:
Choose from templates to quickly make basic forms
Add special fields like checkboxes or radio buttons
Create more than just contact forms, but also surveys, quizzes, order forms, donation forms, and custom forms
Modify the styling of fonts, buttons, colors, and other elements
When choosing your contact form plugin, think ahead to the ways you'll use it and what features you'll need, so that you can choose the best one for your unique website and business or organization.
Alright, let's dive into our top WordPress form plugins!
Best Contact Form Plugins for 2023 (Free & Premium)
To help you navigate this article, we've summarized the best form plugins for WordPress and their market performance here:
WPForms is the best contact forms plugin for WordPress on the market. It comes with a simple drag and drop form builder, which lets you create smart contact forms and beyond in just a few clicks, without touching any code.
Besides offering the most user-friendly interface, it features the most powerful features you'll need to succeed. In addition to simple contact forms, the plugin enables you to create advanced online forms like survey forms, donation forms, order forms, subscription forms, and more in a matter of minutes.
To ensure you have the freedom to create all types of forms, it provides all kinds of form fields, from radio buttons to file uploads to multi-page forms. Plus, it includes tons of form templates to let you build professional WordPress forms easier and faster.
Best of all, adding the forms to your pages and posts is extremely easy with the native WPForms block. Yes, it's Gutenberg ready. Also, it stores all the form submissions as 'entries' and lets you manage and review the information you need right from your WordPress dashboard.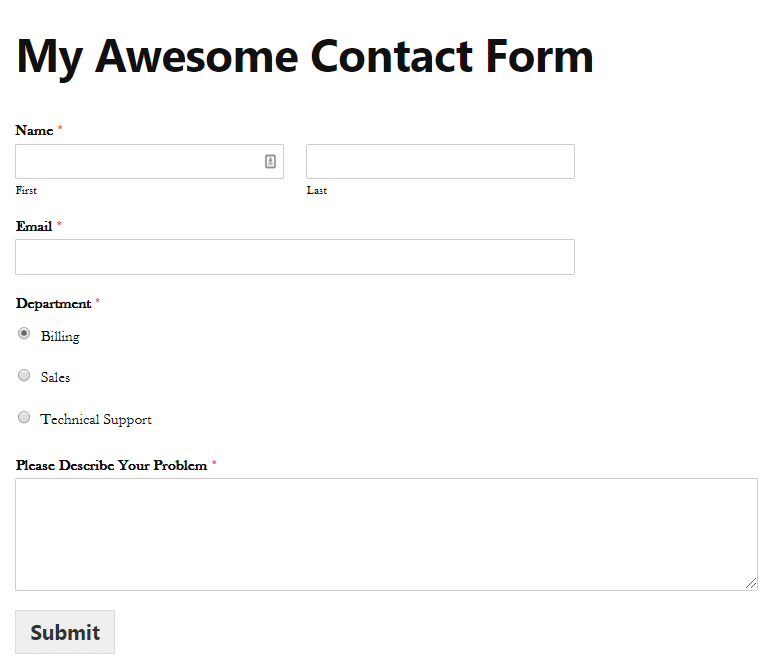 Pros:
Easy to Use: WPForms is an extremely easy-to-use a plugin that even an absolute beginner can easily configure, and create powerful WordPress forms.
FREE version available: WPForms has a free contact form plugin version available on WordPress.org. Great for beginners and small companies.
Expert Support: You can get plenty of documentation and tutorials along with fully-dedicated technical support.
Cons:
Need to Buy Paid Version for Advanced Features: Although it has a free version, you need to purchase the pro version to unlock most of its advanced features.
Active Installs: 5,000,000+
Average Rating: 4.9 out of 5 stars on wordpress.org.
Pricing: Free or $49.50 / year for the Basic plan.
Get started with WPForms today!
Offer: MonsterInsights users can get a 10% discount on WPForms by simply using the coupon code SAVE10.
Formidable Forms is the most advanced WordPress contact form plugin available. It comes with powerful options and premium addons to create advanced forms like quizzes, surveys, payment forms, registration forms, profile forms, and more.
With a visual drag and drop form builder, it allows you to create simple to complex contact forms with ease. If you want to save time, you can use the pre-built form templates to create pro WordPress contact forms in minutes.
With Formidable Forms, you can create unlimited forms and customize them as fully as you want. It has a visual form stylizer that you can use to give a specific style to everything, including your field labels, floating labels, colors, settings, etc.
A unique feature that makes Formidable Forms one of the best contact form plugins is the ability to display form data with views.
You can display any data submitted into a Formidable form in the front-end of your site similar to classified listing sites like real estate, employment listings, etc.
You can purchase its addons separately or buy them with premium plans. Individual addons cost $39 to $89.
Pros:
Advanced features: Formidable Forms offers a wide range of features that can benefit programmers to build more advanced functionalities.
Greater flexibility: It provides great flexibility and more styling options than some of the other plugins on this list.
Cons:
Learning curve: Although its extensive features can be helpful for advanced users, they make the plugin interface quite complicated. Beginners can get puzzled in the beginning.
Active Installs: 300,000+
Average Rating: 4.7 out of 5 stars on wordpress.org.
Pricing: Free or $39.50 / year for the Basic plan.
Get started with Formidable Forms today!
Ninja Forms is also among the top WordPress contact form plugins. With its intuitive drag and drop form creator, you can build simple to complex online forms with ease. But if you're a developer, you can also create your custom functionality using the hundreds of functions and action hooks available.
Using Ninja Forms, you can have an unlimited number of forms, fields, emails, and submissions. After you create your forms, add them to your site using a shortcode, widget, or template function. With Ninja Forms, you will miss out on the direct Add Form option in the post editor that WPForms provides.
Ninja Forms is a freemium plugin that is available in both free and paid versions. Besides, it features dozens of addons ($29 to $129) for advanced options and integration with various web apps, email marketing services, and payment options.
Pros:
Choice of Addons: Ninja Forms addons offer you a choice to purchase only the addons you need. Thus, you will pay only for the features you actually need. No extra money is spent.
Detailed Documentation: There is detailed documentation for the plugin and its addons. If you need technical support, they have a great approach to offering support.
Cons:
Quite Expensive: Ninja Forms looks cost-effective at the beginning with the option to purchase individual addons; however, it becomes very expensive as your needs grow.
Active Installs: 900,000+
Average Rating: 4.4 out of 5 stars on wordpress.org.
Pricing: Free or $49 / year for a Personal plan.
Get started with Ninja Forms today!
Contact Form 7 is probably the oldest and the most downloaded contact form plugin in existence. It holds a legacy of over a decade as the top solution for WordPress contact forms.
Using Contact Form 7, you can build basic contact forms and add them to your site. However, creating contact forms is not as easy as with other plugins on this list because of its HTML-based interface. You'll need to have basic HTML knowledge for using this plugin.
Unlike other plugins on the list, Contact Form 7 is exclusively a free plugin without any paid options. However, there are several third-party plugins that serve as addons to Contact Form 7.
Pros:
Free Plugin: You can install and use Contact Form 7 completely free of cost on as many sites as you want.
Free Online Resources Available: There are plenty of useful online resources and tutorials which you can use to learn about the plugin.
Cons:
Limited Support: Since the plugin is free, support options are limited.
Active Installs: 5,000,000+ (#1 most popular free WordPress contact form plugin)
Average Rating: 4.1 out of 5 stars from 1900+ reviews.
Pricing: Free.
Get started with Contact Form 7 today!
Gravity Forms is a premium contact form plugin for WordPress. The plugin features a bundle of powerful features and options that enable you to build advanced contact forms on your WordPress site.
Like WPForms and Ninja Forms, Gravity Forms also offers an intuitive drag and drop interface for building forms. After creating forms, you can add them to your posts and pages by simply clicking on the Add Form button in the Post Editor toolbar similar to WPForms. You can also use shortcodes and function call to manually add the forms on your site if you prefer.
Its other significant features are conditional logic, email notifications, spam protection, responsive design, etc. Moreover, it has dozens of addons and integrations for different web applications and email marketing services.
Not to mention, all of your forms created with Gravity Forms will be fully responsive and look great across all devices.
Pros:
Reliable Support: Gravity Forms offers reliable support options for any type of help you may need. You can get answers for your general queries in the knowledge base and forums, while there's email support for technical issues.
Plenty of Addons: Advanced features and plenty of addons make this a complete tool for all your needs.
Cons:
It has no free version: Unlike other plugins on this list, it's a premium-only plugin. If you are on a shoestring budget, this may not be the right option for you.
Active Installs: Not available.
Average Rating: Not available.
Pricing: $59 / year for the Basic plan.
Get started with Gravity Forms today!
Forminator is an easy-to-use forms plugin for WordPress. It offers a drag-and-drop builder to easily create the contact forms you need for your site.
This plugin comes with capabilities to make quizzes and surveys, calculations, and more. It also takes payments without needing to upgrade to Pro.
Pros:
Create forms, quizzes, surveys, polls, calculations and more
Integrates with Stripe and PayPal without needing the Pro version
Offers a lot of integrations with other plugins
Cons:
It's not clear what the difference is between the free version and Pro. Pro is $5 per month and up.
Active Installs: 300,000+
Average Rating: 4.8 out of 5 stars from 900+ reviews.
Pricing: Free or $7.50 / month for the Forminator Pro plan.
Get started with Forminator today!
Everest Forms offers an easy to use and clean form-making interface so anyone including beginners can create forms with confidence.
Like most plugins above, it also offers a drag and drop builder with live preview. Drag form fields on the left-side panel and drop them on the form editor on the right side. After that, review its settings and save your form.
You can easily embed your forms in WordPress with its native Gutenberg block.
Pros:
Easy to use: The plugin is easy to use and handle. You can create a contact form in seconds without any confusion.
Cons:
Limited features in the free version: The free version of the plugin offers limited features only. You need to purchase its pro version to get advanced features.
Active Installs: 100,000+
Average Rating: 4.9 out of 5 stars from 300+ reviews.
Pricing: Free or $41.40 / year for the Personal plan.
Get started with Everest Forms today!
HappyForms plugin allows you to easily create contact forms, feedback forms, survey forms, and more. Hence you can start more conversations and engage your website audience.
The plugin provides a user-friendly and straightforward visual form builder for building contact forms. You just need to select and click on the fields; the plugin will automatically add the fields to the editor.
After that, you can review confirmation messages, customize form styles, and save your form. Once the form is ready, you can easily insert into your posts, pages, and widget areas.
Pros:
Spam protection: It comes with in-built HoneyPot and Google ReCAPTCHA to prevent spam messages.
Cons:
Limited free version features: HappyForms free plugin has limited features. You need to upgrade to their pro version for conditional logic, file upload, etc.
Active Installs: 40,000+
Average Rating: 4.4 out of 5 stars from 400+ reviews.
Pricing: Free or $79 / year for Starter plan.
Get started with HappyForms today!
weForms is yet another free WordPress form plugin you can use to create a contact form on your website.
The plugin offers a user-friendly drag and drop interface for making forms quickly. It also provides some pre-defined form templates for building forms quickly.
It also allows you to import forms with a JSON file or from other form plugins like Ninja Forms, Contact Form 7, and others. You can also export your forms and entries as CSV file.
Pros:
Includes some really useful features: The plugin includes some really useful features like entry restrictions, email notifications for admins, etc.
Cons:
Slow loading on the backend: When we tested the plugin, it was slow loading on the backend.
Active Installs: 20,000+
Average Rating: 4.6 out of 5 stars from 100+ reviews.
Pricing: Free or $49 / year for Personal plan.
Get started with weForms today!
FormCraft is a free WordPress drag and drop form builder plugin. The plugin lets you easily create gorgeous forms and embed in your website.
When compared to other form plugins above, it has limited (8) field types including custom HTML. Hence, this plugin is suitable for websites that need a simple contact form with primary fields name, email address, and message.
Pros:
Lightweight and fast: This plugin with minimal features is lightweight and lets you create forms faster.
Cons:
Not Gutenberg ready: The plugin works fine with Gutenberg but it doesn't have a native Gutenberg block. You'll need to use shortcode to add your forms.
Active Installs: 5,000+
Average Rating: 4.6 out of 5 stars from 40+ reviews.
Pricing: Free or $30 / license + 6 mo. support for FormCraft Premium.
Get started with FormCraft today!
Bonus: How to Track Your WordPress Form Conversions
Creating forms with the best forms plugins is easy.
But if you want to grow your business faster, your job as a business owner doesn't end here.
You need to know how your users are engaging with your website. It's important to know whether your website is turning your visitors into subscribers and customers.
Forms act as the means of collecting leads and conversions, but it's essential to know how your forms are performing. Forms analytics can provide you with the actual reports of your forms' views and conversions.
So, how do you track your contact forms?
You could use just Google Analytics, but it's a complex task unless you are an expert in using it.
Or, you can put your mind at ease because MonsterInsights is here to help.
It has a wonderful forms addon for tracking your online forms.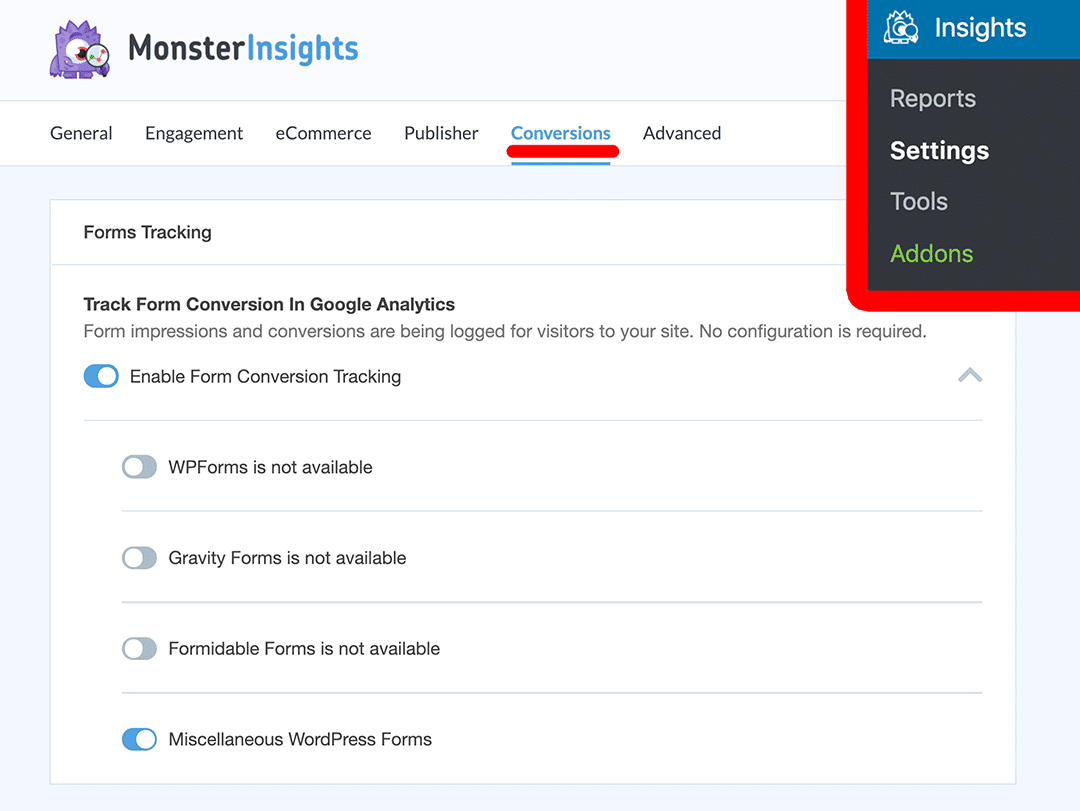 Using this addon, you can track all your forms' views and conversions. Not to mention, it takes just 1 click to activate this feature, and it starts collecting your forms' data right away.
If you install WPForms, Gravity Forms, or Formidable Forms, enhanced tracking for these forms will be enabled automatically.
And you can see how your WordPress contact form plugins are performing by viewing the report inside your WordPress dashboard.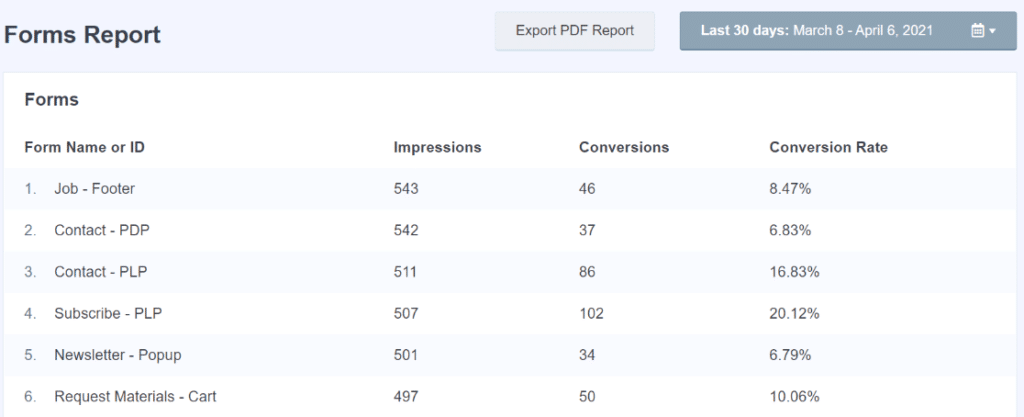 Get started with MonsterInsights today!
Which Is the Best WordPress Contact Form Plugin?
Best is a relative term, meaning that the "best" plugin differs from person to person according to their needs. Thus, it's entirely up to you to decide the best contact form plugin for yourself.
However, WPForms is a good contact form builder for all types of users due to its user-friendly interface, powerful features, and flexible pricing options.
If you have a startup business, you can use its free version to get you started. It has a bunch of powerful features sufficient for small-scale companies.
As your business grows, you can simply upgrade your plugin license and get everything else you could ever need.
We hope this article helped you find the best contact form plugin for your WordPress site. If you want more tools for growing your business, please see our ultimate collection of best plugins for WordPress – expert pick.
And don't forget to follow us on Twitter, Facebook and YouTube for more helpful Google Analytics tips.