Our readers often ask us how they can improve their online store's conversions? If you're also having trouble figuring out how to increase your eCommerce conversion rate, then let us help you out.
Conversion rate optimization is the key to generating more revenue for your store. If you're spending time and money driving traffic to your website, but no one is actually buying anything, then all that effort is going to waste.
That said, many eCommerce stores miss simple tricks that could skyrocket their conversions.
In this article, we'll show you 25 eCommerce hacks that will help you to double your conversions in no time. Let's dive right in…
1. Add Recent Sale Notifications to Your Store
The first eCommerce hack is an easy one. You can instantly increase conversions on your store by adding recent sale notifications popups.
These are notifications that automatically appear on your website and show that another user purchased a product a few minutes ago.
They are excellent at creating urgency, as they use the psychological principle of fear of missing out (FOMO) to convince your visitors to take action right away.

The easiest way to add recent sale notifications is to use TrustPulse. It's 100% free to get started, and you can use it on any eCommerce website, including WooCommerce and Shopify.
It uses real-time tracking to display notifications for any action your visitors can take, including recent purchases, email signups, and more.
You can follow our step-by-step tutorial for more information on how to add a recent sales notification popup.
2. Follow the 80/20 Rule and Invest in Traffic That Converts
Have you heard of the famous 80/20 rule? It says that 80% of your results are because of 20% of your efforts. When you're optimizing your store for conversions, it's better to focus on traffic that actually converts.
Using MonsterInsights eCommerce addon, you can easily find your top conversion sources. These are websites that generate the most revenue for your store.
To view the sources, install and activate the MonsterInsights plugin and add its eCommerce addon. Then, go to Insights from your WordPress dashboard and click Reports. Now select eCommerce from the top menu and scroll down to see Top Conversion Sources.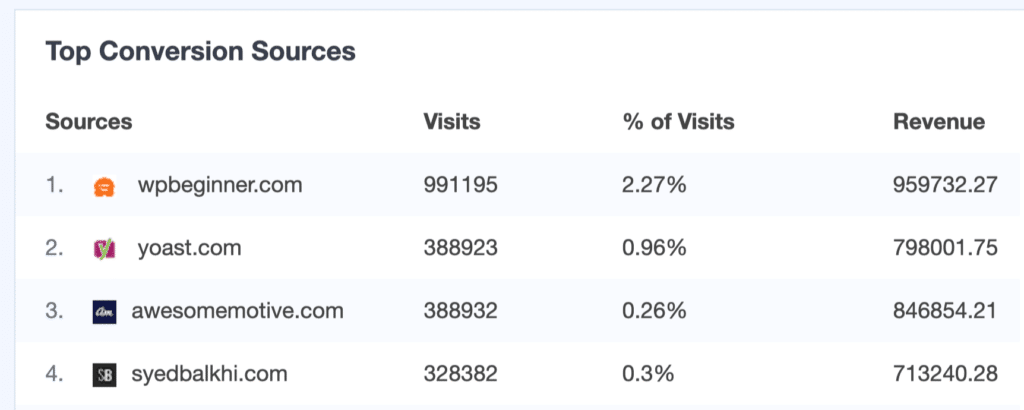 Investigate each of the sites that send you the most customers, so you can figure out how to get even more visitors from those sources. These can be great opportunities for advertising, guest posting, or working out promotional partnerships.
3. Use a Sales Countdown Timer to Create Urgency
One quick and easy way to boost conversions is by displaying limited-time offers with countdown timers.
Countdown timers are excellent at creating urgency and scarcity among users and boosting your store's conversion rate. You can add a timer for a flash sale that's about to end soon or when the stock is about to run out soon.
Here's an example of a countdown timer that Kennedy Blue used to increase sales by 50%!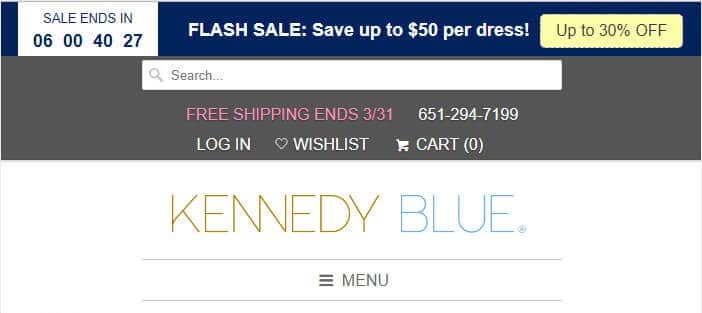 You can create a countdown timer campaign within minutes thanks to different templates, drag and drop builder, and smart behavioral targeting offered by OptinMonster. You can follow our complete guide on how to add a countdown timer in WordPress for more details.
4. Show Product Reviews and Ratings as Social Proof
Did you know that adding product reviews and ratings by other customers can improve your conversion rates by 270%?
That's right, by including product ratings and authentic reviews of customers, you can significantly boost your conversions. They provide reassurance to your customers that the decision they are making is the right one.

To add a product review to your eCommerce store, you can use a product review plugin like WP Product Review.
It allows you to easily add images, pros and cons, and star ratings to any post. You can also use it to collect user-submitted reviews and ratings and even display them in a sidebar widget.
5. Convert Engaged Visitors into Customers with Incentives
Many of your visitors may be interested in your products but can't make up their minds. To convert these engaged visitors into customers, you can need to give them an extra push and offer a discount as an incentive.
You can offer an exclusive discount code only to returning visitors or people who have viewed a certain number of pages in your store.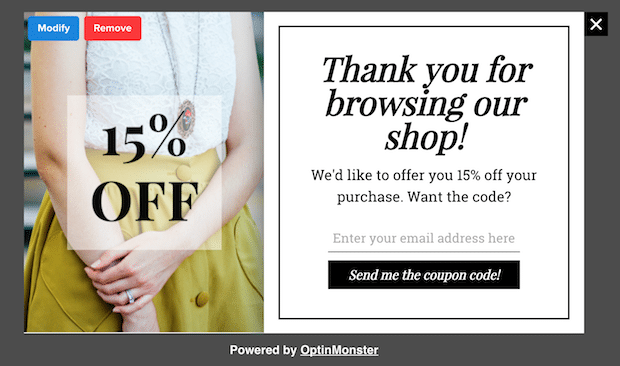 Here's a complete step-by-step guide on how to create a coupon popup to boost sales.
6. Boost Sales with a Gamified Spin-The-Wheel Popup
To increase your conversions, another simple eCommerce hack is to add a spin-the-wheel popup on your store.
This hack works because it uses the principle of gamification. When you spin a wheel and win a prize, your brain rewards you with a rush of dopamine, a hormone that makes you feel great.
You can offer prizes like discounts, free shipping, and other deals to your visitors. All they have to do is enter their email address and spin the wheel to try their luck.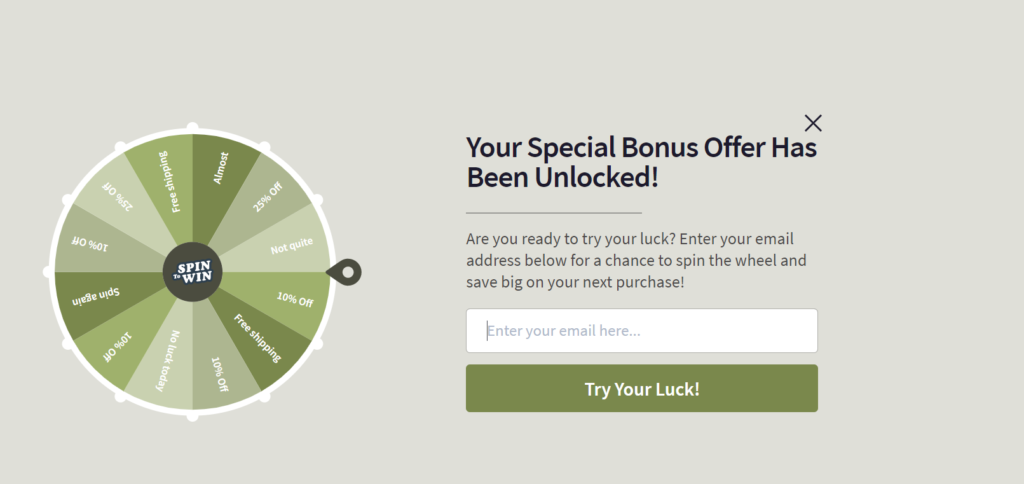 You can follow our guide on how to create a spin-the-wheel popup for your website.
7. Display Popular Products with Full Screen Welcome Mats
If you have top-selling products in your store, you can show them to your audience in a full-screen welcome mat.
These are popups that slide over and take up the whole screen of your user's device. It hides other parts of your store until the user opts out or scrolls down the page. Here's an example of a full-screen welcome mat: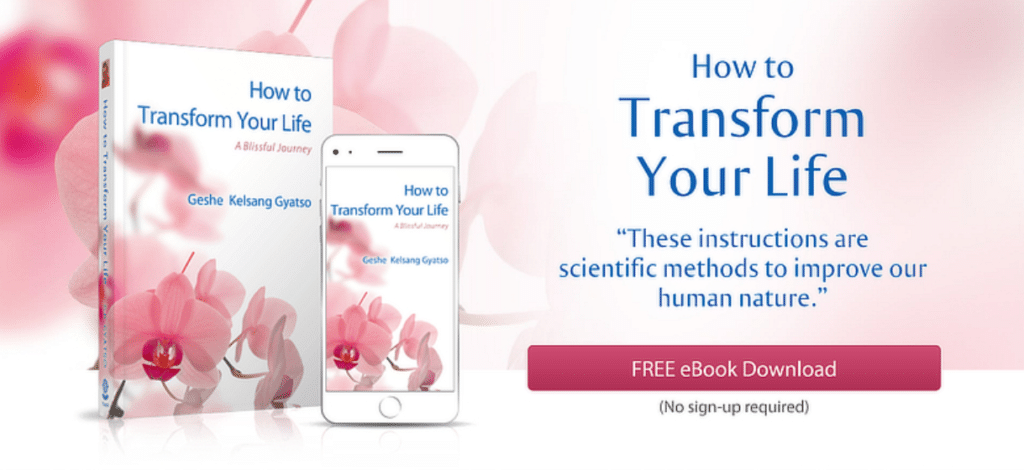 Full-screen welcome mats help in grabbing your visitor's attention. By showing your best products or offers, you can narrow down the choice of products they might have an interest in. This way, you remove the clutter of other products and increase the chances of doubling your conversions.
Follow this full-screen welcome mat tutorial to get started.
You can also display up to 10 popular products on your single product pages with MonsterInsights' Popular Posts feature. You can choose from grid and list style layout options. Or, override the built-in styles to use your own with the click of a button.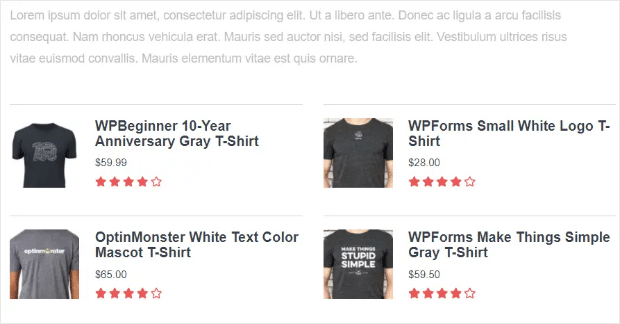 Now, when browsing products on your site, you can encourage visitors to check out your hot selling items.
8. Add More Product Images and Videos
Product images make a huge difference in eCommerce conversions. Making an online purchase is a leap of faith when you can't see what you're buying.
Make it easy for your visitors to decide to purchase! By adding more high-quality images of your products, you'll give your visitors the confidence they need to buy.
You can also add videos demonstrating a product and explaining its features and uses. Videos are proven to increase engagement, so give it a try!
9. Improve Your Product Descriptions
The more detail you provide in your product descriptions, the better. People want to know exactly what you're offering and whether or not it fits their needs before they'll feel comfortable buying it.
You should include all the basic product details like size, color, weight, and more. But you can also talk about the story behind the product and how it will improve your customers' lives. Give them a picture of "before" and "after" so they can envision themselves with your product.
Here are more tips on how to improve your product pages.
10. Use Exit-intent Popups to Convert Abandoning Visitors
Did you know that on average, 70% of visitors will leave your website and never return?
What if you could grab their attention right before they leave and offer them a deal?
With an exit-intent popup, you can offer amazing discounts or free shipping to your visitors who are about to leave your store without making a purchase.
You can also add exit-intent popups to your checkout page, as it helps to reduced cart abandonment.  If visitors have items in their cart and are about to leave the site without checking out, a popup will appear reminding them of those items.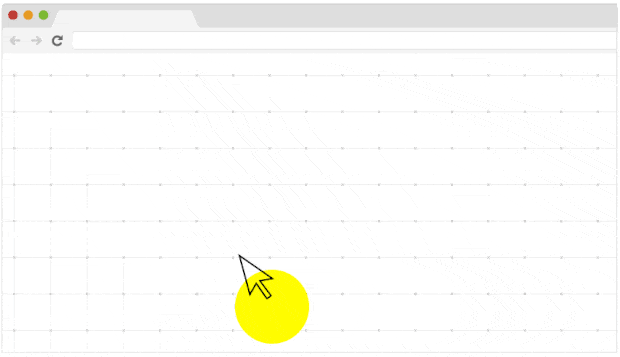 Check out these exit intent hacks to boost your conversions, and try one today!
11. Guide Users Through the Checkout Process Using Live Chat
Another eCommerce hack to simplify your checkout process is to add a live chat feature.
There are lots of benefits of having a live chat on your eCommerce website. Support agents can provide instant answers to your customer's questions, provide product information, and guide them through the checkout process.
If your customers have the option to talk to a real live person as they shop, they're more likely to make a purchase.
And it's easier to set up than you might think! You can use different live chat plugins for your store. But the best and most user-friendly plugin by far is LiveChat.
It offers a clean interface, and you can change its design to match your store. Using LiveChat, you can communicate with your customers from any device.
If you're using WordPress, LiveChat offers a free plugin. You can use this detailed guide on how to add LiveChat in WordPress.
12. Send Push Notifications to Convert Abandoned Cart Visitors
You can also send push notifications to visitors who abandoned their carts and boost your eCommerce conversions. Push notifications have a 3x to 10x higher open rate than emails.
You can inform your users about a product they left in the cart and didn't complete the purchase. To boost conversion, you can add an incentive like a discount.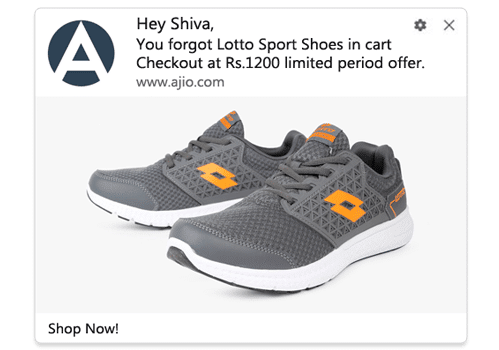 The best tool to send push notifications is PushEngage. It's easy to use, easily works with different website platforms, including WordPress, and has a free plan.
The plugin lets you send cart abandonment push notifications and even personalize the messages. You can follow this guide on how to add push notifications in WordPress to get started.
13. Run Retargeting Ads to Convert Abandoned Customers
Another eCommerce hack to convert customers that abandon shopping carts or leave your site without a purchase is by retargeting them through Facebook ads.
Retargeting is marketing your products to someone who has visited your store before. It helps to reel them in and convert them into customers. You can show them the products they explored at your store or added to their carts.
You can follow this detailed step by step guide on Facebook retargeting ads to get started.
14. Run a Flash Sale for Holiday Seasons and Special Events
To increase your eCommerce conversions, you can run a flash sale and advertise it on your website and to your email list.
Email is a powerful channel to attract more customers to your store. They are highly useful during the holiday season and events like Black Friday and Cyber Monday. You can instantly inform your subscribers about sales and promotional deals.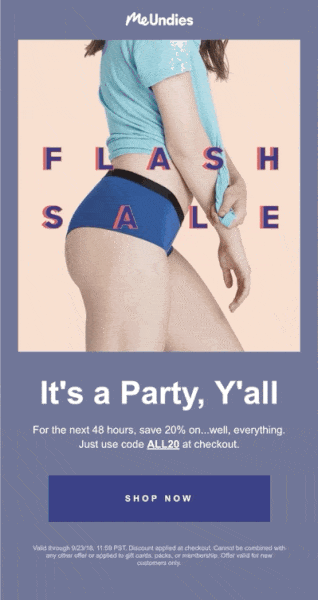 To run an email campaign, it's better to use an email marketing service like Constant Contact. You can manage contacts, send bulk emails, and create automated workflows.
For a more detailed tutorial, check our post on how to create an email newsletter.
15. A/B Test Your Product Pages for Conversion Optimization
A big part of conversion optimization is testing your product pages to see which is working better. It can help you boost your conversions by finding the right page layout, image, copy, and call to action (CTA) that works.
To test your product pages, you can use Google Optimize. It's a free tool by Google that lets you conduct experiments on your site. Here's a complete guide on how you can set up Google Optimize on WordPress.
Once you've added Google Optimize to your eCommerce site, you can test your website changes to see if they help boost conversions.
For example, you could try…
changing the colors of your add to cart and buy now buttons
moving your buttons to a more prominent area
displaying different product image sizes
offering free shipping
Here are more split testing ideas you can try.
16. Add Value to Your Call-to-Action Copy
When it comes to increasing your conversions, your calls to action (CTAs) play a big role. And an eCommerce hack to make your CTAs stand out and convert is by communicating value to your visitors in your CTA copy.
You'll find a lot of common phrases in CTAs like Submit, Buy Now, or Order on an eCommerce store. But you can go the extra mile and improve the copy of your CTA by adding an incentive.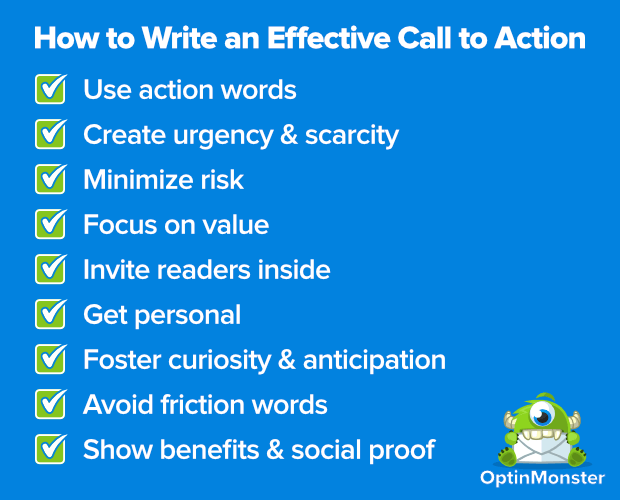 Even tweaking just a few words can boost your conversions instantly.
17. Optimize Your Store for Transactional Keywords
Another website optimization hack to boost your store's conversions is optimizing your store for SEO and ranking on transactional keywords.
Transactional keywords are where your shoppers are ready to make a purchase. People looking for these keywords are at the bottom of the sales funnel and want to make a transaction. And they may include brand names or words like buy, purchase, or order now.
Here's a guide on how to choose the right keywords to get you started. Then you can use those keywords to optimize your content.
18. Include Customer Showcase on Your Store
Another eCommerce hack where you can use social proof to increase your conversions is to add customer showcases to your store, featuring photos of customers using your products.
For example, if you sell clothes online, you can feature customers showing off their different styles while wearing your products. It provides social proof to your visitors and helps in boosting your conversions.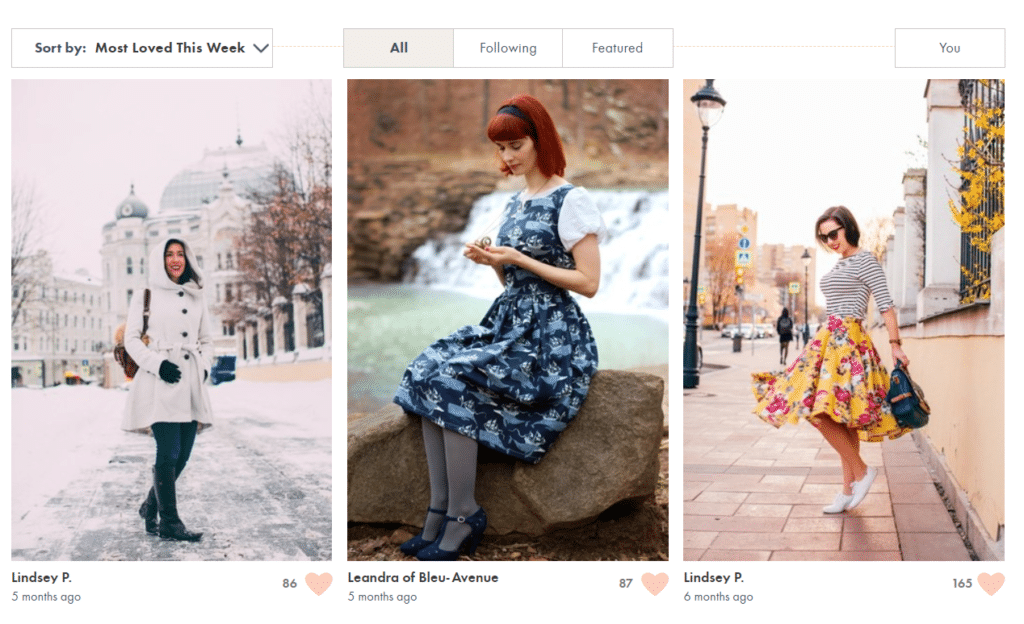 To collect showcase content, you can ask your buyers to share their pictures while using the product. You can even run a contest on social media to gather content and display the participant's pictures on your website.
You can use a plugin like Smash Balloon to easily display social media feeds on your site and create a customer showcase.
For example, with Smash Balloon, you can create an Instagram hashtag feed to display the content users post about your products.
For step-by-step instructions, check out this tutorial on how to add an Instagram hashtag feed to WordPress.
After you're done optimizing your store for conversion, it's important to look at your checkout process. Next, we'll explain some eCommerce hacks that will smooth your checkouts and increase conversions. Let's begin…
19. Reduce the Number of Fields in Your Checkout Form
The checkout process is the final stage of closing a sale on your online store. But if the checkout form is too lengthy, customers are most likely to abandon their carts and leave without checkout.
A simple and effective hack to overcome this issue is to reduce the number of fields on your checkout form. You would want your customers to input as minimum information as possible and purchase your products.
Here are more research-backed ways to improve your form conversions.
20. Offer Guest Checkout Option
While we're talking about the checkout process, another quick and simple eCommerce hack to increase your conversions is by offering guest checkout options to customers.
Many people find it frustrating when they have to create an account before checkout. This also increases the number of cart abandonment.
Luckily, you can add an option for guest checkout using WooCommerce in an instant. To enable the option, go to WooCommerce and then Settings from your dashboard. Now under Account & Privacy, enable the Allow customers to place orders without an account option. 

Guest checkouts save time for the visitor and let them complete the purchase process quickly.
21. Provide Multiple Payment Options to Customers
One of the biggest problems eCommerce store owners face is having too few payment options. This reduces the conversion rate of their website, as people cannot find their desired payment option.
By providing multiple payment options, you're reducing the barriers to closing a sale. And the best way to add these options is by using an eCommerce platform, WooCommerce. Using the platform, you can accept payments through PayPal, Stripe, credit card, debit card, and more.
When you set up WooCommerce on WordPress, the installation wizard will ask you to add payment methods for your store. Set up as many options as you can to help convert your customers. For more information about setting up WooCommerce, check out our 5-step guide.
Another important part of increasing conversions is to improve the user experience of your online store. Let's see how you can enhance your buyer's experience.
22. Optimize Your eCommerce Store for Mobile
Did you know there are 5.13 billion people around the world who own a mobile device? If your eCommerce store isn't optimized for mobile, then you could be facing difficulty converting customers.
People prefer mobile over desktops when visiting websites. But they don't buy through mobile most often because many online stores aren't mobile responsive.
If you want to improve your conversions, optimize your eCommerce store for mobile with a responsive WordPress theme that looks good on all screen sizes.
23. Include Safety Badges to Make Your Store Trustworthy
When it comes to online shopping, customers prefer sites that are safe and secure. You can increase your conversions by making your eCommerce store trustworthy. And a simple hack to do that is to add security badges.
You can add security seals such as Norton, McAfee, and Verisign on checkout pages, product pages, and the footer of your homepage. Blue Fountain Media did an A/B test and found an increase in conversion by 42% by adding a trust seal to their checkout page.
Many security firms even offer a WordPress plugin that you can use to add a trust seal anywhere on your website. For example, you can automatically add a McAfee badge to your online store with a plugin. Here's a complete tutorial for adding McAfee SECURE seal.
24. Improve Your Store's Navigation by Adding Product Tags
If you're looking to convert more visitors to your eCommerce store, then your site should be easy to navigate through. Often online stores are disorganized, and customers find it hard to look for the products they're interested in.
A simple eCommerce hack to improve our store's navigation is to add product tags. It not only helps to increase conversions but also gives your store a boost in terms of SEO.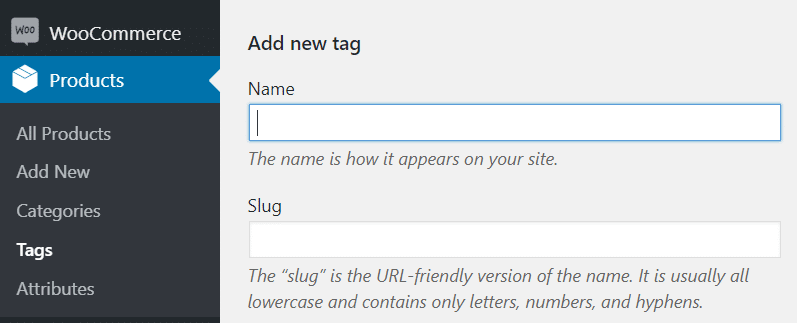 And do add product tags, you can use the WooCommerce plugin. From your WordPress dashboard, go to Products and then click on Tags. Now add a name for your tag and the URL you want to group your products.
For instance, if you are running an online shoe store, you can add tags like running, casual, formal, or outdoors to group similar products.
It helps to improve the user experience of your store. Another important factor that affects your store's conversion is your site's speed.
25. Make Sure Your Ecommerce Store Loads Under 3 Seconds
Your website loading speed is key to increasing your conversion rate. If your online store isn't loading fast enough, you're losing conversions.
Using the MonsterInsights Site Speed report, you can find out how fast your pages load on mobile and desktop.
The report shows other important metrics like server response time and time to interactive. And if that's not enough, you can get actionable suggestions to improve each of these metrics.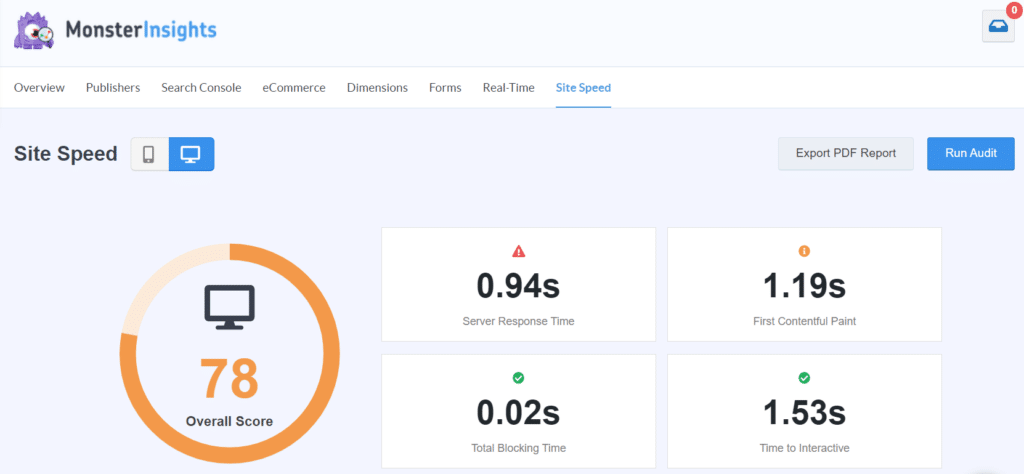 To make your eCommerce store load in under 3 seconds, a quick hack is to compress all your product images using tools like Tinypng. The tool compresses the size of the images without lowering the quality. Small-sized images directly impact the loading speed of your site.
And as a bonus hack, consider investing in a content delivery network (CDN) like MaxCDN. They help to deliver static content like images and stylesheets quickly to your users through their network of servers. You can follow this guide to learn how to set up a CDN.
If you want to optimize your speed further, here are some other tricks to speed up your WordPress site.
And that's it! Now you know how to increase your eCommerce conversion rate. Using these simple and actionable eCommerce hacks, you can skyrocket your conversions.
We hope you liked our article on eCommerce hacks that will boost your conversions. If you want, you can also check out our article on how to set up Google Analytics eCommerce tracking and the ultimate guide to MonsterInsights dashboard reports.
And don't forget to follow us on Twitter, Facebook and YouTube for more helpful Google Analytics tips.