Are you looking for a social wall plugin for your WordPress website? You can skyrocket user engagement by displaying social media content from multiple different social media channels on your website.
A social wall plugin helps you combine feeds from different social channels and show posts in one place. But with different plugins available, it can be difficult to select the right solution for your business.
In this article, we'll take a closer look at the best social wall plugins for WordPress and help you make the right decision.
Why Do You Need a Social Wall Plugin?
Social media is an important part of making your business successful. It helps with driving traffic to your website and boosting user engagement.
A social wall plugin helps you display different posts from multiple social channels in a single place. So, instead of showing just your YouTube videos or just your Facebook posts, you can display them all together.
Use your social wall to:
Display testimonials from your customers and use it as social proof to increase conversions.
Showcase user-generated content. For instance, an apparel brand can show social media posts of users wearing their clothes and accessories.
Increase your social followers by presenting content from different channels and allowing users to discover your social channels and follow you.
That being said, let's look at some of the best social wall plugins for WordPress.
Smash Balloon is the best social media feeds plugin for WordPress. It offers powerful features that help you display content from social media channels like Facebook, Twitter, YouTube, and Instagram on your website.
To bring all of your feeds together, you can use Smash Balloon's Social Wall plugin. It helps you combine feeds from these 4 social platforms in a single wall. Plus, you don't need any technical knowledge to create, edit, and add a social wall to your WordPress site.
The plugin is super easy to use and helps increase social engagement, boost social followers on all 4 channels, and grow your business through social media marketing.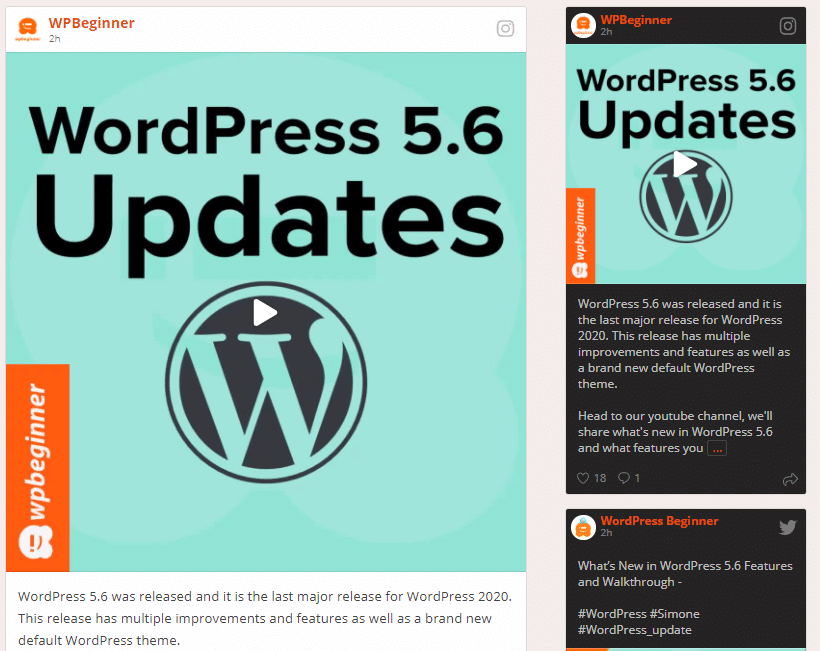 Smash Balloon offers 3 different layouts to show your social media content. You can choose from a Grid layout, List layout, and Carousel layout. And each layout is mobile responsive, so you don't have to worry about optimizing it for different devices.
Get started with Smash Balloon today!
Flow-Flow Social Stream is the next WordPress social wall plugin on our list. It lets you aggregate social feeds in mobile responsive social walls on your WordPress site.
The plugin supports Facebook, Twitter, and Instagram. And using it's drag and drop grid card builder, you can create amazing social walls. Plus, the content will automatically stay up to date on your website.
Besides that, Flow-Flow Social Stream offers AJAX loading, user-friendly admin settings, a social media counter for likes, shares, and views, sharing buttons, rich design settings, and more.
Get started with Flow-Flow Social Stream today! 
Walls.io is a popular social media plugin for WordPress that you can use to easily collect photos, posts, and videos from different social channels and display them in one place.
The plugin offers different customization options, so you can create a social wall the way you want. Walls.io supports Facebook, YouTube, Twitter, and Instagram. And in the free version, you can add one source from each platform.
Besides that, you can add more content by upgrading to its paid version. Plus, you get more social platforms to choose from, such as Reddit, Tumblr, LinkedIn, Pinterest, Vimeo, and more.
Walls.io also offers spam protection, advanced moderation settings, image-based NSFW detection, language filters, and more options for filtering social content.
Get started with Walls.io today! 
Jucier.io is a user-friendly WordPress social wall plugin that brings together content from different social networks in one place. It lets you add content based on hashtags.
With the plugin, you can get to create social feeds from Facebook, Instagram, YouTube, Pinterest, Tumblr, Spotify, Flickr, and others.
Jucier.io lets you set up filters and rules to eliminate unwanted content. And you can easily moderate and remove any social content you don't want with a click of a button.
Other features offered by the plugin include the ability to infinite scroll, auto-approve user-generated content, and get advanced analytics to track the social media performance of your feeds.
Get started with Jucier.io today!
Which is the Best WordPress Social Wall Plugin?
Now that you've gone through our list, you might be wondering which plugin you should choose for your WordPress website.
The choice depends on your needs, but we'd recommend Smash Balloon. That's because it's very easy to use, creates beautiful social walls for your website, and you won't need any technical expertise to customize your social feeds.
We hope you liked our article on the best social wall plugins for WordPress. You can also go through our post on how to track user engagement in WordPress using Google Analytics.
And don't forget to follow us on Twitter, Facebook and YouTube for more helpful reviews, tutorials, and Google Analytics tips.