Visitors expect an excellent user experience from all sites–meaning the pages they want need to be available. If you want to know how to find 404 errors, a great way to do this is with a Google Analytics 404 report.
In this article, we show you how to look for 404 errors and dead links using Google Analytics, as well as how to repair them.
What Are 404 Errors?
404 errors, also called "404 links" "dead links," "broken links," or "404s," are links to nonexistent pages. When visitors click a link to a nonexistent page, they often see a 404 error notice.
In some cases, they see something like "Bad Host," "Bad URL," "Timeout," or "Webpage cannot be found." But, 404 is most common.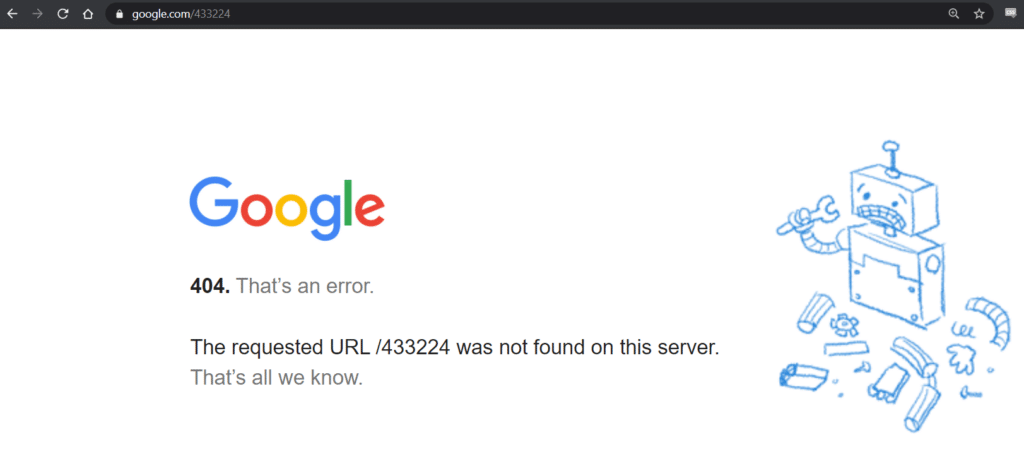 Some common causes of 404 dead links are:
Website closed down
Different URL
Page moved
How Do Broken Links Affect Your Website?
There are several reasons to find and fix 404 errors and other broken links on your site. 404 dead links can:
Worsen SEO: Search engine bots can't crawl what's not there. Too many broken links on your site can hurt your traffic.
Lower Rankings: Search engines can't rank pages they can't find. As a result, you could lose your organic traffic.
Lose Customers and Sales: Visitors can have bad user experiences when they can't find what they need. Additionally, too many 404 dead links can make you seem less trustworthy to those who try to stick around. So, you may lose revenue.
How to Track Broken Links in Google Analytics
To track broken links in Google Analytics, you have 2 options.
First, you can use a WordPress plugin like MonsterInsights. It tags 404 errors, so you don't have to make any changes to your plugin or go searching yourself.
Second, you can create a custom Google Analytics 404 Report for your website. This method can be more complicated, particularly if you aren't a Google Analytics expert.
1. Use MonsterInsights to Find 404 Errors
MonsterInsights is the best WordPress plugin for Google Analytics.
You can set up Analytics on your website without editing code and access reports from your dashboard.
Additionally, MonsterInsights sets up advanced tracking unavailable in Google Analytics' default settings.
You get access to features like:
To get started, install and activate MonsterInsights on your website. Then, connect to Google Analytics.
To find your 404 error pages, log in to your Analytics account. Then, go to Behavior » Site Content » Content Drilldown and look for 404.html.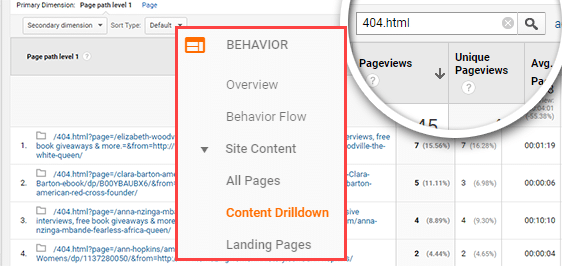 In most cases, you find URLs like this:
/404.html?page=/error-page-url-slug/&from=http://example.com/page/
The above URL is structured so you can understand the 404 error and how to fix it.
Here is how to analyze your 404 dead links in your Google Analytics account.
The 404 error URL is after the ?page= query.

In the above example, the 404 error URL is http://example.com/error-page-url-slug/

The error URL links from the page appearing after the &from=

In our example, the error page links from http://example.com/page/.
2. Create a Custom Google Analytics 404 Report
You can also track broken links by creating a custom 404 report in Google Analytics. But, many say it's more complicated because you need exact titles for your 404 links.
To begin, go to Google Analytics. Navigate to Customization » Custom Reports.
Now click on + New Custom Report.

Next, name your report and use the following settings:
Type: Flat table
Dimensions: Landing Page and Full Referrer
Metrics: Entrances
Filters: Click add filter. Select Page Title.

Make sure the first dropdown is set to Include, and the next is set to Exact.

Enter the exact title of your broken link, such as Page not found or 404.html.
Views: All views associated with this account
Save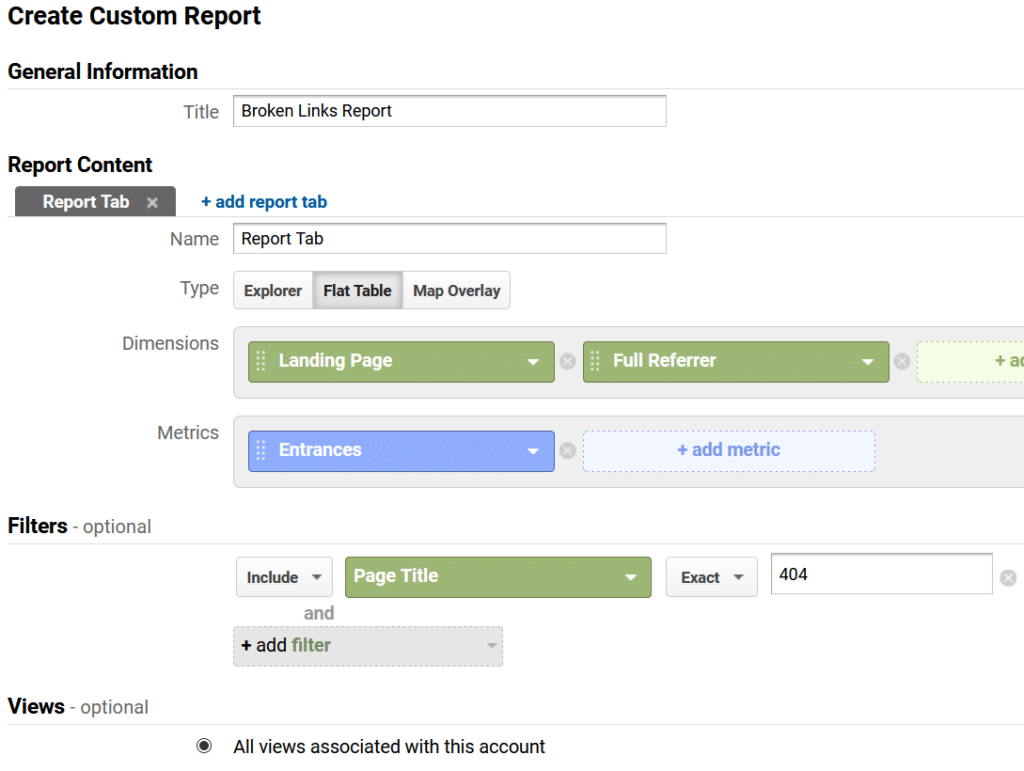 How to Fix 404 Errors in WordPress
Now you know how to find 404 errors using Google Analytics, it's time to do something about those problems. Here are some tips on how to fix 404 dead links.
1. Find Your Source URL
Use the MonsterInsights or Google Analytics 404 report method to find 404 links.
2. Set Up 301 Redirection
If you recently changed URL slugs or webpage locations, you may have tons of dead links. Set up 301 redirects to point users in new, correct directions.
If you want an easy way to do this, All in One SEO (AIOSEO) provides this automatically. When a visitor clicks on a search engine results, it sends them to the correct URL if the old one is still appearing to them.
AIOSEO is probably the easiest plugin for monitoring and enabling 301 redirects on your site with their Redirection Manager.
3. Look for Errors and Typos in URLs
Didn't update anything recently? Minor issues like spelling mistakes or extra characters in URLs can also cause 404.
Use data from Google Analytics to find these links and redirect them to the correct URLs.
More MonsterInsights and Google Analytics Perks
We hope this guide helped you find and fix 404 dead links with Google Analytics.
MonsterInsights and Google Analytics can do a ton of other things together, too. Check out a few articles to help you use this combination of products to make your site the best it can be:
Follow us on Twitter and Facebook for more Google Analytics tutorials.