Want to boost your email list on your website? Use a spin-to-win email capture game to attract visitors and increase your email subscribers.
Games like spinning wheels are great at grabbing the user's attention. They not only help you grow your email list, but also improve conversions, lead capture, and reduce abandoned carts.
That said, creating a spin-to-win popup for your website can be tricky, especially for new users. This is where OptinMonster comes in handy.
It's not just the best WordPress plugin for creating a spinning wheel. It also helps you generate leads and boost your website's conversion rate. With OptinMonster, you can create a fully customized spin-to-win popup within minutes.
In this article, we'll show you how to create a spin-to-win email capture optin using OptinMonster. Let's dive right in!
Step 1: Install and Activate OptinMonster WordPress Plugin
The first step you'll need to do is install the OptinMonster WordPress plugin. To do that go to Plugins » Add New.
Then search OptinMonster in the search bar, click Install Now. You'll then have to Activate the plugin.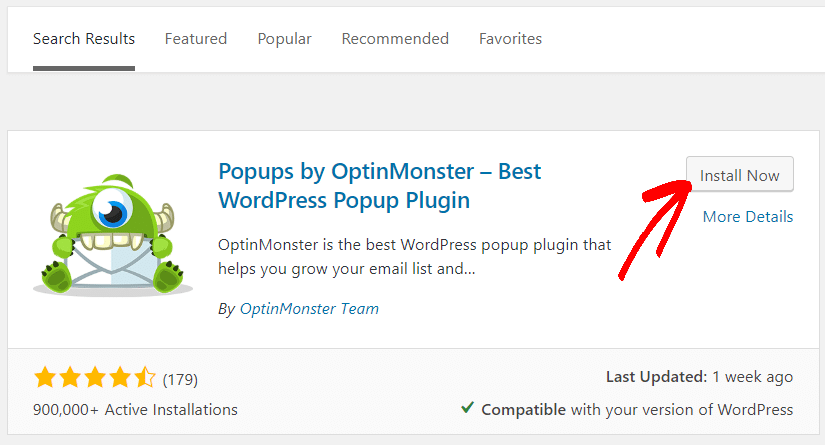 Step 2: Get OptinMonster and Create an Account
Once you've successfully installed the WordPress spinning wheel plugin, it's time to create an account. Go to OptinMonster from your WordPress dashboard and click Get OptinMonster Now.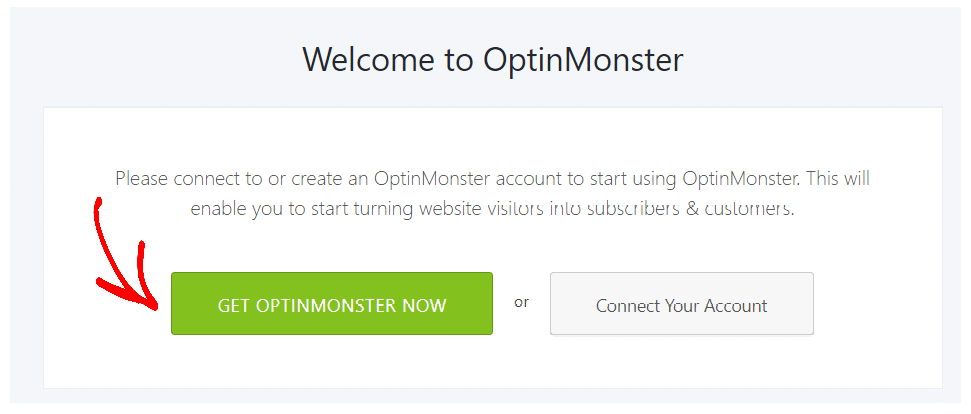 You'll be asked to choose a plan to create an account. Remember, you'll need OptinMonster Growth plan to use its Coupon Wheel Campaign feature to create a spin-to-win email capture optin.
You also get other exciting features, as OptinMonster is the leading plugin to convert website visitors into leads, increase sales, and boost your email list:
Coupon wheel campaigns
You get on-site retargeting
Real-time personalization options
Geolocation targeting
Adblock detection
ManyChat integration
Use its Exit Intent Technology
Custom branding option
Advanced reporting
Follow-up campaigns
Once your account is ready, you'll need to add the OptinMonster API key. You can follow this simple guide on how to install OptinMonster WordPress plugin to generate and add the API key to your site.
Step 3: Create a New Campaign
After signing up for OptinMonster's Growth plan and setting up the plugin, you are now ready to create your spin-to-win campaign.
From your OptinMonster WordPress plugin, click Create New Campaign.

To create a spin-to-win email capture optin, select Fullscreen option.

And then select any one of the 3 spinning wheel templates offered by OptinMonster.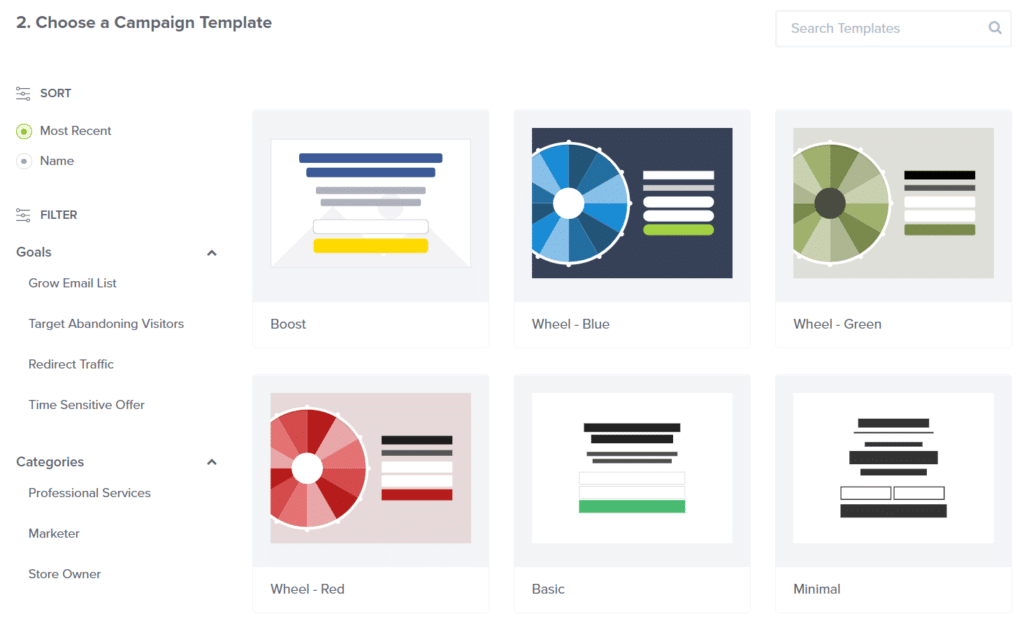 After selecting a template of your choice, give your campaign a name, select a website where you want the spin to win email capture optin to appear, and click Start Building.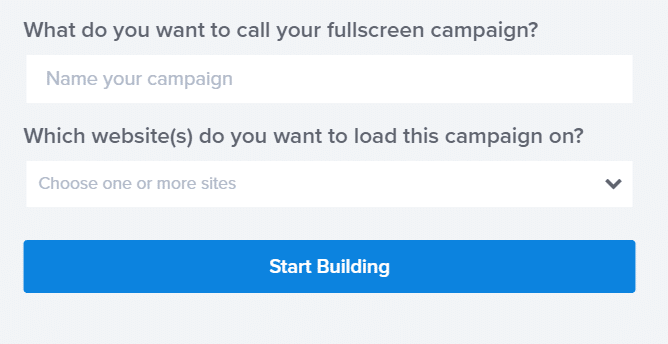 Step 4: Change the Design of Spin-to-Win Wheel
Next, you can change the design of your spinning wheel email optin popup.
Thanks to OptinMonster's simple drag and drop builder, you can customize the design, change colors and fonts, resize the wheel, and place the text where you want. You can also add your own logo in the center.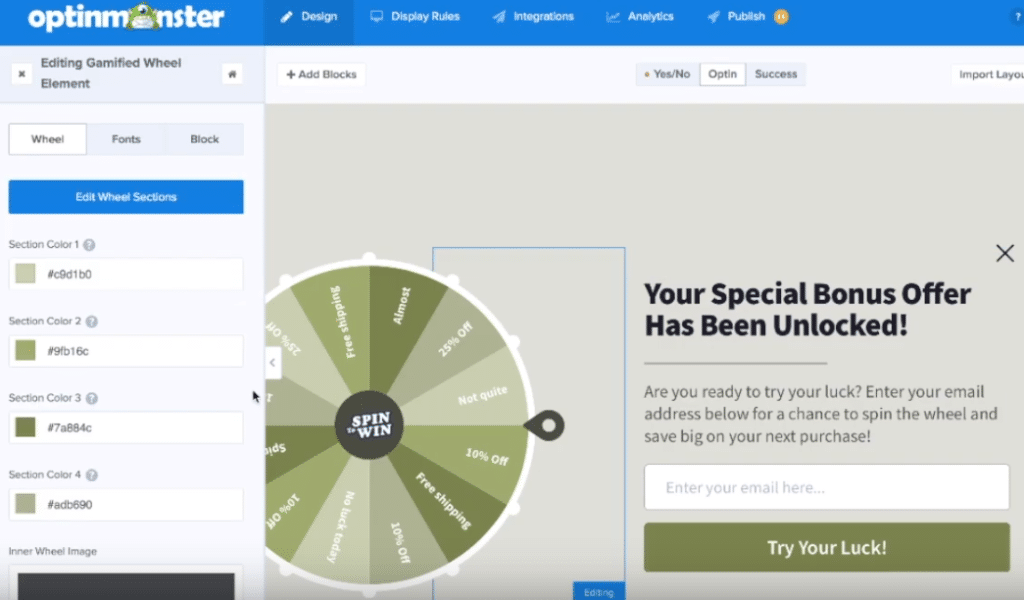 And if you click Edit Wheel Sections, you can customize different options on the wheel. For instance, you can select who can win, what are their chances of winning, change the text on the wheel, and which coupon code should appear.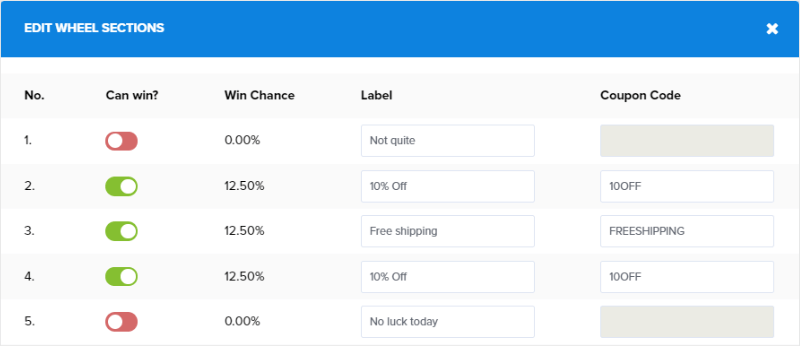 Step 5: Set Display Rules for Your Spinning Wheel
In the next step, you can change the display rules of your email capture optin. Under the display rules, you will get three options: Conditions, Actions, and Summary.
OptinMonster offers different conditions that you can set. You can make the spin-to-win wheel to appear after a certain time on page, time on site, when an exit is detected, when a visitor clicked MonsterLink, distance scrolled, and more.
You can even use geolocation targeting to limit your giveaways to a specific location. For instance, we set our spinning wheel to appear on our website when OptinMonster detects exit and set the exit intent sensitivity to Medium.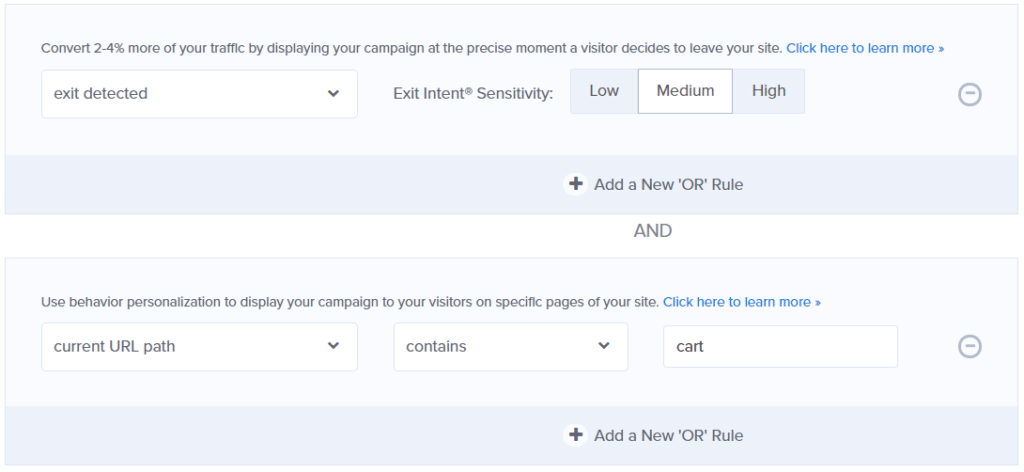 We then selected the page where the email capture optin will appear by mentioning a URL path that contains cart.
So, using its powerful exit-intent technology, you can run your gamification wheel to convert leaving visitors into subscribers.
You'll then have to select the actions for your spinning wheel. There are two options, either Optin or Success. Since we're running a spin-to-win wheel, select Optin and click Next Step.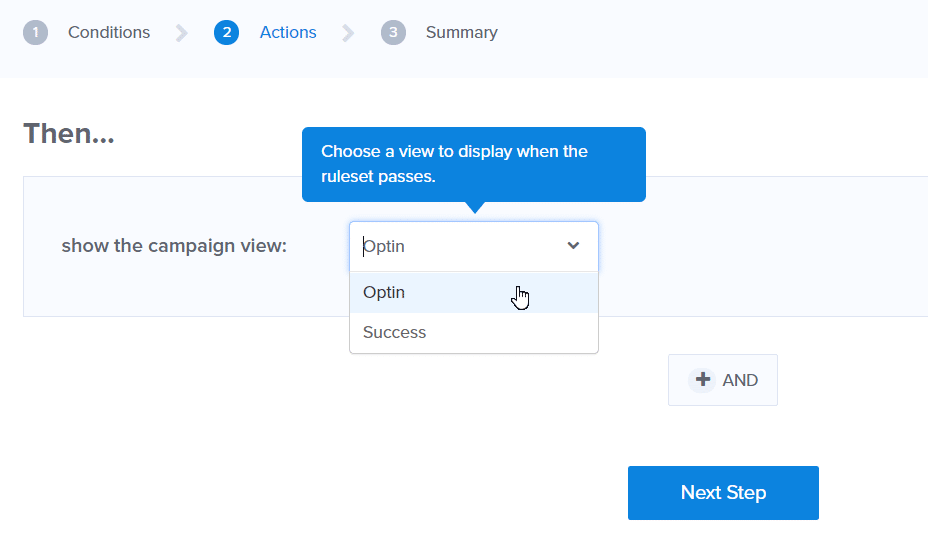 Lastly, view the summary of your display rules before moving on. You can edit the rules right there and then if you think anything needs changing.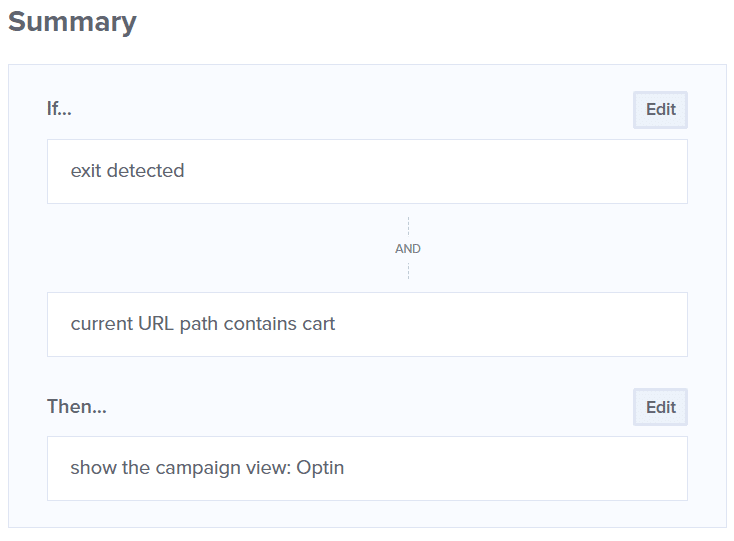 Step 6: Publish Your Spinning Wheel Email Optin
You're now on the last step, and that's to publish your amazing coupon wheel optin. Make sure you toggle the Status to Live. Then select your website and preview the spin-to-win optin. You can also add more websites to run the coupon wheel.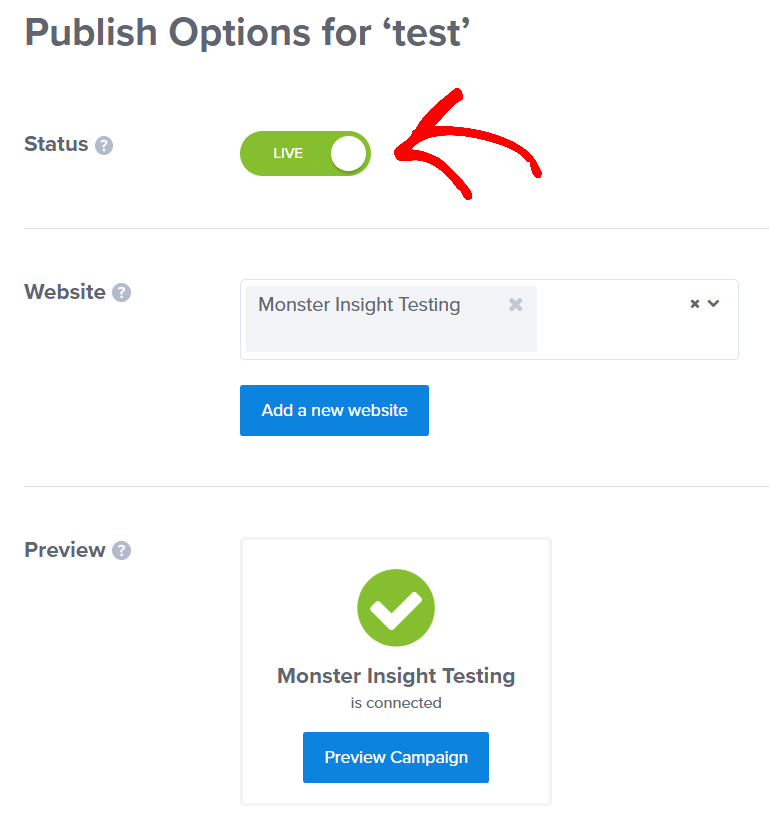 Next, OptinMonster offers different platforms on which you can easily publish your spinning wheel game. You can use the embed code to copy and paste it anywhere on any website or use OptinMonster's Shareable MonsterLink to view your campaign instantly.

If you're using WordPress, then you can take your campaign live directly from your website's dashboard. Simply go to Campaigns in OptinMonster plugin, click Edit Output Settings, change the settings as per your needs, and click Save Settings.
Your campaign should now be live!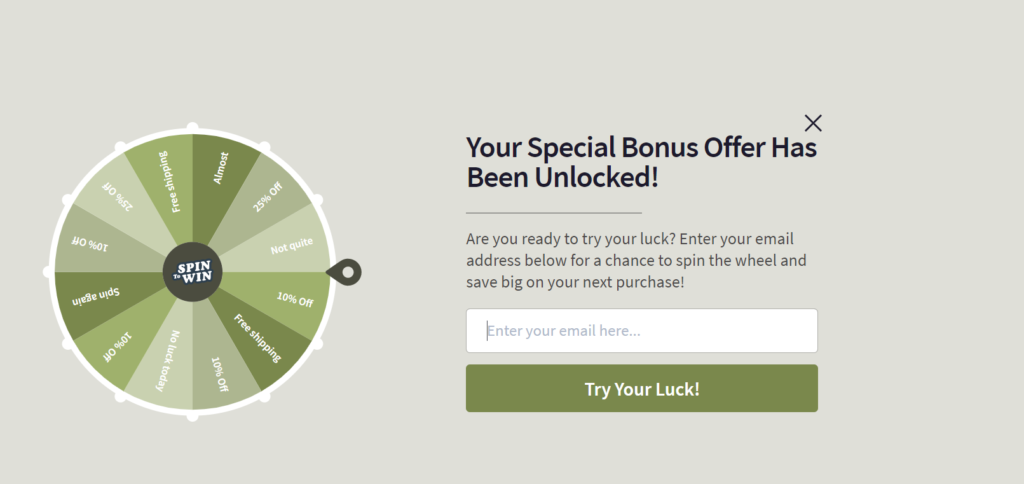 Congratulations!
You've successfully created a spin the wheel email capture optin for your website.
Thanks to OptinMonster, the best WordPress spinning wheel plugin, you can now grow your email list with attractive gamification giveaways.
We hope that you like our article on how to create a spin-to-win email capture optin. You might also want to check out our useful guide on how to properly set up Google Analytics in WordPress.
And don't forget to follow us on Twitter and Facebook for more interesting tutorials.