Do you want to track your website traffic with Google Analytics? If you use Google Analytics to track your website traffic, you'll get to see all kinds of data like how your visitors found your site, how long they spent on your site, and what pages they viewed.
When you know how your visitors found you, whether through Google search, social media, or other channel, you can make impactful decisions to help you grow your traffic.
In this article, we'll show you how to track website traffic using Google Analytics.
Jump to a section:
Start Tracking Website Traffic Today!
Why Track Website Traffic Sources?
As a marketer, there are many benefits to knowing the source of your visitors. Here are some reasons for tracking your traffic sources:
Better Understand Your Visitors – Tracking traffic sources can help you identify your visitors' geographic location and which channels they use, so you can better understand them and provide targeted messages
Measure Your Marketing Campaigns – If a campaign is built around driving traffic, then you can measure its effectiveness by tracking different traffic sources
Focus on Channels for Best Results – By identifying which channel performed the best in getting visitors to your site, you can focus on it more to get even better results
Find New Content Topics – People from different channels might be interested in specific topics, so you can discover new content ideas by checking your traffic sources for each page
Identify Traffic Gaps on Your Site – You can identify which channel doesn't perform well in attracting visitors, so you can optimize it
Now, are you ready to see where your site traffic is coming from on your WordPress website?
Video Tutorial
If you want to read the written steps, then continue reading. We'll guide you on how to track your web traffic sources.
How to Track Your Website Traffic Sources in WordPress
When it comes to using Google Analytics, many users find it overwhelming. That's because it requires some code for setting it up on your WordPress site.
Plus, you'll have to be an Analytics expert to find the right report and get the data that you need for making decisions.
So, a much easier way of viewing your traffic sources in WordPress is through MonsterInsights.
It's the best WordPress plugin for Google Analytics and it makes using Analytics very easy. You don't have to worry about hiring a developer or someone who knows analytics.
The plugin helps add Google Analytics to your website and then displays the most useful reports right inside your WordPress dashboard.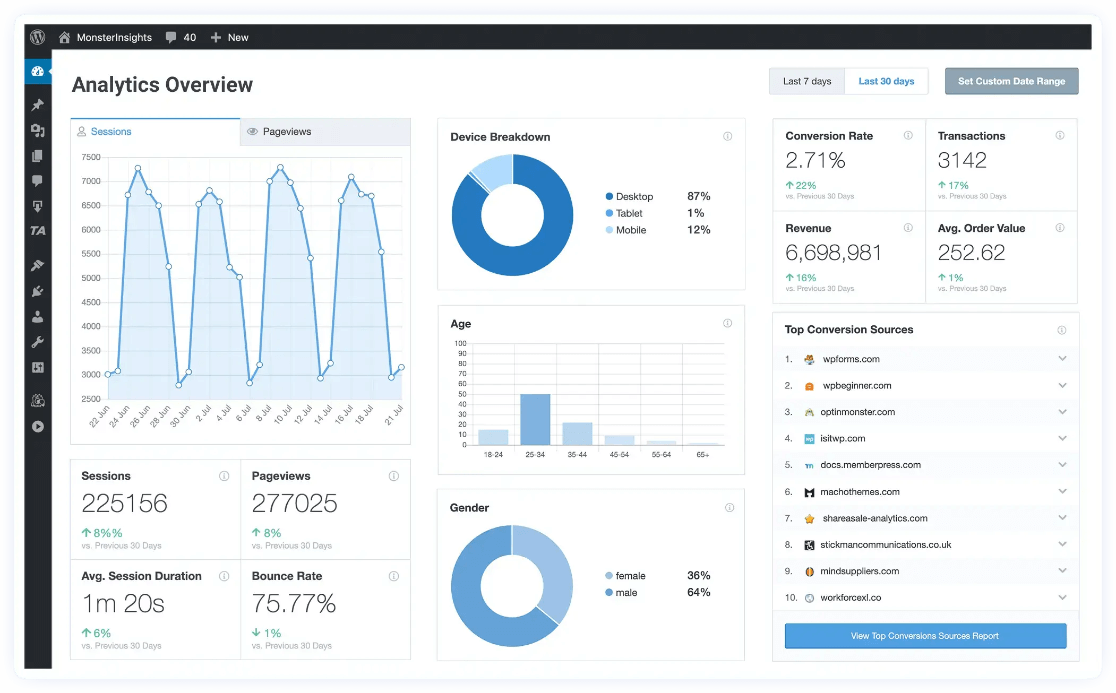 Once you've installed MonsterInsights on your website, you can see where your traffic is coming from. Let's look at each report that you can use to track website traffic.
Overview Report
To start, go to Insights » Reports » Overview. Here you can see the overall performance of your website.
If you scroll down, you can see the Device Breakdown report that shows which device your visitors use to view your website.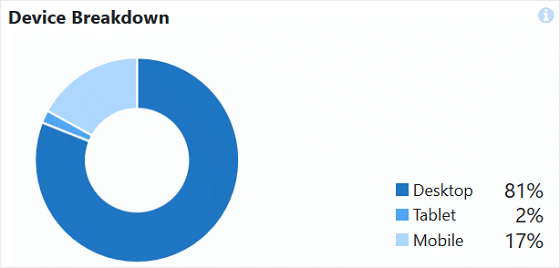 In the Overview report, you can also view the Top 10 Countries that your users are from. Using this report, you can create campaigns, messages, and content according to different regions.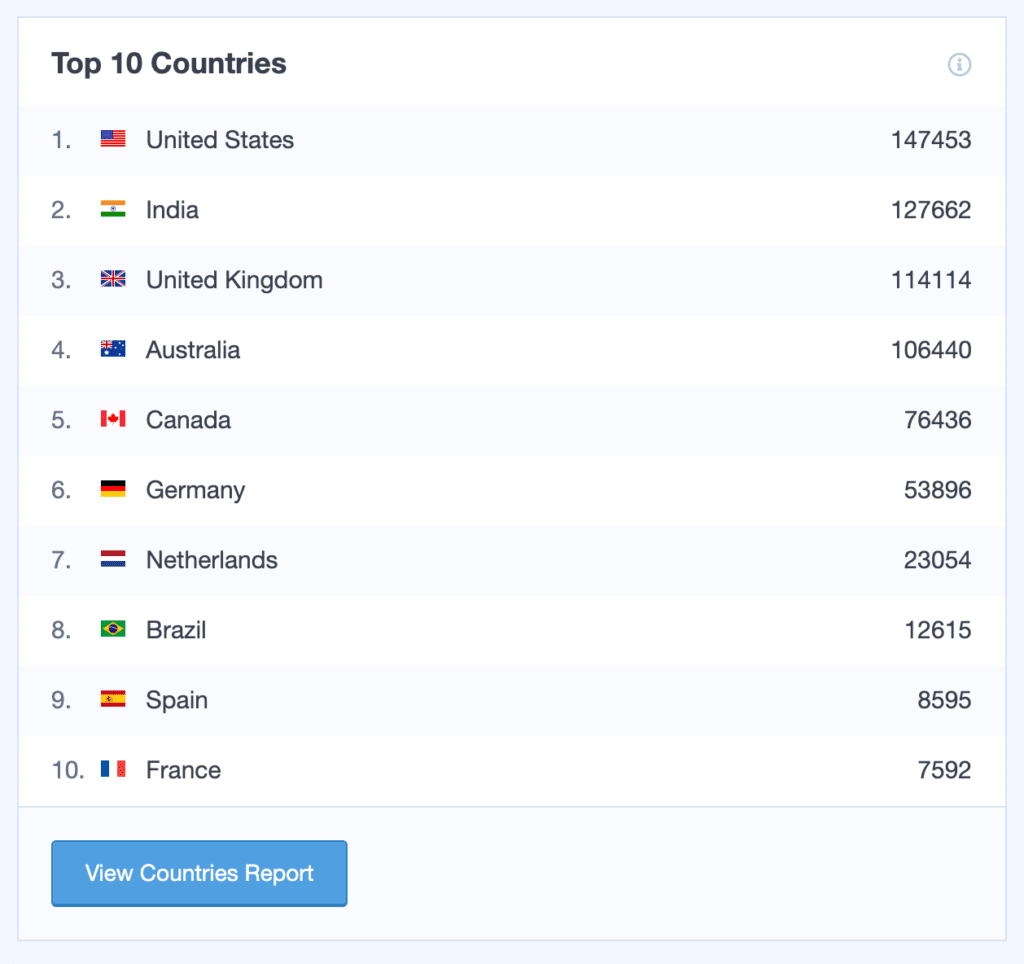 And next to countries, you can see the Top 10 Referrals report. This shows websites that send the most traffic to your site. You can form partnerships with these sites and continue to grow your traffic.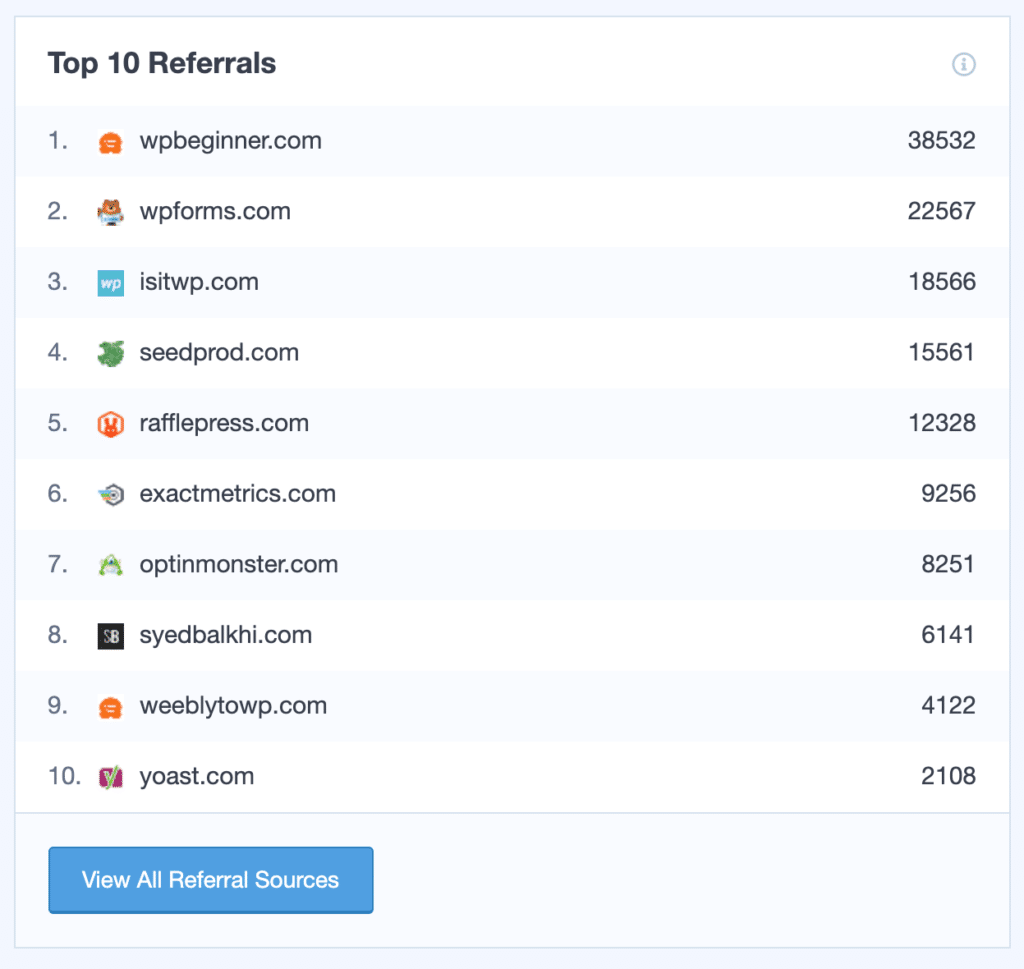 Search Console Report
Now, if your site gets some organic traffic, you should know which keywords your site is ranked for. To find that out, MonsterInsights offers a Search Console Report.
It shows the top 50 Google search terms for your website along with clicks, impressions, CTR (click-through-rate), and average position.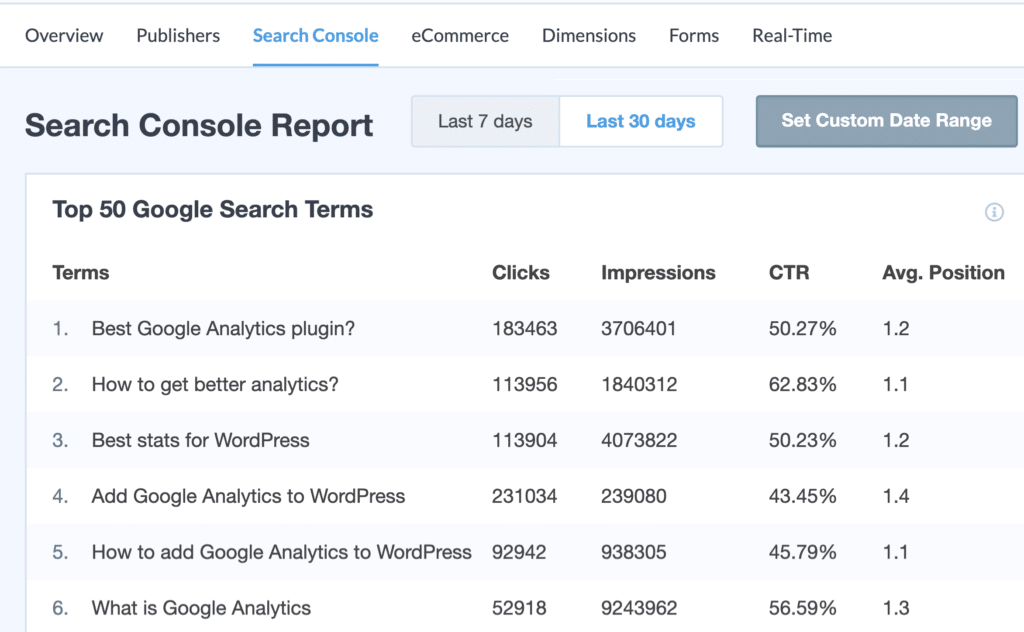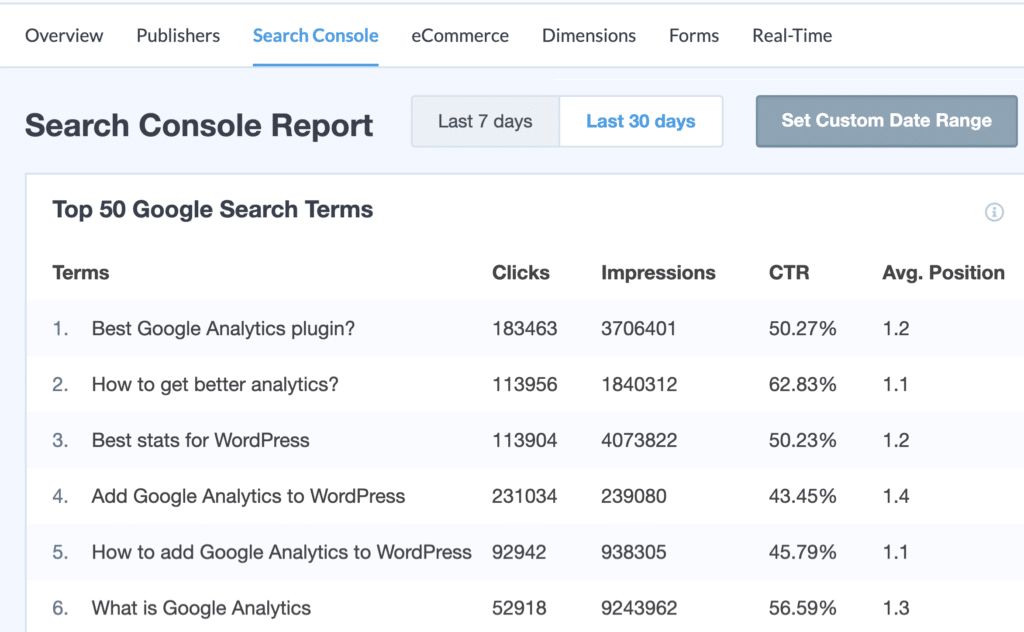 Since these are keywords that bring you your most organic traffic, you can do a keyword search and find similar search terms to optimize for on your site. You can even use them to think of new content ideas to boost your organic traffic.
You can go through our guide on how to configure your WordPress site with Google Search Console.
eCommerce Report
Do you have an eCommerce store and want to know where your most converting traffic comes from? If yes, then the MonsterInsights eCommerce report can help you out.
It shows you the Top Conversion Sources. You can see which websites send traffic that converts in your online store. Since people arriving from these websites buy your products, you can offer exclusive discounts and deals to make more money.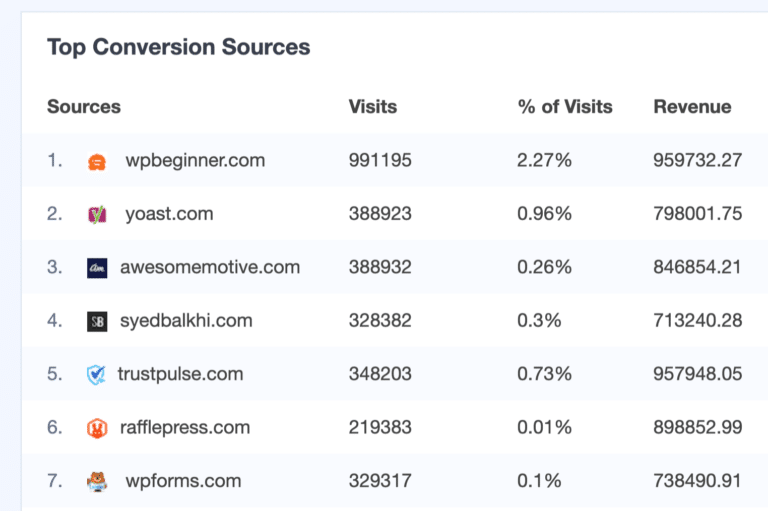 Realtime Report
The last report you can view for traffic stats is the realtime report. It shows you where your visitors are coming from in real-time. You can see traffic from referral sources, countries, and cities that are currently on your WordPress site.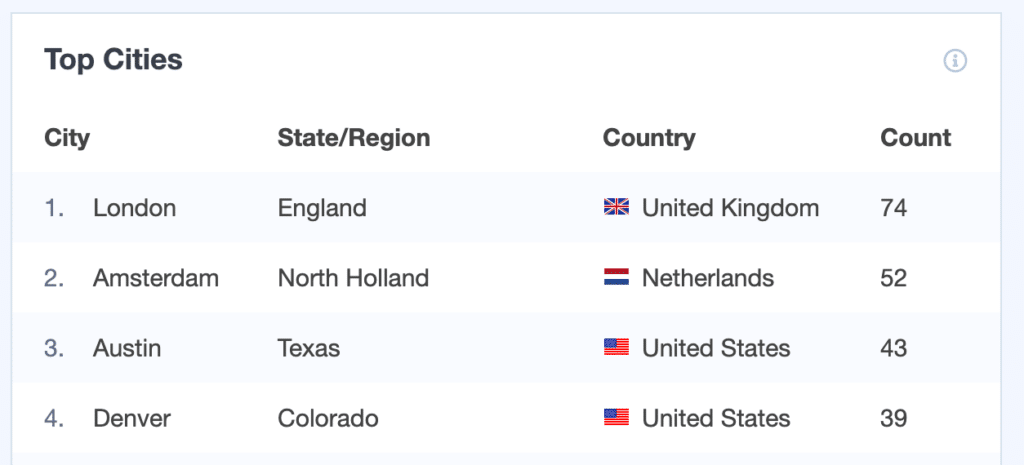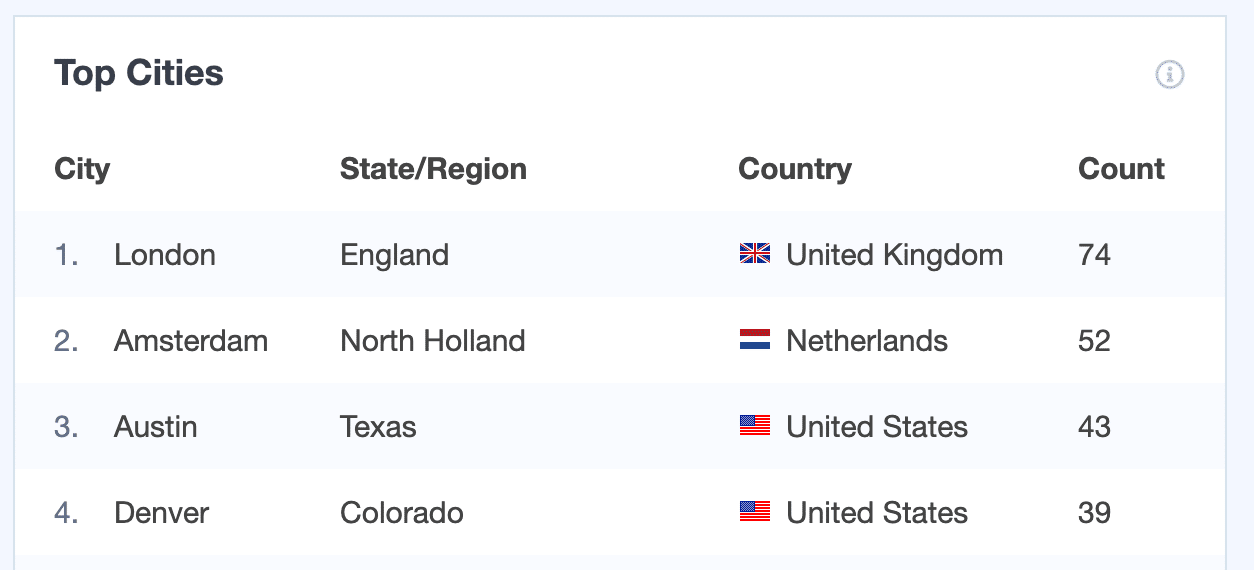 This report is useful to check website traffic if you've just launched a new product or a marketing campaign and want to see where visitors are coming from.
With that, let's see how to find traffic sources in Google Analytics.
How to Track Website Traffic in Google Analytics
MonsterInsights offers user-friendly reports inside your dashboard, so you don't have to leave your site. But what if you want to see where traffic is coming from in Google Analytics?
There are many reports that you can use to track website traffic sources. Having said that, it's very easy to get lost.
To help you find the data that matters, you can start by logging in to your Google Analytics account.
If you're using Universal Analytics, head to Acquisition » All Traffic » Channels.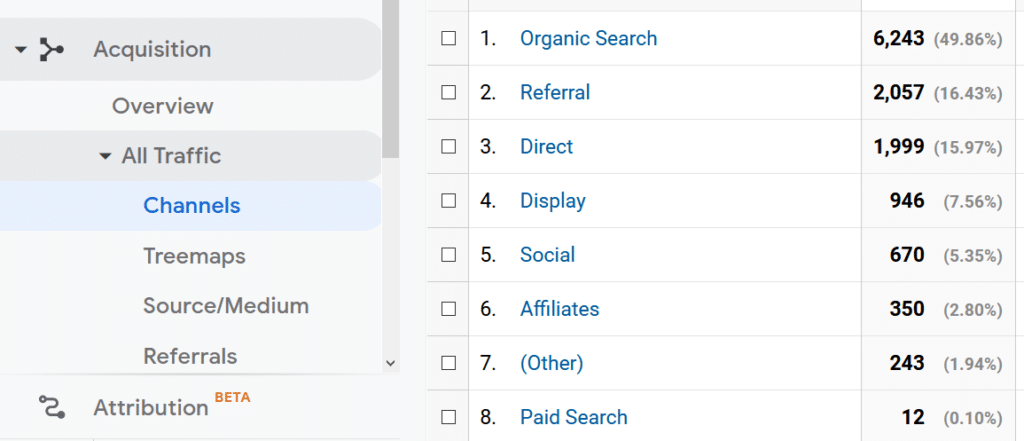 If you're using Google Analytics 4 (GA4), go to Acquisition » Traffic Acquisition:

In this Google Analytics web traffic report, you can see which channels are driving the most traffic to your website. For instance, you can see in both examples that Organic Search has the highest number of visitors. These are the people that come from search engines.
You can already see the medium in your GA4 report. If you want more detail in Universal Analytics, you can go to the Source/Medium report under All Traffic. It will narrow down the source of your traffic along with the channel.
For example, the analytics report will show which search engine generated the highest traffic (in this case Google).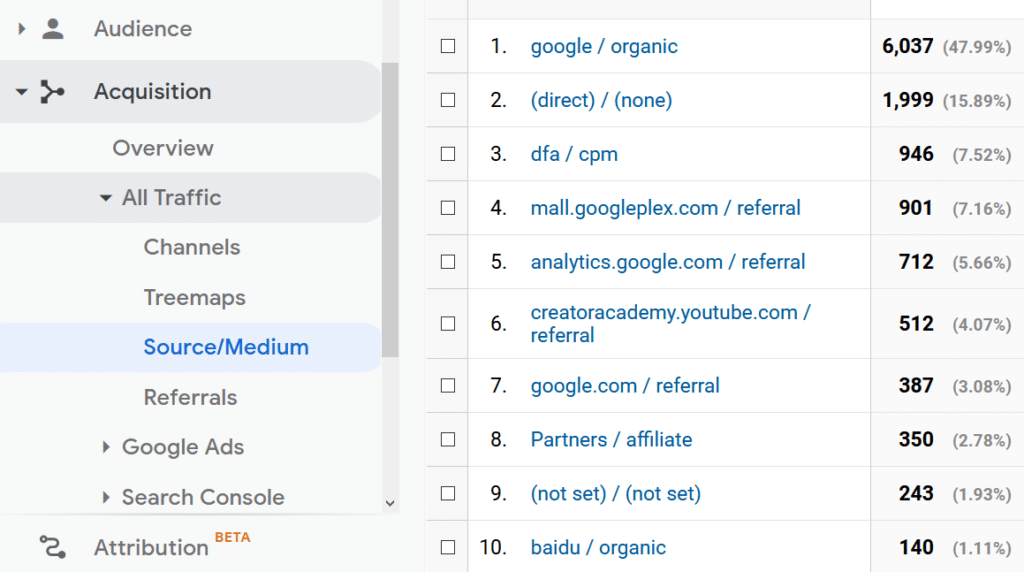 Now that you know how to see where traffic is coming from for your overall website, what if you want to use Google Analytics to find traffic for specific pages?
Google Analytics Traffic Sources for a Specific Page
To find traffic sources for a specific page, log into your Universal Google Analytics account (or jump to the GA4 instructions) and navigate to Behavior » Site Content. From there you can choose whether to view the traffic sources of all of your website's pages, the landing pages, or the exit pages.
In this example, we'll show you how to view the traffic sources of your site's landing pages, which is important because these are the pages visitors landed on first when visiting your site.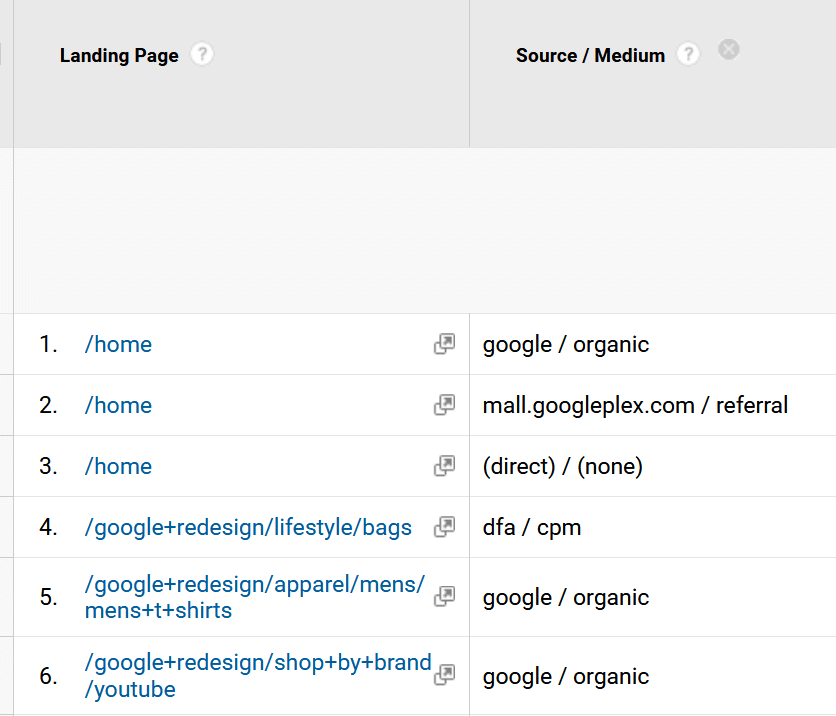 Next, use Secondary Dimension and search for Source/Medium, which is under Acquisition.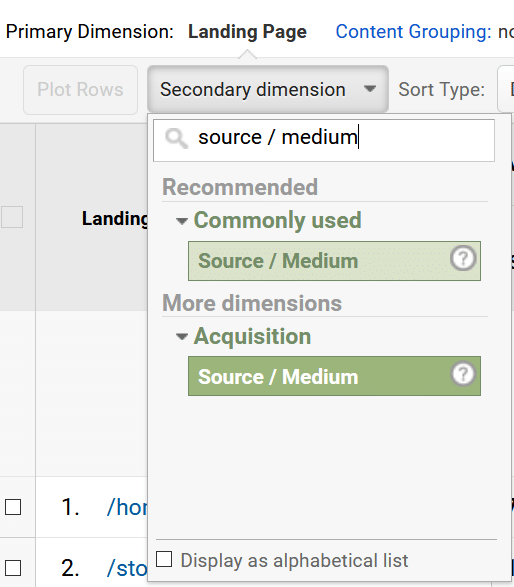 Now you'll see a list of your website's landing pages, complete with the source of your site's traffic, which is where visitors were before clicking on your website, and the medium, which is how your visitors arrived at your website.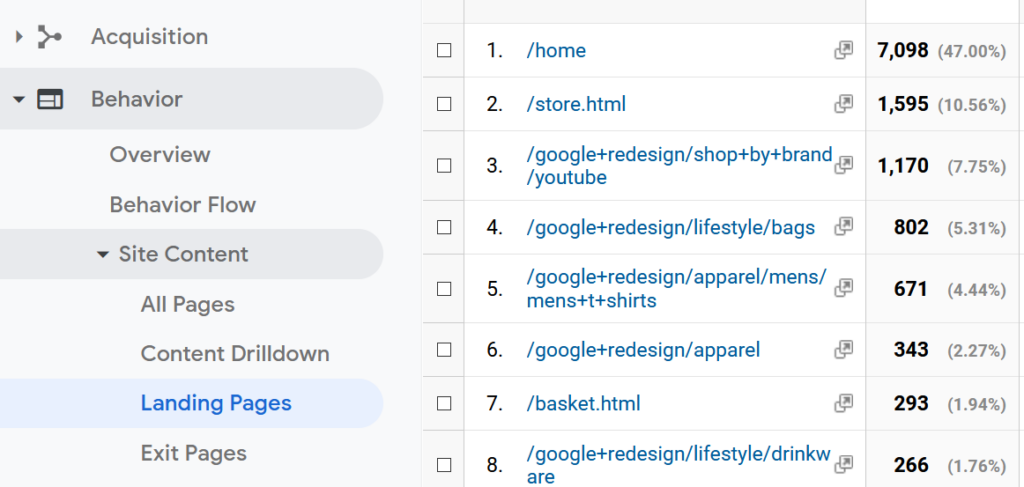 You now know how to use Google Analytics and find traffic sources for your website.
GA4 Instructions
To find site traffic sources for a specific page in Google Analytics 4, navigate to Engagement » Pages and Screens. In the table, you'll see both Views and Users, so you can see how many views each page got, and how many users completed those views.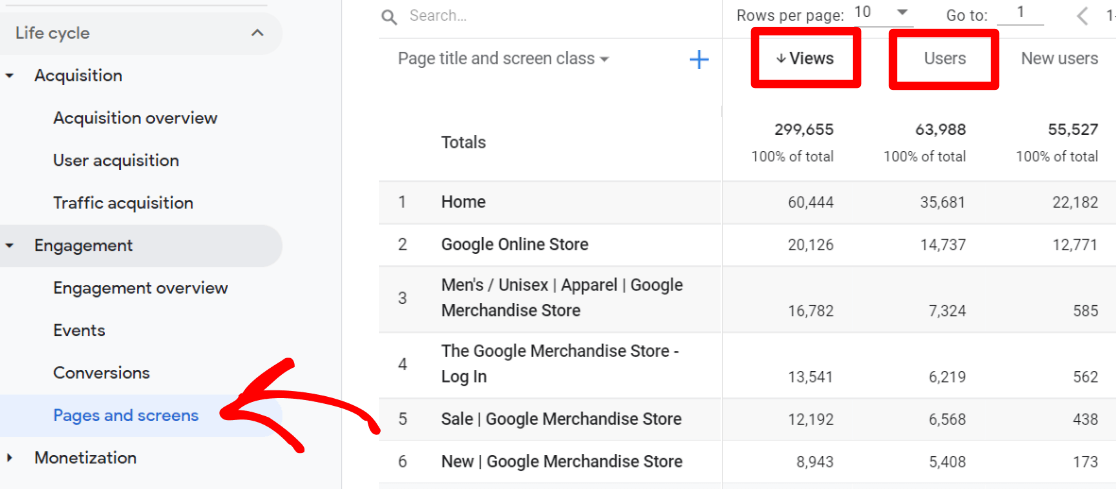 To add source/medium to the report, click the plus icon above the Totals column. In the dropdown, choose Session Acquisition then Session source / medium.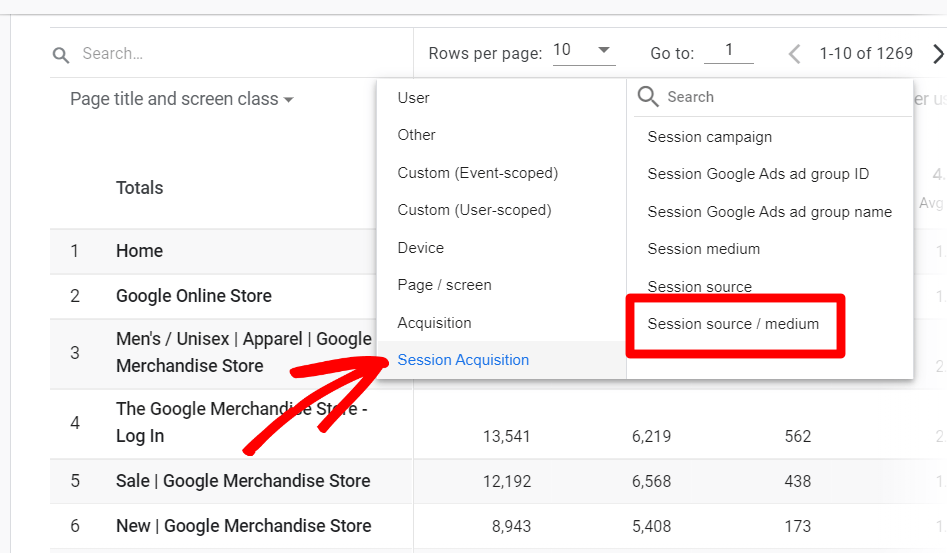 Now, you have a table of your pages by source/medium and views: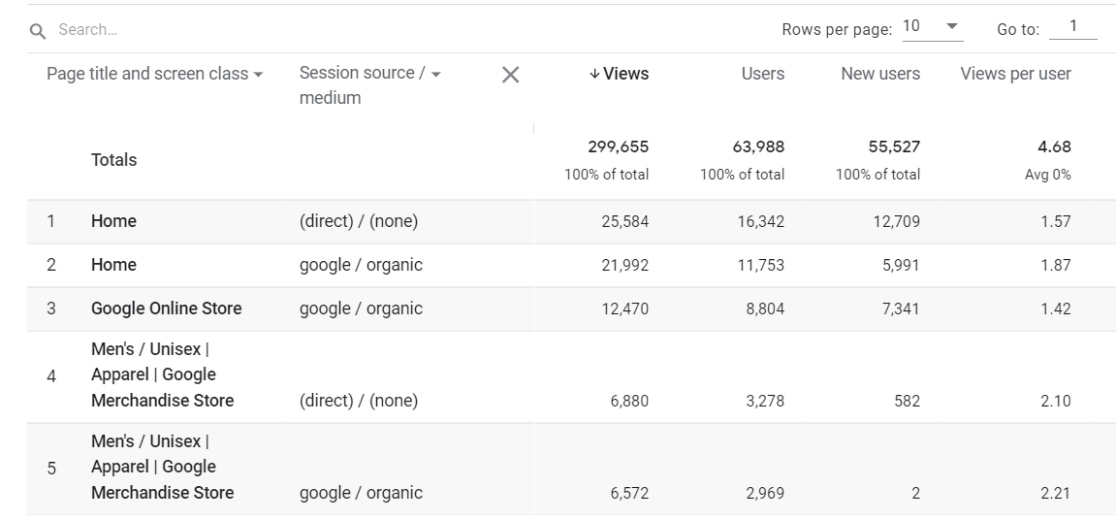 To change this table to view your landing pages by source/medium, scroll over the the Event count column. Click the down arrow next to All Events and select first_visit.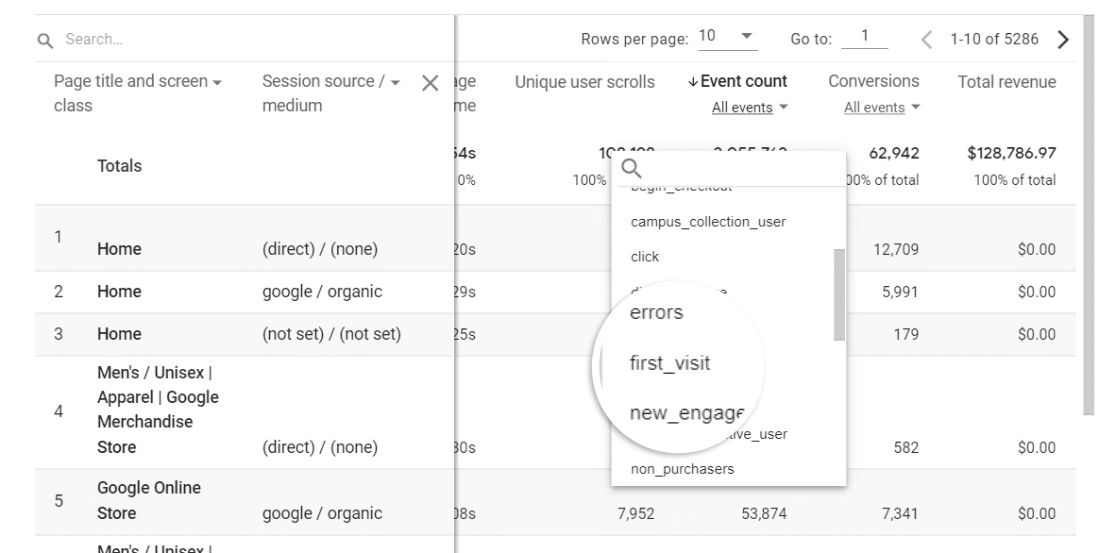 Then, click the Event count column title to sort by landing page visit events. Now you have your landing page visits report by source/medium.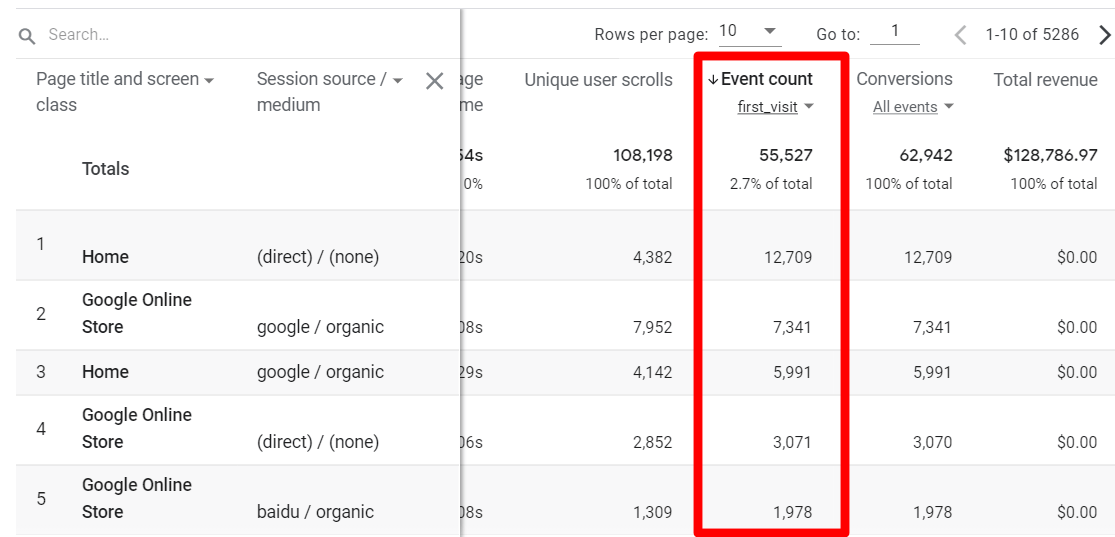 Website Traffic Tracking Quick Tips
Start Tracking Website Traffic Today!
And that's it!
We hope you liked our article on how to track website traffic using Google Analytics. You can also go through our article on why your business needs Google Analytics starting right now.
Don't forget to follow us on Twitter, Facebook and YouTube for more Google Analytics tutorials.