Are you looking to test your WordPress website's speed and work on making it faster?
It's an important thing to think about, with Google's Core Web Vitals now in effect for organic rankings. That means you need a fast website to compete in search engine rankings.
So, how do you run a WordPress website speed test? What are the best tools for gaining recommendations for better speed? Read on for our top picks.
About Core Web Vitals + Website Speed
First, let's talk a little bit about why website speed is so important now.
In 2021, Google rolled out a search algorithm update that includes Core Web Vitals. Core Web Vitals is a set of three metrics that measure the speed and user-friendliness of your website.
If your website scores lower on Core Web Vitals than your competitors, they may be listed before you in search engine results.
So, a fast website is incredibly important to give you the advantage.
Here are 5 tools that will help you on your quest to speed up your site and score top marks on Core Web Vitals.
5 Top WordPress Speed Test Plugins & Tools
Let's jump into the best plugins and tools to help you assess your website's speed.
MonsterInsights is the best Google Analytics WordPress plugin. It helps set up analytics without editing code at all. You can also use the plugin to add advanced tracking features like eCommerce tracking, GDPR compliance, form conversion tracking, and more in just a few clicks.
Plus, it also regularly assesses your website's speed and includes a report for you, right in your WordPress dashboard.
To start, download and install the MonsterInsights plugin at the Plus license level or above. Next, connect Google Analytics to WordPress using the setup wizard. For more details, refer to our tutorial on how to add Google Analytics to your WordPress site.
Once you have it set up, navigate to Insights » Reports » Site Speed.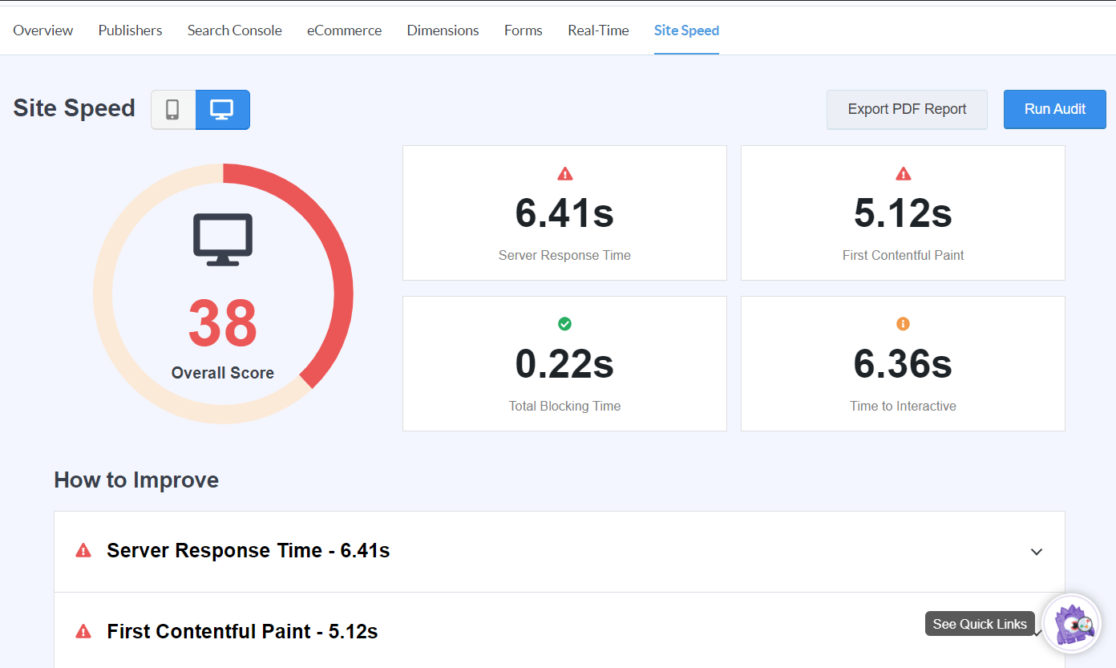 Here, you'll see your overall score, loading time by seconds, and a "How to Improve" section for your developer to use. You can use the toggle in the upper left to look at your mobile speed or your desktop speed.
Get Started with MonsterInsights Today!
IsItWP is a popular tool you can use to find out if a website is using WordPress, plus what theme it's using and more. Beyond that, they have a whole set of tools, guides and resources on WordPress, including a WordPress website speed test tool.
Just input your website's URL to get a report with load time, a performance grade, and more. Plus, it'll give you lots of suggestions for improving your pagespeed.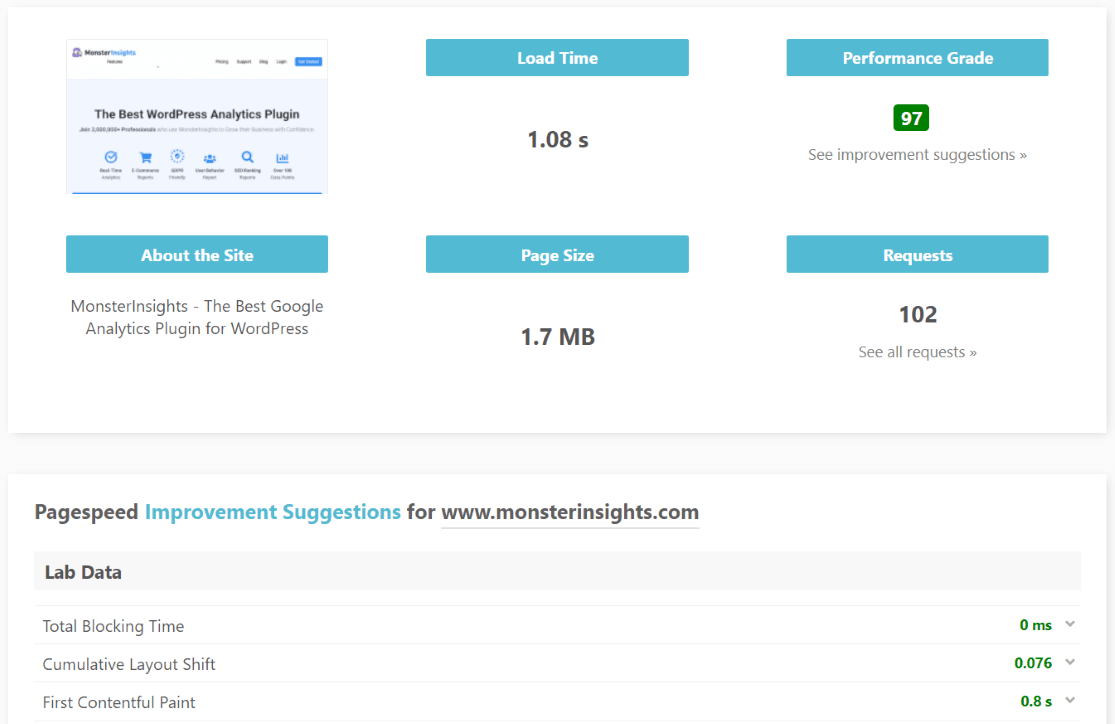 Using Pagespeed Insights by Google is simple: Just paste your URL into the tool and click Analyze.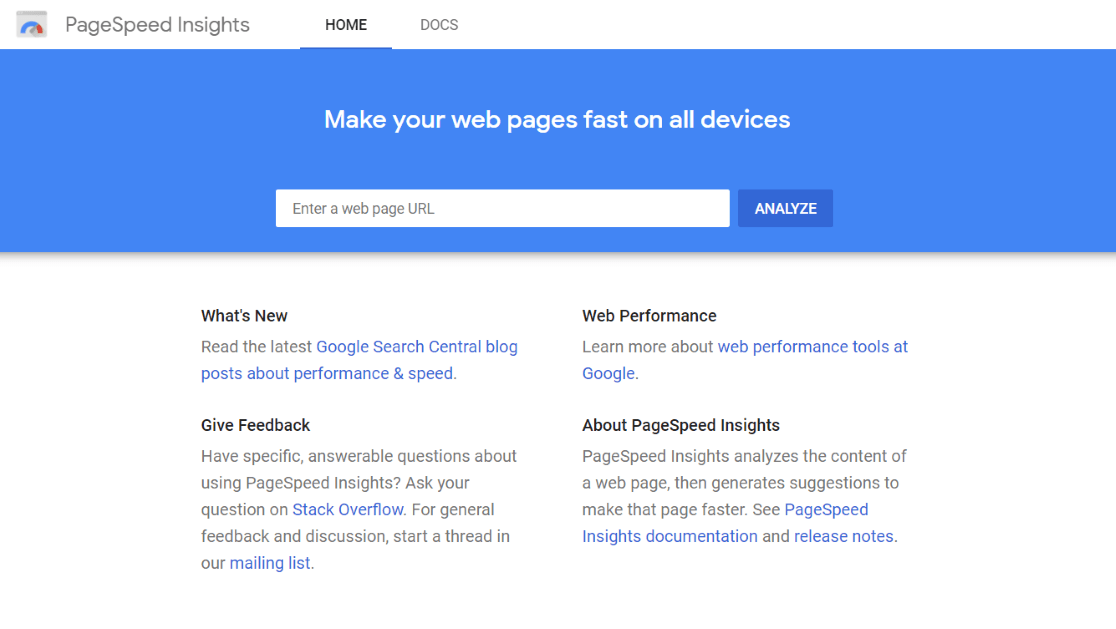 The tool will then give you an overall number between 1 and 100 to rate your page's speed, and will break down what it is about your speed that needs improvement (you can send this information to your developer).
Also, make sure to toggle to Desktop in the upper left corner to see your speed there too. The tool will show your Mobile speed first by default.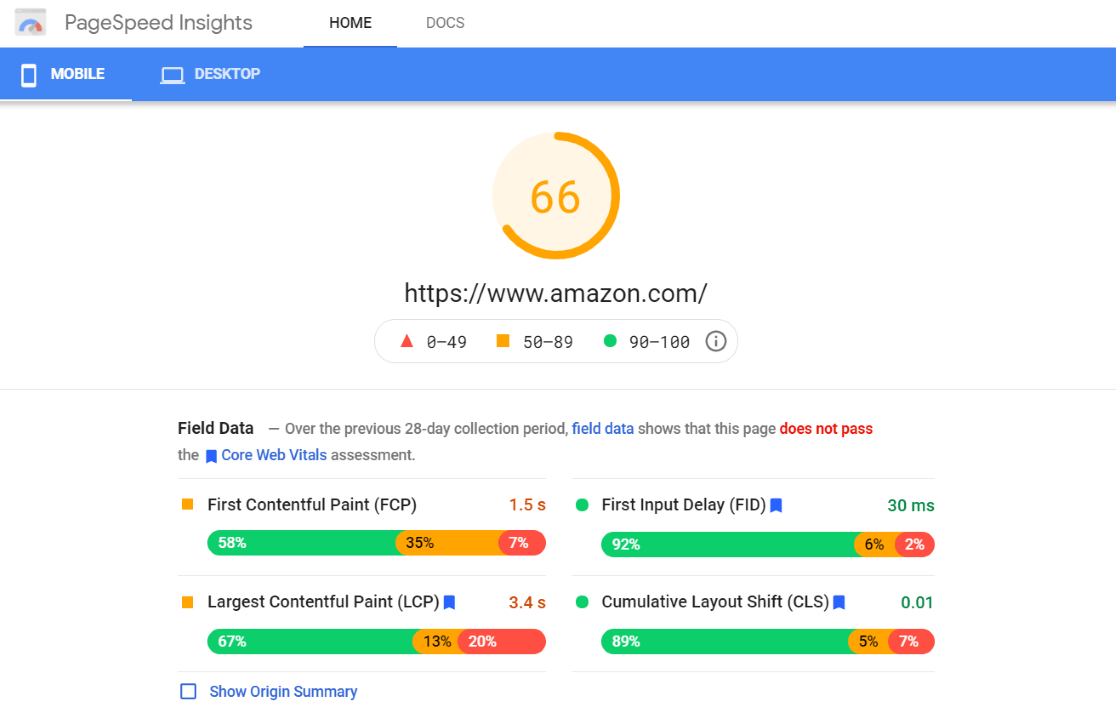 SiteGround is a popular WordPress hosting provider with their own WordPress tools. Their SG Optimizer plugin offers caching and other optimization tools, plus a speed test tool.
To find the speed test tool, install the SG Optimizer plugin. When you have it installed, locate SG Optimizer in your sidebar navigation. Then, you'll find the Speed Test tool in the tabs:
Once you click on the Speed Test tab, you can analyze any page on your site. It'll give you an overall score and suggestions for making your site faster: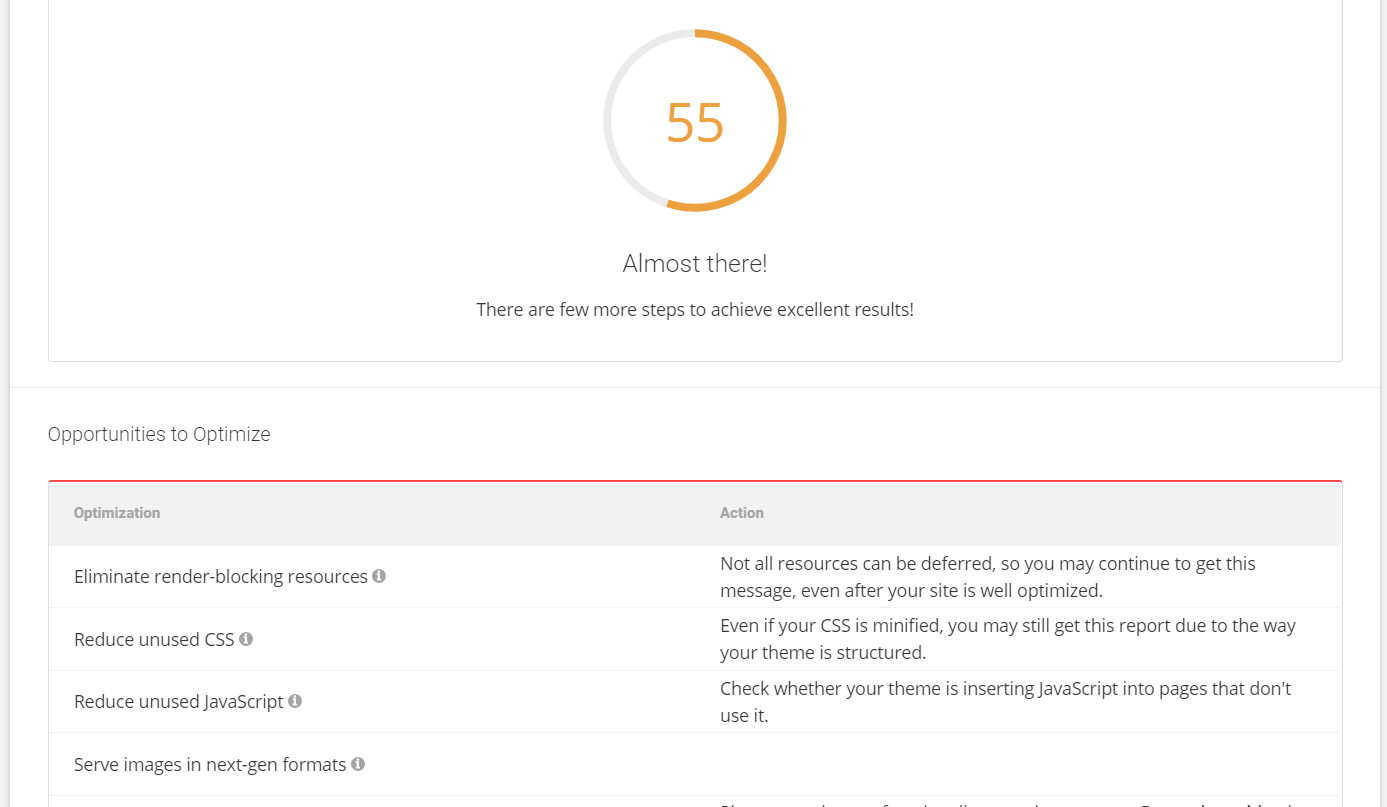 Lighthouse is a Google Chrome tool that's a bit more advanced than the other tools we've been looking at. It's built for developers. To access it, open dev tools in Google Chrome and go to the Lighthouse tab: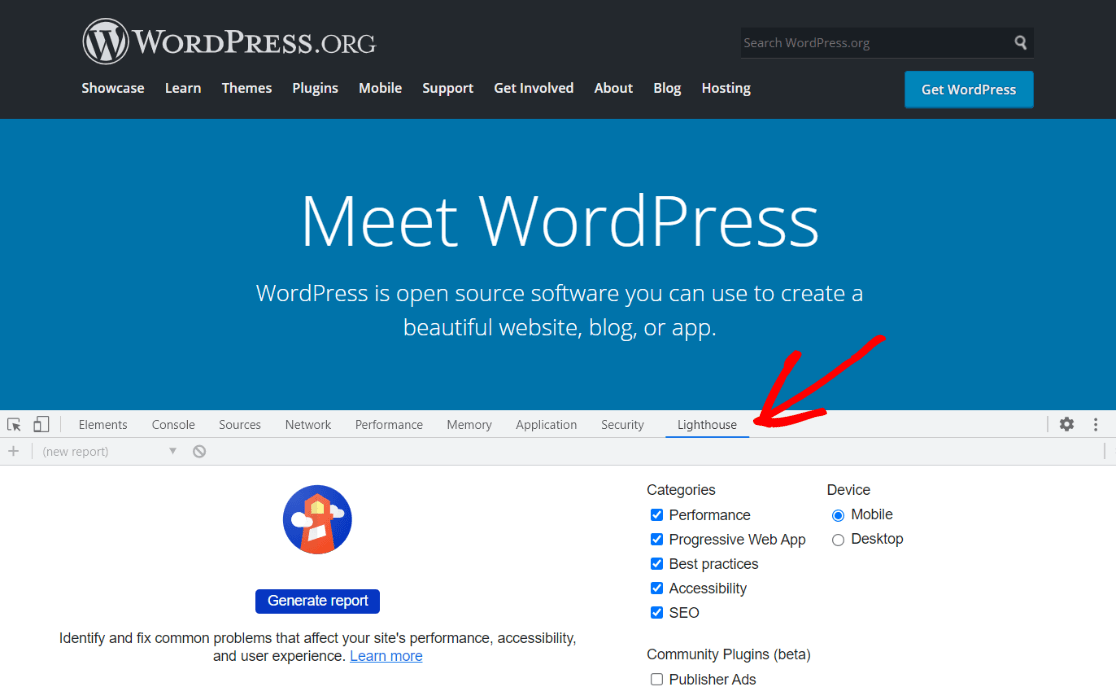 What's cool about this specific report is that it gives you scores across multiple areas of your site: Performance, Accessibility, Best Practices, SEO, and Progressive Web App.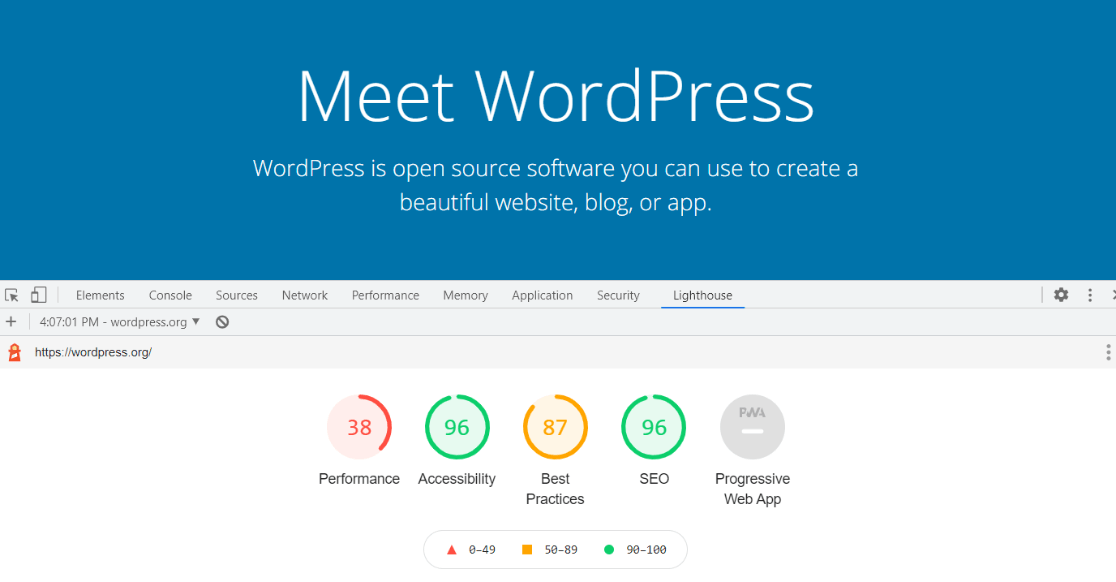 When you scroll down, you'll get a list of opportunities for optimizing each of the areas.
That's it! We hope you find this list of WordPress site speed testing tools helpful.
Looking for the best cache plugin to speed up your WordPress website? Check out 6 Best WordPress Cache Plugins Compared.
Wondering what else MonsterInsights can do for you beyond speed testing? Read MonsterInsights vs. Google Analytics – What's the Real Difference?.
For more great WordPress plugins we recommend, read 45 Best WordPress Plugins.
And don't forget to follow us on Twitter, Facebook and YouTube for more helpful Google Analytics tips.