WordPress site owners have a huge number of choices when it comes to search engine optimization (SEO) plugins and tools. Check out our roundup below and find the best SEO plugins for WordPress to boost your site and page rankings. You'll also discover the best SEO tools to use outside of WordPress for keyword research, image optimization, and link analysis.
Adding the right set of SEO plugins and tools to your WordPress website is the easiest way to get more organic traffic from search engines like Google. Even beginners without a lot of experience can get great results.
In this article, we'll share the best SEO plugins and tools for WordPress to skyrocket organic traffic and new visitors. Let's get started!
The Best SEO Plugins & Tools for WordPress
The Overall Best WordPress SEO Plugins
All in One SEO (AIOSEO) is the best WordPress SEO plugin to optimize your entire site. It helps you improve your web pages' rankings and grow organic traffic. The plugin offers an amazing set of features that makes all your SEO tasks quicker and easier.
AIOSEO automatically generates XML sitemaps for your website and submits them to search engines. That ensures that search crawlers properly find and index your website content.
Every page on your site receives a TruSEO score from AIOSEO. This gives you a quick look at potential problems and tells you how to fix them.
With AIOSEO, you can easily optimize on-page SEO by adding and improving meta titles, descriptions, keywords, and more. A robots.txt editor lets you tell Google and other search bots how to crawl your site.
Aside from that, you also get support for local SEO and rich snippets schema, which helps you get more clicks and traffic.
And it's easy to rank for related or additional keyphrases with AIOSEO's Semrush integration. With the click of a button, you can discover additional keyphrases, see their search volume and trend, and add them straight into your content.
For eCommerce site owners, you can optimize your WooCommerce store and improve rankings for product pages and categories with AIOSEO.
Just like the name suggests, AIOSEO really is the best all-in-one SEO tool!
Get started with All in One SEO (AIOSEO) today!
Yoast SEO is another strong choice as one of the best SEO plugins for WordPress. The plugin provides you with a massive range of SEO features and options to optimize your site for search engines and for your site's visitors.
It helps you create better content overall with its Content and SEO analysis feature. It checks every piece of content you write and shows you how it looks from the SEO and readability points of view. This helps to make both the search engine bots and your human readers happy!
Not only can you optimize your site's on-page content for readability, but you can also do the following:
Create and submit a Google XML sitemap for better site indexing
Add a focus keyword for your content
Edit the meta description that appears in search results
Find out how optimized your entire site is and get suggestions for improvement
Set canonical URLs to avoid duplicate content and Google penalties
Control site breadcrumbs for better site navigation and site indexing
Additionally, it has several other more advanced features like internal linking suggestions, multiple focus keywords, Google Search Console integration, and much more.
If you want to know the differences between Yoast and All in One SEO, check out All in One SEO vs Yoast: Which SEO Plugin is Best?
Get started with Yoast SEO today!
Just as the name implies, SEOPress is a popular SEO plugin for WordPress. It has a free version with basic SEO tools for optimizing titles, meta descriptions, and other content. SEOPress Free can also generate XML sitemaps and set up simple redirects.
The premium versions of SEOPress give you more advanced features such as eCommerce integrations, broken link monitoring, and structured data schema types.
While SEOPress isn't quite as comprehensive in its on-page and off-page SEO functions as some other tools, the free version does include some powerful features.
Get started with SEOPress today!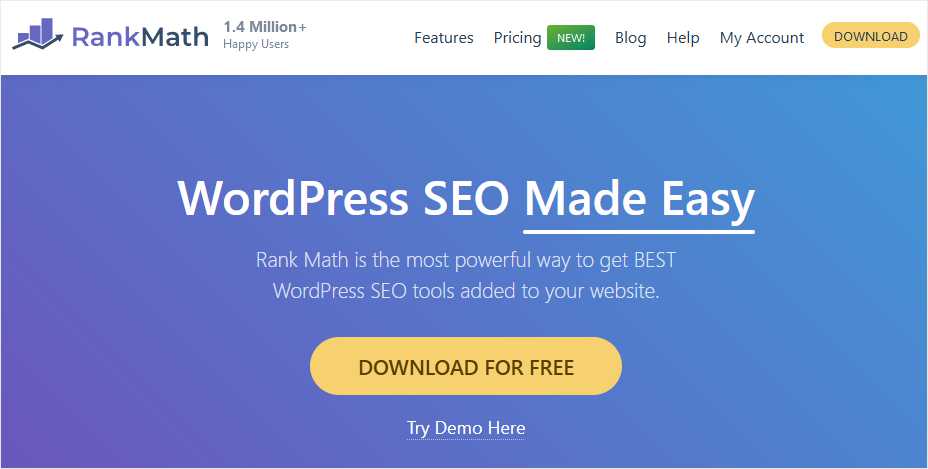 One final alternative in the running for best WordPress SEO plugins is Rank Math. While it offers some similar functions as All in One SEO and Yoast SEO, it has a different look and feel from those tools and some extra features.
Rank Math has the ability to evaluate and improve page titles, meta descriptions, and keyword usage like all the best SEO plugins for WordPress. It also offers an artificial intelligence component called Content AI that analyzes existing web content and gives you suggestions on the fly to improve your content's potential search ranking.
One con of Rank Math's built-in AI tool is that it requires additional credits to use this feature. Every account level, from Free to Agency, includes a certain number of Content AI Credits. When you run out, you must purchase more to continue using Content AI.
If you want to check out one more option for SEO plugins for WordPress, it might be worth a look at Rank Math.
Get started with Rank Math today!
Best SEO Analytics Tools
MonsterInsights is the best SEO plugin for WordPress for tracking your actual website performance and user behavior. It shows you how well your optimization efforts are working to generate more traffic and higher conversion rates.
Google Analytics is the most widely-used analytics tool on the market, but its complexity is a downside for some users. There are so many different options, reports, and settings that it takes a long time to figure out what you need and how to find it.
That's why MonsterInsights is such a valuable tool for WordPress users. It's the most user-friendly, most powerful Google Analytics plugin for WordPress. The plugin allows you to connect your WordPress site with Google Analytics and track your most important website statistics in the WordPress dashboard.
MonsterInsights shows you how visitors behave when they're on your site. This data helps you to improve your SEO strategies and rank better in search results. You can track different metrics including:
For more details, see our guide on 6 important Google Analytics reports for improving SEO.
MonsterInsights also offers connections with All in One SEO, Yoast SEO, and Semrush, so you can see vital SEO information at the same time you're viewing your other site metrics. These integrations give you the ability to track on-page SEO scores, focus keywords, competitor keywords, and more.
Get started with MonsterInsights today!
If you're not using the free and powerful Google Search Console tool, you're missing out on vital data that can help your search result rankings.
Search Console tells you exactly how your website is performing in terms of Google indexing and organic search. For example, you can do the following:
Submit a sitemap and new content for indexing
Hide content from Google indexing to avoid duplicate content
Find and fix malware and spam issues
See which search terms people use to find your web pages
Find out what other sites are linking to your website
See how mobile-friendly your site is and how fast it loads
For details on setting up Search Console, see our guide on how to connect your WordPress site with Google Search Console. Better yet, if you use MonsterInsights you can view highlights in the Search Console Report right in your WordPress dashboard.
Find out your site's top Google search terms along with clicks, impressions, CTR, and average search result position. Here's a sample of the MonsterInsights Search Console Report data: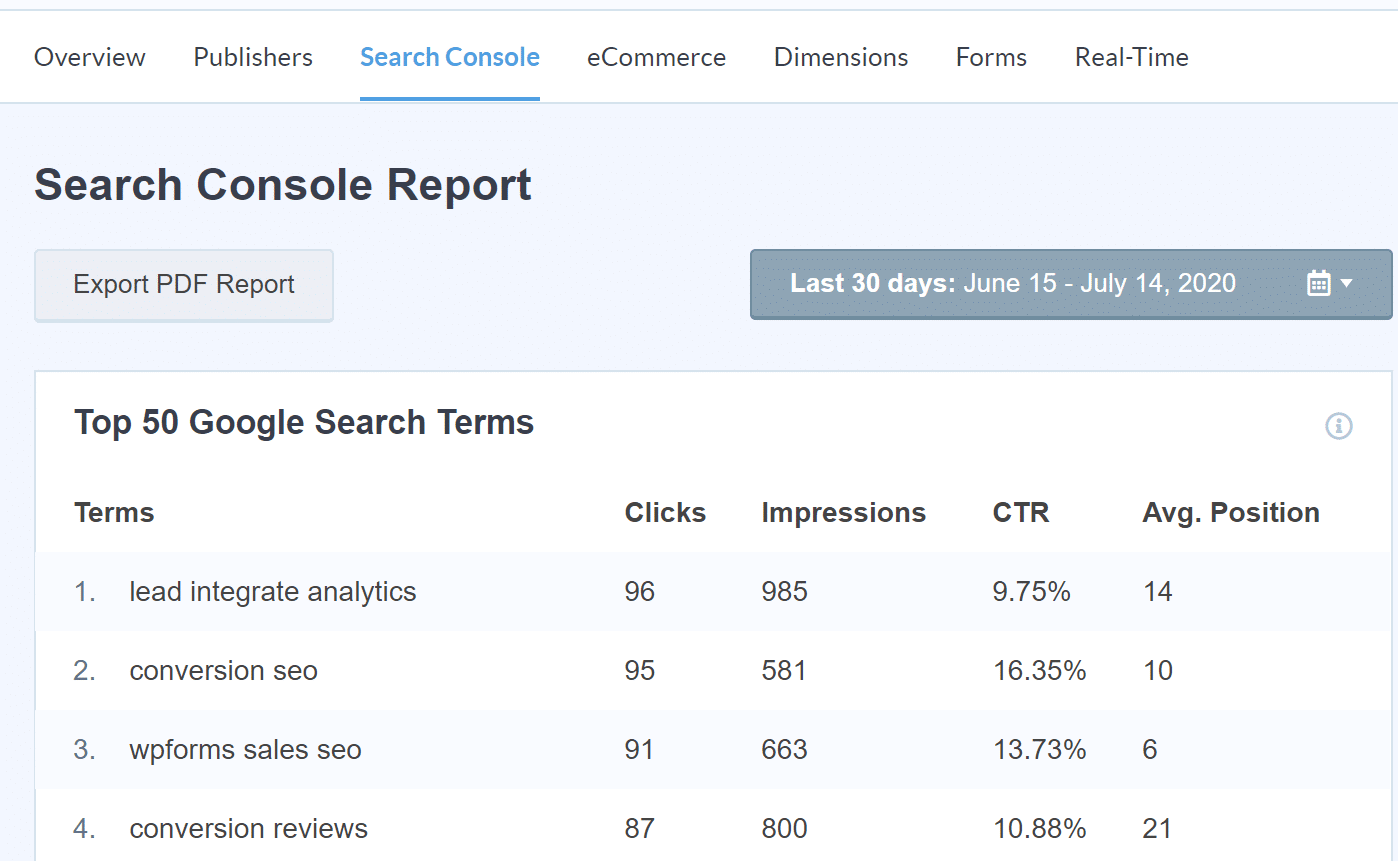 Get started with Search Console today!
Site loading time plays a significant role in your website search result rankings. Slow loading times affect the user experience and can increase your site's bounce rate.
Google's PageSpeed Insights is an amazing tool that shows you exactly how fast different elements of your website load. All you have to do is enter your site's URL and PageSpeed Insights will check your website and generate a detailed report.
If there are any issues with your site's speed or performance, this SEO tool should help you identify the source of the problem.
This simplicity and wealth of information make PageSpeed Insights one of the best SEO tools to diagnose and optimize your website's loading performance.
If you have MonsterInsights, you can see a few of the most important speed stats inside your WordPress dashboard.
Just click on the Site Speed report and find out loading speeds for mobile and desktop. You'll see site speed metrics, an overall speed score, and actionable recommendations to boost your loading speed and improve user experience.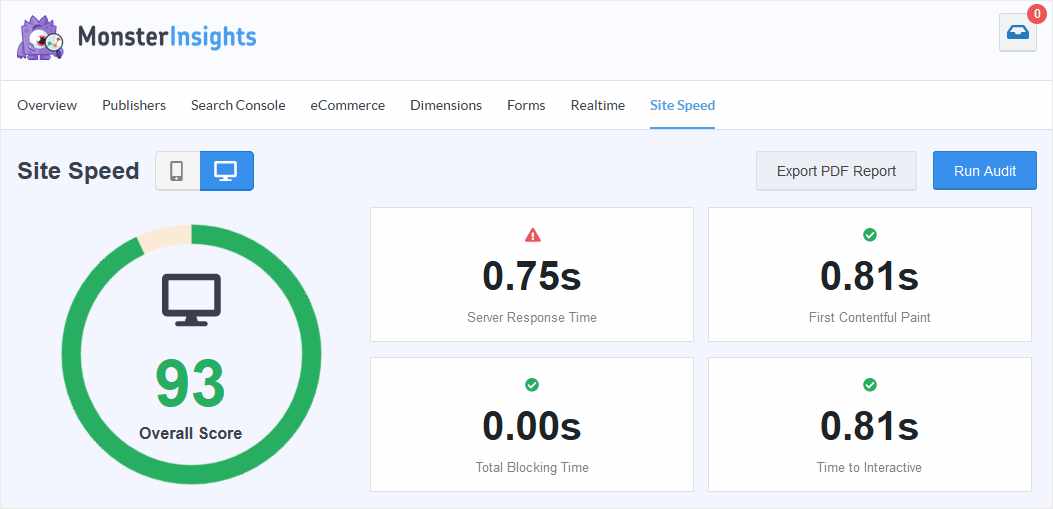 Get started with PageSpeed Insights!
SEOquake is a web browser addon made by Semrush that will show you some basic SEO analysis right in your browser window.
You can install the addon to Chrome, Firefox, Safari, and Edge browsers to see a mix of SEO properties and metrics for any web page or domain.
With this tool, you can also conduct simple on-page SEO audits on your web pages, which allows you to identify and fix potential issues.
SEOQuake has a link examiner tool that shows you details for both internal and external links. Plus, it allows you to see a web page's backlinks, last crawled date, Alexa rank, and much more.
We recommend this handy SEO tool to get a quick overview of your site's optimization, and for conducting competitor research.
Get started with SEOquake today!
Best SEO Keyword Research Tools
Semrush is a powerful SEO and marketing tool and a favorite among SEO professionals. It's the best SEO keyword research tool you can get your hands on.
It comes with a full set of features to supercharge your site's SEO, content marketing, social media, and paid traffic. Semrush also provides a WordPress SEO plugin called Writing Assistant that helps you analyze and optimize your content inside the WordPress page editor.
This premium service lets you analyze keywords for search volume so you can know which keywords to add to your content, and which keywords to bid on if you use Google Ads.
Plus, it lets you research other URLs, like your competition's, so you can see what keywords they are targeting and their rankings for those keywords. This information helps you develop new strategies and tactics to improve your own site's rankings.
For example, you can use new keywords to create marketing content that's more appealing to your target audience. Or, use backlink research to request links from sites that already link to your competitors.
Using the right keywords on your website to attract your ideal audience will not only help you with search rankings, but it'll also help you grow your business and attract more loyal followers.
Get started with Semrush today!
Ahrefs is one of the best WordPress SEO tools for anyone from SEO experts to small business owners. It allows you to audit and optimize your site and reveals your competitor sites' SEO performance and keywords. With these insights, you can learn what you need to do to outrank your competitors.
Using Ahrefs, you can see detailed organic search reports, including your top organic keywords, their position in the search results, rank movement over time, competing pages, and so on.
Similarly, Ahrefs has advanced backlink research options that allow you to see the full backlink profile for any site. You can see all the links pointing to a particular site, anchor text for the backlinks, referring pages, and other details.
There are many more options for keyword research, content research, rank tracking, and web monitoring in Ahrefs. It's a great tool to boost your site's SEO and organic search traffic.
Get started with Ahrefs today!
Google Keyword Planner is also one of the best SEO tools for WordPress. Keyword Planner was designed to help Google Ads users find keywords to target with their ads. However, it has a lot of SEO value in finding new keywords for your business website or blog. Although you must sign up for a Google Ads account to use this tool, you can pause any campaigns you create without spending any money.
To use Google Ads Keyword Planner, simply enter words, phrases, or a URL related to your business and start your search. Then, you'll see the top keywords with average monthly searches on Google.
Plus, you can see bidding amounts and competition levels. Although the bidding value is designed for advertisers, you can learn a lot about how much competition there is for specific keywords.
Keyword Planner is a free tool offered by Google, based on their vast amounts of search and advertiser data. Thus, you get precise information about keyword search volume, advertiser interest, and your competition without spending any money.
All of these factors make Keyword Planner a great tool for improving your keyword research and SEO results.
For step-by-step instructions on using Google Keyword Planner, check out How to Use Google Keyword Planner (A Step-by-Step Guide).
Get started with Google Keyword Planner today!
Additional SEO Tools for WordPress
Broken Link Checker is a WordPress SEO plugin from AIOSEO that regularly checks your site content to find broken links and help you fix them easily.
Bad links don't just create a terrible impression among site visitors, they also harm your site's SEO. Google and other search engines view broken links as a poor user experience, which can lead to lower search rankings.
Since most websites focus on creating new content as a priority, it's often hard to find time to review and update old posts. That's where this plugin helps with your site housekeeping.
Broken Link Checker saves you time with auto SEO for WordPress links. It analyzes your entire WordPress archive of published content (or you can specify the content to check) and notifies you about broken links.
It checks the validity of both internal and external links, and it will stop search engines from following bad links until they're fixed. Plus, it saves you a ton of time by letting you use inline editing to fix broken links, so you don't have to open and edit individual posts.
Get started with Broken Link Checker today!
Link Explorer is a powerful off-page SEO tool created by Moz. It includes a host of features for backlink analysis, competitor research, and link building.
The number and quality of backlinks pointing to your site are incredibly important for getting high search engine rankings for your web pages.
With this tool, you can quickly discover all the links pointing to your web pages, as well as find out who links to your competitors' pages. This lets you target the best websites for requesting links back to your site.
Moz's Link Explorer also finds lost and broken links, gives you Moz Page Authority and Domain Authority scores, and helps you find the top-performing content on your site and others.
You can search up to 10 queries every month with a free Moz account. To unlock full access and features, you'll need to subscribe to Moz Pro.
Get started with Link Explorer today!
WP Rocket is the best WordPress caching plugin on the market. A caching plugin speeds up the loading of your site's most commonly accessed files to boost website performance. Since speed is a key Google ranking factor, a caching plugin is a must-have plugin.
WP Rocket comes with powerful features like gzip compression, page cache, and cache pre-loading. This plugin also supports lazy loading images, CDN for WordPress, DNS pre-fetching, and more to further improve page load times.
Get started with WP Rocket today!
TinyPNG is a free online tool that'll help you optimize your site's images for faster loading speeds, without sacrificing image quality. This SEO tool speeds up image loading by compressing both .jpg and .png images into smaller file sizes.
All you have to do is drag and drop the images you want to compress into the tool and TinyPNG instantly starts processing. You can optimize one image at a time or batch up to 20 images per day for free. If you need to process more images than this, TinyPNG has a paid Pro account with no limit on images.
In addition to the browser-based optimization tool, TinyPNG offers a WordPress plugin to compress images inside the Media Library automatically when you upload them.
Get started with TinyPNG today!
Schema Pro is a schema plugin for WordPress that can help you set up schema quickly and easily, with zero coding required.
Schema is an awesome way to boost your website's SEO. It helps you get special extras to show up in search results, like recipes, reviews, FAQ, products, and more.
Schema Pro is easy to set up, includes all the schema types you need, and it can even automate your schema markup. You'll be seeing rich snippet results in Google's search results in no time!
Get started with Schema Pro today!
What Is the Best SEO Plugin for WordPress?
After reviewing each tool on our list, All in One SEO is the best SEO plugin for WordPress. Its robust features like automatic XML sitemaps, rich schema markup, on-page SEO analysis with a TruSEO score, a robots.txt editor, an internal link-building tool, and more make it a must-use plugin for improving your SEO and search rankings.
Plus, we love the handy checklist provided in the editor with suggestions for how to improve your content's SEO. And, AIOSEO's seamless integrations with Semrush for keyword research, MonsterInsights to easily track keyword performance in WordPress, and WooCommerce to optimize categories and product pages are the icing on top!
Well, that's it for this article!
We hope this article helped you find the best SEO tools to increase your website's search engine performance. If you liked this, you might also want to read our list of the overall best WordPress plugins for marketing and business growth.
And don't forget to follow us on Twitter, Facebook, and YouTube for more helpful reviews, tutorials, and Google Analytics tips.