Do you want to create a landing page for your WordPress website?
The best solution is to use a landing page builder plugin. Yet, not all landing page plugins are created equal, with some making the process much easier than others. That's why we're reviewing one of the top plugins on the market: SeedProd.
In this SeedProd review, we look at what makes it the best tool for creating high-converting landing pages in WordPress.
What Is the SeedProd Plugin?
SeedProd is the best WordPress landing page builder plugin for websites both large and small. Its drag and drop builder makes it super-easy to create any landing page in WordPress without hiring a developer.
With its library of responsive landing page templates, you can build mobile-friendly pages for any marketing goal, whether it's to sell a new product or grow your email list.
SeedProd is also an effective Coming Soon and Maintenance Mode plugin. With a few clicks, you can lock your website's under construction process behind a stunning pre-launch or maintenance page.
SeedProd integrates with popular email marketing services. This makes it a lot easier to manage your leads and marketing automation.
Above all else, this powerful plugin is lightning-fast and bloat-free. With minimal code, it's optimized to achieve the best page speeds possible.
SeedProd Review: Why It's the Best Landing Page Builder
Now that you know what SeedProd is let's look at the features that make it the best drag and drop landing page builder to grow your business.
1. No Developer or Coding Needed
One of the best things about SeedProd is how easy it is to use. Since all your pages are made inside the drag and drop builder, you won't need to hire a developer or have any coding knowledge.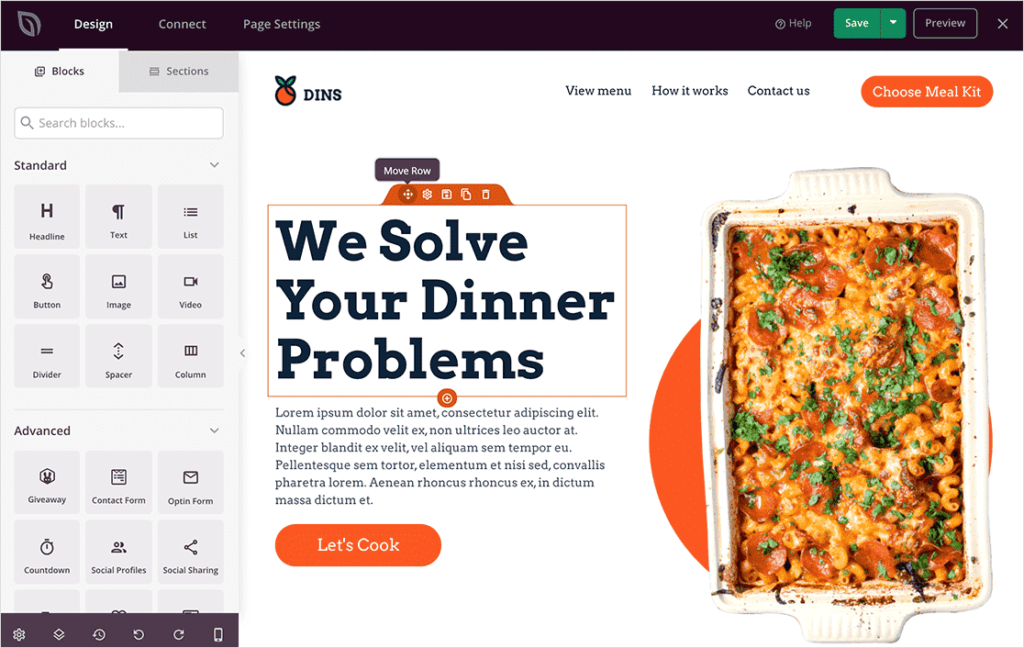 Instead, it's as simple as dragging the elements you need onto your live page preview and customizing them to suit your needs. Plus, you'll see all the changes in real-time.
2. Customizable Landing Page Templates
Another area where SeedProd excels is with its library of landing page templates. Every template is 100% mobile responsive and fully customizable in the drag and drop editor.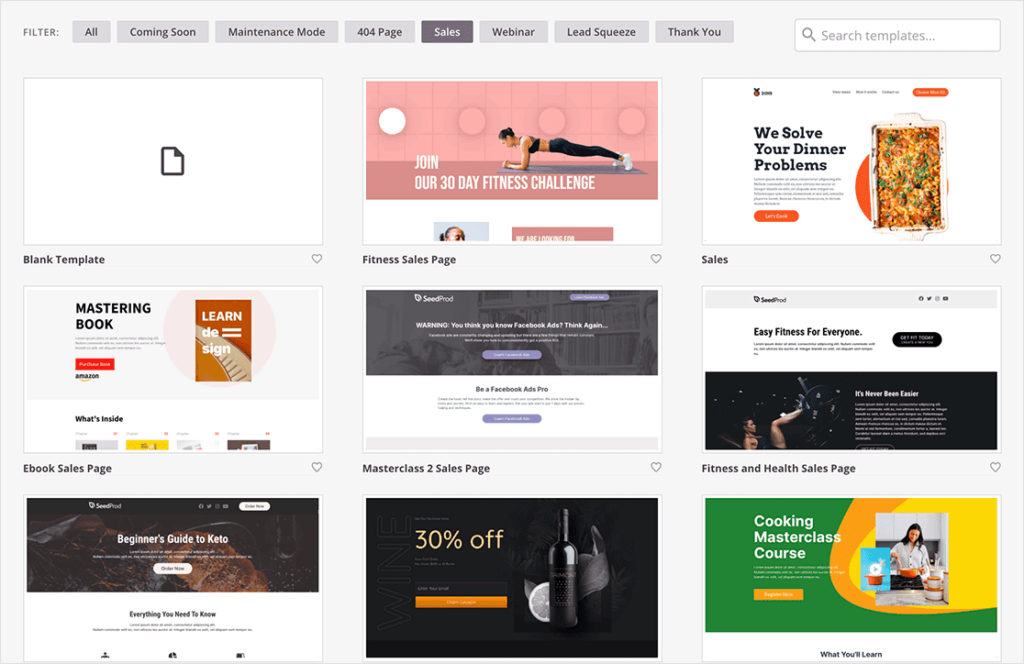 There are templates for every goal, including:
Coming Soon pages
Maintenance Mode landing pages
Custom 404 pages
Thank You pages
Lead Squeeze pages
Sales landing pages
Webinar landing pages
Video landing pages
Plus, more templates are released regularly, offering even more choices for your landing page design needs.
3. Code-Free Customization Options
Getting your landing pages looking exactly how you want is challenging if you're not design-savvy or lack coding skills.
But you don't need to worry about that with SeedProd.
All of the customization options are point-and-click so that you can tweak styles easily. For example, changing font sizes is as simple as dragging a slider, while choosing a heading level takes a single click.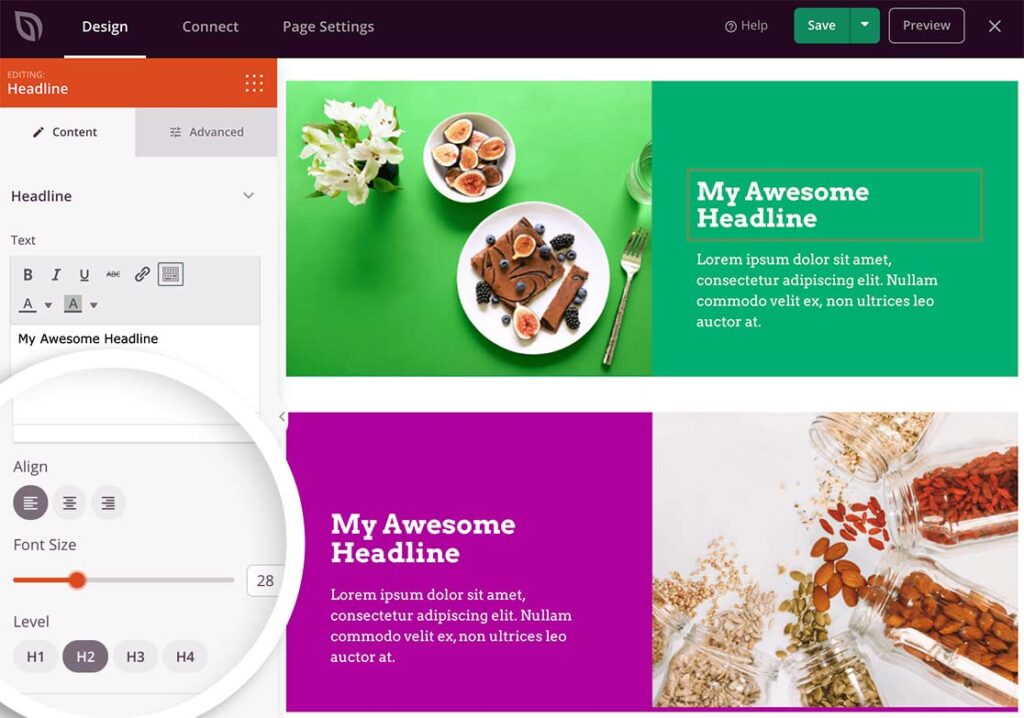 Need to change the color of something? No problem, just pick the shade you need with the eyedropper and color palette.
4. Lead Generating Page Elements
The team behind SeedProd knows and understands that one of the main goals for any landing page is to generate leads. With this in mind, they designed their landing page blocks to make it easier to reach that goal.
Besides all the standard elements that form your page's structure, SeedProd includes advanced page blocks to boost leads and conversions.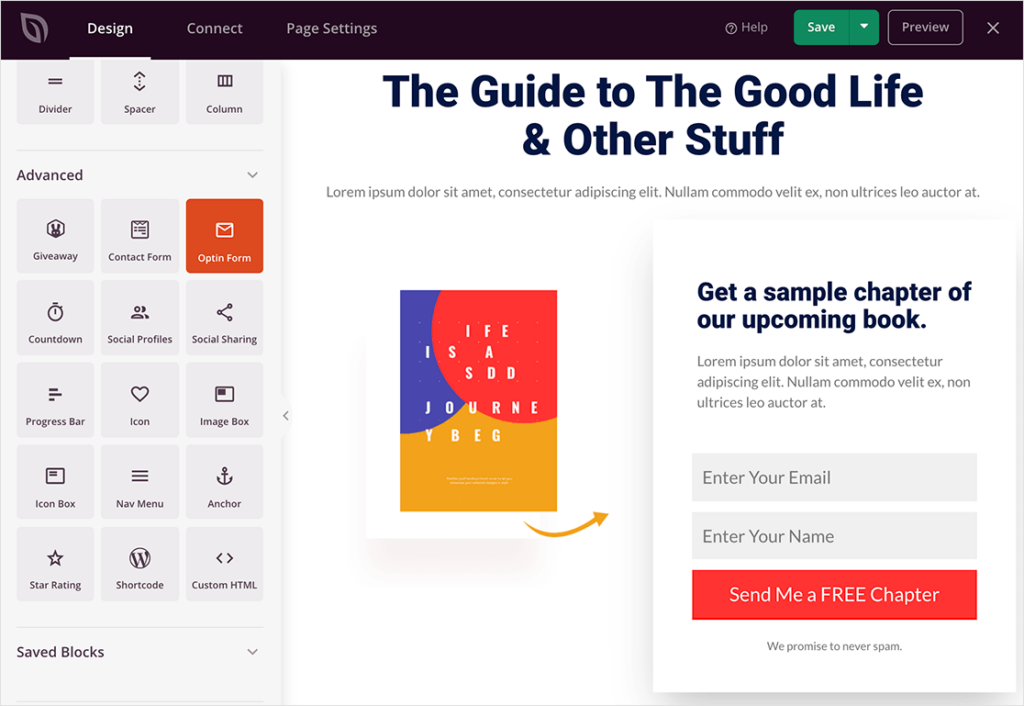 Advanced landing page blocks include:
RafflePress giveaway blocks
Contact form blocks to use with popular contact form builders like WPForms
Optin Form blocks to help grow your email list
Countdown timers to create a sense of urgency
Social profiles to grow your social followers
Social sharing buttons to raise brand awareness
Star ratings for showing social proof
And much more.
Even better, many of SeedProd's page blocks come with pre-made templates. These are pre-set styles you can change with a single click.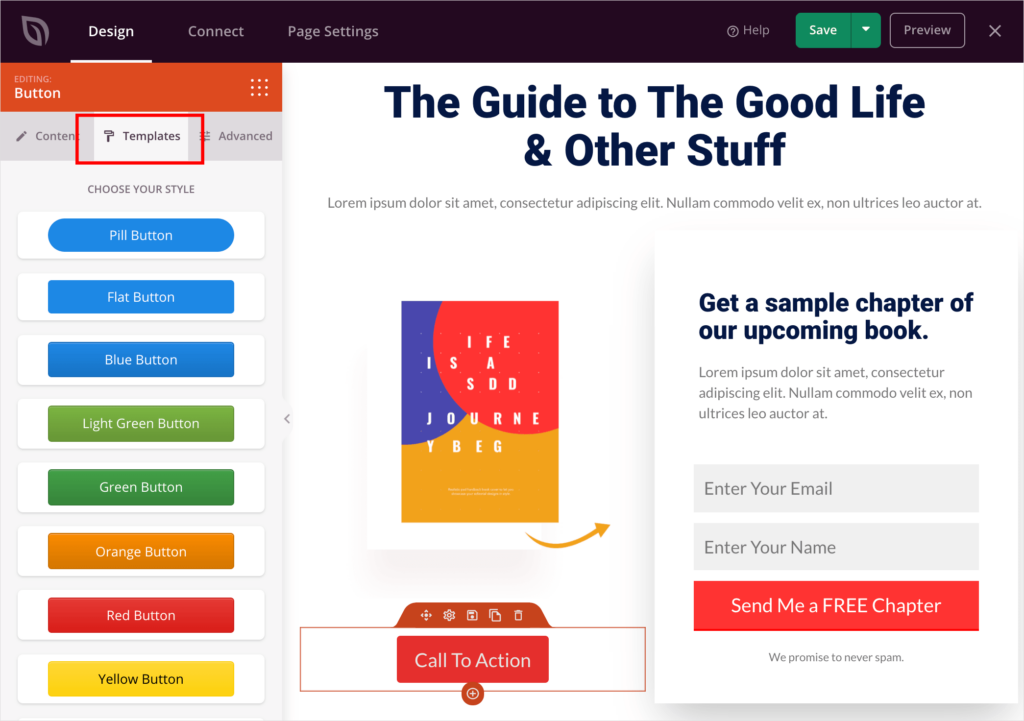 For instance, you can change button colors by clicking the block's Templates tab and picking one of the options available.
5. Custom WooCommerce Blocks
Aside from the landing page blocks mentioned above, SeedProd also offers WooCommerce blocks and integration.
If you're running an online store with WooCommerce, you know that it can be difficult to customize it.
But, with SeedProd's WooCommerce blocks, you can easily create custom checkout pages, display best-selling products on your product pages, build WooCommerce funnels, and more.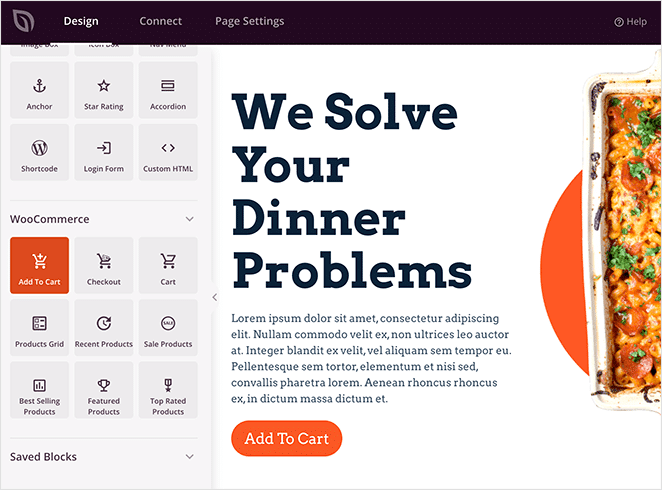 Here are all of the WooCommerce blocks you can use:
Add to cart
Checkout
Cart
Products grid
Recent products
Sale products
Best selling products
Featured products
Top rated products
By adding these WooCommerce blocks to your landing pages, you can skyrocket conversions for your online store.
6. 1-Click Landing Page Sections
If creating new areas on your landing page feels too daunting, you can select one of SeedProd's ready-made landing page sections. These are entire page areas like headers, footers, features, and calls-to-action that you won't need to create manually.
Instead, just click the section you need, add it to your page and customize it to your liking.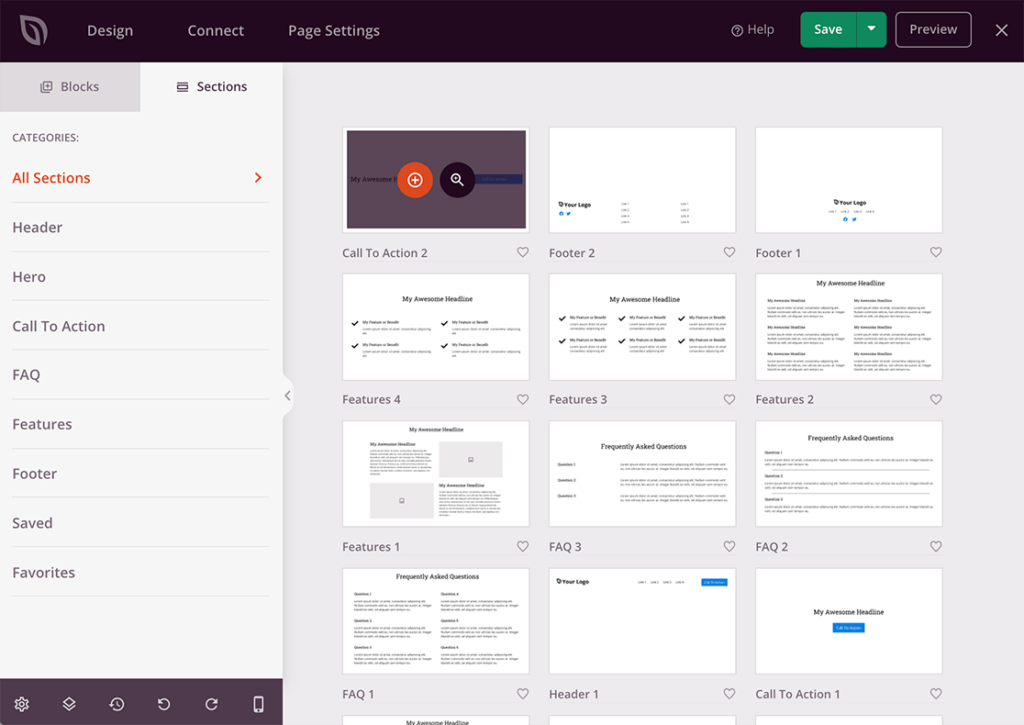 7. Curated Google Font Themes
It isn't easy figuring out which fonts look good together, especially if the design isn't your area of expertise. Without guidance, the results can be off-putting for users.
That's why in SeedProd, you have access to a carefully curated set of Google font themes. At a glance, you can see which fonts work well together and will have the most significant impact.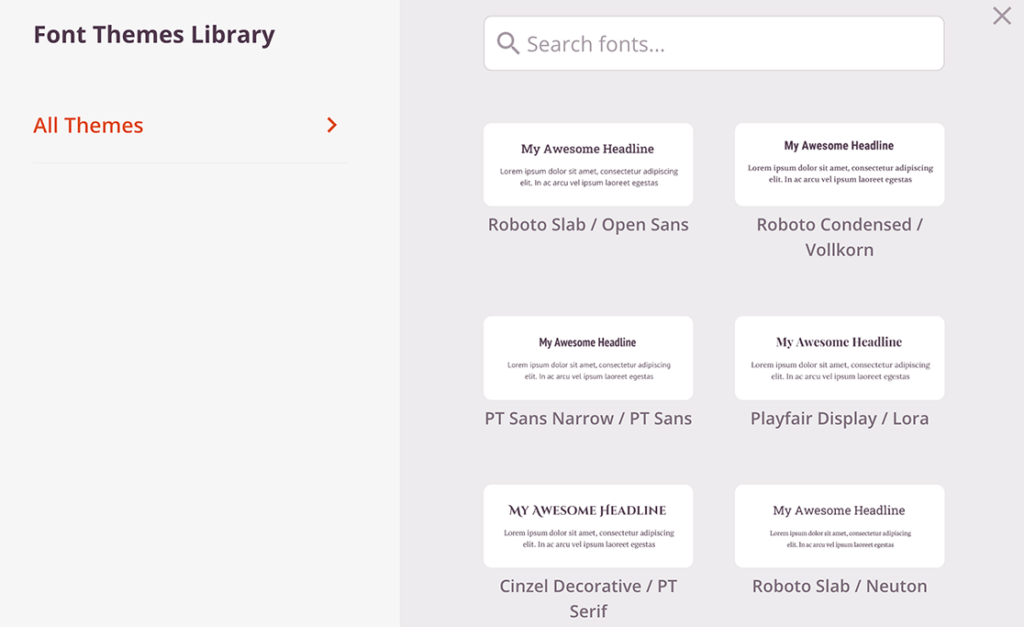 Just browse the font combination previews, and choose the one you like best to apply it to your landing page globally.
8. Premade Color Schemes
Just like fonts, SeedProd also includes 20+ pre-made color palettes to help you get your page looking just right.
Instead of manually choosing the color for every page element, you can browse the professionally designed color schemes and deploy them across your entire page.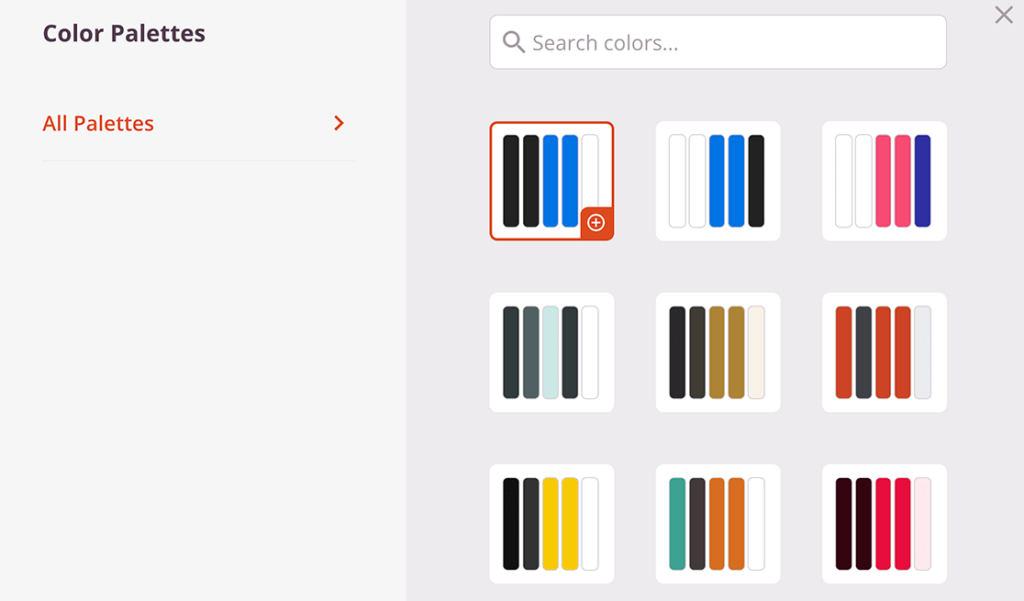 Not only does this save you time, but it also ensures your design looks consistent.
9. Coming Soon, Maintenance, and 404 Page Modes
SeedProd isn't just a fantastic landing page builder. It also functions as an effective coming soon and maintenance mode plugin. This can help you boost your rankings in search engines before your site is even live.
Want to hide the messy parts of your WordPress site while it's under construction? Then turn on coming soon mode. Need to make a few updates without showing a broken site to visitors? Then maintenance mode is the best option.
You can turn both modes on and off with a single click. And instead of seeing a potentially broken website, visitors will see a stunning landing page of your choosing.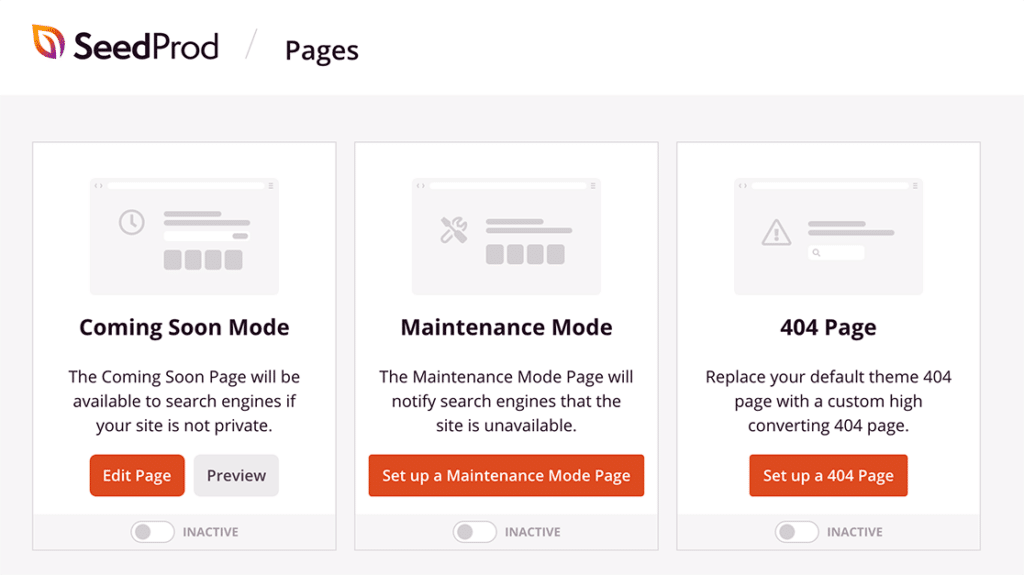 From there, they can enter an email address to learn when your site is live or even click through to your social media profiles to keep in touch.
The great thing about having different page modes included in this page builder plugin is you won't need to install any extra WordPress plugins. Everything is included in a single, user-friendly package.
10. Restrict Pages with Access Controls
Something many website owners will find useful is the powerful Access Controls available for coming soon and maintenance pages. With these settings, you can allow specific people to see past your landing page to the work going on behind the scenes.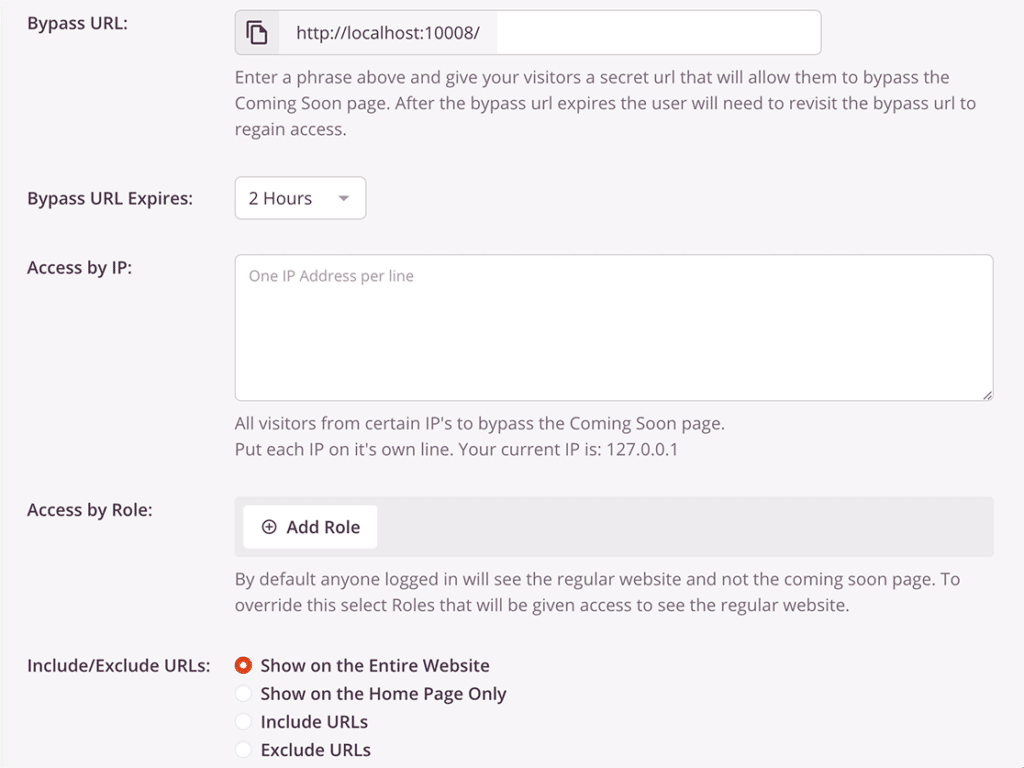 There are several access controls to choose from. Let's look at them in more detail.
ByPass Cookie – Use cookies instead of creating a WordPress user to bypass your locked page.
ByPass URL – Create a secret URL for visitors that will allow them to bypass your coming soon or maintenance page.
Access By IP – Allow visitors from certain IP addresses to bypass your coming soon or maintenance page.
Access By Role – By default, anyone logged in will see your regular website and not your coming soon page. You can override this by selecting specific roles that can have access.
Include/Exclude URLs – By default, the coming soon or maintenance page is shown on every page. Instead, you can use the Show on the Home Page Only option. Alternatively, you can choose to include or exclude specific URLs from showing that page.
Access controls like this are ideal for showing web design clients your work without revealing it to the public.
11. Create Multiple Pages with Different Domains
One of the most recent additions to SeedProd is its Domain Mapping feature, and it's a game-changer.
With domain mapping, you can create multiple landing pages on a single website and give each page a custom domain name.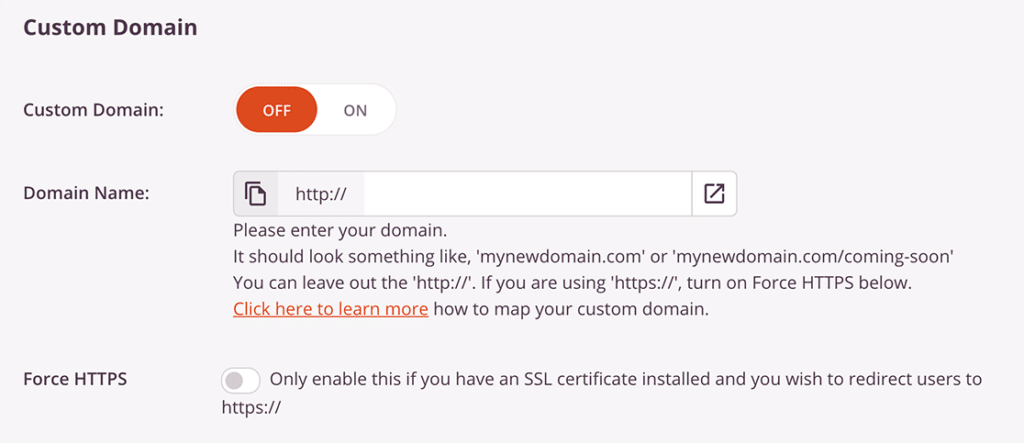 For example, you can create a course registration landing page on your existing website (bestsites.com) and point it to your domain name of choice (bestseocourse.com).
You could even launch a coming soon page from your existing site and use Domain Mapping to set it up on your new domain.
The great thing is, with Domain Mapping, you won't have the hassle of installing WordPress on every domain. Just point your page to your domain of choice, and you're ready to go!
12. Popular Email Integrations
Almost every business wants to grow its email list. With an active email list, it's much easier to get your products in front of people who want to buy them.
SeedProd makes it easy to grow and manage your subscribers via landing pages. Not only does it include highly customizable signup forms, but it also integrates with popular email marketing services.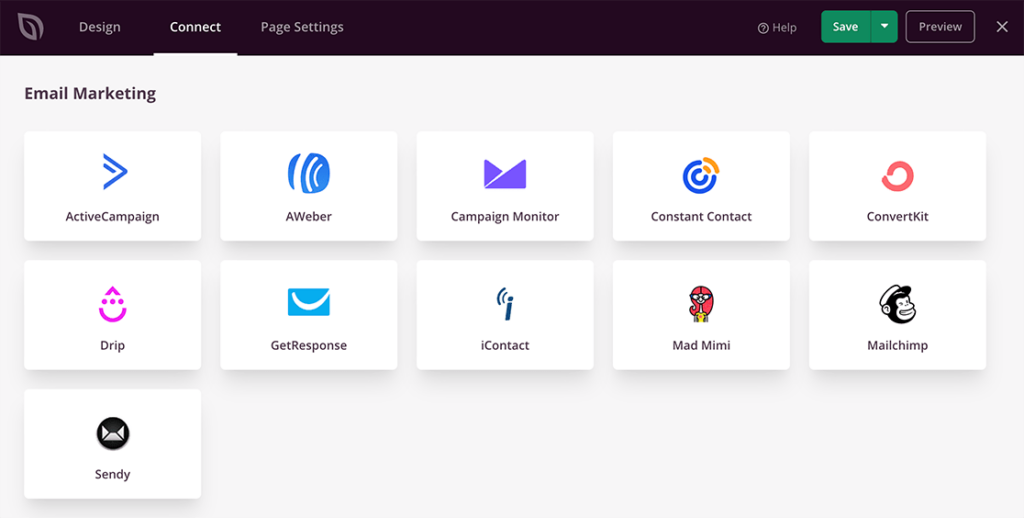 In a few seconds, you can connect your email marketing provider of choice, link your existing email list, and start collecting leads.
There's also a handy feature for those of you who are just starting your lists and who don't have a provider yet. Instead of connecting to an email marketing service, SeedProd will store all new signups in its subscriber dashboard.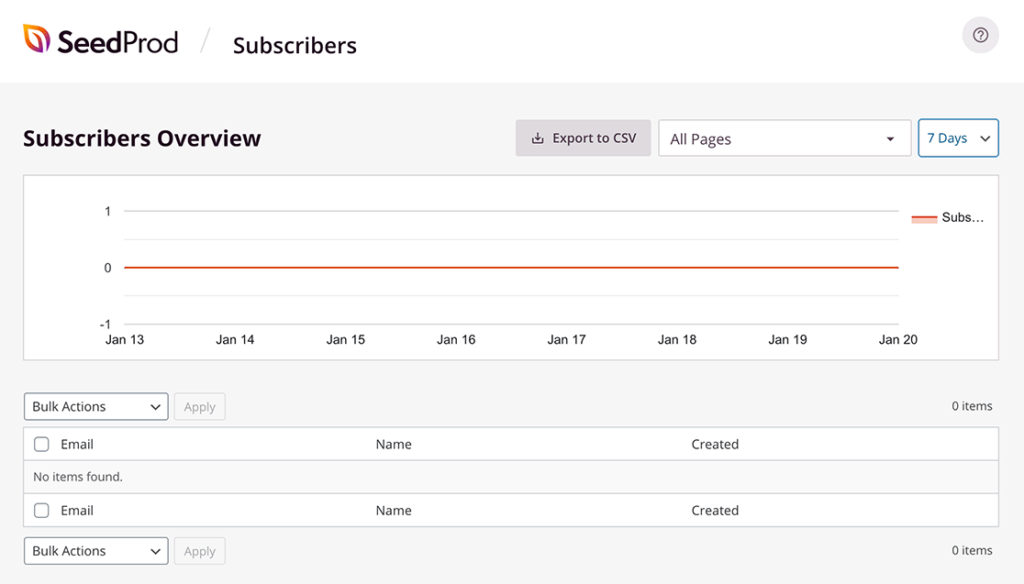 That way, you can see, at a glance, all your subscribers and export them to your preferred service when you're ready to choose one.
13. Built-in Mobile Preview
We mentioned earlier that SeedProd is a great choice for creating mobile-friendly landing pages in WordPress. But did you know that you can also preview your page on mobile before you publish it?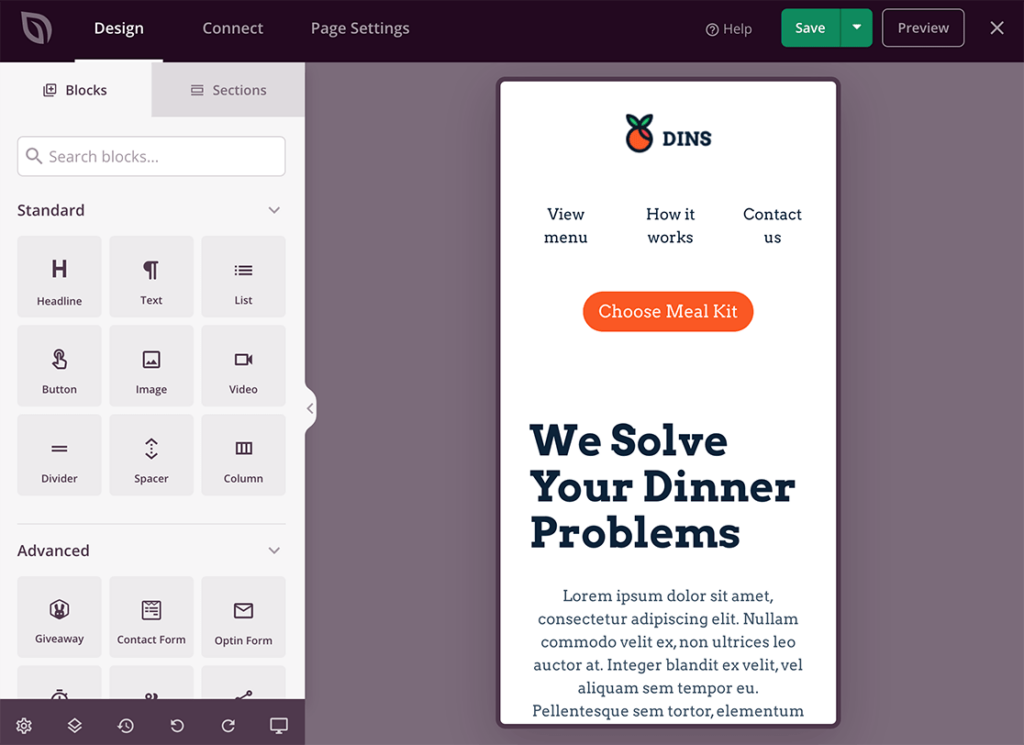 With the mobile preview option, you can ensure everything looks good for mobile viewers, and if needed, make some changes before pushing your page live.
Any changes you make are applied automatically to both the desktop and mobile previews of your page, so you won't need to make individual changes on each view.
14. Compatible with Any WordPress Theme
The problem with some page builders is they often don't work well with your existing WordPress theme. In fact, for some, you need to use specific page attributes in WordPress for your landing page template to display correctly.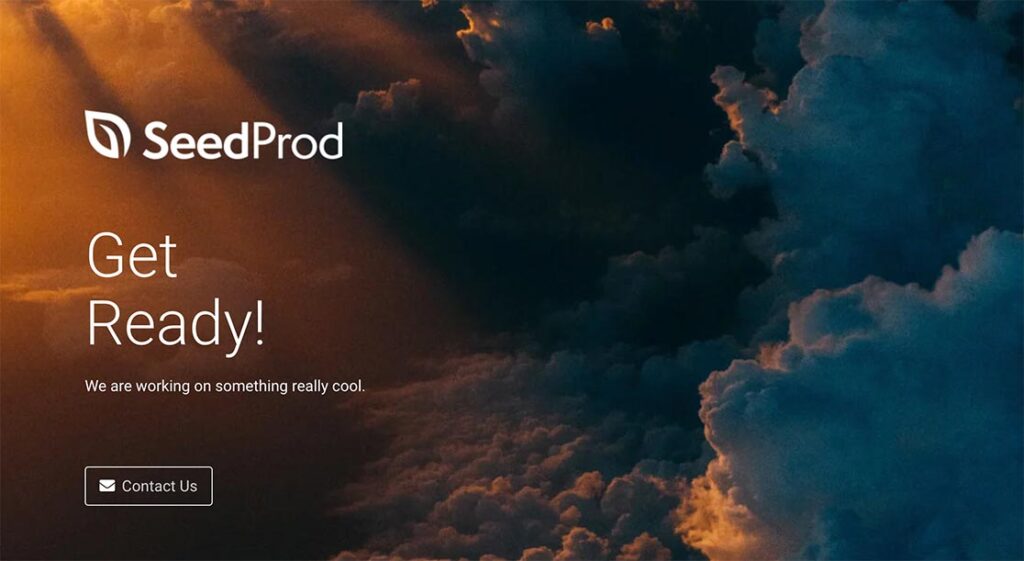 SeedProd differs because it works independently from your WordPress theme. This means you won't see any compatibility issues. Your landing page will look stunning whatever theme you use and provide an excellent experience for your users.
15. Fast and Bloat Free
After testing SeedProd against other popular page builder plugins, we can say without a doubt that it's the fastest landing page builder around.
The reason why SeedProd is so fast is that it's completely bloat-free. Instead of cramming every feature you can possibly imagine into a single plugin, it's focused on the features that matter.
For you, that means less fluff and filler you'll never use and more features that are proven to generate leads for your business. Not to mention SeedProd's code is optimized for speed, meaning it won't slow down your website.
16. Over 4,000 5 Star Reviews
If you needed any more reasons to convince you that SeedProd is the best WordPress landing page builder, just check out their reviews.
The plugin is installed on over 2 million WordPress websites and has 4,000+ 5 star reviews on WordPress. With comments like these, it's easy to see that you're in safe hands.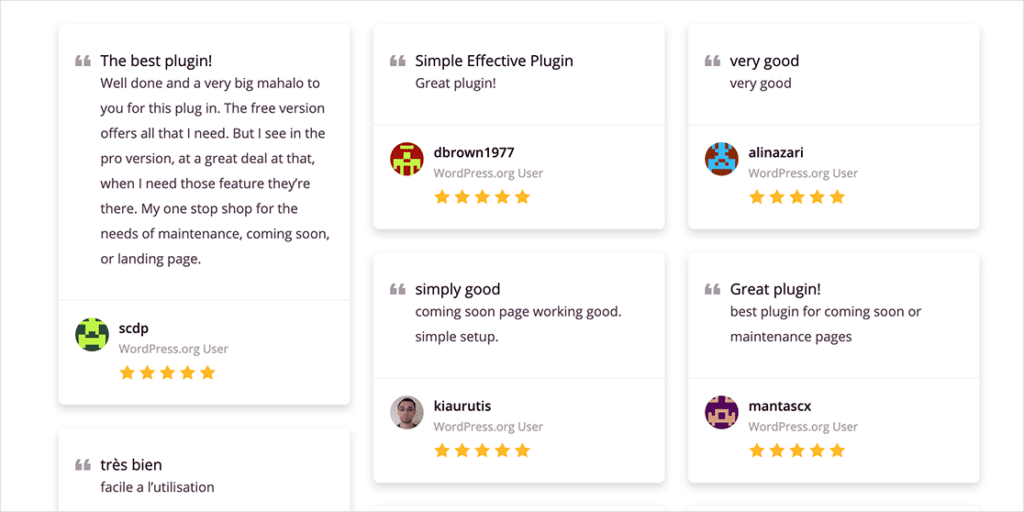 The support team is always available to help get the most out of their plugin. And if they can't solve something there and then, they'll research the best way to help.
Here are just a few more SeedProd reviews:
"So easy to use, clear documentation, works first time – ticks all the boxes."
"Works well, I enjoy the new Elementor style interface. Very cool and highly recommended."
"Just a few clicks, and you're set! Well done!"
As well as excellent support, SeedProd offers extensive documentation, tutorials, and guides. Every feature is covered, so whatever your skill level, you can use the plugin with ease.
How Much Does SeedProd Cost?
The fantastic thing about SeedProd is there is a pricing plan for any business size.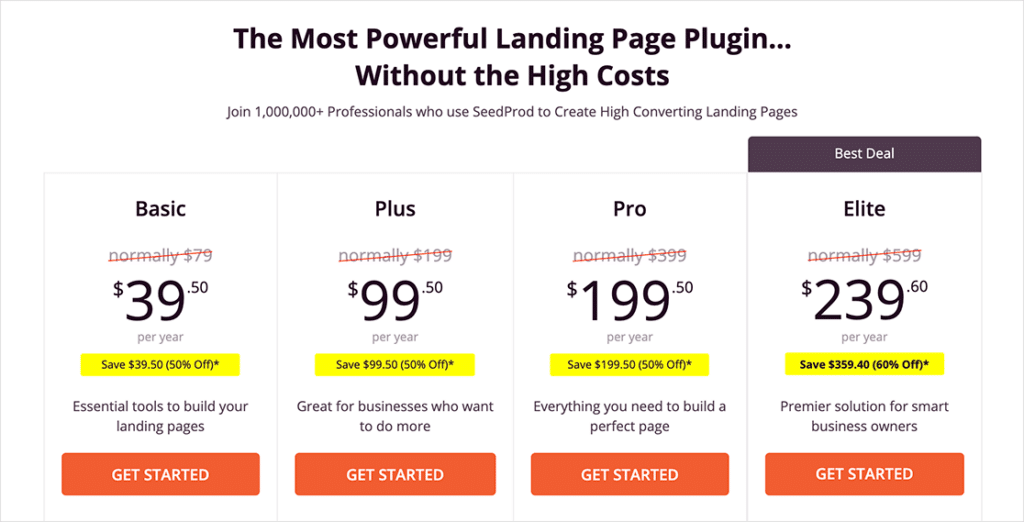 If you want to keep costs low, you use the free version of SeedProd, which has everything you need to create high-converting landing pages in WordPress.
You can access free:
Landing page templates
Coming soon and maintenance modes
A variety of blocks and page elements
SEO settings
Custom scripts
Google Analytics integration
And much more
If your budget is looking tight, you can download SeedProd's free WordPress plugin from the official WordPress repository.
Yet, you'll want to get the Pro version of SeedProd and unlock all the best features for creating high-quality landing pages.
Is SeedProd the Best Drag and Drop Landing Page Builder?
Because SeedProd is so easy to use, has powerful lead generating features, and is faster than any other page builder on the market, it's clear that, without a doubt, SeedProd is the best landing page builder for WordPress.
Plus, when it comes to ease of use, SeedProd's drag and drop builder is unmatched, requiring zero "tech skills" or coding knowledge.
Want to check it out for yourself? Get Started with SeedProd Today!
And that's it!
We hope you liked our article on SeedProd review. You can also go through our comparison of MonsterInsights vs. Google Analytics and the best website builders.
Don't forget to follow us on Twitter and Facebook for more helpful Google Analytics tips and tutorials.