Google Analytics 4 (GA4) is here! That means it's time to add Google Analytics 4 to WordPress.
In this article, we'll go over the best (and easiest) way to add GA4 to WordPress. We'll cover methods for first-time Analytics users and those who already have a Universal Analytics account.
What Is Google Analytics 4?
Google Analytics 4 is Google's newest version of Google Analytics.
GA4 has many of the same features and statistics as Universal Analytics, and adds a few new ones. Unfortunately for some, they removed a few stats, too.
Google Analytics 4 is a powerful tool for WordPress users, but it's not very beginner-friendly. Even intermediate users may find it difficult to learn and find the data you need.
So, while you should definitely use Google Analytics 4 to see how people are using your website, adding a tool like MonsterInsights will make it much easier to use.
The Best Way to Add GA4 to WordPress
In order to set up Google Analytics 4 on WordPress, you'll need to connect it to your site. The absolute easiest way to do that is with the MonsterInsights Google Analytics plugin.
Not only can the plugin connect GA4 analytics to your WordPress website, but it also provides solutions to many of the downsides of setting up and using GA4.
MonsterInsights is the best plugin to connect Google Analytics 4 to WordPress. It allows you to easily connect your WordPress site with Google Analytics so you can view all the data that matters most right in your WordPress dashboard.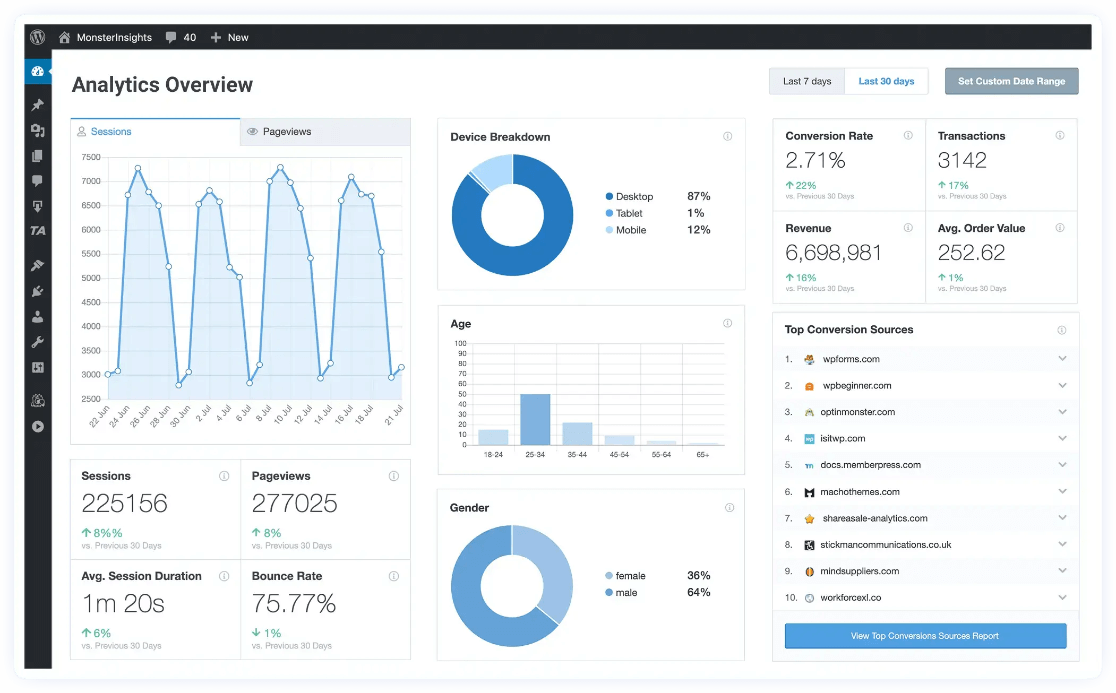 Plus, with the click of a button, you can set up sophisticated tracking features such as event tracking, eCommerce tracking, form tracking, custom dimension tracking, outbound link tracking, and more.
How to Add Google Analytics 4 to WordPress: Tutorial
Step 1: Sign In to Google
The first thing you'll need to do is log in or sign up for a Google account.
To get started, you'll need to open the Google Analytics website and click the Sign in to Analytics link or Start for free button in the top right corner of the page.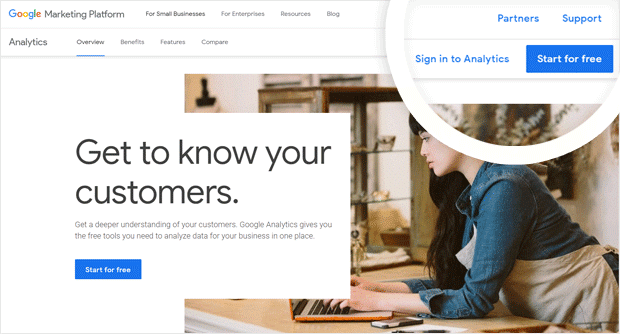 Next, you can log in to your existing Google account if you have one, or click the Create account link to create a new Google account.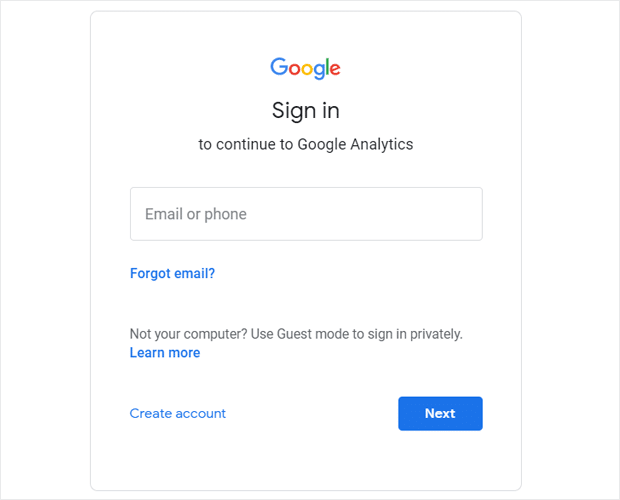 Step 2: Sign Up For Google Analytics + Create a Property
If you don't have a Google Analytics account yet, click the Start measuring button on the next screen. If you already have an account and you've created a Property, skip to Step 3.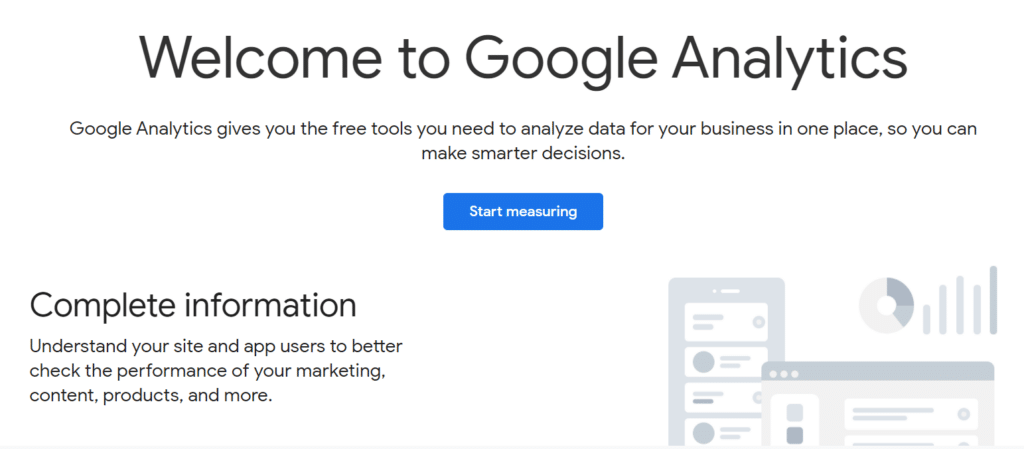 Now, you'll need to enter the Account name for your Google Analytics account. You'll also see different data sharing settings, make sure you check all the boxes and then click Next.
Now, you'll have to enter the property details of your website. Start by entering a name, select a reporting time zone, and currency. Hit Next.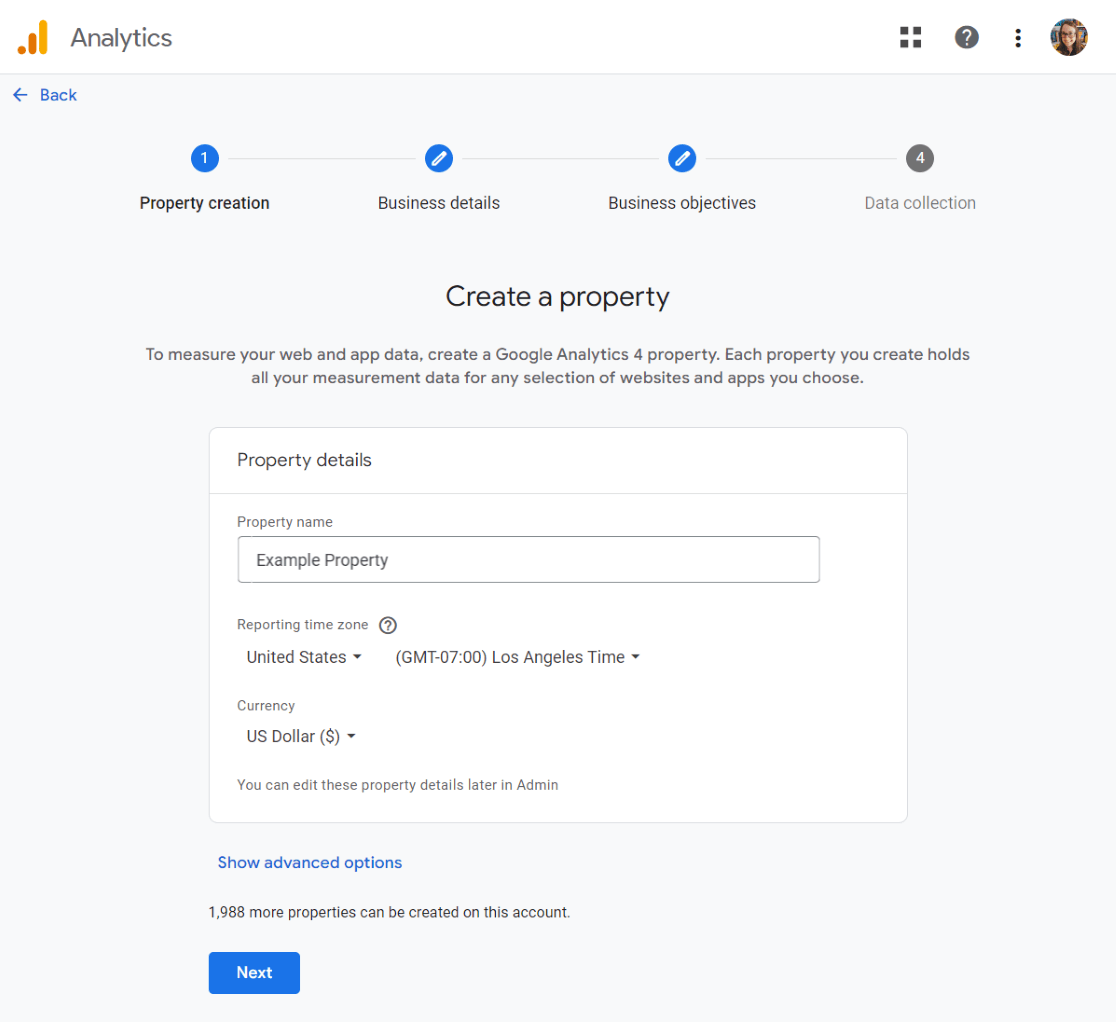 Choose your industry category and your business size, then click Next.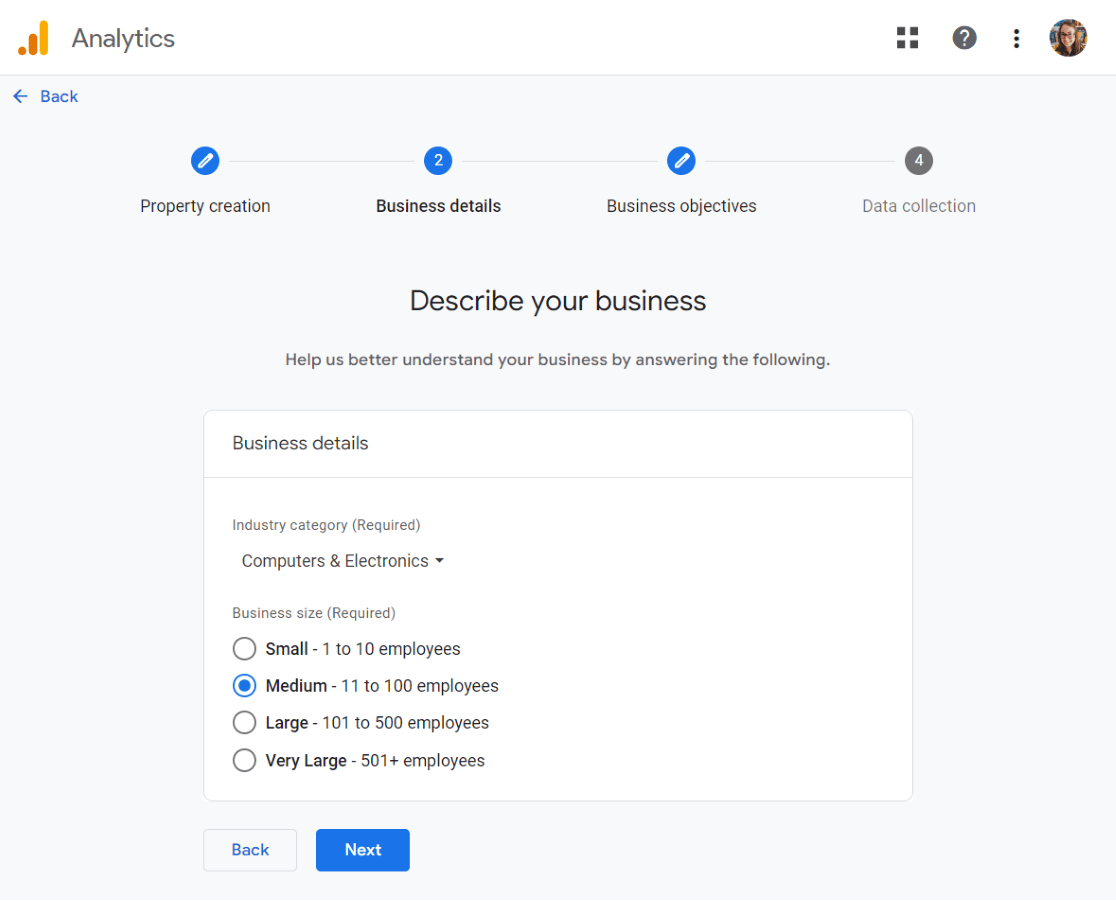 Finally, choose your business objectives. We suggest choosing Get baseline reports so that you get all of the Google Analytics reports populated in your account.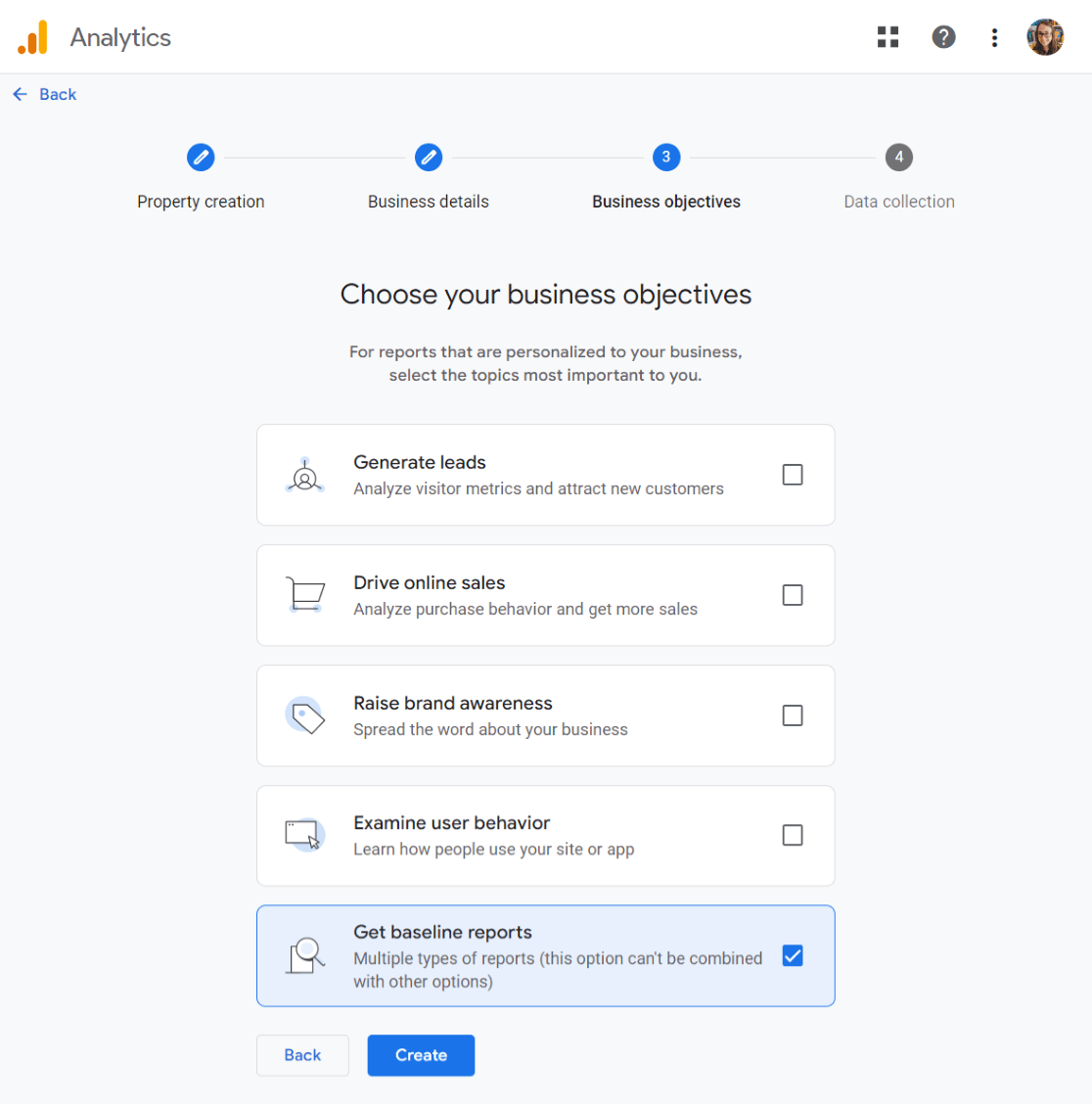 Click Create.
Step 3: Set Up MonsterInsights
Normally, you'd have to insert your Google Analytics tracking code into your WordPress website's code.
But with MonsterInsights, you don't need to worry about using any code.
Instead, you can get started by downloading MonsterInsights. To do that, you'll need to get a MonsterInsights license and download the plugin zip file.
Once you have the zip file, navigate to the site where you want to install MonsterInsights and go to the WordPress admin dashboard.
Then navigate to Plugins » Add New and click the Upload Plugin button at the top.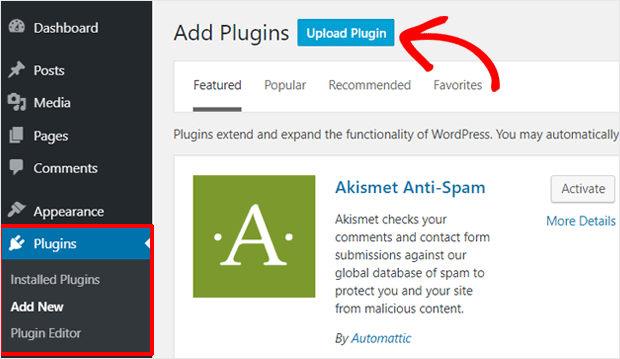 On the next screen, you can click the Choose File button to select the zip file you just downloaded. Then click the Install Now button to upload the file and install the plugin on your site.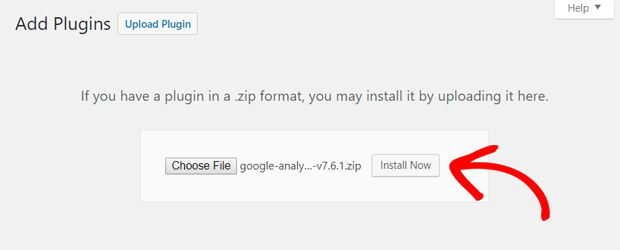 Once the plugin has been uploaded and installed, you can click the Activate Plugin button to activate it on your site.

After the plugin is activated, the plugin setup wizard will open to guide you through the setup process step by step.
At first, you'll see the 'Welcome to MonsterInsights!' message and options to choose the category of your website. There're 3 options: Business website, Publisher (Blog), and eCommerce.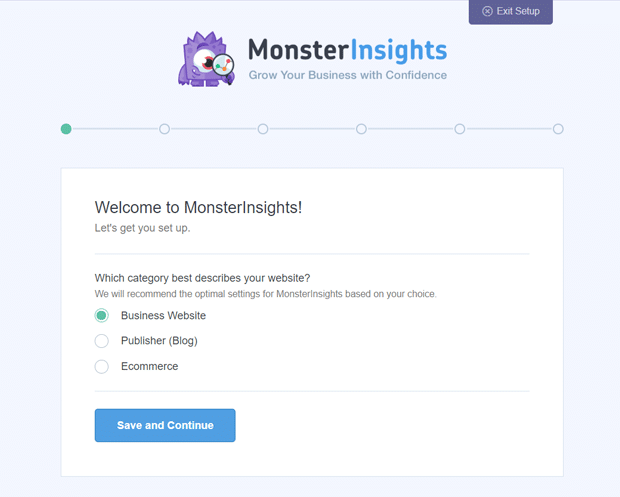 Select a category that best describes your website, and then click 'Save and Continue' button.
If you want to skip the setup wizard, for now, you can click 'Exit Setup' button at the top.
In the next screen, you'll need to connect MonsterInsights plugin to your website by providing your license key.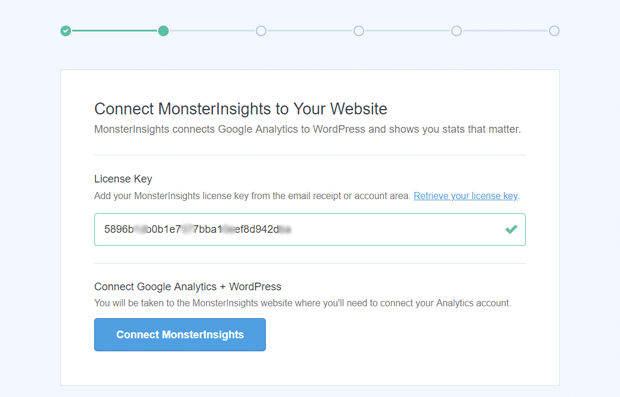 You can find your MonsterInsights license key in your email receipt or account area on the plugin website.
Once you enter your license key, it'll verify your account, and then you can click on the 'Connect MonsterInsights' button.
After that, you'll see an option to connect your Google Analytics with your MonsterInsights account. Select your account to continue authentication.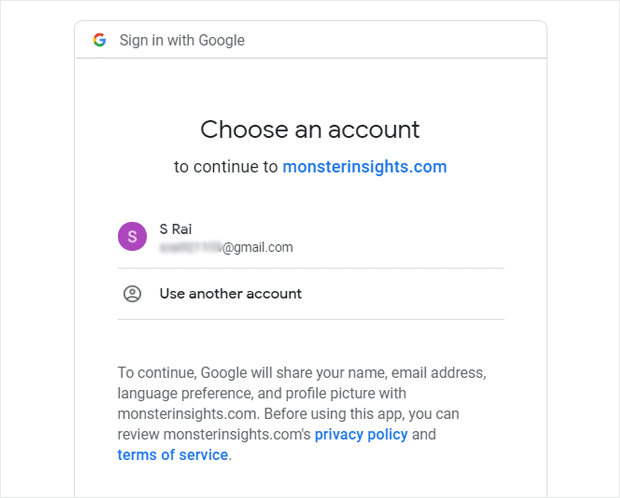 Next, you'll need to allow MonsterInsights the proper permissions.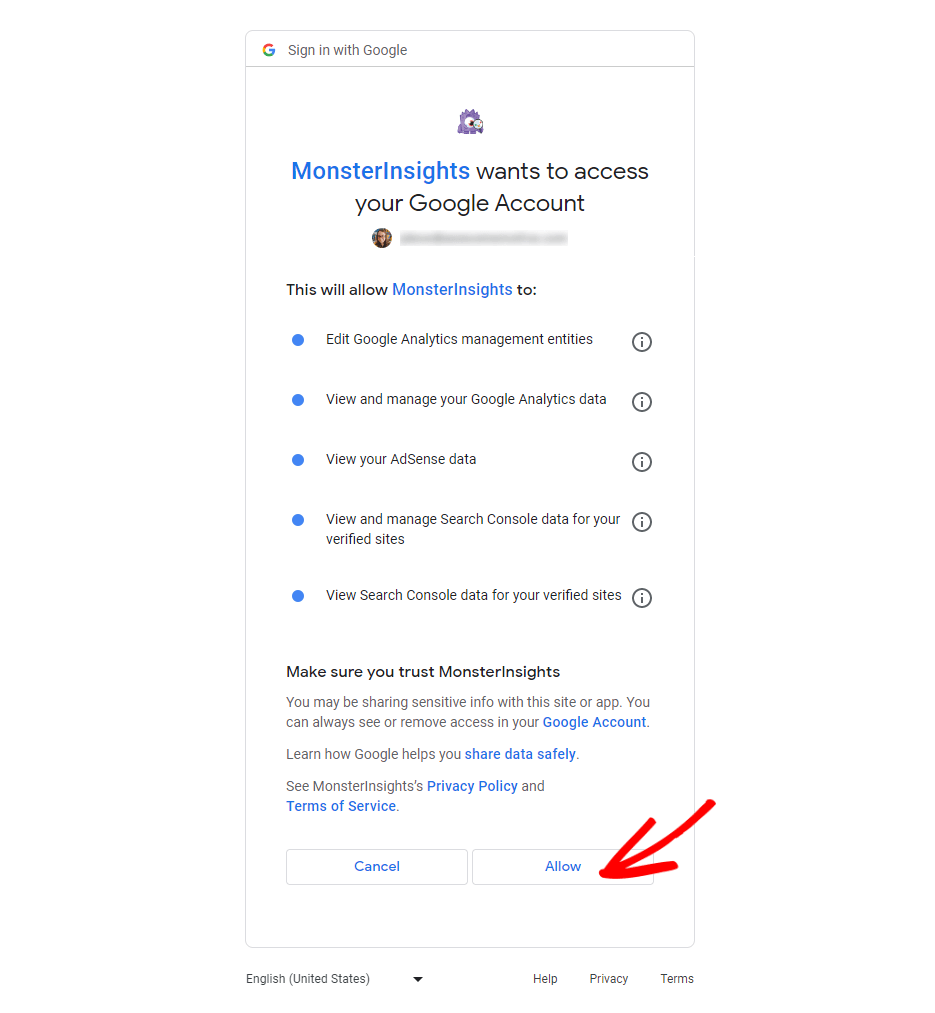 After that, you'll need to pick a profile to complete the connection. If you have multiple websites connected to your Google Analytics account, then you'll need to choose the right website property here.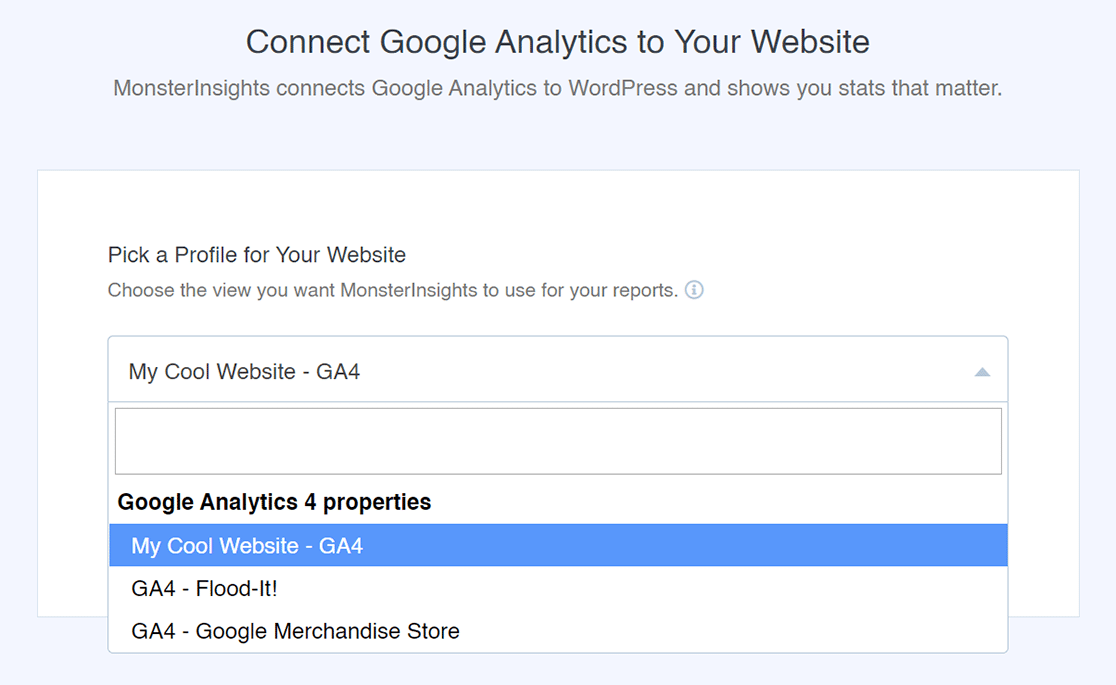 Choose your property, and then click the 'Complete Connection' button.
After that, it'll finalize the authentication process in a few seconds, and then take you back to your MonsterInsights setup page.
Now you can see recommended settings for the Google Analytics plugin.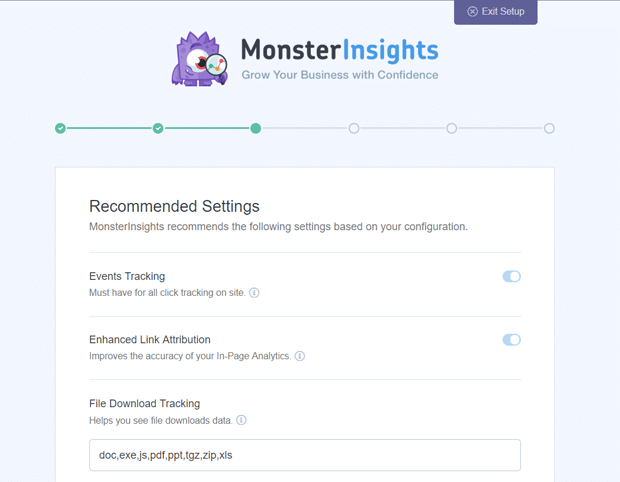 This page includes some of the most important settings like:
Events tracking – Enabled by default.
Enhanced Link Attribution – Enabled by default.
File Download Tracking – Most used file types (doc,exe,js,pdf,ppt,tgz,zip,xls) added by default.
As you scroll down, you'll see more settings.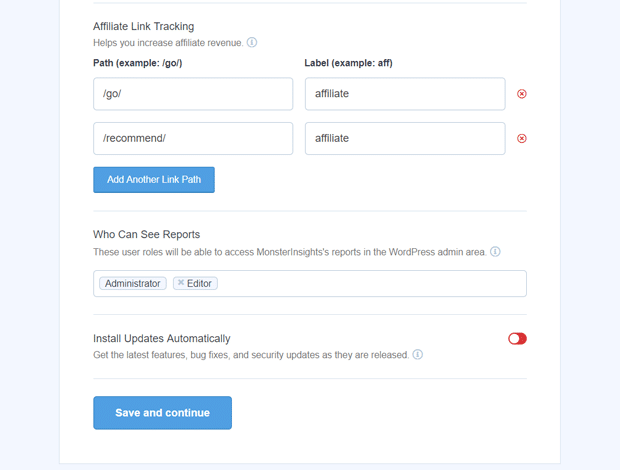 Affiliate Link Tracking – It has 2 affiliate link paths added by default, and lets you add more affiliate link paths.
Access to MonsterInsights Reports – You can choose who can see the MonsterInsights reports within the plugin.
Automatic Plugin Updates – You can enable or disable the option to install updates automatically.
Show MonsterInsights Badge – Choose whether or not you want to show a MonsterInsights badge in your website's footer. You'll be able to access a few options for how this looks later.
Review and configure these recommended settings, and then click the 'Save and Continue' button at the end.
On the next screen, you'll see options for even more tracking options, addons, and helpful plugins.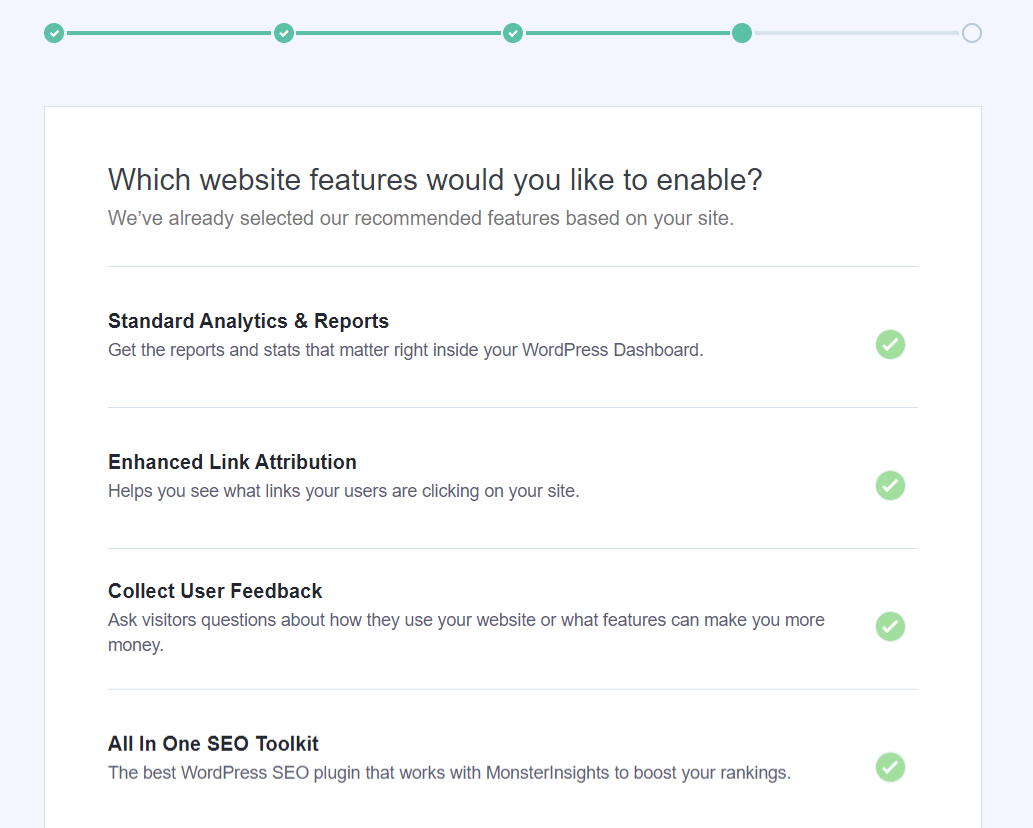 The first four items are:
Standard Analytics & Reports – The standard MonsterInsights reports you'll get in your WordPress dashboard.
Enhanced Link Attribution – Can help you see where users are clicking on your site.
Collect User Feedback – Ask visitors questions about how they use your website or what features can make you more money with the UserFeedback plugin.
All in One SEO Toolkit – The best WordPress SEO plugin that integrates with MonsterInsights
When you scroll down, you'll find even more options:
Conversion Tools – Get the #1 conversion optimization plugin to convert your growing website traffic into subscribers, leads and sales: OptinMonster.
Smart Form Builder by WPForms – The most popular WordPress form builder plugin
Privacy Compliance Addon – Helps Google Analytics become compliant for GDPR, CCPA, and more
Advanced Reports – Get access to advanced reports inside MonsterInsights, such as search keywords, a real-time report, publishers and eCommerce reports, and more
eCommerce Tracking – Instantly enable eCommerce tracking
20+ Advanced Tracking – Even more advanced tracking, such as author tracking, form conversion tracking, scroll tracking, and more
Advanced Growth Tools – Get access to our campaign URL builder, popular posts addon, and A/B testing integration.
Media Tracking – Track how your users interact with videos on your website with the MonsterInsights Media addon.
After that, you'll see a new screen with this message 'Awesome, You're All Set!'. It means the setup process is complete, and you've successfully installed Google Analytics in your WordPress site.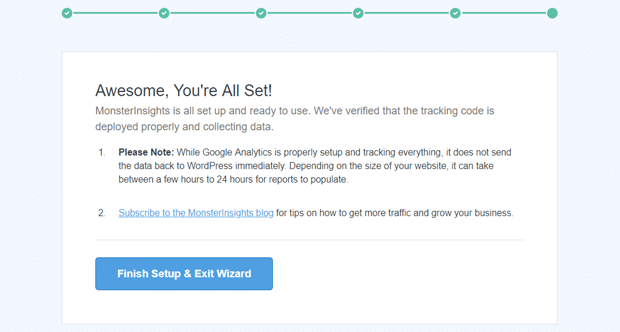 This screen also notifies you about when you can start seeing your website reports. Depending on the size of your website, it can take between a few hours to 24 hours.
Don't forget to click on the Finish Setup & Exit Wizard button.
Step 4: Adjust Settings
Turn Off Enhanced Measurement
First, if you set up your own Data Stream in GA4 (instead of letting MonsterInsights create one automatically), then you'll need to turn off Enhanced Measurement. To do that, go to Admin » Data Streams, then click on your data stream:

Now, click on the switch to turn off Enhanced measurement.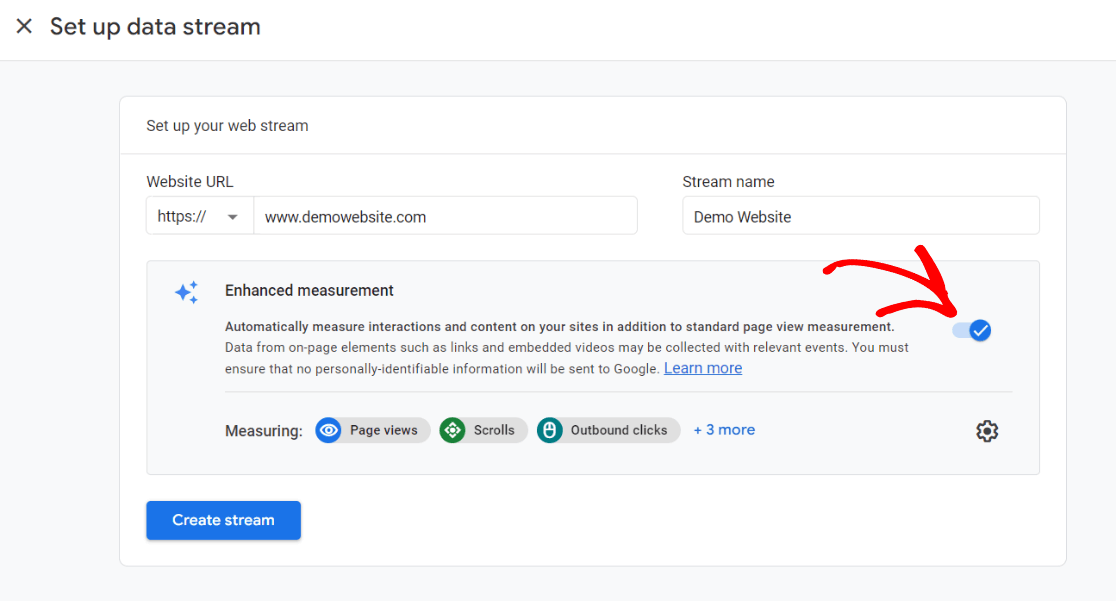 After clicking the switch, a message will pop up asking if you're sure you want to turn it off. Click Turn off.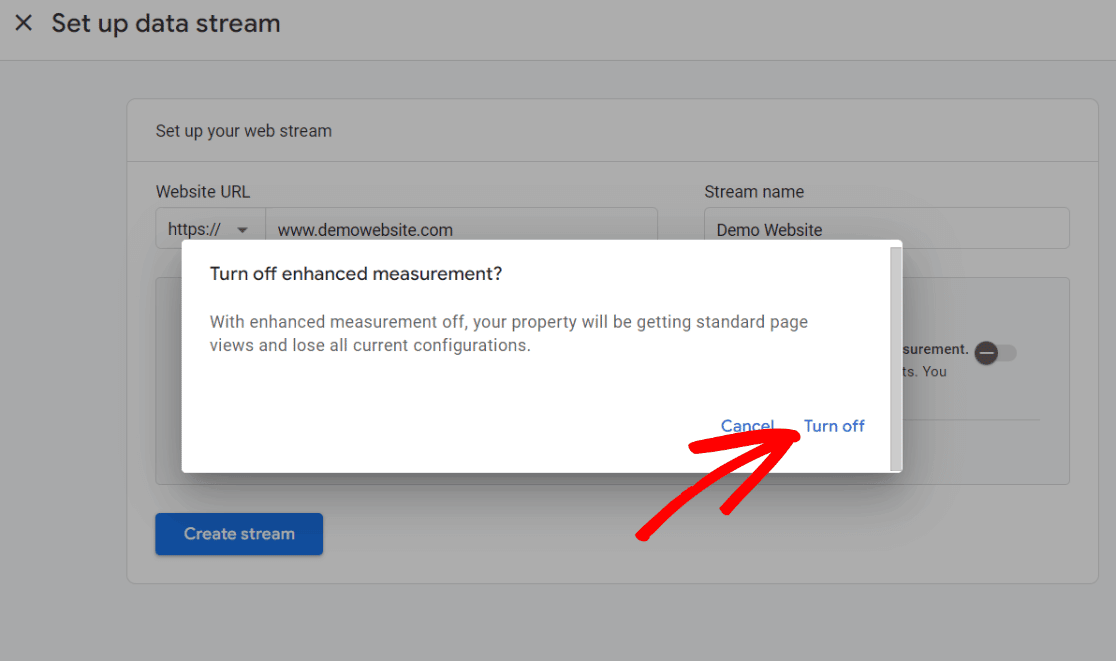 This is a very important step! MonsterInsights adds a lot of custom enhanced tracking, and leaving this on can actually result in skewed, incorrect data.
Adjust Data Retention Settings
By default, your data retention settings will be set to 2 months. If you want to be able to use your data in custom reports beyond 2 months (which most people do), head to Admin » Data Settings » Data Retention: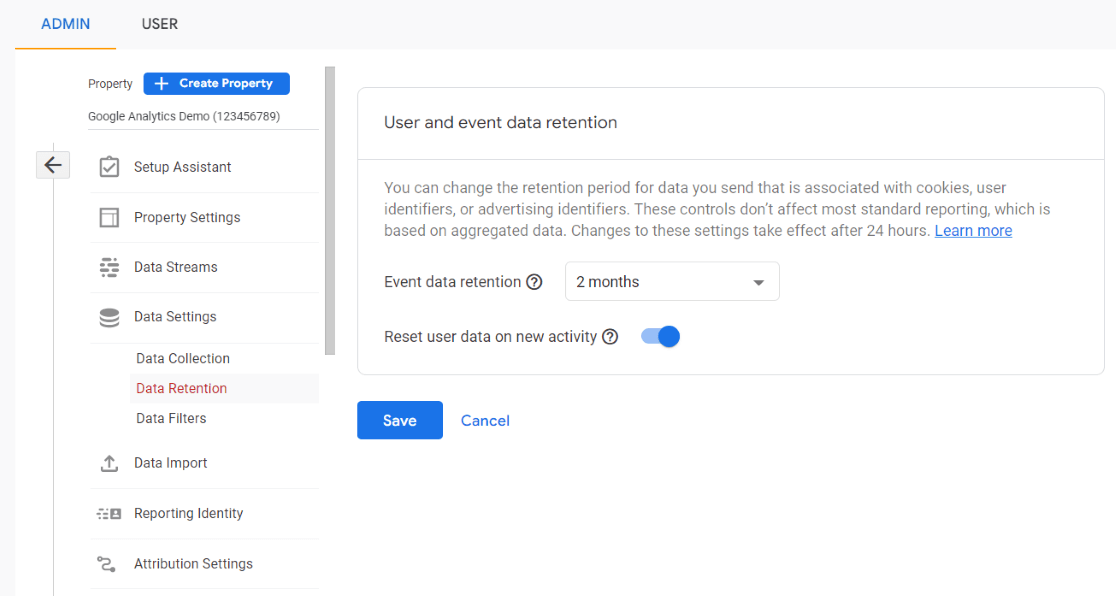 Now, use the dropdown to change your settings to 14 months: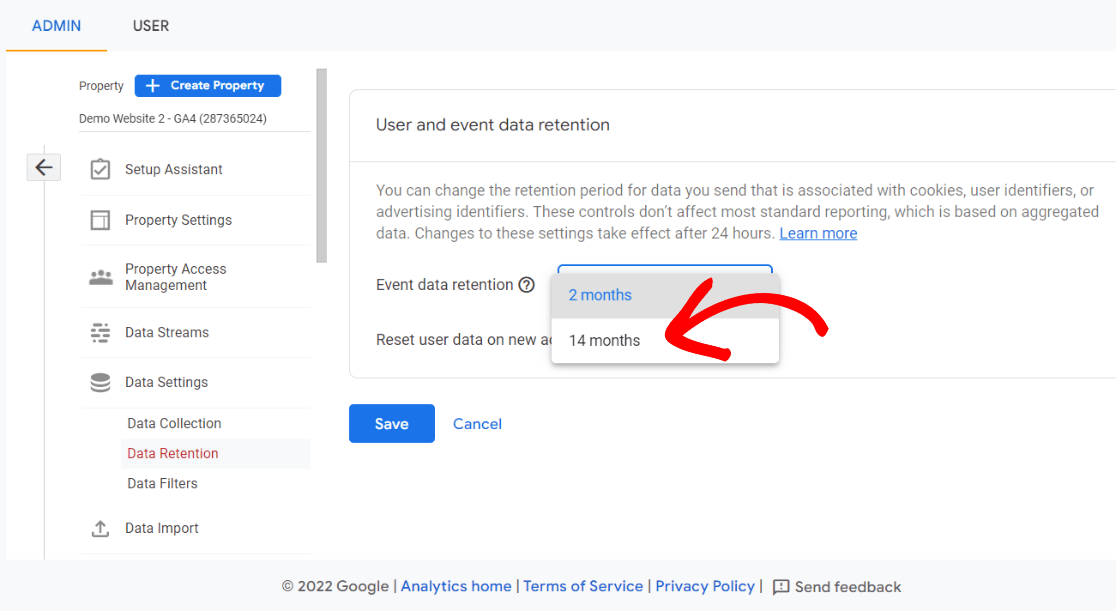 That's it! You've successfully added Google Analytics 4 to WordPress.
Google Analytics 4 & WordPress Frequently Asked Questions
How do I use Google Analytics 4 in WordPress?
After installing MonsterInsights and connecting Google Analytics 4 you can use the MonsterInsights dashboard reports to see your Google Analytics data without having to open your Google Analytics account.
Can I add Google Analytics 4 to WordPress for free?
Yes! MonsterInsights has a forever free version you can download in the Plugins » Add new area inside your WordPress admin.
Is Universal Analytics going away?
Yes. In July 2023, Google will begin sunsetting UA. Data will no longer be collected in your UA property – it'll only be collected GA4. You may be able to view historical data in Universal Analytics for some time after, but UA will stop recording new site visits and data on the sunset date.
How do I activate Google Analytics 4?
For instructions on creating a Google Analytics 4 property without a Universal Analytics property already set up, check out How to Add a Property in Google Analytics (Step by Step).
If you do have a Universal Analytics property and you'd like to add a GA4, follow these simple steps:
You can go through the process of creating a GA4 property pretty easily by following Google's Setup Assistant. To access the assistant, head to the Admin cog then GA4 Setup Assistant in the middle column.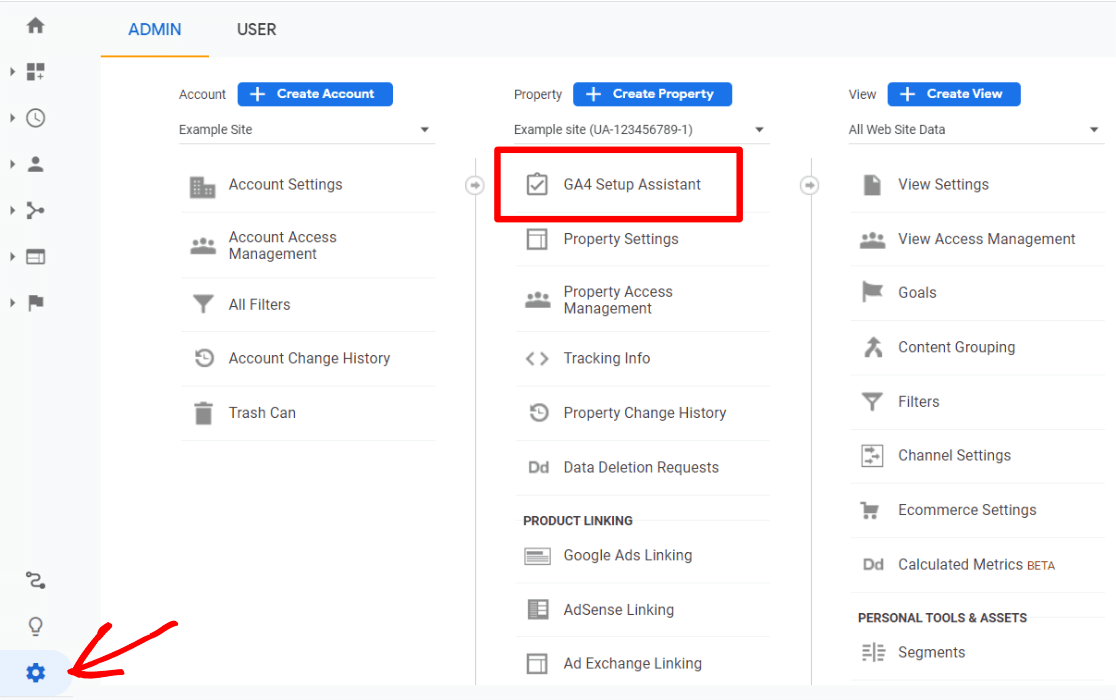 Next, click the blue Get Started button.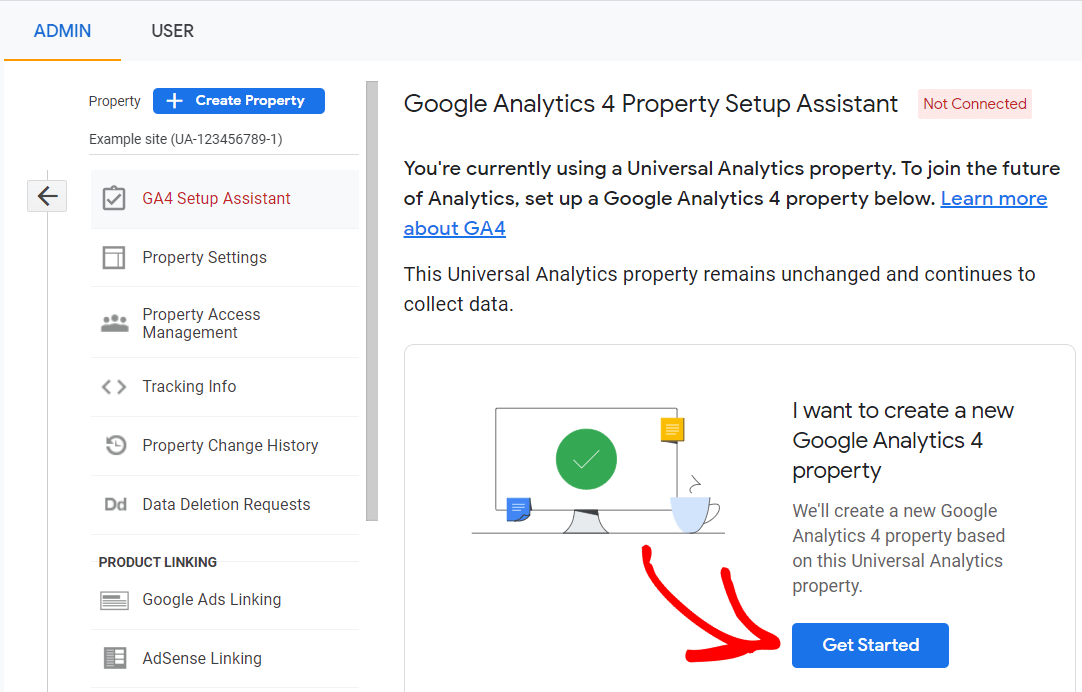 Then, click the Create Property button. The last option will either be checked or not based on which version of the tracking tag you currently have installed.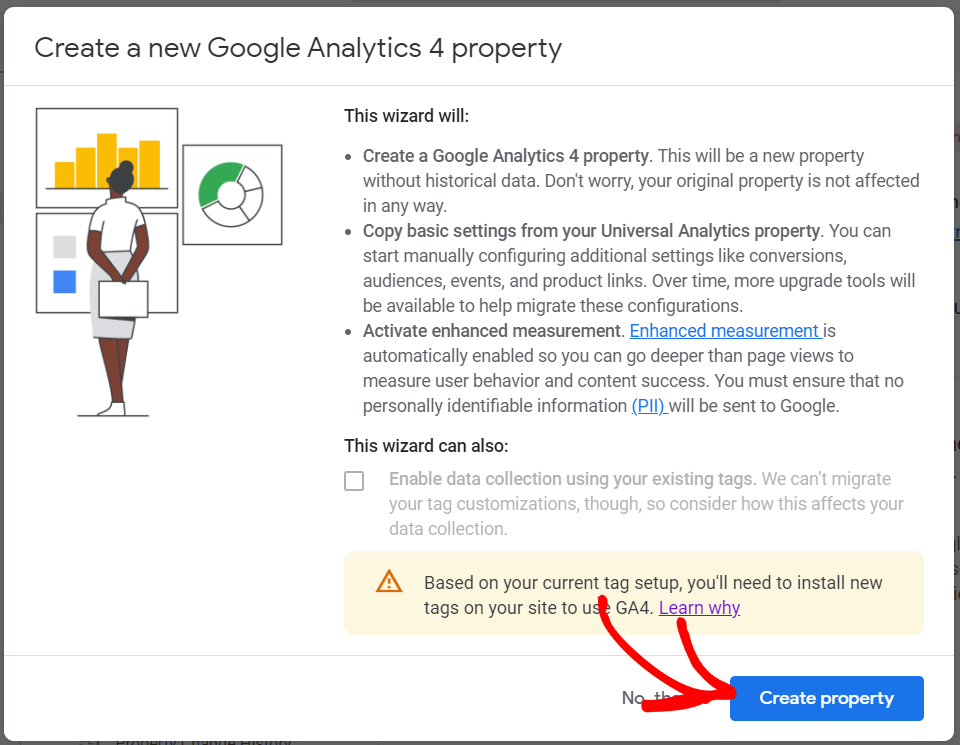 That's it!
We hope you learned how to connect Google Analytics 4 to WordPress easily. Looking for some ideas for what you can do with Google Analytics? Check out 9 Google Analytics 4 SEO Hacks to Increase Search Traffic.
Need help setting up event tracking in GA4? Check out How to Track Link Clicks in Google Analytics 4 and WordPress.
And don't forget to follow us on Twitter, Facebook and YouTube for more helpful Google Analytics tips.