Many people often ask us, is it important to write meta descriptions for their websites and what impact does it have on SEO?
Meta descriptions provide short summaries to readers. It tells them what they can expect from the post and also help you get more clicks.
In this article, we'll go through how to write irresistible meta descriptions for SEO and more clicks. Let's begin…
What is a Meta Description?
A meta description is a snippet that describes the contents of your page.  It's a meta tag in HTML and appears on search engine results (SERPs) under your meta title and URL.
Here's what a meta description looks like on Google: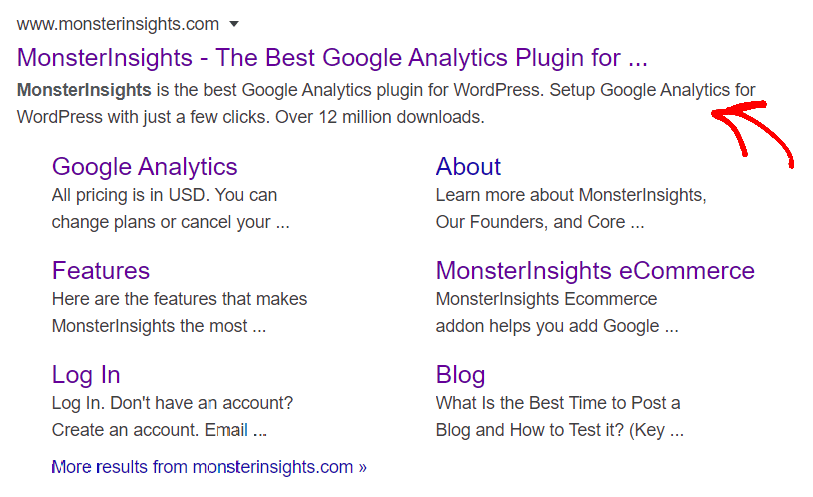 And if you open the page source on your browser, you can see the HTML part of the description:

As you can see, meta descriptions explain what the page contains. When a user enters a search query on the search engine, they can read the description to have an idea of what's inside the link.
Along with search engines, social media platforms can also display your meta descriptions when you share your content with your followers.
Meta Description Length
As for how long should a meta description be, then you should try to keep them within 155 – 160 characters in length (including spaces).
You can use different meta description length checker tools to keep your snippets within the limits.
And if you're using WordPress, then the All in One SEO plugin can help you out.
With All in One SEO, you can type your meta description manually or use the tags with different variables. As you enter your description, keep an eye on the character count at the bottom. If it turns red, you have gone over the maximum recommended characters. You can also see a preview of how it will look at search results.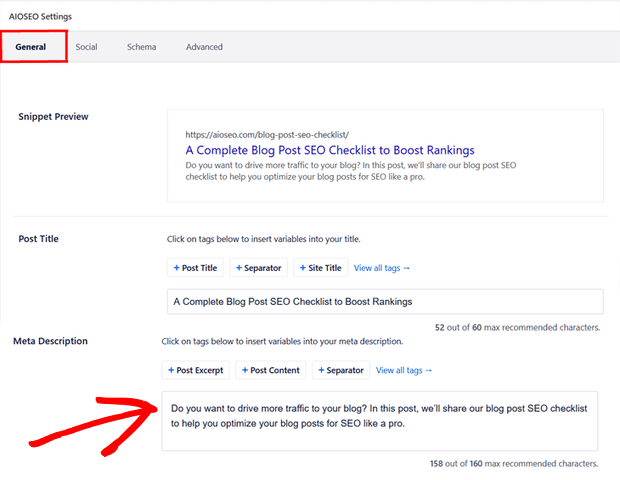 But are meta descriptions really important for your website? What is its purpose? Let's find out.
Why are Meta Descriptions Important?
The main purpose of a meta description is to get people to click on your link and visit your webpage.
That said, meta description is no longer among a ranking factor for Google. Which is why many people often don't enter a description for their pages.
Is it a good idea? No!
Meta descriptions play an important and indirect role in boosting your site's SEO. Google considers the click-through rate (CTR) as one of its ranking factors.
So, if you can get your meta descriptions right and make them attractive, you'll get more clicks and boost your CTR. And with high CTR, you can then skyrocket your rankings on the search engines.
Now let's take a look at how you can create breathtaking descriptions for your website.
How to Write Meta Descriptions
To come up with descriptions that instantly capture your user's attention, you can give these best practices a try.
1. Keep Your Descriptions Simple and Conversational
When it comes to writing meta descriptions, remember that you're creating them for people and not for search engines. So, try to keep them conversational and use natural language so anyone can easily understand and click on your link.
Consider this meta description example by OptinMonster. It asks a question at the start to keep it conversational and provides a simple explanation of what you can expect if you click on the link.

2. Include Your Keywords in Meta Descriptions
By adding your focus keyword in the meta description, you have a higher chance of getting more clicks. That's because search engines like Google bold the search term in the meta description tag.
For instance, if you search for SEO on Google, you'll notice that the search term is bold in the description.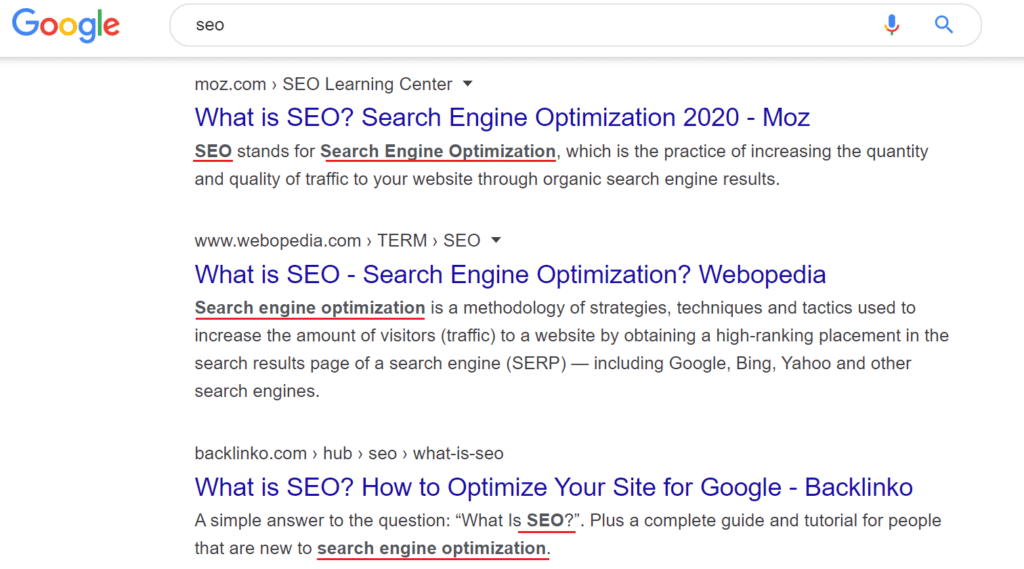 However, do not stuff keywords in your descriptions or it will lead to a penalty. Not to mention bad user experience since people will not know what your webpage is offering.
3. Add Power Words to Capture Emotions
Power words are phrases or words that add emotion to your content. You can use words like limited time or sale ends soon to create urgency. Or you can spark curiosity with phrases like thought-provoking and invitation only.

Here are over 700 power words you can use to make your meta descriptions irresistible.
4. Make Sure You Provide a Call-to-Action
If you want people to click on your link or perform any action, it's important that you include a call-to-action (CTA) in your meta descriptions.
You can add CTAs like click here to get people to visit your website. And if you want to get users to complete a goal, then CTAs such as create an account, sign up, or buy now work really well.
For example, Apple adds a buy now CTA in its meta description for its iPhone 11 Pro page.

5. Try to Write Within Character Limits
As we stated earlier that the meta description length is around 155 to 160 characters, you should try to keep within these limits when drafting a description.
However, Google has experimented with longer meta descriptions. In some cases, you'll notice a few search results having longer text compared to the rest of the results (which is exactly what happened when we looked up SEO).
So, what does this tell you? For starters, there is no right length or a fixed limit. But as a good practice, keep your important information in the first 150 characters.
6. Create Unique Meta Descriptions for Each Page
It's important that you write different and unique meta descriptions for each page or you'll risk duplication.
Having the same descriptions for multiple pages doesn't send a good signal to the search engine or to your users.
Imagine if you're selling shoes online and have the same meta description for all your products. Your visitors will have a very difficult time finding the pair of shoes they're looking for. As a result, they won't click on your page and go to another website.
7. Your Meta Description Should Match Your Content
Another important point to remember is that your descriptions should match the content of your webpage. If you create meta descriptions that are misleading or bait users into clicking on your link, you'll risk getting a penalty from Google.
Along with a penalty, you'll also get a high bounce rate if users don't find what they wanted on your webpage. So, always try to match your descriptions with your content since they provide a short summary to your visitors.
And that's it for this post!
You now know the importance of meta description and why you should be using them.
We hope you liked our article on how to write irresistible meta descriptions for SEO and more clicks. You can also go through our guide on Google Analytics for publishers.
Don't forget to follow us on Twitter and Facebook for more helpful articles about WordPress and Google Analytics.