Many people often ask us, how important is SEO for their website? And our answer is – it's very important!
It doesn't matter the size of your website. Be it small, medium, or large, every business needs SEO.
Search engine optimization can bring in hundreds and thousands of organic traffic to your website by improving your visibility on search engines.
But the landscape of SEO is evolving and constantly shifting. That's why it can be tricky to see what strategies to use for your site and increase your rankings. This is where you can learn from SEO stats.
In this article, we'll share powerful SEO statistics to boost your rankings. Using these easy to understand facts and figures, you pick SEO tricks to use for your website.
Let's begin…
All-Purpose Organic Traffic and SEO Statistics
We'll kick things off with some basic stats about search engine optimization. To give you an idea about how powerful is SEO, then you should know that search is the number 1 source of traffic for any website.
A study by BrightEdge analyzed numerous websites and showed that 51% of the traffic for B2B and B2C sites is driven by organic search. While paid brings in 10% traffic and social generates only 5% traffic.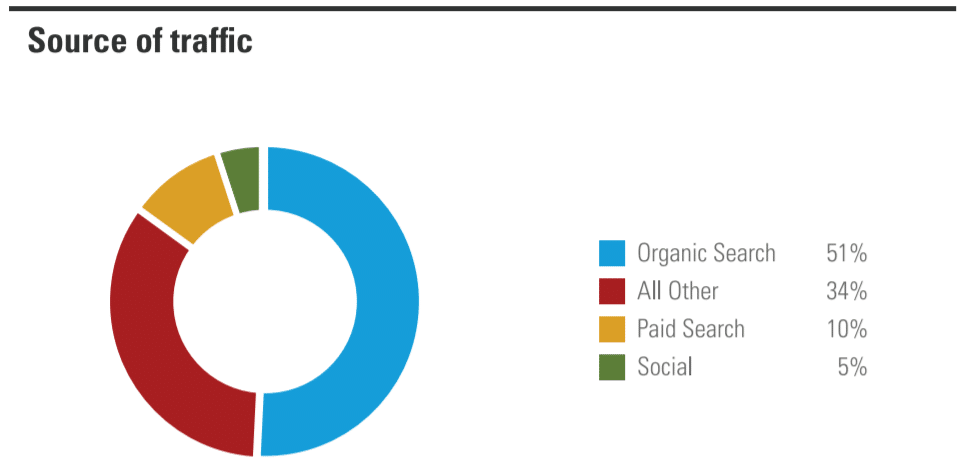 And if you look across industries, then you'll also see that organic dominates the traffic channel. However, the business services industry drives the most traffic through search, almost 73%.
These SEO statistics show the importance of search and why it should be a part of your marketing strategy.
But which search engine should you target?
In 2019, Google dominated the desktop search traffic with 75.34%. It's followed by Bing (9.97%), Baidu (9.34%), Yahoo (2.77%), and Yandex (1.19%), making up the top 5 search engines.
The popularity of Google makes it the top search engine in the world. This shows that if you want to drive organic traffic to your site, then you should try to rank higher on Google.
Now let's take a look at some statistics about Google search.
Google Search Statistics
Did you know that there are over 5.14 billion searches made on Google each day? That's almost 2.46 trillion searches in 2019 alone. This means that Google processes 79,456 searches every second.
And the interesting part is that the number is rising very quickly. So, by the time you've been reading this, the number of searches on Google would have gone up.
In terms of market share, Google dominates the search engine industry. In 2019, 92.71% of search queries were done through Google, which means 9 out of 10 people used Google to lookup queries.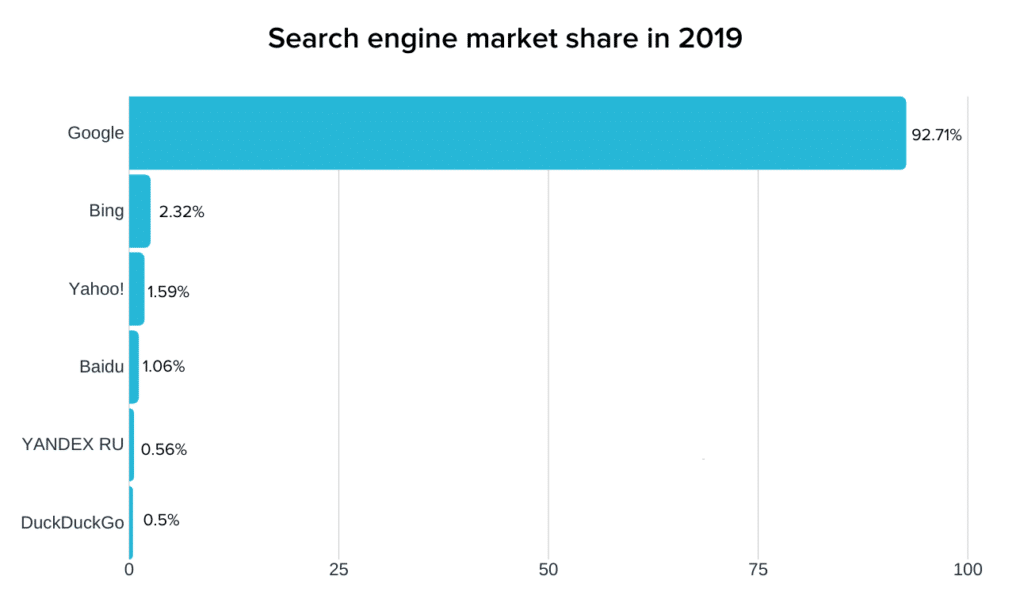 When it comes to ranking on Google, then there are 200 SEO factors the search engine considers. But the two most important factors are high-quality content and backlinks.
According to HubSpot, companies that publish blogs get 55% more traffic and have 434% more pages indexed by search engines. This shows that producing content and publishing blogs will help rank on Google.
When you're creating blogs, make sure they are long-form, as the average word count of pages on the first page is 1,890 words. It shows that you should try to add as much detail as possible and create value for your reader.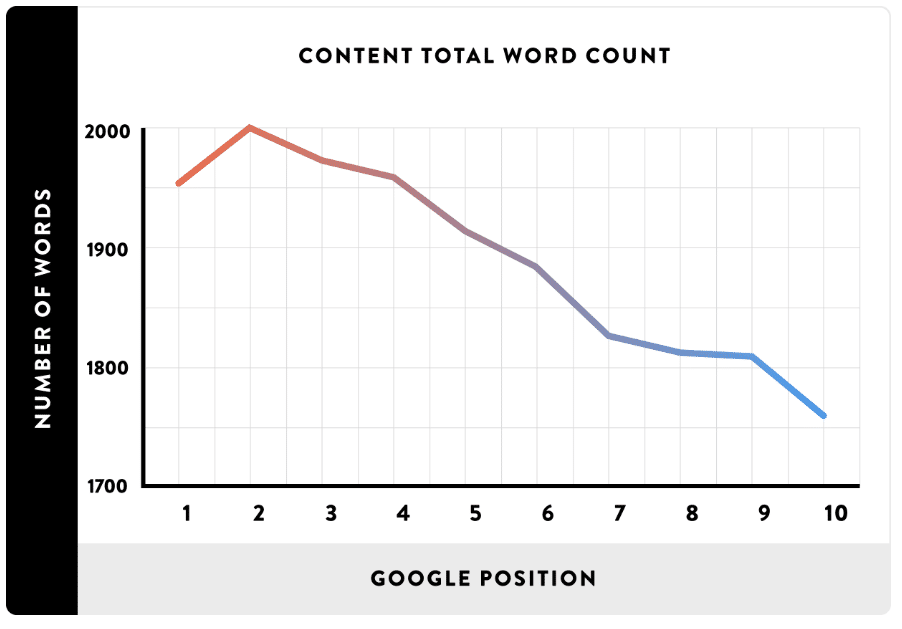 The second most important Google ranking factor is backlinks. Ahrefs did a study and found that 91% of websites get no organic traffic from Google. One of the reasons for this was that 55.24% of pages didn't have any backlinks.
This shows the importance of backlinks. You go through our guide on how to get backlinks using quick and simple strategies.
Other ranking factors include the use of HTTPS. 50% of the websites that rank on the first page have HTTPS encryption. So if your site isn't HTTPS yet, then you should add SSL certificates and have a better chance of ranking on the first page.
You should also look at your website loading speed to rank higher, like using a CDN. That's because Google gives an advantage to sites that load quickly.
Not only that, but 53% of visitors will leave a website if it takes more than 3 seconds to load. And if there's a 1-second delay in your page load time, you can see a reduction in conversions by 7%.
Another interesting finding by Ahrefs is that pages in the top 10 results on Google are 3 years or older. However, the research went on to say that if you can create enough buzz, you can rank within a day.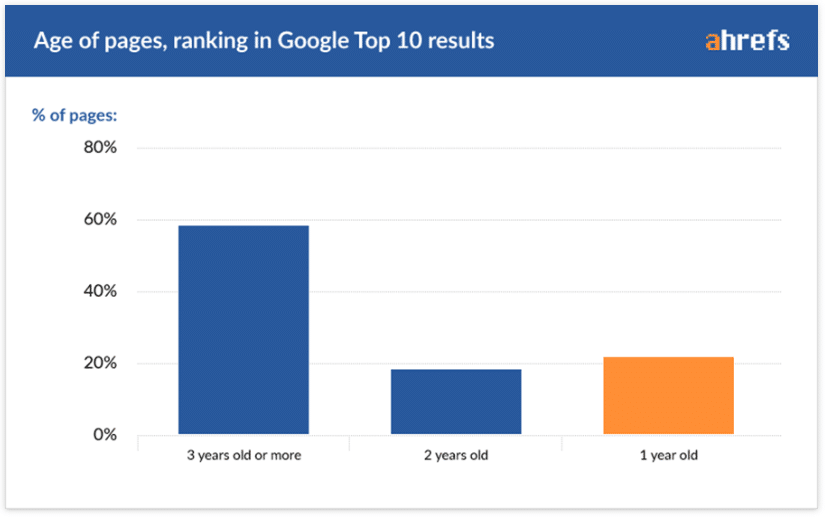 At this point, you may ask what are the benefits of ranking on the first page of Google?
SEO Statistics for Ranking on the First Page
As you can see from our SEO statistics, ranking on the first page of any search engine should be your ultimate goal.
That's because 75% of the people don't scroll beyond the first page of search results. Ranking first not only brings in a lot of traffic, but you also get more sales and conversions.
By grabbing the top position on Google SERPs, your CTR (click-through rate) will instantly skyrocket. A page ranking on the first position gets 30% of all the clicks. In fact, the top 5 search results on Google account for 67% of the total clicks.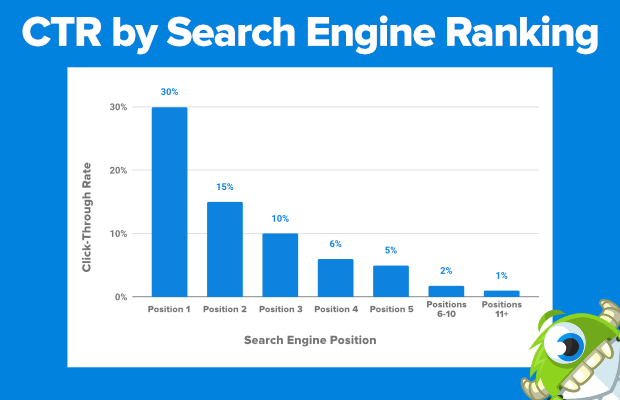 Organic positions are so powerful that they outperform paid results in terms of clicks and conversions. For instance, organic results get 94% more clicks than paid ads on the search results.
And if you're looking to get high-quality backlinks for your website, then higher rankings can help. In fact, pages on the number 1 spot on SERPs get 5% to 14.5% more backlinks from new websites.
Now that you know the benefits of ranking in the top results, let's find out about mobile SEO statistics.
Mobile SEO Statistics
Mobile is now an important part of search engine optimization. That's because search engines like Google have gone mobile-first index.
What this means is that Google will now rank your website based on its performance on mobile. If a website is not mobile responsive and doesn't function properly on mobile, then it will not rank higher.
So, if you're planning on optimizing your pages for search engines, then you'll have to look at its user behavior on mobile devices.
And to give you an idea of why search engines have made the change then consider this, 95% of organic traffic on Google in the US was from mobile.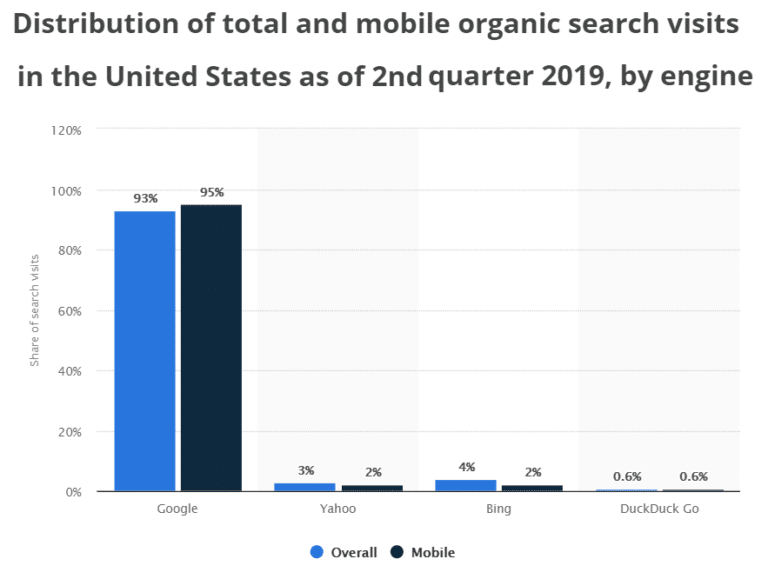 The high number of visitors from mobile is no surprise as there are 4.33 billion internet users around the world and 3.7 billion of them are from mobile.
And if you have an eCommerce business, then mobile is that more important. For instance, mobile searches for same-day shipping have grown by 120% since 2015.
Similarly, for physical stores that have an online presence, then mobile search for where to shop and where to buy has increased by 85%.
There's also a shift in the number of clicks on mobile compared to desktop. The first organic result would get 27.7% of clicks on mobile, while the same first result on the desktop would get 19.3%.
These SEO statistics tell you the role mobile has in getting higher rankings. But with mobile search, there's a boost in voice search as well.
Voice Search SEO Statistics
Voice search is on the rise and is becoming an important part of search rankings. And with the introduction of voice assistants like Siri, Google Assistant, and Alexa, it's easier than ever to use voice search to look up things.
To give you an idea, a total of 16.8 million voice search devices were shipped by Apple, Google, Amazon, and other manufacturers.
Because of their growing popularity, voice search will become a big part of SEO, as 50% of all internet searches will be voice-based by 2020. And these search queries will longer than a text-based query, around 3 to 5 words.
This shows that long-tail keywords will play an important role in optimizing your content for voice search.
But what about the accuracy of voice search?
The number of correct answers given by a voice search assistant varies across devices. Google Assistant is the most accurate followed by Alexa. Apple's Siri is surprisingly not as accurate as others in answering questions.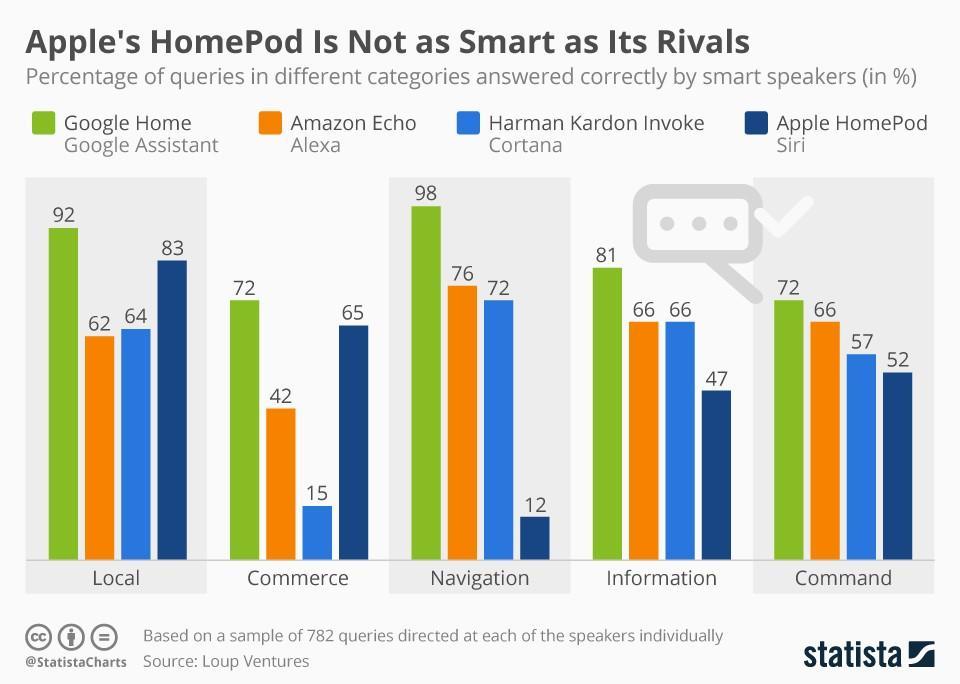 However, the answering capabilities through voice search is expected to improve, so you have to make sure that your website and pages are optimized.
Another interesting SEO statistic you might want to consider is that 40.7% of voice search answers are taken from featured snippets.
This shows that you should try and capture as many featured snippets as possible, as it will increase your chances of making it to voice searches. Likewise, higher rankings also improve your prospects of being in a voice search result.
More factors that are important for SEO are videos. You may ask how? Let us show you…
Video SEO Stats
If you're looking to boost your search engine rankings, then you can try creating videos. They are an important content type that appears on SERPs along with featured snippets and knowledge panels.
This leads us to a question – how do you optimize your videos to rank higher on Google and YouTube?
Start by adding videos to your blogs. You have 53X more chances of ranking on the first page of Google if you have videos on your website.
Videos help you get more backlinks for your webpage, which is good for SEO and improving your search position. They are also a great option if you're thinking of repurposing your content.
By converting blogs into videos can provide you a new source for driving traffic, as videos can boost your organic traffic by 157%.
You can leverage the power of videos through YouTube. It is the second-largest search engine after Google and provides over 1 billion hours of video to users each day.
Backlinko performed a study on 1.3 million YouTube videos to learn about SEO. It found that video comments play an important role in ranking higher on YouTube rankings.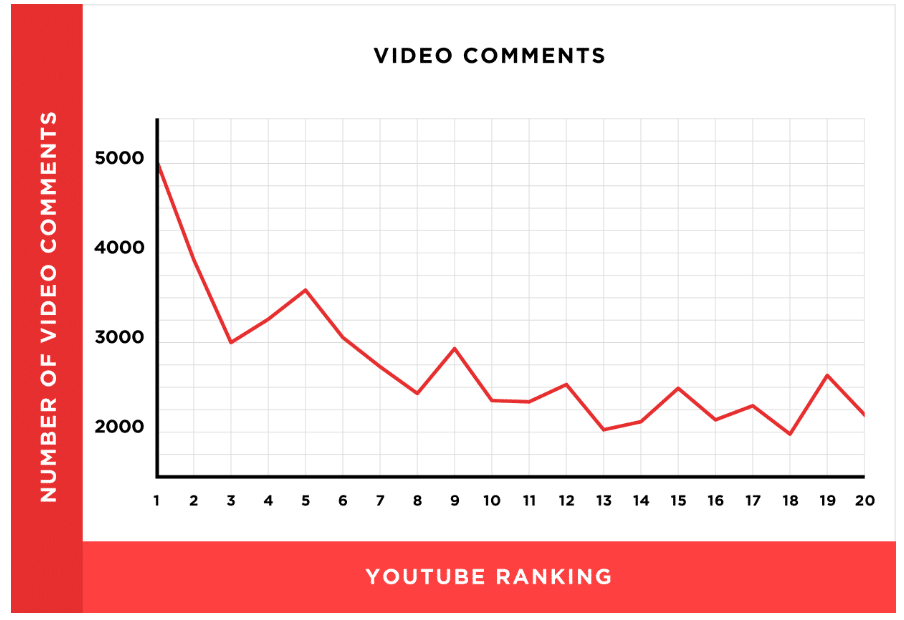 Along with comments, the number of shares, views, and likes also played a huge part in ranking your video higher. It also found that videos on the first page on YouTube were on average 14 minutes, 50 seconds long.
Given that videos are a popular content type, they should be part of your content strategy.
That's because, by the end of 2019, 85% of global internet traffic in the US will come from videos. And it's expected that this will grow in 2020.
While videos are vital for your SEO strategy, so are local searches.
Local SEO Statistics
When it comes to SEO, another important factor you cannot ignore is optimizing your site for local searches. According to Google, 30% of mobile searches are related to location.
So, 78% of the people search for something nearby on their smartphones and then visit a store within a day. And 28% of these searches for something nearby end up in a purchase.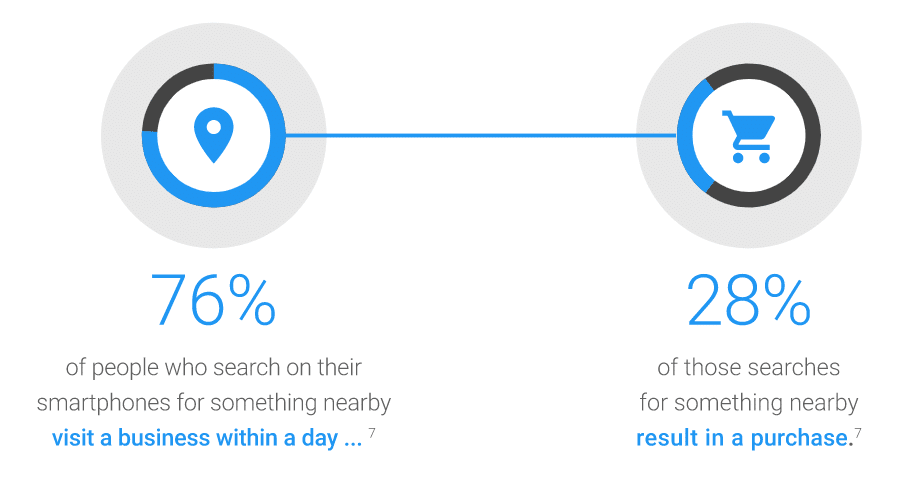 Another reason why you should focus on local SEO is 46% of searches on Google are for local services and businesses.
If you want to optimize your site for local searches, then you can use Google My Business and Bing Places. It's a free listing service by search engines and has plenty of open opportunities, as 56% of local businesses haven't signed up for a listing on Google.
You should also work on positive reviews for your website. 88% of consumers trust online reviews and turn to Google for recommendations and referrals to local businesses.
With that, you've made it to the end of our post.
Using these SEO stats, you can use different strategies for your website and increase your organic traffic.
We hope you liked our article on powerful SEO statistics to boost your rankings. You can also go through our guide on how to properly set up Google Analytics in WordPress.
And don't forget to follow us on Twitter and Facebook for more stats posts, tutorials, and blogs about Google Analytics and WordPress.