Do you use your website's traffic stats to figure out if you're doing a good job at search engine optimization (SEO)? Check out this awesome list of SEO statistics and see how your site measures up!
What's Search Engine Optimization?
Search engine optimization draws organic traffic to your website by improving your visibility on search engines.
But the landscape of SEO is evolving and constantly shifting. It can be tricky to decide what strategies are most effective for increasing your rankings. SEO stats can help your decision making and planning, so you can use your SEO resources wisely.
In this article, we'll share SEO statistics that can spark your creativity and boost your rankings. Take a look at these facts and figures from top SEO and marketing resources, and you're sure to come up with new ideas to improve your website!
Let's begin…
All-Purpose Organic Traffic and SEO Statistics
We'll kick things off with some basic stats about the importance of search engine optimization. First, in case you didn't realize how impactful SEO can be for your business, you should know that search is the #1 source of traffic for most websites.
The latest study by BrightEdge analyzed a variety of business websites and reported that over 53% of their overall website traffic came from organic search.
The second largest share of site visits, at 27%, was from sources like direct traffic, referral links (backlinks), and other sources. Finally, paid advertising brought in 15% of the traffic for the average business, while social generated only 5%.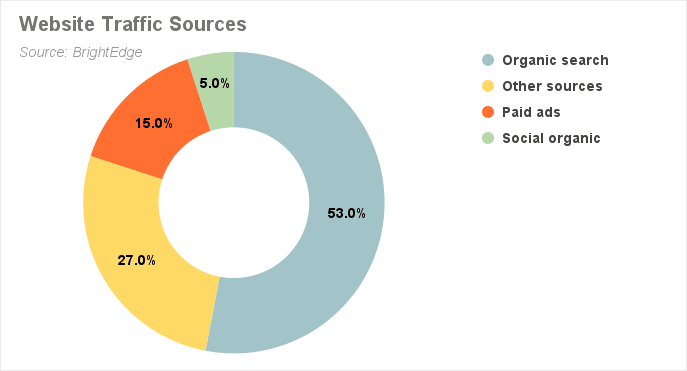 If you compare industries, you'll see that organic search drives the most traffic no matter what business you're in. However, when it comes to B2B traffic, the percentage of traffic from organic search is even higher than average at 64%.
When you add in paid search traffic (like Google Ads, for example), the total share of traffic from search activities jumps to over 76%.
These SEO statistics show the importance of search, both paid and organic, and why it's so critical to your business results.
Search Engine Market Share
Which search engine should you pay the most attention to when it comes to optimizing your site? Most people would guess Google, but do you know how dominant it really is?
In 2022, Google grabbed a huge majority of worldwide desktop search traffic with 84.08%. It was followed by Bing (8.95%), Yahoo (2.6%), Yandex (1.51%), and Duck Duck Go (0.84%) in the list of top 5 search engines by market share.
When you factor in all platforms, including mobile and tablet users, Google's search market advantage reaches a whopping 93% of all online searches. Bing comes in 2nd again, with just a 3% share of global search volume.
So, if you want to draw the most organic traffic to your site, you may want to invest more resources toward ranking higher on Google.
Now, let's take a look at some more detailed statistics about Google search.
Google Search and Ranking Statistics
Did you know there are over 8.5 billion searches made on Google each day? That's over 3.1 trillion searches in 2022 alone. This means that Google processes 98,380 searches every second.
The number of total searches on Google has increased every year since its inception. So, you can be sure that this trend is likely to continue into the future.
As we mentioned, in 2022 92.58% of all search queries worldwide were completed on Google, on all platforms combined. Bing comes in a distant second.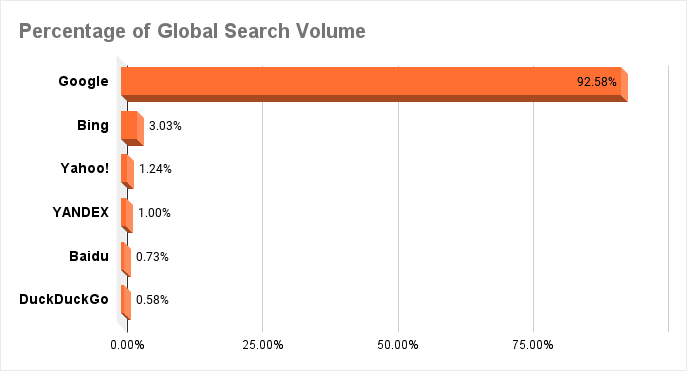 So, Google received more than 30x the amount of search queries as its nearest competitor. This is why most marketers concentrate their efforts on improving Google rankings.
Also, anything you do to affect your Google ranks positively will likely have a positive effect on other search engine queries.
When it comes to ranking on Google, they analyze somewhere around 200 different factors to decide where your webpages should rank. However, the two most important factors are high-quality content and backlinks (incoming links from other websites).
Content Length and Quality Impact SEO
According to a HubSpot study updated in 2022, companies that publish blogs get 55% more traffic and have 434% more pages indexed by search engines. These blog-publishing websites also had 97% more backlinks than non-blog sites.
These stats show the impact of publishing high-quality content that matches your audience's search intent.
When you're creating any type of blog post or webpage, make sure you include enough content to cover your topic thoroughly. Research by Backlinko.com found that pages in the top 10 Google search results had an average word count of 1,447 words.
This is definitely more words than an average page or post, which means that longer form content is generally favored by Google and online searchers. If your posts are shorter and not ranking as high as you'd like, add more content to explore your subject matter in greater depth.
The Importance of Backlinks
The second most important Google ranking factor is backlinks. Ahrefs did a study in 2020 that found over 90% of webpages get zero organic traffic from Google.
This study also revealed that 66% of webpages analyzed had no backlinks from other websites. And, that a higher number of backlinks is directly correlated with a higher organic traffic numbers.
This shows the importance of backlinks for ranking and organic traffic. For more insight, read our guide on how to get backlinks using quick and simple strategies.
Loading Speed and Content Age
You should check your website loading speed, and consider using a CDN. That's because Google gives preference to sites that load quickly.
Not only that, but 53% of visitors will leave a website if it takes more than 3 seconds to load. And if there's a 1-second delay in your page load time, you'll see a reduction in conversions by 7%.
Another interesting finding by Ahrefs is that the average age of pages ranked #1 on Google is 2.6 years. And 78% of the results in the top 10 of search results are over a year old.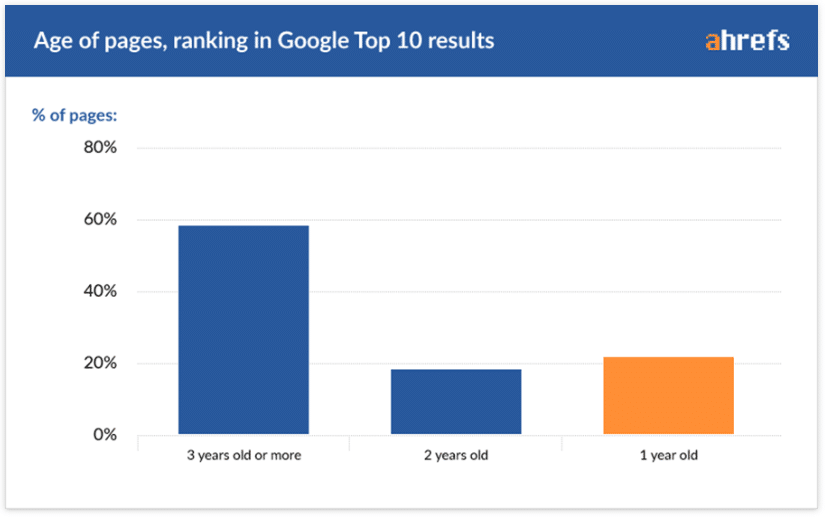 So, generally speaking, older content actually ranks better than newer, "fresher" content.
At this point, we've been talking about a lot of stats related to Google rankings. So, what are the benefits of ranking on the first page of Google?
SEO Statistics for Ranking on the First Page
As you can see from our SEO statistics, ranking in the top few results for searches should be your ultimate goal.
That's because most people don't scroll beyond the first 10 items in Google search results. A recent study by Backlinko.com showed that only 0.63% of searchers click on results beyond the top 10.
On the other hand, if you can land a high position on Google SERPs, your CTR (click-through rate) will skyrocket. A page ranking in the first position gets nearly 28% of all the clicks. In fact, the top 5 search results on Google account for about 70% of the total clicks.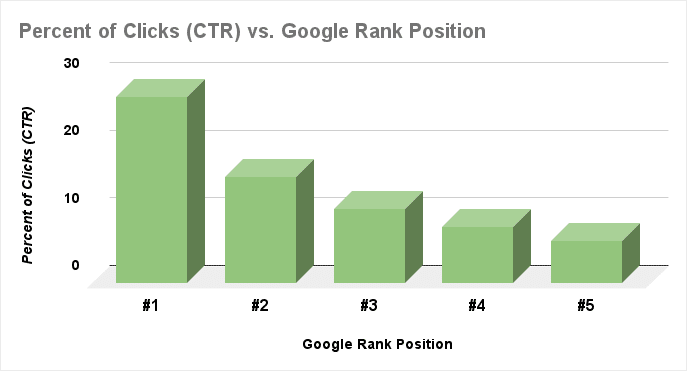 And if you're seeking high-quality backlinks for your website, then higher rankings can help. In fact, pages in the top 3 spots on SERPs get significantly more backlinks than lower-ranked pages.
Now that you know the benefits of ranking in the top results, let's find out about mobile SEO statistics.
Mobile SEO Statistics
Mobile is now an important part of search engine optimization. That's because search engines like Google have gone mobile-first.
What this means is that Google now ranks your website based on its performance on mobile. If a website isn't responsive and offers a poor user experience on mobile, it's going to be hard to boost its ranking.
So, if you're planning on optimizing your pages for search engines, make sure you look at its behavior on mobile devices.
Not only does Google use your mobile site for indexing, most internet users use mobile devices to browse the Web. In Q2 of 2022, 59% of all global internet traffic occurred on mobile devices.
The high number of visitors from mobile is no surprise as there are more than 5 billion internet users around the world and 5.48 billion mobile phone users.
And if you have an eCommerce business, then mobile is even more important. For instance, the mobile share of total eCommerce sales has grown to 72.9% of all online sales.
There's also a difference in the organic CTR on mobile compared to desktop. The typical #1 organic result gets fewer clicks on mobile, while lower ranked pages have higher CTRs versus desktop.
These SEO statistics tell you that mobile traffic share is continuing to increase over desktop. Mobile is also growing its dominance in the online shopping arena.
As with mobile search, there's been a boost in voice search over the past few years as well.
Voice Search SEO Statistics
Voice search is on the rise and is expected to continue its expansion. The widespread introduction of voice assistants like Siri, Google Assistant, and Alexa makes voice an even more important search medium.
Because of their growing popularity, voice search has become more important to SEO.
And, do you realize that people searching by voice actually phrase their searches differently? This shows that long-tail keywords will play an important role in optimizing your content for voice search.
But what about the accuracy of voice search?
The number of correct answers given by a voice search assistant varies across devices and platforms. According to a Semrush study, Android and Siri are the most accurate, followed by Google Home and Alexa.
Amazon's Alexa, surprisingly, could not answer 23% of questions posed, versus Android and Siri's 2%.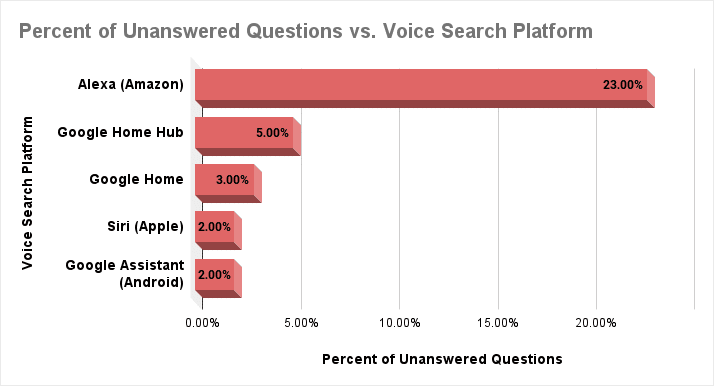 One more interesting SEO statistic that could impact your search marketing is that over 40% of voice search answers are taken from featured snippets.
This shows that you should try and capture as many featured snippets as possible, to increase your chances of capturing voice searches. Likewise, higher rankings improve your prospects of being in voice search results.
Publishing video content on your website also has an impact on SEO. How, you may ask? Let's take a look…
Video SEO Stats
Adding video can boost your search engine rankings, for a number of reasons. They are a major content type that appears on SERPs, along with featured snippets and knowledge panels.
Video search results have excellent click-through rates, so getting a top result is a great goal. Videos may also help you get more backlinks for your webpage, which is good for SEO and improving your search position.
Most marketers are aware of the power of video, and in 2023 91% of businesses said they use video as a part of their marketing strategy.
This study also surveyed marketers and revealed that:
91% say video helped them increase traffic
90% state that video marketing generated new leads
87% said that using videos increased their sales revenues
So, how do you publish and optimize video content to rank higher on Google and YouTube?
You could start by adding videos to your blogs. This is a great option if you're thinking of repurposing your content.
One way to re-use content is to turn blog posts into videos. Start with your most popular posts and add video versions of the content.
YouTube Video Stats
You can also leverage the power of video SEO through YouTube. It is the second-largest search engine after Google and has more than 1.3 billion users.
YouTube users watch over 15 billion videos every day.
Backlinko performed a study on 1.3 million YouTube videos to learn about SEO. It found that video comments play an important role in ranking higher on YouTube rankings.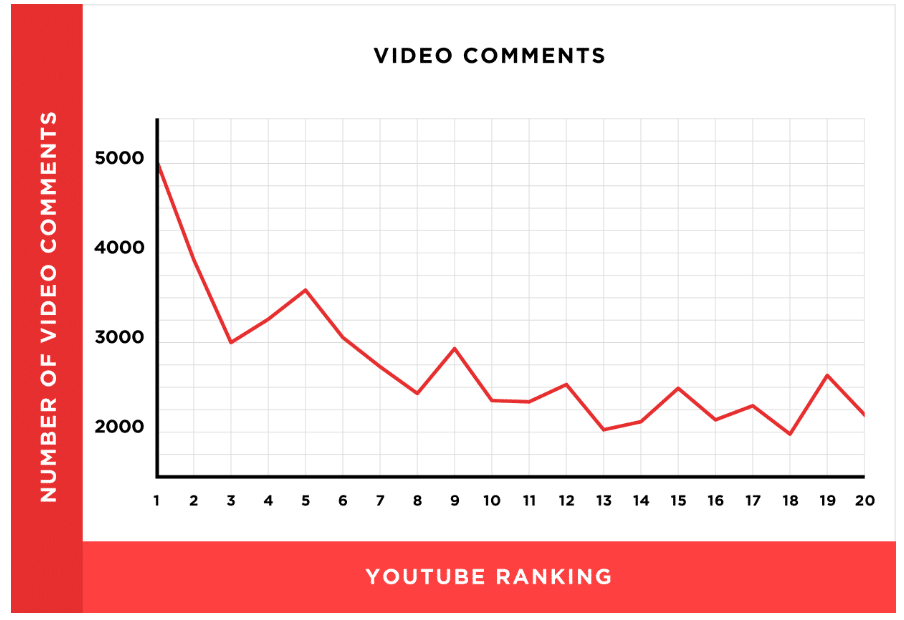 Along with comments, the number of shares, views, and likes also contributed to higher video rankings. The study found that videos on the first page on YouTube averaged 14 minutes, 50 seconds in length.
Given that videos are a hugely popular content type, they should be part of your content strategy.
That's because in 2022, 66% of all internet traffic volume came from videos. And it's expected that this will only continue to grow.
While videos are vital for your SEO strategy, so are local searches.
Local SEO Statistics
When it comes to SEO, another important factor you cannot ignore is optimizing your site for local searches. According to Milestone Research, 22.6% of all internet traffic is generated by local search results.
Website visitors who arrive from local search have also proven to be more engaged than the average user. Local searchers view 3.92 pages per session, significantly higher than traffic from paid search, organic search, or referrals.
Another reason why you should focus on local SEO is 46% of searches on Google are for local services and businesses. And 42% of people who search for a local business will click on Google's Map Pack results.
If you want to optimize your website for local searches, then you should use Google My Business (GMB) and Bing Places. These are free listing services that can help you optimize your site for local searchers.
You should also work to generate positive reviews for your website. About half of consumers trust online reviews as much as a personal recommendation. Also, Google uses reviews as a ranking factor for local businesses.
So, if you're a hybrid business or operate a brick-and-mortar store, make sure you're covering local SEO. It can be an easy way to grab new customers and beat out your competition!
With that, you've made it to the end of our roundup of vital SEO facts and statistics. These stats can help you create optimization strategies for your website to increase your organic traffic.
We hope you liked this article on powerful SEO statistics. You may also want to read our guide on how to set up Google Analytics in WordPress.
Not using MonsterInsights yet? What are you waiting for?
And don't forget to follow us on Twitter, Facebook, and YouTube to see all our reviews, tutorials, and Google Analytics tips.