Are you looking for the best user feedback tools to get customer opinions on your business? Gathering feedback is a critical aspect of understanding your audience's needs and bettering your business.
To make data-driven decisions to improve your products or services, you need reliable tools that provide an exceptional user experience while helping you collect valuable insights about your audience's preferences and pain points.
In this article, we'll explore the best user feedback tools to help you obtain excellent feedback from your users. Let's dive in!
What Is a User Feeback Tool?
A user feedback tool is software that's designed to help you collect and manage feedback from users, customers, or website visitors. Different tools provide various ways of gathering feedback, such as surveys, polls, and feedback forms.
Sure, you could just email surveys to customers, but these tools give businesses a way to capture real-time insights, identify issues quickly, uncover trends, keep feedback organized, save time, and more.
Ultimately, a user feedback tool serves as a bridge to enable communication between a business and its audience, which helps you improve the customer experience and increase revenue!
What to Look for in a User Feedback Tool?
Your unique business and goals will play a big part in deciding which user feedback tool to use, but here are some key features you'll want to look for:
Versatile Feedback Collection: Choosing a tool with various question/survey types and features like conditional logic gives you the flexibility to use it in different scenarios and gather more specific insights.
Ease of Use: The tool should be easy to navigate by you or your customer success team on the backend. It should also provide a user-friendly feedback experience for respondents.
Customization Options: Look for a tool that allows you to customize the look and feel of your surveys and forms to match your brand's identity.
Detailed Reporting: Reports that are easy to access, show feedback responses clearly, and help you uncover trends or overall performance metrics are critical for putting the feedback you collect to use.
Integrations: Your user feedback tool should integrate smoothly with your existing business platform and other tools you may use, like CRMs (customer relationship management), email marketing services, and Google Analytics.
Mobile Compatibility: In today's mobile-driven world, it's essential that your feedback tool is mobile-responsive, allowing users to provide feedback from any device.
Ready to find the best user feedback tool for your business? Let's get started!
Best User Feedback Tools
UserFeedback tops our list as the best customer feedback tool for WordPress. Use its short surveys to find out what your visitors really think, make more money, increase engagement, and grow your business faster with candid customer feedback.
You can create completely customized surveys to ask your users anything you want and any number of questions. Easily ask a quick rating question, or build a longer survey with conditional logic, targeting, and more.
UserFeedback's surveys are displayed in a one-question-at-a-time format to keep users engaged and increase response rates. Best of all, you can place the non-intrusive feedback widget anywhere on your website.
The tool is easy to set up and comes with pre-built templates to quickly collect website feedback, including NPS surveys (Net Promoter Score), CSAT surveys (Customer Satisfaction), CES surveys (Customer Effort Score), and more.
Plus, UserFeedback gives you detailed reports and integrates directly with MonsterInsights and your website's Google Analytics. You can track your forms and see all of your important metrics right inside your WordPress dashboard.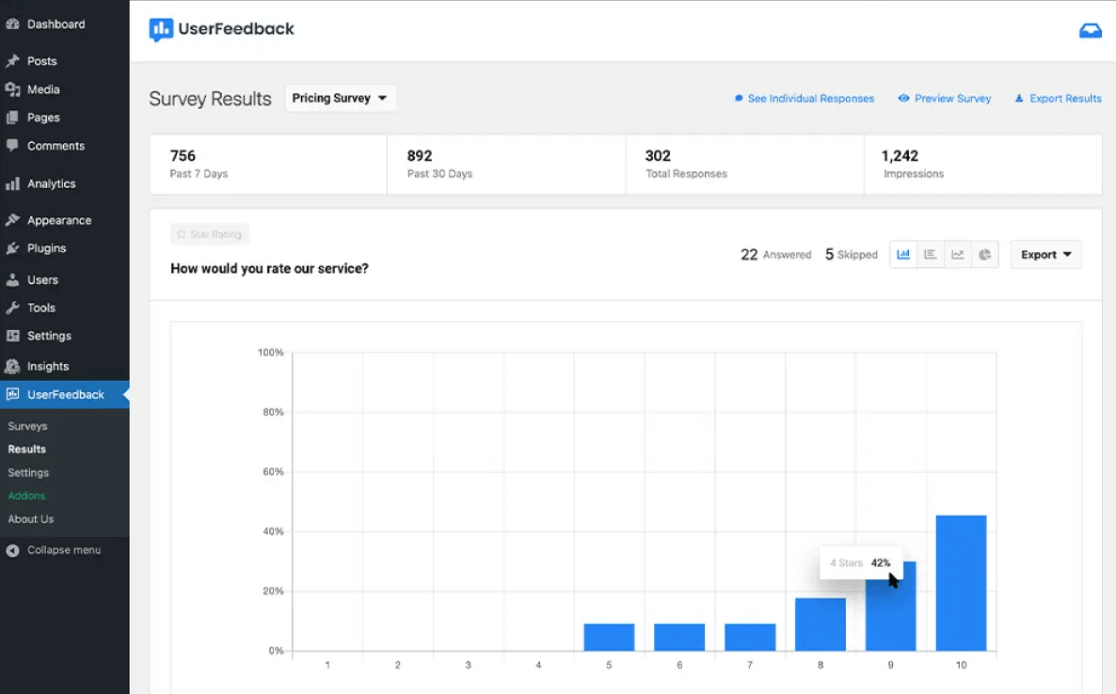 Here are some of UserFeedback's key features:
Unlimited surveys, questions, and responses.
Set the widget to automatically pop up in the corner of your site. Or, use a shortcode to embed it anywhere.
A library of pre-built templates for survey ideas.
Customize the design, including a custom logo.
Display one question at a time to create a conversational feel.
Use conditional logic to create multiple possible series of questions.
Multiple question types, including long answers, radio buttons, star ratings, email capture, and more.
Smart targeting features, including which device type to display on.
Ability to schedule surveys to run in advance, like during a sale.
Integration with Uncanny Automator to connect your favorite tools and email marketing providers.
And more…
To start creating your own UserFeedback customer surveys and collecting valuable feedback, check out our step-by-step tutorial for How to Collect User Feedback in WordPress.
Pricing: Starts at $49.50 / year (Free version available).
Get started with UserFeedback today!
WPForms is the best survey form builder for WordPress. It not only enables you to create stunning forms for a variety of uses but also provides an excellent user feedback solution.
With its user-friendly drag-and-drop interface, you can easily design feedback forms tailored to your specific needs. Use the Conversational Forms feature to captivate visitors' attention, or create in-depth survey forms to get all your feedback questions answered.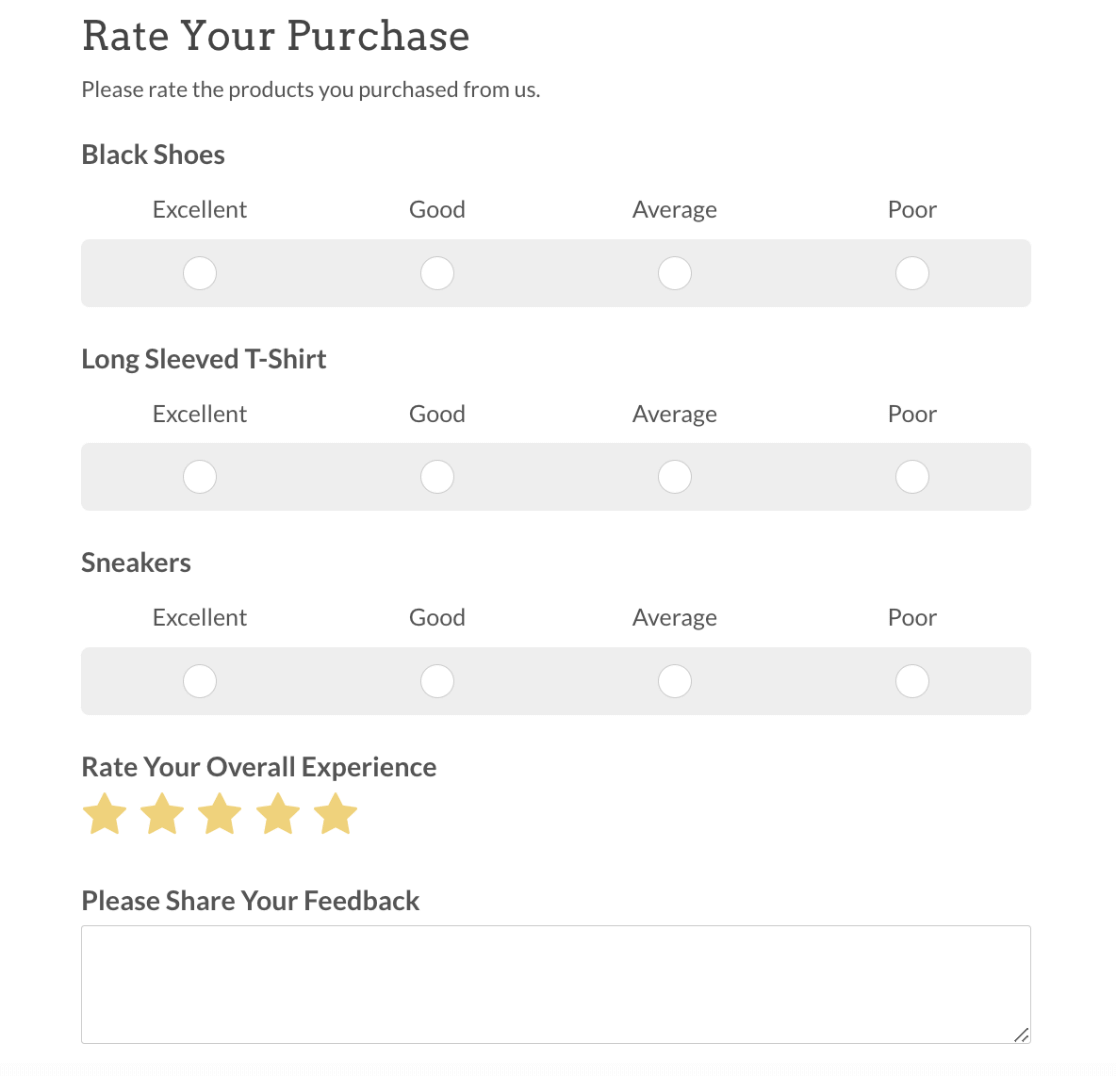 Here are some of WPForms' key features:
Hundreds of pre-designed form and survey templates can quickly be customized to suit your brand's style and tone.
100% mobile-friendly and native integration with popular page builders like SeedProd, Elementor, and Divi.
Smart conditional logic lets you display questions based on user responses, creating a personalized feedback experience.
Integrates with popular email marketing services like Drip, Constant Contact, and Brevo. Get instant notifications when users submit feedback forms.
Detailed reports and seamless integration with MonsterInsights and Google Analytics to track the success of your forms.
Integration with payment gateways and popular tools like Salesforce, Hubspot CRM, Zapier, and more.
And lots more…
WPForms' intuitive interface and extensive features make it an ideal survey tool for beginners and experienced users alike. It's the perfect choice for those seeking a comprehensive and versatile form builder to collect feedback seamlessly.
Pricing: Starts at $49.50 / year (Free version available).
Get started with WPForms today!

Hubspot is an all-in-one marketing and sales platform that also offers robust user feedback management. With Hubspot's Customer Feedback Software, you can effortlessly create surveys to gather valuable insights from your audience.
Here are some of Hubspot's key features:
Customizations to design attractive surveys that reflect your brand's identity and resonate with your audience.
Offers a variety of question formats, including multiple-choice, rating scales, and open-ended questions.
Connect feedback data to your Hubspot CRM platform to gain a better understanding of customers.
Send automated, personalized follow-up emails based on survey responses to nurture your relationship with respondents.
And more…
If you're looking for an all-encompassing marketing and sales system that provides full-solution capability to close the feedback loop, Hubspot is an awesome choice. Its integration with other Hubspot tools allows you to have a unified view of your customer data.
Pricing: Free plan is available. Paid plans start at $45 / month for full Customer Service Software (Variable bundle pricing with other products also available).
Get started with Hubspot today! 
Formidable Forms is another versatile WordPress form builder that goes beyond simple feedback forms. Similar to WPForms, its advanced features let you create complex surveys and questionnaires to gather in-depth feedback from your users.
Here are some of Formidable Forms' key features:
Conditional logic lets you show or hide specific questions based on user responses to provide a personalized survey experience.
Schedule surveys to be displayed at specific times, ensuring you capture feedback at the right moments.
Offers visual data representations of survey results, like word clouds, to make data analysis quick and easy.
Easily export survey data to share with stakeholders, or import data into other tools for further analysis.
And much more…
Formidable Forms stands out as a top form-builder and feedback tool. Its advanced survey features make it another great option for collecting comprehensive customer feedback on your WordPress site.
Pricing: Starts at $39.50 / year.
Get started with Formidable Forms today!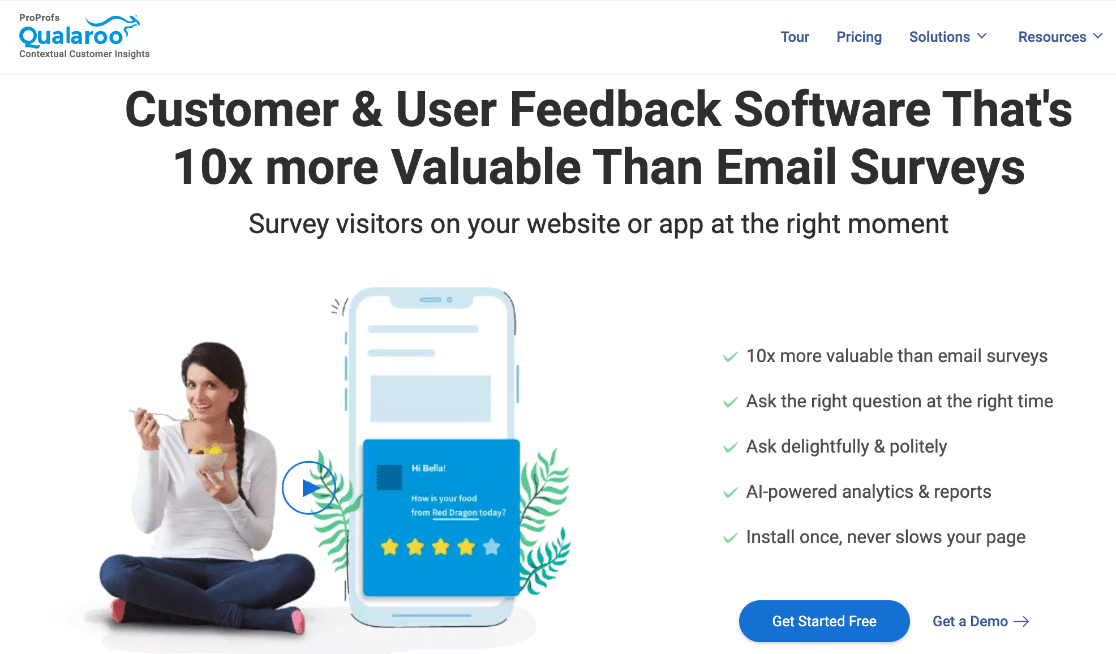 Qualaroo, now part of the ProProfs suite, is a powerful user feedback tool that focuses on gathering actionable customer insights to optimize the user experience on your website or mobile app.
One unique benefit of Qualroo is its Nudge feature which helps you collect customer feedback during every stage of product development. That way, you can adjust features on your prototype that users don't respond positively to.
Here are some of Qualaroo's key features:
Targeted surveys let you display surveys to specific user segments, ensuring relevant and personalized feedback.
Exit surveys gather feedback from users who are about to leave your site, helping you understand the reasons behind their exit.
Analytics to track and analyze survey responses to identify patterns and trends.
Integration with popular platforms like Google Analytics and Slack.
Overall, Qualaroo is a solid user feedback tool. Its exit surveys can help you uncover retention issues, and its Nudge feature helps you gather specific and actionable product feedback from users.
Pricing: Starts at $69 / month (Free trial available).
Get started with Qualaroo today!
Feefo is a testimonial software that also acquired Reevo, another popular user feedback tool. Feefo is designed specifically for collecting customer reviews and ratings.
By automatically reaching out to buyers to ask for reviews, Feefo helps you use verified customer feedback to build trust with potential buyers and improve your SEO rankings.
Here are some of Feefo's key features:
Feefo ensures that all reviews are from verified customers, enhancing credibility.
Integration with popular eCommerce platforms to display customer reviews on product pages.
User-generated content, such as reviews, can help SEO and boost your site's search engine rankings.
Gain insights into customer sentiments and identify areas for improvement with detailed analytics.
If you want to prioritize customer testimonials and reviews in your feedback strategy, Feefo is a good solution with a number of helpful features.
That said, we recommend you check out our article on How to Ask For a Review (12 Best Ways + Examples) for other tools that can help with collecting reviews.
Pricing: Starts at $119 / month.
Usersnap offers a comprehensive customer feedback software solution designed specifically for SaaS (Software as a Service) companies. It's a popular enterprise tool used by successful companies like Microsoft and Canva.
Through user surveys and video feedback, Usersnap helps businesses gain valuable insight into the customer journey and increase customer engagement.
Here are some of Usersnap's key features:
Capturing visual feedback with video provides context and helps businesses understand their audience in the voice of the customer.
A user-friendly dashboard makes it easy to label and assign issues to the correct team.
Supports sentiment analysis.
Facilitates direct responses to customers and real-time ticket status updates.
Integrates with popular platforms and product management tools like Basecamp, Trello, WordPress, Evernote, and GitLab.
Usersnap is a great feedback software choice if you're looking for a tool to collect video feedback from user testing and customers. It's especially suited for SaaS companies that need to streamline their customer support workflow.
Pricing: Starts at $69 / month.
Get started with Usersnap today!
Marker.io is a unique user feedback tool that simplifies the process of reporting website bugs and issues to improve customer support and the overall user experience.
Clients, team members, or visitors can quickly provide feedback with screenshots and other key data about any issues that appear on your website.
Here are some of Marker.io's key features:
Visual bug reporting allows users to take screenshots and annotate directly on your website to highlight issues.
Seamless Integration with popular project management and issue-tracking tools like Jira and Trello.
Customizable forms let you tailor the bug-reporting forms to capture specific information from users.
Collaborative features allow teams to work together to resolve issues efficiently.
If you prioritize bug reporting and issue tracking in your feedback strategy, Marker.io is an excellent choice. Its visual bug reporting feature makes it easy for users to provide detailed feedback, resulting in quicker issue resolution.
Pricing: Starts at $39 / month (Free trial available).
Get started with Marker.io today!
Typeform is a popular tool for feedback surveys, known for its engaging forms. With its conversational interface, Typeform creates a friendly and interactive feedback experience for users.
It's a standalone SaaS software that's great for easily creating surveys, quizzes, polls, customer feedback forms, and more.
Here are some of Typeform's key features:
Offers a variety of beautifully designed templates with customizable surveys to match your brand's aesthetics.
Logic Jump lets you tailor the survey flow based on users' responses, ensuring a personalized feedback journey.
Use media such as images, videos, or GIFs to enhance your surveys and create a visually appealing experience.
View feedback responses in real time.
Typeform's engaging and conversational surveys, with a one-question-at-a-time format, make it a great user feedback tool to create captivating surveys that encourage participation and yield high-quality feedback.
Pricing: Starts at $25 / month.
Get started with Typeform today!
Hotjar is all-in-one user feedback and analytics tool that offers a range of features to optimize your website's performance, collect feedback, and understand visitor behavior.
Here are some of Hotjar's key features:
Visitor recordings let you watch real user sessions to understand how users navigate your site and identify usability issues.
Targeted polls gather specific feedback from your visitors.
Use predesigned templates or generate surveys based on your goals with AI software.
Heatmaps help you analyze user interactions with your site visually.
Hotjar offers a solid option for customer feedback polls through its Ask plan, but the tool lacks some key tracking and analytics features that you'd expect from an all-in-one solution.
If you're looking for heatmaps and user behavior analytics, we recommend checking out our list of the best Hotjar alternatives.
Pricing: Free plan is available. Paid plan starts at $48 for Ask (Variable pricing bundles available).
Get started with Hotjar today! 
GetFeedback (from the makers of SurveyMonkey) is a simple yet powerful customer feedback platform designed to help you gather and address customer feedback and issues through Net Promoter Score and other types of surveys.
The software is specifically designed for mobile responsiveness and in-app functionality for B2B and B2C businesses.
Here are some of GetFeedback's key features:
Automation tools to trigger surveys based on customer lifecycle events.
Mobile app survey functionality supports both iOS and Android.
Customizable widgets for a seamless user experience between your webpage and mobile app.
Integrates with other essential CRMs and customer feedback tools including Zapier, Adobe Analytics, Google Tag Manager, Salesforce, and Zendesk to facilitate full customer experience management.
If your aim is to optimize your mobile app's feedback collection system, GetFeedback is an ideal choice. Its automated surveys, mobile app functionality, and customizable widgets provide all the tools you need.
Pricing: Contact for a quote.
Get started with GetFeedback today! 
What Is the Best Tool for User Feedback?
If you run a WordPress site, UserFeedback is the best user feedback tool for collecting valuable insights from your customers. The simplicity and conversational format combined with powerful features like unlimited surveys, conditional logic, Google Analytics integration, smart targeting, and more makes it the perfect feedback tool.
That said, if you're looking for a versatile form builder to create in-depth surveys as well as contact forms, payment forms, and other forms on your WordPress site, WPForms is an excellent, easy-to-use form builder that we highly recommend.
For non-WordPress users or those looking for a standalone feedback collection platform, many of the other tools on our list can help you get the job done.
All in all, obtaining excellent user feedback is essential for any business looking to improve its offerings and customer experience.
Not sure what to ask customers? Check out our 44 Customer Survey Questions + Guide to Meaningful Feedback to start leveraging user feedback and enhancing your business today!
Remember, after adding a feedback collection system to your website, you'll want to track the success of your surveys and feedback campaigns in Google Analytics. Luckily, MonsterInsights makes that part really easy!
Not using MonsterInsights yet? What are you waiting for?
Well, that's it for this article!
We hope you enjoyed learning about the best user feedback tools to improve your business. What's next? Learn How to Track Your Offline Marketing Campaigns in Google Analytics.
Don't forget to follow us on Twitter, Facebook, and Youtube for the best WordPress tutorials and Google Analytics updates.