Are you tired of wasting time on repetitive marketing tasks that seem to only take up time instead of growing your business faster? Then you need the best marketing automation tools to streamline your marketing efforts and boost your website's revenue quickly!
Using automated marketing systems can help your business become more efficient and free up time for you to focus on bigger projects. By using online automation tools, you can save time and energy that would have otherwise been spent manually executing tedious marketing campaign tasks.
In this article, we'll show you the best marketing automation tools to explode your business growth and free up your time to focus on high-level projects. Before we get started on our list of the best digital tools, let's find out what marketing automation software is.
What Are Marketing Automation Tools?
Marketing automation tools use different types of automation software and platforms to automate repetitive tasks. Here are some common automation software examples:
Automated email tools for drip sequencing and other email marketing campaigns
Customer Relationship Management (CRM) updates
A social media automator for posting content and building social proof
Automated software for lead generation and sales lead rotation
Marketing automation analytics to track website users' behavior
And many more…
There are tons of automation tools for businesses, and they range from full-service automated marketing providers with advanced automation platforms and high price tags to simple WordPress automation tools that give small businesses an automated marketing solution for specific day-to-day tasks.
Luckily, we've rounded up a list of the best marketing automation tools on the market! Whether you're looking for the best automation tools for sales, advertising automation software for campaigns, email automation platforms, social media management, CRM software, or something else, you're bound to find a solution.
Top Marketing Automation Tools
Let's get started on our best automation software list! Here are the various paid and free marketing tools we'll cover:
Uncanny Automator is a WordPress marketing automation plugin that helps you automate your workflow without writing any code. It acts as a bridge between WordPress and other web applications, allowing you to connect third-party apps with WordPress plugins.
Who is it for?
Uncanny Automator is for anyone who is looking to put their site on autopilot and save thousands of dollars in terms of development. The plugin is for bloggers, eCommerce store owners, small businesses, marketing agencies, and anyone running multiple plugins.
Why do you need It?
With over 400 automation triggers and actions, you can set up your own custom automations in just a few clicks. You can easily integrate popular WordPress plugins like WooCommerce, WPForms, and Elementor, as well as third-party tools like Google Sheets, MailChimp, and Zoom.
You can create buttons that trigger actions and even delay or schedule an action to run later. These conditions are called triggers, and their outcomes are called actions. When you combine them, you get what Uncanny Automator calls a "recipe."
Uncanny is the best automator for workflows. It's like Zapier but for WordPress websites. With support for 70 different WordPress plugins and third-party apps, it saves time and reduces errors on your WordPress site.
Pricing: Paid version starts at $149 / year (free version available).
Get started with Uncanny Automator today! 
Constant Contact is a powerful email marketing automation software and one of the best email services available. The interface and setup process is simple and user-friendly and works to streamline your email marketing efforts.
Who is it for?
Are you looking for a tool to schedule emails, manage leads, create a sales funnel, and create beautiful emails? Then you need Constant Contact. Small businesses, nonprofits, and anyone looking to automate their email workflow can benefit big time by using this email automation platform and CRM automation tool.
Why do you need it?
Constant Contact uses a drag-and-drop builder and beautiful email templates that make it super easy to create engaging emails and follow up with automated emails to interact with your contact list.
Besides managing and automating emails, you can also use Constant Contact as an advertising automation platform to grow your email list by running ads on Facebook and Instagram.
It also offers easy integration with multiple platforms and plugins like Shopify, OptinMonster, and WPForms to create a fully automated marketing system for lead generation and follow-up.
Pricing: Starts at $12 / month for email and digital marketing automation tools (use our coupon code to get 20% off). For full-scale CRM, sales, and marketing automation software, plans start at $449 / month.
Get started with Constant Contact today!
OptinMonster is the best automated marketing software for lead generation and conversion optimization. It's also the best WordPress popup plugin. The marketing automation software helps you capture leads and convert your website traffic into subscribers or paying customers.
Who is it for?
OptinMonster is for blogging websites, eCommerce stores, marketing agencies, and any small business looking for marketing automation software to help capture leads, reduce abandoned carts, grow your email list, and boost website conversion rates.
Why do you need it?
OptinMonster offers advanced automation features to increase conversions by creating pop-ups, sidebar forms, countdown timers, FOMO campaigns, gamified spin wheels, and more. It comes with tons of high-converting templates to use and location-based popups.
It also uses powerful exit-intent technology to help you convert abandoning visitors. Using automated smart triggers you can display personalized messages to the right people to generate more leads and grow your business fast!
Pricing: Starts at $9 / month (free version available).
Get started with OptinMonster today!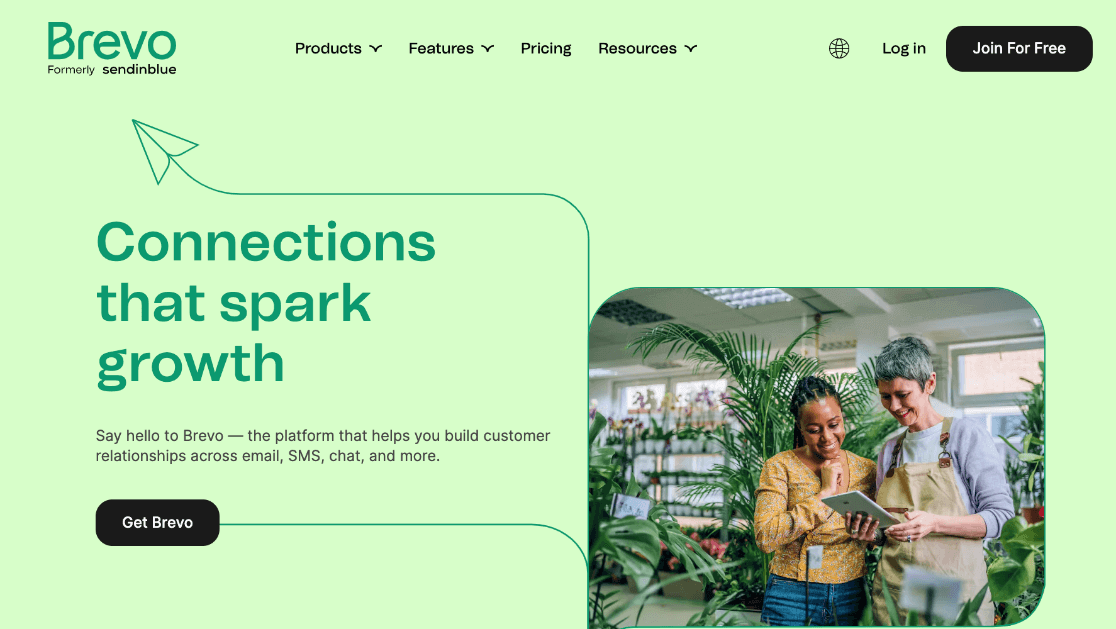 Brevo, previously known as Sendinblue, is one of the top marketing automation platforms. Over the years, the marketing automation company has developed a variety of automating tools and has become one of the best all-in-one automated marketing platforms available.
Who is it for?
Brevo offers a clean and user-friendly interface and pretty much every type of marketing automation software you can think of, making it a perfect all-in-one solution.
That being said, Brevo has multiple plans tailored to the services your business needs, so just because they offer full-scale services for B2B, Saas, and large corporations, they also have plans (even free ones) for small businesses or individuals that may not need all the bells and whistles.
Why do you need it?
Using Brevo will save you loads of time that you can spend elsewhere to grow your business. It offers a complete solution to your marketing needs with amazing features like email marketing, SMS marketing, live chat, some of the best CRM automation software, signup forms, landing pages, advertising automation, and more.
Brevo lets you set rules and conditions to perform automated tasks like sending an email, SMS message, adding a contact, updating data, and more.
When you combine these features with automated workflows, you get amazing insights into your visitors' customer journey. You can connect with them instantly and design a personalized experience for each visitor.
Pricing: The bottom-dollar plan is free and still comes with some great automation features. The paid plans start at $25 / month.
WPForms is the best WordPress forms plugin and a powerful marketing automation product for lead collection. Using a simple drag-and-drop builder, you can create beautiful forms for your WordPress website, without the need to hire a developer or use any coding.
Who is it for?
Whether your website is a small business or a large organization, WPForms is a plugin that every WordPress user should have in their toolkit. It lets you easily design and launch forms for any use and integrates with popular plugins to track form submissions and more.
Why do you need it?
Using WPForms, you can automate the process of collecting leads to grow your business. Just use its simple templates to create any type of form, such as contact forms, payment forms, surveys, order forms, and more. Then, embed them anywhere on your website to sit back and watch as leads, orders, customer feedback, and more come rolling in.
Pricing: Starts at $99.50 / year (free version available).
Get started with WPForms today! 
TrustPulse is an awesome WordPress marketing automation tool for building social proof. With TrustPulse, you can create notifications that will be displayed on your website whenever someone makes a purchase or signs up for your product.
Who is it for?
TrustPulse is perfect for anyone who wants to build social proof on their WordPress site. It's beginner-friendly and particularly useful for eCommerce websites that want to display recent sales activity.
Why do you need it?
The plugin automatically tracks recent purchases, signups, and the number of people currently viewing your website and then creates FOMO popups to show other visitors what's happening. These social proof notifications can attract more eyes and create a sense of urgency among your new visitors to generate more sales.
TrustPulse offers advanced automation and targeting features that allow you to choose where and when to display your notifications. Plus, You can also access actionable analytics to understand how your notifications are impacting your website's performance.
Pricing: Starts at $5 / month (free version available).
Get started with TrustPulse today!
Omnisend is one of the best email marketing automation tools out there for eCommerce shops. Not only does it offer a bunch of helpful features you need to grow your eCommerce business, but it even gets you started with pre-built workflows so you're not starting from scratch.
Who is it for?
Omnisend will work for any type of eCommerce website. If you're selling online, you can use its email and SMS marketing features to grow your business.
Why do you need it?
Omnisend can automate a lot of your marketing messaging tasks, such as sending emails, SMS messages, and web push notifications within the same workflow. Recover carts with their cart abandonment messages, welcome new purchasers with a welcome series, send different types of confirmations, and more, all on autopilot.
Plus, they give you a whole workflow template to start with, complete with email subject lines and messages. Edit it in any way you want, or use most of it as-is to get started super quickly!
Pricing: Free for up to 250 contacts. Get more features starting at $25 / month.
Get started with Omnisend today!
Drip offers some of the best marketing automation for eCommerce. It offers CRM automation software that focuses on growing your eCommerce business and increasing sales with customer journey segmentation and automated communication tools to create personalized marketing strategies.
Who is it for?
If you have an eCommerce website, then Drip is a game-changer automation tool. That said, anyone with a small business or a website can benefit from Drip since it's very easy to use and loaded with features for email automation.
Why do you need it?
Drip helps you scale your eCommerce store by automating repetitive tasks, and it supports A/B testing. Use cases include automating workflows, tracking customers' activities, managing leads, sending transactional emails with autoresponders, creating complex drip campaigns with audience segmentation, and more.
Drip offers easy integration with multiple eCommerce platforms like WooCommerce and Shopify as well as other third-party platforms like Gravity Forms, Hello Bar, and CRM integrations.
Pricing: Starts at $39 / month.
RafflePress stands out as the ultimate WordPress automation tool for giveaways and contests, allowing you to expand your email list, drive traffic, and gain social media followers.
Who is it for?
With its intuitive drag-and-drop builder, creating successful giveaways is a breeze. It's the best marketing automation tool for anyone that wants to run a giveaway or contest on their website.
Why do you need it?
As a marketing automation plugin for WordPress, RafflePress lets you set giveaway rules, determine entry methods, and schedule your campaigns. Leave the rest to RafflePress, as it automatically handles the process and even selects a random winner.
Choose from proven templates that captivate your visitors' attention and different entry methods to reach your growth goals. For example, use an email address entry to grow your email marketing list or a TikTok giveaway to grow your social media following.
Plus, RafflePress seamlessly integrates with other tools you use, including WordPress form plugins, CRM systems, and other marketing automation tools. With its robust features, RafflePress is an invaluable plugin for automated marketing giveaways and contests.
Pricing: Starts at $31.60 / year (free version available).
Get started with RafflePress today!
HubSpot is a popular marketing automation software and is often considered the best CRM automation software and a great content marketing automation tool for business growth.
Who is it for? 
HubSpot is designed for businesses of all sizes. Startups, small businesses, nonprofits, eCommerce stores, and corporations can use this all-in-one software for their marketing needs. HubSpot is one of the easiest marketing automation tools to use. Despite its robust set of automation software, there isn't a steep learning curve.
Like Brevo, HubSpot offers a variety of plans for different business sizes. That said, it does tend to be a better option for businesses that prefer to keep all their marketing and automation tools under the same marketing hub, rather than tailoring a combination of the best WordPress plugins.
Why do you need it?
HubSpot allows you to automate your email campaigns, create automated workflows, set triggers to send specific marketing communications or push notifications, improve your SEO, and more. HubSpot marketing handles all of your inbound marketing with a single, automated software.
It also offers a number of features that aren't often seen in even the best marketing automation tools, such as collecting users' behavior to create automated and personalized content offers, emails, and deals to launch at scale and using predictive lead scoring to self-optimize your lead scoring system over time.
Pricing: A free plan is offered, and paid plans start at $18 / month.
Get started with HubSpot today!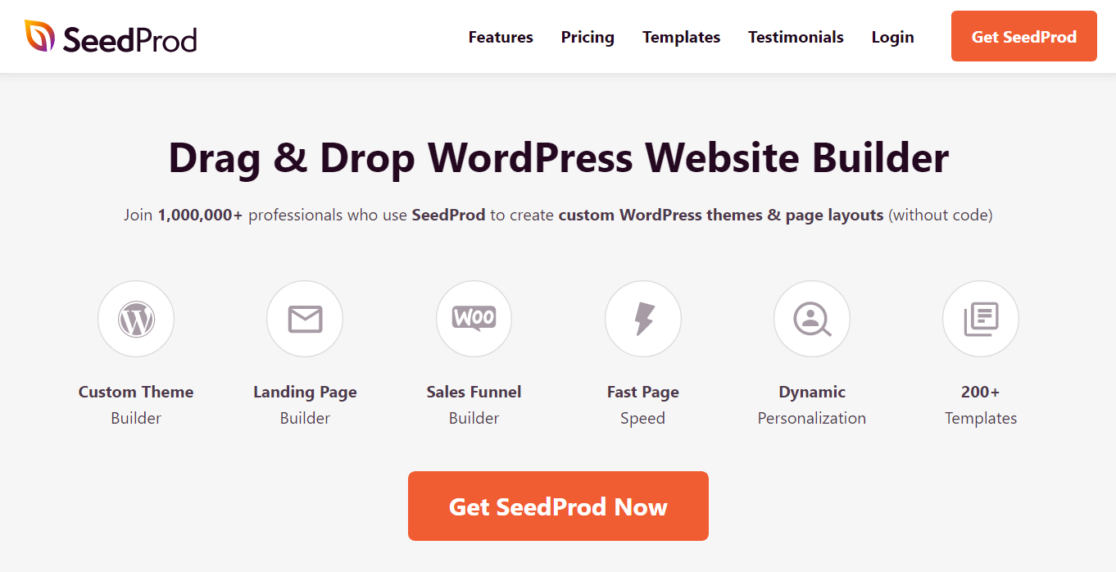 SeedProd is the best page builder for WordPress and the best automation software for generating leads before you even launch your website. You can use it to create landing pages, coming soon pages, custom 404 pages, and more.
Who is it for?
SeedProd is for anyone launching a new website, creating new landing pages, or redesigning their WordPress website. Anyone can use it to create stunning landing pages that offer tons of marketing automation solutions without the need to hire a developer.
Why do you need it?
SeedProd is awesome for a variety of uses and comes packed with page automation features like countdown timers, opt-in forms, and integration with email marketing services.
The easy drag-and-drop landing page builder and template library are especially useful for automating your business. You can use a landing page to automate things like product sales, newsletter subscriptions, webinar or event signups, and more.
It's also a really useful marketing automation system for generating hype and capturing leads before launching a new website or product page.
Pricing: Starts at $31.60 / year (free version available).
Get started with SeedProd today!
Smash Balloon is the best automated marketing software for adding social media feeds and reviews to your WordPress site. It's a collection of plugins for Facebook, Instagram, YouTube, Twitter, and Reviews along with a Social Wall to combine feeds.
Who is it for?
Used by over 1.4 million websites, Smash Balloon is for anyone looking to use social media marketing to build social proof and boost engagement by automating the process of adding fresh social media activity and reviews to WordPress.
Why do you need it?
There's no need to figure out embedding videos, posts, feeds, or reviews. Just connect your accounts, and Smash Balloon automatically tracks your latest activity, fetches posts, and showcases them in neat layouts.
The digital marketing software will also display followers, comments, and likes to build social proof. Your feed display is fully customizable with multiple layout options and responsive designs like Instagram shoppable feeds.
Choose individual social media feeds or a social wall to display all your social media in one place. Plus, with SmashBalloon's Reviews Feed Pro, you can have a fully automated testimonial system. The plugin will fetch reviews from Facebook, Google, Yelp, and TripAdvisor and automatically display them in WordPress. You can manage reviews, fully customize the layout, highlight specific reviews, and more.
Pricing: The all-access bundle that comes with all 5 plugins for automating each social platform and the social wall starts at a one-time price of $299. Or, you can purchase the individual plugins, starting at $49 each (free versions for individual plugins available).
Get started with SmashBalloon today!
Salesforce is mainly a CRM, called Salesforce Customer 360, but there are Salesforce marketing automation tools that you can use to help your process. One of the best automation features offered is uniting your CRM with your marketing, sales, IT, eCommerce, and customer support services to provide a personalized customer experience.
Who is it for?
Salesforce offers a wide variety of products, which makes it useful for all types of businesses, but it shines when used by sales teams, and the real marketing automation benefit comes into play when you combine Salesforce's automation products and CRM to create your automated marketing system.
Why do you need it?
If you already use Salesforce or you're looking for a marketing automation tool that offers a range of features that integrate with your CRM, then Salesforce is a good choice. Features included automated emails, AI-powered chat, and cloud-based customer data and marketing automation.
Pricing: Plans start at $25 / month.
Get started with Salesforce today!

Marketo Engage by Adobe is another powerful tool for automated marketing. It offers many features like lead management, email marketing, customer base marketing, and mobile marketing to reduce manual repetitive tasks and grow your business.
Who is it for?
Marketo Engage provides solutions for B2B and B2C marketing. You can start using the software to automate lead generation and lead nurturing to increase engagement and sales.
Why do you need it?
Marketo is not only for automating marketing workflows, but it also helps to build trust with your customers. You can use features to understand your customers better and trigger a sales phone call at the right moment to boost conversions.
Pricing: Contact for plan pricing.
Get started with Marketo Engage today!

Pardot is now part of Salesforce, and it's one of the best B2B marketing automation tools to help grow your business and boost sales. You can automate entire marketing campaigns, generate leads, and manage workflows using a single CRM.
Who is it for?
Pardot is a marketing solution for B2B. Its features are designed to help marketing teams and sales reps nurture leads with automated outreach, build relationships, and close sales.
Why do you need it?
Pardot helps you close deals faster by automatically creating a list of leads and nurturing them through automated emails.
And with Pardot Einstein, an AI-powered feature, you can find the leads that are most likely to convert, analyze your user's behavior, and get insights about your marketing campaigns.
Pricing: Plans start at $1,250 / month.
Get started with Pardot today!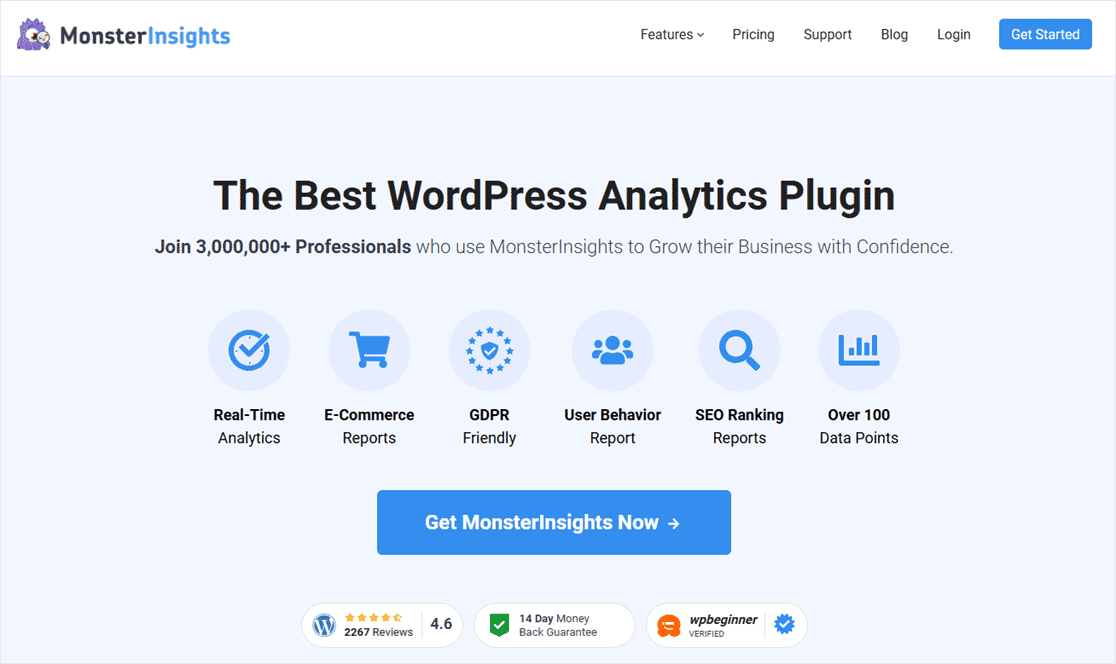 MonsterInsights is the best WordPress plugin for Google Analytics. You can automate your Google Analytics reports, see them in your WordPress dashboard, and get real-time updates. It helps you understand the data that matters to make data-driven decisions for your business.
Who is it for? 
MonsterInsights is for anyone with a WordPress website who wants to use Google Analytics to automatically track website performance and visitor activity to optimize their site. MonsterInsights is beginner friendly, automates advanced tracking with only a few clicks (no coding), and lets you easily view your custom reports in WordPress
It's an incredible, highly useful automation software for anyone who runs a blog, eCommerce store, agency, large corporation, or any other type of website.
Why do you need it?
Learning how to set up Google Analytics is time-consuming enough. Then, you have to learn how it all works and how to set up custom dimensions and advanced tracking code to finally get the insights and data you need.
MonsterInsights automates this process by automatically setting up Google Analytics, bringing your reports into WordPress, and helping you set up advanced tracking features like eCommerce conversions, form tracking, video play tracking, ad campaign tracking, and much more with a couple of clicks.
Pricing: Starts at $99.50 / year (free version available).
Verdict: What Is the Best Marketing Automation Tool?
We recommend Uncanny Automator as the best marketing automation tool for WordPress. It supports many popular plugins and multiple triggers to automate routine marketing tasks. All of the tools on our list have incredible features and offer excellent automation for different uses, but Uncanny Automator is an excellent all-around automation software.
Having the best marketing automation tools is important for businesses today, as it helps you focus on growing your business without wasting time on repetitive tasks. Here are a few more awesome tools that didn't make it on our list:
We hope you enjoyed learning about some of the best marketing automation software for your business. Be sure to check out 32 Marketing Hacks Guaranteed to Grow Your Traffic.
Not using MonsterInsights yet? What are you waiting for?
Don't forget to follow us on Twitter, Facebook, and Youtube for the best WordPress tutorials and Google Analytics updates.