Are you looking for Mailchimp alternatives to best suit your email marketing needs?
Mailchimp is one of the most popular email marketing tools in the market. However, it has its own positives and negatives. While it may be the best marketing tool for some users, it may not fulfill the requirements of others.
In this article, we'll share with you the best Mailchimp alternatives with better features and support.
Best Mailchimp Alternatives – Quick Overview
We've shortlisted the top email marketing services, so you can jump ahead to any tool you're interested in reading about. Here are the top Mailchimp alternatives:
Why Do You Need to Look for Mailchimp Alternatives?
As mentioned above, Mailchimp is one of the most widely used email marketing platforms in the world. Since 2001, it's helped millions of small businesses to succeed by providing them email marketing technology and resources at a much cheaper cost.
Like all the other popular email marketing tools, Mailchimp offers simple options to create emails with templates, landing pages, Facebook ads, and more. It has email segmentation and automation features.
But there're now several Mailchimp competitors that provide better features and support.
For example, Constant Contact is more beginner-friendly and offers more dedicated support. Another tool Drip has advanced customer relationship management features, which helps to increase eCommerce conversions.
So if you're not content with what Mailchimp is offering, you can now check out these alternative tools.
5 Best Mailchimp Alternatives to Consider in 2019
Constant Contact is one of the fastest-growing email marketing tools and the best Mailchimp alternatives. It's a simple and beginner-friendly marketing platform suited for both small and large scale businesses.
And if you're wondering how to create an email newsletter, then Constant Contact is the best tool you can use. Its templates and easy builder lets you create stunning newsletters.
Here're the top Constant Contact features:
Simple drag and drop email editor to design professional emails
Dozens of email templates to get started quickly
Powerful email automation features to greet new subscribers and engage them with attractive content
Email segmentation options to group your subscribers based on their activities
Contact management options updates your list automatically
Real-time tracking for your email marketing results
With these fantastic features, Constant Contact makes a great Mailchimp alternative.
Also, Constant Contact has excellent support options. They provide support via phone, live chat, community support, and an extensive collection of beginner-friendly tutorials.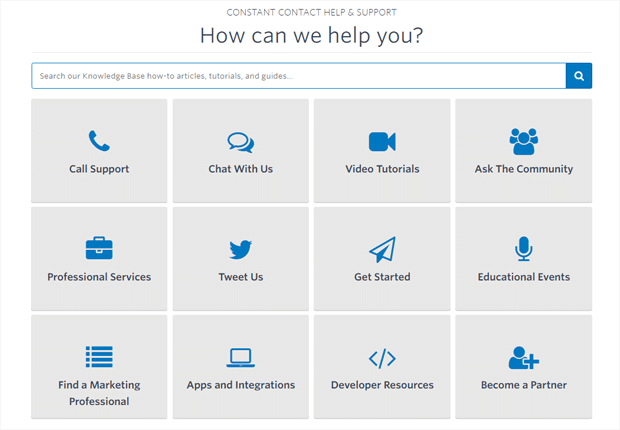 You can start with Constant Contact Email plan for $20 per month while the Email Plus plan costs $45 per month. It lets you use any plan free for the first month without giving your credit card details.
Get started with Constant Contact today!
Drip is a robust and feature-rich email marketing platform for online stores. Packed with dozens of powerful eCommerce customer management tools, Drip is technically an eCommerce Customer Relationship Management (ECRM) tool.
Here're the top Drip features which make it a close Mailchimp competitor:
Powerful eCommerce marketing automation with visual workflows
Email builders (both text builder and visual builder)
Options to build Facebook ads, landing pages, text messages, and more.
Built-in integration with hundreds of popular applications including WooCommerce, Shopify, form builders, and more.
Advanced email segmentation and personalization options
Comprehensive custom-tailored conversion reports for your website
As you can see, Drip's eCommerce marketing features are more powerful than what Mailchimp offers. It has native integrations for most of the eCommerce platforms to provide all online stores a powerful marketing platform.
Drip's visual automation workflows are incredible. They allow you to send highly effective emails to your mailing list automatically.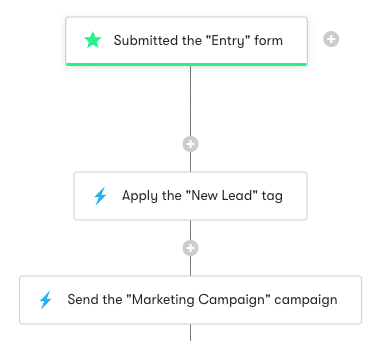 Drip's automation workflows are brilliant tools to convert more subscribers into customers and more customers into recurring users.
Drip offers support via live chat, documentation and free guides, webinars, and automation training. You can start with a Drip plan for $49 per month.
Sendinblue is a robust email newsletter tool you can use to build a stronger relationship with your subscribers. It's an email plus an SMS marketing tool.
Here're the top Sendinblue features that make it a good Mailchimp alternative:
Drag and drop design blocks to build sleek and well-designed newsletters
Free responsive template gallery
Custom forms and custom contact fields to collect email addresses
Contact segmentation
Marketing automation with out-of-box 8 workflow templates
A/B testing options for your subject lines to improve conversions
Real-time statistics to monitor open rates, click-through rates, and deliverability
With all these features, Sendinblue works excellent for both small businesses and big enterprises.
Sendinblue also one of the best free Mailchimp alternatives that offers different features.
The Sendinblue free plan lets you add unlimited email addresses to your list, but you can send only 300 emails per day. Whereas Mailchimp free plan lets you add only 2000 subscribers.
Sendinblue paid plans will cost you at least $25/month for 40,000 emails a month.
Get started with Sendinblue today!
AWeber is one of the oldest and most popular email marketing services available in the world. It offers a complete email marketing package that lets you collect emails, make strong connections, and convert more subscribers into customers.
Here're the top AWeber features which make it a great email newsletter tool:
Drag and drop enabled email templates
Collect subscribers by adding sign up and pop up forms on your website, and social accounts
Email automation and personalization features to send highly effective emails
Email split testing, performance tracking, email deliverability rate
Contact management and segmenting options
AWeber is a great tool that you can use as an alternative to Mailchimp.
The AWeber team provides support via live chat, phone, live webinars, or you can use their knowledgebase. Their basic plan costs $19 per month, which lets you add a maximum of 500 subscribers.
Get started with AWeber today!
Campaign Monitor lets you create stunning emails, send to your subscribers and measure their impact easily. Used by over 2 million marketers, Campaign Monitor is another popular email marketing software.
Here're the top Campaign Monitor features:
Drag and drop email builder and hundreds of professionally designed templates
Customer journey designer to create email automation flows
Ability to sent personalized content using smart segments
Full analytics suite to track the performance of your email marketing program
Simple integration with hundreds of business apps including WordPress, Google Analytics, and more.
Using Campaign Monitor is easy that even beginners can quickly learn and create highly effective email campaigns.
Customer support is available 24/7, so you don't need to worry about being stuck anywhere.
All these features make Campaign Monitor a good Mailchimp alternative. You can buy their Basic plan for $9 per month, which is a lower price than Mailchimp basic 'Essentials' plan.
Get started with Campaign Monitor today!
Our Recommendation: Is There Something Better Than Mailchimp?
When it comes to finding a marketing service that's better than Mailchimp, then we recommend Constant Contact. It's the best alternative to Mailchimp because it offers a simple drag and drop builder to create amazing emails.
It also provides 100+ templates to start an email, and with integrations with different services, Constant Contact is a complete email marketing tool.
We hope this article helped you to find the best Mailchimp alternatives for your business. You may also want to see our guide on shared vs. VPS vs. dedicated vs. managed hosting, and our guide on how to grow your email list faster.
And don't forget to follow us on Twitter and Facebook for more helpful marketing tips.