Learning how to ask for a review from customers is an important skill for every type of business. Customer reviews are crucial for attracting new customers and influencing them to purchase your products or services.
Good customer reviews can significantly boost your online reputation, give your business an edge over the competition, and increase your sales. But, the key to getting this powerful feedback is knowing how to ask customers for reviews.
The good news is that people generally like to share their opinions, they sometimes just need a little push. Ready to learn how to ask for reviews in a number of effective ways?
How to Ask for Reviews
First, We'll go over the benefits of collecting customer reviews. Then, we'll share the best tools, tips, and inspiration to ask for reviews in a variety of ways. Finally, we'll provide some guidelines to follow when you're gathering reviews.
Why Ask for Reviews?
It really comes down to the fact that potential customers trust what others say about your business more than what you say about it, which makes sense when you put yourself in the buyer's shoes.
93% of consumers say online reviews have an impact on their purchase decision, and even one line in a positive review can make customers choose your business over a competitor.
And don't be fooled, the benefits of customer reviews don't only apply to eCommerce. 90% of consumers read reviews online before visiting a business. Plus, user-generated content (review signals) can give you a major boost in Google search rankings (local SEO).
It's All in the Stats
Still not convinced? Check out these mind-blowing statistics that show just how important reviews are:
Gathering customer testimonials when you're unsure of how to ask for a review can seem daunting, but it doesn't need to be. In fact, 77% of consumers say they would be willing to leave a review if asked. You just need to learn the best way to ask!
How to Ask Customers for Reviews
Now, let's see the top 12 ways to ask customers for reviews, using a number of different mediums.
How to Ask for a Review on Your Website
If you have a website for your business then you already have an excellent platform for collecting customer reviews.
1. Place a Feedback Widget on Your Site
The best way to go about getting reviews on your website is by using a tool that helps you automate the process. Enter our favorite plugin for the job, UserFeedback.
UserFeedback is the best plugin for user feedback surveys on WordPress. Place a survey widget anywhere on your site to engage visitors, ask for reviews, and grow your business faster with candid customer feedback.
It's easy to set up and comes with multiple survey templates. Or, you can create completely customized surveys to ask your users anything you want and any number of questions.
One of the best things about UserFeedback is its trigger features and the ability to run multiple surveys simultaneously. This lets you target different touchpoints in the visitor journey where you want to ask for a review, like on the purchase confirmation page or after a visitor has been reading your article for a bit.
Another awesome UserFeedback feature is conditional logic, which lets you create multiple possible series of questions.
For example, ask a star-rating question first. If customers respond with a 4 or 5-star rating, ask them for a review. Otherwise, collect contact info to address their complaints.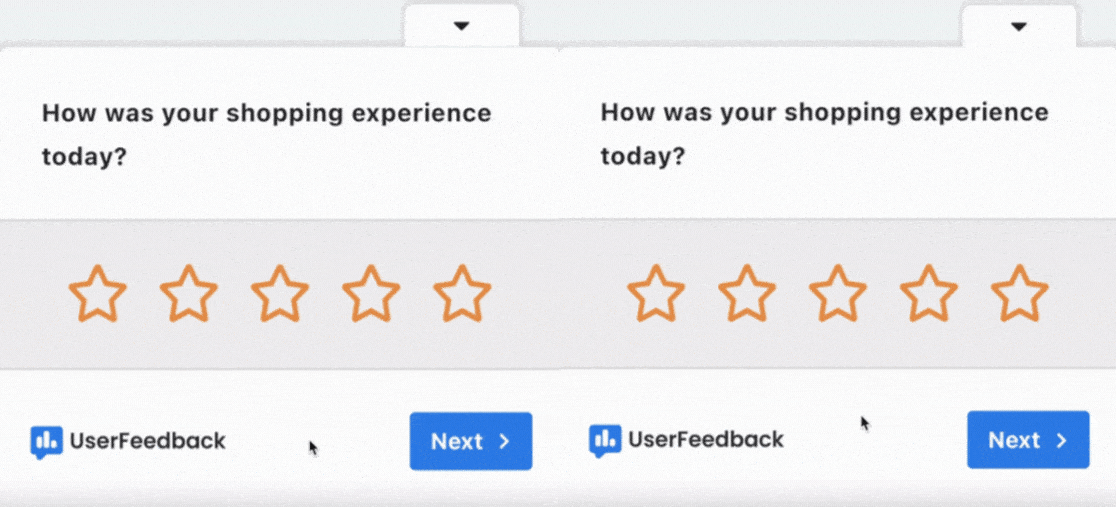 Check out more of UserFeedback's key features:
Unlimited surveys, questions, and responses
Ability to redirect customers after the survey
Smart targeting and scheduled surveys
Library of pre-built survey templates for NPS surveys, CSAT surveys, and more.
Customizable design, including a custom logo
Multiple question types, including long answers, radio buttons, star ratings, email capture, and more
And more!
Plus, UserFeedback gives you detailed reports and integrates directly with MonsterInsights and your website's Google Analytics. You can track your forms and see all of your important metrics right inside your WordPress dashboard.
Get started with UserFeedback today!
2. Add a Review Form to Your Site
Wondering how to ask for more in-depth reviews? Add a review form to a section of your website, make sure it's easy for customers to find, and link to it often!
One of the pros of having a permanent review page on your site is that it provides a standardized location that you can direct customers to through email, social media, and other platforms.
Our favorite tool for adding a review form (or any form!) to your WordPress site is WPForms.
With WPForms, you can add review forms, contact forms, order forms, and lots more in minutes with its easy drag-and-drop builder and native integration with the WordPress block editor.
Plus, the plugin comes with tons of review request templates for product reviews, internal employee reviews, in-store reviews, checkout forms, and more. It also integrates with many of the most popular email marketing providers.
Bonus: Try it in combination with UserFeedback to ask a quick rating question anywhere. If visitors answer, redirect them to your review page to get a more in-depth review using a WPForm, like this Rate Your Purchase template:
Get started with WPForms today! 
3. Pull Reviews from Comments & Other Sources
For busy business owners who need an almost fully automated process for gathering reviews, displaying them on WordPress, and building social proof, an excellent option is Thrive Ovation.
Thrive Ovation helps you collect, manage, and display customer testimonials on your WordPress site by automatically grabbing reviews from sources you might not expect like blog comments, emails, and more.
The plugin will automatically collect all of the relevant information and request customer permission to use their blurb as a review. Then, with 1-click, you can add those reviews to your website in a neat, customizable template.
Get started with Thrive Ovation today! 
4. Display Social Platform Reviews on Your Website
Looking for an easy way to add testimonials from other platforms like Yelp and Google to your website? We recommend Smash Balloon's Reviews Feed Pro.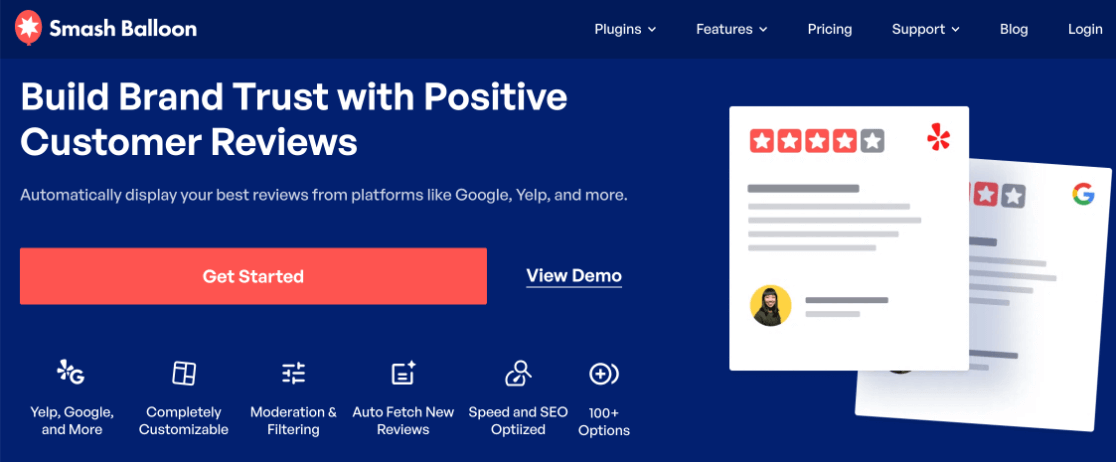 Manually finding and adding new reviews is a really time-consuming process that Reviews Feed Pro makes incredibly simple.
The plugin connects to Yelp, Google Reviews, Trip Advisor, Facebook, TrustPilot, and WordPress to automatically collect your reviews and display them on your site. You have full control over which reviews are shown and the layout design.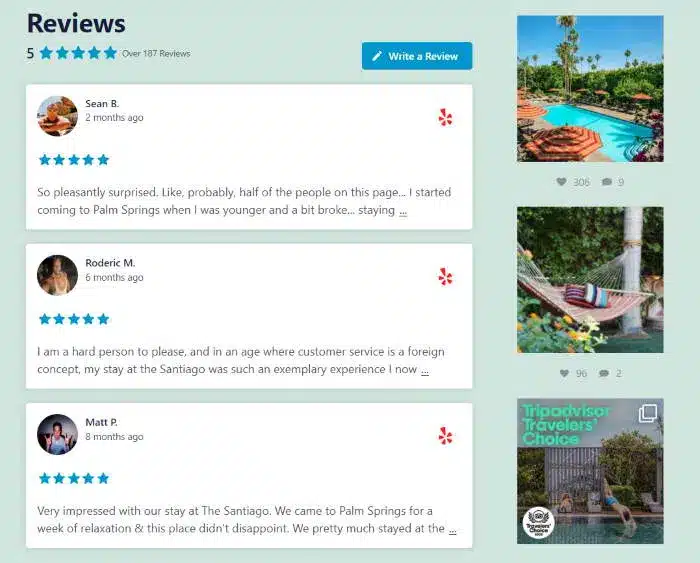 Get started with Reviews Feed Pro today! 
How to Ask for a Review with Email
One of the most popular ways to ask for customers for a review is through email. Email marketing is a powerful tool for businesses considering that 91% of consumers open their email on a daily basis.
It also provides a lot of flexibility since you can automate emails, personalize them, and tie the request to the customer journey. Emails also allow you to offer multiple avenues for customers to respond.
You can provide a landing page link, the Google Review link for your business page, your Yelp business listing, links to your business profile on Facebook or LinkedIn, and more.
5. Post-Purchase Emails
A common time to ask customers for a review is after a recent purchase. If you run an eCommerce store, you're probably already sending email confirmations, which can be a great time to ask customers to review their purchases.
You can also send review messages after an in-person purchase or when a customer has completed a service or experience, like a class. Check out this review request email example from Constant Contact.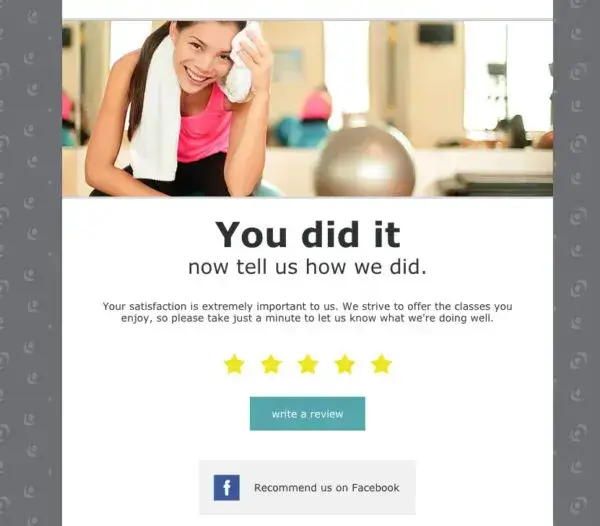 Constant Contact is one of the best email marketing automation providers available. You can quickly create emails like the one above using their library of pre-built email templates and easily automate how you ask for business reviews.
Get started with Constant Contact today! 
How to Ask for a Review on Social Media
Social media is another great place to gather reviews. When you request feedback from followers you're targeting loyal customers who are likely to provide the best reviews. Plus, you're developing your brand's social media presence.
You can use any social media platform for reviews, but Yelp and Facebook are some of the most popular.
6. Ask in a Social Media Post
Wondering how to get reviews from your followers? Just ask for them! Remember, most consumers are willing to share a review if asked.
Here's a great example of a local business's simple social media request, and it links straight to their Google business page.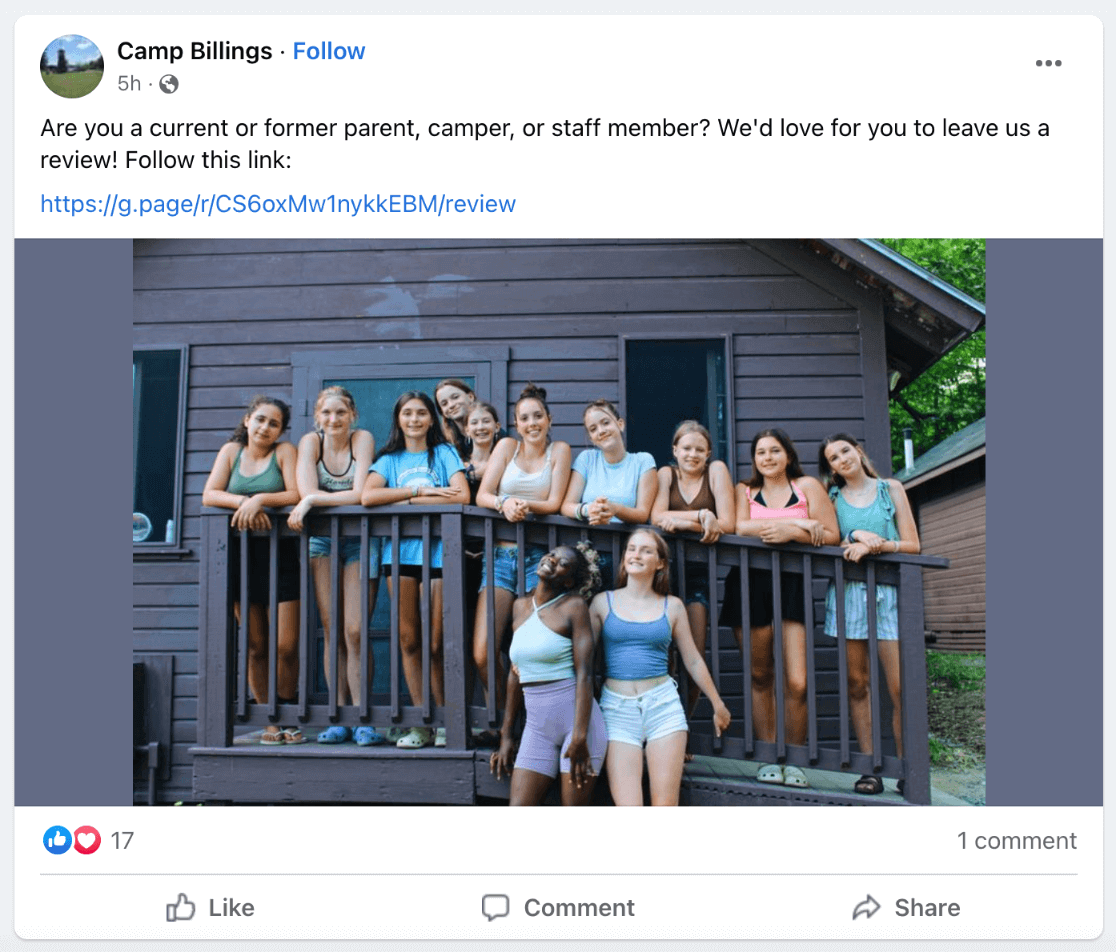 7. Share Your Social Media Reviews
Aside from directly asking for reviews, you can also use social media to share the reviews you get in a new post along with a link for customers to share their own.
Even if they don't leave their own review, they may share the post or leave a positive comment, which you can turn into a review automatically using a tool like Thrive Ovation.
Take a look at this post from DoorDash where a customer posted a non-official review and the company reposted it to highlight their customer service.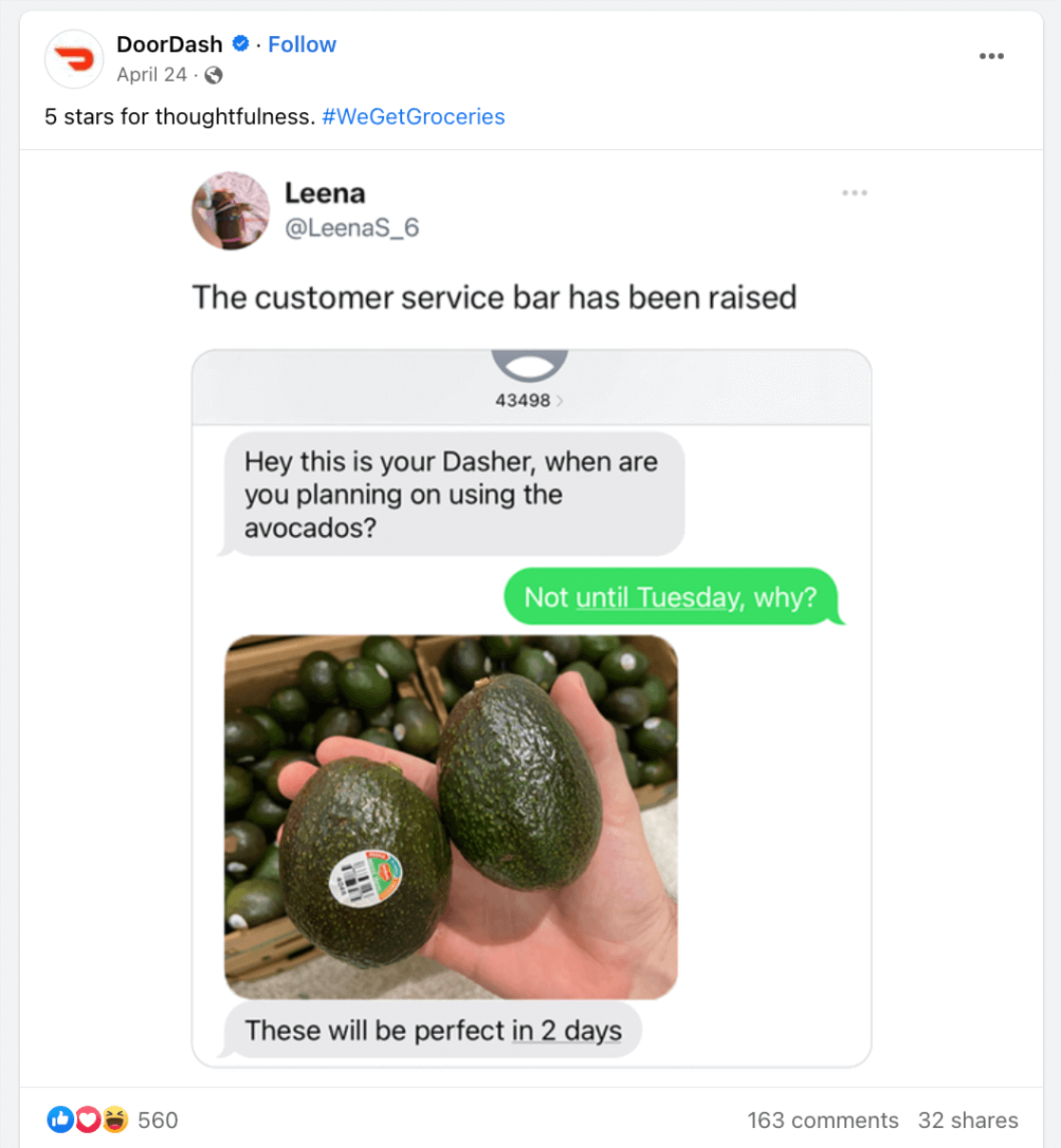 This is another way that SmashBalloon can come in handy. In addition to Reviews Feed Pro, they offer a suite of plugins that automatically connect and display your social feeds on WordPress.
How to Ask for a Review via Call or Text
Although it can be more time-consuming, asking for a review over a call or via text is still a popular practice. It's a great way to build customer relationships, make the experience more engaging, and ensure customer satisfaction.
8. Follow Up with a Phone Call
Calling all your customers isn't usually necessary, but if your business is new and growing, it can be a fast way to secure loyal clients. A personal phone call to ask if they were happy with your products or services shows you really care.
Remember that you're asking for feedback, not a testimonial in this case. Read the atmosphere before you decide to ask for a review. If they seem satisfied and happy you called, it's likely a great time to say something like:
"I'm so glad your experience with [company name] has been a positive one. Feedback is so valuable for a growing brand like ours. If you have the time, would you mind sharing what you said today on [X Review Platform]? I know other customers would find your experience encouraging."
Check out our list of the best VoIP services to set up a phone service system for your small business.
9. Send a Personal Text
Text is another common way for businesses to interact with clients. The first way to go about it is by sending a personal text message. This option usually works best for small businesses that have a local customer base which they communicate with frequently.
It can be a super easy way to ask for a review naturally in conversation, like in this sample message.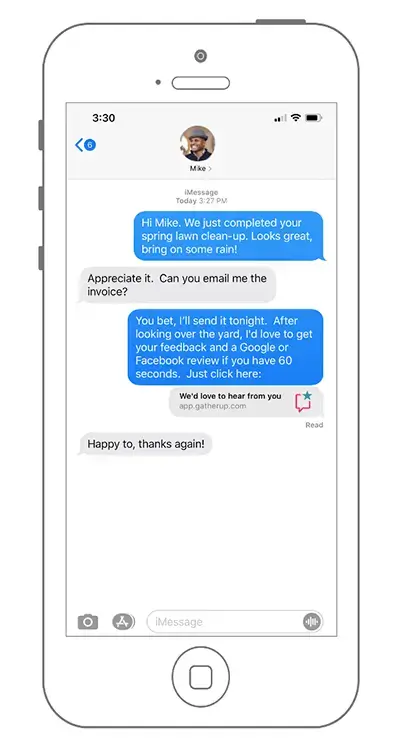 10. Use an SMS Service
Most businesses already collect phone numbers along with the customer's name and email. You can use an SMS service to set up automated messages. SMS campaigns shouldn't replace your email marketing strategy, but they can be a handy way of collecting more reviews with minimal effort.
Automatically send a text after a recent purchase or appointment, ask the customer for feedback, and provide a link to review. Keep in mind, a text isn't the place to show your appreciation with a long message.
Keep it to the point, and make sure to include your business name so customers know who's texting them, just like in this example.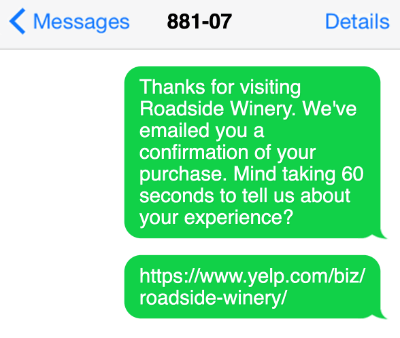 How to Ask for a Review in Person
Even if your business is primarily a physical location, online reviews are hugely important and can make a big impact on whether a customer decides to visit. If you don't know how to ask for reviews in person, you're missing out.
11. Start a Conversation
The most obvious way to ask a customer for a review in person is to start a conversation while they're at your business. In an ideal world, you'd have a happy customer who is already talking about how much they like your products or services, giving you the perfect opportunity to ask for a review.
Unfortunately, you won't always get that perfect chance. But, you can still strike up a natural conversation. Asking if they've shopped there before or how long they've been using your products is a great segue into asking for a review.
Similar to a phone call, read the room and don't lead with asking for a review. You don't want to come off as ingenuine or pushy. If they don't seem interested in chatting, it's probably better to just move on. You don't want to risk creating a bad experience that leads to a negative review.
12. Add a Thank You Note
For in-store purchases, adding a thank you to the end of customer receipts with a link to provide feedback is an easy way to get more reviews. Or, for a lovely personal touch, consider putting a thank you note in customers' shopping bags.
A thank you card is an excellent way to increase brand loyalty, keep your store in the customer's mind after they've left, and politely ask for a review. We recommend using a QR code for simplicity and ease of use.
Check out this example from Canva that only took a few minutes to make.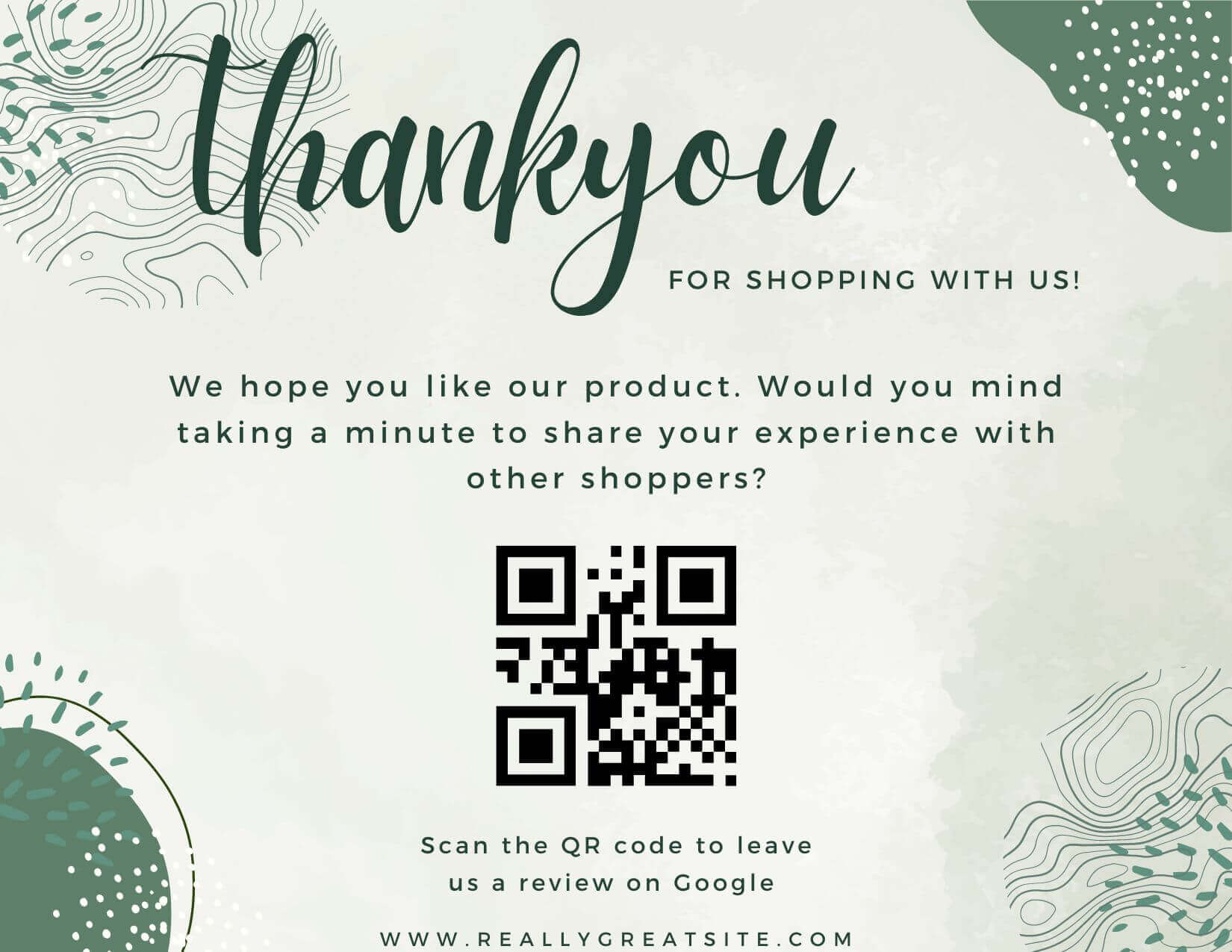 You can also post QR codes or review links in a physical location, like on a card next to the register or on a window sticker to let customers know where to leave you a review. The Yelp window sticker is a common example of this.
How to Gather Reviews – Best Practices
Regardless of which review sites or methods you use, you'll want to keep these tips in mind to maximize positive feedback when gathering reviews.
Keep It Short, Sweet, & Simple
The more effort it takes for a customer to leave a review, the less likely they are to do it. So, you should keep the review process as simple as possible for customers. Be clear about what you're asking for and have a straightforward call-to-action (CTA).
Pro Tip: If your review request is easy to understand and concise, the customer will perceive the process of leaving a review to be easier and quicker. It's a psychological principle that's often used in marketing!
Prioritize Happy Customers
Prioritizing already happy customers when you ask for reviews is a much better bet for getting positive reviews. For example, create a one-question-at-a-time survey funnel that starts with a rating and only leads satisfied customers to the review request, or ask your repeat customers for reviews first.
Regardless of how you do it, asking for a testimonial from customers who you know are happy is definitely what you want to focus on, especially when you're gathering your first reviews, which have the biggest impact.
Pro Tip: Don't fall into the trap of thinking you can only display glowing reviews. Having all perfect reviews can signal it's "too good to be true." In fact, a few negative reviews among a sea of good reviews can build credibility and actually increase conversion rates by up to 85%. Studies show a rating of 4.2 – 4.7 is the sweet spot.
Respond to Reviews and Feedback
Although customers don't mind seeing a few less-than-perfect reviews, they do care about how you respond to their own or other customers' complaints. All feedback is good feedback because it gives you the chance to make it right.
Promptly responding to any negative feedback increases the trustworthiness of your brand, reduces the likelihood of churn, and provides an opportunity to show off your awesome customer support.
Pro Tip: Go the extra mile to turn a customer's negative experience into a positive one. Then, ask for a review. You're likely to get a very authentic, positive testimonial that's highly persuasive to potential customers who are on the fence.
Use a System and Time It Right
How you ask for reviews will vary, but you'll want to have a system in place. Using a review request template and tools that automate the process can save tons of time and keeps things organized.
A system also makes it much easier to tie review request messages to the customer experience and guarantee that your timing is right. Requesting a review after a purchase or customer support interaction are common examples of this.
Pro Tip: Connecting a testimonial request to the user journey and planning your timing ensures that your business is still fresh in their mind. Try using a personalized question like "How much are you loving your new (product)?" to engage customers more.
No matter which methods you use to get reviews, you'll definitely want to track your efforts to find out what's working. Luckily, MonsterInsights makes it easy to track your offline marketing campaigns, emails, referral traffic, eCommerce, and more.
Well, that's it for this post! We hope you enjoyed learning how to ask for customer reviews!
If you're ready to learn more about asking for customer feedback, check out our 44 Customer Survey Questions + Guide to Meaningful Feedback.
Not using MonsterInsights yet? What are you waiting for?
Don't forget to follow us on Twitter, Facebook, and Youtube for the best WordPress tutorials and Google Analytics updates.