Wondering how to use WooCommerce SEO to drive more targeted traffic to your site, and boost your sales?
Taking a deeper look at some specific Google Analytics SEO reports will help you decide on the right steps you can take to get more traffic and, ultimately, more sales.
In this article, we'll show you some actionable WooCommerce SEO tips you can start using today.
Is WooCommerce SEO Friendly?
WooCommerce is very SEO friendly, but isn't perfectly optimized right out of the box. Optimizing any website is going to take some work on the website owner's part!
WordPress is an SEO friendly website platform, and WooCommerce is built right into WordPress, so it's also SEO friendly. That said, you'll definitely want to spend some time on building up your WooCommerce site's SEO.
To do that easily, we highly recommend using a WooCommerce SEO plugin like All in One SEO. It can help you quickly tackle WooCommerce-specific SEO issues like:
Page titles and meta descriptions on your product pages and category pages
XML sitemap
Product image optimization
Rich snippets/schema
Check out All in One SEO for WooCommerce more now.
We recommend this plugin so highly that it's number 2 on our tip list below! Let's dive in.
11 Must-Do WooCommerce SEO Strategies
1. Perform Keyword Research
In order to effectively target your audience, you need to know what exactly they're typing in when they search for products like yours. To do that, it's time to do some keyword research.
Now, keyword research is a pretty big topic, so we'll just go over the basics here.
We recommend using a keyword research tool to get some help with seeing which keywords in your industry might bring in the most traffic. If you have an SEO budget, we strongly recommend SEMRush. If you're looking for a free tool, try Keyword Generator or Answer the Public.
Start by inputting your main keywords ("seed keywords") and see what other keywords are related and relevant for your business. Keep a master list of the ones you find to use when optimizing your website.
For instance, if you type in "women's shorts" in your keyword research tool, you might see that there's a lot of traffic right now looking for "black jean shorts womens" and "black denim shorts womens".
For more on keyword research, read How to Do Keyword Research for SEO: Quick-Start Guide.
In addition to keyword research, it's important to understand the intention of organic visits. This helps you figure out the why behind each organic visit to your site, so that you can deliver exactly what visitors want instead of wasting time optimizing for the wrong keywords that will never convert.
To determine what your current organic visitors are looking for on your site and what their intention is, try looking at the Keywords data in Google Analytics 4 by navigating to Reports » Search Console » Queries:

If you don't have Search Console connected to Google Analytics yet and/or don't have the Search Console report set up in GA4, find out how at How to Add Google Search Console to WordPress and Analytics.
In Universal Analytics, find the report under Acquisition » Search Console » Queries: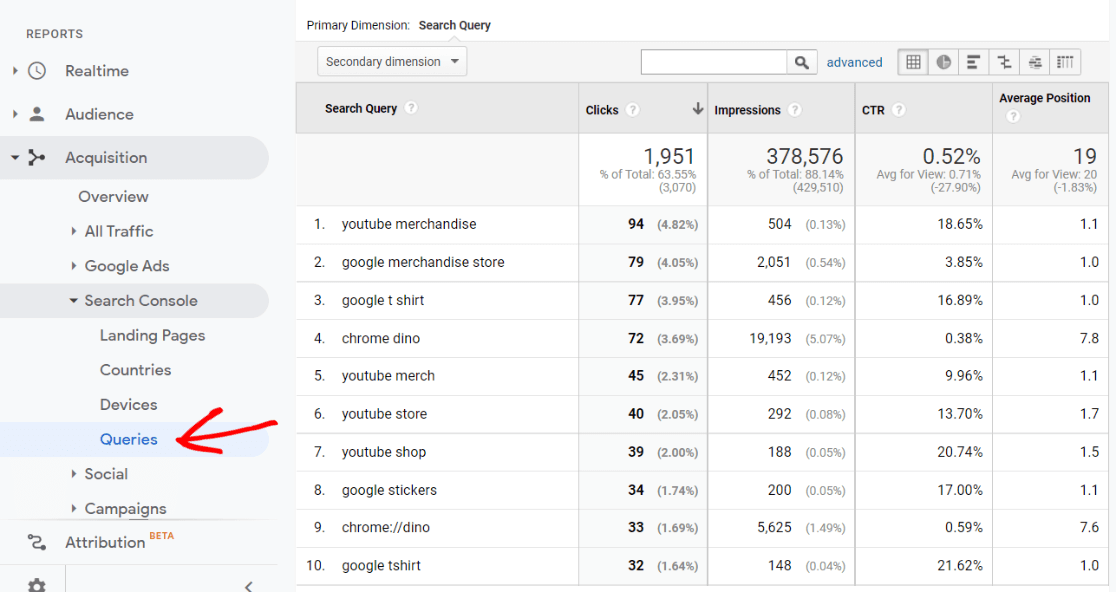 2. Use the All in One SEO Plugin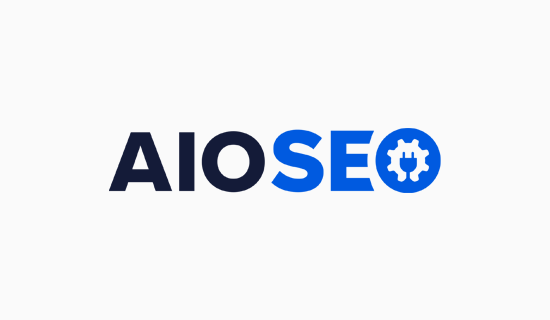 Using an SEO plugin on your site is essential to optimize your website for search engines and attract potential customers.
All in One SEO is the best WooCommerce plugin to grow your traffic. It integrates with WooCommerce, helping you to improve your WooCommerce SEO across the board with tools like:
Title and meta description editing
Image optimization
Social media sharing tools
Schema support
On-page SEO analysis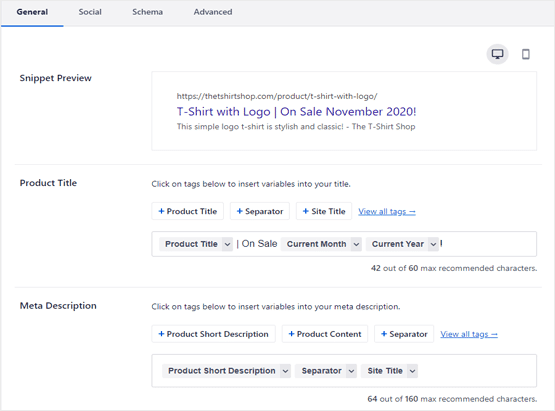 Plus, All in One SEO allows you to choose a focus keyword or phrase on every page of your site, and then gives you suggestions to use it correctly for SEO on that page. Focusing on the right keywords ensures that your site attracts the right visitors that are likely to convert into leads and customers.
With MonsterInsights, you can even track the performance of those focus keyphrases you set for your pages. You can read more about it next.
3. Concentrate on Focus Keyphrases
To make your pages and products as optimized as possible, it's important to focus on one specific keyword phrase per page. This phrase is called your "focus keyphrase".
Using a focus keyword or phrase for every piece of content on your site will help you optimize the post. Once you put a focus keyword into All in One SEO's handy focus keyphrase box, the plugin scans your content to make sure it's optimized for that specific word or phrase.
Then, if you're using All in One SEO and MonsterInsights, you can track the performance of those keyphrases to see which ones are getting the most pageviews, which ones have the most engaged traffic, and more. See which pages or products are doing well in search engines.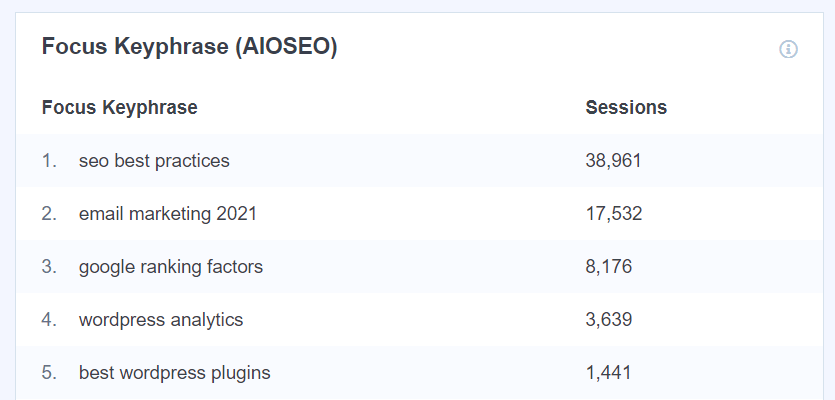 Using this information, you can make data-driven decisions about things like which content to update often, what keywords you could come up with more content around, and what needs to be further optimized to bring in more traffic.
To be able to track the performance of focus keywords, you'll need to enable custom dimensions on your site.
In Google Analytics, custom dimensions are just like default dimensions (gender, region, pages, traffic sources), except you create them yourself. By easily and quickly enabling custom dimensions, you can collect and analyze data that matters to your website, like focus keyphrases tracking, which Analytics doesn't do out of the box.
For more details, read The Beginners Guide to Custom Dimensions in Google Analytics.
4. Don't Overlook Product and Category Pages
Think about every page on your site, not just your blog content and home page. If you're an eCommerce store owner, you need to think about product pages and category pages, too.
Optimizing product and category pages is very similar to optimizing blog posts. Each one needs the basics:
A descriptive product/page title
An SEO title
An SEO meta description
A slug with your main keyword(s)
Breadcrumbs
An optimized product description
Your breadcrumbs, SEO title, and SEO meta description will display in search results, and will help you rank for the right keywords.

In the above example, the breadcrumbs are in blue, the SEO title in green, and the meta description is in pink. While Google does sometimes dynamically change your description to match a searcher's keywords, you should still create an optimized one.
5. Use Breadcrumbs
Breadcrumbs, in addition to being something tasty you eat, are also a set of links that show visitors where they are in your site's navigation. These links are especially important for eCommerce websites, as they show what category your website visitor is in, making for easy navigation.

Beyond being helpful for visitors, these little links are awesome for SEO. Google displays breadcrumbs in their search results, and the links help Google's crawlers navigate and categorize your website's content.

Don't have breadcrumbs on your site yet? Check out AIOSEO's feature that helps you display breadcrumb links on your site.
6. Add Internal Links to High-Priority Product Pages
Internal links are useful for many reasons. Some of those reasons are:
They help users to easily navigate through your site.
They help to create an SEO-friendly architecture for your site.
They help to create link juice between content and boost search rankings.
You can determine the high-priority product and category pages on your site and add internal links to them them from your authoritative pages.
Authoritative pages are the ones that attract organic visitors already, like a popular blog post. You can leverage these authoritative pages to pass more link juice to your high priority products and categories that are currently not well-ranked on search engines.
Try working your related links into the content itself, or using a page-specific widget to feature a priority product in the sidebar.
If you're looking for the easiest way to promote top products, use the MonsterInsights Popular Products widget.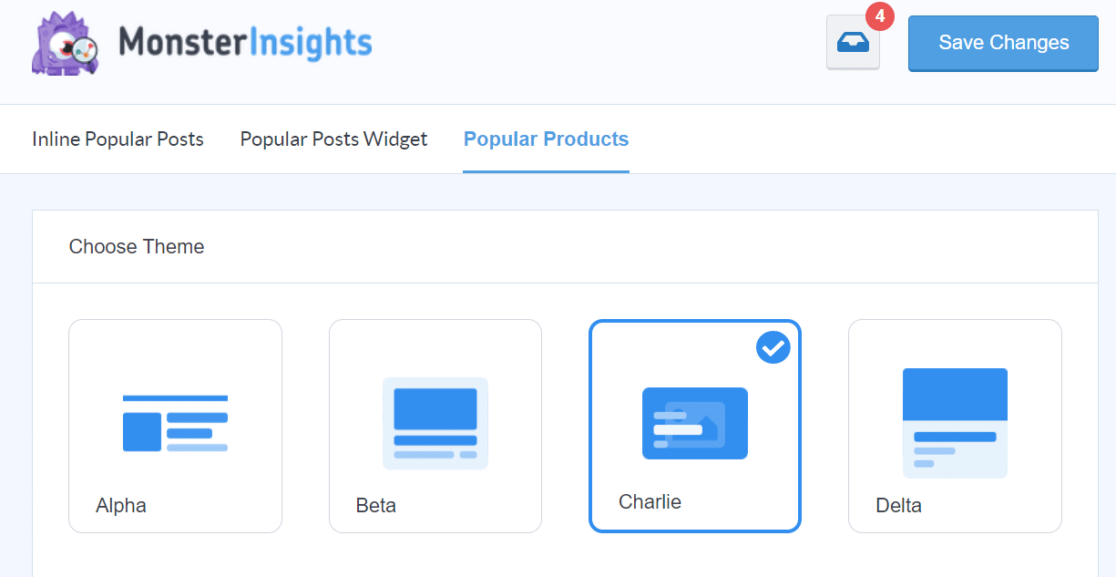 Just choose a couple settings (like how you want the widget to look) and MonsterInsights will display them for you! For instructions, read How to Display Best Selling Products in WooCommerce.
7. Find How Organic Traffic Brings in Business
Do you want to see how your organic traffic is bringing in business?
The easy way to find out is to head to Google Analytics. In GA4, you'll want to create an exploration report. After you set it up once, it'll be available for you to look at any time!
To start, head to Explorations and create a Blank report:

Now, click the Plus symbol next to Dimensions.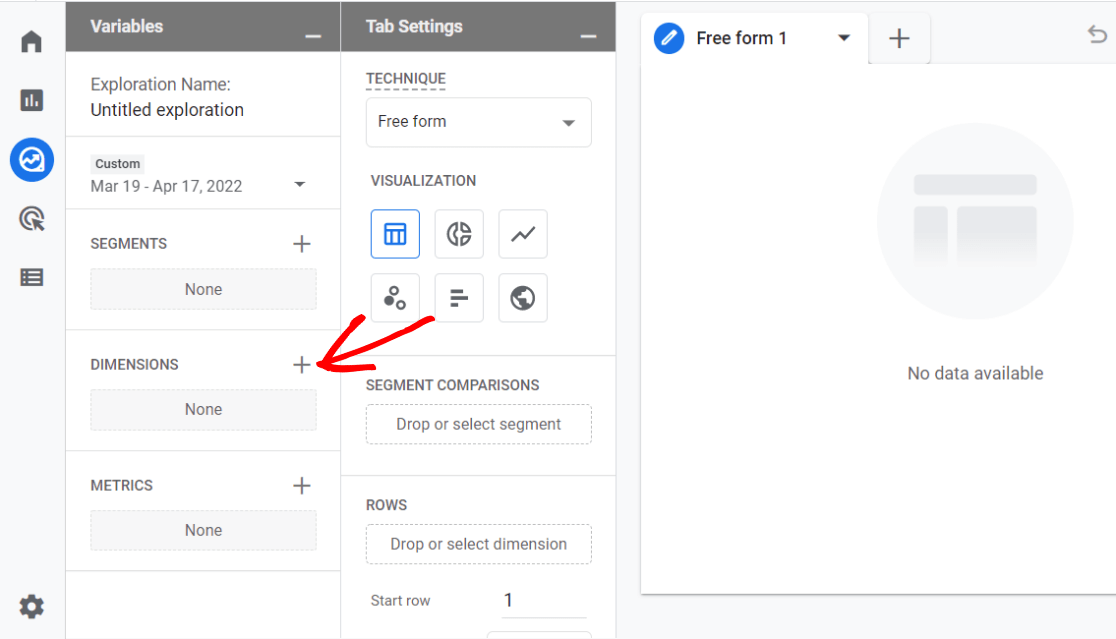 Search for and select Landing page and Session source/medium, then click the blue Import button.

Now, do the same thing for Metrics. Search for and import Entrances, Engaged sessions, and Purchases.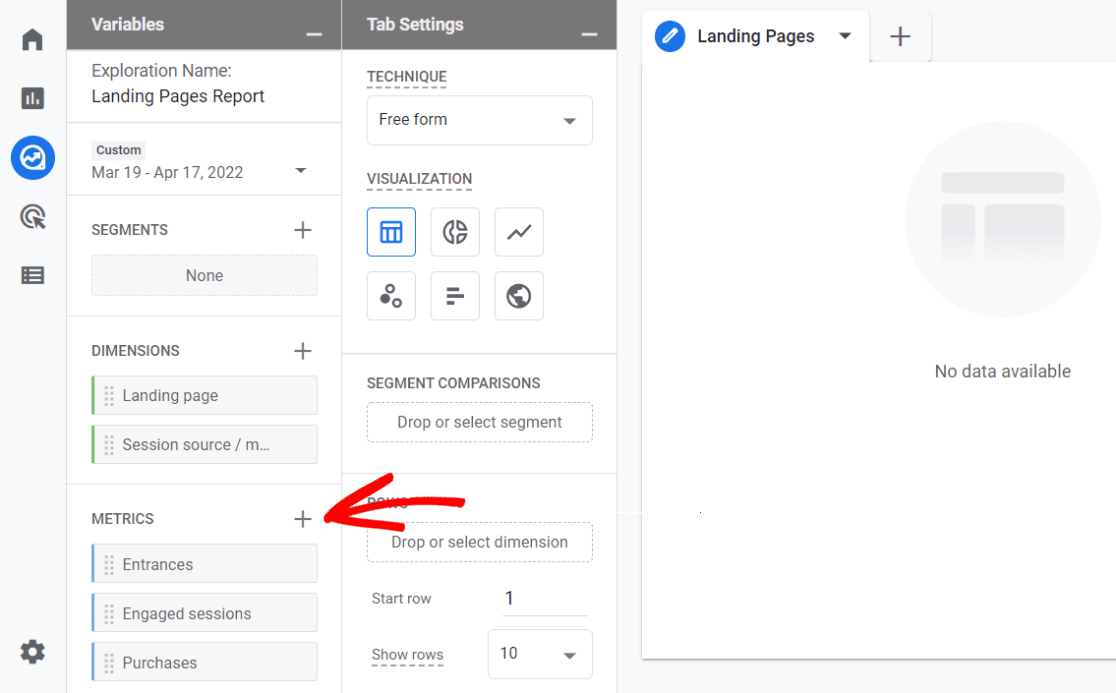 Now, click and drag your two dimensions into the Rows box: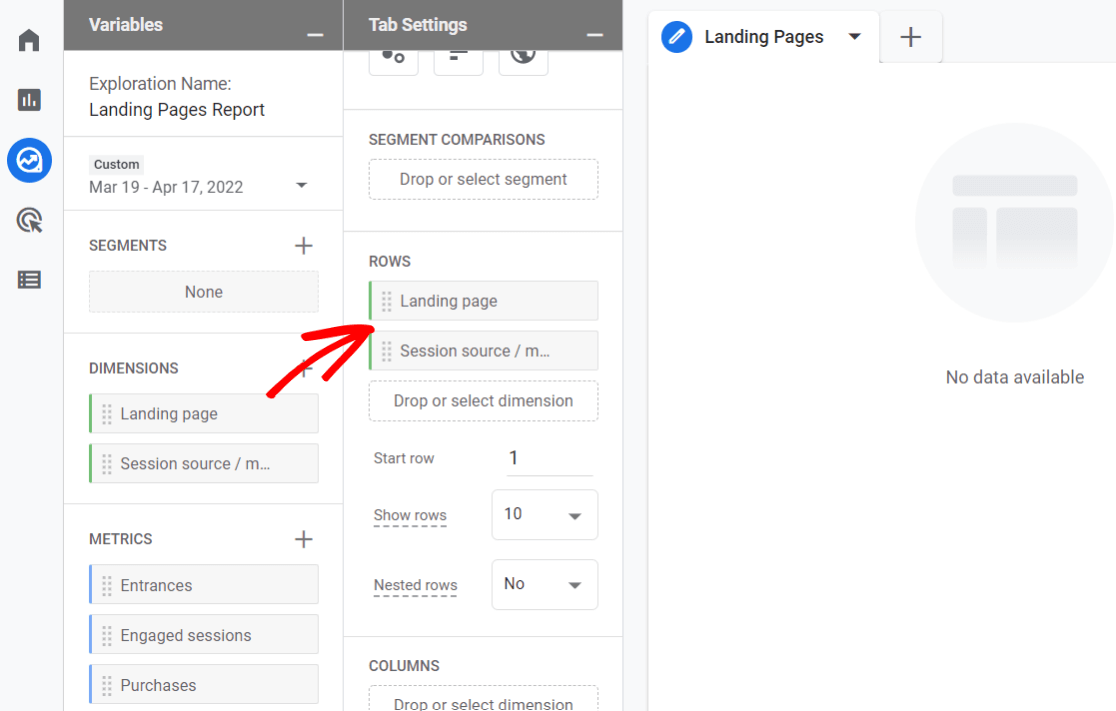 Then, drag your three metrics to the Values box: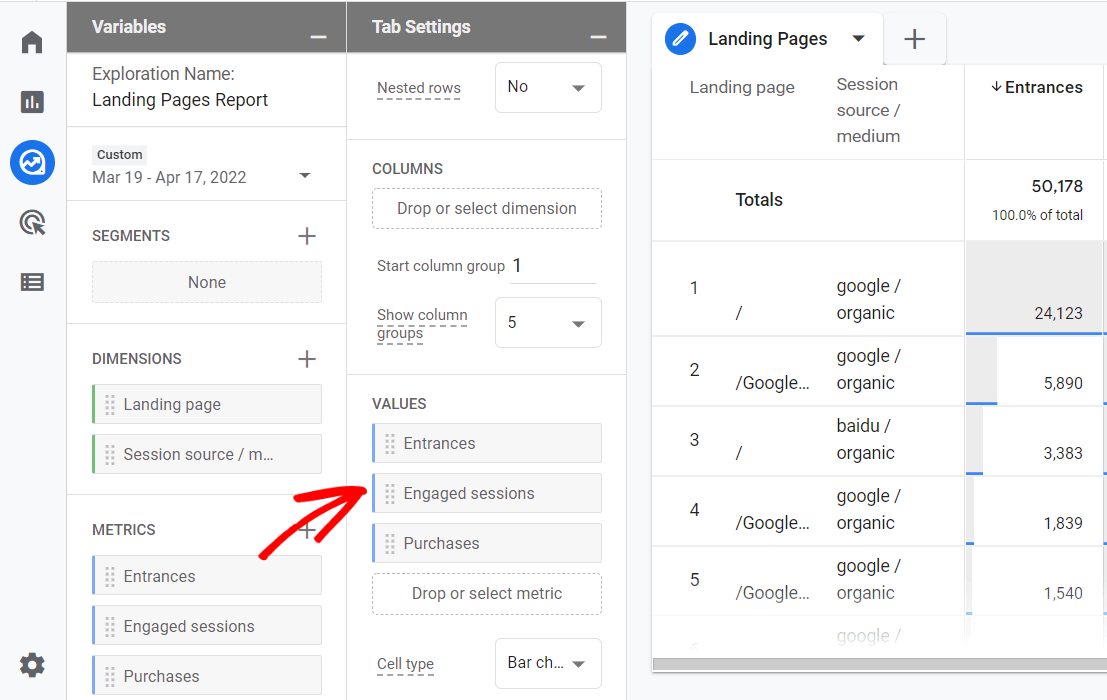 Finally, drag Session source/medium dimension into the Filters box: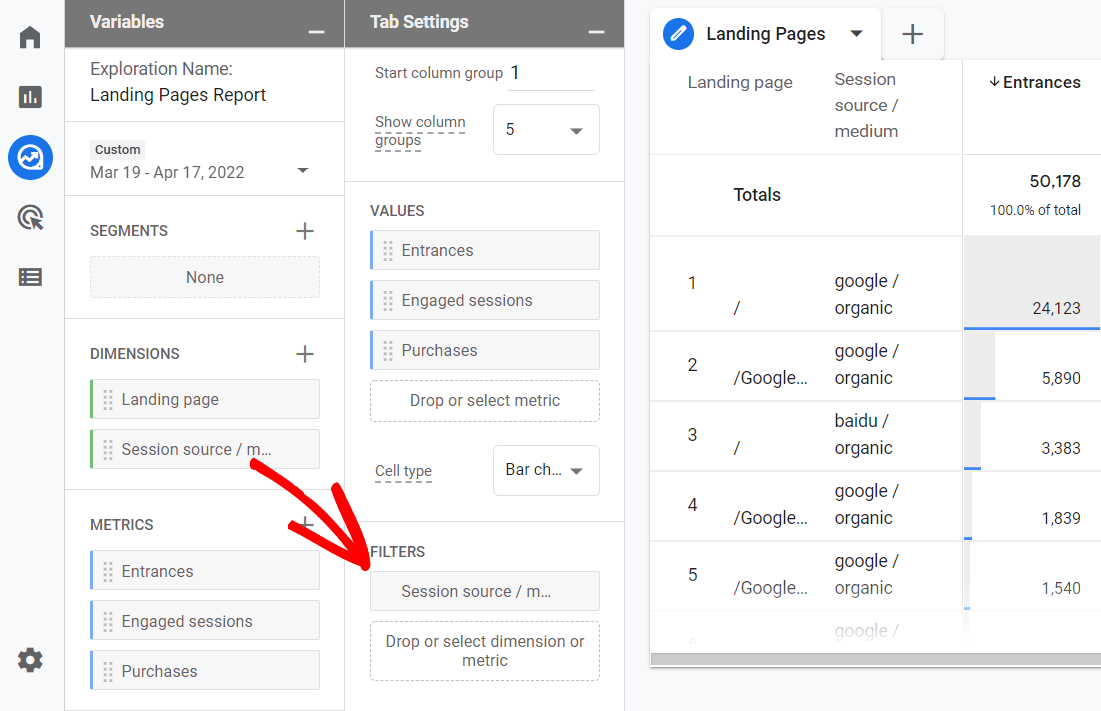 Set the filter to contains and organic: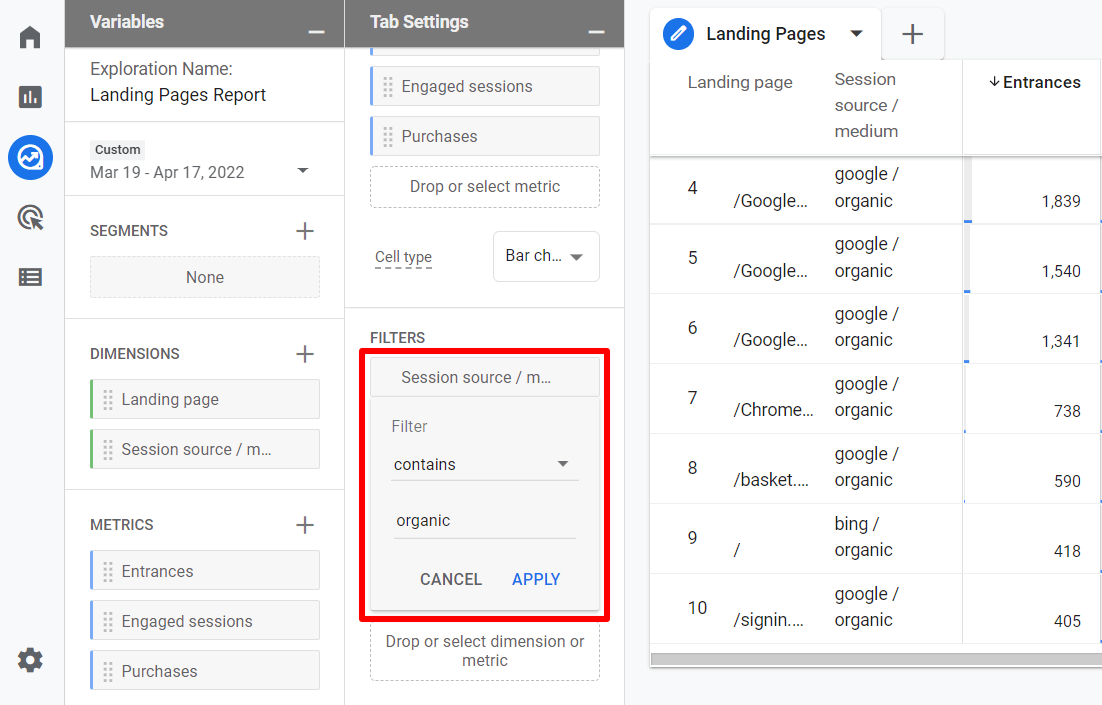 That's it! You now have a report that shows you your organic landing pages, and how often those visitors completed a purchase: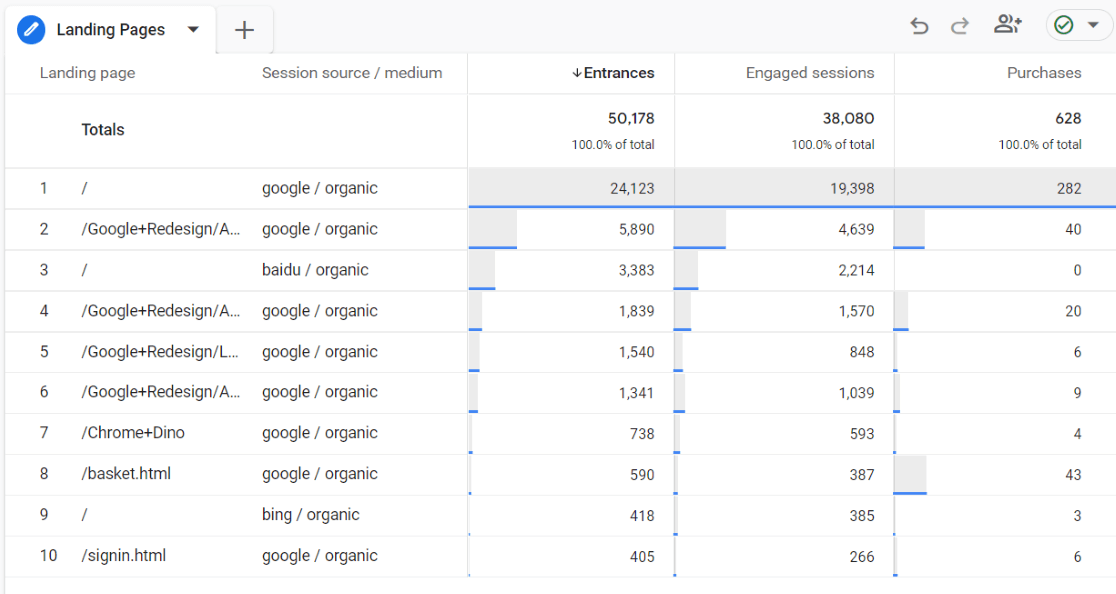 Want to see more than 10 results? In the Rows area, change the Show rows dropdown: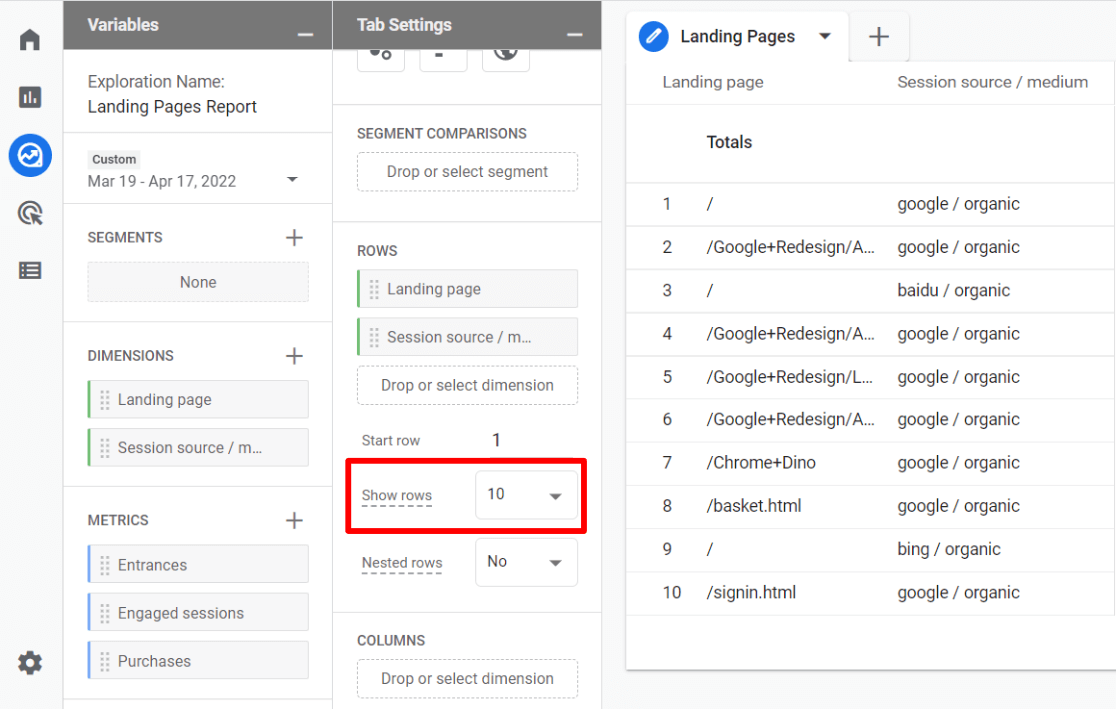 In Universal Analytics, you can get the channels report by navigating to Acquisition » All Traffic » Channels.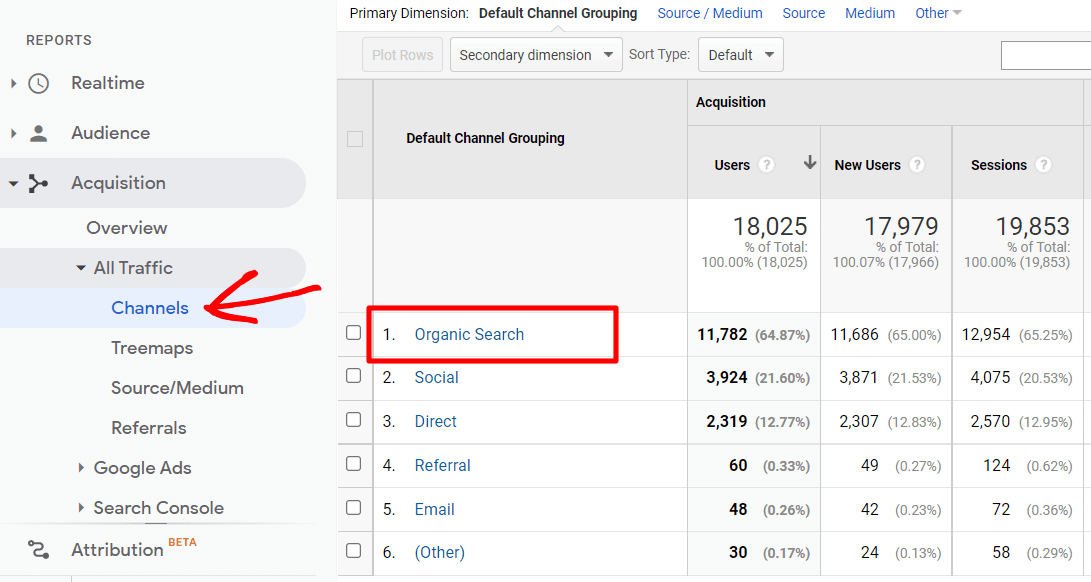 Next, choose Landing Page as your primary dimension: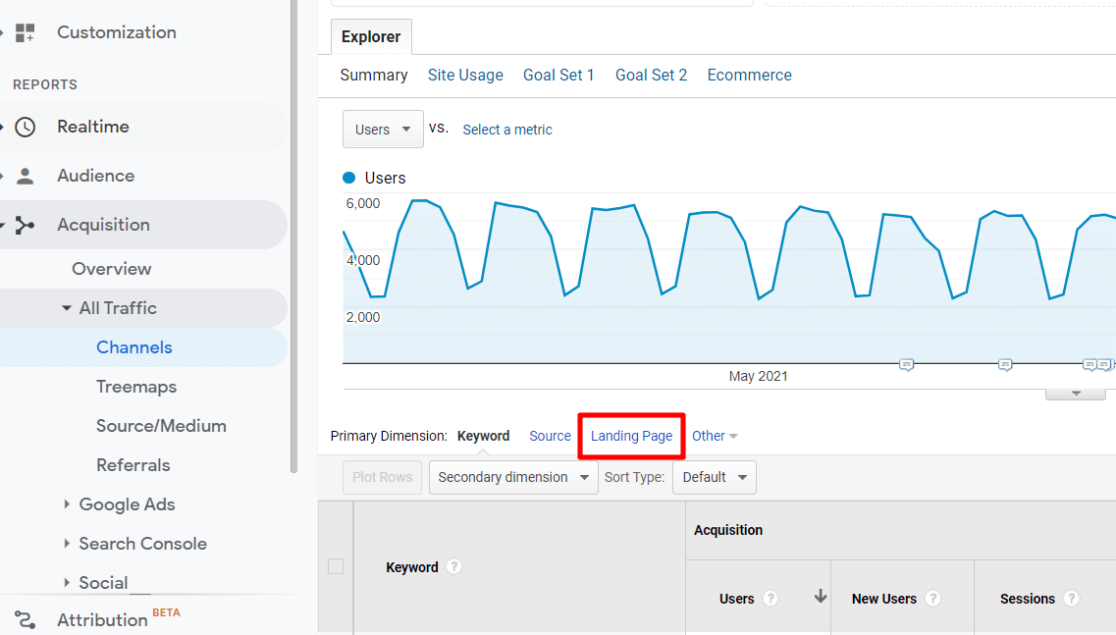 Now, in the Conversions dropdown, make sure Ecommerce is selected. Then, click on Transactions in the table to sort your organic landing pages by the number of transactions completed during those visits.

You'll now see a list of the pages your visitors are landing on via organic search in the order of how many transactions are then being completed in the same visit.
Looking at this report will help you be aware of which pages are both ranking well in search and driving transactions.
8. Implement Schema Markup on Product Pages
Implementing product review schema is the best way to add rich snippets to your search results. These cool snippets can be shown by implementing schema markup on your WooCommerce product pages.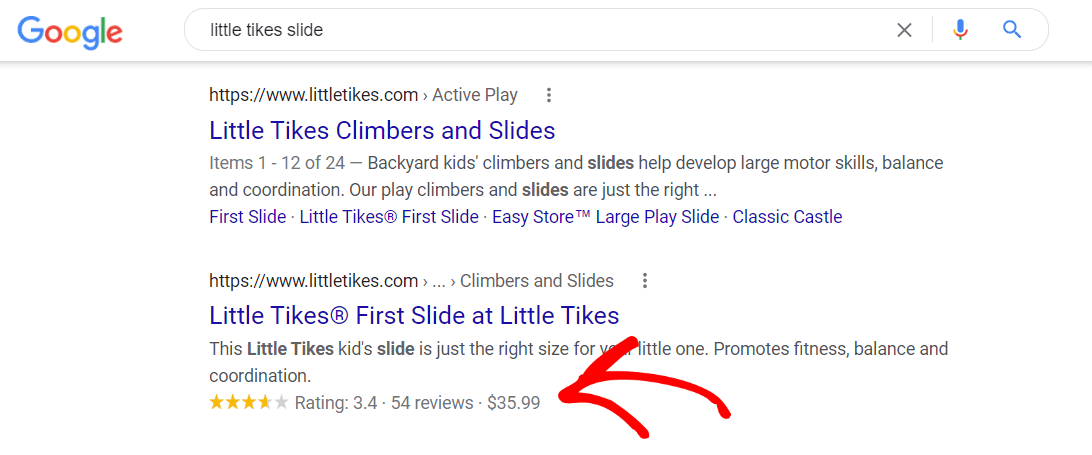 The best way to add rich snippets in WordPress is using the All in One SEO plugin.
Keep in mind that adding rich snippets doesn't guarantee you that they will be shown in all of your search results, but it definitely improves your odds.
For more on implementing product schema, read Setting Product Schema Markup in Your Content by All in One SEO.
9. Use Alt Tags on Images
Using alt tags on your images is a pretty easy way to not only make your website much more accessible, but also include keywords on your images so that they might come up in search.
In WordPress, there's always a box to input your alt tag on images: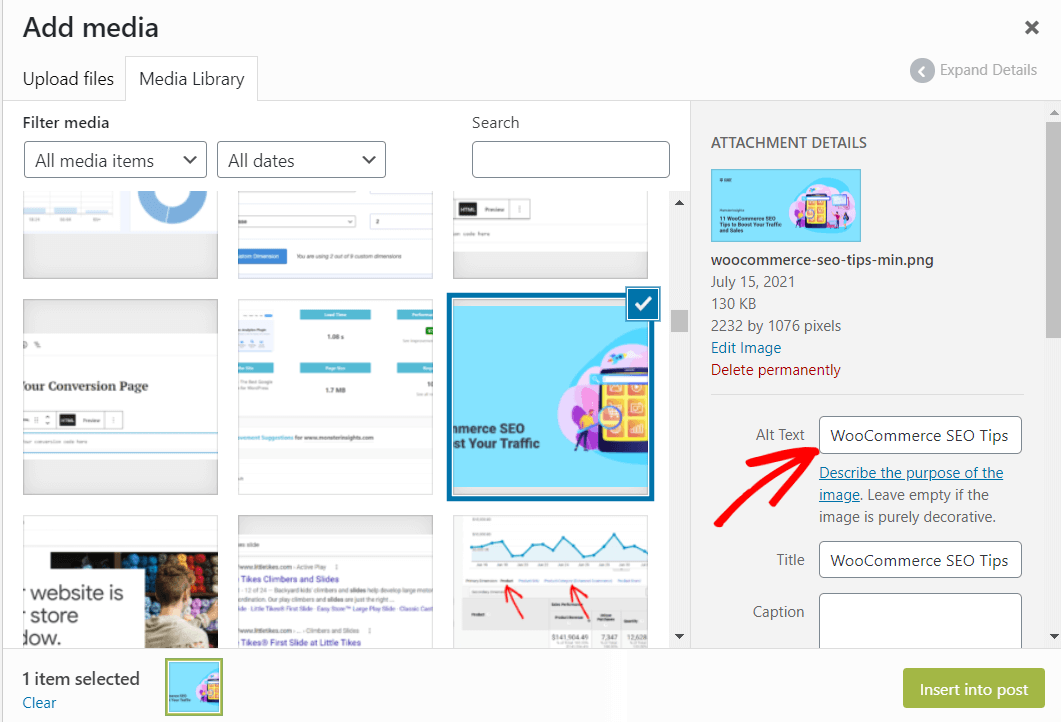 For an optimized product image, use a descriptive alt tag.
For more on writing alt tags, read How to Write Alt Text for Images for SEO (3 Easy Tips).
10. Check Site Speed
Especially with Google's Core Web Vitals, it's incredibly important to have a fast website. If your website is slow, not only might visitors hit the "back" button because they find your website to be too slow, but Google might choose not to rank your site as highly as others with similar content.
So, a slow website can be pretty bad for your SEO.
To check your website's speed and get some actionable tips for fixing any slowness, we recommend the MonsterInsights Speed Test report.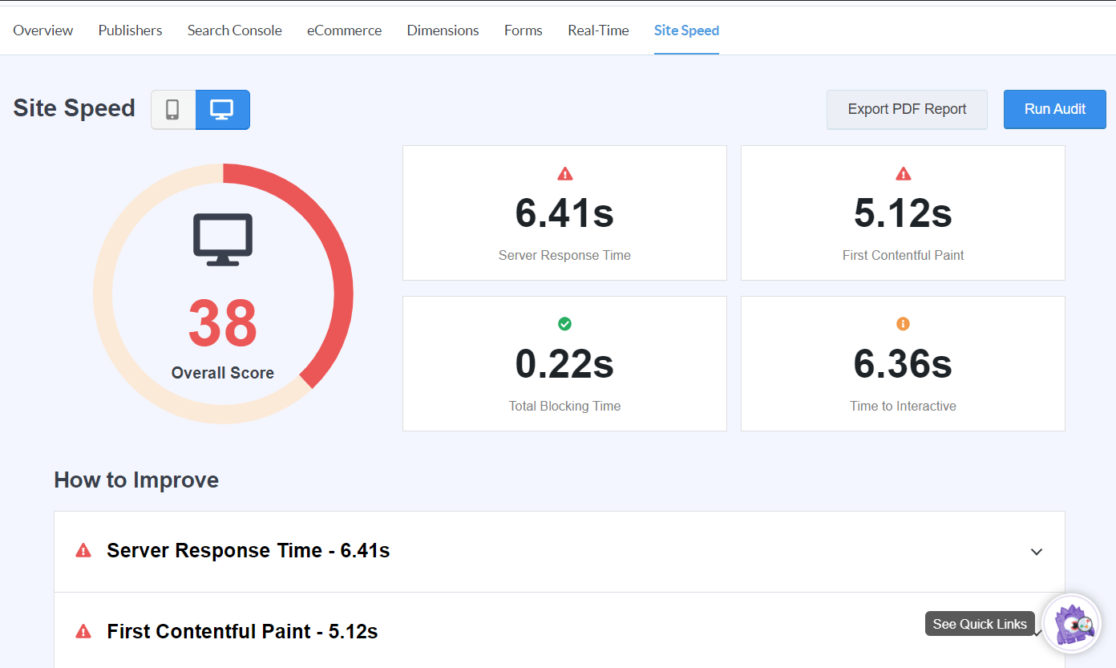 11. Optimize Slugs Before Publishing
Nope, we're not talking about those slimy things in your garden. A slug is another term for your URL, or permalink. In WordPress, you can always edit it, but you should only do so before publishing your piece of content (or product). Changing a slug after publishing will cause a 404 error on your site.
Your slug should always be keyword optimized for what's on the page. In WooCommerce, that means changing a product slug from something like:
https://www.yoursite.com/shorts-6529
to
https://www.yoursite.com/womens-black-slouchy-shorts.
BONUS TIP: Optimize for Conversions
Did you know that there's an easy way to test changes to your site's design or messaging? While you're working on your on-page SEO, you can also test to see if subtle (or big) changes would improve or hurt your WooCommerce conversion rate.
You don't necessarily need to sign up to a costly tool in order to conduct experiments on your site. Rather, you can use Google Optimize, the free A/B testing and personalization product by Google.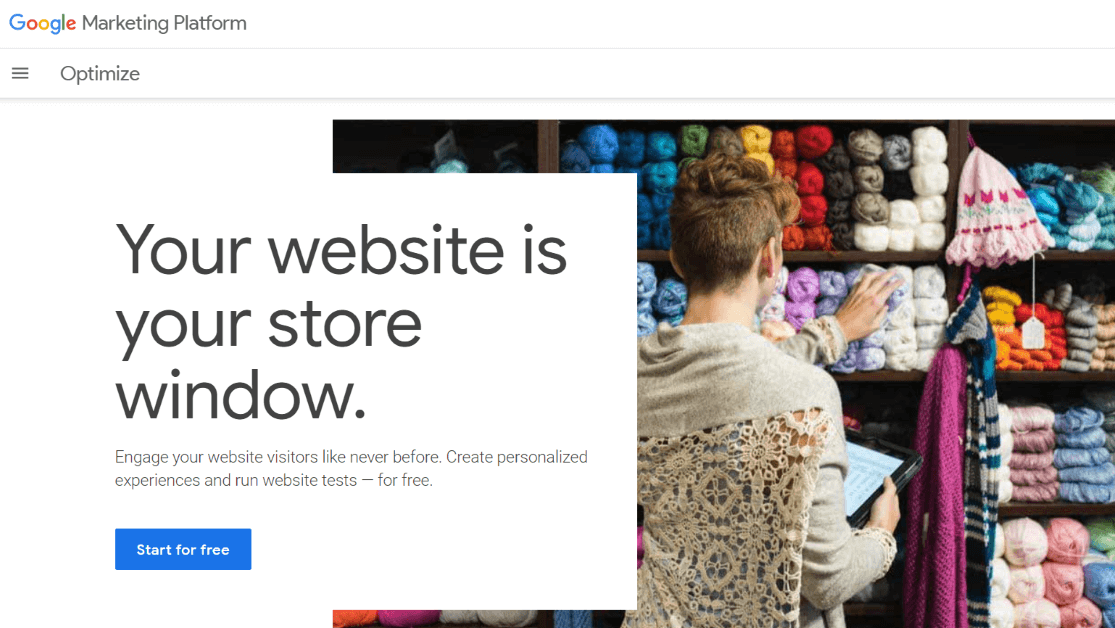 Google Optimize allows you to conduct experiments to see what optimization tactics work best on your site.
To be able to conduct experiments on your WooCommerce site, you'll just need to connect Google Optimize with Google Analytics. MonsterInsights' Optimize addon makes it easy to implement it in just a few clicks.
Learn how to integrate Google Optimize with Google Analytics.
We hope this article helped you learn some cool WooCommerce SEO tips to boost your traffic and sales. Now, learn How to Set Up WooCommerce Conversion Tracking in Google Analytics.
Want some awesome plugins to help you grow your store? Check out 29 Best WooCommerce Plugins.
Not using MonsterInsights yet? What are you waiting for?
And don't forget to follow us on Twitter, Facebook and YouTube for more helpful reviews, tutorials, and Google Analytics tips.