Wondering how to drive more targeted traffic to boost your sales? Google Analytics is already giving you valuable insights on your organic traffic. All you need to do is to take a deeper look into your Google Analytics reports and take the right measures to boost your organic traffic and sales. In this article, we'll show you some actionable WooCommerce SEO tips you can take to boost your SEO traffic and sales.
1. Enable Enhanced eCommerce Tracking
To understand how search engine traffic influence on your sales and revenue, you'll need to enable Enhanced eCommerce tracking on your site.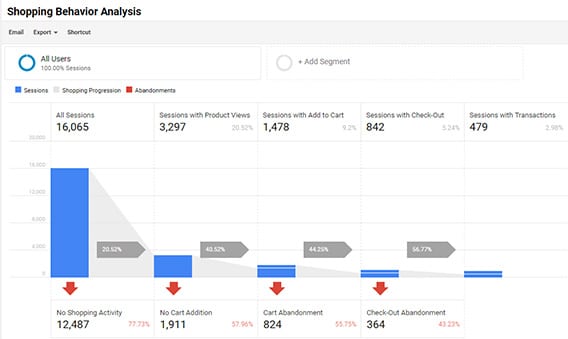 In Google Analytics, Enhanced eCommerce tracking provides you with more detailed data about the shopping behavior of your customers than traditional eCommerce tracking. When it is enabled on your site, it gives you powerful reports like:
Shopping Behavior
Checkout Behavior
Product Lists Performance
Sales Performance
You can learn the easy way to add Enhanced eCommerce tracking for WooCommerce, no coding necessary.
2. Use the Yoast SEO Plugin

Using an SEO plugin on your site is essential to optimize your website for search engines and attract potential customers.
Yoast SEO is one of the best WooCommerce plugins to grow your traffic. It helps you to improve your site's SEO on all needed aspects. It is the one that we use on all of our sites and recommend to our customers.
Yoast SEO allows you to choose a focus keyword on every page of your site, and then gives you suggestions to use it appropriately on that page. Focusing on the right keywords ensures that your site attracts the right visitors that are likely to be converted into leads and customers.
You can learn how to use Yoast SEO on your site.
With MonsterInsights, you can even track the performance of focus keywords you set for your pages. You can read more about it below.
3. Track the Performance of Focus Keywords
If you're using the Yoast SEO plugin on your site, you can track the focus keyword you set on your pages with MonsterInsights.

By tracking the performance of focus keywords, you can see which of your page is doing well in search engines. It helps you identify what focus keywords are driving more organic traffic to your site. You can also gain data-driven insights about choosing focus keywords for boosting organic traffic.
To be able to track the performance of focus keywords, you'll need to enable custom dimensions on your site.
In Google Analytics, custom dimensions are just like default dimensions such as gender, region, all pages, traffic sources, etc. except you create them yourself. By enabling Custom dimensions, you can collect and analyze data that matter to your website, like focus keywords tracking, which Analytics doesn't track out of the box.
For more details, learn everything you need to know about custom dimensions.
4. Focus on Key KPIs
In order to boost your eCommerce SEO traffic and sales, focusing on your sales and organic traffic reports is not just enough. You need to keep an eye on KPIs (Key Performance Indicators) of your WooCommerce shop.
KPIs are key metrics that help your business understand where your successes are coming from, and what changes you need to make in order to build your customer base from search engines and other traffic sources.
Focusing on crucial KPIs for your store tells you whether your business is moving towards meeting your business objectives and also ensures that you are not going off track.
For example, below are a few KPIs you need to keep track to generate more revenue from your store.
Conversion rate
Cost per acquisition
Shopping cart abandonment rate
For more details, read 5 crucial KPIs to track for every WooCommerce store.
5. Find How Organic Traffic Brings in Business
Do you want to see how organic traffic brings in business?
The easy way to find it out is to look at the channels report in Google Analytics. You can get the channels report by navigating to Acquisition » All Traffic » Channels.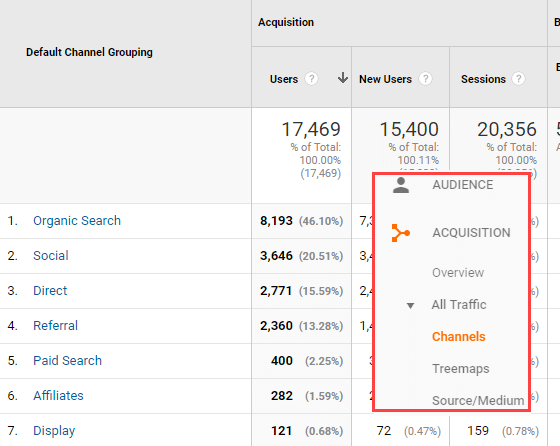 For more customized analysis, you can create a custom report in Google Analytics. Custom report lets you build your own reports by choosing dimensions and metrics you define per your needs. The best thing is custom reports offers more flexibility than preconfigured reports because you can choose up to five dimensions in every report.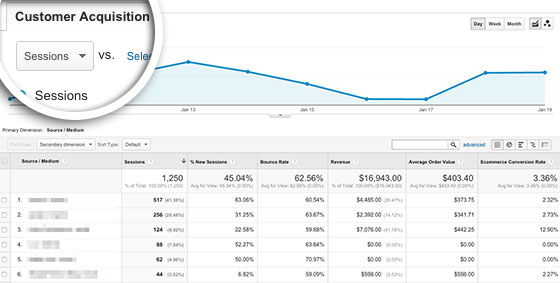 If you don't want to build a custom report from scratch or if you need inspiration, simply import this custom report in your Google Analytics account. This report tells you what channels are contributing the most revenue to your business in an easily digestible way.
It includes key eCommerce metrics like Revenue, Average Order Value, and Conversion Rate.
Here are a few useful custom reports for your WooCommerce store. To get more custom report templates created by Analytics experts, you can visit Solutions Gallery by Google Analytics.
6. Understand Keyword Intent
Not every organic visitor is going to buy merchandises from your store.
Understanding the intention of every organic visit helps you figure out why each organic visitor is on your site so that you can deliver exactly what they want, instead of wasting time optimizing for the wrong keywords that will never convert.
For instance, Practical Ecommerce identifies four types of keyword intent. They are:
Navigational, where users search for a particular website.
Informational, where users search for the answer to a question.
Investigational, where users search for information that may eventually lead to transaction.
Transactional, where users are ready to buy.
See OptinMonster's guide on how to choose the right keywords for advice on discovering intent.
To determine what your organic visitors are looking for on your site, you can look at the Keywords data in Google Analytics by navigating to Acquisition » Search Console » Queries.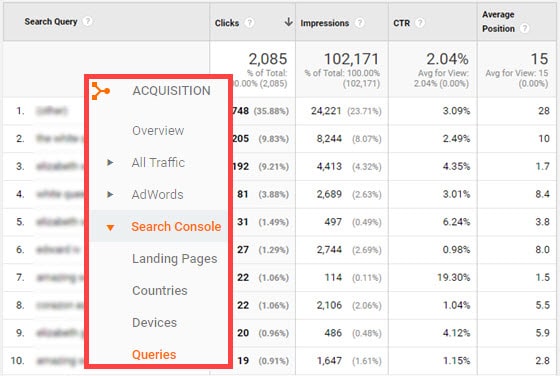 To make most out of the Queries report, make sure to connect your Google Search Console account with Analytics account. Here's how to connect them.
Sign into your Google Analytics account, and select the right website in your list that you want to connect with your Search Console account.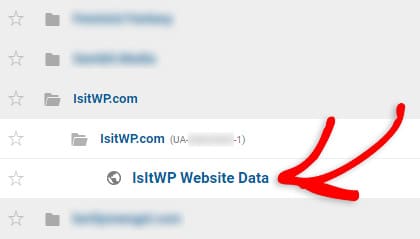 Click Admin in the left taskbar.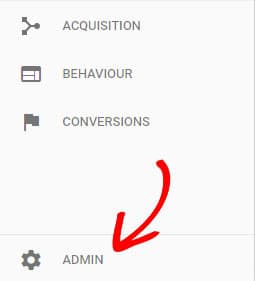 In the Property column, click Property Settings.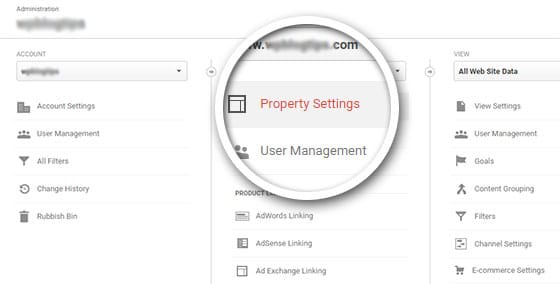 Now click Adjust Search Console in the Search Console column.



Then click Edit.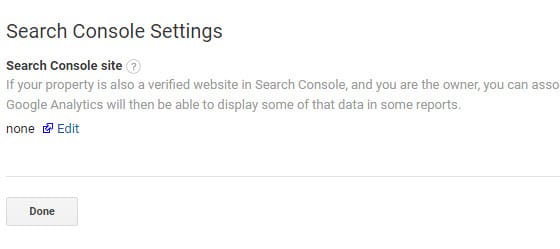 You can see now the right website in your list. Select it and click Save. And then click OK.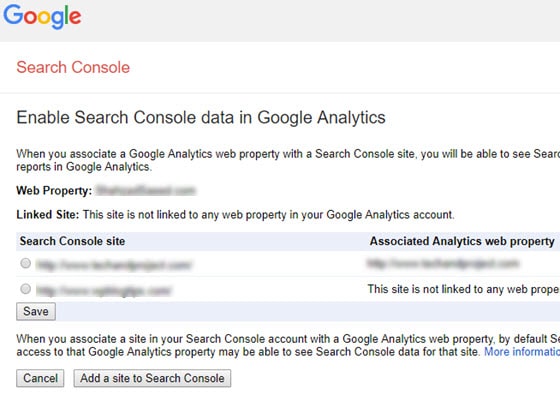 You can see now the right website in your list. Select it and click Save. And then click OK.
Now you can view the keywords people are using to find your eCommerce site by going to Acquisition » Search Console » Queries.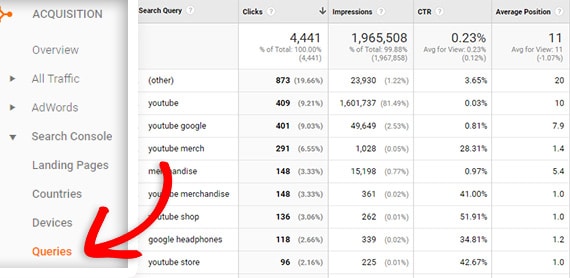 7. Provide Custom Offers Targeting Organic Visitors
Do you want to welcome your organic visitors to your site with a custom offer? How about offering 10% discount for their first purchase?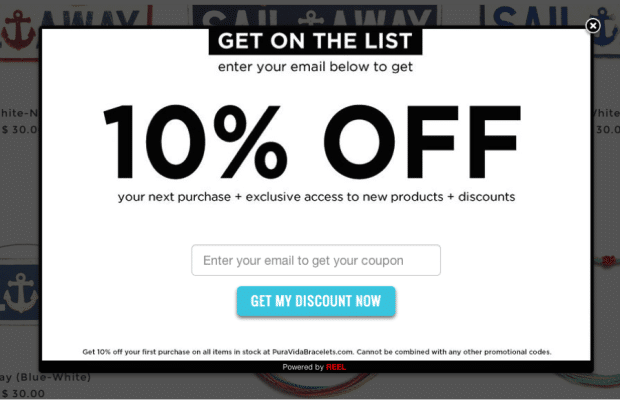 The best way to create a custom offer targeted at your organic visitors is by using OptinMonster. OptinMonster is the best lead generation and customer acquisition tool that lets you create custom targeted campaigns on your site.
Using OptinMonster's referral detection targeting, you can show targeted messages to visitors who arrived from a Google search. With OptinMonster's exit intent technology, you can detect abandoning visitors and prompt them with a targeted campaign just before they leave your site. Combined with a coupon code or special sale, this is a great way to boost your eCommerce conversions.
8. Push Your Top Selling Product Pages and Categories First
Want to increase visits to your top-selling products' pages on your site?
There are many ways to promote your popular products and categories on your site to drive even more visits and engagement. For example, you can promote them heavily on your homepage, sidebar, and other locations on your site where you do product recommendations. Promoting your popular products can help to pass more link juice and drive even more sales.
To find your top products and product categories, make sure to enable Enhanced eCommerce on your site. After enabling, you can go to Conversions » Ecommerce » Product Performance to see your top selling product pages.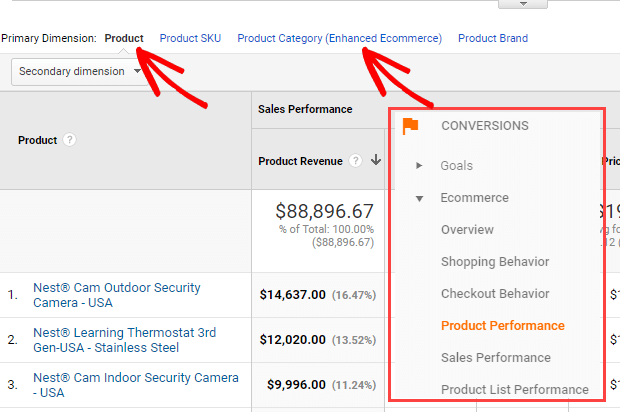 9. Add Internal Links to High-Priority Product Pages
Internal links are useful for many reasons. Some of them are:
They help users to easily navigate through your site.
They help to create an SEO-friendly architecture for your site.
They help to create link juice and boost search rankings.
You can determine your high-priority product and category pages on your site and promote it from your authoritative pages.
Authoritative pages are the ones that attract tons of organic visitors already, like a popular blog post. You can leverage these authoritative pages to pass more link juice to your high priority products and categories that are currently not well-ranked on search engines.
Try working your related links into the content itself, or using a page-specific widget to feature a priority product in the sidebar. You could also create an exit intent popup to grab your visitors' attention before they leave your site for good.
10. Implement Schema Markup on Product Pages
Implementing product review schema is the best way to add rich snippets to your search results. These cool snippets can be shown by implementing schema markup on your WooCommerce product pages.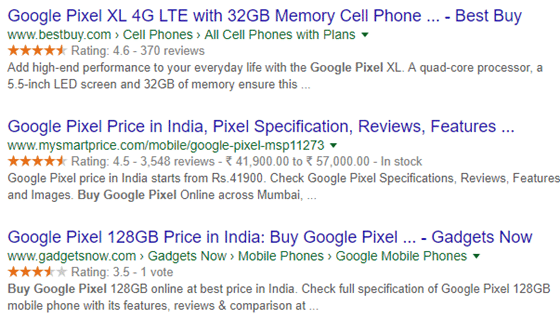 The best way to add rich snippets in WordPress is using the All In One Schema.org Rich Snippets plugin.
Keep in mind that adding rich snippets doesn't guarantee you that they will be shown in all of your search results, but it definitely improves your odds.
Refer to this guide to know more about using rich snippets in WordPress.
11. A/B test
Now that we've discussed many on-page eCommerce SEO tips, it's important to put a testing and optimization strategy in place to see if those tips actually helped to convert your organic visitors into customers. You don't necessarily need to sign up to a costly tool in order to conduct experiments on your site. Rather you can use Google Optimize, the free A/B testing and personalization product by Google.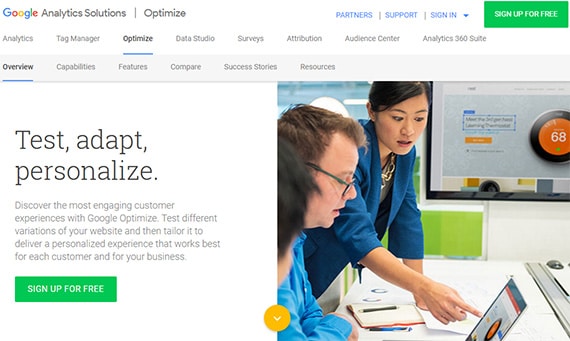 Google Optimize allows you to conduct experiments to see what products and optimization tactics work best on your site.
To be able to conduct experiments on your WooCommerce site, you need to connect Google Optimize with Google Analytics. MonsterInsights' Optimize addon makes it easy to implement it in just a few clicks.
Learn how to integrate Google Optimize with Google Analytics.
We hope this article helped you learn some cool WooCommerce SEO tips to boost your traffic and sales. You can drive even more targeted traffic by following some more simple SEO tactics.
You can also follow us on Twitter and Facebook for more free tutorials.