Is your SEO investment paying off? Just because your site rank for some random keywords doesn't always mean that you're going well in terms of SEO.
If you want to measure the success of your SEO investment, you need to enable organic keyword conversions tracking. It helps you figure out how people find your site and which organic search queries are driving conversions.
In this article, we'll show you how to track organic keyword conversions in Google Analytics.
Why Track Organic Keyword Conversions?
Oftentimes, marketers assume that if their site ranks for certain keywords, their SEO efforts are paying off. This isn't always true.
When it comes to SEO, your ultimate goal should be to generate sales and revenue by driving organic traffic.
But if your organic visitors are not converting, there's something wrong with your SEO strategy. Either your website ranks for wrong keywords or your website isn't optimized for conversions.
To properly measure the ROI and success of your SEO efforts, you need to track organic keyword conversions in Google Analytics.
How to Overcome Keyword Not Provided Error?
Are you getting (not set) or (not provided) errors in front of keywords in Google Analytics?
Previously, Google Analytics would simply show you data about search terms your visitors used. But that no longer works because since 2011 Google started to encrypt search data and make its search more secure.
And that could be the reason why you might be seeing (not provided) or (not set) for the majority of your search terms in custom reports.

So, is there a workaround for this issue?
The most reliable method to track the conversion rate of your organic keywords is through Google Search Console, as we'll explain in the next section.
How to Track Organic Keyword Conversions- Step by Step
Let's look at how you can use Google Search Console to track organic keyword conversions.
Step 1: Connect Google Analytics with Google Search Console
The first step is to connect your Google Analytics account with Google Search Console. This way you can view your organic keywords report in Google Analytics.
First, log in to your Google Analytics account, and select the right website from the list. Then go to Admin and under Property, select Property Settings.
Now scroll down, click Adjust Search Console, and on the next screen, click Add to connect your Search Console.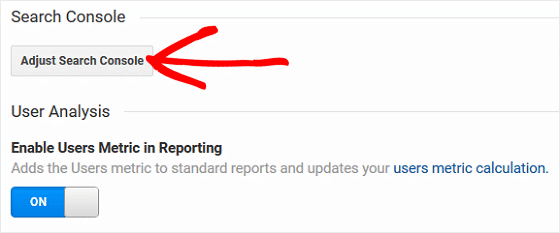 Next, go to Google Search Console account and Add a Property. Then Verify your website to complete the setup.
You can follow our guide on how to configure Google Search Console in Google Analytics.
Step 2: Install MonsterInsights WordPress Plugin
Once you've successfully integrated Search Console with Analytics, the next step is to set up MonsterInsights on your WordPress website. It's the best Google Analytics plugin for WordPress.
Using MonsterInsights, you can properly set up Google Analytics on WordPress without any coding and also configure advanced tracking.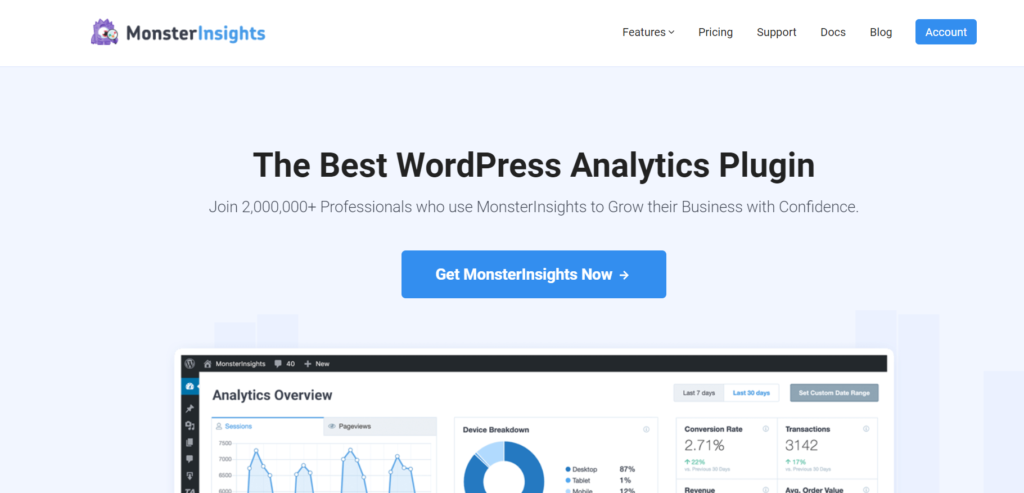 One of the key reports offered by MonsterInsights is its Search Console report. Do note, you'll need a MonsterInsights Plus account to access the report.
Step 3: View Search Console Report for Keyword Conversions
After setting up MonsterInsights, you can now view your Search Console report and see your organic keyword conversions.
To view the report, go to Insights » Reports and then from the top menu, select Search Console.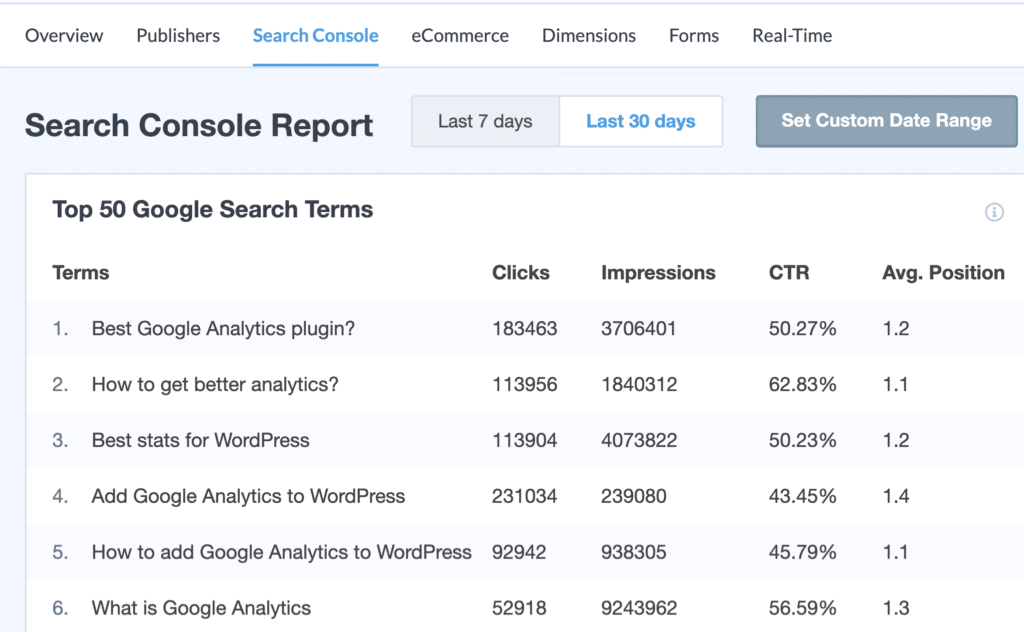 Using the report, you can see the search terms your website is ranking on Google. And for each keyword, you can see the number of clicks and impressions it generates.
Likewise, you can view the CTR (click-through rate) and the average position of the keyword. The data is extremely valuable as you can find out which organic keywords bring in the most conversions.
It also helps you filter search terms that might be irrelevant to your site. So, you can optimize for better and more relevant keywords.
Not only that, but you can also find new content opportunities by focusing on similar keywords to drive traffic and conversions on your website.
That's it!
We hope this guide helped you enable organic keyword conversions tracking in Google Analytics. If you want to know what your visitors were looking for on your site, you may set up site search tracking on your website.
And don't forget to follow us on Twitter and Facebook for more Google Analytics tutorials.