Have a great idea for a membership site? Wondering how to start a membership site as easily as possible to start bringing in revenue for your content, podcasts, courses, forums, or any other type of content you can dream of?
Starting a membership site is a very popular online business model for entrepreneurs, and for good reason. Paid online courses, premium support forums, and webinars are among the most profitable sites on the internet. And the best way to set one up is with WordPress!
In this article, we'll show you how to easily create a membership website with WordPress step-by-step.
How to Start a Membership Site in 9 Easy Steps
Step 1: Choose the Right Platform for Your Membership Site
The first step to starting a membership site is to choose the right website platform. While there're many generic website builders on the market, you'll need a membership platform with the functionality that specifically fulfills your needs.
Some of the most important features you'll need for your membership website are:
Membership Management – option to create different types of memberships, and to add and manage members
User Registration and Member Profiles – frontend options for your users to sign up or login to your site, and to access their members area
Content Restriction – options to hide your exclusive content from general audiences
Payment Options – options to integrate payment gateways to accept online payments by credit card, PayPal, Google Pay and many more for paid memberships
You can add these features in almost any platform; however, many will require some technical skills, except one: WordPress.
Luckily, WordPress is one of the best website builders for small businesses and it comes with an easy way to build membership websites. By using powerful WordPress membership plugins, you can quickly set up a membership site and start selling with little to no technical skills.
There're many free and premium membership plugins, so it can be difficult to choose the right one to use to start your membership site. However, there's one that stands out among the rest: MemberPress.
In this article, we'll use the MemberPress plugin to create a membership website. It's the best, most popular membership website builder for WordPress.
MemberPress comes with many perks and advanced features that let you create multiple membership levels, restrict access to content, accept payments, and more. Also, it integrates well with email marketing services and other useful tools like bbPress and Easy Affiliate.
With that said, let's start setting up your WordPress membership website.
Step 2: Start Your Membership Site on WordPress
In addition to a membership plugin, you'll need a domain a name, a web hosting account, and an SSL certificate to create membership site with WordPress.
A domain name is the web address of your membership site — for example, monsterinsights.com or google.com. A web hosting account is where your website files are stored online. And, an SSL certificate is required to make secure transactions.
You can buy a domain name for around $14.99 per year, web hosting for $7.99 per month, and an SSL certificate for $49.99 per year.
If you add these amounts together, the total cost would be very high, especially if you're a beginner without a big budget.
Fortunately, Bluehost is offering an exclusive deal to our customers. Now you can enjoy 60% off on WordPress hosting, get a free domain, and nab a free SSL certificate along with it. That means you can get all 3 of these essentials for just $2.75 per month.
Bluehost is one of the oldest and most popular web hosting companies in the world. They're officially recommended by both WordPress.org and the world's most popular unofficial WordPress resource website, WPBeginner.
To get started, you need to choose a domain name and sign up for your hosting account. Once done, the next step is usually to install WordPress; but you won't need to do it manually because it comes pre-installed on your Bluehost account.
Therefore, the next step is to install and configure your membership plugin. Let's do that now.
Step 3: Set Up Your Membership Plugin
As mentioned above, we've chosen the MemberPress plugin for this tutorial.
First, you'll need to install and activate the MemberPress plugin.
MemberPress has three levels for you to choose from: Basic, Plus, and Pro. Choose the one that's going to be best for your membership site. After making your purchase, install and activate the plugin.
For detailed instructions, see this guide on how to install a WordPress plugin.
Once the plugin is activated, you'll see a notification bar with a link to the plugin's Options page for configuring.

Simply click on the 'options page' link, and it'll take you to your MemberPress options page. Alternately, you can go to MemberPress » Options to access the plugin's settings.
From this page, you can configure all your plugin settings.
Step 4: Add Payment Methods
It's so important to make sure you have payments all set up and ready to go so that new members can get started easily. Click on the 'Payments' tab in the Options page to configure the payment gateways for your membership website.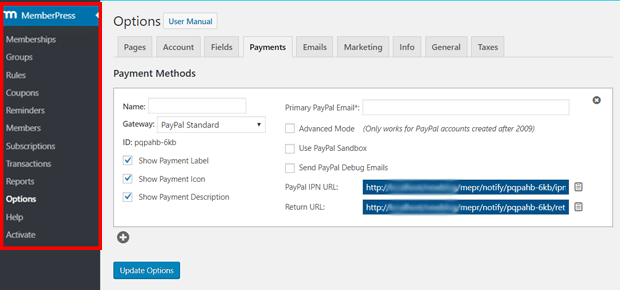 MemberPress, by default, allows you to use PayPal (Standard and Express), Stripe, and Authorize.net as your payment gateway. You can configure one or multiple gateways for your website.
Step 5: Add Membership Levels
Once you've configured the settings, the next step is to add membership levels that people can purchase. Whatever your membership model is, MemberPress allows you to create unlimited membership levels, each with different pricing, features, and content access.
Go to MemberPress » Memberships from your dashboard menu and click the 'Add New' button.

On the next screen, you'll see a page that looks similar to the Classic WordPress editor. On this page, you can create a membership level.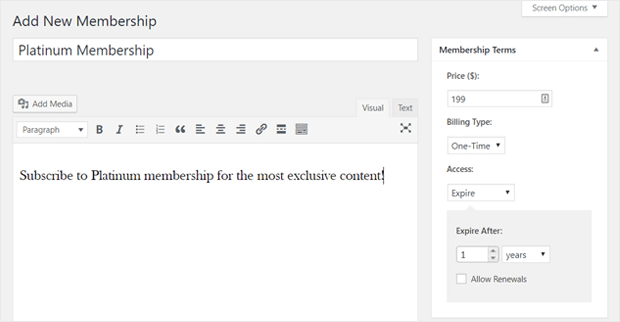 Enter a title and add a description for your membership level in the editor. Next, set the price, choose a billing type, and set an access time or expiry date from the 'Membership Terms' section on the right side of the page.
After that, scroll down to the 'Membership Options' section to configure the registration, permissions, price box, and more.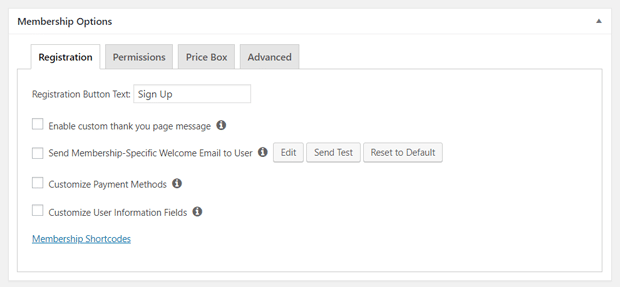 Once you've configured all the settings, go ahead and publish your membership level.
Step 6: Set Up Access Rules for Your Membership Plans
Now that you've created membership levels, the next step is to set up rules to define which content can be accessed for those different membership levels.
Navigate to MemberPress » Rules and click on the 'Add New' button.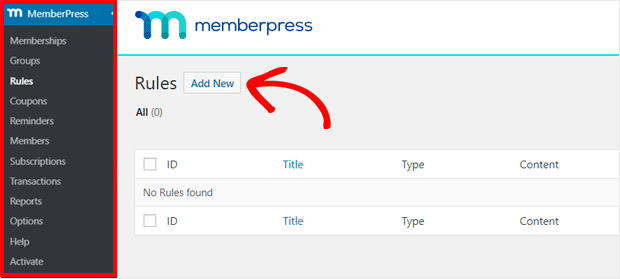 On the next screen, you can create a new rule to link your content to the membership levels.
For example, you can select all the content under a particular category to be accessible by users with a specific subscription plan.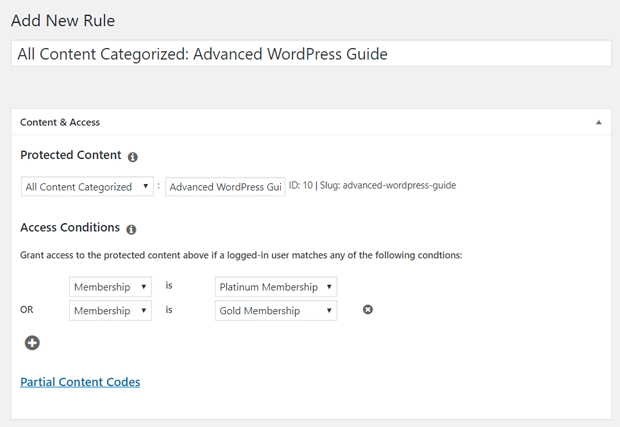 In the screenshot above, we've selected all the content in the 'Advanced WordPress Guide' category to be available only to members with a Platinum or Gold subscription plan.
Next, you'll see the 'Drip/Expiration' box. Enabling the drip option will allow you to gradually release content; whereas the expiration option will let you choose the time in which the content will no longer be available.

Once you've configured all the options, save your rule. You can create more rules by repeating those same steps.
Step 7: Create Members-Only Content
The next step is to create members-only content.
Members-only content refers to the gated content which cannot be accessed by the general public and is available only to your registered members. Your gated content can be downloads, courses, forums, and more.
You can add content with posts or pages, just like you would on a typical WordPress website. Below, we'll create a post with the 'Advanced WordPress Guide' category to match the rule we created in the last step.
Simply create a new post and add content to it. Then, select the 'Advanced WordPress Guide' category.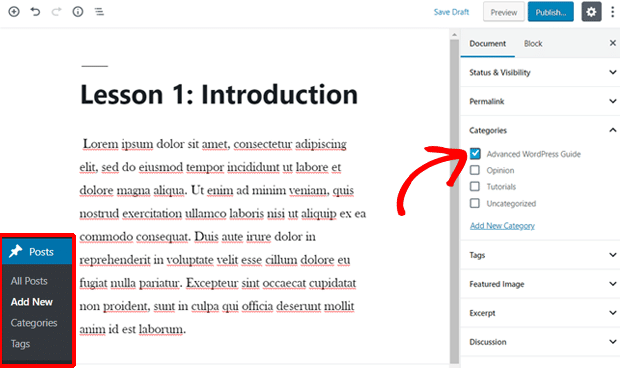 After that, scroll down to the 'MemberPress Unauthorized Access' section. You can set up what non-members (non-registered users) will see when they try to access this content.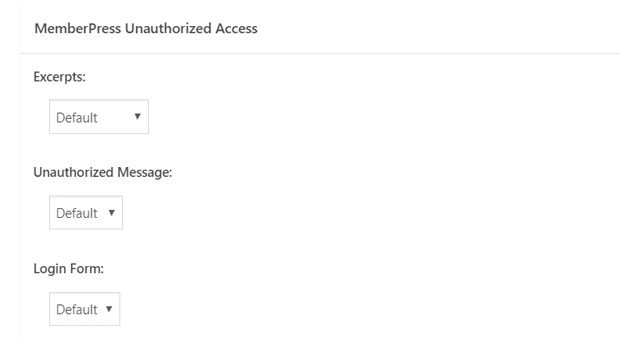 Once you've added your content and configured everything, you can publish your page. After that, you can visit Posts » All Posts and see which content is protected for certain membership holders.

With MemberPress, you can also create online courses with the built-in Courses addon. You can easily create your course curriculum with the visual online course builder, in a similar process to the steps above.
Note: If you offer downloads inside your gated content area, make sure to set up download tracking to track each piece of content.
Make sure any new content you create down the line is created in this same way.
Step 8: Create a Pricing Page
Next, you'll need to create a pricing page where your site visitors can choose a membership plan and sign up for that plan. The MemberPress plugin lets you create a pricing page easily using its Group options.
Visit MemberPress » Groups from your admin panel and click on the 'Add New' button.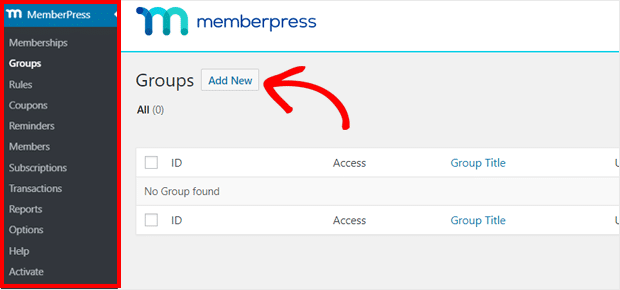 Enter your group title first. You can name it 'Pricing Plans' or something similar because it'll ultimately serve as your pricing page.
Next, scroll down to the 'Group Options' section and add the memberships you want to show on your pricing page. Also choose your pricing page's theme.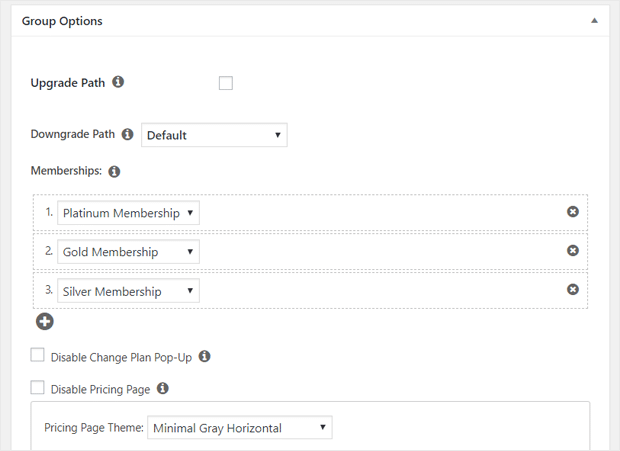 Once you've configured all the options, click the 'Publish' button.
If you want to see how your pricing page looks, you can preview it. Here's how a MemberPress pricing page will appear on the default Twenty Nineteen theme: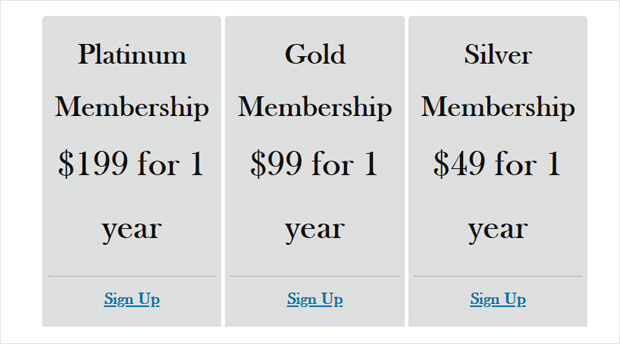 After that, you'll need to direct unauthorized users (non-members) to the pricing page.
Visit MemberPress » Groups page and copy the URL of the group you created before.

Next, go to the MemberPress » Options page and go down to the 'Unauthorized Access' section.
Now, check the box next to 'Redirect unauthorized visitors to a specific URL' and then paste the group URL you copied earlier.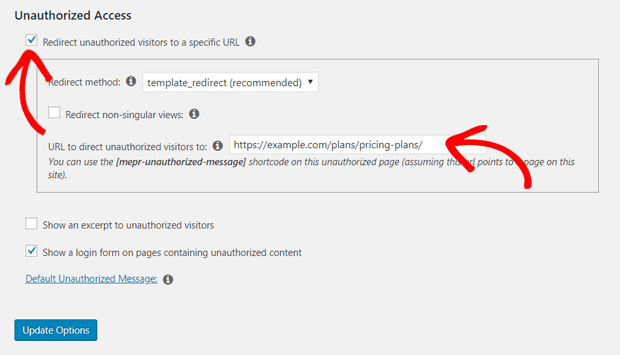 After that, click on the 'Update Options' button at the bottom. Now your non-members and unauthorized visitors will be redirected to your pricing page whenever they try to access your hidden premium content.
Step 9: Add Sign Up and Login Forms
Now you've set up everything, the final step is to add sign up and login forms to your site. The MemberPress plugin lets you make a website with user accounts and profiles with ease.
First, you can add a user login form using a widget. Go to Appearance » Widgets from your admin panel and add the 'MemberPress Login' widget to a widget-ready area.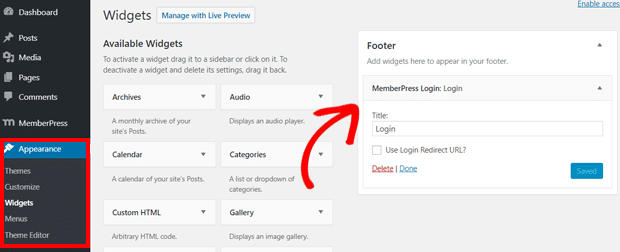 Next, you'll need to add your pricing page URL to your navigation menu so your website visitors can sign up for a membership plan.
Visit Appearance » Menus page from your dashboard. Create a new menu or choose an existing menu. Next, select 'Pricing Plans' under the 'Groups' tab and then click on the 'Add to Menu' button.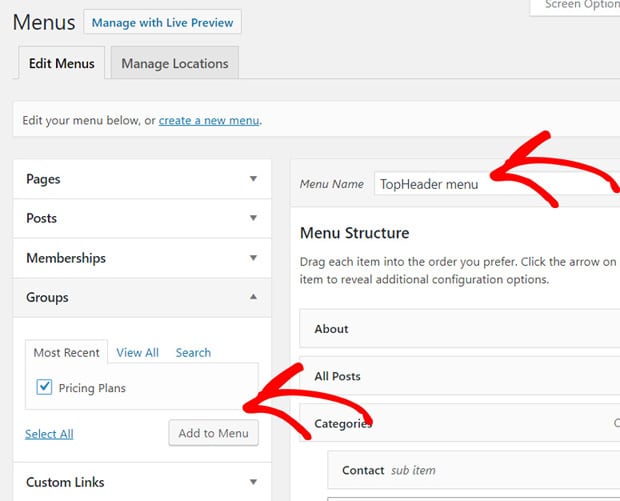 Once your pricing page appears below the menu structure, you can drag it to rearrange its position. Once satisfied, don't forget to save your menu.
That's it! Now you can open your website and preview it in action, and advertise your new membership site on social media platforms, through email marketing, and any other marketing channel you own.
Optimizing Your WordPress Membership Website for Growth
Now that you've found out how to start a WordPress membership website, your next task is to optimize it for more traffic and more transactions. Luckily, there're plenty of best WordPress plugins and tools to help you out.
You can use the following plugins and tools to grow your membership website:
1. MonsterInsights: The best Google Analytics plugin for WordPress. You can use this plugin to get complete insights into your users and eCommerce transactions. Are your campaigns and content marketing working? Find out with Analytics.
2. OptinMonster: The best lead generation software on the market. It helps you build your email list faster and increase your website conversions.
3. WPForms: The absolute best WordPress form builder plugin available. You can use this plugin to create a simple contact form as well as interactive surveys and conversational forms.
4. All in One SEO: The best SEO plugin for WordPress to help you optimize your new site, rank in search, and reach your target audience.
If you want to add more features to your website, check out our complete list of must-have WordPress plugins and tools for business websites.
Want to also add Google Analytics to your site? Check out How to Add Google Analytics to WordPress (The RIGHT Way).
We hope this article helped you create a fully functional membership website that earns money. You may also want to read our guide on How to Create a Landing Page in WordPress (Step by Step).
And don't forget to follow us on Twitter, Facebook and YouTube for more helpful reviews, tutorials, and Google Analytics tips.