Do you want to track form submissions in Google Analytics? Are you wondering how to create a Google Analytics form submit event?
To set up form tracking in Google Analytics, most tutorials will have you set up Google Tag Manager and go through the complicated setup of tags and triggers to track each form's submissions.
If you're using WordPress, there's a much easier way to track your forms.
In this article, we'll go over why you should use Google Analytics to track form submissions, plus how to easily set up form tracking without using Google Tag Manager.
Why Use Google Analytics to Track Form Submissions?
With form conversion tracking in Google Analytics, you'll be able to see which of your forms are working, and which aren't getting many submissions. Then, you can use that data to scale your marketing efforts.
With form tracking, you can:
Track form views to see which forms are getting seen the most
Find out which forms get the most submissions
Check form conversion rates and work on the ones that don't perform as well
See how the people who completed your forms found your site
See which pages people were on when they submitted your forms
Video Tutorial
How to Track Your WordPress Form Submit Events in Analytics
When a visitor fills out a form on your site, they're taking the next step in their customer journey. By tracking those conversions, you can analyze what works best for converting your visitors into leads and make changes that'll grow your business.
The easiest way to track your forms is with MonsterInsights.
MonsterInsights is the best Google Analytics plugin for WordPress. It allows you to easily connect your WordPress site with Google Analytics so you can view all the data that matters most right in your WordPress dashboard.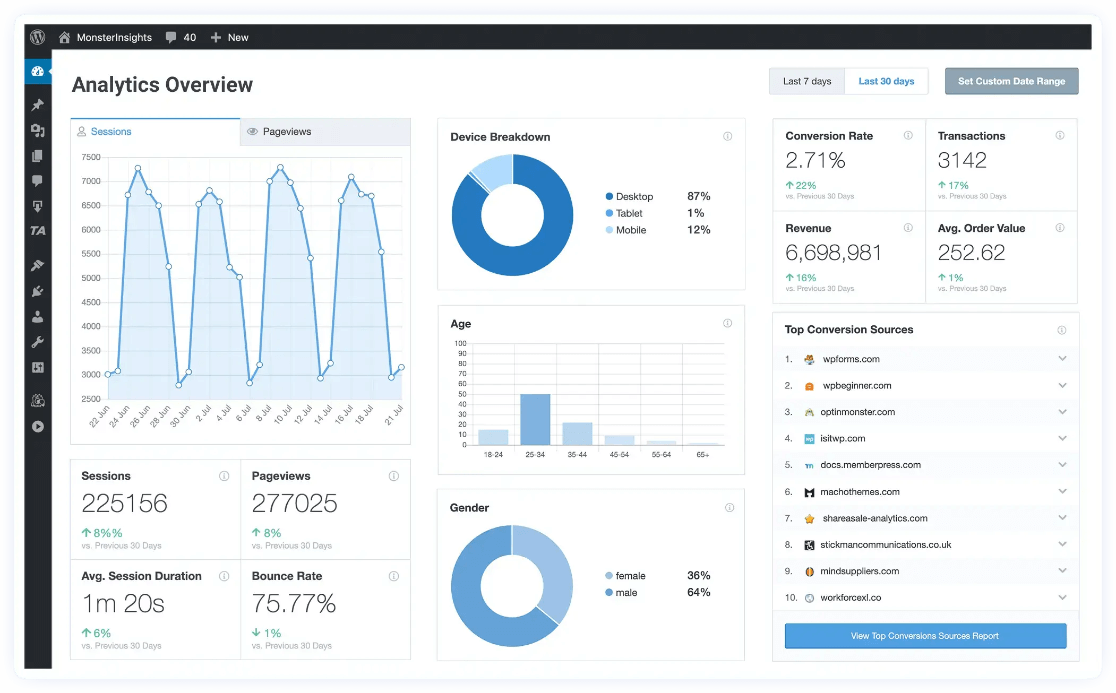 Plus, with the click of a button, you can set up sophisticated tracking features such as event tracking, eCommerce tracking, form tracking, custom dimension tracking, outbound link tracking, and more.
With MonsterInsights, you don't have to worry about setting up anything complicated or time-consuming in Google Tag Manager to track your forms. Simply click to install our Forms Addon and that's it!
A few benefits of using the MonsterInsights Forms addon to track form submissions are:
No thank you page or event setup required: You don't have to set up a thank you page or a custom GA4 event to track your submissions.
Track all your forms out of the box: Just activate the addon once and all the forms you create on your site will be automatically tracked in your Google Analytics account without any further steps.
Supports your favorite contact form plugins: It works seamlessly with any WordPress forms plugin, including WPForms, Formidable Forms, and more.
In-depth insights: Determine how your forms perform by analyzing form impressions and conversions.
Event tracking: You can mark the form submission event in Google Analytics 4 as a conversion to get more data on your conversions
Form Tracking Setup: Step-by-Step Tutorial
The first thing you'll need to do is to install the MonsterInsights plugin and connect it with Google Analytics.
Head to the Pricing page and grab a MonsterInsights Pro license to get our Forms Addon and a whole lot more.
Then, install MonsterInsights on your site and connect it with Google Analytics. For the full instructions on getting everything set up, check out How to Add Google Analytics to WordPress the Right Way.
Then, go to Insights » Addons and click Install under the MonsterInsights Forms addon.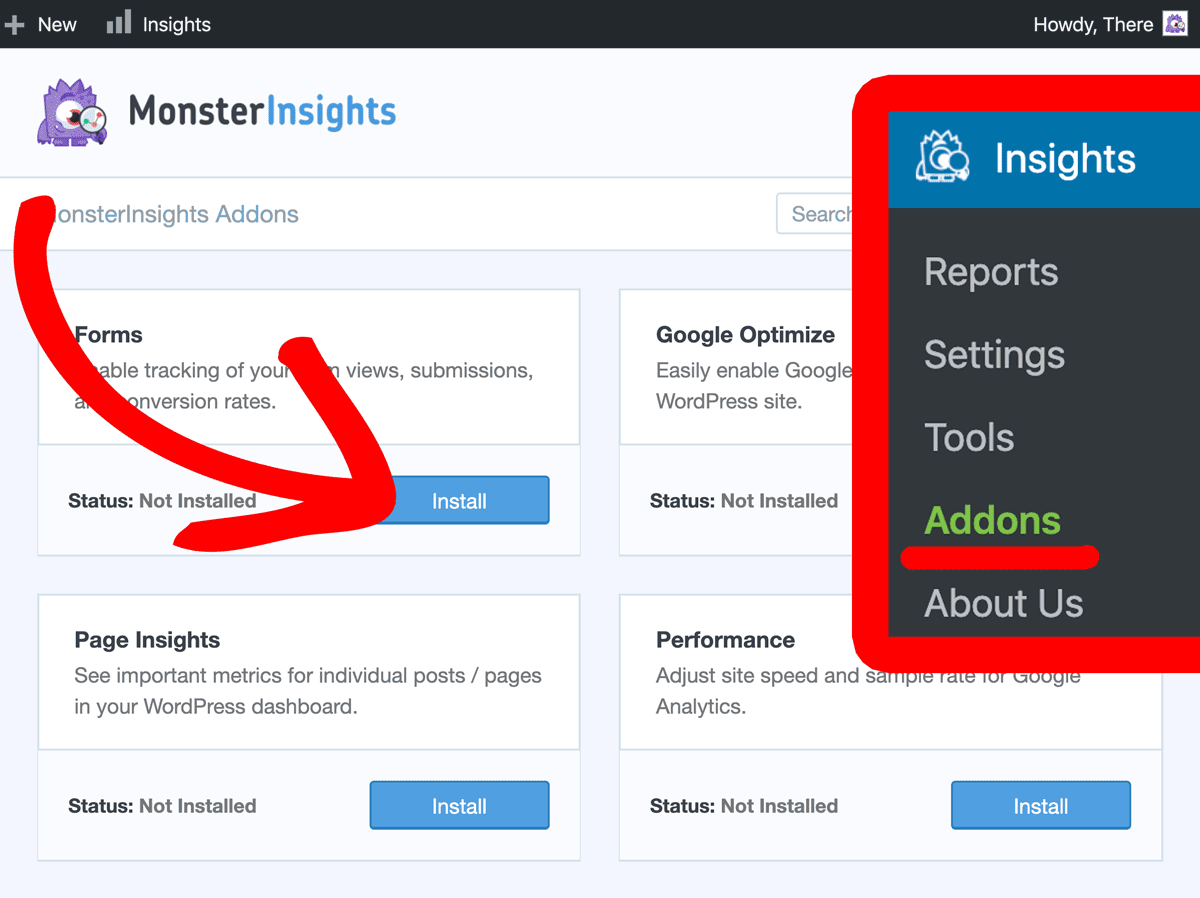 Congrats!
You've successfully installed the Forms addon. No further configuration is required.
You'll now be able to gather your form conversion data right in your WordPress dashboard. Navigate to Insights » Reports and click on the Forms tab to see the reports.

In the MonsterInsights forms report, you'll see the total number of impressions and conversions, plus the conversion rate for each of your WordPress forms.
Using this method, MonsterInsights makes form tracking setup, as well as viewing form analytics reports, super easy for WordPress users.
Now, do you want even more data about your forms?
Let's take a look at a Google Analytics 4 custom explore report that we can make to show you even more form data.
How to View Form Submissions Google Analytics 4
Once you set up form tracking and let some data build up in Google Analytics, you'll be able to create a custom explore report to see where the users came from who submitted your forms, which pages they were submitted on, and more.
We'll follow these steps to create a custom form conversion report:
Step 1: Create a Blank Custom Explore Report
To start, open Google Analytics and head to the Explore tab. From there, click on the Blank report option.

Step 2: Import Dimensions
Now you need to add dimensions to your report. To do that, click the plus sign next to Dimensions to open the long list of possible dimensions: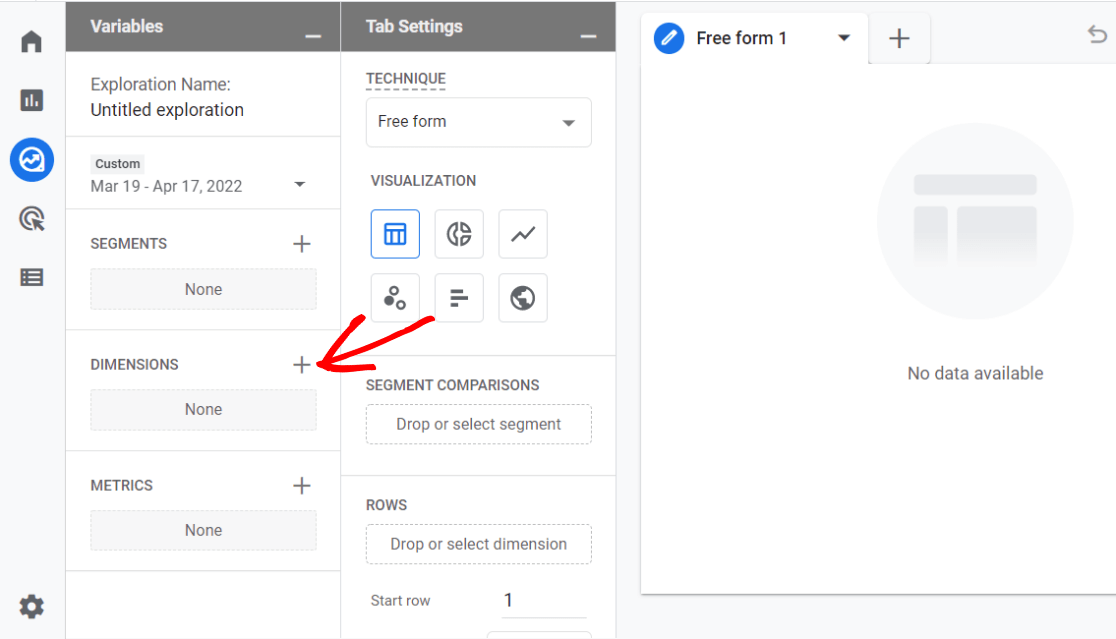 Add the following Dimensions by using the Search bar and checking each one:
Event name
Form ID
Session source/medium
Page page + query string
New/established
Once you have them all checked, click the blue Import button in the upper right:

You can also give your report a name in this step – name it something like "Form Conversions."
Step 3: Import Metrics
For this report, the only metric we really need is Event count. So, click the plus sign in the Metrics box, check Event count, and hit Import.

Step 4: Build the Report
Now that you have all the dimensions and metrics you'll need, you can build your report. To do that, click and drag Form Id and Session source/medium from your Dimensions box over into the Rows box: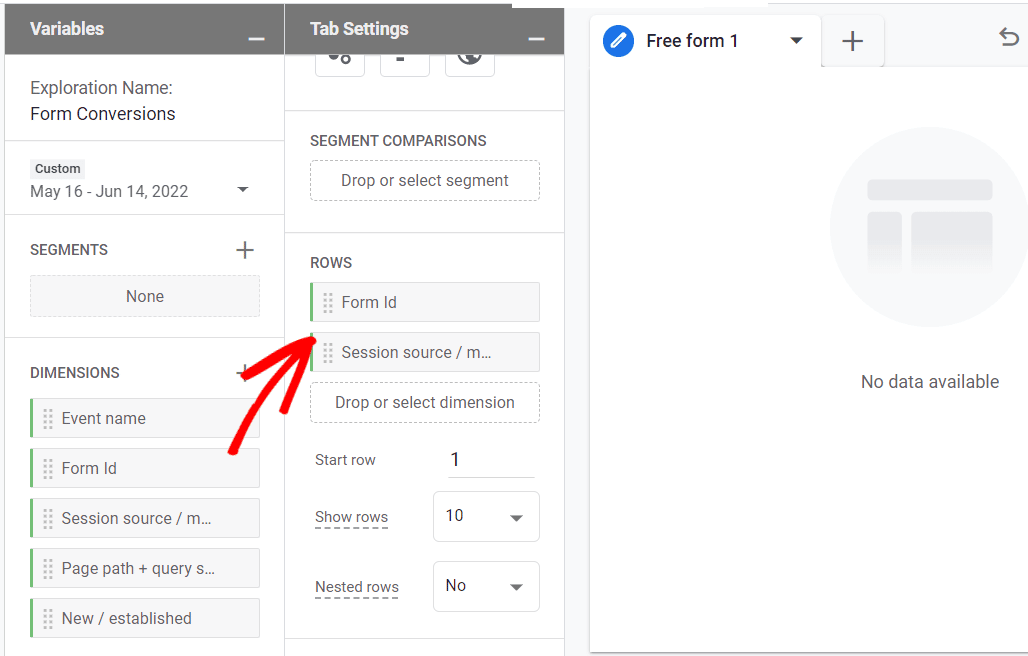 Then, click and drag your Event count metric into the Values box: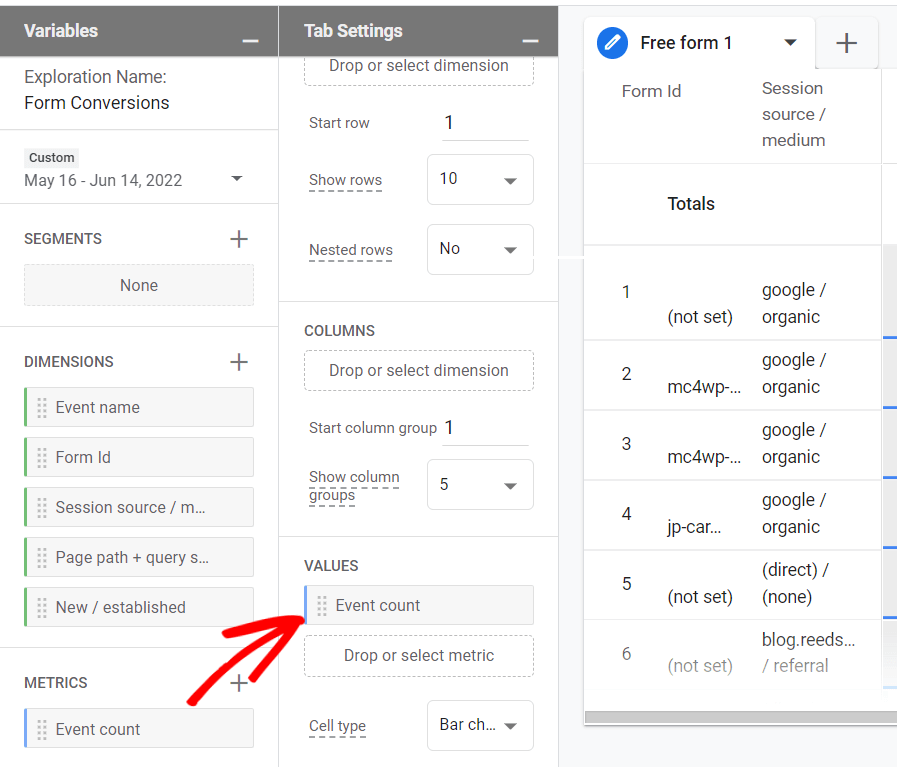 You should now have some data appearing in your report, but you have one more step to take to make it correct.
Step 5: Add a Filter
Now, you need to tell the report that you only want to see form submission events. So, click and drag Event name dimension down into the Filters box: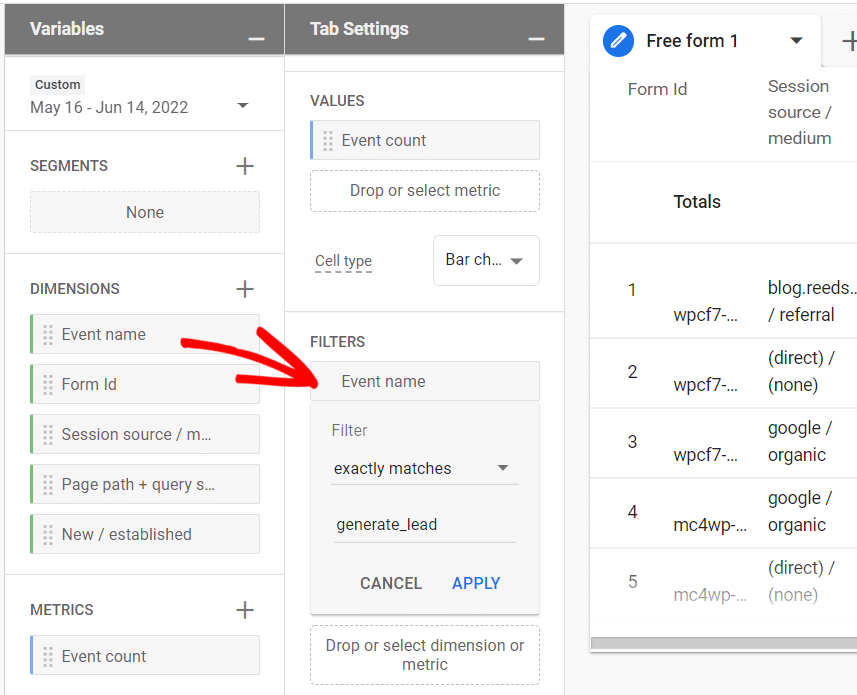 Then, choose exactly matches from the dropdown and start typing/select generate_lead in the bottom field. Then click Apply.
You now have a report that shows which forms were submitted and where your users came from (source/medium) when they came to your site and filled out the form:

Variations
There are a few other fun things you can do with the report you just built to see some more data.
Variation #1: Remove Session source/medium from your Dimensions and drag Page path + query string there instead. This will give you a report of form submissions by page. This is especially useful if you have a form that's on multiple pages, like in the example below.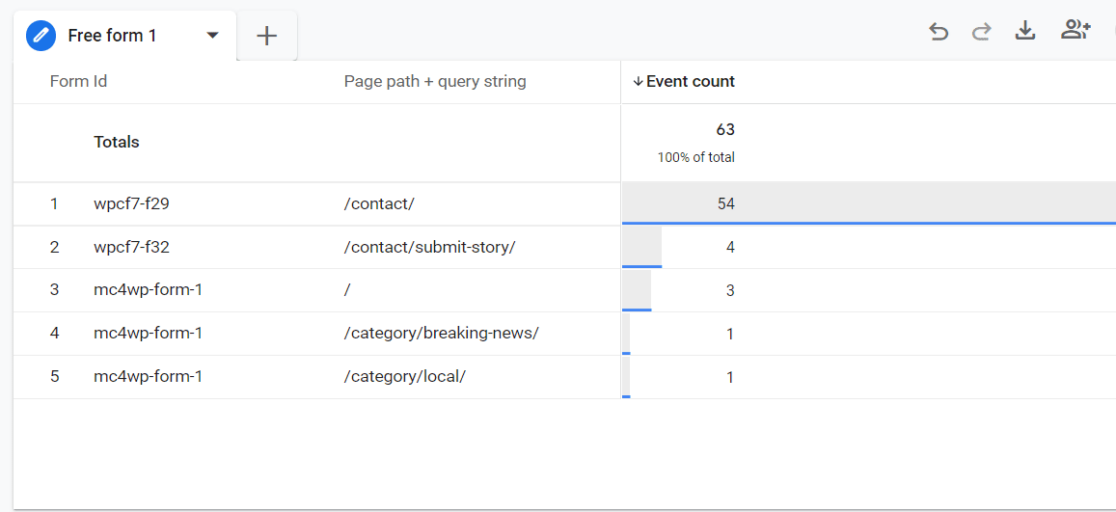 Variation #2: To see if new users or returning users are filling out your forms, leave just Form Id in the Rows box and drag New/established from Dimensions into the Columns box. So in the report below, 50 of the submissions for the first form were by new users and 4 were from established/returning users.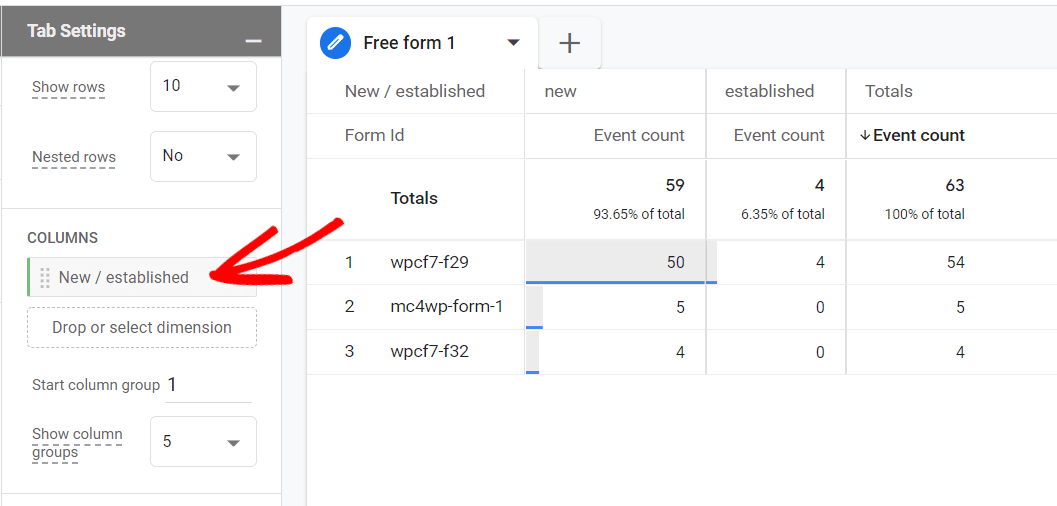 There are other things you can see with this report. Play around with it and see what else you can do.
How to Mark Form Submissions as Conversions Google Analytics 4
If you want form submissions to count as conversions in Google Analytics 4, marking them that way is pretty simple when you have MonsterInsights creating the event for you!
Just log into Google Analytics and go Configure » Events, then flip the switch next to generate_lead: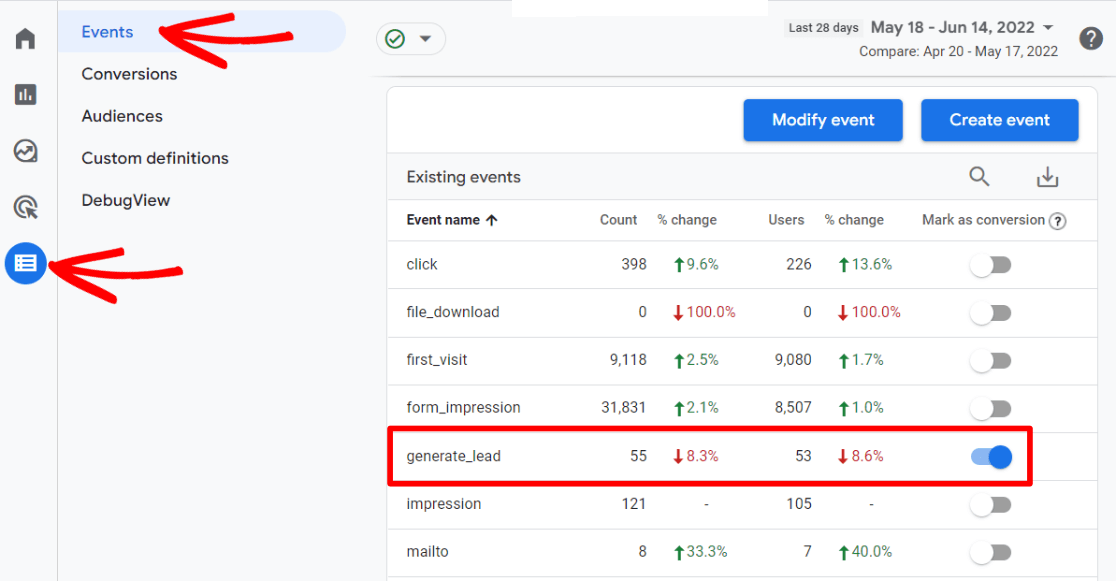 That's it! Your Analytics report will now count form submissions as conversions, like in this traffic acquisition report: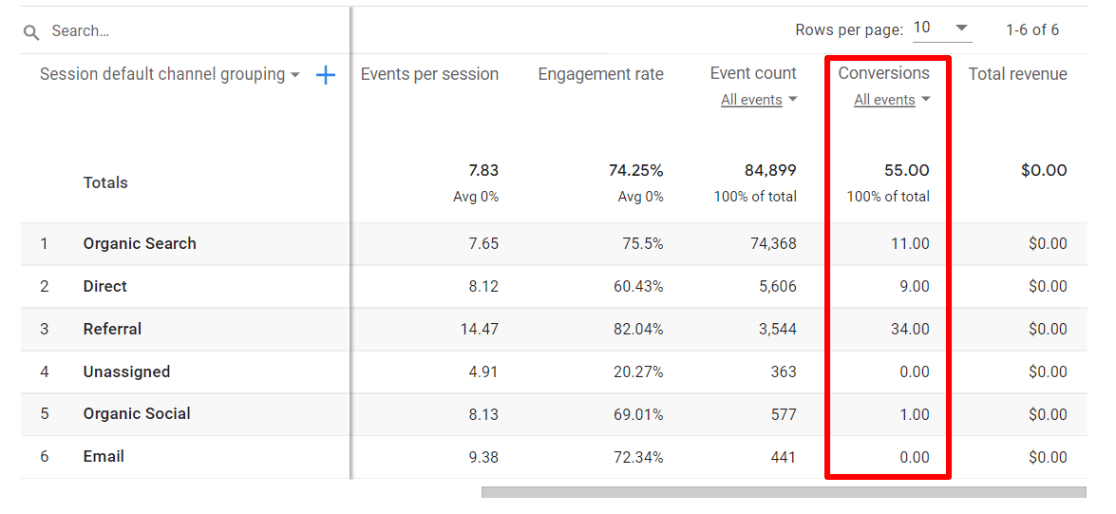 That's it! Now you know how to track your WordPress form conversions in Google Analytics and your WordPress dashboard.
If you liked this article, we think you'd also like Top 11 Important Google Analytics Metrics to Track.
Not using MonsterInsights yet? What are you waiting for?
And don't forget to follow us on Twitter, Facebook and YouTube for more helpful Google Analytics tips.