Have you ever lost all your website data in case of a security breach or a server crash? If you haven't, create regular backups so it stays that way! By creating regular backups with one of the best WordPress backup plugins, you can secure your website WordPress site from any threats and easily recover important information whenever you want.
Now, there are different ways you can back up your site. You could manually save your files, but that takes a lot of time. An easier solution is to use a WordPress backup plugin that automatically creates backups of your site.
In this article, we've put together a list of the best WordPress backup plugins, so you have peace of mind that you won't lose your data.
How to Choose a WordPress Backup Plugin
There are quite a few backup plugins for WordPress that are pretty great, so it can be hard to choose the best one for you and your site.
To help you make your decision, here are a few things you can think about.
The speed. As with any WordPress plugin, you want to make sure you're installing something that's made well, so it won't bloat and slow down your website.
The trust. You've got to be able to trust your backup plugin. Does the plugin have great reviews? Does the developer respond quickly and effectively to any support needs?
The cost. Of course, the plugin you choose has to fit into your budget without compromising your needed features.
The security. Are there extra security measures put in place to keep your backups secure?
The features. Pretty much any backup plugin will offer scheduled backups. What do you need beyond that?
Once you've thought about those five things (and looked at some plugins), you're ready to make your choice.
Our Favorite Backup Plugins for WordPress
UpdraftPlus is the best WordPress backup plugin you can get your hands on. That's because it's easy to use and is trusted by over 3 million WordPress users around the world.
UpdraftPlus offers both free and premium packages, and both are loaded with features. For instance, you can schedule backups of your site for however often you need. Plus, the plugin is fast and uses few server resources.
And the best part is that it supports multiple cloud storage options like Google Drive, Dropbox, Amazon S3, Rackspace, and more.
With the UpdraftPlus premium account, you get many must-have features likes creating clones of your site and migrating them to a new domain. You also get database encryption for security, advanced reporting, dedicated customer support, and more cloud storage options like OneDrive and Azure.
Pricing: UpdraftPlus is available for free and their premium plans start from $70 per year.
Want a step-by-step tutorial on how to back up with Updraft Plus? Check out How to Back Up a WordPress Site for Free (Step by Step).
Get started with UpdraftPlus now!
Duplicator is the best free WordPress backup plugin on our list. It offers features that you could find in a premium WordPress plugin, such as the ability to clone and migrate your website to a new host or domain.
Besides that, you can manually create backups of your website or select a particular part of your site for backup. You also get to duplicate a live site to staging or pull down a live site to localhost for development.
But unlike other premium plugins on our list, you cannot schedule automatic backups using the free version of Duplicator. And you can't store your backups on an offsite location. For additional features, you'd have to upgrade to its Pro version.
Pricing: Duplicator is a free WordPress plugin, but its premium plans start at $49.50.
Get started with Duplicator now!
BackupBuddy is the next WordPress backup plugin on our list and it's another plugin that's loved by many WordPress users. It's been here since early 2010, so you can rely on it to safely secure your website data by creating backups.
But what makes it one of the best WordPress plugins is that it's so easy to use. You can easily schedule backups, restore data, and more through your WordPress dashboard.
BackupBuddy also supports different cloud storage services like Rackspace, Amazon S3, and Dropbox to store your backups in an off-site location. The plugin also lets you customize your backup content, get instant email notifications when the backup is done, and migrate your site to a new domain.
Pricing: BackupBuddy prices start from $99 per year with its Basic plan which is for 1 site.
Get started with BackupBuddy now!
Total Upkeep by BoldGrid is a plugin that lets you backup, restore, and migrate your WordPress site with ease. It's loaded with features that compare with other established plugins.
But what makes Total Upkeep one of the best WordPress backup plugins is its automated fault protection feature. The plugin automatically creates a backup of your site before updates and it automatically rolls back to the last backup version if the update fails.
Besides that, you get features like backup scheduling, easy migration and restoration of your WordPress site, and remote storage options (Amazon S3, Google Drive, FTP).
Pricing: Total Upkeep by BoldGrid offers a free version along with a paid version, which will cost you $2.50 per month (billed annually at $30).
Get started with Total Upkeep by BoldGrid now!
BlogVault is more than just a WordPress backup plugin. It's a complete SaaS (software as a service) solution that helps you secure your website.
But in terms of backup, you get to schedule backups on a daily, weekly, or monthly basis. Plus, it offers incremental backups, so your server never overloads. And using the changelogs, you can find out errors on your site.
That said, you can easily migrate your site to a new host, domain, or server using BlogVault. If you have a WooCommerce store, then this is a perfect backup plugin for you. It backs up all your orders as and when they take place. And it has 365 days of backup archives of your store, allowing easy restoration.
Prices: BlogVault prices start from $89 per year with their Personal plan for 1 site.
Get started with BlogVault now!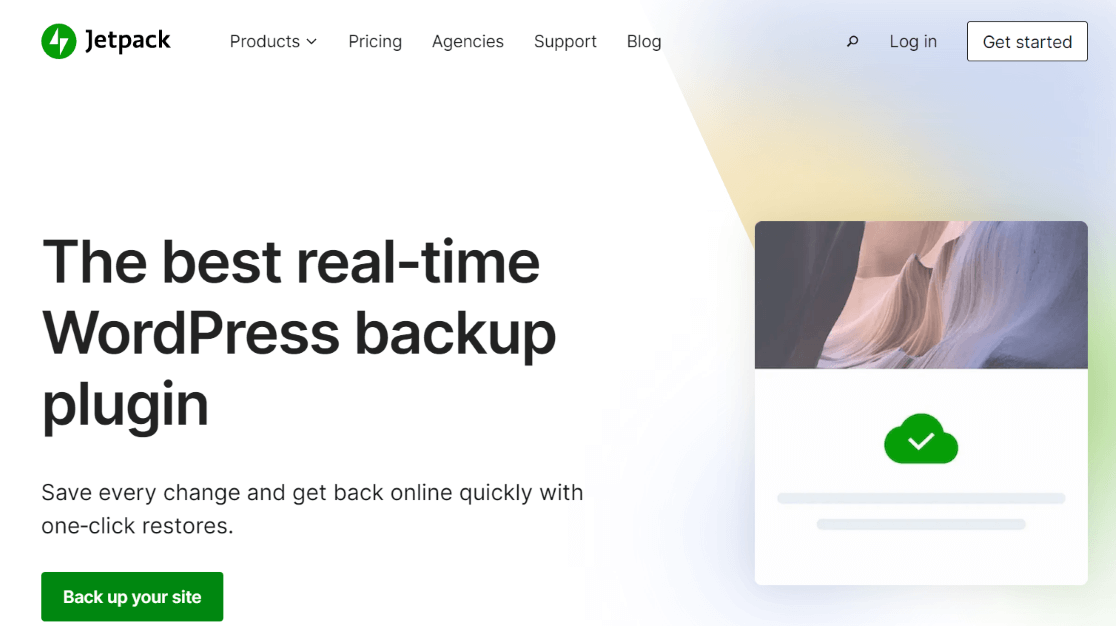 Jetpack Backup can back up your WordPress site in real-time, and it offers easy, one-click restores. The plugin is easy to use even for beginners.
With Jetpack, you can restore from anywhere with the Jetpack mobile app. If you have a WooCommerce store, the plugin also backs up all customer and order data, too.
Jetpack stores your data in the cloud, so it doesn't place a load on your server and slow down your site. You also get unlimited restores.
Pricing: Jetpack Backup starts at $4.95 per month (billed yearly).
Get started with Jetpack Backup now!
BackWPup is another popular free WordPress backup plugin. You can create complete backups of your website for free and get features that you would probably find in paid services.
For instance, you can save your backups using BackWPup on another location such as Dropbox, Amazon S3, and FTP. And with a single ZIP file, you can easily restore your backup whenever you want.
Other features include database backups, check and repair database, create a backup in multiple file formats (zip, tar, tar.gz), send logs and backups by email, and more.
Pricing: You can use BackWPup for free.
Get started with BackWPup now!
WP Database Backup is one of the best WordPress backup plugins in the market and it's totally free. So, if you're just starting a website and looking for premium features but don't have the budget, then this is the perfect plugin for you.
That's because you can automatically schedule database backups, restore them, and save your backups on safe locations like Dropbox, Google Drive, email, FTP, and more. The plugin is clean and simple to use. And you can create backups within minutes after installing the plugin.
Pricing: Free to use.
Final Verdict: What is the Best WordPress Backup Plugin
If you're still unsure which plugin to use to secure your WordPress site, then we recommend going with UpdraftPlus. It offers the best features, flexibility, and reliability.
And if you're in the market for a free solution, then you can select from a variety of options. But we would suggest you try Duplicator or BackWPup. Both are easy and offer great features, although they aren't as great as UpdraftPlus.
That's it!
We hope you liked our article on the best WordPress backup plugins. If you found this post to be helpful, then check out the Best WordPress Security Plugins to Protect Your Site.
And don't forget to follow us on Twitter, Facebook and YouTube for more helpful reviews, tutorials, and Google Analytics tips.