Looking for the best CRM software for your startup or small business?
With CRM software by your side, you can easily manage customers, leads, and clients. But selecting the right CRM can be tricky, especially if you've never had to choose a CRM before.
That's why, in this article, we'll show you the best CRM software for startups and small businesses, so you can select a tool that has all the features you need and is at your price point. There are even a few on our list that you can start with for free!
The 9 Best CRMs (Some Free)
Here's our list of the top CRM software for startups and small businesses. You can click the links below to skip ahead to the CRM you're interested in learning about, or scroll on to compare them all.
How to Choose the Best CRM Software for You
When it comes to selecting a CRM software, there are plenty of options in the market to choose from. But here are a few things you should look for in the best CRM software:
Reporting – A good CRM will help you track your activities and generate reports to show your data, so you can make informed decisions.
Ease of Use – Since CRM software offers lots of options, it's easy to get lost. So, it's important to select a tool that's easy to use for you and your team.
Integration – The best CRM software is the one that easily integrates with other tools and services, allowing you to automate multiple processes.
Customization – When you're choosing a CRM, make sure it lets you customize workflows and processes, since every business is different. Through customization, you can tailor the tool according to your needs.
Now, let's jump into our reviews of the best CRM software.
HubSpot is our number one pick and best free CRM for startups and small businesses. It's 100% free for its basic CRM and filled with features that you'd expect from a high-quality CRM, which is perfect for small businesses.
With HubSpot, you can manage and organize your contacts and see which deals they opt for and which deals were lost, giving you a complete view of your sales funnel. You can also connect your Gmail or Outlook accounts to track and capture emails.
It's simple, very easy to use, and offers a clean, visual dashboard for reporting. Here are other features that make HubSpot so attractive:
Store unlimited users, data and 1 million contacts without any expiration date
Integration 300+ apps including WordPress
Get mobile apps for Android and iPhone
Create custom filters to sort contacts
Schedule emails, tasks, create tickets
Use marketing tools like ad management and pop-up forms
Pricing: HubSpot starts as a free CRM. But if you want more advanced features like phone calls, meetings, and email tracking notifications, you'll have to upgrade to a paid plan, which starts from $45 per month.
Constant Contact is widely known for its email marketing platform, but you can use it as CRM software as well. It's excellent for small businesses as you can use it for email campaigns and for managing contacts.
The dashboard offered by Constant Contact is simple, clean, and easy to use. You can track customers' activities from your dashboard, display reports, send emails using its drag and drop tool, and store contact details with ease.
To get the most out of Constant Contact, you should check out these features:
Schedule emails
Create a sales funnel
Use marketing automation to nurture leads
Create beautiful emails using its drag and drop builder
Use 100+ email templates
Easy integration with eCommerce platforms
Run Facebook and Instagram ads to grow your email list
Pricing: The prices of Constant Contact depend on the size of your email list. They start from $9.99 per month for the normal plan and $45 per month for the plus plan. You also get a 30-day money back guarantee.
Get started with Constant Contact now!
Freshsales is also one of the best CRMs for small business that's loaded with features. It's designed with small businesses in mind, as using the dashboard you can capture leads, manage contacts, create a sales funnel, make phone calls, and send emails without having to leave the CRM.
One of the standout features of Freshsales is its reporting capabilities. You can create simple to advanced reports, show sales and revenue data with graphical charts, and use your dashboard to display up to 6 reports.
Another aspect of Freshsales that makes it powerful is the 360-degree customer view. Using this, you can identify customer touchpoints, access their social profiles, and see their activities from a single screen.
Here are other amazing features of Freshsales:
A.I. powered lead scoring helps prioritize leads
Automatically updates contact profiles
Create segments for different leads
Schedule appointments, take notes, manage, and share files
Get insights about deals through the dashboard
Complete sales funnel view
Track deals on the go with Android and iOS app
Make calls and generate automatic call logs
Assign local or toll-free numbers to your team
Pricing: Freshsales starts with a free version, then offers three different pricing plans starting from $15 per user per month (billed annually).
Get started with Freshsales now!
GreenRope is an all-in-one CRM that helps you generate leads, increase awareness, and boost your conversions. It's highly user-friendly and is one of the best CRMs for businesses of all sizes.
Using GreenRope, you can track emails, websites, and more in real-time. It helps you find the most converting pages, time on page, and total page views in a clean dashboard.
GreenRope is designed for anyone who is looking for a CRM that integrates sales, marketing, and operations in a single platform.
Few features of GreenRope include:
Marketing automation
Drag and drop builder to create amazing emails and landing pages
Integration with popular apps like WordPress and Zapier
Mobile app so you stay connected with the CRM
Shared access for increased team collaboration
HTTPS and two-factor authentication for security
Pricing: There are different packages offered by GreenRope, and they start from $99 per month. You get 500 contacts and all the features.
Get started with GreenRope now!
Pipedrive is one of the most user-friendly CRM software choices out there. It's designed to be simple and make it fast for you to manage and access contacts.
Its pipeline management feature lets you visualize your entire sales process. Using this awesome CRM, you can take action, remain organized, and stay in control of your sales funnel. All you have to do is just log in, enter contact details into the pipeline and start selling to your customers.
Pipedrive is the best CRM for startups as it offers more exciting features that you would expect from a CRM like:
Email integration
Email templates
Track activities and goals
Customizable pipelines
Sales reporting and sales forecast
Mobile apps for iOS and Android
API for easy integration with any software
Backups and encryption to secure your data
Pricing: Prices for Pipedrive start from $14.90 per user per month billed annually, and it comes with a 30-day free trial.
Get started with Pipedrive now!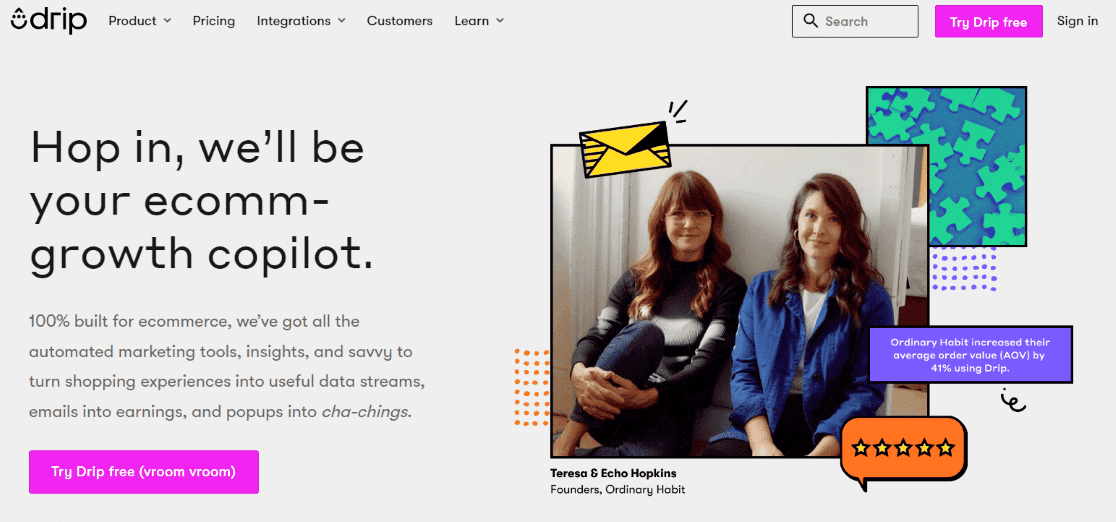 Drip is the best eCommerce CRM in the market. It's designed to increase sales for your online store and help you manage contacts, generate leads, and convert them into paying customers.
Drip is a powerful CRM and offers an attractive interface, which is very easy to use. It helps to bridge the gap between what your customers want and what your store delivers.
Drip is not just for eCommerce website users, as others can also use it for their businesses. Here are some of its features:
Helps automate workflows
Use tags, custom fields, and events to track customer activities
Integrations with popular platforms like WooCommerce and OptinMonster
User-friendly email builder
Segmentation of customer data
Content customization
Custom conversion tracking
Purchase intent marketing
Automatic revenue attribution
Pricing: Drip offers three pricing plans with a 14-day free trial. Their basic plan starting from $39 per month and you get 100 contacts, unlimited emails, and 24/7 live chat and email support.
Streak is also among the best CRMs for startups and small businesses and is built for Gmail. It's an excellent option for beginners, since it's built into Gmail and G Suite. It is very easy to use.
Streak automatically captures data from your emails and contacts. It helps you set up and customize a process for your team, filter, sort, and group data, and see upcoming tasks.
Here are more attractive features of Streak:
Track all your contacts in a pipeline
Custom views of your pipeline
Track and share customer interaction with your team
Import and export data
Use mobile apps to stay connected, track calls, and take notes
Use mail merge to send mass emails
Easy integration with 900+ platforms
Pricing: Streak is available for free for up to 500 contacts. But if you want advanced features, then their professional plan starts from $49 per user per month (billed annually).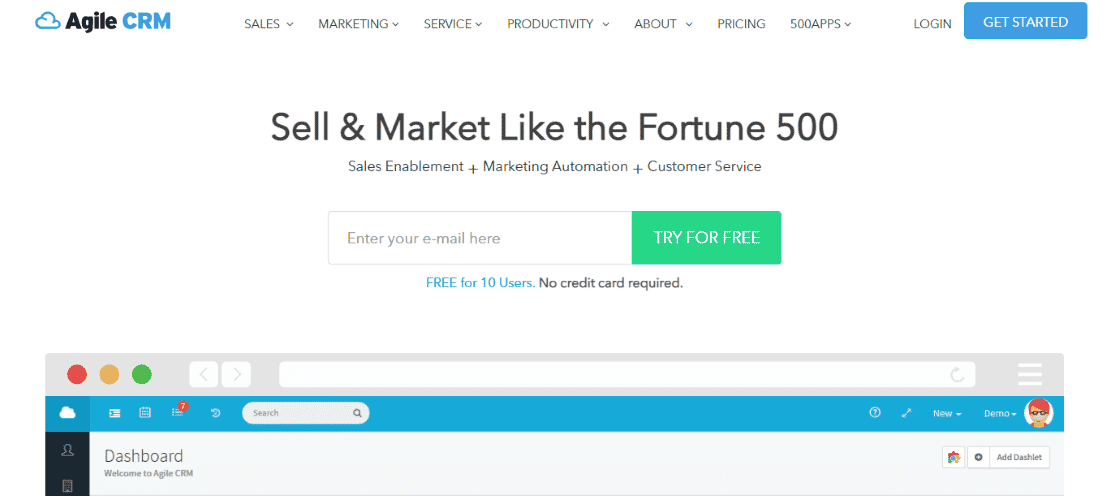 Agile CRM is another popular yet powerful CRM software for startups. Agile is a free CRM for up to 10 users and 50,000 contacts & companies! It's designed to be user-friendly and with a simple dashboard, you can automate your sales, marketing, and customer service.
With Agile CRM, you can manage contacts, track deals, automate calls and voicemails, and much more. The CRM is filled with features and offers affordable pricing plans, which makes it ideal for small businesses.
Some of its features you might want to look at are:
Pricing: The free CRM plan is available for up to 10 users. You can also select their paid plans which start from $8.99 per user per month and you get more great features.
Get started with Agile CRM now!
Zoho is one of the best CRMs for small startups. It's a powerful cloud software suite and offers different SaaS applications for businesses of all sizes.
Zoho CRM can be used to convert leads, engage with customers, and boost your revenue. Easily manage and automate different tasks including email, social media, live chat, and more from a single platform.
Here are some features offered by Zoho CRM:
Capture and manage leads
Deal management
Connect with customers across multiple channels
Automate workflows
Create a personalized customer journey
Omnichannel support
Get analytics reports
Pricing: Zoho prices start from $14 per month billed annually. It also offers a free trial that you can use to get started.
Our Recommendation: The Best CRM Software
That's it! You've made it to the end of our article. If you're starting out, then we recommend you select HubSpot, as it's the best CRM for small business. It's 100% free, can hold up to 1 million contacts without any expiration date or time limit.
However, if your main focus is on emails, then nothing beats Constant Contact. It's easy to use and manage your contacts, increase sales, and build lasting customer relationships.
We hope that you liked our article on the best CRM software for small businesses and startups. If you want, you can also check out our guide on the Best VoIP Services for Small Business.
Not using MonsterInsights yet? What are you waiting for?
And don't forget to follow us on Twitter, Facebook and YouTube for more helpful reviews, tutorials, and Google Analytics tips.