Are you looking for WordPress social media feed plugins for your website? Social media is an important part of any marketing strategy.
With a social feed plugin, you can easily add content from different social channels on your website. It helps to boost engagement on your blog posts and build followers.
But with so many different options, it can be hard to pick the right plugin.
In this article, we've put together a list of WordPress social media feed plugins that are easy to use and offer a lot of features.
What To Look For in a Social Media Feed Plugin
When it comes to picking a plugin to show social feeds on your website, there are a few things you need to consider.
First, it's important to find out which social platforms the plugin supports. There are some plugins that only support a particular channel while others are more general and easily integrate with a wide variety of social media networks.
Next, you should try to find a balance between performance and features. Some social media plugins load additional scripts and stylesheets, which can slow down your website. So look for plugins that won't affect your website loading speed.
And the last thing you should look for is the customization features a plugin offers. You should be able to change the layouts, designs, and display the content the way you want.
Our Favorite Social Media Feed Plugins
Smash Balloon is the best social media feeds plugin for WordPress. It's easy to use and offers powerful features to show social content on your website.
But what makes this plugin the best is that it ensures your Facebook and Instagram embedded posts work seamlessly. Both these social platforms now require developers to register their apps. If they don't, then your social posts will break and won't work on your website.
Fortunately, Smash Balloon has its API key registered with Facebook or Instagram. So, you don't have to worry about fixing any issues and continue to add social feeds to your website with ease.
Smash Balloon also allows you to create as many social feeds as you want. And each of its designs and layouts is mobile responsive and offers different customization options. Not only that, but you can even start live videos from your feeds in real-time.
It is a combination of 5 different plugins:
Custom Facebook Feed – Add Facebook posts, photos, videos, and broadcast live videos from your WordPress site
Instagram Feed – Link your Instagram pictures and stories to your WordPress pages, create shoppable feeds, hashtag feeds, and much more
Custom Twitter Feed – Display Twitter cards, allow users to scroll more tweets and show tweets that mention your Twitter handle (great for testimonials)
Feeds for YouTube – Create feeds of YouTube videos from your favorites list, display links to your product page or thumbnails to other videos, customize your video layout, and display live streaming videos
Social Wall – You can combine feeds from Facebook, Twitter, Instagram, and YouTube into a single wall
Get started with Smash Balloon today! 
Feed Them Social is another popular WordPress social media feed plugin. Using the plugin, you can create attractive social feeds for Facebook, Pinterest, Instagram, Twitter, and YouTube.
It is very easy to use and you can display social feed anywhere on your website, be it a blog post, landing page, or sidebar. And all the designs are mobile responsive, so you don't have to worry about optimizing your feeds for different devices.
Feed Them Social also lets you add like or follow buttons to increase followers. Plus, the plugin also lets you auto load more posts when a user is done scrolling.
Get started with Feed Them Social today!
EmbedSocial is a user-friendly WordPress plugin that helps you display picture albums from Facebook, Twitter, and Instagram as social feeds.
What makes this plugin special is its simplicity. All you need to do is paste a shortcode anywhere on your website to display the social feed. And whenever you add a photo on Facebook, Twitter, or Instagram, the album automatically updates.
As for customization options, you can get different layout templates, edit photo width and padding, change the title, lazyload your pictures, and display your social feed as a grid or slideshow.
Get started with EmbedSocial today!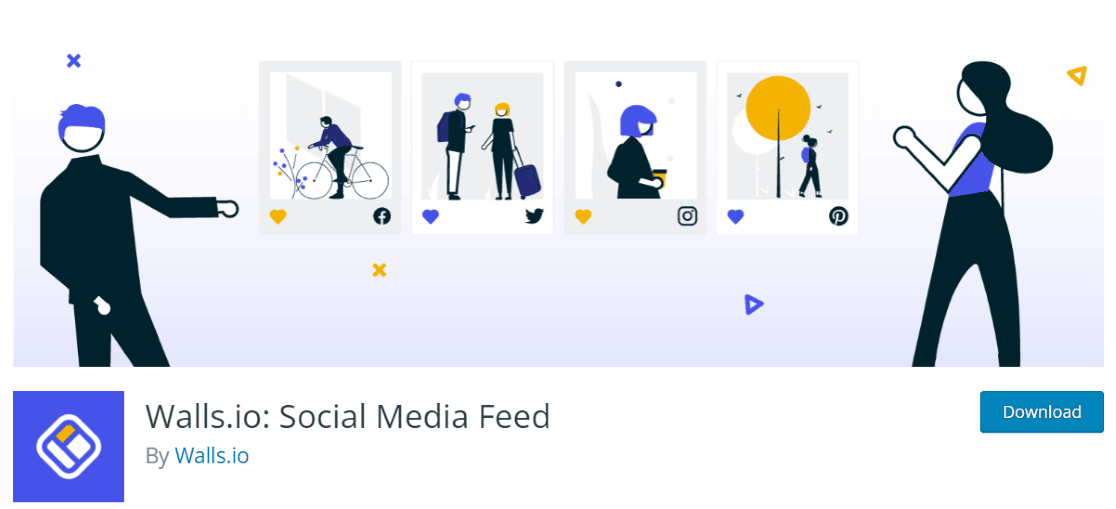 Walls.io is a free social media feed plugin for WordPress. While it's a free WordPress plugin, it delivers a powerful performance.
Plus, Walls.io supports 13 different social media channels including popular networks like Facebook, Twitter, Instagram, Pinterest, and YouTube. And you can even create social feeds for platforms such as Reddit, Tumblr, Vimeo, LinkedIn, and more.
The plugin is super easy to use as well. Just create a social feed, add your source, customize the design, and then embed the feed on your website. It also lets you set up moderation and auto-updates the feed whenever you add a new picture.
Get started with Walls.io today! 

Jucier.io is a social feeds plugin that helps you bring together content from multiple social networks in one spot on your WordPress website.
Features:
Social media networks – There are a lot of them! Aggregate content from Facebook, Twitter, Instagram, YouTube, Google Plus, Tumblr, Pinterest, Tumblr, Vine, RSS, Spotify, Slack, LinkedIn, Flickr, Vimeo, Hashtags, Yelp and DeviantArt.
Rules and filters – Use rules and filters to organize and customize your feed.
Moderation – Easily remove any unwanted posts from your feed.
Infinite scroll – Keep loading more posts by scrolling.
Analytics – Find out how your visitors are using and interacting with your social feed.
Get started with Jucier.io today!
And that's it!
We've made it to the end of the list. If you're looking for a premium solution that is easy use, offers loads of features, and even lets you bring content from different social platforms in a single feed, then we recommend Smash Balloon.
Using its different plugins for each social platform, you get to create and display beautiful social feeds. Plus, it's API key is registered with Facebook and Instagram. Which means your social feeds will continue to work.
We hope you liked our article on WordPress social media feed plugins. You can also go through our post on how to properly set up Google Analytics in WordPress.
Not using MonsterInsights yet? What are you waiting for?
And don't forget to follow us on Twitter, Facebook and YouTube for more helpful reviews, tutorials, and Google Analytics tips.