Are you looking for Hotjar alternatives to use on your WordPress website?
Hotjar helps you see how people interact with your site, collect customer feedback, and better connect the dots between What is happening on your site with Why it's happening.
This helps you investigate the customer journey, improve your site design, hone your content strategy, and optimize your website's usability to maximize sales.
That said, it isn't the only tool for the job. In fact, there are lots of alternatives to Hojar that may be better suited to your business and web analytics needs.
In this article, we'll share our top Hotjar alternatives to help you find the best behavior analytics and feedback tool for your business! But first…
What Is Hotjar?
Hotjar is a digital experience insights platform. Its primary features are heatmaps, screen recordings, and feedback tools that let you see user activity on your site, like clicking or scrolling, and collect customer input through surveys.
Pricing: Hotjar offers 3 plan types, but we'll be focusing on the first 2 – Observe which is for heatmaps, recordings, and analytics, and Ask which is for customer feedback. (Engage is the third plan which facilitates user testing and interviews.)
Observe: The first paid plan starts at $32 / month.
Ask: The first paid plan starts at $48 / month.
To compare Hotjar competitors, we first need to see where Hotjar falls short.
What Is the Downside of Hotjar?
Although it offers some great visualization tools, the main downside of Hotjar is that it lacks key analytics and tracking features. These are some of Hotjar's biggest cons:
You can't track any visitor actions like link clicks, survey submissions, purchases, and other conversion events without programming knowledge (custom code) and a paid plan.
Hotjar's pricing gets expensive very quickly when your business starts to grow.
You still have to use Google Analytics or another tool to get accurate metrics like site traffic, engagement rate, and other quantitative data.
Doesn't necessarily collect all data and has limitations on sessions and storage, which can lead to skewed results.
You can't analyze the demographics of your website visitors.
Limited survey customization options.
Limited compatibility with third-party applications.
And more…
The good news is that there are a number of better alternatives to Hotjar, including free ones, for tracking customer journeys, gathering user feedback, optimizing eCommerce, and increasing conversions!
11 Best Alternatives to Hotjar
MonsterInsights – Best alternative for user journey and eCommerce tracking
UserFeedback – Best alternative for collecting customer feedback
Crazy Egg – Best for a variety of heatmap visualizations
Clarity – Best free Hotjar alternative with SEO integration
Lucky Orange – Best for live chat feedback and optimizing customer support
Smartlook – Best Hotjar alternative for mobile apps and agencies
OptinMonster – Best for optimizing dynamic elements and A/B testing
FullStory – Best for larger enterprises and product analytics
Mouseflow – Best alternative for form analytics and friction scoring
Clicky by Yoast – Best for real-time analytics and non-Google Analytics users
Aurora – Best free alternative for simple click maps

MonsterInsights is the best Hotjar alternative on the market for tracking eCommerce and site visitors. It combines the power of Google Analytics with advanced tracking features and a beginner-friendly interface to give you actionable insights that allow you to make data-driven decisions, optimize your site, and increase revenue.
As the best Google Analytics plugin for WordPress, MonsterInsights allows you to easily set up analytics and advanced tracking in just a few clicks, without editing any code. You'll get the insights that matter, right inside your WordPress dashboard.
It's a feature-packed tool that does a whole lot more than just show you where visitors clicked. Even so, MonsterInsights' Pro plan is still cheaper than Hotjar's first paid plan, which makes it a high-value alternative. Let's take a closer look at what it can do.
eCommerce and User Journey Tracking
MonsterInsights integrates seamlessly with popular WordPress eCommerce plugins, WooCommerce, Easy Digital Downloads, GiveWP, MemberPress, LifterLMS, Restrict Content Pro, and MemberMouse, to provide one-click tracking for eCommerce and every step in the customer buying journey (even if it's over multiple visits or days).
With MonsterInsights' eCommerce tracking, you can quickly see:
Add-to-cart /remove-from-cart events
Top products
Purchases and revenue
Top conversion sources
And more…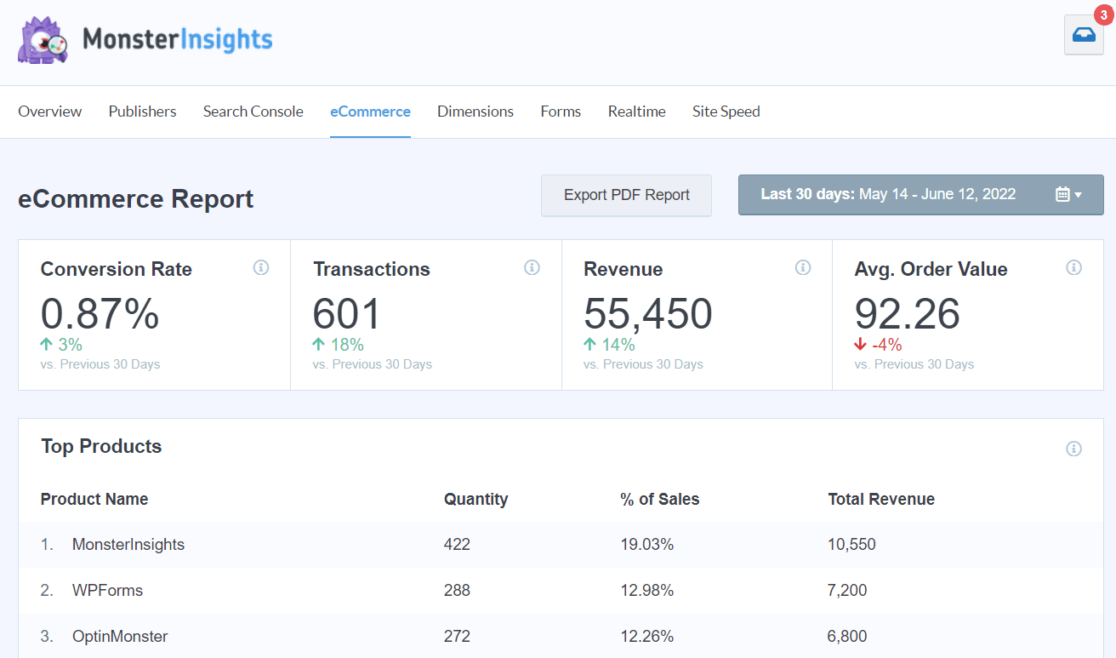 With the User Journey tracking, easily see your order history, filter by UTM parameters, compare the number of steps in each purchase, and view individual visitor logs.
You can use it to see where users drop off before purchasing and pinpoint friction spots to optimize your customer experience (also called funnel analysis).

Track Form Submissions, Clicks, and Scrolling
Unlike Hotjar, MonsterInsights tracks form submissions right out of the box, so you can easily see which forms or surveys are getting the most views and submissions, and where those visitors came from.
In addition to tracking forms and eCommerce actions, the plugin automatically tracks:
Outbound links
File download links
Tel and mailto links
You can also track custom links (like call-to-action buttons)
MonsterInsights also automatically sets up scroll tracking in Google Analytics. You can quickly see your site's average scroll depth in WordPress. Or, see the scroll depth for specific pages in Google Analytics with no extra setup required.
Here are some more of MonsterInsights' key features:
As you can see, MonsterInsights is jam-packed with tons of incredible features to help you see exactly what's happening on your site so that you can quickly identify areas for improvement and optimize your online business.
There's really no comparison between MonsterInsights and Hotjar when it comes to analytics features, eCommerce tracking, customer insights, and price value.
P.S. Love MonsterInsights but want the customer feedback features of Hotjar? Take a look at the next plugin on our list which has native integration with MonsterInsights.
Pricing: To access user journey and eCommerce tracking you'll need MonsterInsights Pro or higher, which starts at $199.50 / year.
Get started with MonsterInsights today!
UserFeedback is the best alternative to Hotjar's feedback widget. Use its short surveys to make more money, increase engagement, and grow your business faster with candid customer feedback.
As the best user feedback plugin for WordPress, it's easy to set up and comes with a ton of survey templates. Or, you can create completely customized surveys to ask your users anything you want and any number of questions.
Plus, UserFeedback integrates directly with MonsterInsights to automatically track your surveys and gives you detailed reports right inside your WordPress dashboard.
Here are some of UserFeedback's key features:
Unlimited surveys, questions, and responses
Device and page targeting
Automatically display the widget or use a shortcode to place it anywhere
Library of pre-built templates including Net Promoter Score (NPS), website experience (CES), and customer satisfaction (CSAT) surveys
Customize the design to match your branding
Multiple question types, including long answers, radio buttons, star ratings, email capture, and more
Use conditional logic to create multiple possible series of questions
And more!
UserFeedback is an excellent alternative to Hotjar for collecting customer feedback, and it works perfectly alongside MonsterInsights. Plus, unlike Hotjar, all UserFeedback plans have no limit on the number of survey widgets or responses.
That said, if seeing your data in a heatmap visualization takes priority then keep reading for Hotjar alternatives that cater more to that aspect.
Pricing: Paid plans start at $49.50 / year (Free version available).
Get started with UserFeedback today!
Crazy Egg is one of the most popular heatmap tools on the market and a great Hotjar alternative for collecting qualitative data. It offers different types of heatmaps such as click maps, mouse cursor heatmaps, scroll maps, and a feature called the confetti heatmap.
Confetti heatmaps allow you to analyze the heatmap data based on different traffic sources. This means you can compare the user interactions from social networks, search engines, or other sources.
One thing to note is that Crazy Egg uses sample data. So, rather than capturing all your visits, it takes a percentage of them to show you how users typically behave.
In addition to heatmaps, Crazy Egg also offers some other key features:
Visitor screen recordings
Audience demographic reports
A/B tests
Survey widgets
Adding Crazy Egg to your WordPress website is very simple. They provide a convenient plugin that makes the installation process easy, or you can use our favorite code snippet plugin.
Crazy Egg's biggest drawback is that it requires manual event tracking, which is necessary if you want to gather quantifiable metrics to track. That means adding custom javascript code to track actions, which is often challenging for the average WordPress user.
Nonetheless, Crazy Egg is a great Hotjar alternative for heatmaps that gives website owners an idea of visitor behavior on their site.
Pricing: Plans start at $29 / month (30-day trial).
Get started with Crazy Egg today!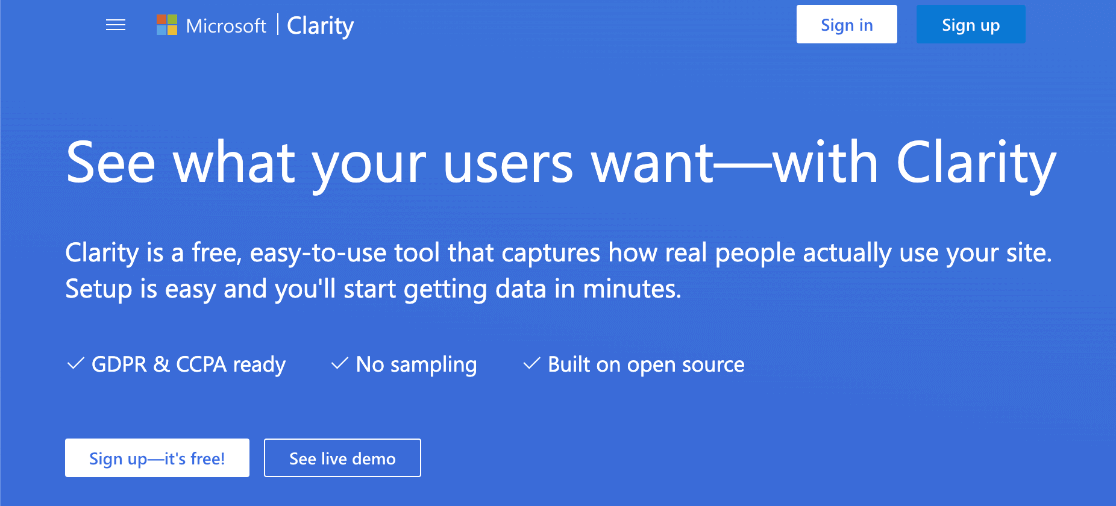 Microsoft Clarity is one of the best free Hotjar alternatives available. It's free, open-source software that provides heatmaps and session recordings for your website. While Google Analytics focuses on in-depth tracking, Clarity focuses on visualizations.
You can install the software and tracking code yourself. Or, Clarity integrates seamlessly with All in One SEO (AIOSEO), the best SEO plugin for WordPress. You can quickly add Clarity to your site from the AIOSEO dashboard, without touching any code.
Plus, you'll get all of the top-of-the-line optimization tools that AIOSEO provides. So, you can use Clarity heatmaps to see which areas of your website drive user engagement and optimize that content with AIOSEO. Clarity also provides:
Information about rage clicks, dead clicks, and quickback clicks
Help with identifying javascript and image errors
Google Analytics integration
Mobile app compatibility
Clarity doesn't have the advanced functionality of some analytics tools on our list, but it's a great choice for startups, AIOSEO users, and other businesses that are looking for a free tool to visualize user behavior and record site visits.
Pricing: Free (for integration and automatic setup, you'll need the AIOSEO Basic plan or above, which starts at $49.60 / year).
Get started with Clarity today!
Lucky Orange another Hotjar alternative that's is similar to MonsterInsights in the sense that it's is a robust tool that offers more than just click tracking. One of its unique strengths is live chat software and the fact that it collects individual user data (30 days of retention).
This feature is helpful for streamlining customer support, collecting feedback, and identifying pending user issues. You can also track heatmaps for clicks, movement, and scroll depth, and other key features include:
Screen recordings
Dynamic heatmaps
Visitor polls
Form analytics
With a user-friendly interface and an impressive range of tools, Lucky Orange is a popular choice for heatmap analytics and another great alternative to Hotjar.
Pricing: Free plan (500 pageviews per month, 30-day storage for heatmaps and recordings, 365-day storage for surveys, chat logs, and events). Paid plans start at $14.99 / month.
Get started with Lucky Orange today!
Smartlook is another Saas platform that's a popular alternative to Hotjar. It provides an impressive set of features for behavior analytics and improving customer support.
Similar to a number of products on our list, Smartlook provides heatmaps and screen recordings, among other features. It helps you optimize conversions by predetermining a sales funnel and spotting when users don't take the path you want them to.
Smartlook is also compatible with mobile app development software including IOS, Android, React Native, Flutter, Cordova, and more. Other features include:
Audience segmentation for viewing heatmaps and recorded sessions
Automatic event tracking and session recordings
Real-time tracking
Sharing options to collaborate with a team
Smartlook focuses more on how users interact with different elements while Hotjar and many other website analytics tools focus on how visitors interact with the overall web page. It's an awesome Hotjar alternative for mobile apps, agencies, and digital marketers.
Pricing: Free plan (3,000 monthly sessions, basic analytics, and 1-month data-retention). Paid plans start at $55 / month.
Get started with Smartlook today!
OptinMonster is a bit different than most of the other Hotjar alternatives on our list. Instead of showing user journeys and analytics, this is a WordPress plugin designed to help you build and track lead generation and conversion campaigns.
With OptinMonster, you can create a variety of opt-in and attention-grabbing elements like popups, banners, sidebars, inline campaigns, fullscreen welcome mats, and more. Then, use advanced display and tracking features to analyze how well elements are working and optimize them.
Some of OptinMonster's key features include:
Built-in A/B testing
Advanced targeting and audience segmenting such as by scroll depth, location, device, and more
Custom campaign triggers including eCommerce funnel events
Integration with WPForms, the best WordPress form builder, to collect customer feedback
Detailed analytics let you see clicks, impressions, and conversions to understand which campaign elements and forms are performing the best
OptinMonster doesn't provide insight into overall user behavior the same way some Hotjar alternatives do, but it's an excellent tool in its own right. If you're primarily looking for CRO (conversion rate optimization), you may not actually need to spend tedious time analyzing user sessions.
Instead, you can quickly use OptinMonster to create campaigns and forms, track them, use A/B testing to understand what elements are working best, compare how campaigns perform with different targeting and triggers, and optimize for conversions.
Pricing: Plans start at $9 / month.
Get started with OptinMonster today!
FullStory is a web analytics platform that's very similar to Smartlook. However, it's a bit more suited for larger enterprises that need more in-depth user experience and product analytics. It also works with native IOS and Android mobile apps as well as React Native.
Features offered by FullStory include:
Automatic event tracking and a session replay tool
Integration with customer support software like Zapier and Salesforce
Sharing options to collaborate with a team
Ability to build user funnels
Custom pricing plans for businesses and enterprises
FullStory provides a robust set of features that makes it a great all-in-one alternative to Hotjar. Its support system integrations, product analytics, and custom pricing model make it more suitable for larger eCommerce businesses that need an in-depth analytics tool to study customer behavior.
Pricing: FullStory doesn't share pricing upfront. You'll have to contact a sales member to discuss options for your business. However, you can sign up for a free version with limitations.
Get started with FullStory today!
Mouseflow is a versatile and affordable tool for tracking user behavior on your website. It offers similar features to Hotjar, and it's a great option for small and medium-sized businesses.
It's very functional for heatmaps and screen recordings and comes with solid analytics features. It also has better friction scoring to pinpoint pain points in the user journey and automatically tracks JS errors.
Plus, it allows you to set and track custom funnels to gain more insights. Other features include:
Categorize visitors and save segments to review later
Form analytics
Compare the behavior of users from different traffic sources
Mouseflow is a great alternative to Hotjar for small businesses looking for very similar features to Hotjar but with the addition of better event tracking, friction scoring, and form analytics.
Pricing: Free plan (1 website with 500 recordings per month that are stored for 30 days). Paid plans start at $31 / month.
Get started with Mouseflow today!
Clicky is a real-time web analytics tool that provides a heatmap feature to monitor and analyze traffic. It's a good alternative to Hotjar if you don't want to use Google Analytics but still need more metrics than a typical user behavior tool provides.
We recommend using the free Clicky by Yoast plugin for WordPress to automatically install Clicky tracking code on your site.
Clicky is like a lite version of Google Analytics. You won't get nearly as much data, but you can still see primary metrics and use heatmap visualizations to understand them. Here are some of Clicky's features:
Segment clicks by targeted criteria
Visitor and action logs show visitors, page views, and javascript events
Privacy-friendly with a focus on GDPR compliance
Overall, Clicky by Yoast is a good option for someone looking for heatmaps and basic analytics to get an overview of their site. And, it's especially helpful for those who already use Yoast SEO.
Pricing: The plugin is free, but to access heatmap features, you'll need a Clicky Pro Plus plan, which starts at $14.99 / month.
Get started with Clicky by Yoast today!
Aurora, the last tool on our list, is one of the best free Hotjar alternatives for simple heatmaps. Many of the other products we've touched on are, like Hotjar, external tools that happen to work for WordPress. On the other hand, Aurora is a WordPress plugin for creating quick, click maps.
The plugin requires no registration or contract, and its sole purpose is to provide easy heatmaps to visualize mobile and desktop clicks on your site. It doesn't provide user tracking, screen recordings, integrations, or other marketing tools.
Nonetheless, its biggest benefits are:
Easy to set up with no coding required
No limit on pages to analyze
Compare clicks between desktop and mobile
Attention and breakaway heatmaps (premium version)
Aurora doesn't come with the bells and whistles that other Hotjar competitors do, but it's a nice, lightweight plugin if you just want to see where the most clicks are on your WordPress pages.
Pricing: Free.
Get started with Aurora today!
Verdict: What Is the Best Hotjar Alternative
If you use a compatible WordPress eCommerce plugin, we recommend MonsterInsights and its native integration with UserFeedback as the overall best alternative to Hotjar. You'll get many more advanced tracking features, unlimited feedback widgets, and the full power of Google Analytics in your WordPress dashboard.
However, if you prefer to visualize the user journey, Crazy Egg or a number of other products on our list will do the trick. For a simple and free alternative to Hotjar, you can't go wrong with Clarity or Aurora.
The best Hotjar alternative really just depends on what features are most important for you and your business.
Well, that's all for this article! We hope you enjoyed learning about the best Hotjar alternatives. You may also want to check out 44 Customer Survey Questions + Guide to Meaningful Feedback.
Not using MonsterInsights yet? What are you waiting for?
Don't forget to follow us on Twitter, Facebook, and Youtube for the best WordPress tutorials and Google Analytics updates.