Everyone who runs a WordPress website should use a WordPress SEO plugin to manage search engine optimization, or SEO. It's simply so easy to view and control SEO in the same place where you create and manage your content.
In this All in One SEO review, we'll look at the features and benefits of this WordPress SEO plugin and find out whether All in One SEO (AIOSEO) is the best solution for you!
Read on to see how the All in One SEO plugin for WordPress performs to get your web content in front of your ideal audience.
What Is All in One SEO?
All in One SEO (AIOSEO) is an SEO plugin for WordPress websites, downloaded on more than 100,000,000 sites worldwide since 2007.
It empowers WordPress site owners with no programming or SEO experience to get their web pages ranked highly in Google.
Originally named All in One SEO Pack, AIOSEO was the first full-featured WordPress SEO plugin designed to automate and improve search engine optimization.
The biggest plus for AIOSEO is ease of use for everyone from SEO beginners to seasoned experts. User friendly wizards and simple navigation let you start simply and prioritize the most important tasks first.

At the same time, AIOSEO offers SEO experts easy access to powerful techniques. When you buy the complete All in One SEO plugin with all the extra addons, you're guaranteed to get the most robust SEO plugin available for WordPress.
Let's dive into the details now and see how All in One SEO stands up to the competition.
AIOSEO Features
All in One SEO comes with an impressive set of features and tools at the Basic subscription level. This helps people just starting with SEO to optimize keyword placements, titles, and descriptions in just a few minutes with no coding.
At the Plus level, AIOSEO includes valuable addons for users who have more advanced SEO tasks. You must have at least a Plus account to access Local SEO, critical for businesses with a physical location.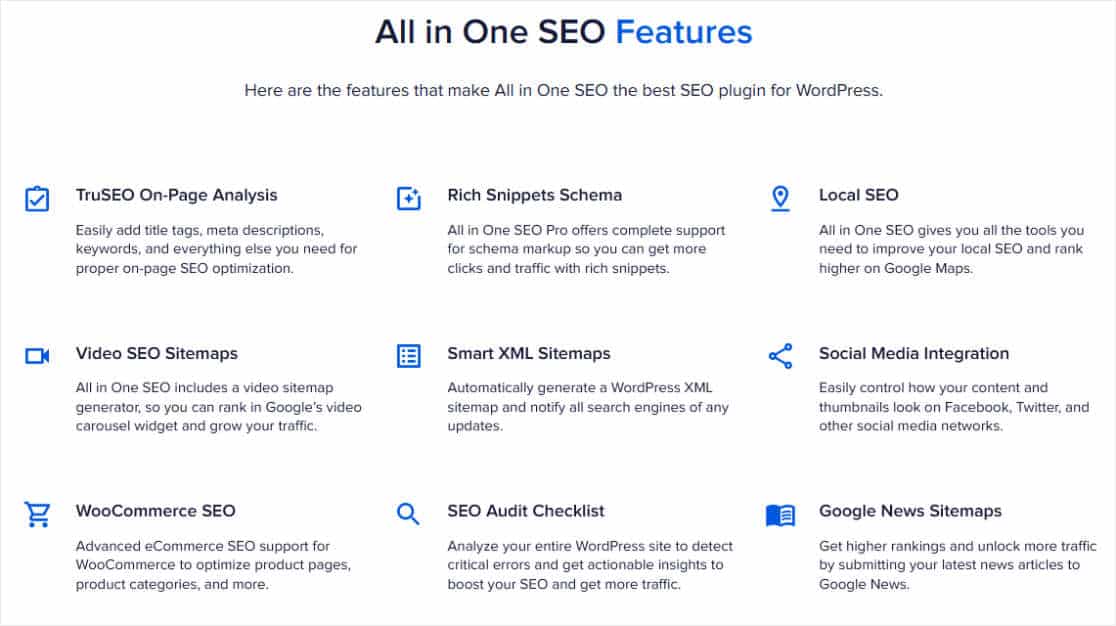 Users at the Plus level and above can install AIOSEO on multiple sites. This makes All in One SEO a very economical option for small businesses and freelancers, all the way up to agencies who manage 100 client sites.
All in One SEO works by letting you adjust search engine optimization at two levels.
First, there's an on-page SEO tool built into the WordPress page/post editor screen. That's where you optimize the content and settings for each individual page on your site.
Second, you control global site SEO from the main menu in the WordPress sidebar. This is where you can manage sitemaps, global redirects, local SEO, and other general settings.
On-Page SEO and Content Analysis
Some of All in One SEO's most useful and powerful features are the on-page SEO tools built right into the WordPress page editor.
You don't need to understand anything about SEO to make a giant impact on your page rankings, as AIOSEO reveals how to optimize every individual page and post.
We particularly like the TruSEO scoring system. AIOSEO analyzes and scores each page on your site, then offers clear action items to increase your score.
Quickly check a post's TruSEO score right in your editor, inside the AIOSEO widget in the right sidebar.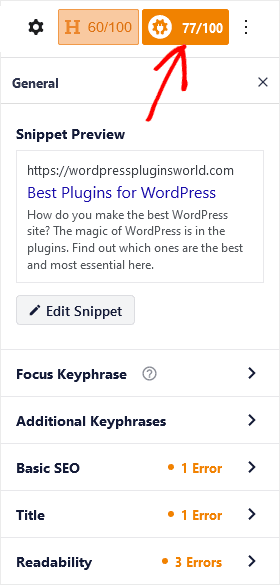 This example page has a TruSEO score of 77.
Below the score and snippet preview, you can see the areas that need improvement on this page. Clicking the arrows will reveal more details and fixes.
These SEO checklists cover keyphrase usage and placement, title and meta description analysis, content optimization, internal and external linking, and readability.
If you do a good job with these basic on-page SEO tactics, you're well on your way to higher search rankings. And All in One SEO makes it incredibly easy.
Want to learn more about how to do on-page SEO using AIOSEO? Check out On-page SEO in WordPress: Your Complete Guide.
All in One SEO Review: Site-wide SEO Settings
Now that we've covered on-page optimization for individual posts and pages, let's explore some more feature highlights.
AIOSEO Dashboard and Site Audit
The main Dashboard screen shows you a high-level snapshot of your site's SEO performance.
The SEO Site Score reflects the overall SEO health of your site based on AIOSEO's audit of all your site's ranking factors. To raise this score, you simply complete the action item checklists on the SEO Analysis page.
The Posts overview gives you a breakdown of how many posts and pages are highly optimized and how many still need attention. When you click the Needs Improvement link, you'll immediately see a filtered list of these posts so you can address the problems.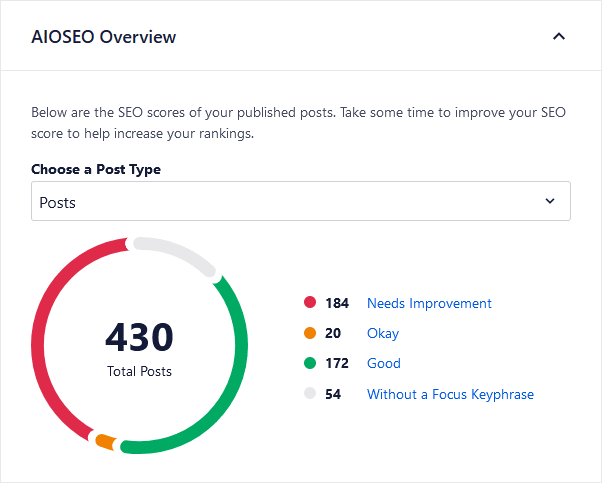 General Settings
In the General Settings screen, you can manage your license key and launch the Setup Wizard. This is also where you connect AIOSEO to search engine tools like Google Search Console, Bing, and Baidu.
One critical setting in the General Settings »  Advanced menu is the ability to enable TruSEO scoring and AIOSEO's built-in Headline Analyzer. If you're not seeing a TruSEO score on your posts and pages, make sure this is turned on.

Search Appearance
The Search Appearance area of AIOSEO is where you define how your site's URLs look, your image SEO settings, and more.
You should definitely check out this extremely important item located in the Search Appearance area: the Knowledge Graph information box.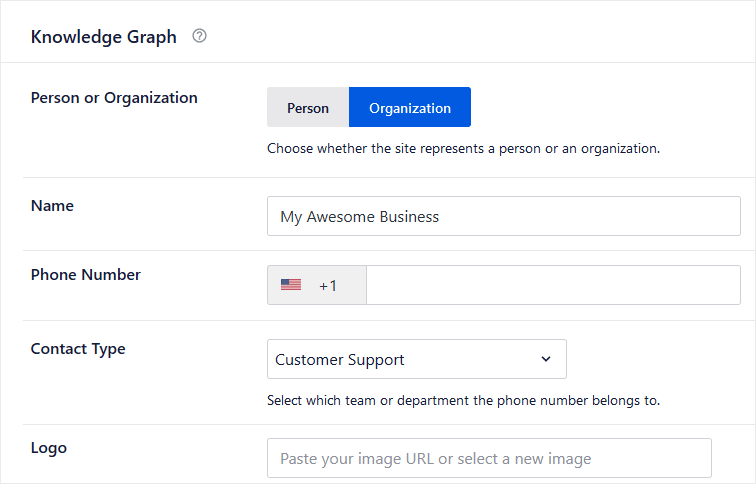 Completing the Knowledge Graph will enable Google to show your official logo and a contact number when someone searches your business or brand name.
Social Networks
Quickly and easily integrate all your social networks with AIOSEO in the Social Profiles tab. This allows for automated sharing of content from your site to your social channels.

You also have full control over how content appears on social feeds for Facebook, Twitter, and Pinterest.
Smart XML Sitemaps
One of the most basic functions of SEO is to inform Google and other search engines that your web pages exist.
All in One SEO helps you tell Google search what's on your site and what's important by automatically generating XML sitemaps.
All in One's Smart XML Sitemaps can create separate video and news sitemaps to improve rankings in those categories, as well.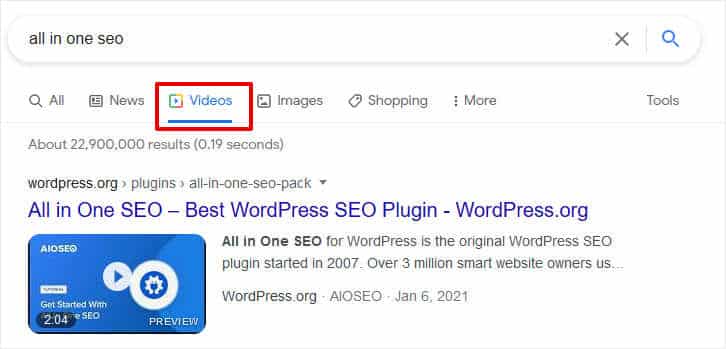 This allows your content to appear in the special search result sections for videos and news results.
Link Assistant
AIOSEO's Link Assistant helps you build links that are vital to SEO rankings. Search engines generally favor content with a variety of links. That includes internal links to other pages on your site, and external links to other websites.

The Links Report page displays all the internal links and outgoing links on every page. You also get suggestions for internal linking to specific pages. This tool gives you a quick way to strengthen your internal linking structure with very little effort!
Redirects Manager
You'll never lose your page rankings due to broken links again with AIOSEO's Redirects Manager. This tool can redirect one URL or your entire site with a few clicks.
The interface makes it really easy to automatically generate the right settings to make search engines happy when you need to change a page's URL.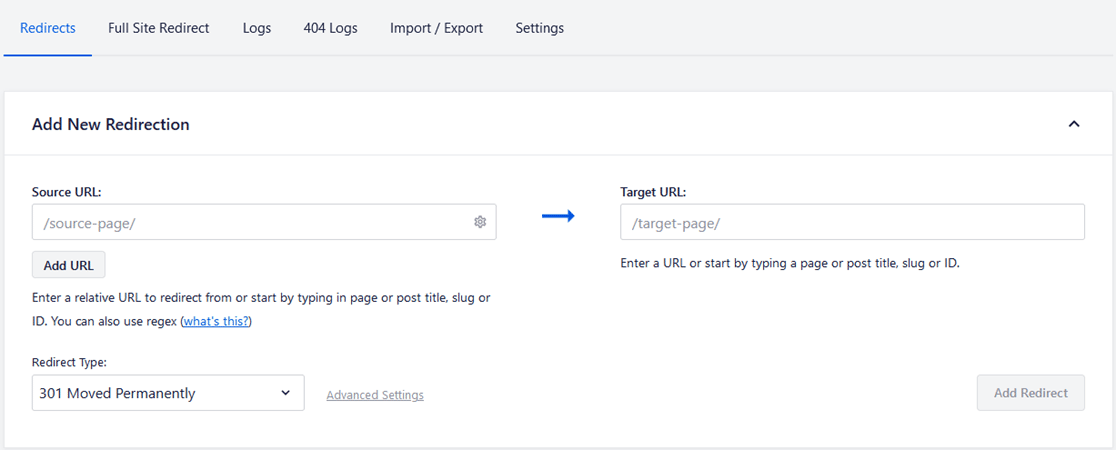 You have the option to create any redirection type you want, in addition to 301 redirects. More experienced users can view and edit redirect logs, change redirect methods, and import and export site redirects.
Local SEO
Businesses that depend on local customers from a specific region have special SEO needs compared to online-only businesses.
AIOSEO gives you Local SEO tools to address the unique challenges of drawing local customers to your website and your physical location.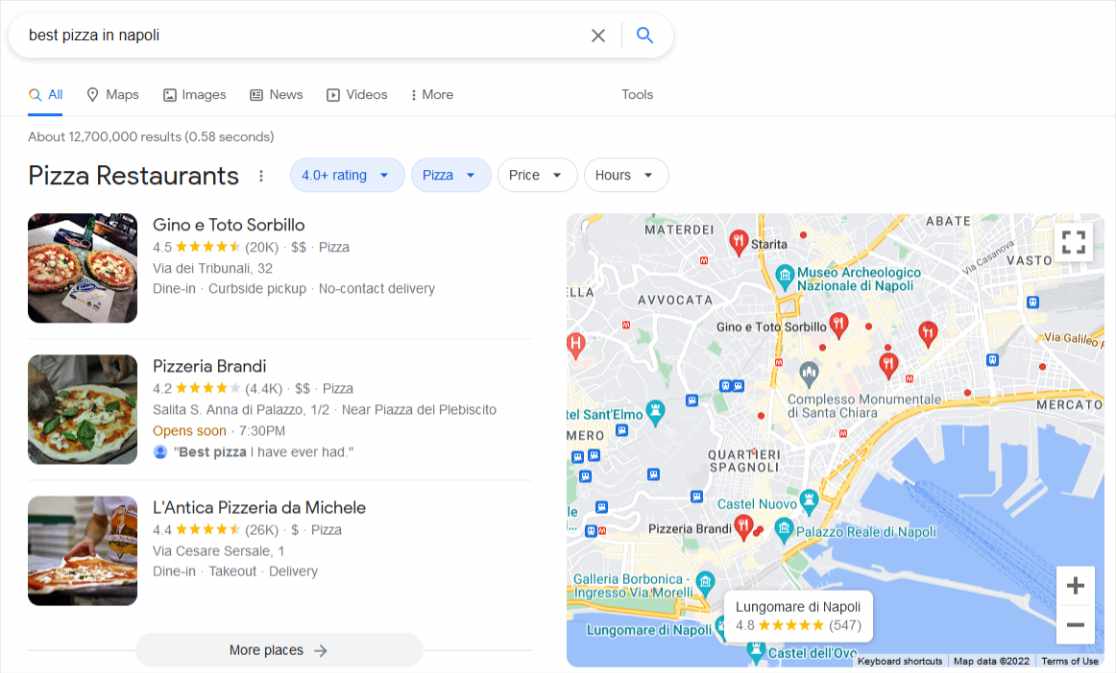 Data you enter in the Local SEO area is used by Google when it displays local map and business listings.
If you want nearby customers to find your business, All in One SEO automates the task of submitting this information.
It even handles multiple business locations with no problems. This feature allows you to show different contact and location details to different audiences.
SEO Analysis
The SEO Analysis screen in AIOSEO includes the SEO Audit Checklists. These lists show you all the critical issues and recommended changes that All in One SEO has found on your site.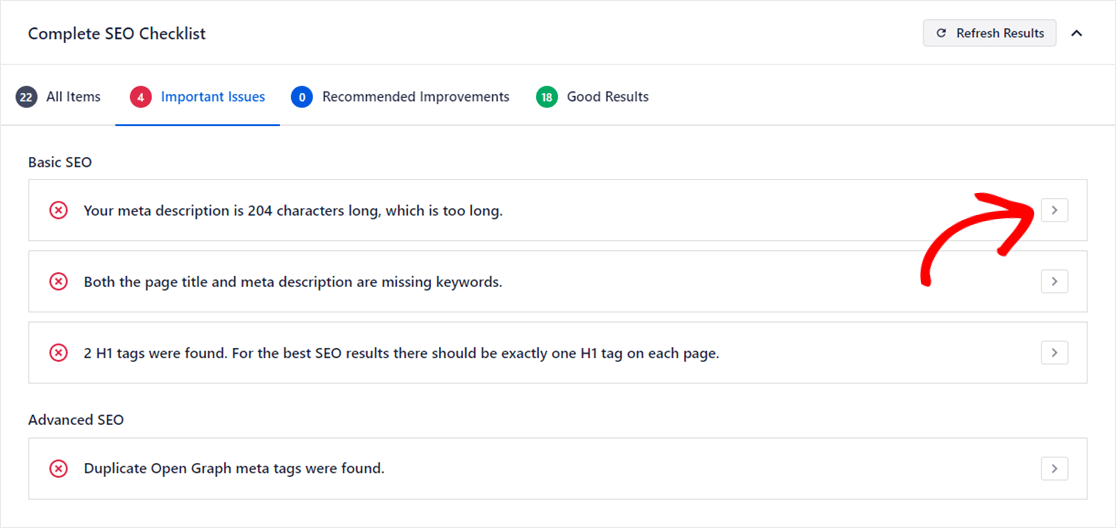 Clicking the arrows on the right side of the boxes displays exact instructions on how to fix each issue. This is one of the key benefits of All in One SEO. It doesn't just identify problems but always offers real solutions.
Tools
The Tools menu is where you'll find the Robots.txt Editor and a few other advanced functions.
If you're switching to All in One SEO from another tool, you may be interested in the Import/Export capabilities found here. However, note that AIOSEO will automatically detect data from another SEO plugin right away when you install it, and will ask if you'd like to import that data.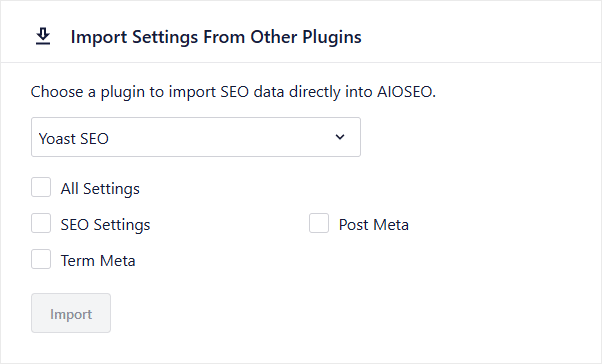 Users of Yoast SEO, Rank Math SEO, and SEOPress can import data and settings from those plugins with one click. That saves you the time and trouble of repeating work you've already done.
Feature Manager
The Feature Manager in AIOSEO is where you activate advanced features and addons like Video and News Sitemaps, Redirection Manager, and the Link Assistant.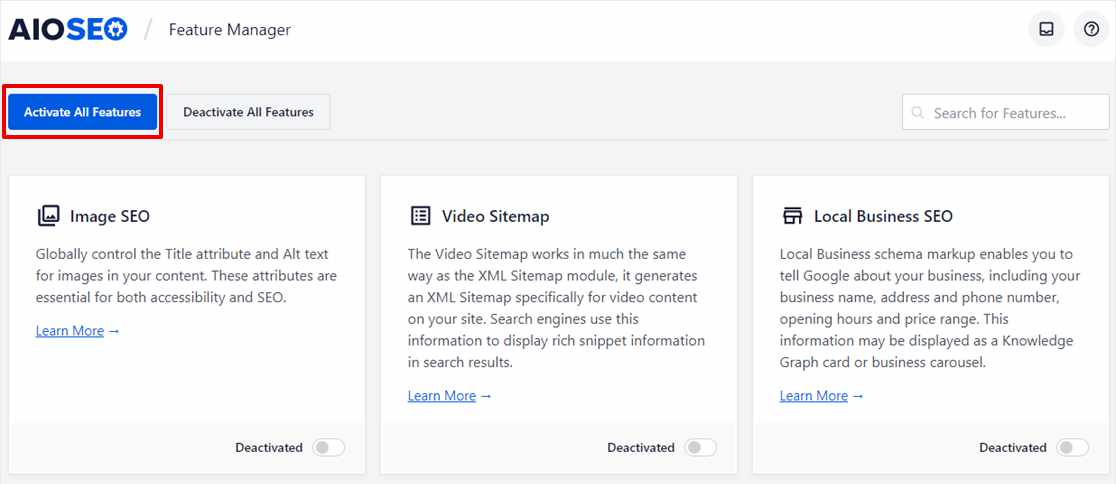 Pick and choose which individual addons you'd like to activate by flipping the switch underneath each addon. Or, you can activate them all at once by clicking the Activate All Features button.
All in One SEO Review: Integrations
The AIOSEO plugin connects to a number of other software platforms and plugins that you may already use.
We already talked about its ability to connect your site to your social media channels. Here are a few other integrations that are built right into AIOSEO.
WooCommerce SEO
All in One SEO has built in support for WooCommerce users. You can boost rankings and visibility of product pages by optimizing product titles, descriptions and images.
Schema markup lets you designate Product schema types and add additional information for enhanced search results.
Search Engines and Analytics Integrations
Webmaster Tools in AIOSEO enable easy connection to your Google Search Console account, plus Bing, Yandex, Baidu, and Google Analytics.

All in One SEO Review: Pricing
All in One SEO is very competitively priced for what you get. At the Pro level you can install AIOSEO on up to 10 sites, which ends up being about $40 per site. However, the intro price for the first year is only half that, or $20 a site.
The Plus level allows you to install AIOSEO on 3 sites. At the Plus level and above you also get addons for Local SEO, Image SEO, and the WordPress REST API.
Compare that price to Yoast SEO, another popular WordPress plugin for SEO. Yoast SEO at the basic level costs $99 per site. A Basic level subscription to All in One SEO is still a much better bargain at $49.50 for the first year.
Development and Support
All in One SEO is developed and maintained by a dedicated team at Awesome Motive, the same company that publishes the top free WordPress resource site, WPBeginner.
The backing of a parent company dedicated to continuous improvement and support is a real advantage for the AIOSEO plugin.
That makes a big difference if you're looking for an SEO plugin that's reliable in the long term. It also guarantees that you're always going to have access to professional technical support.
All in One SEO Review Conclusion
All in One SEO is the original WordPress SEO plugin, and we think it's still the best choice for most site owners. Its tools and workflows are simple for beginners to understand and use effectively without knowing any technical SEO.
Dig into the interfaces, though, and you'll find all the advanced settings and capabilities that professional SEOs need. However complex your SEO demands are, All in One can meet them.
In terms of value, AIOSEO offers the largest feature set, at the lowest price, compared to other popular WordPress SEO plugins. Not surprisingly, All in One SEO's technical support and new feature development are also the best in its class.
Based on features and tools, proven results, and the strong organization behind All in One SEO, we rank AIOSEO as the best SEO WordPress plugin you can buy.
Thanks for reading, that's the end of our All in One SEO review. Why don't you give AIOSEO a try now!
We hope this article helped you learn more about using All in One SEO to increase your rankings and site traffic. If you want to learn more about analyzing site traffic, read our guide to the top metrics to track on Google Analytics.
Want advice on more of the best WordPress plugins? Check out 45 Best WordPress Plugins to Download Now (Many FREE).
And don't forget to follow us on Twitter, Facebook and YouTube for more helpful reviews, tutorials, and Google Analytics tips.