Are you looking for a way to see how many people abandon shopping carts on your website and don't make a purchase?
With Google Analytics' Enhanced eCommerce tracking, you can track your cart abandonment rate and come up with measures to reduce it and boost your revenue.
In this article, we'll show you how to track shopping cart abandonment rate with Google Analytics. Let's start…
Subscribe to our YouTube Channel
What's Shopping Cart Abandonment? Does it Matter?
Shopping cart abandonment is the single largest obstacle for eCommerce retailers to overcome. It's when potential customers add items to the cart and start the checkout process but drop out without completing a purchase.
So, the products that were added to the shopping cart but never make it through the transaction are considered to be abandoned.
According to OptinMonster, cart abandonment varies across different devices. On desktop/laptop, the abandonment rate is around 67% while on mobile it's 78%.
And there are several reasons why people leave shopping carts without making a purchase. 55% of people abandon carts because of unexpected costs like shipping and taxes. While 34% abandon carts because there is no guest checkout option.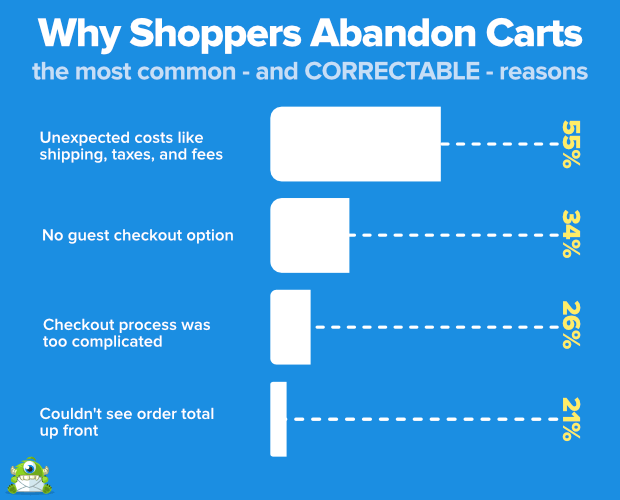 Without a doubt, if you're looking to reduce shopping cart abandonment and boost your revenue, you need to keep an eye on this KPI (Key Performance Indicators) of your online shop like the shopping cart abandonment rate.
Here are a few benefits of tracking cart abandonment:
Under Customer Behavior – You get to see how people behave in your online store and why aren't they completing the checkout process
Correct Errors in Your Checkout Process – Having a high cart abandonment rate can highlight errors in your checkout process, such as the payment option not working, so you can easily identify and fix them
Measure Changes on Yout Website – If you've made changes like using a different text for your call to action or changing its color, then cart abandonment rate can instantly tell if your changes worked or not
Optimize Your Sales Funnel – You can look at your sales funnel and see which path is leading to high cart abandonment, so you can then fix any issue like showing the correct marketing message or promoting the right product
Now, are you ready to track cart abandonment in Google Analytics?
How to Track Shopping Cart Abandonment: Step by Step
The easiest way to track shopping cart abandonment of your site is to enable Enhanced eCommerce tracking in Google Analytics.
Previously, tracking cart abandonment in Google Analytics would require manual work, which was time consume and tricky for beginners.  But with Enhanced eCommerce tracking, all you need to do is to enable it so that you can track the data automatically.
But when you set up Enhanced eCommerce, you'll have to edit the Google Analytics tracking code. If you don't know how to code, then this could mess up your tracking.
A simpler way is through MonsterInsights. It's the best Google Analytics WordPress plugin and helps you set up advanced tracking such as cart abandonment without having to touch a single line of code.
To get started, just follow these steps…
Step 1: Install MonsterInsights and the eCommerce Addon
The first thing you need to do is to install the MonsterInsights plugin and connect Google Analytics with your WordPress website.
Then, you'll also have to install the eCommerce addon. And to do that, just go to Insights » Addons and then navigate to eCommerce. Click Install and the addon will then automatically activate.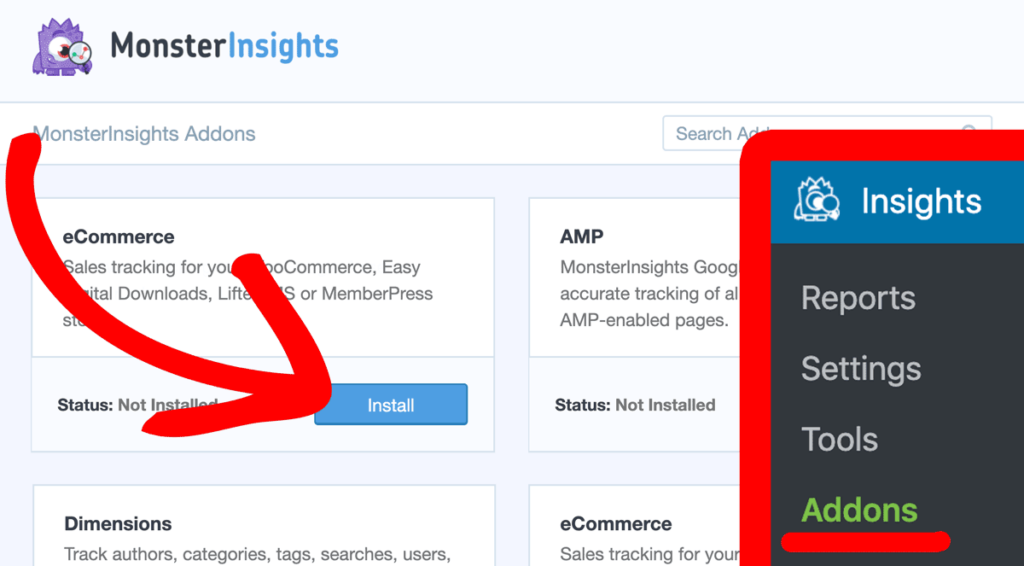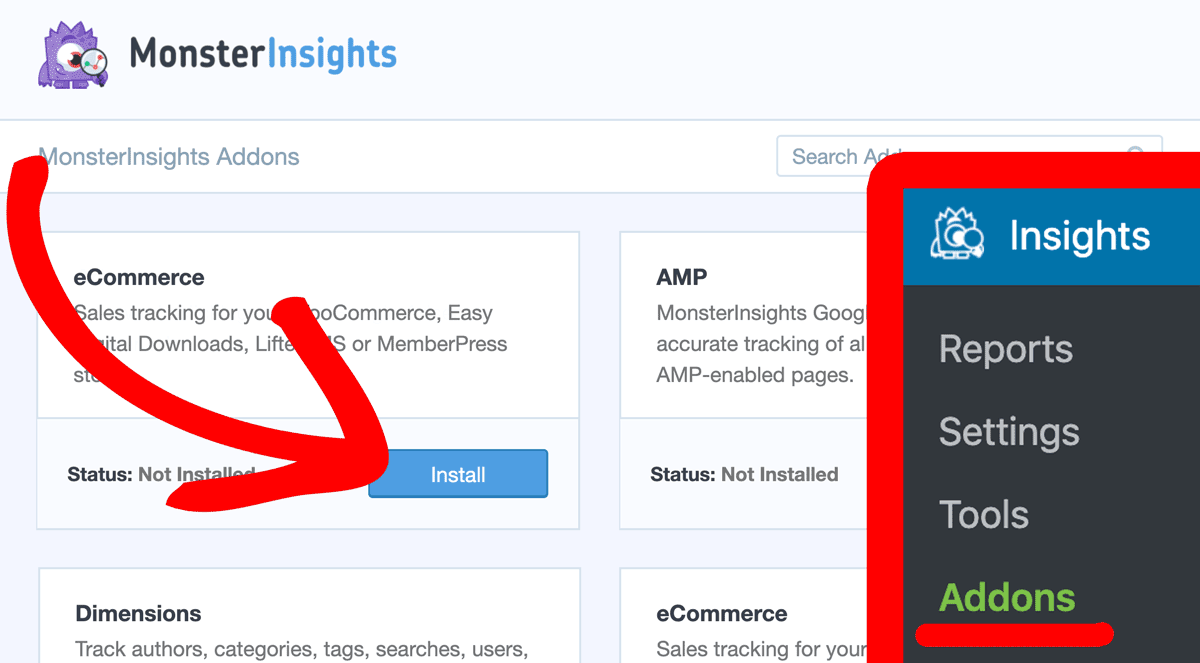 Step 2: Enable Enhanced eCommerce Tracking in Google Analytics
Now log in to Google Analytics, and select the right website you'd like to enable Enhanced eCommerce tracking for.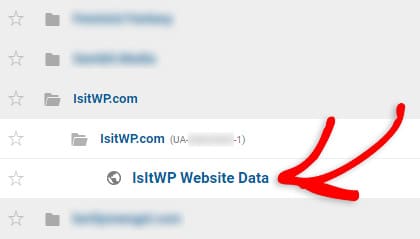 Next, click Admin in the left taskbar.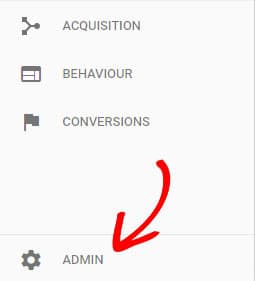 Then click Ecommerce Settings under the column on the right.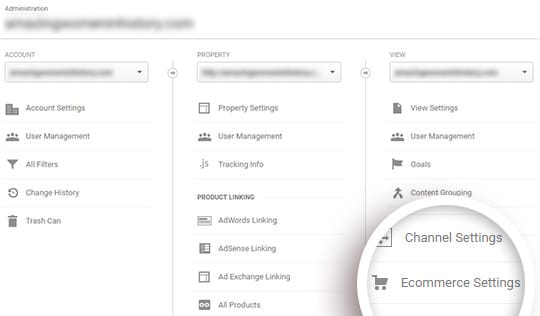 Next, click sliders under Status and Enable Related Products, to turn it from off to on. Then click the Next Step button.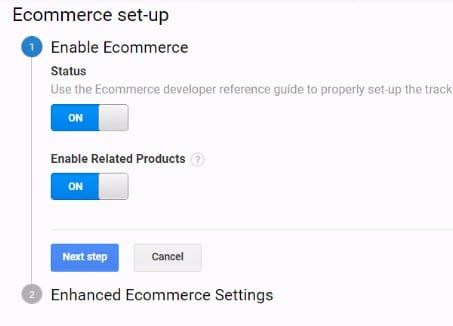 Now click the slider under Enhanced Ecommerce Settings, to turn it from off to on and then, click the Submit button.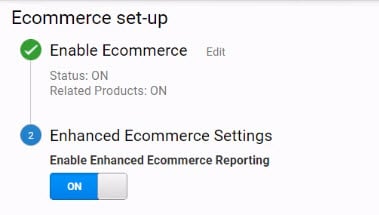 Step 3: Enable Enhanced eCommerce in MonsterInsights
Now log into your WordPress dashboard, and navigate to Insights » Settings. Click on the eCommerce tab at the top. Then select the checkbox near Use Enhanced eCommerce.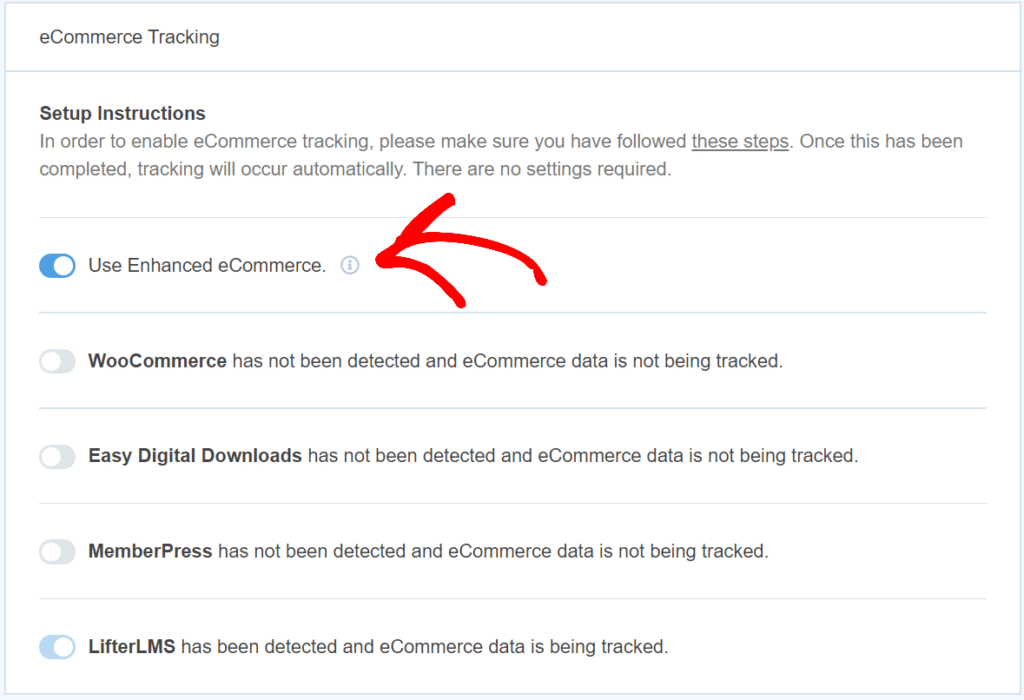 And that's it, enhanced eCommerce is now active on your website. MonsterInsights will automatically detect your eCommerce store (like WooCommerce or LifterLMS) and start tracking its data.
Now, you must be wondering, how can you view your cart abandonment? Let's find out…
Google Analytics: Find Shopping Cart Abandonment Rate
To find your cart abandonment rate, go to your Google Analytics account. Then, navigate to Conversions » Ecommerce » Shopping Behavior in your Google Analytics report.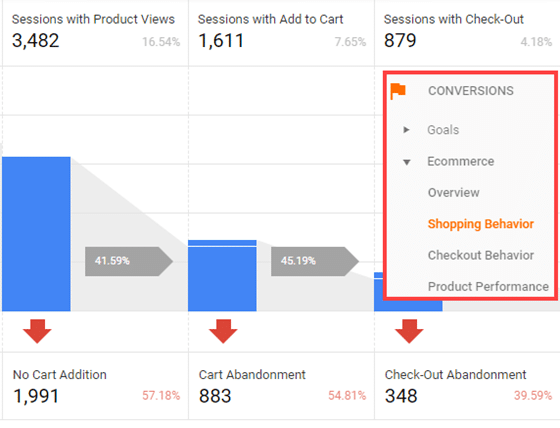 In the report, you can see the number of cart abandonment. You can then use the data to plug gaps in your website, make your checkout process simpler, add an exit-intent popup, and try different things to reduce cart abandonment.
For more details, check out our guide on how to reduce the shopping cart abandonment rate.
That's it!
We hope you liked our article on how to track shopping cart abandonment with Google Analytics. You can also go through our post on how to set up WooCommerce conversion tracking.
And don't forget to follow us on Twitter and Facebook for more Google Analytics tutorials.