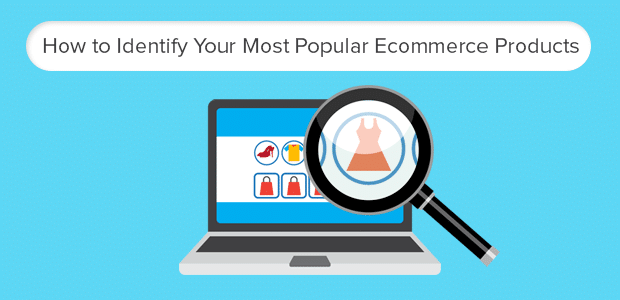 How to Find Your Most Popular Ecommerce Products in Google Analytics
Looking to find out your most popular eCommerce products? By figuring out which products are more profitable or popular, you'll be able to make more informed decisions to maximize sales and revenue.
In this article, we'll show you how to find your most popular eCommerce products in Google Analytics (step-by-step).
Step 1: Enable eCommerce Tracking in Google Analytics
Google Analytics is the most powerful web analytics tool that enables you to track almost every user interaction on your site and provides you with insightful reports. If you're running an online shop, you can view your most popular products and other conversion stats by setting up eCommerce tracking in Google Analytics.
To get started, you'll need to enable eCommerce tracking in Google Analytics.
Login to your Google Analytics account and navigate to Admin in the right menu bar. Then, click on that to view admin settings.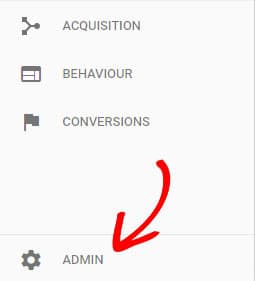 Now you can click Ecommerce Settings under the View column on the right.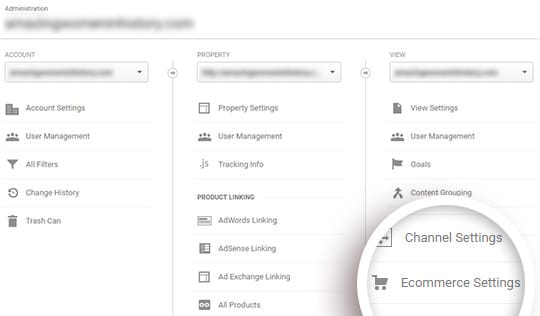 Next, click the slider under the first step, Enable Ecommerce, to turn on from off.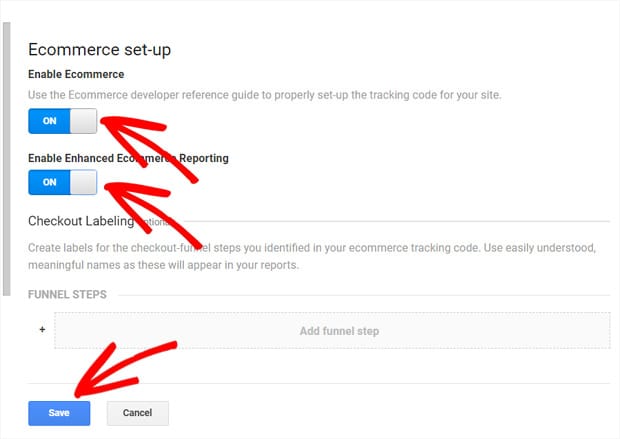 Also, turn on the Enhanced Ecommerce Reporting. For more information, see our guide on how to enable enhanced eCommerce in WordPress.
Then, click the Save button.
That's it! You've successfully enabled eCommerce tracking. Now let's proceed to the next step.
Step 2: Set Up eCommerce Tracking
Now that you've enabled eCommerce tracking, the next step is to set up eCommerce tracking by adding Javascript code to your site.
However, the process of manually adding the code is not easy because it's not just a single line of code to paste somewhere. You'll need to add different commands for adding a transaction, adding items, sending data, clearing data, etc.
Plus, you'll also need to customize the code to auto-detect the price of the items in the cart, product name etc. It's not easy to understand and implement eCommerce tracking setup for non-coders even after viewing the official documentation from Google Developers.
So, it's sure that you'd need to hire a developer if you aren't a developer yourself. But thankfully, it's no more a matter of your headache because MonsterInsights handles it for you.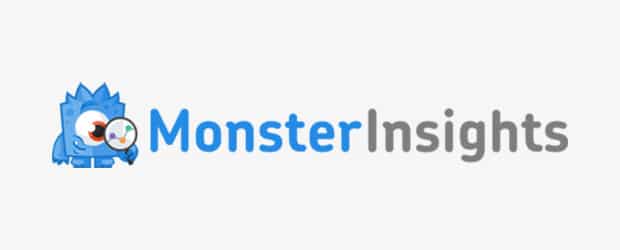 MonsterInsights is the most beginner-friendly yet powerful Google Analytics plugin for WordPress. It empowers everyone to use advanced Google Analytics features easily on their own hands. You just need to enable eCommerce tracking and MonsterInsights handles the rest.
To get started, make sure that you've installed Google Analytics on your site with MonsterInsights Pro. If you need detailed instructions, here's our step-by-step guide on how to set up Google Analytics in WordPress.
Next, you'll need to install MonsterInsights eCommerce addon. Go to Insights » Addons from your WordPress dashboard menu and navigate to the MonsterInsights eCommerce addon.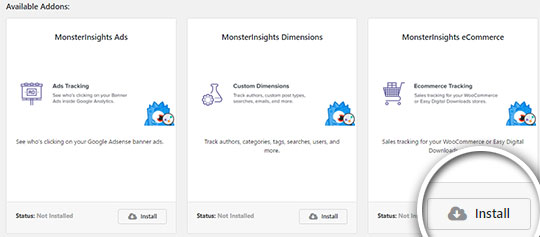 Then, click the Install button. And, click again to activate.
You're almost done. MonsterInsights automatically detects your eCommerce plugin and starts collecting your eCommerce data however it's always wise to check and confirm.
Go to Insights » Settings and click the Tracking tab. Then, navigate to eCommerce option and click on it.
Now you'll see your eCommerce settings.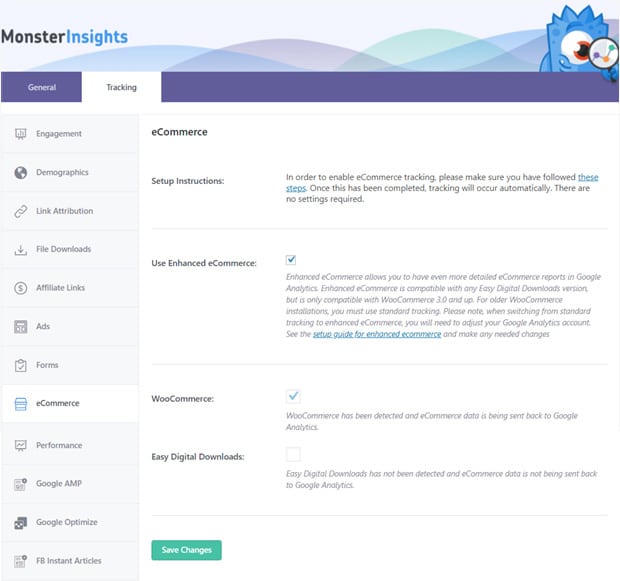 Put a check on Use Enhanced eCommerce to allow the plugin to collect more detailed eCommerce reports. Then, you may see the plugin you're using on your WordPress store i.e. WooCommerce or Easy Digital Downloads auto-selected. If it's not selected, you can put check and select.
That's it! You're done with setting up eCommerce tracking in your WordPress online store.
MonsterInsights just saves your money that you'd pay to a developer. It prevents the risk of site breaking down due to unprecedented coding errors. In short, it empowers every WordPress user regardless of the coding skills they acquire.
Step 3: View Your Top eCommerce Products in Your WordPress Dashboard
Now that you've set up eCommerce tracking, you can view your eCommerce reports in Google Analytics. But you don't need to open your Google Analytics account to view your reports because MonsterInsights offers all of your important Google Analytics data right in your WordPress dashboard.
To view your most popular products, total sales, conversion rate, and other eCommerce reports, you'll need to visit Insights » Reports from your WordPress dashboard. Then, click the eCommerce link at the top.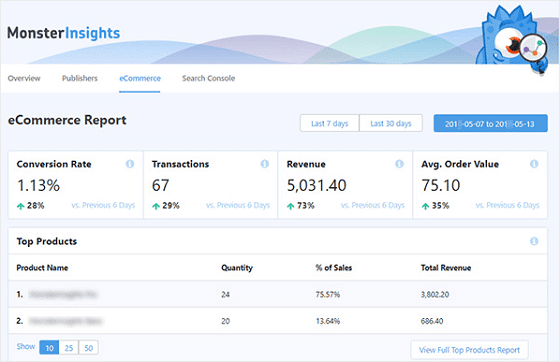 As you can see in the screenshot above, you'll see your shop's conversion rate, transactions, revenue, average order value, and your most popular products. It's just simple and easy to understand.
If you scroll down, you'll see more interesting eCommerce reports like total add to carts, total removed from the cart, time to purchase, sessions to purchase, and more.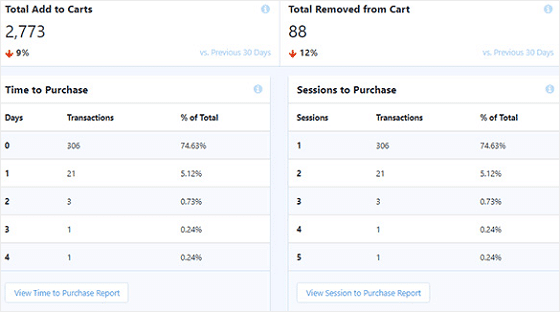 Now, you can analyze your online store's performance and build marketing strategies that actually work and grow your business.
Viewing Your Most Popular Products in Google Analytics
Viewing eCommerce reports in MonsterInsights dashboards is way easier and more convenient, however, sometimes you may need to view in Google Analytics.
To get started, log into Google Analytics. Then, navigate to Conversions » E-commerce » Product Performance in the left panel.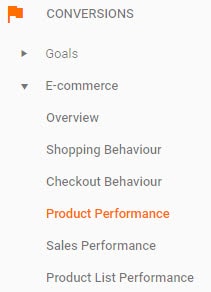 Now you can see the sales performance of your products in a table. You can sort the table by quantity, product revenue, unique purchases, etc. by clicking on its respective tab. For example, take a look at the screenshot below that is sorted by quantity.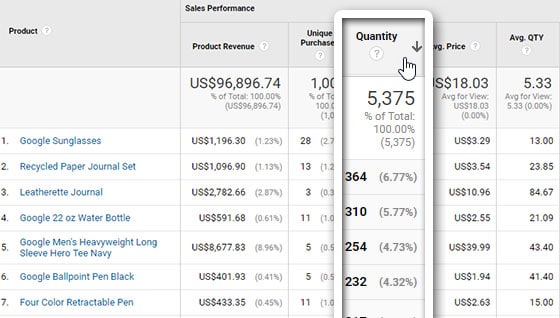 That's it!
We hope this guide helped you to find your most popular ecommerce products so you can make more money online.
If you're looking to increase your sales funnel conversion rate, take a look at this guide on 18 ways to increasing your sales funnel conversion rate. And don't forget to follow us on Twitter and Facebook for more Google Analytics tutorials.