Looking for the best WordPress Google Analytics plugins to make data-driven decisions? Website traffic data gives you information about users that's incredibly useful for sales, marketing, and other business areas.
An analytics tool tells you exactly how many website visitors you get, where they come from, what they like, and how they interact with your website in other ways.
But with so many options, which analytics plugin should you select?
In this article, we've put together a list of the best Google Analytics plugins for WordPress to help you choose the best option for your business needs.
Why Use Google Analytics on a WordPress Site?
You should use Google Analytics on your site because Google has the biggest, most reliable collection of data on website traffic, what people search for, and other online behaviors.
Many beginners and new website owners rely on their best guesses to make business decisions. They're just winging it to find the type of content to write or products to promote to their visitors.
But you don't have to do that!
Google Analytics collects data about your visitors and shows how they behave on your WordPress website. Here are some of the facts you can discover with Google Analytics:
When you have access to these insights, you can remove the guesswork and use actual data to create your business strategies.
Why Use a Google Analytics Plugin for WordPress?
Google Analytics is a powerful tool, but it can be overwhelming, especially for beginners. When you use a Google Analytics plugin for WordPress, it simplifies the Google setup and creation of custom reports.
Using an analytics plugin also makes it much easier and more convenient to see your site's traffic statistics right in WordPress.
That said, let's jump right into our review of the top WordPress Google Analytics plugins!
Video Summary
Watch our video above or keep reading below for our list of plugins.
The Best WordPress Google Analytics Plugins
MonsterInsights is the best Google Analytics plugin for WordPress. It lets you add Google Analytics to your WordPress website without editing code or hiring a developer.
Plus, it makes it super easy to find analytics data that matters for business through its WordPress dashboard reports. There's no need to leave your website or navigate through multiple Google Analytics reports to uncover insights about your visitors.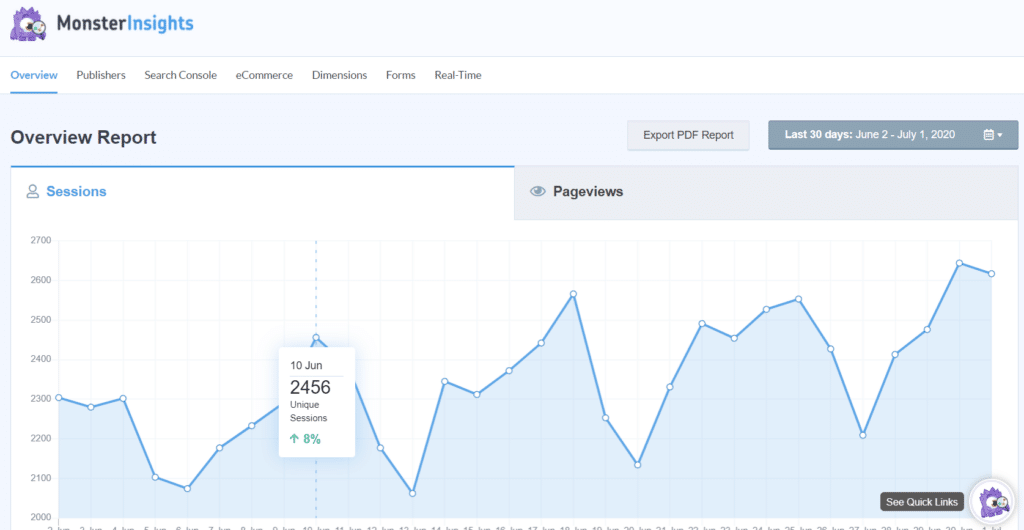 The plugin offers advanced tracking features like file download tracking, affiliate link clicks, outbound link clicks, mailto and telephone link tracking, and much more out of the box.
And, if you use the Pro version, then you can unlock powerful addons. For instance, you can set up eCommerce tracking in just a few clicks using the eCommerce addon, and see how your online store performs.
The MonsterInsights plugin seamlessly integrates with other widely used plugins, such as WooCommerce, MemberPress, Easy Digital Downloads, GiveWP, and more.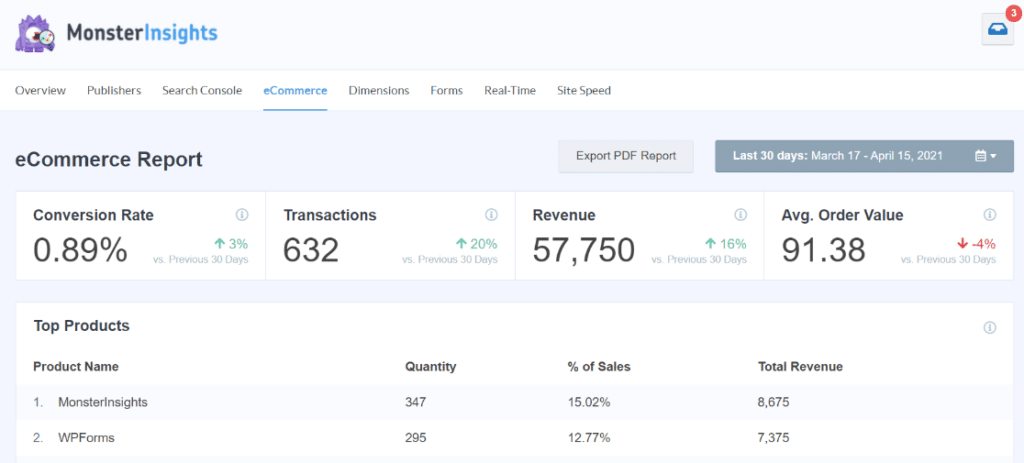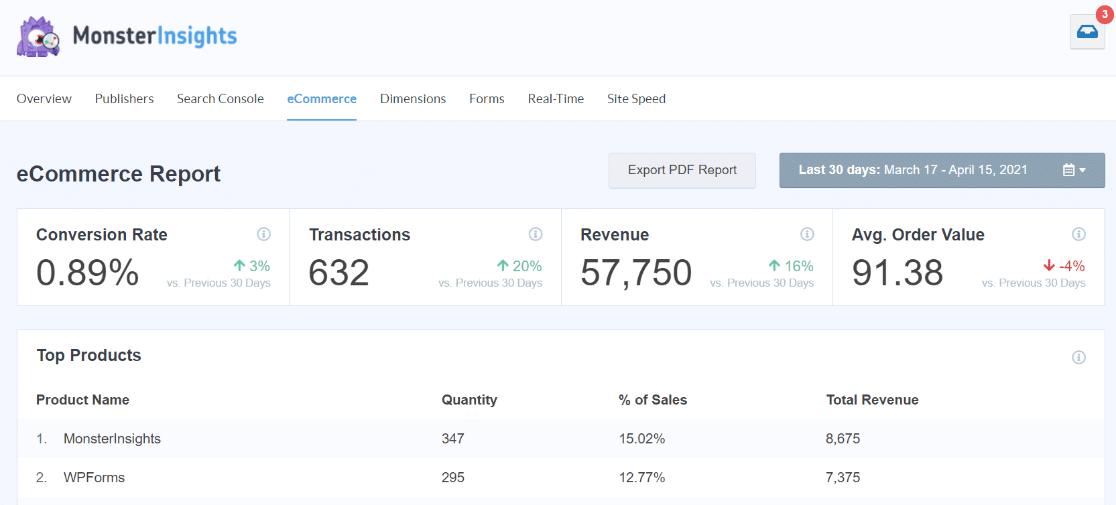 In addition, you can use its Forms addon to track WordPress forms and see how they're converting. MonsterInsights works with popular WordPress form plugins like WPForms, Formidable Forms, Gravity Forms, Ninja Forms, and others.


Besides that, MonsterInsights helps speed up your WordPress site through its Site Speed report. This reveals problem areas and offers suggestions, so you can improve the user experience and speed up page loading times.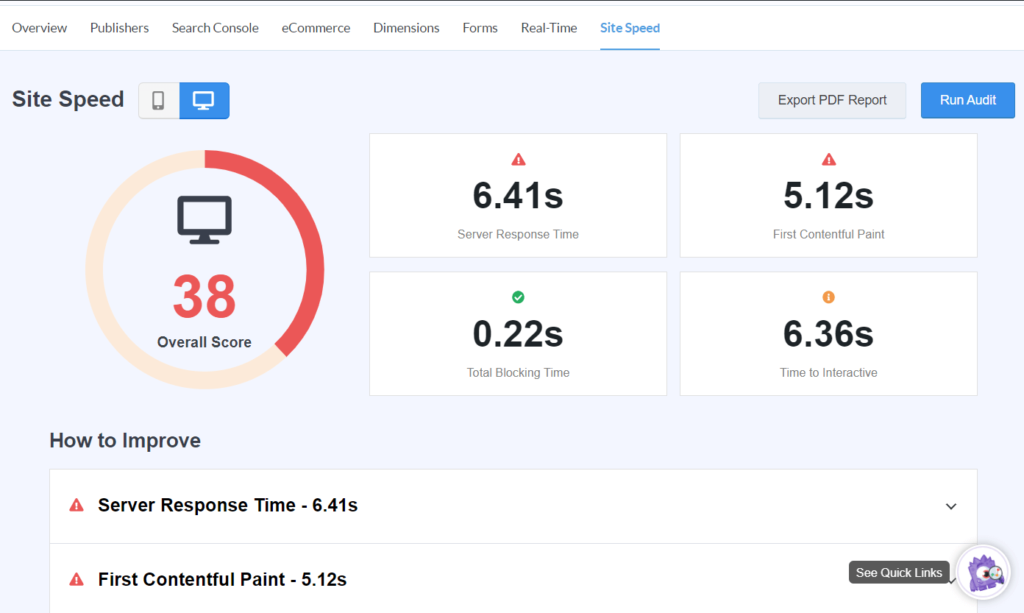 That's not all. You can also automate different processes on your site to make sure Google Analytics complies with data protection laws like GDPR, CCPA, and PIPEDA.
Its EU Compliance addon helps you anonymize IP addresses in Google Analytics and disable various tracking features.
Here's a roundup of some of the top features offered by MonsterInsights:
Easy-to-understand Google Analytics dashboard reports
eCommerce tracking
Tracks file downloads
Headline analyzer tool in WordPress editor
Display popular posts and products anywhere on your site
Custom dimensions (like popular authors, categories, etc.)
Integration with the best WordPress plugins
Get Started with MonsterInsights Today!
ExactMetrics, formerly known as the Google Analytics Dashboard for WordPress (GADWP), is another popular WordPress analytics plugin. It's packed with features and helps you set up Google Analytics without having to touch any code or hire a professional.
Its beginner-friendly reports display stats inside your WordPress dashboard, so you can have a glance to see how your website is performing and which strategies are working.
Plus, automated tracking features like scroll tracking, file downloads, eCommerce tracking, and custom dimensions make it very easy to collect data in Google Analytics without manually setting up complex tracking codes.
Some of the top features of ExactMetrics include:
Set Up Google Analytics without coding
Detailed dashboard reports
Tracks 404 errors in Analytics
Event tracking such as file downloads, external link clicks, etc.
Enhanced link attribution
Track form conversions
Search console report
Get started with ExactMetrics today!
Google Analytics is the most powerful analytics solution for WordPress. And the best part is that it's free to use. Different features help you see how people interact with your website.
Plus, it easily integrates with other Google marketing services like Google Ads and Search Console. For example, if you're running Google Ads campaigns, and connect it to Google Analytics, you can see what website visitors do after clicking on an ad.
While you can set up Google Analytics without a plugin, you'll have to configure the tracking code manually. And, if you want to use advanced tracking such as for form conversions, eCommerce tracking, and link clicks, you'll need to set those up manually using custom tags in your website code.
With Google Analytics, you get features like:
Detailed reports to understand your visitors
Funnel analysis
Audience segmentation
Custom reports
Export data from any report
Different visualization options
User flow reporting
Get started with Google Analytics today!
Analytify is the next Google Analytics plugin on our list. It's a popular choice among many users and helps you set up Analytics on your WordPress website.
And just like MonsterInsights, it also brings different Google Analytics metrics inside your WordPress dashboard. You can check out our comparison of MonsterInsights vs. Analytify for more details.
You can view statistics like page views, visitors, new vs. returning visitors, top pages, geographic data, and more in its free version. You can even publish these stats on your website, so it's visible to everyone.
Besides that, you can also view page-level stats such as average time on the page, views, number of users, and more. Analytify also offers addons for tracking WooCommerce and Easy Digital Downloads stores.
Some other features you get in Analytify include:
View Google Analytics stats in the dashboard
Publish statistics on frontend
eCommerce addon for WooCommerce and Easy Digital Downloads
Use UTM parameters to track campaigns
Set up automated email reports
Get started with WP Analytify today!
Conversios' Analytics plugin is designed specifically for WooCommerce. It's a free plugin that will help you set up Google Analytics for your WooCommerce store.
The plugin tracks important metrics like conversion rate, view-to-cart ratio, view-to-conversion ratio, abandoned cart rates, impressions, product clicks, and much more.
Another advantage of using the Conversios Analytics plugin is that you can connect Google Analytics with Google Ads and a Google Merchant Center account.
This helps give you a complete picture of how your ad campaigns are performing and track the performance of your merchandising efforts.
That said, the plugin has some limitations and is best for simple WooCommerce stores. Here are a few features offered by the plugin:
Track WooCommerce performance without coding
Connect Google Ads and Google Merchant to Analytics
See basic stats like clicks, impressions, add-to-cart events, etc.
4 Enhanced eCommerce reports in Google Analytics
IP anonymization
Dynamic remarketing tags
Get started with the Analytics for WooCommerce plugin today!
Goal Tracker is among the best WordPress Analytics plugins. It helps you set up event tracking in Google Analytics without the need to write code or hire a developer.
You can use the plugin to see how people interact with different elements on your website, such as which links they click the most or which call to action (CTA) button performs the best.
However, as the name suggests, the plugin is limited to tracking different events. It's not as comprehensive as other plugins on our list, and it won't show stats in your WordPress dashboard.
That said, check out some of the features offered by the plugin:
Easily set up event tracking
Compare the performance of different CTA buttons on one page
Track form submissions
YouTube and Vimeo support for Pro users
Get started with Goal Tracker today!
WP Statistics is the best WordPress stats plugin on our list and helps you track your visitor's activities in Google Analytics.
It doesn't offer advanced tracking features as you would get in MonsterInsights. But the plugin is great for finding stats that matter for your business.
You can find key metrics inside your WordPress dashboards, such as the number of visitors, number of referrals, browser, country, and more.
Here are some other features you can find in WP Statistics:
Dashboard Google Analytics reports
Different visualizations and graphs
Recognizes visitor's city and country
Multiple filters to sort data (location, IP, keywords, etc.)
Email reports for Google Analytics statistics
Get started with WP Statistics today!
What's the Best Google Analytics Plugin for WordPress?
Now that you've gone through our list, you should have a better idea about which Google Analytics WordPress plugin to select.
After comparing the different features offered by each plugin, we recommend MonsterInsights as the best Google Analytics plugin for WordPress.
It offers a complete solution for setting up analytics and advanced tracking on your website without any coding. You get insights to grow your business, with critical stats right inside your WordPress dashboard, in just a few clicks.
MonsterInsights will massively reduce your time investment in learning how to use Google Analytics. Instead, you can focus on using your data to increase traffic, conversions, and revenue.
Get Started with MonsterInsights Today!
And that's it!
We hope you liked our article on the best Google Analytics plugins for WordPress. You may also want to look at our guide on MonsterInsights vs. Google Analytics and a complete beginner's guide to Google Analytics.
Want more awesome plugins to boost your WordPress site performance? Check out our list of the 45 best WordPress plugins for marketing and growth.
For more Google Analytics tutorials and guides, please follow us on Twitter, Facebook, and YouTube.