Is your WooCommerce store GDPR compliant? Or are you looking for a simple way of setting up your WooCommerce GDPR compliance and making sure your site meets the legal requirements?
GDPR is a data protection law introduced by the European Union that went into effect in 2018.
It calls for all websites doing business in Europe to offer more transparency about how they collect, store, use, share, and handle a user's personal information.
If any company fails to comply with the regulation, they can face heavy fines and penalties.
So, in this article, we'll show you how to make a WooCommerce site GDPR compliant.
What is GDPR?
GDPR or General Data Protection Regulation is a law that applies to anyone doing business in Europe. It provides greater control to users about how their data is gathered, stored, and used by websites, internet service providers, and other web-based companies.
The main aim of GDPR is to protect users' personal information and prevent firms from wrongfully exploiting their data. What this means is that companies will have to gather consent from users before collecting their data.
So, if you sell products to people in the EU through your WooCommerce store, then you'll have to comply with GDPR guidelines. And if you don't, then you may have to pay fines up to €20 million or 4% of annual revenue (whichever is higher).
Now, let's look at the impact of GPDR on your Google Analytics and how it applies to your WooCommerce store.
Legal Disclaimer: Due to the dynamic nature of websites, no single plugin can offer 100% legal compliance. Please consult an Internet law attorney specialist to determine if you are in compliance with all applicable laws for your jurisdictions and your use cases. Nothing on this website should be considered legal advice.
Google Analytics and WooCommerce GDPR Compliance
Are you using Google Analytics on your WooCommerce website to track its performance? If yes, then complying with GDPR is more important than ever.
That's because Google Analytics works by recording personal information like location, age, gender, browser type, and more. And it uses cookies to track your user's behavior when they land on your WooCommerce store.
So, what it all boils down to is that you'll need consent from your visitors before you can start to track them in Google Analytics.
You can read more in our detailed guide about Google Analytics and GDPR.
With that, are you ready to learn how to make your WooCommerce website GDPR compliant?
How to Ensure GDPR Compliance on Your WooCommerce Store
The easiest way to ensure your WooCommerce site is GDPR compliant is through MonsterInsights. It's one the best GDPR WordPress plugins you can use today.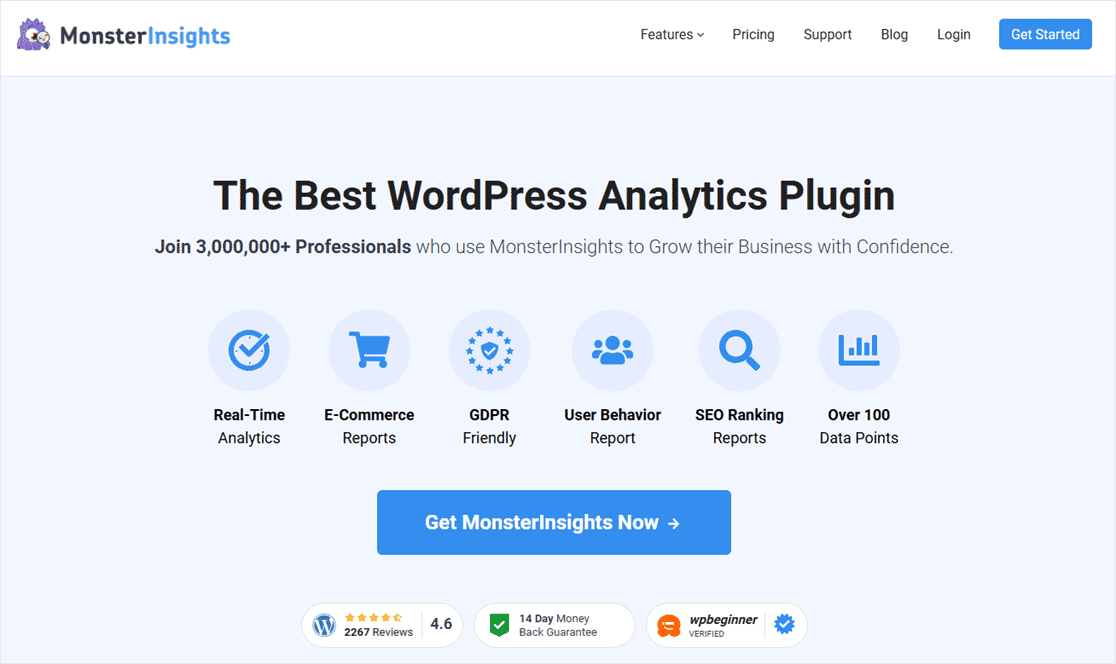 MonsterInsights offers an EU Compliance addon, which allows you to automate a lot of processes for meeting GDPR guidelines. For instance, you can disable user tracking with just a click of a button.
Not only that, but it integrates with WordPress cookie consent plugins, so you can create cookie opt-out consent notices in an instant.
Beyond the EU Compliance addon, MonsterInsights offers tons of amazing Google Analytics tracking features that you can set up with just a couple simple clicks:
eCommerce tracking
Form submission tracking
Custom dimensions like author, user ID, publish time, and more
Search Console integration and keyword report
Campaign URL builder and tracking report
And more!
Get started with MonsterInsights now.
Step 1: Install MonsterInsights
If you haven't installed MonsterInsights yet, you'll need to install it and authenticate it with your Google Analytics account.
To start, purchase MonsterInsights at the Plus license level or above. Then, download the ZIP files from your account area under the Downloads tab.


Next, upload the plugin to your WordPress website. You can do that by going to Plugins » Add New » Upload Plugins in your WordPress admin and clicking the Install Now button.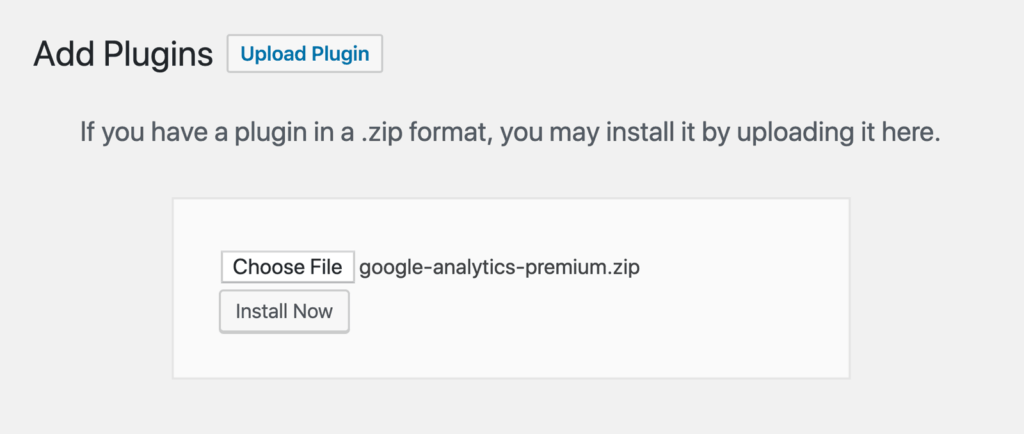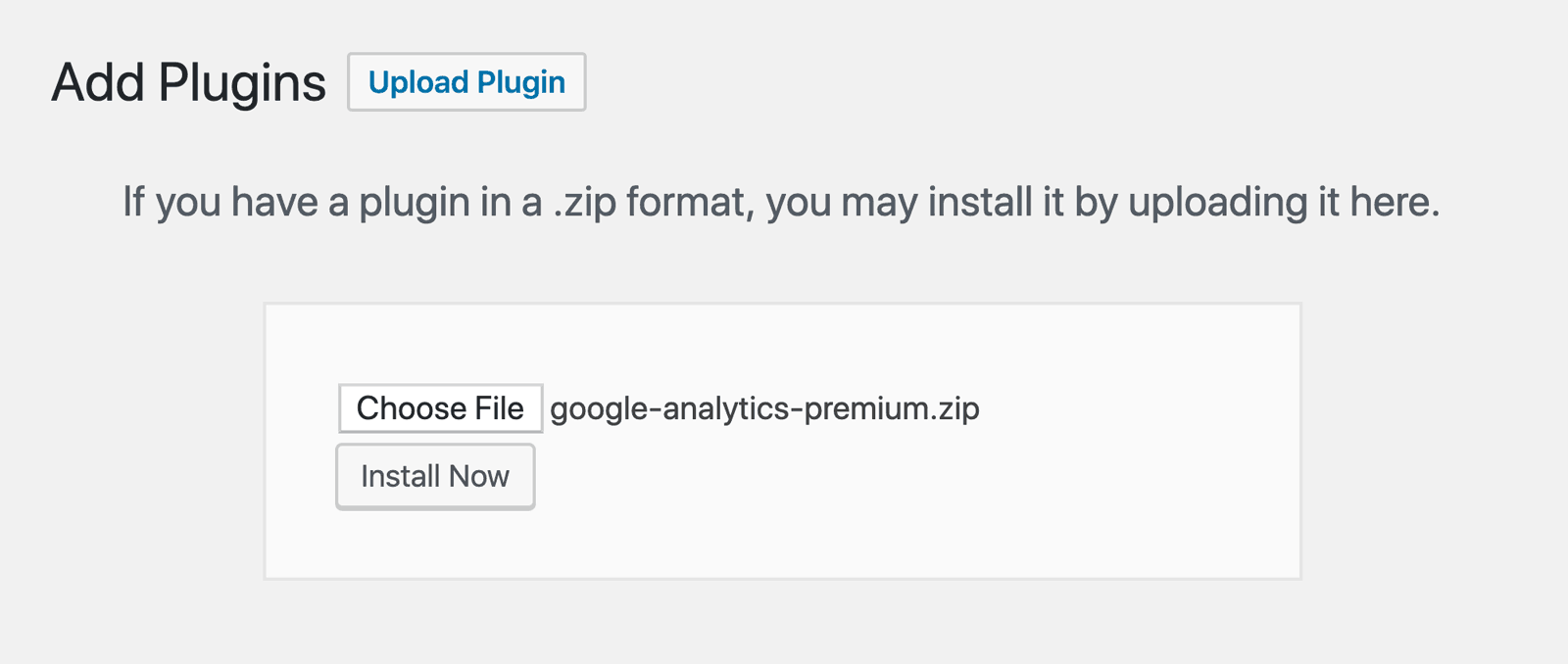 After that, click the Activate Plugin button.

Now, you'll need to connect Google Analytics to your WordPress website. Using MonsterInsights, it's really easy! Just follow the steps in the setup wizard and the plugin will add Google Analytics to your site without the need to edit code.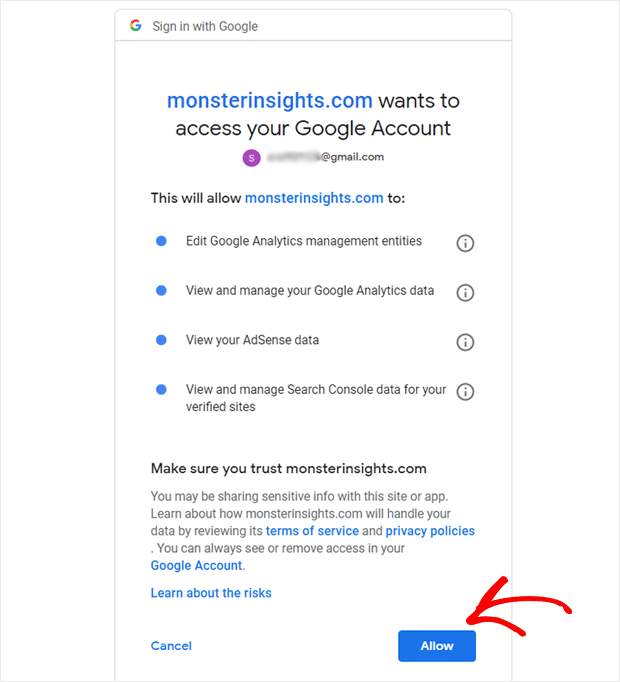 For help getting started and a walkthrough of the onboarding wizard, check out our step-by-step guide on how to properly set up Google Analytics and MonsterInsights.
Step 2: Install the EU Compliance Addon
Now that you've got MonsterInsights installed, you'll need to install the EU Compliance addon.
To do that, simply open your WordPress dashboard and then navigate to Insights » Addons. Here, go to EU Compliance addon and click Install.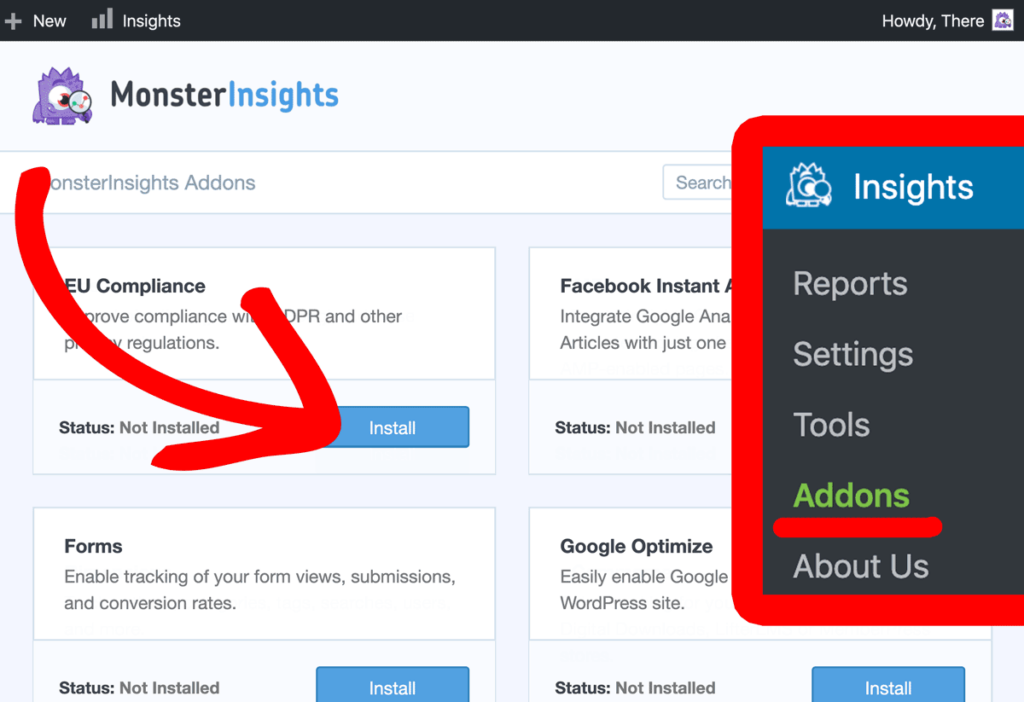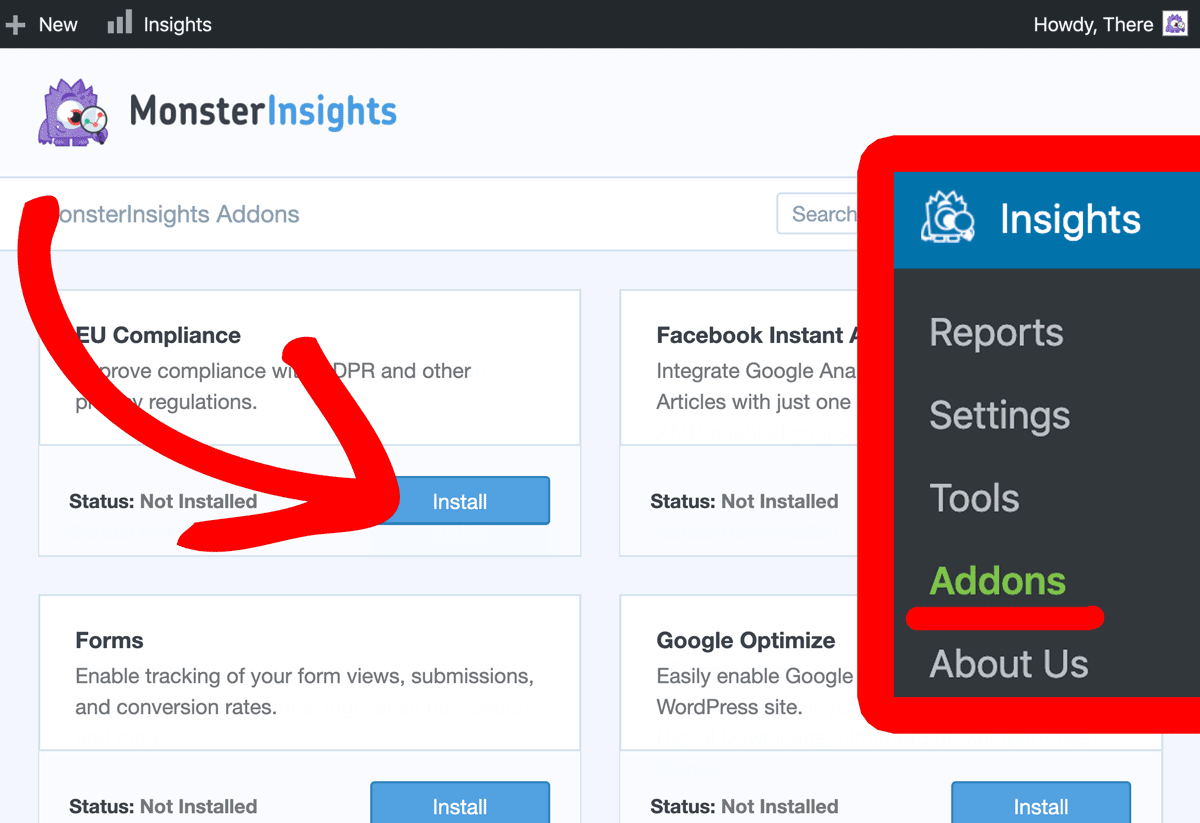 Step 3: Configure the EU Compliance Addon
Next, you'll have to configure the settings using the EU Compliance addon to meet the GDPR requirements you need for your WooCommerce site.
To do that, go to Insights » Settings and then click Engagement tab. Now, go to EU Compliance to access all of the addon's settings.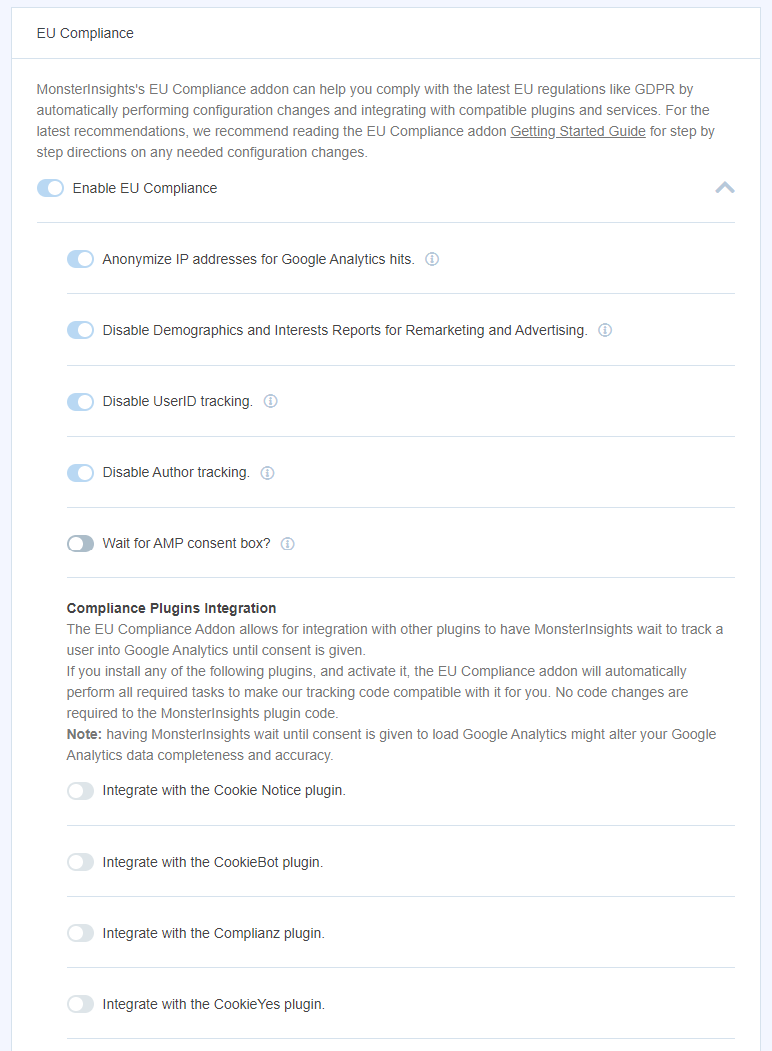 Here's what you can do with MonsterInsights:
Automatically anonymize IP addresses for all Google Analytics hits
Disable demographics and interest reports for Remarketing and Advertising tracking on Google Analytics
Disable UserID tracking on Google Analytics hits
Automatically disable author tracking in custom dimensions
Wait for AMP addon users to agree with Google AMP consent box before tracking
Easily integrate with CookieBot, Cookie Notice, Complianz, and CookieYes plugins
Step 4: Update Your Privacy Policy
The last step in making sure your WooCommerce store meets GDPR compliance is to update your privacy policy.
Here you can explain in detail the information you collect from your customers, how long you will retain their data, and if it will be shared with other companies.
You can also explain that you use Google Analytics to track WooCommerce performance. And also describe different cookies that are used for tracking.
Besides that, you can also help your users by outlining the process for how they can access their stored data or if they want it to be edited or removed from your website.
For more information, you can follow our documentation on updating your privacy policy.
And that's it!
By completing all these steps, you can work on becoming GDPR compliant with your WooCommerce website. And with MonsterInsights by your side, you can quickly automate a lot of processes to meet the data protection law's guidelines.
We hope you liked our article on how to make your WooCommerce site GDPR compliant. If you want, you can also go through our post on the best WooCommerce plugins and how to set up WooCommerce conversion tracking in Google Analytics.
Not using MonsterInsights yet? What are you waiting for?
And don't forget to follow us on Twitter, Facebook and YouTube for more helpful Google Analytics tips.